Don't wait for cough and cold. Make this versatile lemon ginger turmeric shot with fresh ingredients to boost your immune system. Drink it as a warm detox tonic or enjoy it chilled as ginger turmeric juice.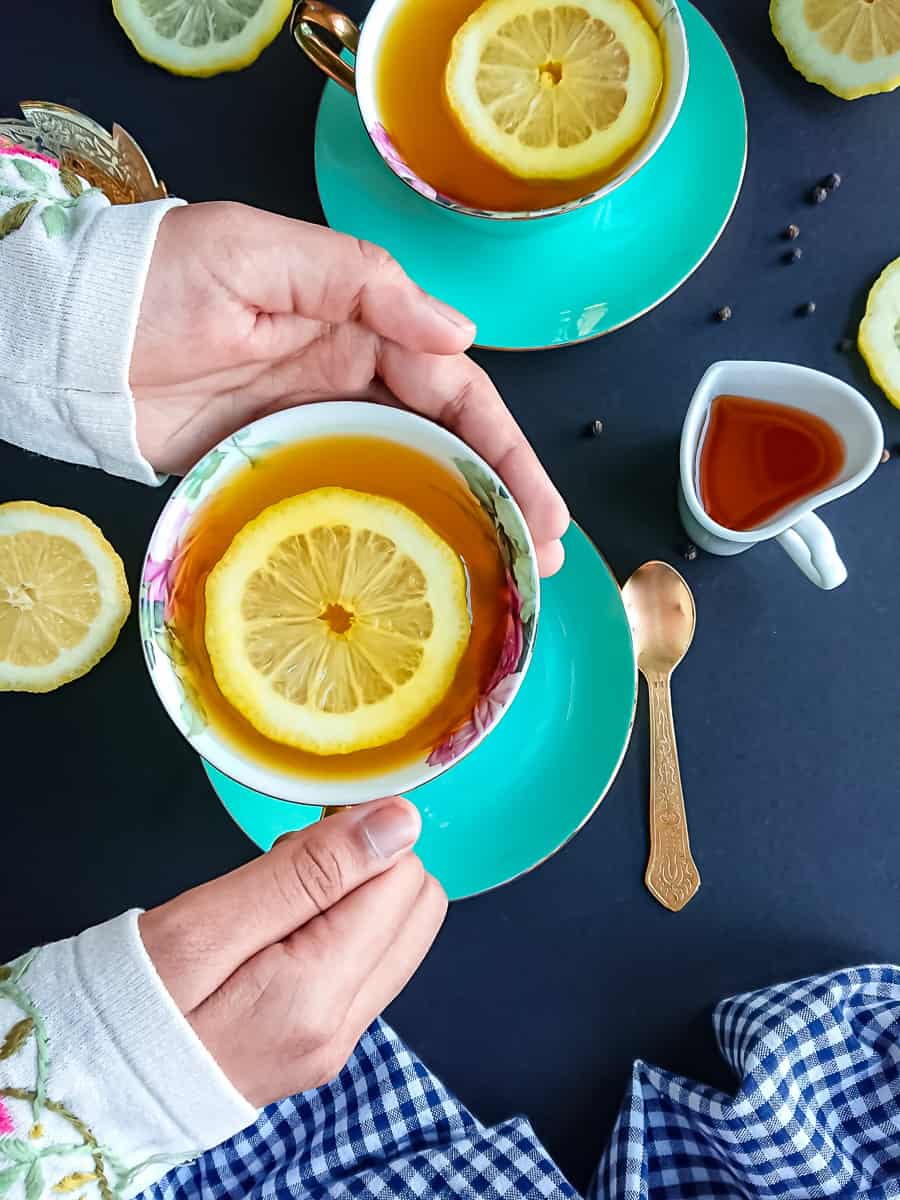 About the recipe
Gingery, tangy, earthy and sweet, this is the best way to make ginger and turmeric shots at home.
Do you always think of TURMERIC-GINGER-LEMON combo as a remedy for cold, flu and pain? Of course, they are. The anti-inflammatory, antioxidant and immune-boosting benefits of lemon, turmeric and ginger are quite well known.
That does not mean you can't enjoy these ginger turmeric shots every single day.
Replace your regular evening tea with this dairy-free, caffeine-free turmeric goodness at least once a week and feel the difference.
Or sip this healthy ginger turmeric juice as a drink with lunch or dinner for a flavor boost AND better absorption of nutrients.
Lemon Ginger Turmeric Shot Benefits
This recipe combines turmeric, ginger, pepper and lemon, each ingredient a king of flavor and nutrition in its own right.
Turmeric
Turmeric has been used in India as a medicinal herb in Ayurveda for thousands of years.
Its healing properties come from its main ingredient curcumin which has powerful anti-inflammatory and antioxidant properties. Sometimes more powerful than anti-inflammatory drugs. (source)
Turmeric also has the potential to prevent heart disease and Alzheimer's. It also helps in relieving stress and arthritis symptoms.
Turmeric and Honey
Honey helps in weight management
It helps fight allergies
It helps in fighting diseases
Helps in healing burns and wounds
Lowers and balances blood sugar level
Works as a remedy for cough and cold
In Ayurvedic medicine, due to their combined benefits, honey with turmeric is used as a remedy for many ailments from common cold to sore throat, digestive issues, cuts, wounds, and sprains along with many other health and skin issues. (Source)
Ginger
Ginger is widely used as a herbal remedy for cold and flu. It also relieves pain, inflammation, nausea, reduces gas and improves digestion. (source)
Lemon
Lemons are good sources of heart-healthy vitamin C, citric acid, fiber and minerals. They enhance your immune system, increase iron absorption and help reduce stress. (source)
Pepper
Pepper, deemed as the "king of spices" has also been used in Ayurvedic medicine for its powerful anti-inflammatory and antioxidant properties.
More importantly, the reason why I used pepper in this recipe for turmeric tea is that it contains piperine, a natural substance that enhances the absorption of curcumin in turmeric by 2,000%. (source)
flu season?
stress?
indigestion?
want to improve your immune system?
for general health and wellness
want an amazing caffeine-free drink that is tasty AND healthy?
DRINK. THIS. FRESH. LEMON. GINGER. TURMERIC. SHOT.
How to make ginger turmeric shots without juicer
(You can find the exact measurements and instructions in the printable recipe card at the end of this page.)
Here's how you do it:
Peel and grate fresh turmeric root and ginger, add to water with freshly cracked pepper. Bring it to boil and simmer for 5 minutes.
If you can't find fresh turmeric root, you can substitute with ground turmeric, but I recommend the fresh one for its unique fresh orange-gingery flavor.
REMOVE from heat and squeeze some fresh lemon juice. Add honey, sugar or maple syrup to taste as needed.
Have the ginger turmeric shots warm…
Or serve as chilled ginger turmeric juice…
More recipes with turmeric to boost your immune system
You may also like
★★★★★Did you try this recipe? Please give a star rating in the comments below ★★★★★
HUNGRY FOR MORE? Join over 1000 home cooks like you who subscribe to my weekly newsletter to get all the latest recipes right in your inbox. Or follow me on your favorite social media: Facebook, Pinterest, Instagram, and YouTube. Thank you and happy cooking!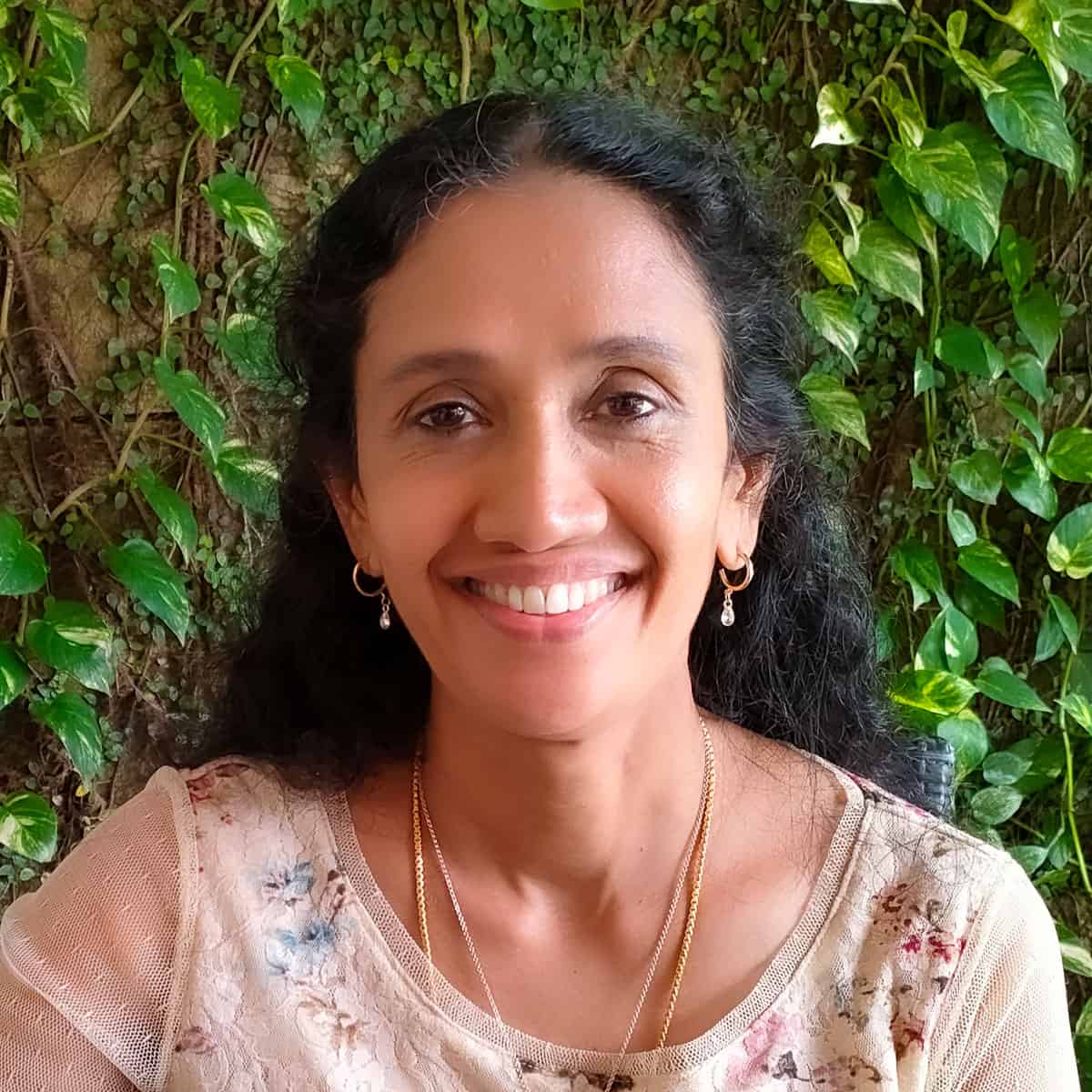 Hi! I'm Sheeba, welcome to Go Healthy ever after!
I have a passion for cooking delicious nourishing food that's easy to cook with fresh natural ingredients free from additives or preservatives. The easy healthy recipes you find here will inspire you to cook with creativity.
Copyright secured by Digiprove © 2020-2021