This authentic chana masala recipe works for a quick weeknight dinner, make-ahead meal and also an indulgent weekend lunch. Learn how to make this Kabuli chana recipe extra creamy with simple ingredients, aromatic spices and a little secret!
Affiliate disclosure: This post contains affiliate links, which means I may receive a small commission, at no cost to you, if you make a purchase through a link.
Why You'll Love This Chole Masala Recipe
Chana masala or chole masala is one of the basic Indian curry recipes like Kerala dal curry, chicken curry, mung bean coconut curry and spinach dal. It is an Indian chickpea curry made of chana (chickpeas or chole) in gravy (or masala) with delicious aromatic spices.
This South Indian chana masala is a healthy chickpea curry without coconut milk or any other form of saturated fat. It is also naturally vegan and gluten-free since we don't add cream or any other dairy product, or flour. Like my oven-baked palak kofta recipe.
Using canned chickpeas also makes it a quick and easy one-pot curry.
In this easy recipe, you're about to learn how to make creamy chana masala with fresh whole spices, which is a substitute for chana masala spice mix, either homemade or store-bought.
This simplified method is not only time-saving but also results in a more flavorful dish. And you don't have to hunt for very specific ingredients to enjoy this simple curry.
We did the same for the black chana soup recipe, Kerala-style varutharacha chicken curry and the flavorful Mangalorean fish curry. There's nothing to match the aroma of fresh and instantly ground spices in a curry. Also, you get to control the ingredients when you make the spice mix yourself.
You're also going to learn the trick of thickening the curry in an easy, healthy way. (Same hack I used in chana aloo masala.)
Let's get started!
Video
Ingredients for South Indian chickpea curry without coconut milk
(You can find the exact measurements and instructions in the printable recipe card at the end of this page.)
Chickpeas
Either canned ones or the dry variety can be used. Canned chickpeas can be rinsed and added to the gravy.
If using dry chickpeas, soak them for 8 hours or overnight. The quantity of water should be 2 cups for every cup of dry chickpeas.
If using a pressure cooker, cook for about 6 whistles on medium heat. If using an instant pot, pressure cook at high pressure for 15 minutes and wait for the pressure to release naturally.
(For detailed instructions and pictures on how to cook dry chickpeas, visit chana tikki recipe or Indian chickpea salad recipe.)
Other ingredients would be onions, tomatoes, ginger, garlic and a mix of spices for the gravy:
Spices
The combination of spices is similar to the one we used for kadai masala in the veg kadai recipe.
Instead of roasting and grinding chana masala spices, we're going to do it the easy and effective way: Grind the spices with the aromatics like onions, ginger and garlic and saute them directly for the gravy.
This saves time and effort without any compromise on taste.
WHOLE SPICES: Cinnamon, cloves, cardamom, dry red chilli, bay leaf, cumin seeds, coriander seeds, peppercorns and green chilli (optional).
GROUND SPICES: Chilli powder, coriander powder and turmeric powder- for added flavor.
How to make authentic chana masala- step by step
Roughly chop onions, garlic, and ginger. Place them in a blender jar and add the whole spices.
Blend until you get a smooth puree.
Remove the onion spice mixture from the blender jar. Puree the tomatoes using the same blender jar.
Heat oil in a deep pan and sauté the blended onion-spice mix.
Once it browns and gives a nice aroma, add tomato puree.
Stir for a couple of minutes, then mix in the chilli powder, coriander powder, turmeric powder and salt. Sauté until the water evaporates and the gravy becomes thick.
Reserve 1/4 cup of chickpeas and add the rest to the gravy.
If using canned chickpeas, rinse, drain and add water. If you're cooking dry chickpeas, use water from the cooked chickpeas. Cover and let it simmer on low heat.
Blend the reserved chickpeas with 1/2 cup of water into a smooth paste. This is the "secret ingredient" that replaces coconut milk or cream as a thickener.
Add it to the simmering gravy with water as required (1 to 1.5 cups) and mix well.
Slit a green chilli horizontally and add to the curry (this is optional). Adjust water and salt as required.
Keep the curry covered and let it simmer for about 10 minutes on medium heat.
Squeeze about 1 to 2 tablespoons of lemon juice (according to taste) and garnish with chopped coriander leaves.
Creamy South Indian chickpea curry without coconut milk in 30 minutes! Dig in with your favorite naan, roti, or rice.
Tips to make the best creamy chana masala
Wipe the cinnamon and bay leaves with a damp cloth before using, to remove dirt.
If using canned chickpeas, rinse and drain before use. You wouldn't want the added sodium in the liquid.
Blend the reserved chickpeas very smooth. Smoother the paste, the curry will turn out creamier.
Since we are blending fresh whole spices, you only need less quantity than using the store-bought or even homemade spice mix. (Ground spices tend to lose their flavors over time.)
Want to add even more flavor to the best chana masala recipe? Try making this easy curry paste in advance and add a heaped tablespoon when you're blending the onions and spices.
Common questions about this South-Indian chana masala
How can I soften chana quickly?
If you forget to soak dry chickpeas for chana masala, there's a way to soften chana quickly. For 1 cup of chana, boil 4 cups of water and soak chana in it for 1 hour in a closed container. It softens quicker if soaked in a sealed container, pressure cooker or instant pot.
Cook the soaked chickpeas according to the recipe. However, the texture of chickpeas cooked this way may not turn out as creamy and soft as when you soak for 8 hours or longer.
Can you freeze chana masala?
This authentic chana masala can be refrigerated for up to 2 days. If you want to use it beyond 2 days, it can be frozen. It freezes well and stays fresh up to a couple of months in the freezer.
Is chole masala good for weight loss?
Chana (chickpeas) are rich in protein and fibre, which helps keep you full longer. They have no cholesterol. These factors make chickpeas one of the foods that help in weight loss.
This recipe for chole masala is healthy since it does not use saturated fats like butter, cream or coconut milk to thicken the gravy.
How do you reduce the bloating effects of chickpeas?
Here are some tips on how to reduce the bloating effects of chickpeas:
Soak and rinse the chickpeas: Soaking chickpeas overnight and rinsing them thoroughly before cooking can help to reduce the amount of gas-causing compounds in the legume.
Cook the chickpeas thoroughly: Chickpeas should be cooked until they are soft and tender. Undercooked chickpeas can be harder to digest and lead to bloating and gas.
Add digestive aids: Increase the quantity of ginger, garlic, cumin, and fennel seeds in your chickpea curry to reduce bloating and improve digestion.
Increase water intake: Drinking plenty of water can help to prevent constipation and promote regular bowel movements, which can help to reduce bloating.
Eat small portions: Eating smaller portions of chickpeas throughout the day can help to prevent bloating and gas by giving your body time to digest the food more easily.
Health benefits of chickpeas
A cup of chickpeas provides almost one-third of an adult's daily protein requirements.
Chickpeas contain no cholesterol. They're also rich in B-vitamins, iron, potassium, magnesium and selenium- all these factors support heart health.
Chickpeas are rich sources of fibre that can help people with diabetes and those trying to lose weight.
The iron, calcium and other nutrients in chickpeas contribute to healthy bone structure.
Chickpeas have high levels of potassium that can help manage high blood pressure.
If you like chickpea-based Indian dishes, you'll love the chana salad and black chana soup. Looking for easy recipes with other beans? Try this sprouted mung bean salad.
Love pasta and chickpeas? Creamy vegan garlic pasta with chickpeas is a great way to sneak chickpeas into pasta!
What to Serve With Chana Masala
There are many delicious side dishes that can be served with chole masala to make a complete meal. Here are some options:
Basmati rice: The fluffy texture of the rice pairs well with this restaurant style chana masala along with a vegetable side like

roasted tandoori cauliflower

or microwave-fried okra.
For low-carb option, pair it with coconut cauliflower rice.
If you're a meat-lover, pair chana masala with rice and tandoori chicken or easy baked chicken legs.
Pickles and chutneys: Indian pickles and chutneys are a great way to add some extra flavor to your meal. Try serving chole masala with rice and mango chutney or amla pickle as sides.
Naan/roti: Another popular option is to serve authentic chana masala with warm roti or naan. They are perfect for soaking up the flavorful sauce.
Printable curry paste recipe
Grab a printable copy of the curry paste that helps home cooks like you cook different curries in 30 minutes or less:
★★★★★Did you try this recipe? Please give a star rating in the comments below ★★★★★
HUNGRY FOR MORE? Join over 1000 home cooks like you who subscribe to my weekly newsletter to get all the latest recipes right in your inbox. Or follow me on your favorite social media: Facebook, Pinterest, Instagram, and YouTube. Thank you and happy cooking!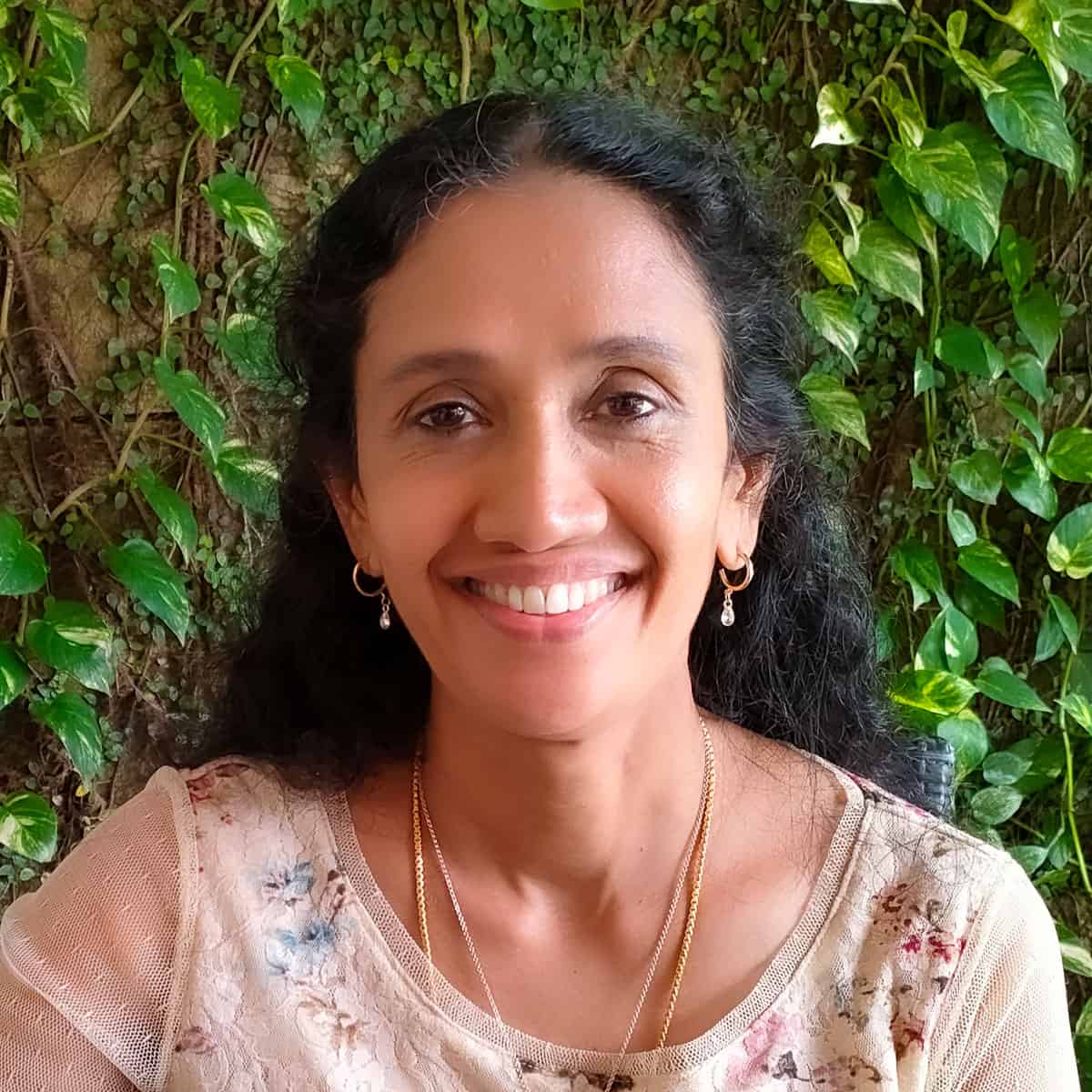 Hi! I'm Sheeba, welcome to Go Healthy ever after!
I have a passion for cooking delicious nourishing food that's easy to cook with fresh natural ingredients free from additives or preservatives. The easy healthy recipes you find here will inspire you to cook with creativity.
Copyright secured by Digiprove © 2021-2023