Fluffy quinoa with cheese, beans and vegetables made into patties and shallow-fried. These quinoa patties are a yummy and healthy snack that makes your mouth water at the mere sight of it. Serve these patties on wholemeal buns with lettuce and tomatoes with a drizzling of coconut walnut sauce to make healthy, yummy quinoa burgers.
What is so good about these quinoa patties?
Quinoa is one of those superfoods that is worth the hype and the cost. The nutty flavor, fluffy texture and versatile nature of the quinoa make it a very attractive ingredient for cooking and a delicious one. Add to that its reputation as a complete protein with all nine essential amino acids in addition to antioxidants, fiber and lots of minerals and vitamins.
The feta cheese and cottage cheese used in this recipe are rich in calcium and are lower in fat and calories, making this recipe a healthier choice. The quinoa and mung beans provide protein, energy and several vitamins and minerals and the vegetables provide added nutrients.
The secret behind the perfectly moist-on-the-inside and crunchy-on-the-outside quinoa patties are the tomatoes and cheese that impart a unique flavor and texture.
Health benefits of quinoa
Quinoa is one of the world's most popular health foods that has become very trendy among health-conscious people.
Quinoa is gluten-free, very high in protein and one of the few plant foods that contain all nine essential amino acids.
Quinoa has a low glycemic index, which is good for blood sugar control and is very high in antioxidants.
It is also high in fiber and important nutrients like magnesium, B-vitamins, iron, potassium, calcium, phosphorus, vitamin E and various beneficial antioxidants.
Can the quinoa patties be made in advance?
Yes, an ideal recipe for entertaining that appeals to children and adults alike, these quinoa patties can be prepared in advance and frozen. You just need to thaw and warm them up in the oven. Have some sliced tomatoes and lettuce in your refrigerator, so you can assemble them on wholemeal burger buns with the quinoa patties and drizzle the coconut walnut sauce on top, to make sumptuous super-healthy burgers. Unfortunately, the sauce cannot be made in advance, but it takes no more than 5 minutes to make it.
You'll love this recipe when you see the faces of the little diners lit up with joy at the first bite. After all, the joy of cooking is realized only when the diners enjoy your creation.
What do you need for quinoa patties?
The list of ingredients is quite long, but I can assure you, these awesome patties are well worth the effort. You will need quinoa, dry mung beans, onion, tomato, ginger, garlic, carrot, peas, egg, instant oats, feta cheese, cottage cheese, cilantro, chili powder, salt and oil to shallow-fry.
How do you make the quinoa patties?
Cook the quinoa and moong beans. Boil the peas in water for 10 minutes, drain and coarsely mash with the back of a spoon. Saute the onions, ginger paste, garlic paste, tomatoes, chili powder and salt. Cook uncovered until the mixture becomes dry, then mix in the mashed peas and grated carrots. Mix the quinoa, mung beans and rest of the ingredients.
Divide the quinoa mixture into 15 balls, shape them into patties and shallow fry in oil.
How do you make the coconut walnut sauce?
Blend coconut, baked walnuts, peppercorns, ginger, salt and water to get a simple, healthy and creamy sauce.
Alternatively, you can use the avocado green sauce that tastes great with these quinoa cakes.
Lemon garlic quinoa is another interesting quinoa recipe you might want to try.
Make a delicious healthy vegetarian meal with the quinoa burgers and these healthy sides:
Indian chickpea patties and beetroot tikki are another vegetarian patty recipes you might like.
★★★★★Did you try this recipe? Please give a star rating in the comments below ★★★★★
HUNGRY FOR MORE? Join over 1000 home cooks like you who subscribe to my weekly newsletter to get all the latest recipes right in your inbox. Or follow me on your favorite social media: Facebook, Pinterest, Instagram, and YouTube. Thank you and happy cooking!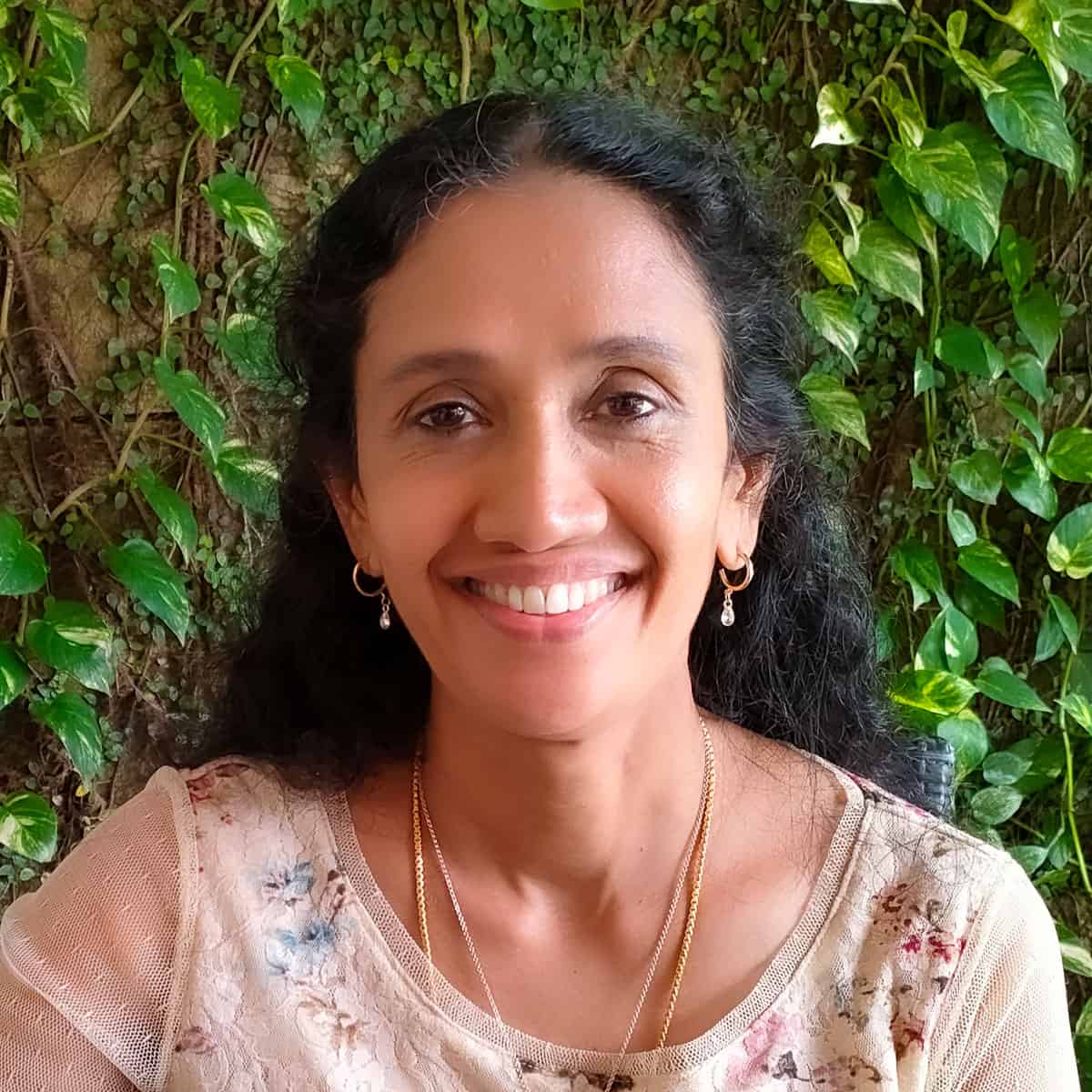 Hi! I'm Sheeba, welcome to Go Healthy ever after!
I have a passion for cooking delicious nourishing food that's easy to cook with fresh natural ingredients free from additives or preservatives. The easy healthy recipes you find here will inspire you to cook with creativity.
Copyright secured by Digiprove © 2019-2021