These beetroot cutlets or patties are guilt-free because they are baked, with the same awesome taste! This easy recipe shows you how to make crunchy delicious beetroot tikki that are low in calories and use up limited oil.
Why You'll Love This Beetroot Cutlet Recipe
Looking for an easy beetroot appetizer or a quick snack? You can make these beetroot kebabs in the oven without sweating out in the kitchen.
The beetroot potato mixture can be prepared in 10 to 15 minutes. It does take about 40 minutes of baking, but it's totally hands-free. The oven does all the cooking for you. You can use that time to cook the rest of your meal, go through your messages or take a relaxing shower.
The problem with beetroot is that it tends to leave a lot of moisture. It is a different situation when you roast them as cubes. As in beetroot feta salad, we roast them until they caramelize, so there is no additional moisture left.
In beetroot mandarin orange salad, we dry roast grated beetroot to remove extra moisture before adding it to the salad. Whereas in beetroot parippu vada, we use rice flour to absorb all of that moisture.
So what's the problem if there's extra moisture?
When you try to fry the cutlets, they become soggy.
They absorb a lot of oil making them greasy.
The calories and fat content (and your guilt!) shoot up, making the patties unhealthy.
So how do we solve the problem?
EASY! Just squeeze out the liquid from the grated beetroot. However, it would still leave out moisture when you add salt. (Gosh!)
Here's where we get smart. The oven uses the moisture in the food to cook. So baking these pretty patties would crisp them up without making them greasy with too much oil.
We do spray oil while baking, but it's only a fraction of what we would use for frying. Win-win!
Now let's look at how it's done: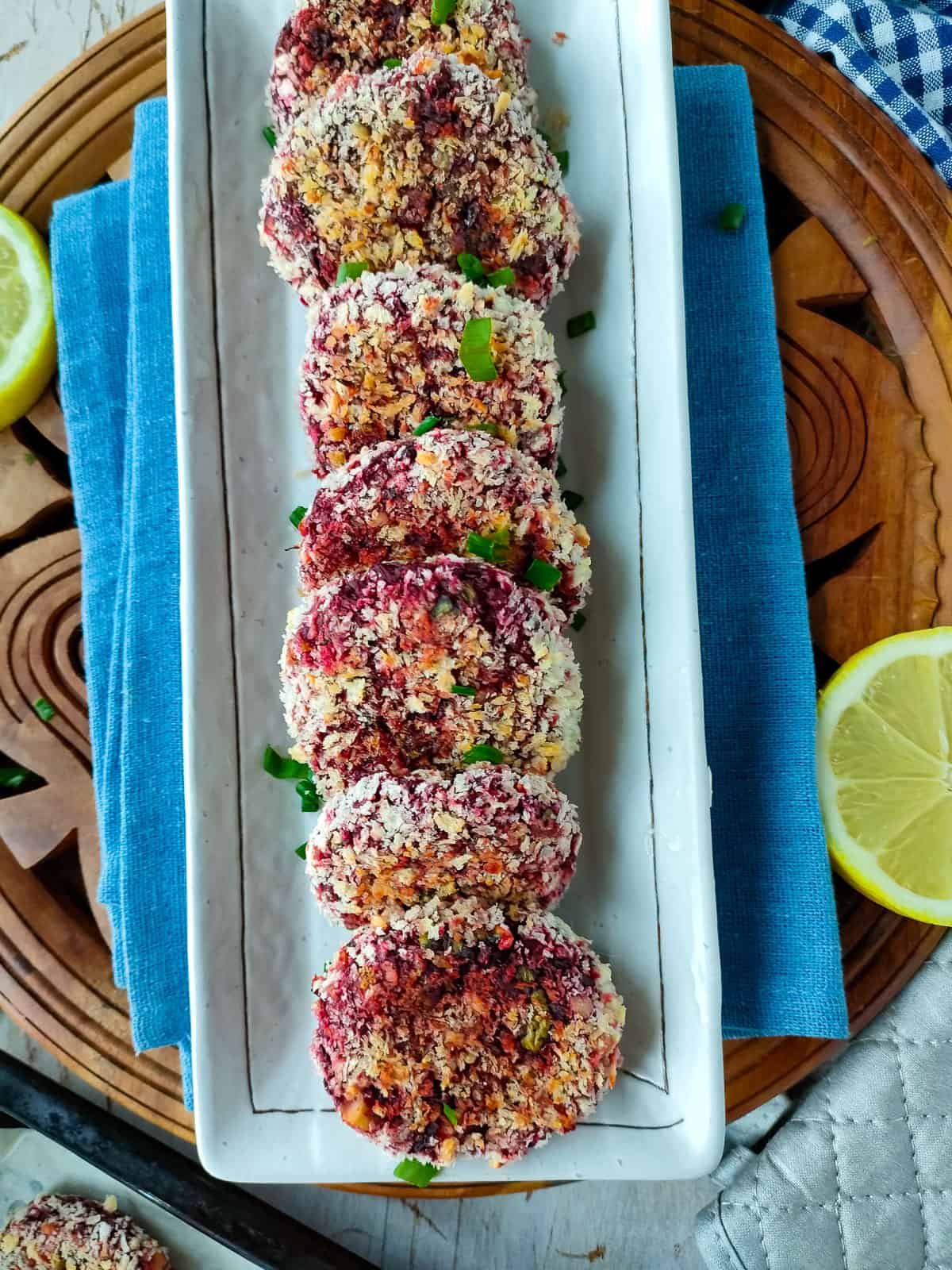 Ingredients
(You can find the exact measurements and instructions in the printable recipe card at the end of this page.)
Beetroot: The hero of the cutlet recipe, ensure that it is firm and fresh.
Potatoes: I prefer starchy ones like russet potatoes that turn out fluffy. (You can see that in action in the Italian potato croquette recipe.)
Spices: Chili powder, coriander, cumin, garam masala, chaat masala and green chilies.
Ginger-garlic paste: You can also use grated ginger and minced garlic.
Lemon zest for some citrus flavor.
Breadcrumbs: I recommend Panko crumbs which are crispier. But you can use the regular ones as well.
Cashews give a crunchy texture to the cutlets. Use roasted cashews for a better crunch.
How To Make Beetroot Cutlets
Prepare The Beetroot Mixture
Peel and grate the beetroot. Squeeze out the liquid from the beetroot. (PRO TIP: Do not discard the liquid. Use it in soups or curries.) Boil, peel and mash the potatoes.
To the beetroot add mashed potatoes, spices, salt, chopped coriander leaves and spring onions, ginger-garlic paste, chopped green chili, and a teaspoon of warm oil.
Mix everything together. If the mixture is too soft and doesn't hold together, add a tablespoon or two of all-purpose flour.
Divide the mixture into 12 to 14 balls and shape them into patties.
Mix ¼ cup all-purpose flour with ¼ cup of water without any lumps
Brush the flour mixture on both sides of the cutlets.
Take breadcrumbs in a small bowl. Place the beetroot patties in the bowl and coat them with the crumbs.
Bake The Beetroot Tikki
Preheat the oven to 180°C/ 356°F. Place the beetroot patties on a baking tray or sheet pan apart from each other. Spray peanut oil to cover the surface of each cutlet. Flip them and repeat.
Bake the tikki in the oven for 40 to 45 minutes (flipping once after 20 minutes) until they are browned to your satisfaction.
Recipe Tips
Get the texture right: It might get a little messy after you brush the tikki with the flour-water mixture. If the mixture becomes too soft to handle, dip them again in the breadcrumb mixture before placing them on the baking tray. You'll eventually get a hold of it, literally!
Make it quick: Just try to get them inside the oven as soon as possible. The oven will take over from there.
Pat dry: Ensure that there's no additional moisture from the ingredients. Pat everything dry from the boiled potatoes to chopped herbs before adding them to the beetroot mixture.
Add oil: Don't forget to add warm oil to the mix with the spices. This helps to bring everything together.
Scaling: This beetroot tikki recipe can easily be multiplied to serve more people.
Variations: If you're not vegan, use a beaten egg to brush over the cutlets instead of the flour-water mixture.
Make ahead: Beetroot patties can be made ahead and frozen for 5 months. Store them in a single layer in ziplock bags. They keep well in the refrigerator for 4 to 5 days.
Storing leftovers: They keep well for about 3 days in the refrigerator.
What To Pair With Beetroot Tikki
Beetroot cutlets can be eaten as starters with green chutney or avocado chutney.
You can serve them as sides with soups like black chana soup, chicken lemon coriander soup, or chana dal soup.
Sometimes I pair beetroot tikki with rice dishes:
More Appetizers
★★★★★Did you try this recipe? Please give a star rating in the comments below ★★★★★
HUNGRY FOR MORE? Join over 1000 home cooks like you who subscribe to my weekly newsletter to get all the latest recipes right in your inbox. Or follow me on your favorite social media: Facebook, Pinterest, Instagram, and YouTube. Thank you and happy cooking!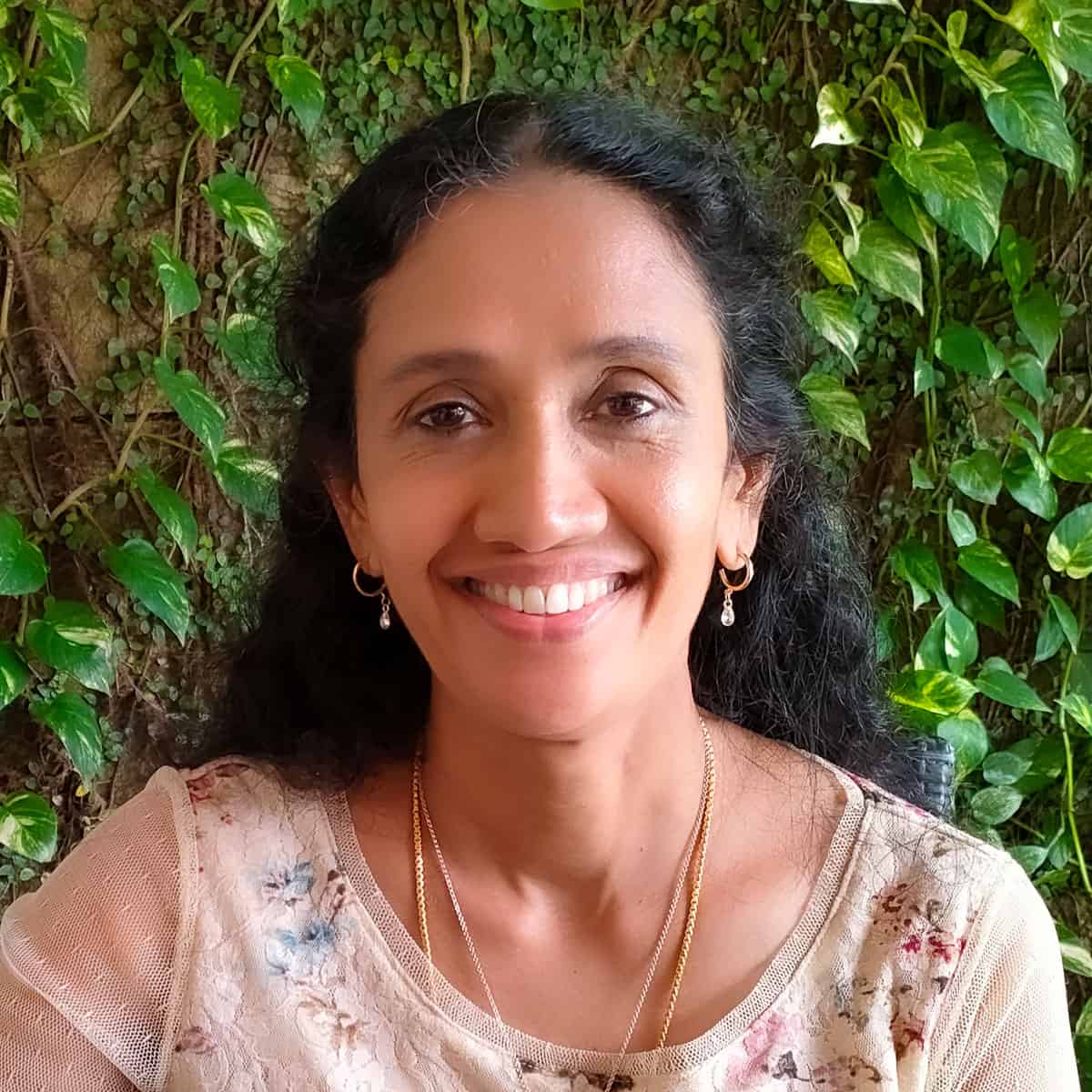 Hi! I'm Sheeba, welcome to Go Healthy ever after!
I have a passion for cooking delicious nourishing food that's easy to cook with fresh natural ingredients free from additives or preservatives. The easy healthy recipes you find here will inspire you to cook with creativity.
Copyright secured by Digiprove © 2023