Coconut cauliflower rice is crispy cauliflower rice flavored with coconut and ginger. Try this 20-minute riced cauliflower recipe that is high on taste and low on carbs and see how good you feel. The aromatic spices and coconut flavor make you forget you're actually eating a stir-fried vegetable!
About The Recipe
If you're looking for recipes using riced vegetables, this cauliflower coconut rice is the best bet. Cooking with cauliflower rice is easier, quicker and healthier than white rice. With this easy recipe, you'll learn how to make cauliflower rice (with or without a food processor) that actually TASTES GOOD.
The trick is to season it well with spices that make the cauliflower rice taste less "cauliflower-y" and more like rice. This recipe is a healthy take on the South Indian coconut rice. Curry powder is the additional ingredient here that does the trick.
Even if you hate cauliflower, this low-carb cauliflower rice is sure to surprise you. Similar to my spicy cauliflower soup without cream.
This is one of the South Indian cauliflower recipes you may not want to miss. Love cauliflower? You might like the roasted tandoori cauliflower wings and masala chicken cauliflower rice.
This easy vegan, gluten-free coconut riced cauliflower recipe (with 136 CALORIES) is an excellent option if you want to save yourself a few hundred calories and also get your recommended daily serving of vegetables in a delicious way. It just takes 20 minutes to prep AND cook.
Popular Videos
Ingredients
vegetables: a medium head cauliflower and boiled green peas
virgin coconut oil
seasoning: salt, pepper and curry powder (sambar powder).
whole spices: mustard seeds, dry red chilies, ginger.
nuts: roasted peanuts and cashews
grated coconut.
Can't find grated coconut? Fresh coconut chunks or dried flakes can be used: pulse a few times in the food processor until you get the grated consistency.
How to make coconut cauliflower rice
(You can find the exact measurements and instructions in the printable recipe card at the end of this page.)
How to "rice" cauliflower
Roughly chop the cauliflower head into florets and run through the food processor until the cauliflower bits resemble grains of rice. If you don't own a food processor, the cauliflower can also be grated using a box grater. Stir-fry the cauliflower rice in coconut oil with salt and pepper until cooked and there's no moisture left in the coconut rice.
How to season cauliflower rice
Heat coconut oil and saute the nuts, peas, whole spices and curry powder for 5 minutes. Add the coconut, boiled green peas and cauliflower rice and stir-fry for about 2 minutes. Serve hot!
Cucumber raitha
The raitha with CREAMY YOGURT brings everything together in the cauliflower rice and is a perfect 'jewel in the crown'.
Add finely diced cucumber, grated carrots and minced coriander leaves to plain UNSWEETENED YOGURT and season with salt, pepper and CUMIN powder. A refreshing yummy side for anything from biriyani to cauliflower rice.
What to serve with coconut riced cauliflower
Serve this cauliflower coconut rice with creamy refreshing cucumber raita and a protein like minced chicken curry, easy chicken keema-filled eggs or baked hariyali chicken drumsticks and you get a yummy wholesome meal.
It tastes SO GOOD with tandoori chicken and chicken tikka, too.
If you love fresh coconut flavor, you can pair this cauliflower rice with Kerala chicken curry. It also pairs well with the spicy flavors of pepper chicken gravy.
You can also serve it as a side with these for a vegetarian dinner:
For a seafood dinner, try:
For a vegetarian or vegan meal, try these quick side dishes:
Recipe tip
The secret to making the cauliflower rice taste delicious lies in seasoning it twice: with salt and pepper when you cook the riced cauliflower, then again with curry powder (which is actually a bunch of spices, roasted and ground).
Common questions
How long does cauliflower rice last in the fridge?
This coconut cauliflower rice doesn't last long in the fridge, since fresh coconut will lose its flavor fast. It stays fresh for about 2 days. If you want to keep it beyond that, store in the freezer. It keeps well for about 1 month when frozen. Thaw overnight and reheat by stir-frying on high flame until heated through. You can also reheat in the microwave in a wide, open bowl.
How much cauliflower rice is in a head?
A medium-sized cauliflower that weighs about 500 grams/1.1 pounds yields approximately 4.5 cups of cauliflower rice.
How to make cauliflower rice crispy?
Cauliflower releases moisture when salt is added. You need to ensure that all of the moisture evaporates while the cauliflower gets cooked without getting soggy. This can be done by stir-frying at medium-high heat all the way from start to finish, while cooking and again while seasoning with the spices. This way you get perfectly cooked "grains".
More side dishes
★★★★★Did you try this recipe? Please give a star rating in the comments below ★★★★★
HUNGRY FOR MORE? Join over 1000 home cooks like you who subscribe to my weekly newsletter to get all the latest recipes right in your inbox. Or follow me on your favorite social media: Facebook, Pinterest, Instagram, and YouTube. Thank you and happy cooking!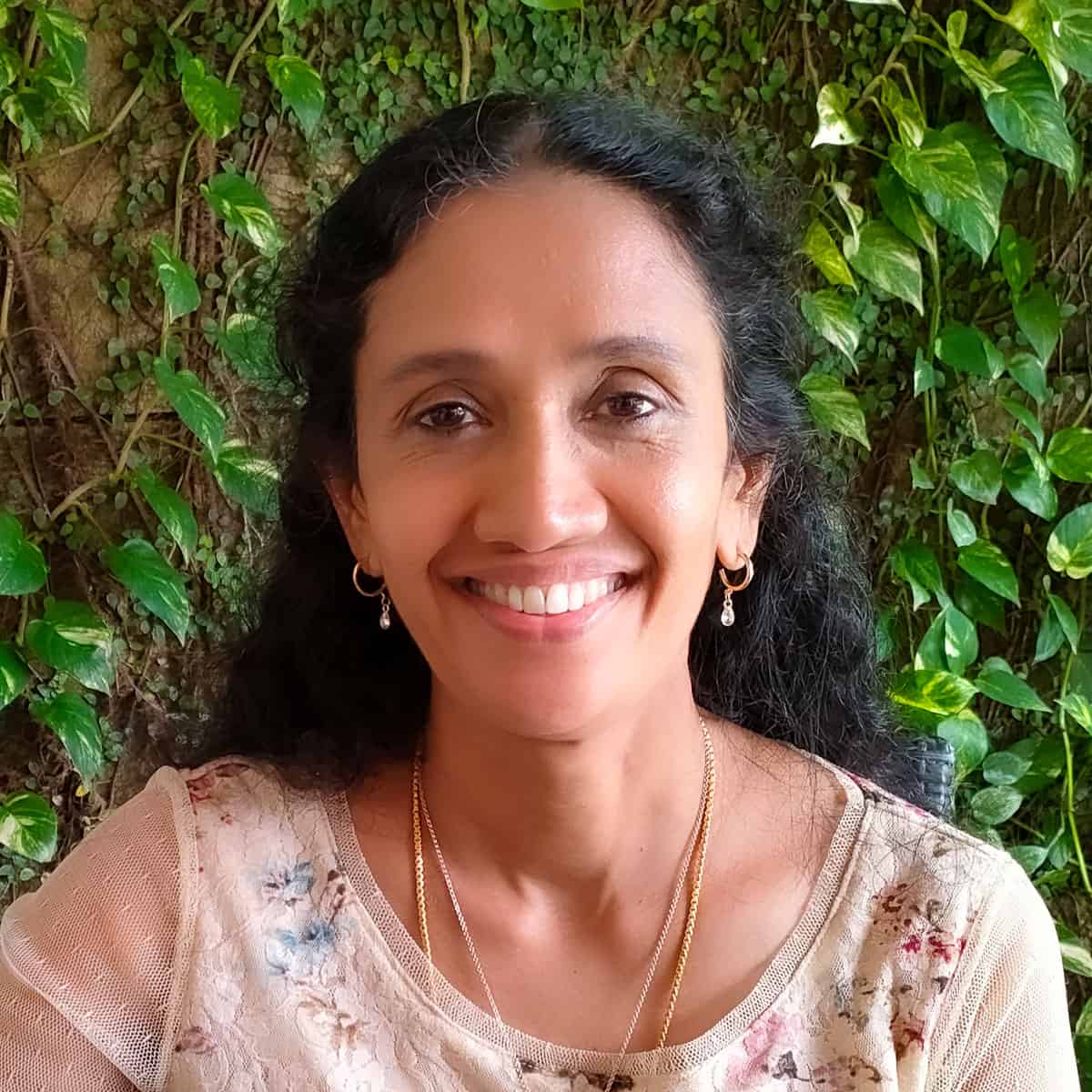 Hi! I'm Sheeba, welcome to Go Healthy ever after!
I have a passion for cooking delicious nourishing food that's easy to cook with fresh natural ingredients free from additives or preservatives. The easy healthy recipes you find here will inspire you to cook with creativity.
Interesting facts about cauliflower
Cauliflower is an excellent source of dietary fibers, vitamins C, K and vitamins of the B group and minerals such as manganese, potassium, and magnesium. Cauliflower has low caloric value and can be used as a substitute for rice and potato.
Cauliflower develops large and coarse leaves that are green in color. They grow in the form of a rosette.
Leaves surround stalk and ensure the development of white head. Without leaves, a bunch of inedible yellow flowers would appear.
The color of the head depends on the variety. The most common type of cauliflower is white, but it can be also purchased in green, purple, orange, brown and yellow color.
The green variety is known as broccoflower because it looks like broccoli.
One type of green cauliflower develops spiky instead of round curds. This variety of cauliflower is known as Romanesco broccoli.
Cauliflower belongs to the group of cruciferous vegetables. They are named that way because they have flowers that consist of four petals that grow in the shape of the Greek cross.
Cauliflower develops from seeds and tissue transplants.
Cauliflowers can be eaten raw, cooked or pickled.
Prolonged cooking destroys the majority of vitamins and it is associated with bad, sulfur-like smell of cauliflower. Cooking 30 or more minutes decreases health benefits of cauliflower by 75%.
Medical studies revealed that substances isolated from cauliflower can prevent the development of certain types of cancer.
China is the greatest manufacturer of cauliflowers in the world.
Copyright secured by Digiprove © 2020-2023