These spicy deviled eggs satisfy your craving for the egg appetizer and also your love for chicken. Boiled eggs are stuffed with minced chicken that is cooked with Indian spices (also called keema chicken). A healthy twist to the classic deviled eggs, this keema chicken recipe with eggs is a fun take on chicken keema, an Indian minced chicken recipe.
About Minced Chicken Deviled Eggs
Chicken kheema is usually served as a side or used to make sandwiches/rolls or curry. This chicken mince recipe with ground chicken breast and eggs is an easy appetizer that can make a weekend family lunch or brunch special. It can also be made with leftover chicken. (tips below)
Keema chicken is prepared by sautéing ground chicken with onions, tomatoes, spices and yogurt. The ingredients and cooking method are almost similar to chicken keema masala.
Eggs are hard-boiled, the yolks removed, mashed and mixed with the cooked chicken mince. The egg whites are then filled with this delicious mixture. It is as easy as it sounds.
If you search on the internet for similar recipes, you won't find one. This recipe for minced chicken deviled eggs is the first of its kind. A creative recipe for chicken deviled eggs that is easier and fancier than the classic one! Sorry for bragging, couldn't help it 🙂
Chicken kofta curry is another easy Indian recipe with ground chicken in which chicken meatballs are cooked in a creamy gravy. If you like kebabs, try these 30-minute chicken keema kababs.
You will rate this as one of the best Indian minced chicken recipes because
It is one of the easiest and healthiest low calorie chicken recipes.
Like most egg and chicken recipes, it is high-protein and low-carb, using lean chicken breasts.
Other than being a great party appetizer, this can easily be one of those egg recipes you can have not only for breakfast but also for lunch or dinner. Chop up the egg whites, mix with the filling and make lettuce wraps or tortilla wraps.
Chicken can be replaced with minced fish, prawns or vegetables. But it really gives you a kick to eat an egg with chicken inside! You don't have to worry about which came first!
You can use the leftover chicken filling for grilled sandwiches the next day- a perfect lunch box idea. The filling keeps well for 2 to 3 days in the refrigerator (depending on the freshness of your eggs).
Are chicken deviled eggs healthy?
THIS VERSION definitely is. The egg, being a powerhouse of vitamins and minerals, high-quality protein and disease-fighting nutrients like carotenoids and choline, is a favorite for many of us.
So easy to cook and so good to eat! And what better way to cook than with minced chicken inside,making it more flavorful as well as healthier? Win-win!
Ingredient notes
(You can find the exact measurements and instructions in the printable recipe card at the end of this page.)
You will need hard-boiled eggs, minced chicken, onions, tomatoes, ginger, garlic, chili powder or cayenne pepper, yogurt and coriander leaves with some spring onions for garnishing.
I've sprinkled paprika for garnishing purposes, which is completely optional. It might seem like a lot of ingredients, but the cooking part is quite straightforward.
The only hard part is to prevent yourself from finishing off the filling before putting it into the egg whites!
How to make spicy deviled eggs with minced chicken: step by step
How to hard boil fresh eggs and peel them easily
You don't need instructions to boil eggs, but I've found that boiling eggs this way gives perfectly cooked eggs and also makes them easier to peel:
Take water in a deep pot and slowly place the eggs. Water should completely cover the eggs. Bring it to a rolling boil.
Remove from heat and keep covered for 12 minutes for medium-sized eggs. (10 minutes for small eggs and 14 for large ones.)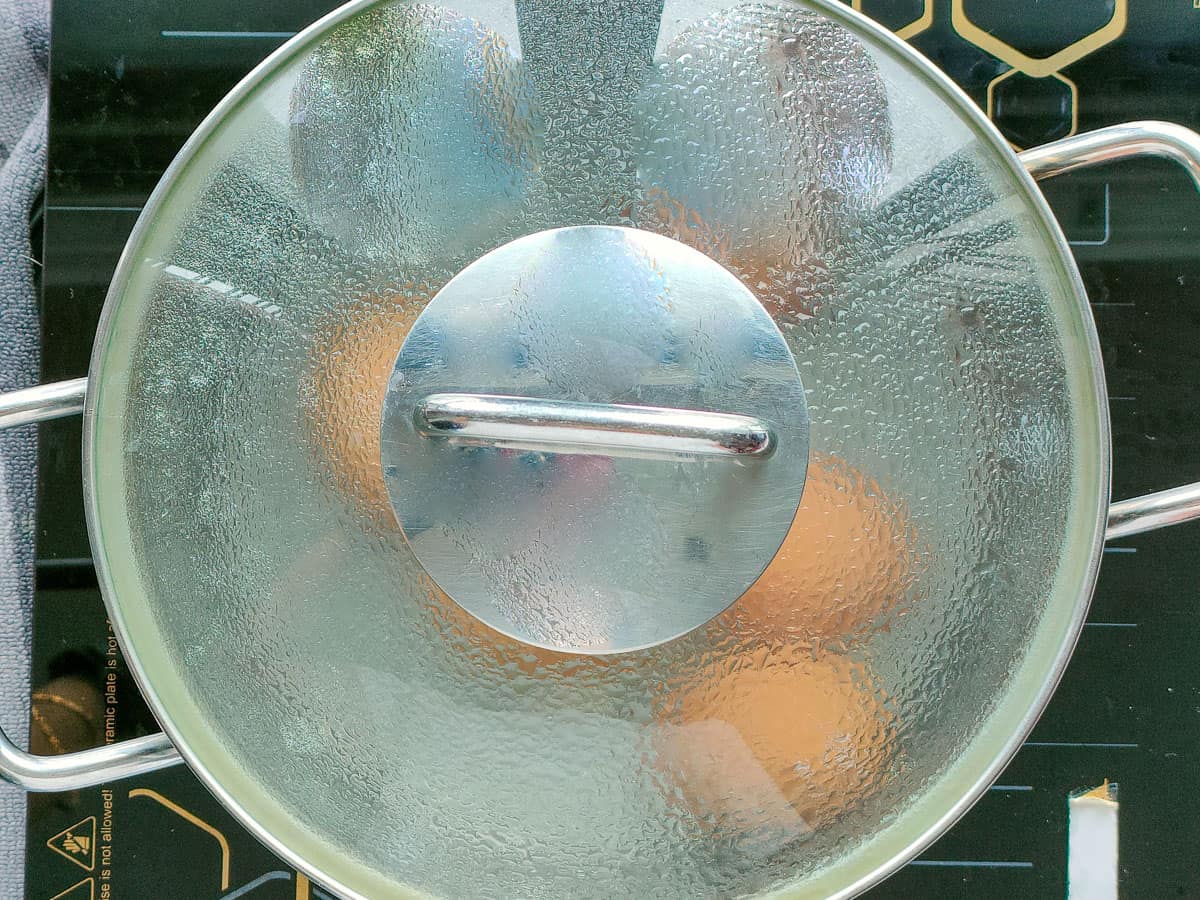 Transfer the eggs to ice water (water should completely cover the eggs).
After 5 to 10 minutes, peel the eggs. There you go! This way you can peel them very easily. And you get perfectly cooked egg whites with soft but well-cooked yolks.
Peel and slice the eggs into halves lengthwise. Remove the yolks carefully with a small spoon and mash. Keep aside.
How to mince chicken breast
You can buy chicken mince or make your own ground chicken from breasts. I prefer making my own mince because store-bought chicken mince may be mixed with fat sometimes and it is difficult to remove it.
Chop the boneless chicken breasts into chunks and mince using a food processor. If you don't have one, you can mince the chicken into fine pieces using a sharp knife.
Check out the chicken mince stir fry recipe to learn how to make minced chicken from chicken breasts with or without a food processor. Or click the image below: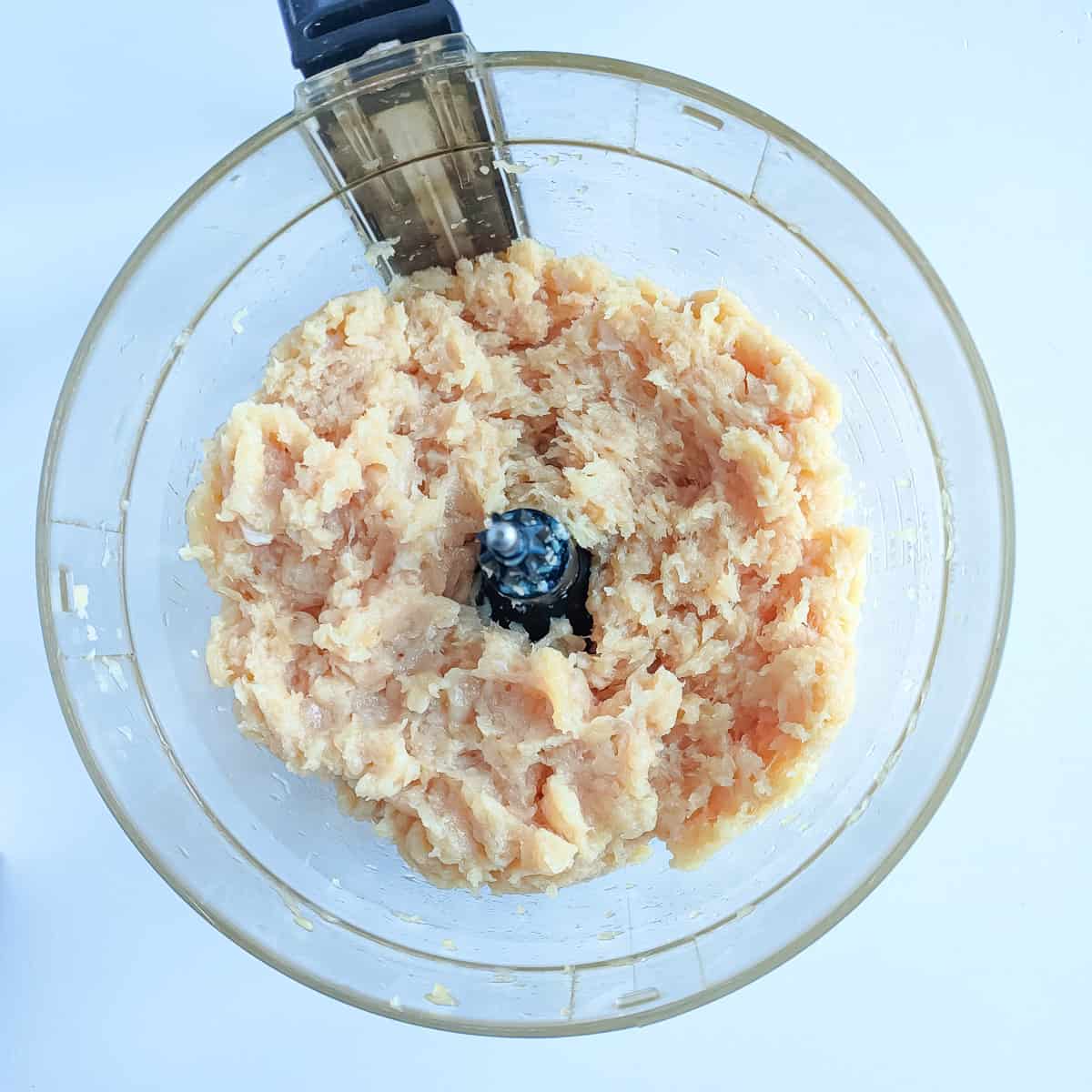 This is a complete tutorial on how to mince chicken at home with a food processor or by hand. Works for boneless chicken breasts, thighs, or any other cut of chicken.
Get the recipe
How to make chicken keema and egg yolk filling
Heat cooking oil in a pan and saute the onions, tomatoes, ginger, garlic and chicken, then add the spices and yogurt. (Optionally, in addition to the above spices, I like to add coriander powder and garam masala for more flavor. See the recipe card for quantities.)
Once the chicken is cooked, which takes about 10 minutes, turn off the flame. Mix in coriander leaves. Keema chicken masala is ready.
Now add the cooked and mashed egg yolks. Mix well. Spoon the filling into the egg whites and garnish with spring onions.
Common questions about boiling eggs
1. What is the secret to easy to peel eggs?
There are a few tricks to making boiled eggs that are easy to peel:

Add vinegar to the cooking water: Adding a teaspoon of vinegar to the water can help to break down the proteins in the egg whites, making the eggs easier to peel.

Use a slotted spoon to transfer the eggs to the ice bath: After boiling the eggs, transfer them to a bowl of ice water using a slotted spoon. This will help to cool the eggs quickly and prevent overcooking, which can make them harder to peel.

Crack the shells gently: Once the eggs have cooled, gently tap them on a hard surface to crack the shell all over. Be careful not to crack the egg too hard, as this can damage the egg white.

Peel under running water: Peel the eggs under cool running water, which can help to loosen the shell and make it easier to remove.
2. Is it better to peel boiled eggs hot or cold?
It is generally better to peel boiled eggs after they have been cooled in ice water rather than when they are still hot. Here's why:

When eggs are boiled, the proteins in the egg white coagulate and become firm. However, the shell and the thin membrane beneath it can still stick to the egg white, making it difficult to peel. Cooling the eggs in ice water causes the egg white to contract and pull away from the shell, making it easier to peel.

If you try to peel boiled eggs while they are still hot, the shell may stick to the egg white, and it can also be more difficult to handle the hot eggs without burning yourself. It's best to let the eggs cool down before attempting to peel them.

To cool boiled eggs quickly, remove them from the hot water and transfer them to a bowl of ice water. Allow the eggs to sit in the ice water for at least 5 minutes before attempting to peel them. This will help the egg white to separate from the shell and make them easier to peel.
3. Is it ok to put cold eggs in boiling water?
Cold eggs might crack if added to boiling water. If you're using eggs straight from the fridge, follow the above instructions. They work for room-temperature eggs as well.
If you're looking for quick curry recipes with eggs, try Kerala egg roast, easy egg kuruma with coconut or egg keema masala made with just eggs, onions, tomatoes and a few basic spices.
Egg omelette curry is another delicious recipe which combines the simple omelet with curry flavors.
★★★★★Did you try this recipe? Please give a star rating in the comments below ★★★★★
HUNGRY FOR MORE? Join over 1000 home cooks like you who subscribe to my weekly newsletter to get all the latest recipes right in your inbox. Or follow me on your favorite social media: Facebook, Pinterest, Instagram, and YouTube. Thank you and happy cooking!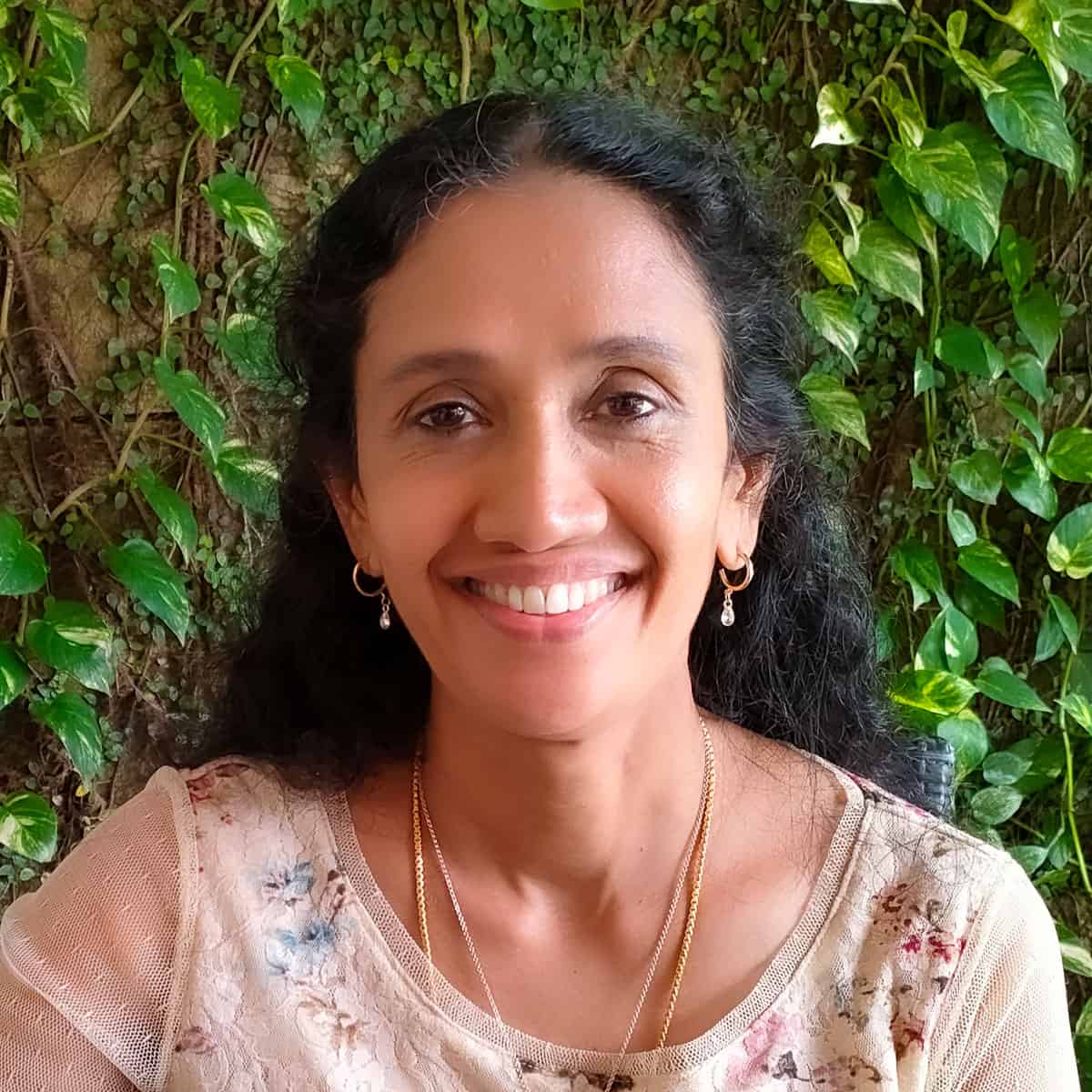 Hi! I'm Sheeba, welcome to Go Healthy ever after!
I have a passion for cooking delicious nourishing food that's easy to cook with fresh natural ingredients free from additives or preservatives. The easy healthy recipes you find here will inspire you to cook with creativity.
Copyright secured by Digiprove © 2019-2023