This Greek yogurt chicken is made of juicy bite-sized chicken in a creamy dijon sauce that doesn't require cream to taste good! The healthy lemon yogurt sauce with mustard adds tons of flavor to this easy chicken breast recipe.
What is Greek yogurt chicken?
This lemon yogurt chicken is made of 7 simple pantry ingredients and can be cooked in less than an hour. An easy, healthy chicken recipe for a cozy family dinner.
The best part about the low-calorie yogurt mustard sauce? It doesn't need any flavoring or thickening agents like cream or flour.
Yogurt and yellow pepper in addition to mustard give lots of flavors and body to the sauce. I use yogurt as a low-fat alternative to mayo and sour cream in recipes like potato salad with raisins and high protein pasta salad.
The very sight of the creamy dijon sauce with its bright yellow hue can perk up your mood and your appetite. That makes it a perfect dish for a weeknight dinner when you want to cook up a quick, healthy meal.
You can make this yogurt lemon chicken with minimum fuss, especially when everyone is hungry and waiting for food. Exactly like my 5-ingredient easy chicken curry and easy baked chicken breasts.
Trending Videos
Why you'll love this dijon mustard chicken
The moisture in the bell peppers, along with the yogurt help keep the chicken soft and moist. Unlike chicken legs with skin and bones (as in sheet pan chicken legs and potatoes), chicken breasts tend to dry out while cooking. They don't have much fat to keep them moist. You can do one of these things to keep the chicken moist and juicy:
Use chicken pieces with bones, skin and fat.
Use a lot of fat like butter and cream for cooking the chicken.
Use a unique marinade and bake the chicken. (as in baked pudina chicken)
Mince the chicken and make

chicken mince kebabs

or

chicken kofta curry

.
Cook juicy vegetables like bell peppers with the chicken.
This dijon mustard chicken recipe uses one of the healthiest options, using pepper, mustard, lemon and yogurt for the creamy dijon sauce. Each of the above-mentioned ingredients helps in tenderizing chicken as well as provides flavor.
Dijon sauce
Ever since I started cooking this spicy baked fish with lemon and mustard, the Dijon mustard-lemon combination has topped the list of my favorite flavors. Add to it juicy yellow peppers, onion and garlic, you get a sauce to die for.
This dijon mustard sauce without cream is spicy, tangy and fruity balanced with a tinge of sweetness. EVERYTHING you would love about a sauce.
7 ingredients – Dijon mustard, yellow peppers, onions, garlic, Greek yogurt, green chili, lemon juice and zest – are all you need to put together this yummy lemon mustard sauce.
How to cook lemon yogurt chicken- step by step
Saute chicken
(You can find the exact measurements and instructions in the printable recipe card at the end of this page.)
Chop the chicken breast into 2-inch pieces and season with salt, pepper and lemon juice. Heat oil, stir in the chicken pieces and saute for 10 minutes or until all the pieces turn opaque but not fully cooked.
Make lemon yogurt sauce
Blend all the ingredients for the lemon dijon sauce except the Greek yogurt into a smooth puree.
Remove the chicken pieces and heat 1 tablespoon of butter in the same pan. Add the blended pepper-mustard puree and simmer for 15 minutes on low heat.
Add the chicken pieces and yogurt and let it simmer for another 10 minutes.
Garnish with chopped coriander and serve right away.
Can we call this "a sauce in a hurry"? This keto mustard chicken is bound to be a super hit recipe on your dinner menu.
If you love chicken recipes with an easy and healthy sauce, you might want to try lemon balsamic chicken with rosemary sauce.
Tips to make yogurt lemon chicken
Make this recipe your own by adding your favorite vegetables or herbs. Remember to add a bit more of the seasoning (salt, pepper, chilli, mustard and lime juice) when you add veggies.
Roast the bell peppers before blending (as in red chili pesto recipe or roasted pumpkin soup recipe). This is an easy way to intensify the flavors.
Add 1/2 cup of boiled peas or potatoes to add more flavor and nutrition.
Add chopped spinach to the sauce when you add chicken and yogurt.
Saute 1/2 cup of halved brussel sprouts with salt and pepper in the same pan after sauteing the chicken. Add to the sauce along with chicken.
What to serve with Creamy Greek yogurt chicken
Click here for more side dishes.
Looking for more chicken recipes?
★★★★★Did you try this recipe? Please give a star rating in the comments below ★★★★★
HUNGRY FOR MORE? Join over 1000 home cooks like you who subscribe to my weekly newsletter to get all the latest recipes right in your inbox. Or follow me on your favorite social media: Facebook, Pinterest, Instagram, and YouTube. Thank you and happy cooking!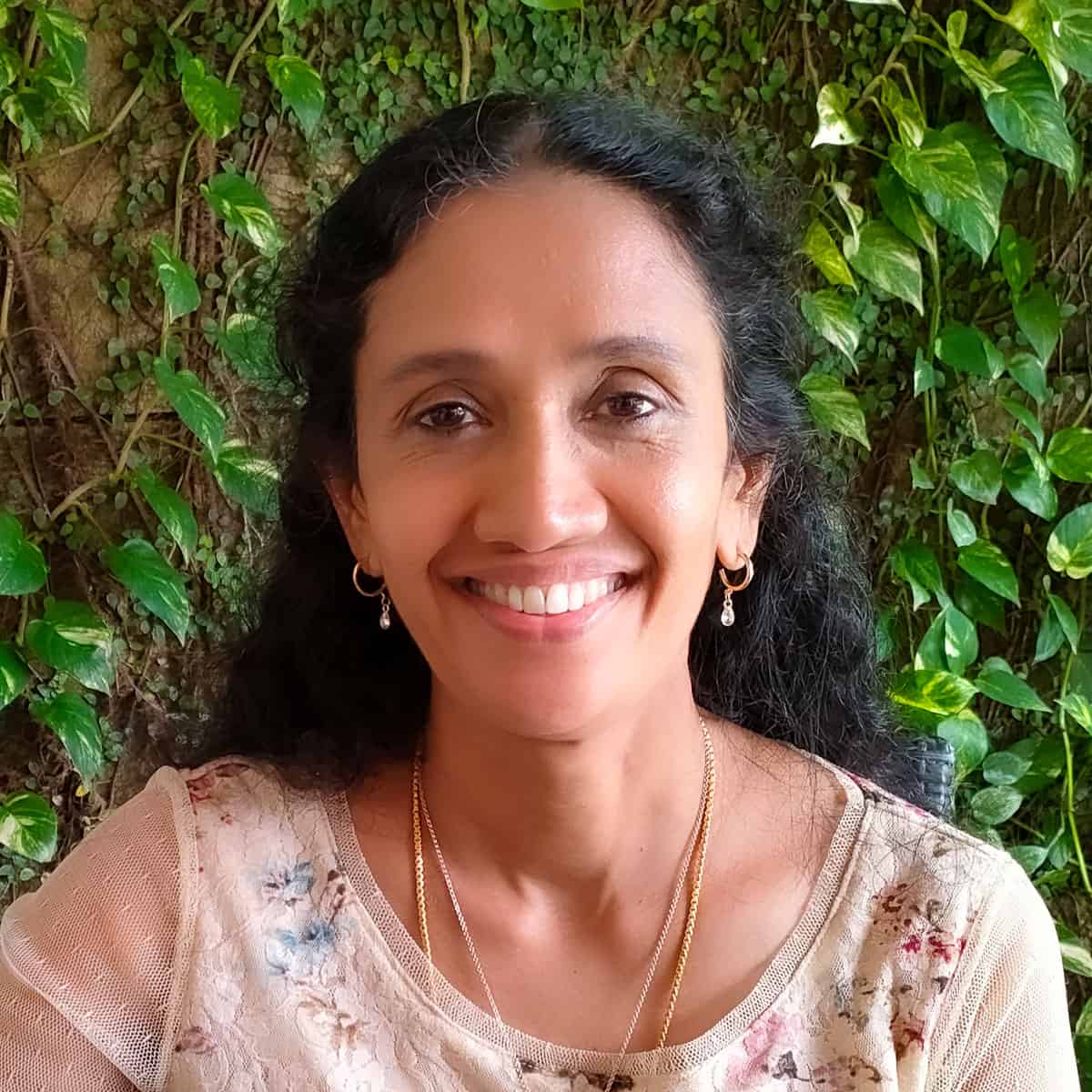 Hi! I'm Sheeba, welcome to Go Healthy ever after!
I have a passion for cooking delicious nourishing food that's easy to cook with fresh natural ingredients free from additives or preservatives. The easy healthy recipes you find here will inspire you to cook with creativity.
Copyright secured by Digiprove © 2019-2023