An interesting spicy baked fish recipe with easy lemon mustard sauce you can easily make in a sheet pan. Baking fish fillets is one of the most delicious and healthiest ways to cook fish. Stop cooking lemon baked fish with saturated fat like butter and cream!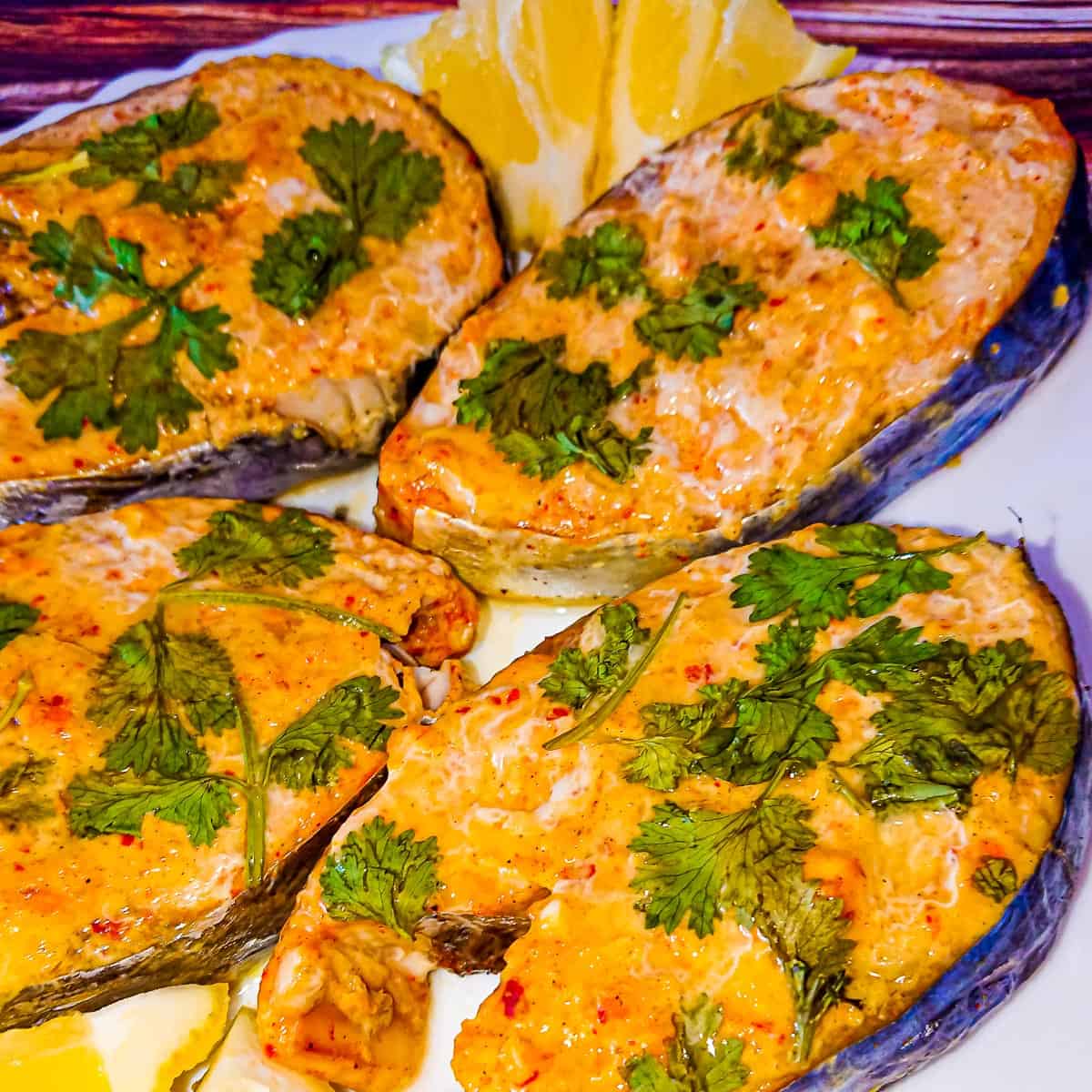 FEATURED COMMENT
I Made this for Mothers Day yesterday and it was a hit! everyone, including my picky father and younger nieces enjoyed it! Thank you for sharing this wonderful recipe…
ALEXANDRA CHO
Why you'll love this lemon baked fish recipe
Trying to cook fish for the first time? Find out how to make spicy baked fish in the oven with this simple low-calorie fish recipe.
In this healthy fish recipe, we brush the fish steaks (or fillets) with the lemon mustard sauce and bake them. You'll be wondering why you require that much butter or cream to bake fish when you realize this dijon mustard fish recipe doesn't require either.
Mustard baked fish is spicy, tangy and tender. It tastes great with a simple side dish like no-mayo coleslaw for a low carb and low-calorie seafood dinner.
On a busy weeknight, save time and effort by making it a sheet pan dinner. Roast thinly sliced vegetables alongside the fish. (See instructions in the recipe card at the end of the post.)
It's also the perfect baked fish steak recipe to make in big batches for a hungry crowd.
Getting started with fish? Love spicy fish recipes? Yet another easy fish recipe to try is simple fish cakes without potato.
If you want a spicy baked fish recipe with a crunchy topping, try making the baked cod with Panko crumbs or the easy pesto crusted salmon. They are adaptations of this recipe and equally delicious.
If you are a person who wants to spend less time in the kitchen but still show off some amazing dishes that look like they're worth a million dollars, then we are in this together.
This spicy baked fish with lemon and mustard can look like you spent hours in the kitchen.
In reality, you just need simple ingredients and 10 minutes for preparing. Leave the rest to your oven.
Let me show you the trick to make this spicy baked fish dish juicy and flavorful.
Best fish for baking
I used mackerel steaks (kingfish) here, but this dijon fish recipe is versatile. Steaks or fillets of other oily fish like tuna or mild fish like cod, sea bass, tilapia or halibut work great!
That being said, firm white fish steaks like mackerel, bass or cod can hold their shape better and can be marinated for up to an hour. This helps the fish absorb more of the flavor, making it juicy.
Small fish like sardines and pomfret are more suitable for curries like Kerala fish curry.
Fish steaks or fillets?
If you're worried about bones in the fish steak, you can absolutely use white fish fillet.
Secret tip for baking fish: Increase the cooking time by 5 minutes for every additional inch of thickness of the fillet. (Go by the thickest part.)
I like fish steaks because they have uniform thickness and cook evenly. I don't mind picking out the bones. That's the compromise you make!
If you love salmon, try citrus glazed salmon or smoked paprika salmon with mango salsa.
Seasoning and mustard marinade for fish
Spice rub mix for fish: Mix chili powder and salt in a small bowl. (Adjust chilli powder according to your spice level.)
Lemon-mustard sauce for fish: This easy sauce can double-up as a marinade. You will need Dijon mustard, garlic, cumin, chili flakes, fresh parsley, lemon juice and zest.
How to make spicy baked fish with lemon mustard sauce: step by step
Season the fish steaks
(You can find the exact measurements and instructions in the printable recipe card at the end of this page.)
Season the fish with the spice mixture. Sprinkle vegetable oil on the fish steaks to coat them. (You can also use cooking oil spray).
Let the fish marinate for 10 to 15 minutes. Meanwhile, prepare the lemon mustard sauce for fish.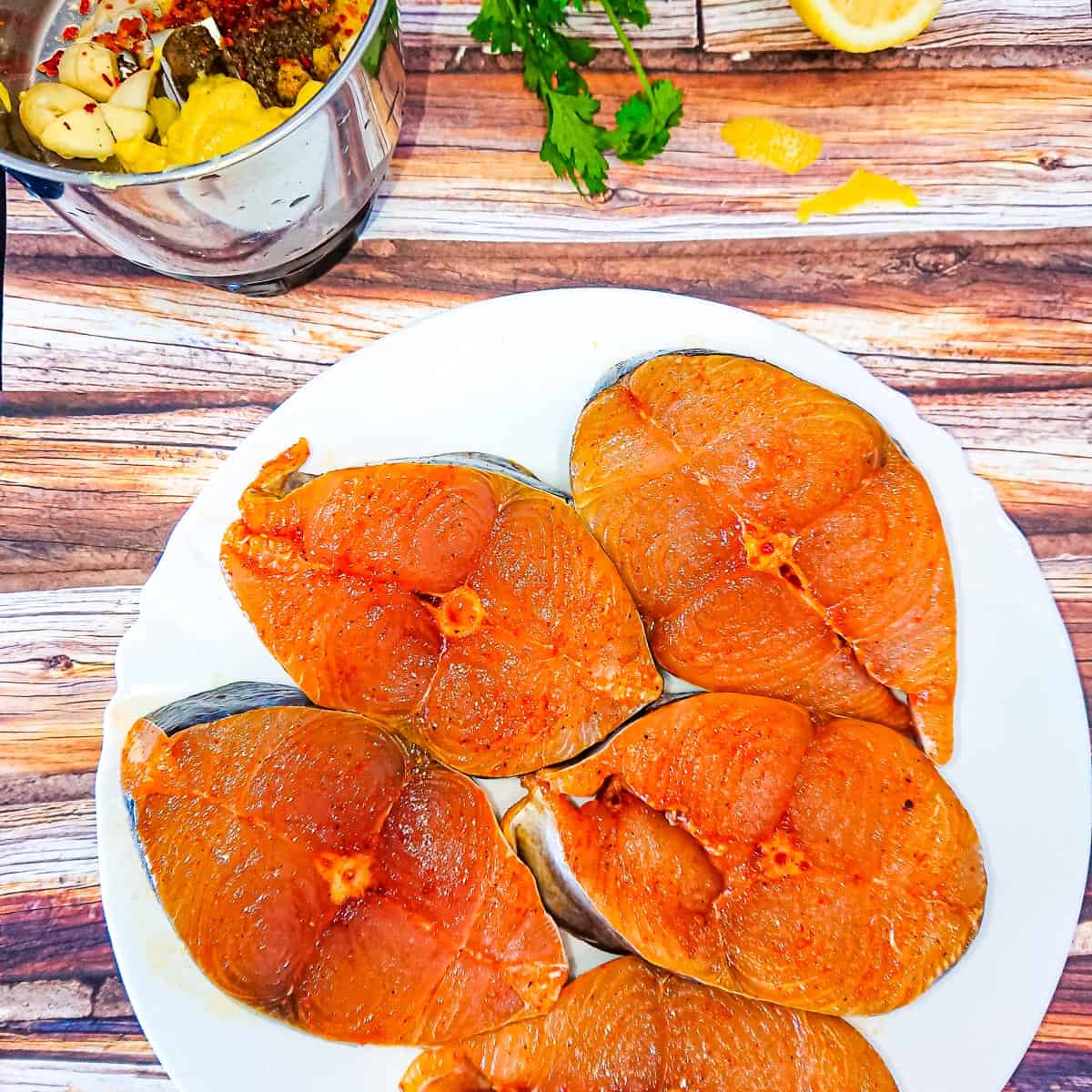 Make lemon mustard sauce for fish
Blend together Dijon mustard, garlic, chili flakes, ground cumin, salt, lemon peel, lemon juice into a smooth paste. That's all it takes to make this easy lemon mustard sauce for fish!
A small spice blender is required here since the quantity of ingredients is quite less. If you don't have one, it makes sense to multiply the recipe, make a big batch and freeze the leftovers.
Once you make this baked fish, you may get addicted to it and the frozen mustard marinade for fish will be used up in no time!
Another option is to make a large batch of this simple lemon mustard sauce and serve it as a side. Apart from baked fish, this sauce will go well with dishes like crispy fried prawns and easy baked panko crusted chicken breasts.
A different way is to use minced garlic and lemon zest instead of blending garlic and lemon peel with other ingredients. This way you can whip up the lemon mustard sauce without a blender.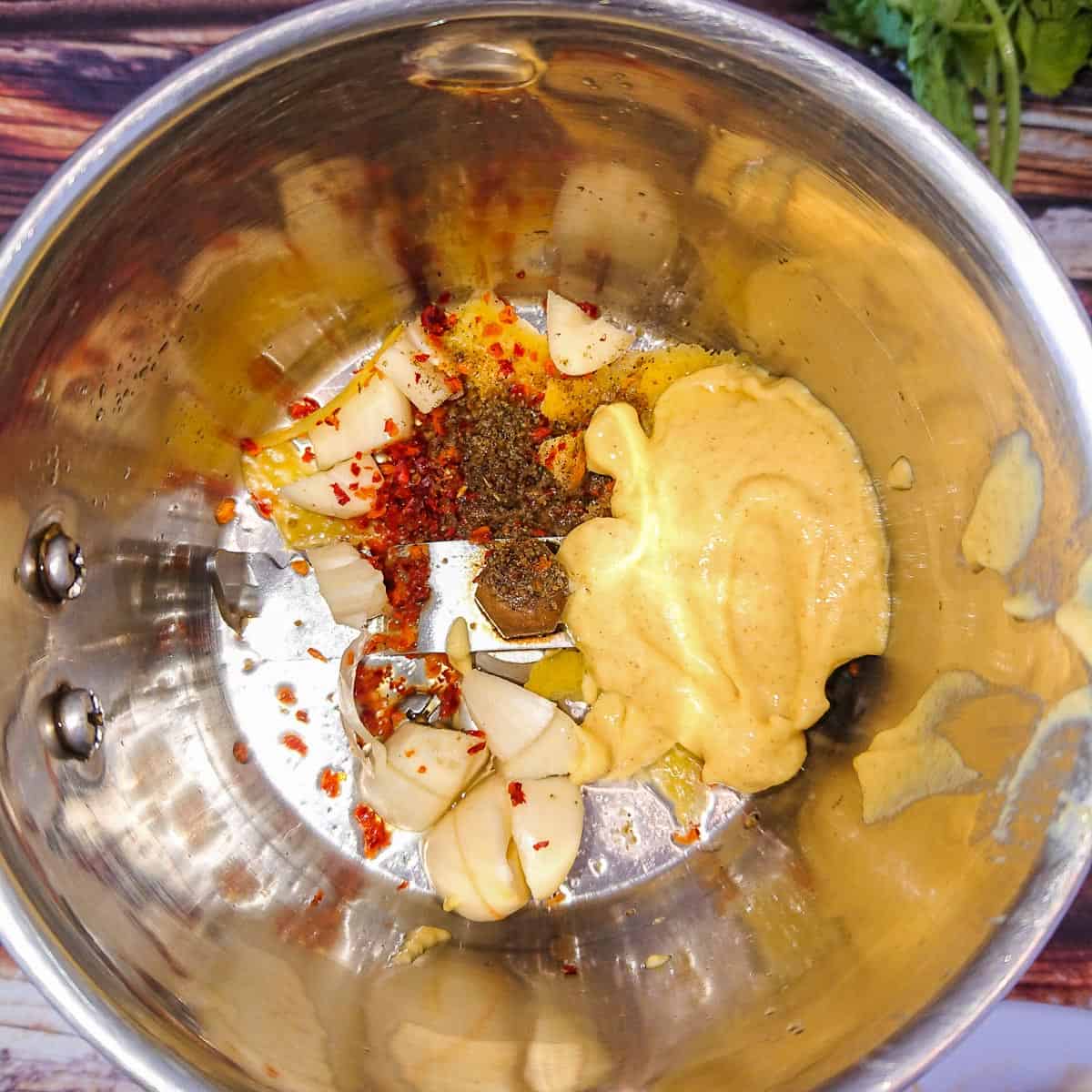 Slather the lemon mustard sauce on the fish steaks (or fillets) and sprinkle fresh chopped parsley on top.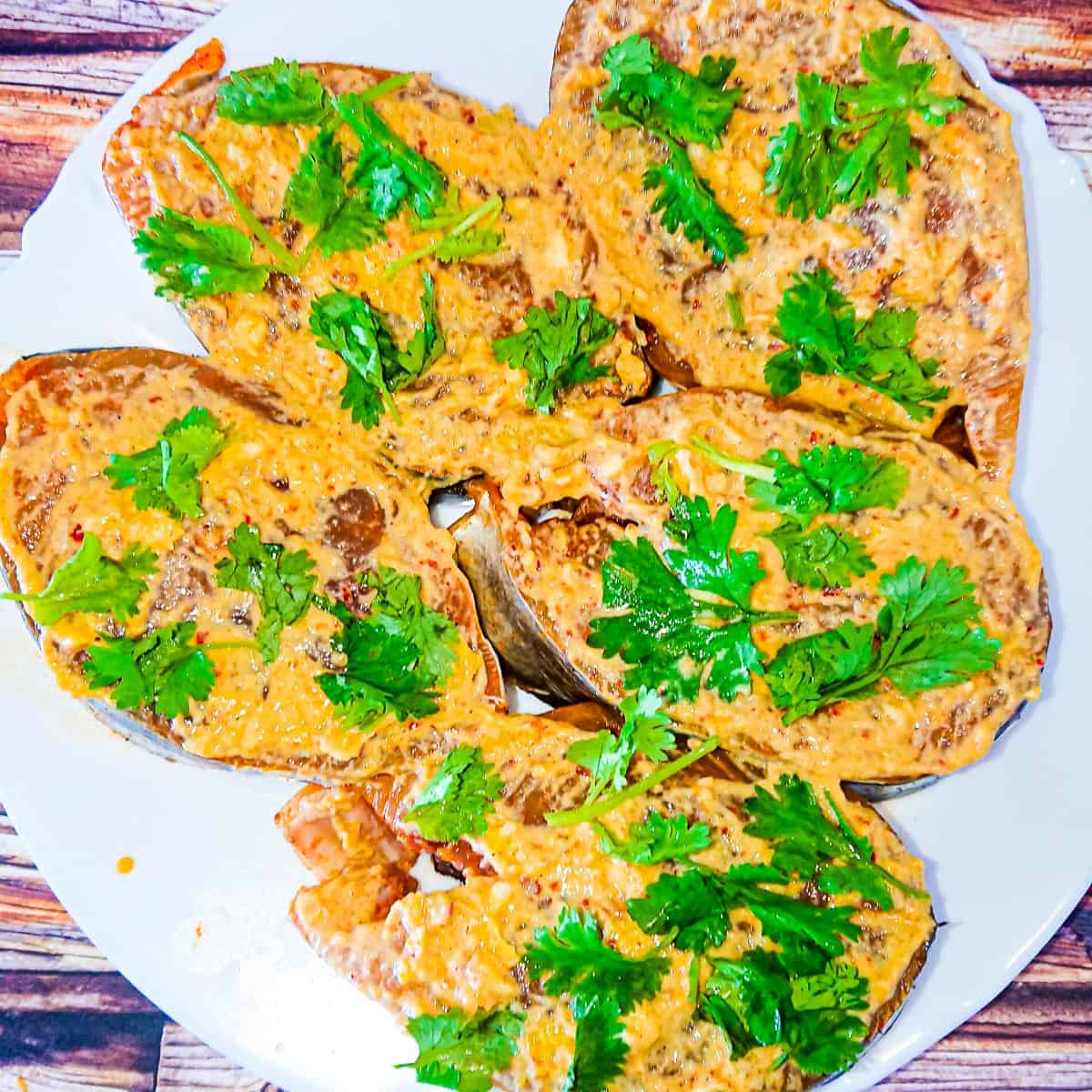 Bake dijon mustard fish
Preheat the oven to 100°C/ 212°F.
Place the fish steaks on a sheet pan or baking dish in a single layer. Bake for 20 to 25 minutes.
Check for doneness in the middle part of the steak. It should be opaque and flake apart easily.
Let the baked fish stand for 5 minutes. Devour!
Oven baked fish with lemon, Dijon mustard and garlic – the combo is always a win-win situation!
Cooking at a low temperature – the best way to bake fish
Baking at temperatures as low as 100°C/ 212°F with lemon, mustard and garlic makes the fish juicy and tender. (That's the reason

oven-baked salmon kabobs

also turn out so delicious!)
The simple seasoning and the lemon mustard sauce give a ton of flavor to baked fish, making you literally drool. You don't have to bake fish that is swimming in high-calorie creamy sauce or butter to make it taste good.
Slow cooking preserves the omega-3 fats and other nutrients of the fish since you're not subjecting it to high temperatures.
Tips for the best baked fish with dijon mustard
Marinating time: The fish can be marinated longer, upto an hour.
For more flavor: When you blend the lemon mustard sauce for fish, add a few stalks of cilantro for added flavor.
Chilies: If you have fresh red chili peppers, you can use a couple of them to replace chili flakes. Fresh chilies are more flavorful.
Be patient: Bake the fish at 100°C/ 212°F for 20 to 25 minutes (for 1-inch thick fillet or steak) for the best results. Baking at higher temperatures tends to dry out the fish.
Leftovers: Leftover baked fish keeps well for 3-4 days. Store them in a single layer in an air-tight container in the fridge. Bring them to room temperature before reheating in the microwave.
Pairing: Add a few dollops of paprika feta dip on the spicy baked fish for a Mediterranean twist.
Dijon mustard fish pairs well with
Click here for more side dishes.
Have a super healthy dinner by serving baked fish with salads:
Make it a complete meal by pairing Dijon fish with quinoa salads:
Common questions about oven baked fish
Do mustard and fish go together?
Mustard complements the flavor of a simple fish fillet very well.
When you bake fish with dijon mustard, it makes the fish more spicy, tangy and delicious. It also gives a creamy glaze to the fish.
Why is my fish chewy?
Cooking fish for too long draws out moisture and tends to dry out the fish, especially when you bake uncovered in the oven.
So it is important to follow the time specified in the recipe instructions for the fish to turn out soft and juicy.
What is the healthiest way to cook fish?
Baking is one of the healthiest ways to cook fish. In this recipe, we're slow-baking fish at a low temperature.
This ensures that the nutrients and fatty acids in the fish are preserved. You also get fish fillets that are great in texture and flavor.
Can fish be pink in the middle?
White fish has to be cooked until it is opaque throughout and flakes easily. Always check in the middle or the thickest part of the fish for doneness.
Fish being pink in the middle means it is undercooked. (Salmon is an exception- white patches on the surface of cooked salmon mean it is overcooked.)
More seafood recipes you will love
★★★★★Did you try this recipe? Please give a star rating in the comments below ★★★★★
HUNGRY FOR MORE? Join over 1000 home cooks like you who subscribe to my weekly newsletter to get all the latest recipes right in your inbox. Or follow me on your favorite social media: Facebook, Pinterest, Instagram, and YouTube. Thank you and happy cooking!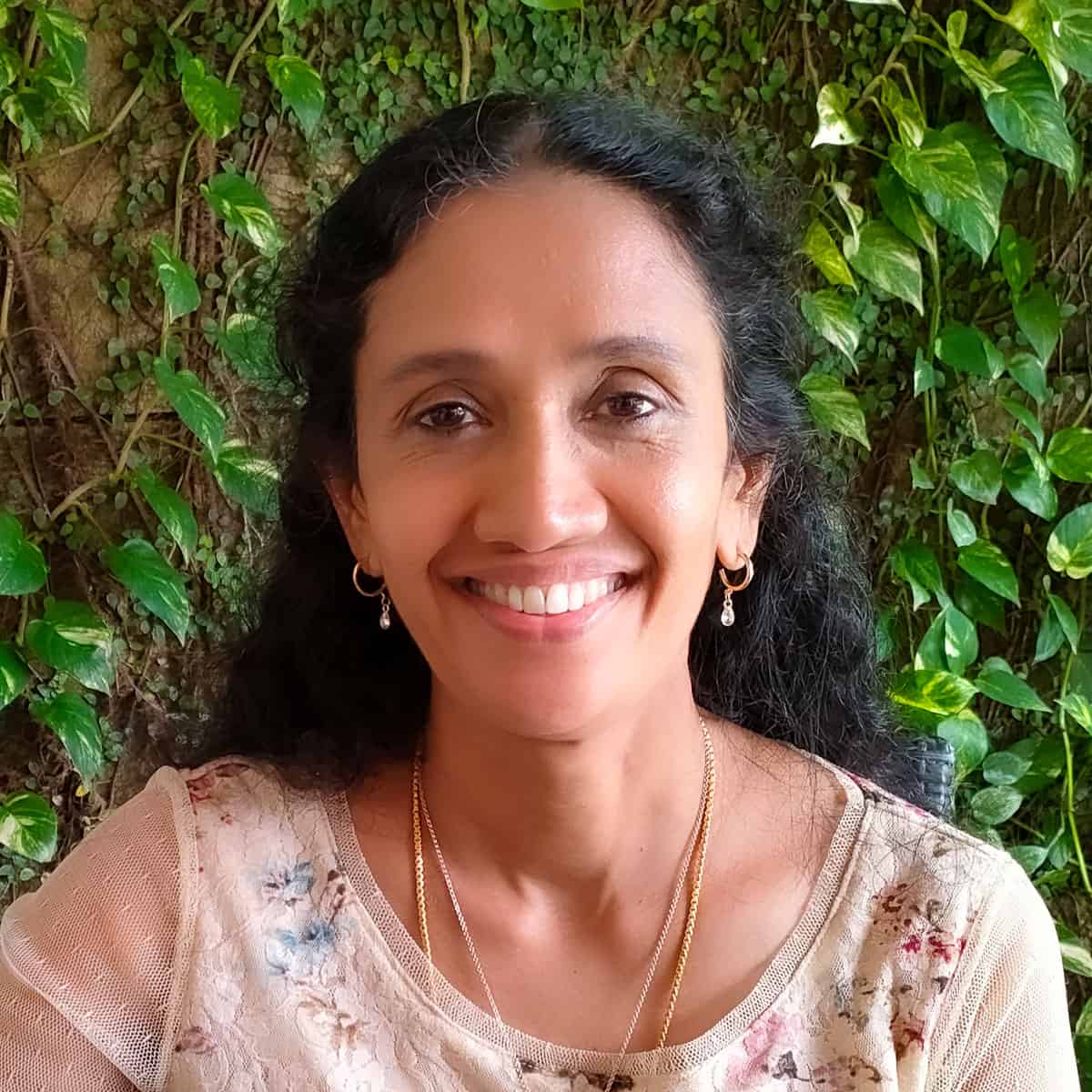 Hi! I'm Sheeba, welcome to Go Healthy ever after!
I have a passion for cooking delicious nourishing food that's easy to cook with fresh natural ingredients free from additives or preservatives. The easy healthy recipes you find here will inspire you to cook with creativity.
Copyright secured by Digiprove © 2019-2023