Savory balsamic roasted Brussels sprouts and carrots recipe is a perfect side dish for any meal. It is easy, healthy, and bursting with flavor. The sweet carrots and crunchy brussels sprouts are roasted with a delicious balsamic seasoning that requires a few basic ingredients.
Why you'll love this roasted carrots and brussels sprouts recipe
This easy recipe is a flavorful twist on the classic veggie side dish. There are many reasons to love it:
Explosion of flavors: The perfect blend of balsamic vinegar, olive oil, and roasted caramelized veggies creates a delightful explosion of flavors.
Healthy and nutritious: Brussels sprouts and carrots are packed with essential vitamins, fiber, and antioxidants. You can enjoy the benefits of both cruciferous vegetables and orange colored veggies. This is the go-to recipe when you want a nutritious addition to your diet.
Simple ingredients: You'll only need a handful of easily accessible ingredients to whip up this delicious dish.
Quick and easy vegetable recipe: With minimal prep work involved, you can have this easy side dish ready in no time, making it perfect for busy weeknight dinners.
Versatility: This dish can be served as a side, a topping for salads, or even a light main course. It's incredibly versatile!
Beautiful presentation: The vibrant colors of the roasted vegetables make for an attractive and visually appealing dish.
Kid-friendly twist: The natural sweetness of tender carrots and the tangy balsamic glaze can win over even the pickiest eaters.
Perfect for special occasions: Elevate any holiday dinner with this elegant and flavorful side dish.
Budget-friendly: This recipe is a cost-effective choice for any meal. Brussel sprouts and carrots are affordable and readily available.
Low maintenance: Once you pop it in the oven, you can sit back and relax while the magic happens. It's a fuss-free recipe that yields fantastic results.
Like roasted potatoes and broccoli, this is my yet another favorite way to make roasted veggies. Give it a try and let me know if you feel the same!
Let's look at what goes into this recipe:
Ingredients
(You can find the exact measurements and instructions in the printable recipe card at the end of this page.)
The natural flavors of brussels sprouts and carrots can be enhanced with very few bold and spicy ingredients.
Fresh brussels sprouts: Choose sprouts that are bright green in color and firm to the touch.
Carrots: Larger carrots are generally suitable for roasting since they can withstand the heat better. Baby carrots turn out sweeter. but they might also get burnt quicker. In that case, watch closely while roasting.
Balsamic vinegar: A good quality balsamic vinegar is key to flavorful seasoning.
Olive oil: I've used regular olive oil. You can use other cooking oils with high smoke point like sunflower oil, peanut oil or coconut oil.
Spices: They balance the sweet and tangy balsamic flavor.

Cayenne for the heat
Paprika for flavor and color
Black pepper, salt and sugar

Other flavor makers: Garlic powder, onion powder and lemon juice for a splash of freshness.
How to roast brussels sprouts and carrots: Step by step
Preheat the oven to 200°C/390°F.
Balsamic seasoning
This balsamic seasoning for brussels sprouts takes 5 minutes to put together. Whisk together balsamic vinegar, lemon juice, olive oil, cayenne, paprika, garlic powder, onion powder, black pepper, sea salt and sugar in a small bowl.
Chop and Prep
Trim the stems off the brussels sprouts. Remove any loose leaves and halve the brussels sprouts.
Dice the carrots into approximately 1-inch cubes. Place the veggies in a large bowl.
Add the balsamic seasoning and toss gently until all the pieces are covered.
Keep aside for 10 minutes for the flavors to be absorbed.
Oven roasted brussels sprouts and carrots
Line a rimmed baking sheet with parchment paper. Spread out the carrots and brussels sprouts in a single layer.
Bake for 20 to 25 minutes, depending on how tender you want the oven-roasted vegetables.
At the 10-minute mark, take out the sheet pan and toss the veggies. This will ensure even cooking.
Garnish with fresh parsley and enjoy!
Recipe Tips
Brussels sprouts: The size of the brussels sprouts should be uniform. Halve the smaller sprouts and quarter the large ones.
Salting: Sprinkle a large pinch of black pepper and salt before popping the tray into the oven. (As in the cheesy smashed potatoes recipe.) This gives a BIG BOOST to the flavors of both brussels sprouts and carrots.
Cooking time: Roasting time depends entirely on how small you chopped the veggies and how fresh they are.
After Roasting: Leave the tray in the hot oven for 3 or 4 minutes after turning it off. It helps crisp up the vegetables to a golden brown.
Loose leaves of brussels sprouts: Do not throw them away. You can use them in other recipes like brussels sprouts curry (which I'll be making soon).
Toppings: Use your favorite toppings like toasted nuts and chopped herbs to add more flavor. My favorite ones are toasted sunflower seeds and parsley.
Scaling: This recipe can be adapted to serve any number of diners. Use the scale in the recipe card below to adjust the serving size.
Storage and reheating tips
Storing: These roasted brussels sprouts and carrots can be stored in the fridge for 3-4 days in an airtight container. They can be stored in the freezer for a month.
Reheating: Preheat the oven to 200°C/390°F. Spread out the carrots and brussels sprouts in an even layer on a baking tray.
Heat for 5 to 7 minutes until heated through.
(Frozen carrots and brussel sprouts have to be thawed before reheating.)
What to serve with balsamic roasted brussels sprouts and carrots
Roasted Brussels sprouts with carrots make a delicious and versatile side dish. You can pair it with:
Click here for more main dishes.
You can also serve balsamic roasted Brussels sprouts and carrots over salads like:
Click here for more salads.
More side dishes
Looking for more vegetable sides? Here are some delicious ones:
Click here for more side dishes.
★★★★★Did you try this recipe? Please give a star rating in the comments below ★★★★★
HUNGRY FOR MORE? Join over 1000 home cooks like you who subscribe to my weekly newsletter to get all the latest recipes right in your inbox. Or follow me on your favorite social media: Facebook, Pinterest, Instagram, and YouTube. Thank you and happy cooking!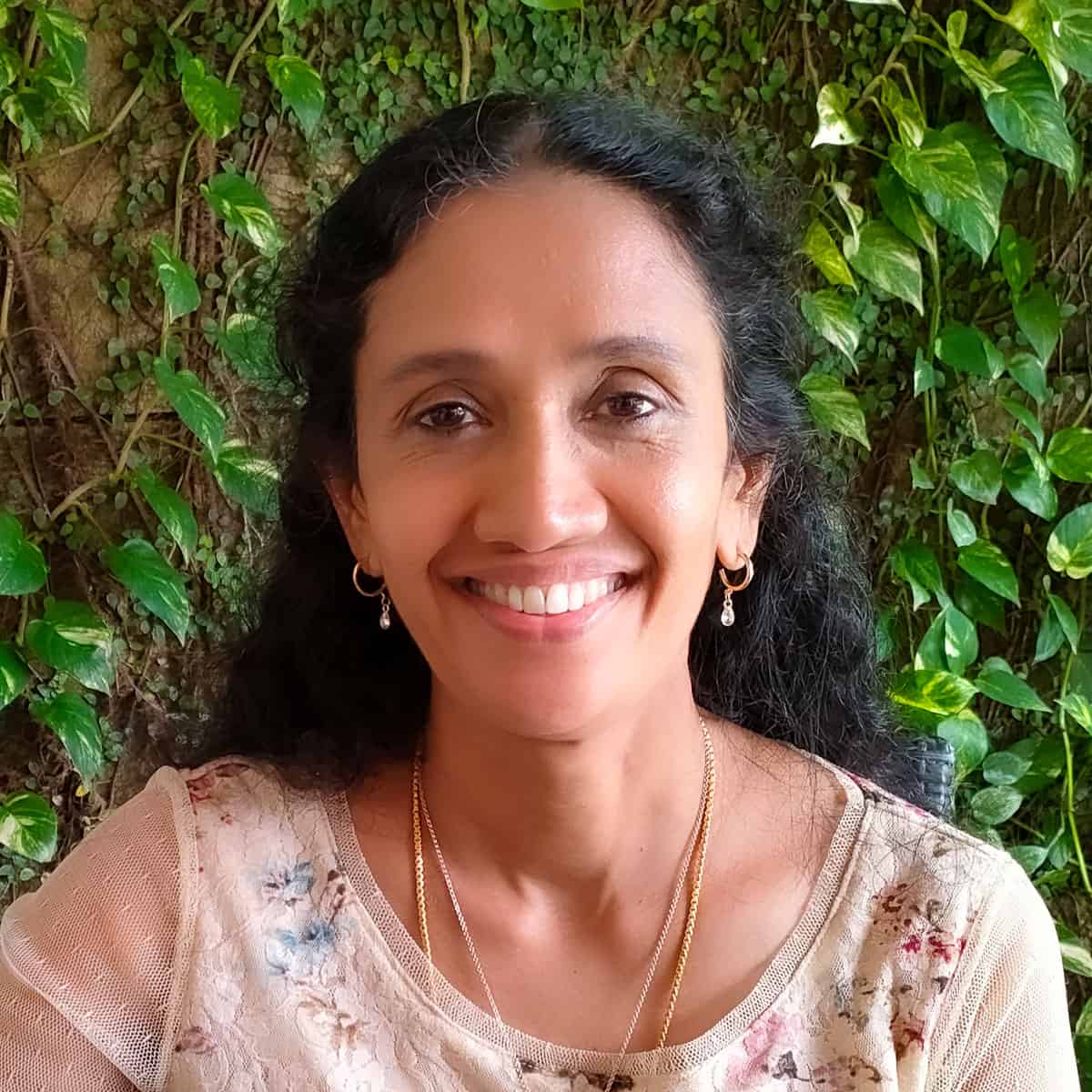 Hi! I'm Sheeba, welcome to Go Healthy ever after!
I have a passion for cooking delicious nourishing food that's easy to cook with fresh natural ingredients free from additives or preservatives. The easy healthy recipes you find here will inspire you to cook with creativity.
​