A high protein pasta salad made with seared thin-sliced chicken breasts, fresh vegetables, bowtie pasta, and a low-calorie spicy yogurt dressing! Perfect as a quick and easy lunch or dinner, this veggie chicken salad with pasta is also ideal for entertaining, picnic, potluck or even lunchbox.
About the recipe
A spicy chicken pasta salad with that looks and tastes creamy (without actual cream in it) is the best and most delicious way to make kids (and grownups) eat their veggies! If you're looking for healthy pasta salad recipes for weight loss, this is definitely one.
Greek yogurt and mint are always a delicious combo with chicken, whether it is a chicken marinade as in Baked Hariyali Chicken Legs or a healthy pasta salad dressing.
In this recipe, we pan-sear the chicken (or use leftover roast chicken), add crunchy veggies and drizzle the creamy yogurt salad dressing on top.
The pasta is optional, you can just leave it out for a delicious low-carb veggie chicken salad. (Find more options in the tips below👇)
This EASY, CREAMY, VEGGIE CHICKEN SALAD is heavenly, especially during those hot months when you crave something chilled and yummy. Without spending much time in the kitchen.
Some salads like pumpkin quinoa salad serve as sides while some can be eaten as a wholesome meal. This high-protein pasta salad has every aspect of a balanced meal: protein, carbs, fiber, vitamins, and minerals.
So it qualifies as a quick and easy dinner, packed lunch, picnic or potluck salad. (Like the quinoa pasta salad with balsamic vinaigrette and creamy pasta with zucchini and mushrooms.)
The yogurt dressing for this salad is very easy to make and bursting with flavors. (Similar to most of my sauces and chutneys like Thai basil pesto, roasted garlic pesto, green mint chutney and avocado chutney.)
It is also a healthy recipe you can make with leftover chicken- roasted, boiled or baked.
I make this salad often with baked thin-sliced chicken breasts. Simply because they're so easy to make (hands-free, no-mess). It is also the healthiest way to eat this veggie chicken salad.
Video
Salad Ingredients
Pasta: Farfalle (bowtie) or fusilli (spiral) are best suited for a pasta salad, especially one with a creamy dressing as the dressing clings on to the grooves and curves of the pasta, making it very flavorful. Like the fusilli in Italian pasta salad with balsamic dressing.
Chicken: Chicken breasts are thinly sliced lengthwise and marinated with spices, pan-seared/grilled and diced.
Vegetables: Salad vegetables like bell peppers, celery, cucumber, cherry tomatoes, onions and carrots can be used.
Creamy Yogurt Dressing
This herb salad dressing gives a characteristic creamy flavor to the pasta salad. It is made of basic ingredients:
Greek yogurt
Mint leaves
Almonds
Chillies
Garlic
Lemon juice
Himalayan pink salt
How To Make Veggie Chicken Salad: Step by step
(You can find the exact measurements and instructions in the printable recipe card at the end of this page.)
Cook the pasta al dente, drain and rinse in cold water. Toss with 2 teaspoons of olive oil.
While the pasta cooks, prep the vegetables and rest of the ingredients.
Cook the chicken: Slice the chicken breasts horizontally into thin halves. This helps the chicken absorb the marinade easier and quicker.
Season the chicken with chili powder, paprika, garlic powder, lemon juice and salt. After about 10 minutes, pan-fry the seasoned chicken breasts in oil. Chop them into bite-sized cubes.
Make the dressing: Blend all ingredients in a food processor.
Toss the chicken, vegetables and pasta together. Add half of the spicy yogurt dressing and toss well.
Add the other half and toss again. Garnish with green onions. Serve the veggie chicken salad immediately or chill and serve later.
(This is a no-oil salad dressing like the one I use for the paneer salad recipe.)
Recipe tips
Pasta can be replaced with a healthier carb like brown rice or wholewheat pasta.
For low-carb options, just skip the pasta (in that case, use half the quantity of the yogurt dressing). Or replace pasta with cooked quinoa for a high-protein quinoa salad.
Vegetarian chicken salad: Substitute the chicken with boiled eggs or cubes of pressed tofu cooked with the same seasoning.
The yogurt dressing tastes even better if you roast the garlic and almonds. Dry-roast chopped garlic and almonds in a pan on low flame for 5 minutes and cool before blending. Roasted garlic tastes amazing on salads like the beetroot salad with feta and walnuts.
If you love citrus flavors, add some lemon zest.
Half of mint can be replaced with cilantro for variation.
Common Questions About This High Protein Pasta Salad
Do you rinse pasta for a cold pasta salad?
Yes, rinsing helps cool down the pasta so it stops cooking. It also keeps the pasta from sticking together, since rinsing removes the starch that's clinging onto the pasta.
How do you keep pasta salad moist?
The mint yogurt dressing retains moisture naturally so it keeps the pasta salad juicy and creamy. You don't even require oil for this dressing.
How do I make pasta taste better?
The spicy yogurt dressing makes all the difference in a pasta salad. Yogurt, mint and garlic are a great combination with pasta and chicken and they come together as a yummy salad.
If you're looking for more creamy recipes with yogurt like this, honey mustard coleslaw recipe will blow your mind!
Looking For More Salads?
More Pasta Recipes You Might Like
Love spicy pasta? You might want to try the yummy red pesto pasta made with chili pesto sauce, easy spaghetti arrabbiata or spinach almond pesto pasta.
More Chicken Recipes
If you're looking for simple pan-seared chicken, you might love balsamic chicken with rosemary sauce and lemon coriander chicken with yogurt mustard sauce.
★★★★★Did you try this recipe? Please give a star rating in the comments below ★★★★★
HUNGRY FOR MORE? Join over 1000 home cooks like you who subscribe to my weekly newsletter to get all the latest recipes right in your inbox. Or follow me on your favorite social media: Facebook, Pinterest, Instagram, and YouTube. Thank you and happy cooking!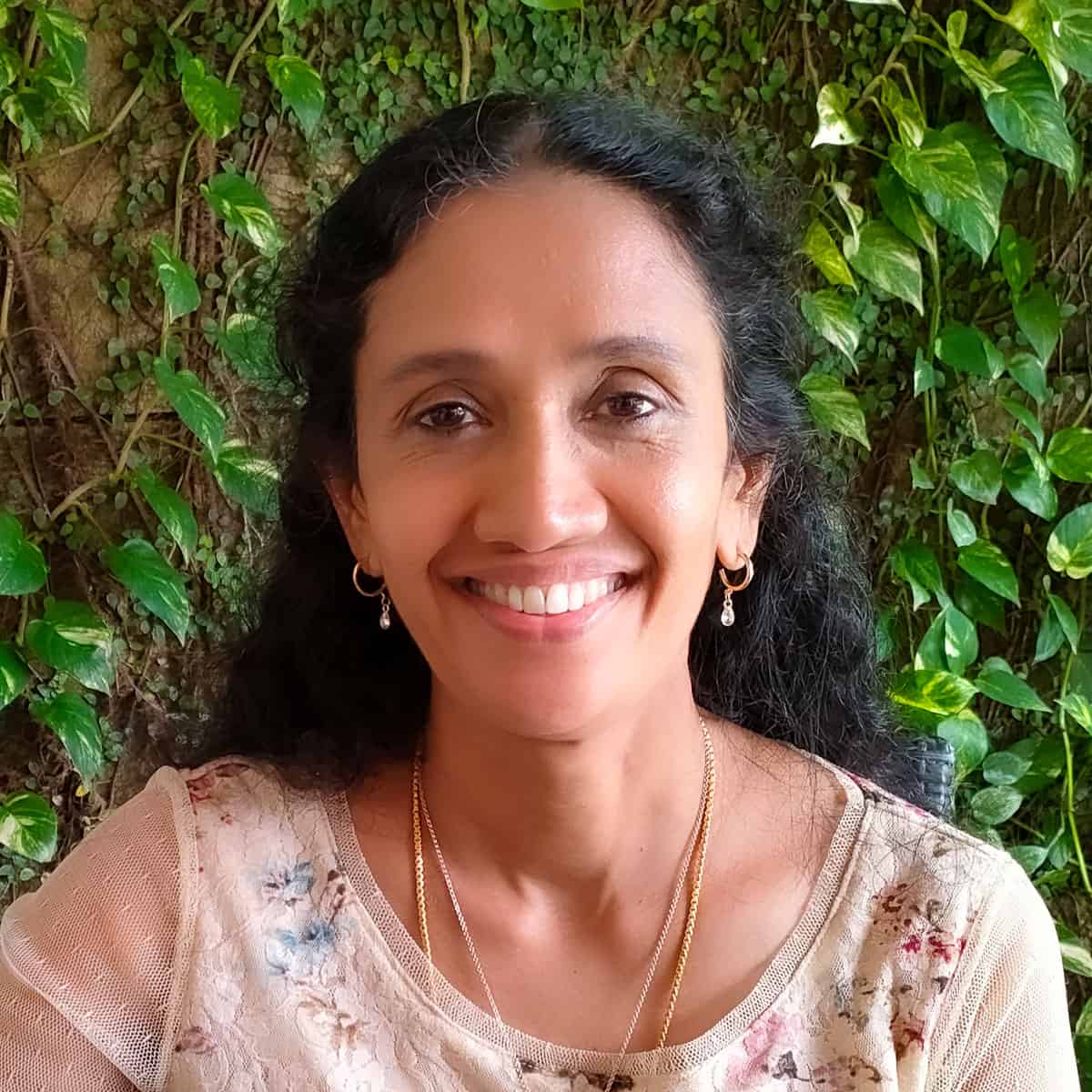 Hi! I'm Sheeba, welcome to Go Healthy ever after!
I have a passion for cooking delicious nourishing food that's easy to cook with fresh natural ingredients free from additives or preservatives. The easy healthy recipes you find here will inspire you to cook with creativity.
Copyright secured by Digiprove © 2019-2022