A delicious recipe for spicy chili garlic tofu with vegetables that helps you cook lunch or dinner in a breeze! Use this Asian tofu scramble to make vegan tofu dinners like fried rice or noodles or simply add more vegetables and sauce to eat with plain boiled rice. (Instructions included)
About the recipe
I hit upon this recipe after many efforts trying to figure out how to make tofu taste good. Once I nailed it, I started making this easy Asian tofu scramble almost every week.
Now I'm wondering why I haven't yet created a post on this recipe. We take certain things for granted, and maybe, tofu is one of them.
People either hate tofu or love it. I used to be in the first category until I really learned how to cook tofu the right way.
Tofu looks and tastes deceptively bland. THAT works to your advantage when you want to add your own flavors to it. Tofu is so versatile that it can take on almost any flavor.
Chili garlic tofu is one of the easiest Chinese tofu recipes. The best part is that it is so juicy and tastes delicious with just plain boiled rice.
You can also use this recipe as a base to make fried rice or noodles. Read on to find out how to do that without any extra effort. Except cooking the rice/ noodles, of course!
This recipe is great for lunch boxes and meal planning, too.
Make this scrambled tofu stir fry a part of your meal-prep routine. Make ahead 3 to 4 batches and freeze, so you can cook scrambled tofu fried rice or noodles.
You can also double the sauce and add more veggies to make a tofu veggie scramble that can be eaten with boiled rice. Have some cooked rice and sliced veggies in your freezer so you can cook amazing vegan tofu dinners whenever you want.
You'll love this recipe even if you're not vegan. I promise!
Trending Videos
Ingredients
Tofu: For this recipe, you'll need firm or extra-firm tofu (not the soft "silken tofu" that's used predominantly in soups).
Chili and garlic: The main flavors of the dish to infuse the oil with. I've used bird's eye chillies here, which are quite spicy. You can use the large red ones which are not spicy but give a lot of flavor to the dish.
Vegetables: Use any combination of these- onions, carrots, bell peppers, string beans, baby corn. This recipe is for 1 cup of vegetables. If using more, increase the chili, garlic and sauce accordingly.
Tofu scramble seasoning
Just 4 ingredients– soy sauce, vinegar, sugar and grated ginger make up this delicious sauce.
Optionally, you can add a teaspoon of ground, dried mushrooms to the seasoning. (Read how to make it in the recipe for Singapore noodles.)
How to make chili garlic tofu- step by step
If you're going to pair it with rice, you might want to start cooking the rice before cooking the tofu scramble because it doesn't take more than 20 minutes. That way, you'll have the rice steaming hot when the tofu is ready. (The same goes for fried rice or noodles.)
Pat the tofu dry with a kitchen towel and chop into large cubes. Mash with a fork or potato masher until the tofu is roughly crumbled with small chunks here and there (as in the picture).
Heat oil and stir-fry chilies and garlic, then the vegetables and mashed tofu. Fry for a few minutes until the tofu starts turning brown. Add the sauce and stir for a few minutes until well combined. Garnish with spring onions and serve with boiled rice and cucumber slices. It's as simple as that!
What goes with this Asian tofu scramble
Other than pairing with rice for dinner, you can make a spicy tofu scramble sandwich for breakfast or use as a filling for lettuce wraps topped with roasted peanuts. Make an Asian quinoa bowl with tofu scramble and stir-fried veggies, using the additional sauce as dressing.
If you're game for Indo-Chinese fusion food, replace paneer with this tofu scramble on paneer kathi rolls, making it a vegan tofu dinner.
Or pair it with Thai green curry fried rice for an easy Asian meal.
Recipe tips
Cook scrambled tofu on high flame for 2 minutes without stirring. This ensures that the moisture evaporates and helps brown the tofu. It also helps absorb the sauce.
Do not mash tofu completely, only until you get a crumbly texture. (To be honest with you, I use my hands to crumble tofu. The masher is for the photos 🙂
If using string beans, baby corn or carrots, blanch them before stir-frying.
How to make vegan dinners out of this Asian tofu recipe
Scrambled tofu fried rice
I recommend short-grain white/brown rice. Use cooked rice that's a day old and has been refrigerated/ frozen. You will need 1-1/2 cups of rice for 4 servings. Double the amount of all ingredients (including those for the sauce) except tofu. Follow the same instructions as above. After adding the tofu and vegetables, add cooked rice. Stir-fry for about 3 minutes before adding the sauce. Stir until everything is mixed well and turn off the flame. Garnish with green onions.
Tofu noodles
Cook about 300 gms/ 10.6 ounces of noodles. Toss with a tablespoon of oil. Follow the same instructions as for rice. Stir in sesame seeds at the end.
Tofu scramble with veggies
This is the same time-saving technique I use for marinated chicken stir fry and Thai chicken mince stir fry.
Use any stir-fry vegetable in addition to bell peppers, like carrots, bok choy or string beans. This recipe is for 1 cup of vegetables. If using more, increase the sauce, oil, chili and garlic accordingly.
If using vegetables like string beans, broccoli or babycorn, you need to blanch them first: Chop them into 2-inch long strips and plunge into boiling water. Bring the water to boil again and cook on high heat for 5 minutes. Strain and use.
Common questions
Do you need to press tofu for scramble?
You don't have to press tofu for this recipe. The process of stir-frying quickly removes moisture from the tofu. Just drain the liquid from the packaging and pat the tofu dry.
Is tofu healthy?
Tofu has immense health benefits. It is a complete source of protein with all essential amino acids, low in calories and an excellent source of calcium and iron. Tofu is an important source of protein for many vegetarians and vegans. It may help lower "bad" LDL cholesterol. It may even offer relief for certain symptoms of menopause. (source)
Is tofu scramble good for weight loss?
Tofu is naturally high in protein and low in calories. In this recipe, the cholesterol-free tofu is stir-fried using limited oil. Adding a variety of vegetables increases its fiber content and nutritional value, making it one of the healthiest nutrient-rich vegan dishes. This tofu scramble may help you to lose weight by keeping you fuller for longer on fewer calories than meat.
Can cooked tofu be refrigerated/ frozen?
The scrambled tofu can be refrigerated for 2 days and frozen for up to a week. It can sit out for about 3 hours without being refrigerated, so it is ideal for a lunch box meal, too.
Love this? You may want to try my other tofu recipes:
Looking for more vegan recipes?
★★★★★Did you try this recipe? Please give a star rating in the comments below ★★★★★
HUNGRY FOR MORE? Join over 1000 home cooks like you who subscribe to my weekly newsletter to get all the latest recipes right in your inbox. Or follow me on your favorite social media: Facebook, Pinterest, Instagram, and YouTube. Thank you and happy cooking!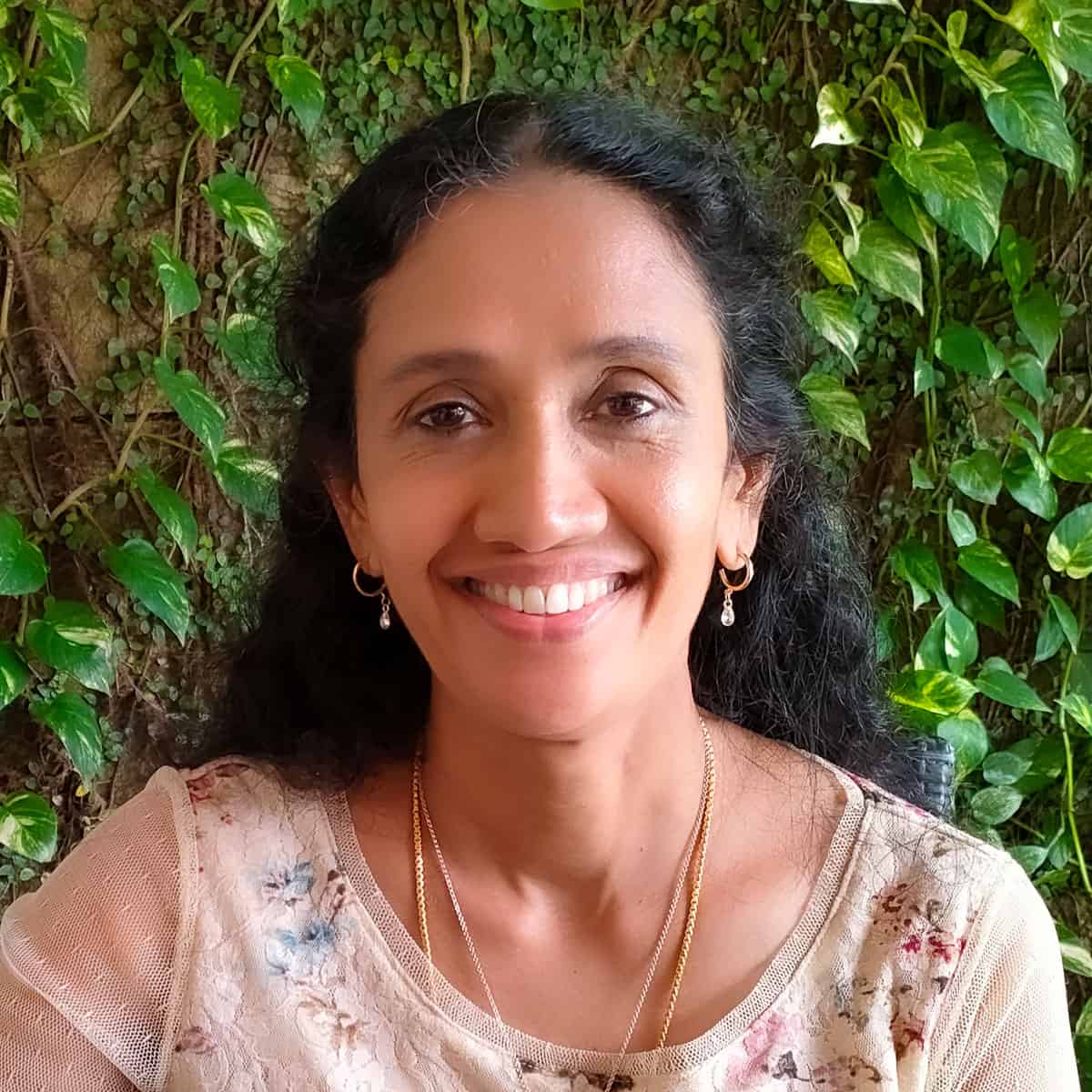 Hi! I'm Sheeba, welcome to Go Healthy ever after!
I have a passion for cooking delicious nourishing food that's easy to cook with fresh natural ingredients free from additives or preservatives. The easy healthy recipes you find here will inspire you to cook with creativity.
Copyright secured by Digiprove © 2020-2022