This delicious tofu bok choy stir fry with a simple sauce and crunchy peanuts is an easy dish you can have with rice for a quick vegetarian dinner or lunch. Learn my secret to stir fry bok choy without overcooking it. No more rubbery bok choy stir fry!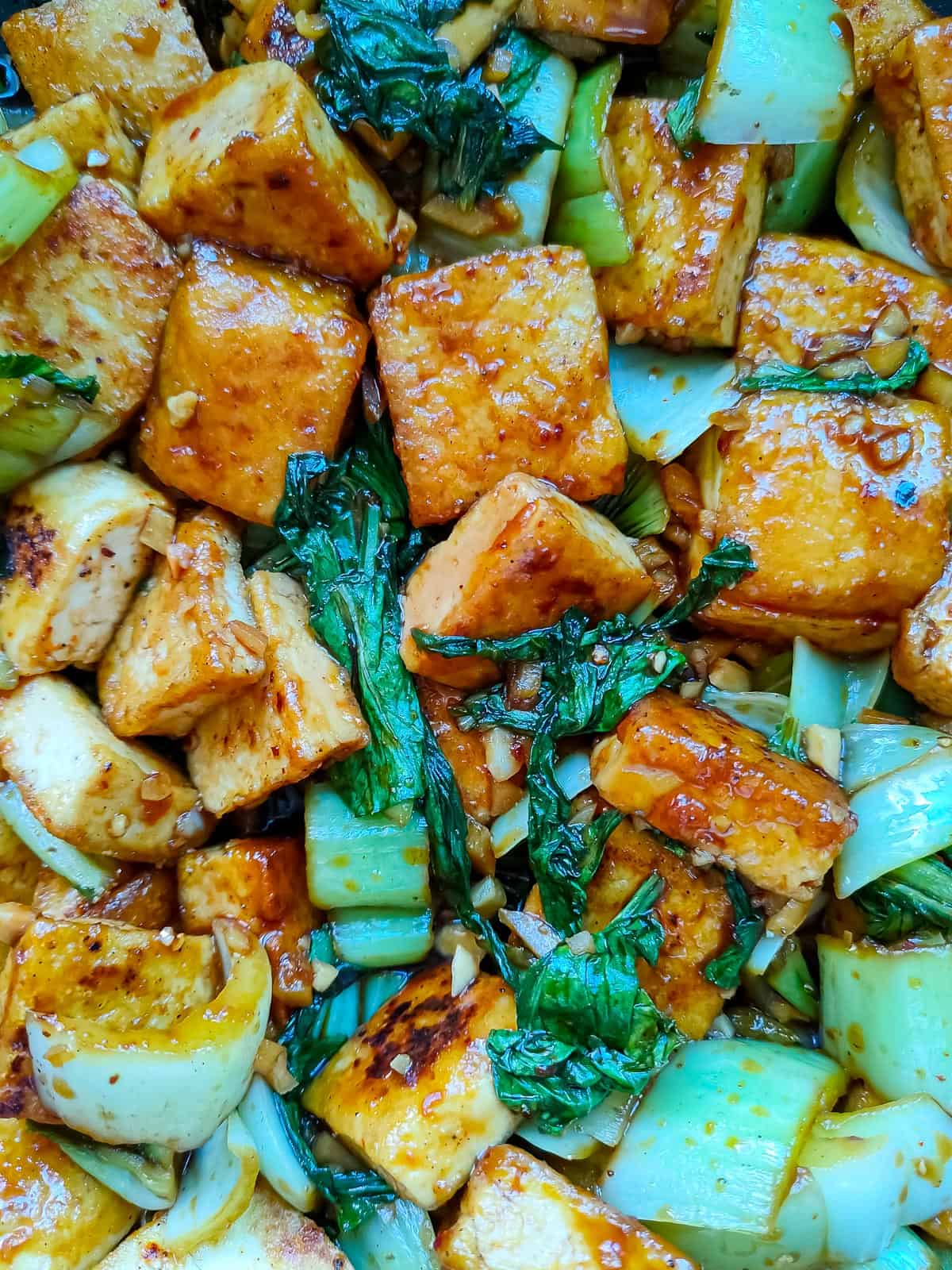 About the recipe
This bok choy tofu stir fry is one of the best (and yummy) ways to get plant-based protein, nutrients and fiber.
Stir-fried bok choy and tofu complement each other very well in terms of texture and taste. When you add a sweet and spicy sauce to the combo, you get a tofu recipe that's hard to resist.
Like basil tofu stir fry and chili garlic tofu, this tofu with bok choy is also a quick and easy recipe you can make on a busy weeknight.
Not a great fan of bok choy? I didn't like it either until I figured out a way to make it taste great. Trust me, you'll start loving it once you master this recipe.
Tofu is lightly coated with seasoned cornflour and pan-fried (similar to my popular honey garlic tofu recipe). Bok choy is stir-fried with garlic and ginger.
It is then mixed with tofu and a flavorful sauce. Chopped peanuts are sprinkled for added crunch and we're done 🙂
Make this an easy and healthy weeknight dinner with plain steamed rice (similar to minced chicken stir-fry). You can also serve this tofu bok choy stir fry with Thai red fried rice for a vegetarian meal.
Though cooking this bok choy tofu recipe is quite straightforward, you need to take into account a few things. I hope my tips will help you make the best out of this dish.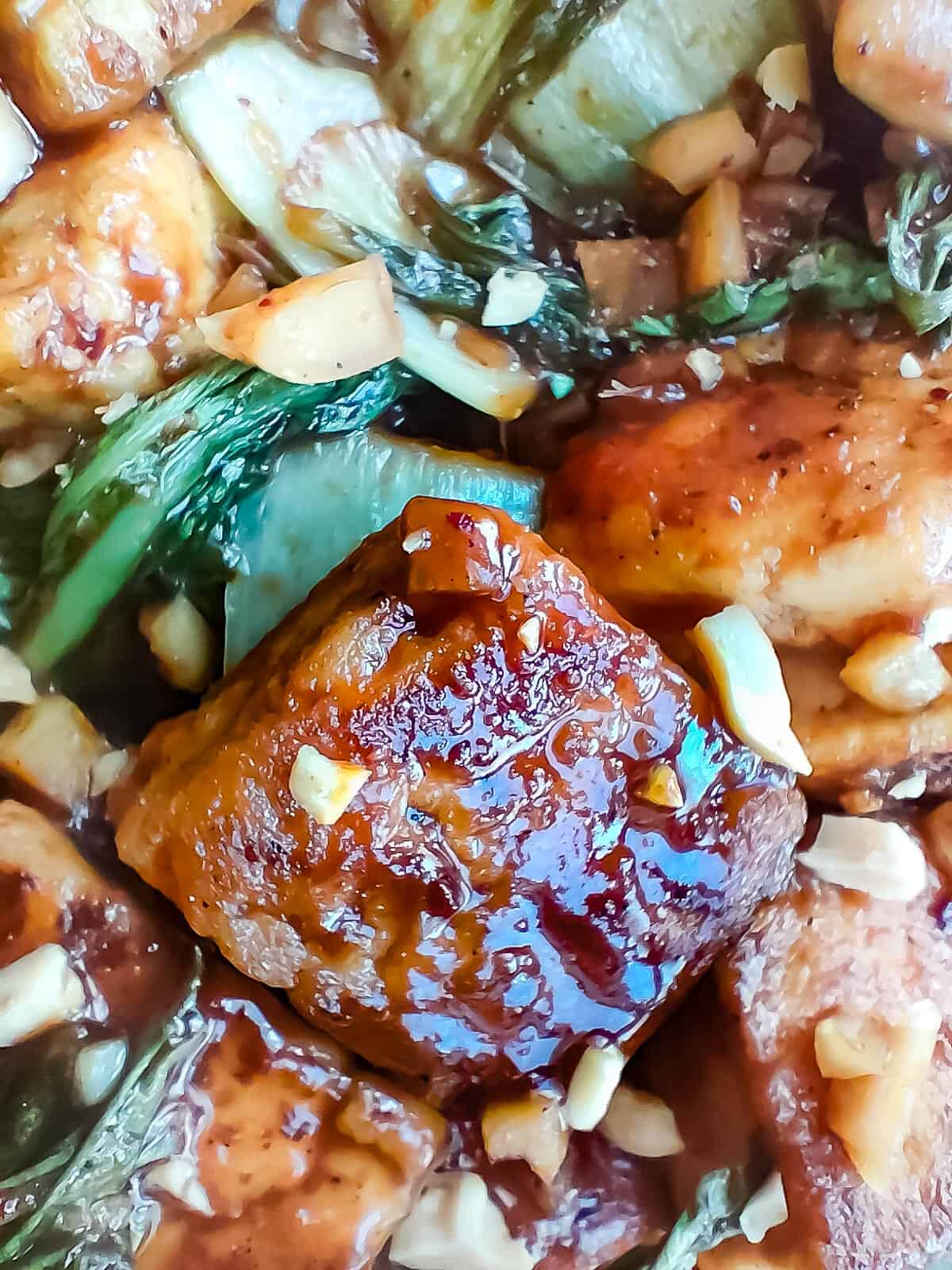 Video
Ingredient notes
Sauce ingredients
Hoisin sauce: This helps boost the flavor of the whole dish. If you're not a vegan, it can be replaced with oyster sauce.
Soy sauce: I prefer low sodium version.
Vinegar: I've used apple cider vinegar here, but white vinegar is also fine.
Red chilli flakes: For that spicy kick.
Sugar: Use white, brown or honey, whatever suits you.
Salt and pepper: Just a pinch to balance the flavors.
Stir-fry ingredients
Bok choy and tofu
Peanut oil: Any oil with a high smoke point can be used.
Aromatics: Ginger and garlic. Optionally, spring onions can be added.
For tofu: Cornflour and spices (chilli flakes, salt and pepper)
Garnish: Roasted and chopped peanuts.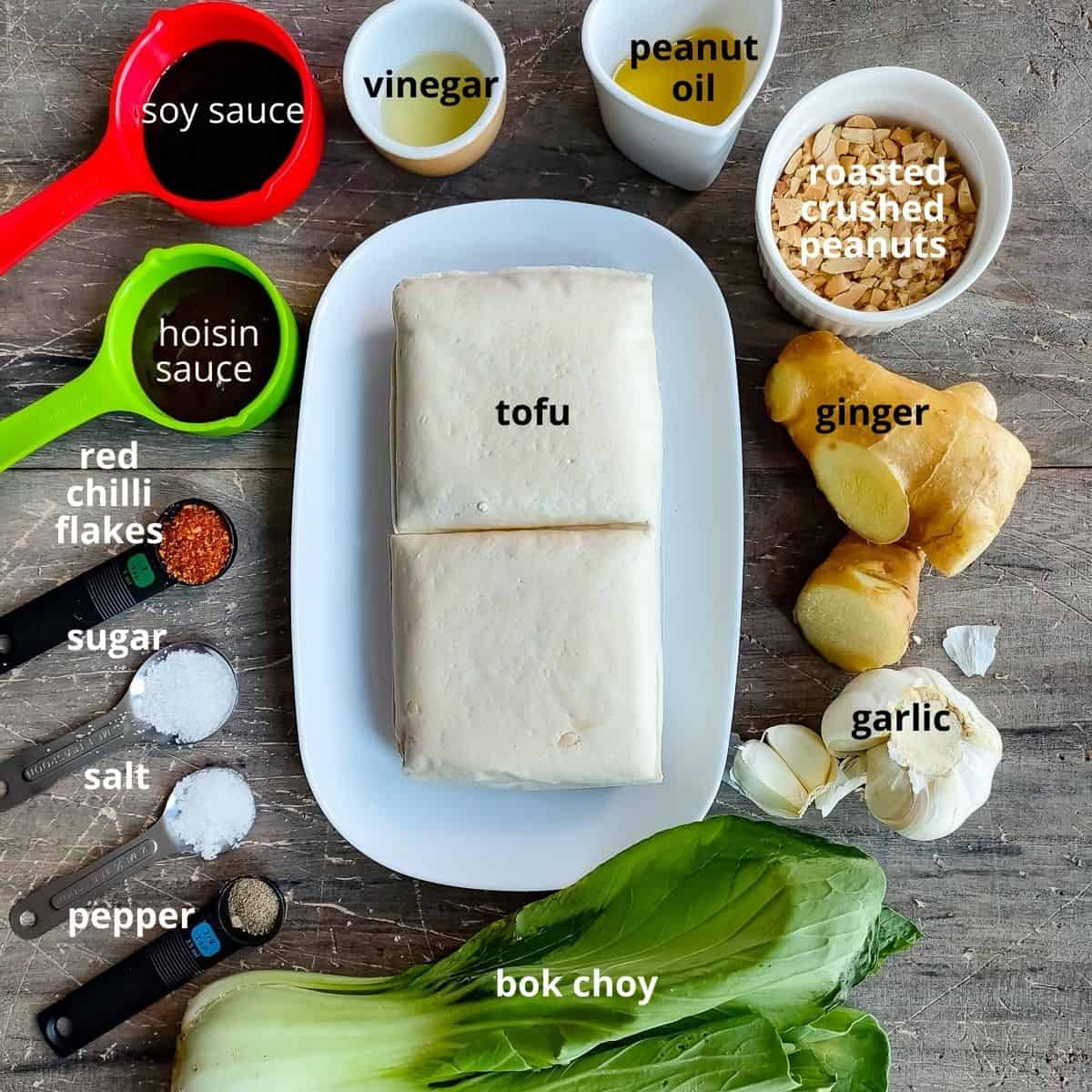 How to cut bok choy for stir fry
Bok choy is a bit tricky to cook. It has thick stems which might be too crunchy and taste raw if not cooked properly. But the leaves wilt very fast. They become chewy and bitter if overcooked.
THE SOLUTION?
Cut off the ends (that look like pretty light green-colored roses). Separate the stems and leaves. Chop and stir-fry the stems first, then add the leaves. This way you cook the stems well, without overcooking the leaves. Now that I've explained the "why" and "how", let's jump into the recipe:
How to make tofu bok choy stir fry
(You can find the exact measurements and instructions in the printable recipe card at the end of this page.)
Make sauce
Take soy sauce, hoisin sauce, vinegar, red chilli flakes, pepper, salt and sugar in a small bowl. Whisk until well combined.
How to press and dice tofu
Wrap tofu in a cloth and place something heavy on it to squeeze out water, for about 15 to 20 minutes. Dice them into 1 inch pieces, preferably into cuboids (with 2 larger sides). This makes it easy to flip the tofu pieces and brown them. For detailed pictures and instructions, read how to press and dice tofu in this post.
How to stir fry tofu
Season cornflour with red chilli flakes, salt and pepper.
Coat diced tofu with the cornflour mixture.
Heat oil in a non-stick pan or wok and fry tofu.
Fry until the 2 larger sides are browned.
A quick note: Do not keep stirring the tofu pieces. Wait for a couple of minutes until each side is browned, then flip. Since we have sliced tofu in such a way that they have only 2 large sides, it is easier to brown them. (the smaller sides don't matter much!)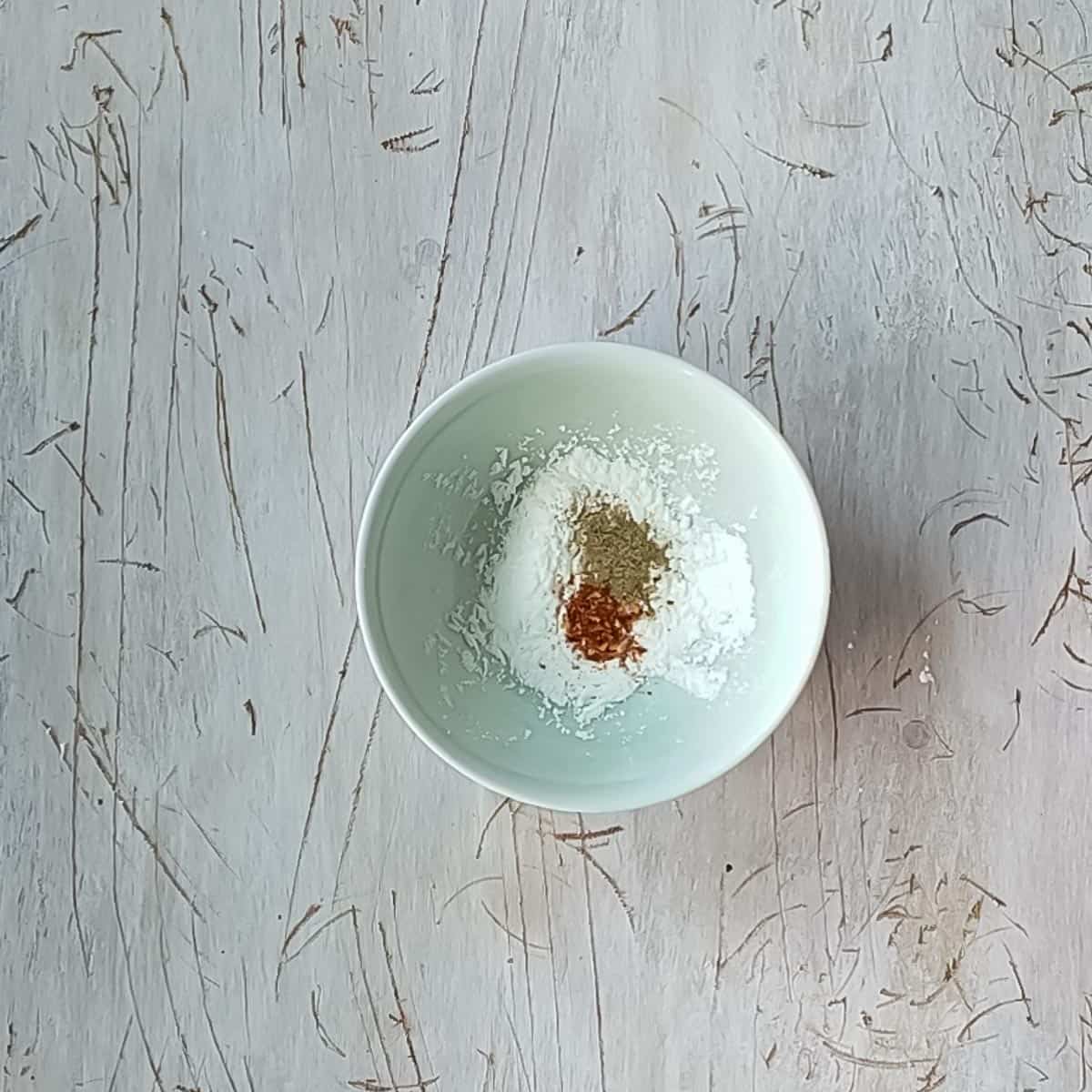 How to stir fry bok choy with tofu
Remove the fried tofu and fry garlic and ginger in the same pan. The leftover oil in the pan is enough to stir-fry garlic, ginger and bok choy.
Add the chopped bok choy stems and stir fry for 2 to 3 minutes until they soften slightly.
Stir in chopped bok choy leaves and fry for a minute.
Drizzle over the sauce.
Stir until the leaves are wilted, for about a minute.
Add fried tofu.
Stir for another couple of minutes.
Serve topped with roasted and chopped peanuts.
Recipe tips
You don't have to hunt for a wok if you don't have one, but use a deep non-stick pan in which you can stir the ingredients with ease.
If your pan is small, fry tofu in batches so that they don't overcrowd the pan.
Stir-fry ginger and garlic on medium flame to avoid burning them. After adding bok choy, increase the flame to medium-high.
Once you add the sauce, wait for it to come to a boil before adding tofu.
The sauce in this recipe is just enough to coat the ingredients. If you like more sauce, double all the ingredients for the sauce, ginger and garlic.
Common questions about stir-frying bok choy and tofu
Do you have to press tofu for stir fry?
Pressing helps get rid of the moisture in tofu so it turns out crispy when stir-fried. When you remove moisture from tofu, it also absorbs the sauce better, resulting in more flavorful tofu. So unless you're using tofu for scramble like the chilli garlic tofu recipe, it is always better to press tofu for at least 20 minutes before stir-frying.
How do you make tofu stir fry without it falling apart?
Even extra-firm tofu can break if not handled with care. The first tip is to use high flame that would quickly brown the surface of tofu. The second tip is not to keep stirring the tofu. Flip only after a couple of minutes and use tongs to flip gently, rather than a spatula. The third tip (as mentioned above) is the way in which you slice tofu: Slice them into flat pieces (cubes sliced into 2) so that you need to brown only 2 sides.
What part of bok choy do you eat in stir fry?
Both the stems and leaves are edible. They taste delicious when stir-fried with a simple sweet and spicy sauce. The trick is to separate the leaves and stems and stir-fry the stems a couple of minutes earlier than the leaves.
How do you dry tofu for stir fry?
To begin with, use firm tofu. (Silken or soft tofu is used for soup and scramble recipes.) Drain out the water from the package. Wrap the tofu block in a clean absorbent cloth and place it on a dry chopping board or tray. Keep something heavy like a cast iron pan on the wrapped tofu. Keep it pressed for 20 to 30 minutes. This would squeeze out moisture from the tofu and make it ready for stir-fry.
Looking for more?
★★★★★Did you try this recipe? Please give a star rating in the comments below ★★★★★
HUNGRY FOR MORE? Join over 1000 home cooks like you who subscribe to my weekly newsletter to get all the latest recipes right in your inbox. Or follow me on your favorite social media: Facebook, Pinterest, Instagram, and YouTube. Thank you and happy cooking!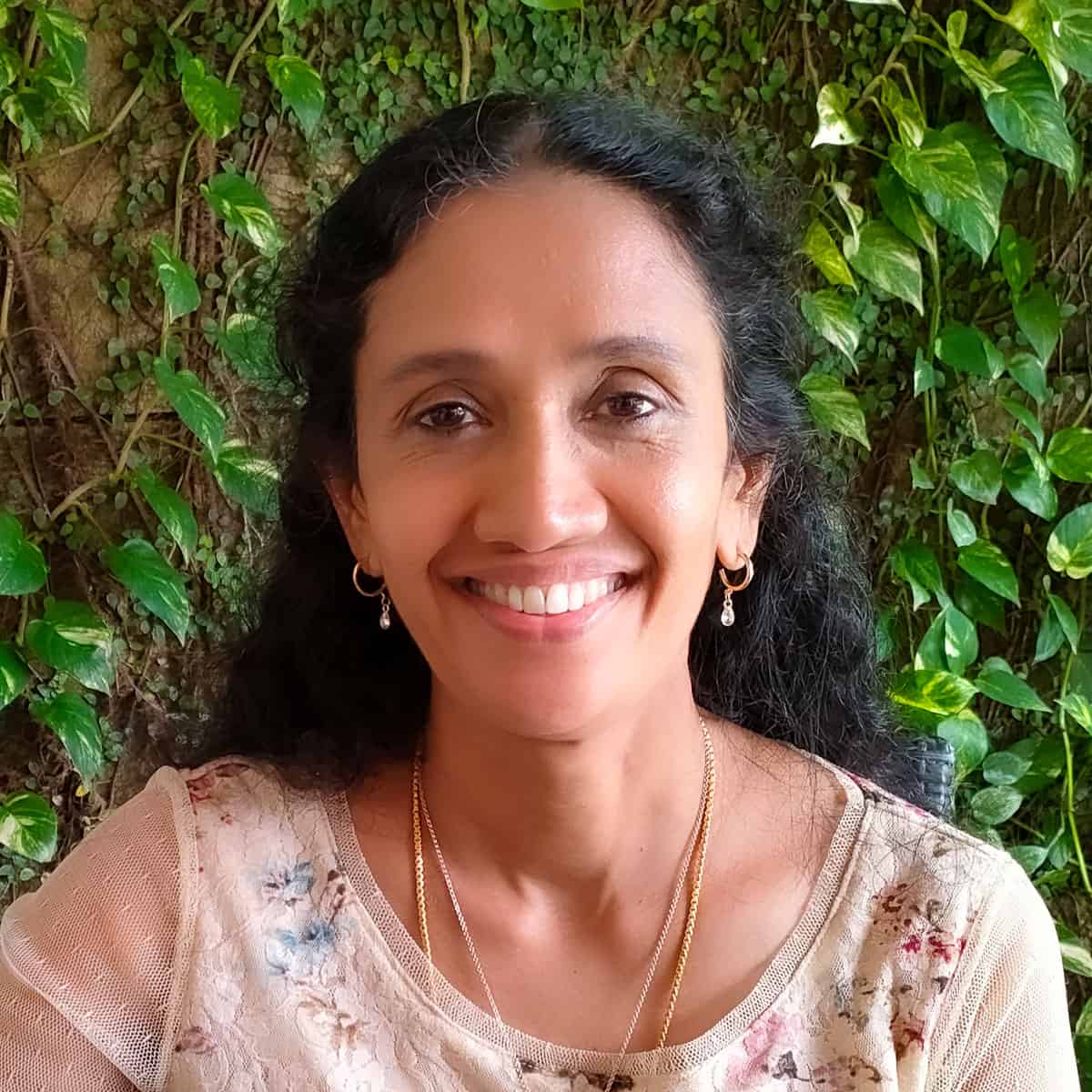 Hi! I'm Sheeba, welcome to Go Healthy ever after!
I have a passion for cooking delicious nourishing food that's easy to cook with fresh natural ingredients free from additives or preservatives. The easy healthy recipes you find here will inspire you to cook with creativity.
Copyright secured by Digiprove © 2021-2022