This Thai-style stir fry with ground chicken is flavored with garlic, chillies and a delicious sauce made with simple ingredients. Serve this healthy chicken mince stir fry with rice for a super quick weeknight dinner that takes minimum effort!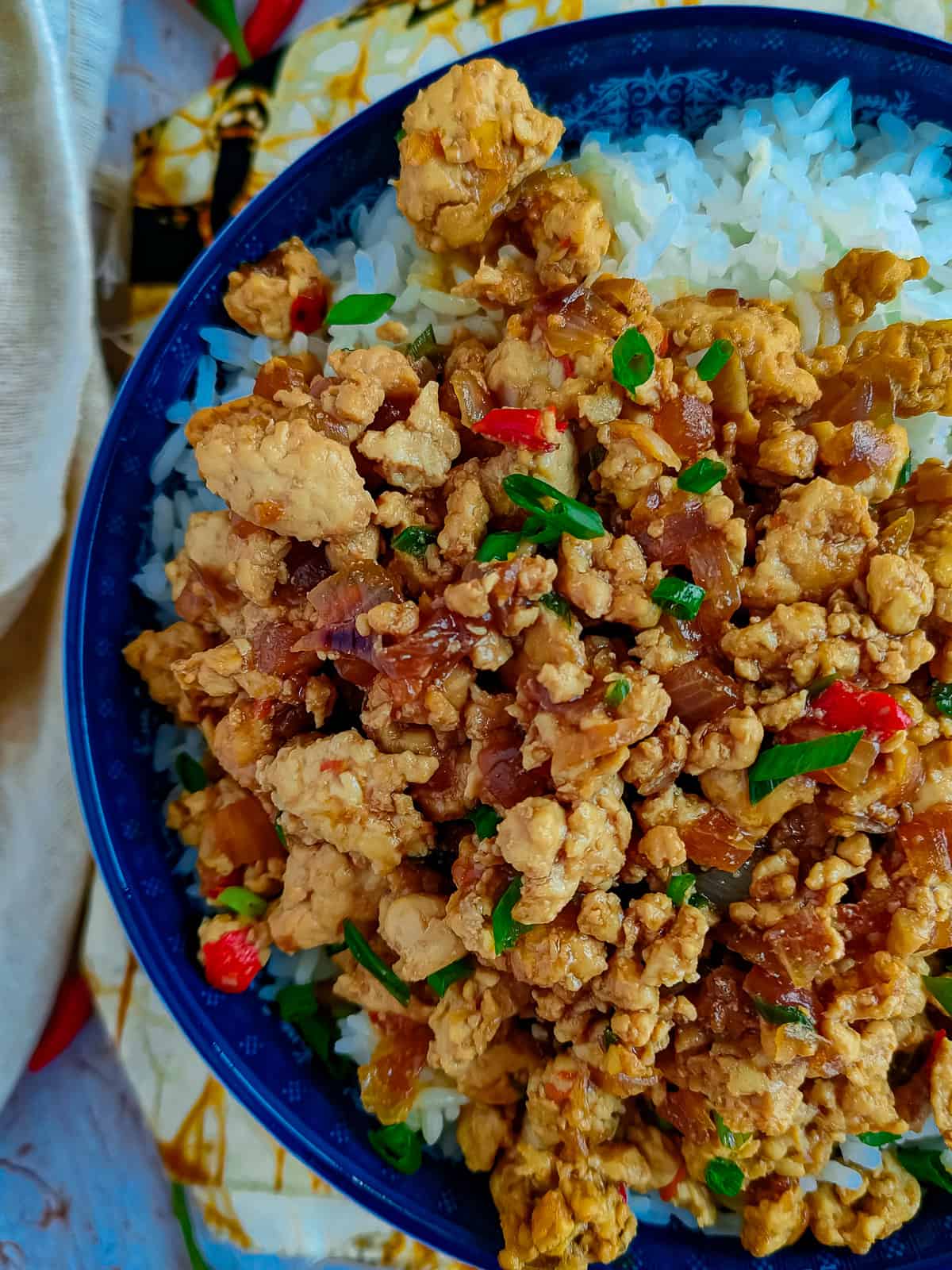 FEATURED COMMENT
This was so easy to prepare and complete. Really nice flavor and enjoyed by my whole family–some who are slightly picky eaters.
GLORIA
Affiliate disclosure: This post contains affiliate links, which means I may receive a small commission, at no cost to you, if you make a purchase through a link.
Why You'll Love This Recipe
Minced chicken stir fry is for days when you don't want to spend too much time in the kitchen, yet eat a sumptuous chicken dinner!
It is quick and easy like my sesame chicken stir fry and jeera chicken. This ground chicken stir fry is even quicker since the minced chicken gets cooked very fast. You can also skip the step of tenderizing chicken breast.
Chicken mince stir fry can be eaten with steamed rice or noodles. Add some stir-fried vegetables and you get a wholesome dinner.
This chicken stir fry tastes great with Thai red fried rice too.
The healthy stir fry sauce requires very few basic ingredients you might already have in your kitchen. (Very similar to my honey garlic tofu recipe.)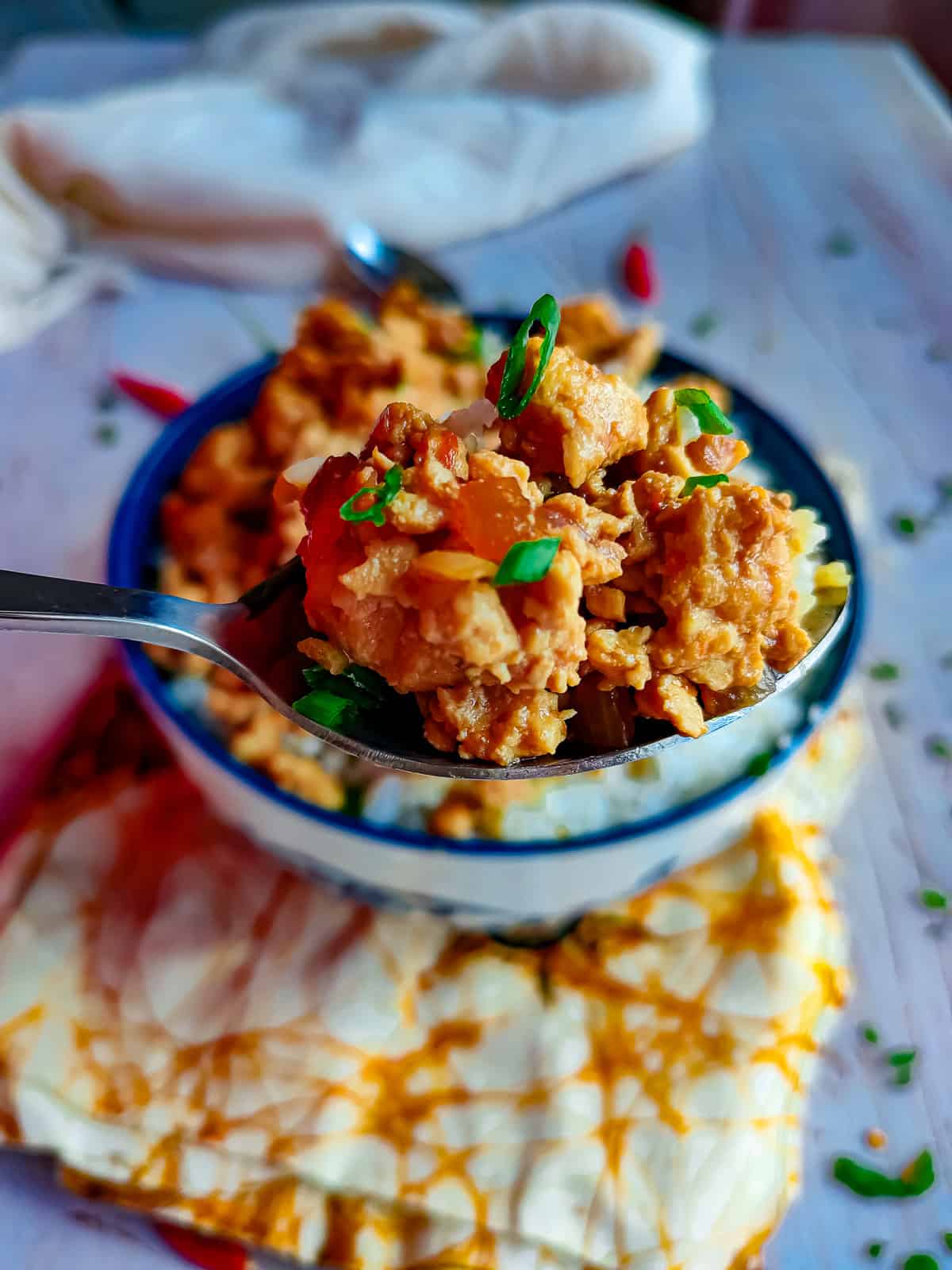 Video
Ingredients
(You can find the exact measurements and instructions in the printable recipe card at the end of this page.)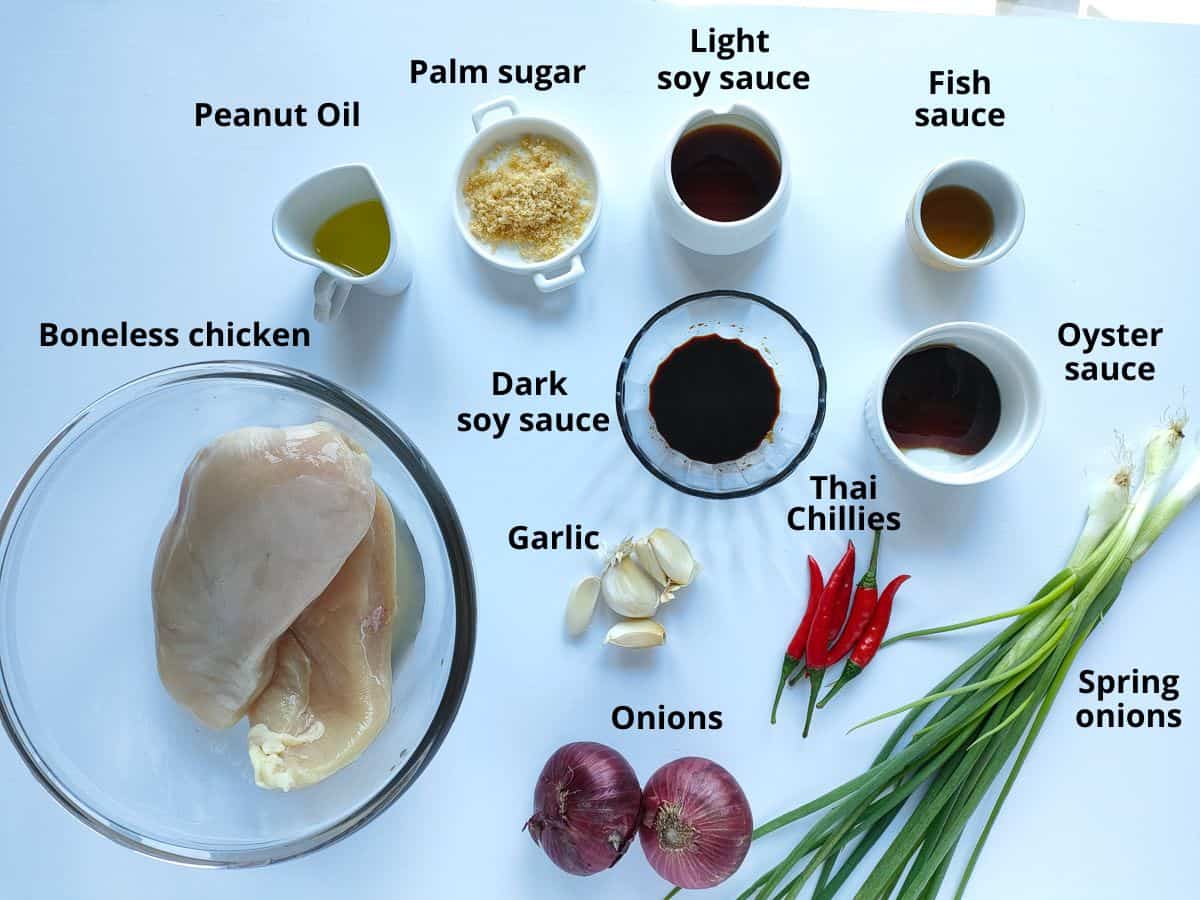 Chicken: You can use any cut of boneless chicken. I've used chicken breast here.
Oil: I use peanut oil since it has a high smoke point and also for that "Thai flavor". The closest substitute would be sunflower oil, which also has a high smoke point.
Chilli garlic paste: This is the base flavoring for the stir-fry. (We used the same for Thai basil tofu.)
Stir-fry sauce:

Soy sauce: I use dark for its richness and light for its saltiness. You can also use an equal amount (both put together) of regular soy sauce.
Oyster sauce and fish sauce: These are the "secret" sauces that give this chicken mince stir fry its unique flavor.
Palm sugar: If not available, you can use coconut sugar or brown sugar.
How To Make Chicken Mince Stirfry: Step by step
Make Chilli Garlic Paste
Roughly chop garlic and chillies. IMPORTANT NOTE: Please use gloves while handling the chilies. Or else, the burning sensation on your hands will not let you enjoy the meal😢(I'm speaking out of experience here!)
Pound into a coarse paste using a mortar and pestle. If you don't have one, place them in a ziplock bag and pound with a heavy object.
How To Make Ground Chicken From Chicken breast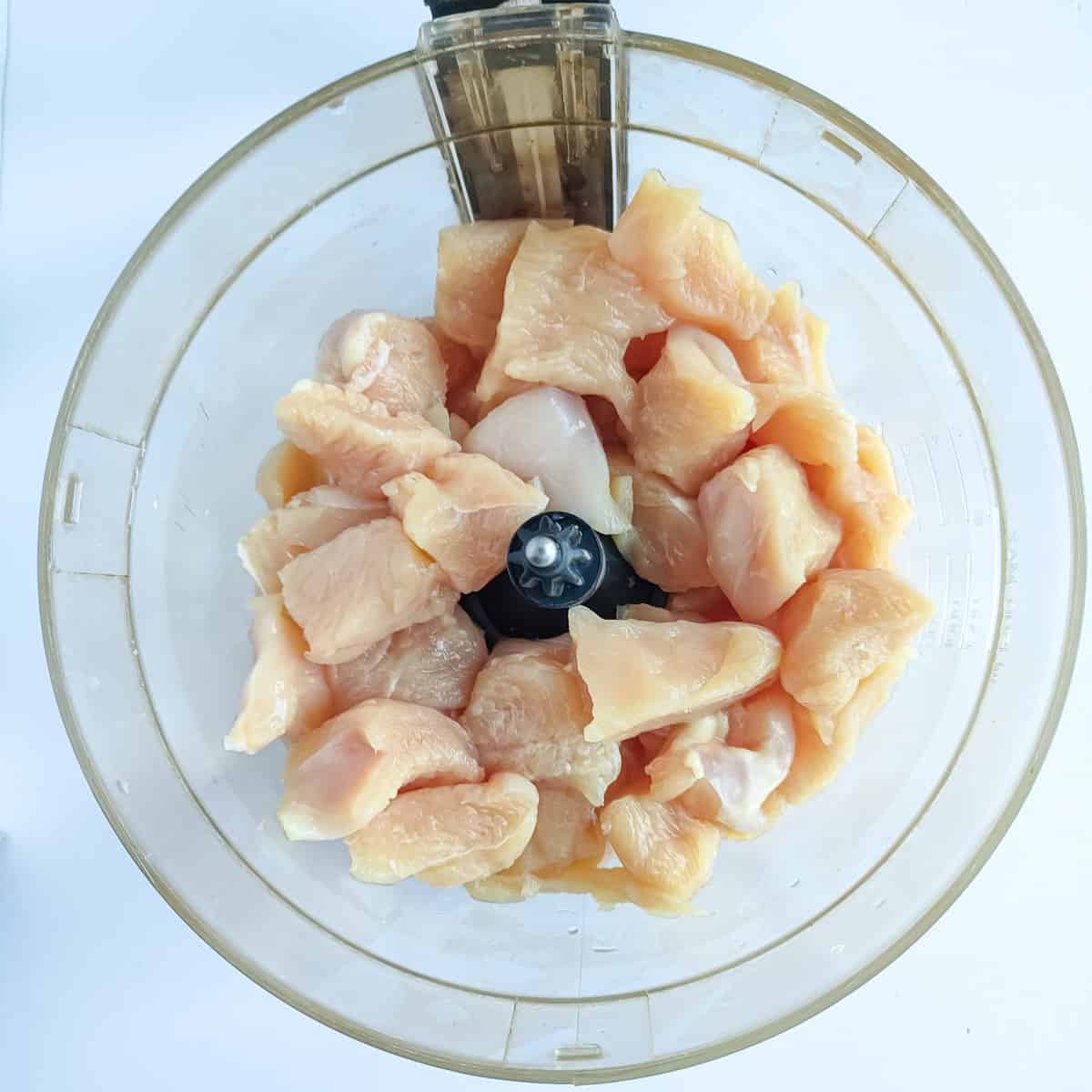 You can make your own chicken mince easily with a food processor or a sharp knife. It's the same method we used for chicken mince curry.
Chop the boneless chicken into chunks as in chicken tikka/hariyali kababs.
Place them in a food processor. Process until the chicken is minced.
You might have to scrape the sides of the processor jar and process again. Repeat until you get minced chicken with a uniform texture.
DO NOT use a high-speed blender to mince the chicken. You need a bit of texture and not mushy chicken.
If you don't have a food processor, you can use a sharp knife. Slice the chicken lengthwise first. (Like how we did to make thin sliced baked chicken breasts and crispy panko chicken.)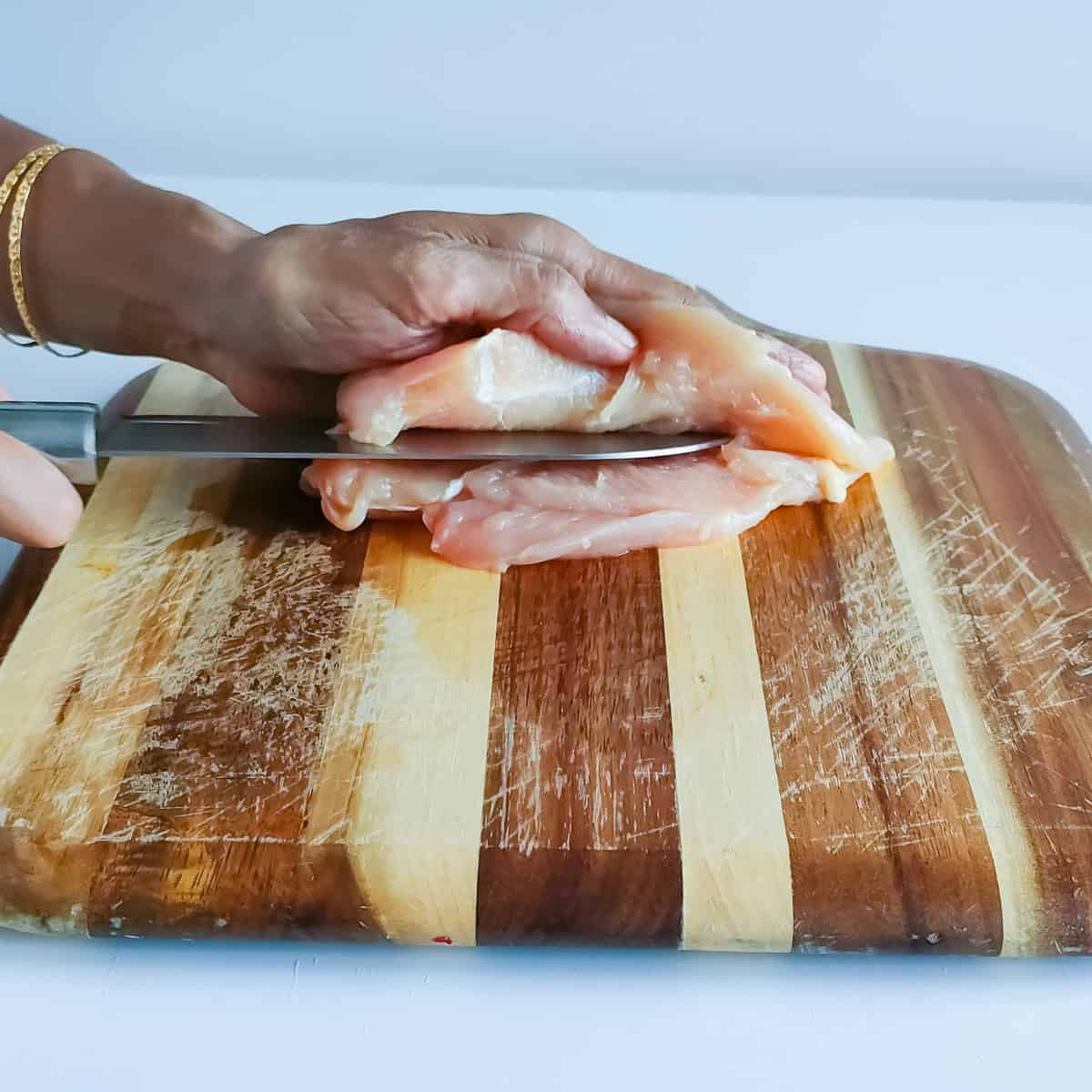 Then slice them again into thin strips. After that, mince the strips using the knife.
This way you'll get minced chicken similar to the one made with a food processor.
Make healthy Stir fry Sauce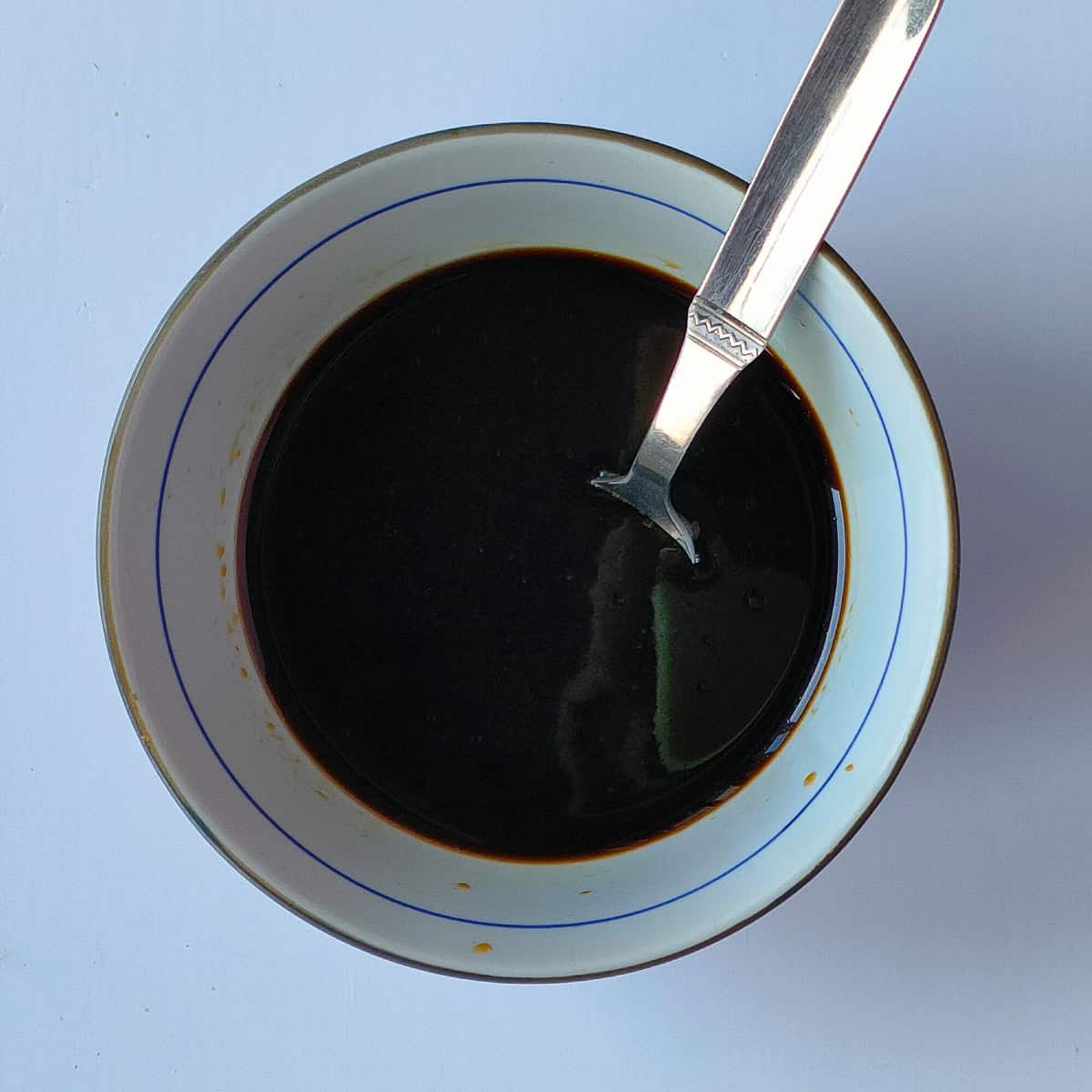 Mix together light and dark soy sauce, oyster sauce, fish sauce, palm sugar and water.
Whisk until the palm sugar dissolves completely.
Ground Chicken Stir fry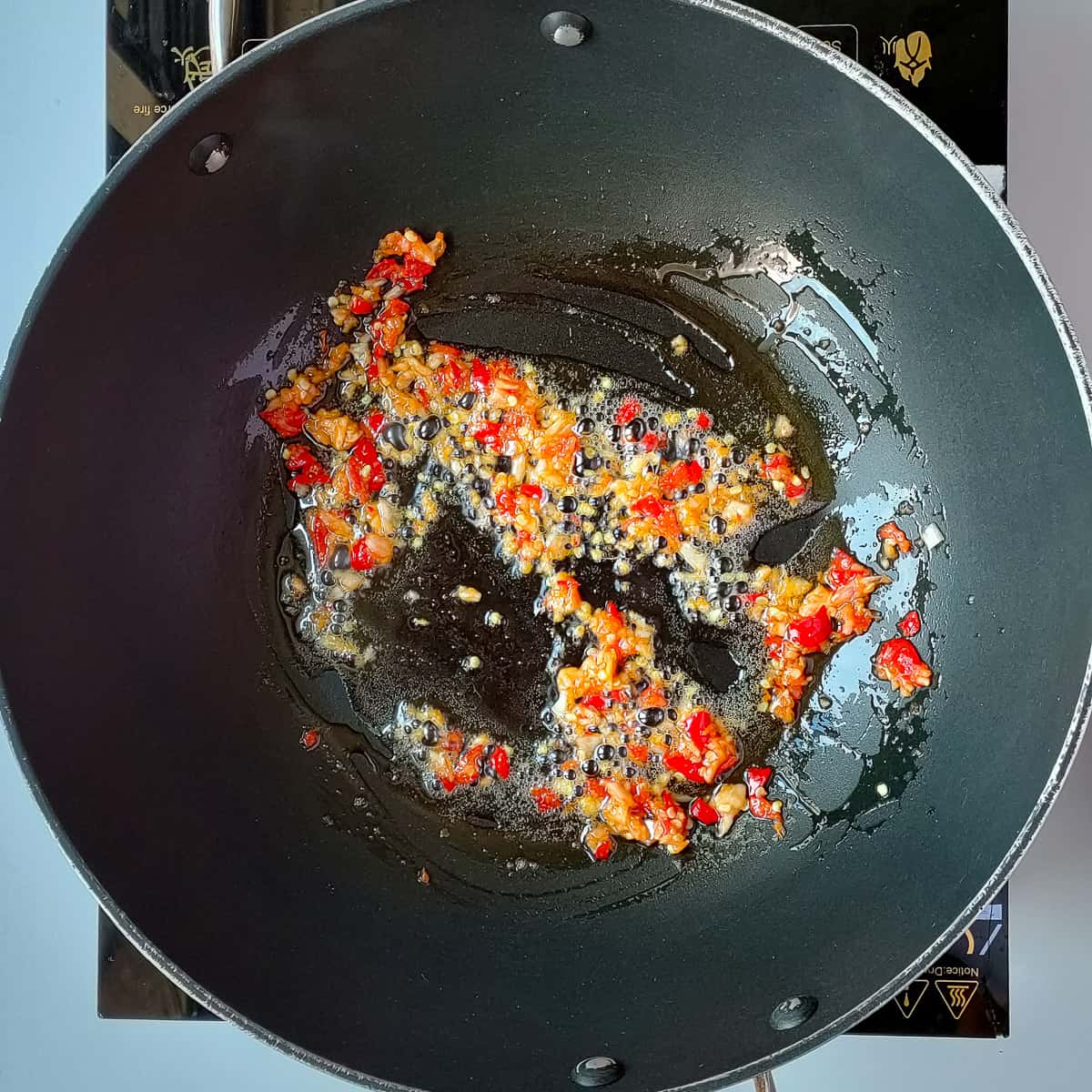 Heat peanut oil in a wok or kadai. Add the chilli garlic paste and fry on medium flame until you get the aroma of the spice (or until you start coughing and sneezing😜).
Add the minced chicken, increase the heat to high and stir-fry until the chicken turns white.
Add finely chopped onions and stir fry again until they turn translucent.
Add the prepared sauce to the chicken.
Stir until you get the desired consistency.
Garnish with spring onions and serve!
For a complete Thai food experience, pair this chicken mince stir fry with easy green curry rice.
How To Make A Good Stir-fry
Prepare: The first and most important step is to prepare all ingredients and the sauce before you turn on the gas. That includes ALL the chopping, mincing and mixing. Stir-frying is basically a quick method of frying in hot oil.
Pound (with patience!) the garlic and chillies with mortar and pestle to get the best results. Or use a ziplock bag as mentioned above. Using a blender will reduce the flavor slightly, because of the heat generated. But if nothing else works, the blender will be your best friend.
Chicken: Bring the chicken to room temperature before you stir-fry.
Hot oil: The oil should be smoking hot for stir-frying anything from the chilli garlic paste to minced chicken. After you drop the chili garlic paste into hot oil, you can reduce the flame to medium and keep stirring. This will prevent the garlic from burning.
High flame: Once you add the minced chicken, increase the heat to high. Maintain the flame at high until you finish with the sauce.
The sauce: To get more flavor and an appetizing sheen on the chicken mince stir fry, you can add 2 or 3 teaspoons of sesame oil to the sauce. (Being a health freak, I wanted to keep this recipe as lean and low-calorie as possible🙄) This will make your stir fry look and taste like the ones from the restaurants.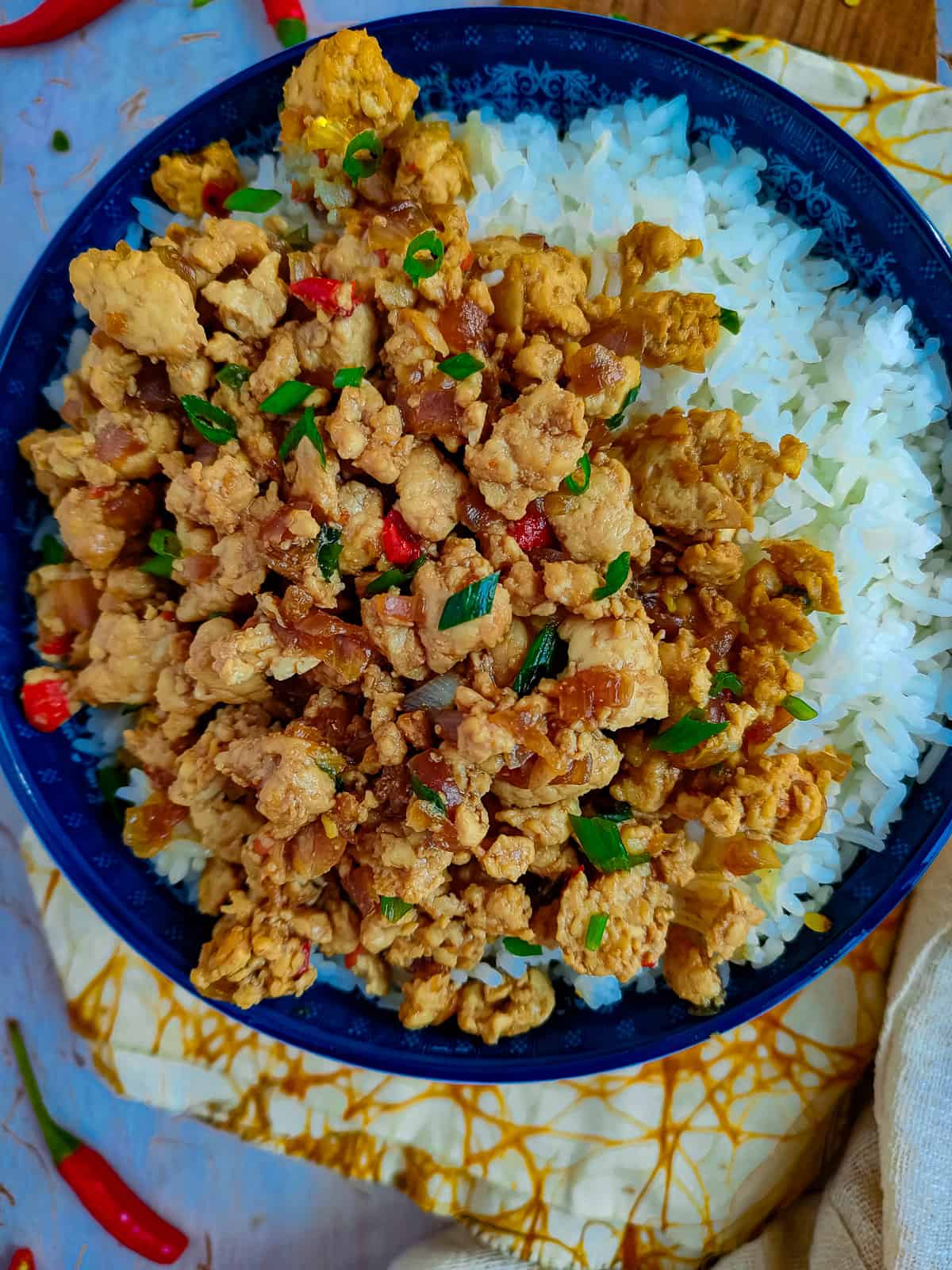 Common Questions About Stir fry With Ground Chicken
What cut of chicken is best for mince?
Boneless, skinless chicken breasts or thighs are the most convenient for mincing. Chicken breasts give you the leanest low-fat mince while thighs provide you with chicken mince that's slightly moister when cooked. However, for stir-frying with the above sauce it doesn't make much of a difference between the two.
How do I cook ground chicken without drying it out?
Ground chicken tends to get overcooked and dry out fast if you don't cook it the right way:
1. As mentioned above, bring the mince to room temperature before you start cooking.
2. Keep the flame on high when you stir-fry the ground chicken. The wok and the oil should be smoking hot.
3. The total cooking time after you add the chicken mince should be less than 10 minutes.
4. Transfer the chicken mince stir fry to a serving bowl as soon as you remove it from heat. (If you leave it in the cooking wok, the residual heat tends to overcook and dry out the chicken.)
Is ground chicken good for you?
Ground chicken is a healthier alternative to red meat like ground beef with fewer calories, less saturated fat and less cholesterol. You can replace minced meat with minced chicken in almost any recipe. Two things to keep in mind: Chicken mince cooks faster (and tends to dry out if overcooked). You need stronger flavors (and a great sauce!) to make chicken mince taste as good as red meat.
How long does cooked chicken mince last in the fridge?
Minced chicken stir fry lasts for about 3 to 4 days in the fridge if stored in airtight containers. Freeze it if you want to store it longer. It can be frozen for about a month. Thaw it overnight in the fridge. To reheat, stir-fry on high heat in a pan or wok. DO NOT use the microwave or oven (they tend to overcook the chicken).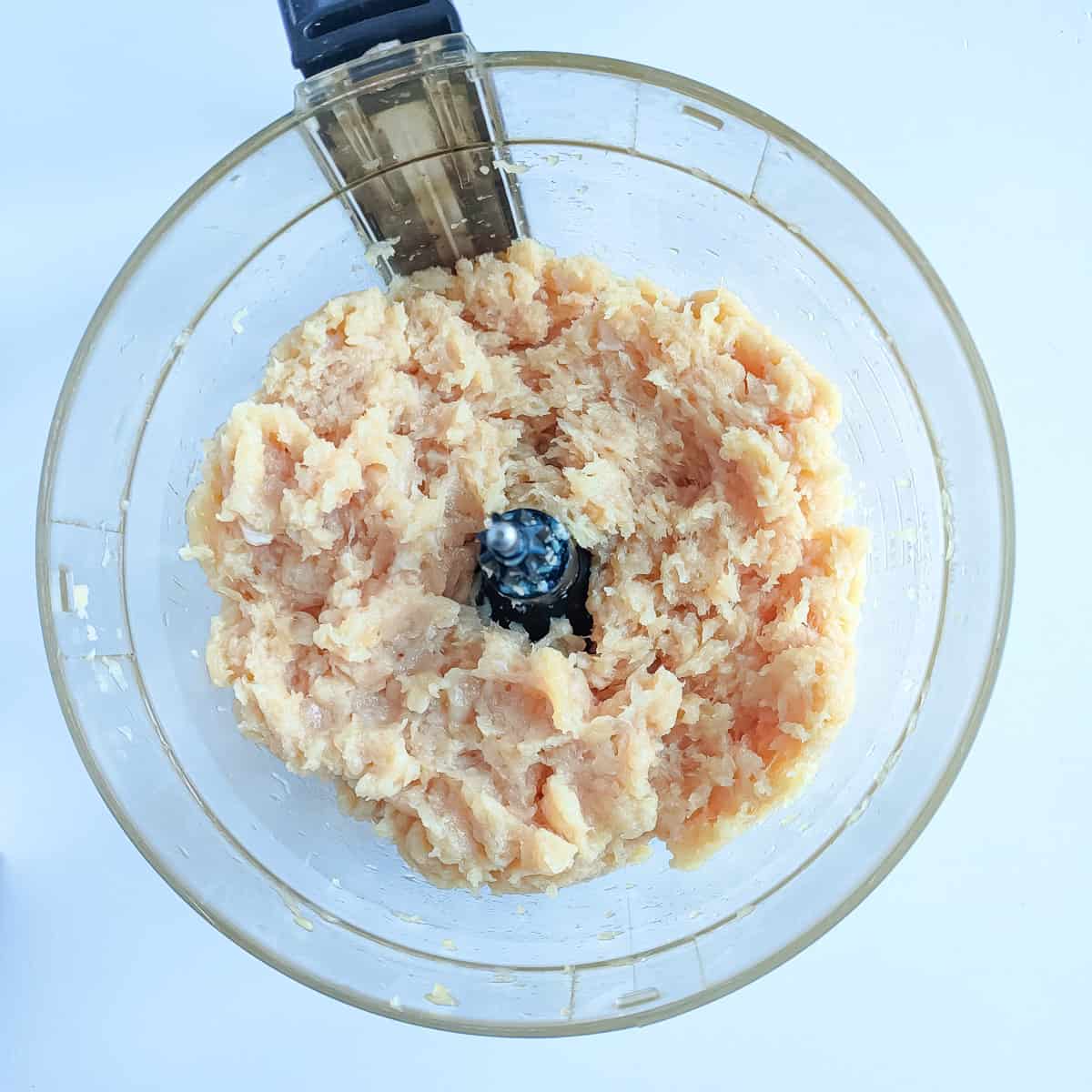 This is a complete tutorial on how to mince chicken at home with a food processor or by hand. Works for boneless chicken breasts, thighs, or any other cut of chicken.
Get the recipe
How To Use Minced Chicken Stir fry For Meal Planning
Here comes my favorite part of the recipe! You can use this hack for making it a wholesome dinner and also for using up leftovers.
All the recipes below can be refrigerated or frozen to be used later. Use them as a packed lunch, an instant "dinner" or for a potluck.
This is the same time-saving technique I used for Asian chili garlic tofu with veggies.
Chicken mince fried rice
For the best results, use cooked rice that's a day old and has been refrigerated/ frozen. I recommend short-grain white/brown rice. You will need 1-1/2 cups of rice for 4 servings.
Double the amount of all ingredients (including those for the sauce) except chicken. Follow the same instructions as above. After stir-frying the chicken mince for a couple of minutes (when it turns white), add cooked rice.
Stir-fry for about 3 minutes before adding the sauce. Keep stirring on high heat until the sauce is completely absorbed and everything is mixed well.
Turn off the flame and garnish with spring onions.
Spicy chicken stir fry noodles
Cook about 300 gms/ 10.6 ounces of noodles (for 4 servings). Drain and toss with a tablespoon of oil.
Follow the same instructions as for rice.
Stir in toasted sesame seeds before turning off the heat. Garnish with spring onions and serve immediately.
Chicken stir fry with vegetables
Use any stir-fry vegetables like bell peppers, carrots or bok choy. Chop up 1 cup of vegetables into equal-sized thin strips. Double all the sauce ingredients, oil, chili and garlic.
If using vegetables that take longer to cook (like string beans, broccoli or baby corn), you need to blanch them first: Chop them into 2-inch long strips or florets and plunge into boiling water. Bring the water to boil again and cook on high heat for 5 minutes.
Strain and add after stir-frying the minced chicken. Keep stirring for 2-3 minutes on high heat.
Add the sauce and cook until you get the desired consistency. Garnish with spring onions and serve with boiled rice.
More Recipes with Minced Chicken
★★★★★Did you try this recipe? Please give a star rating in the comments below ★★★★★
HUNGRY FOR MORE? Join over 1000 home cooks like you who subscribe to my weekly newsletter to get all the latest recipes right in your inbox. Or follow me on your favorite social media: Facebook, Pinterest, Instagram, and YouTube. Thank you and happy cooking!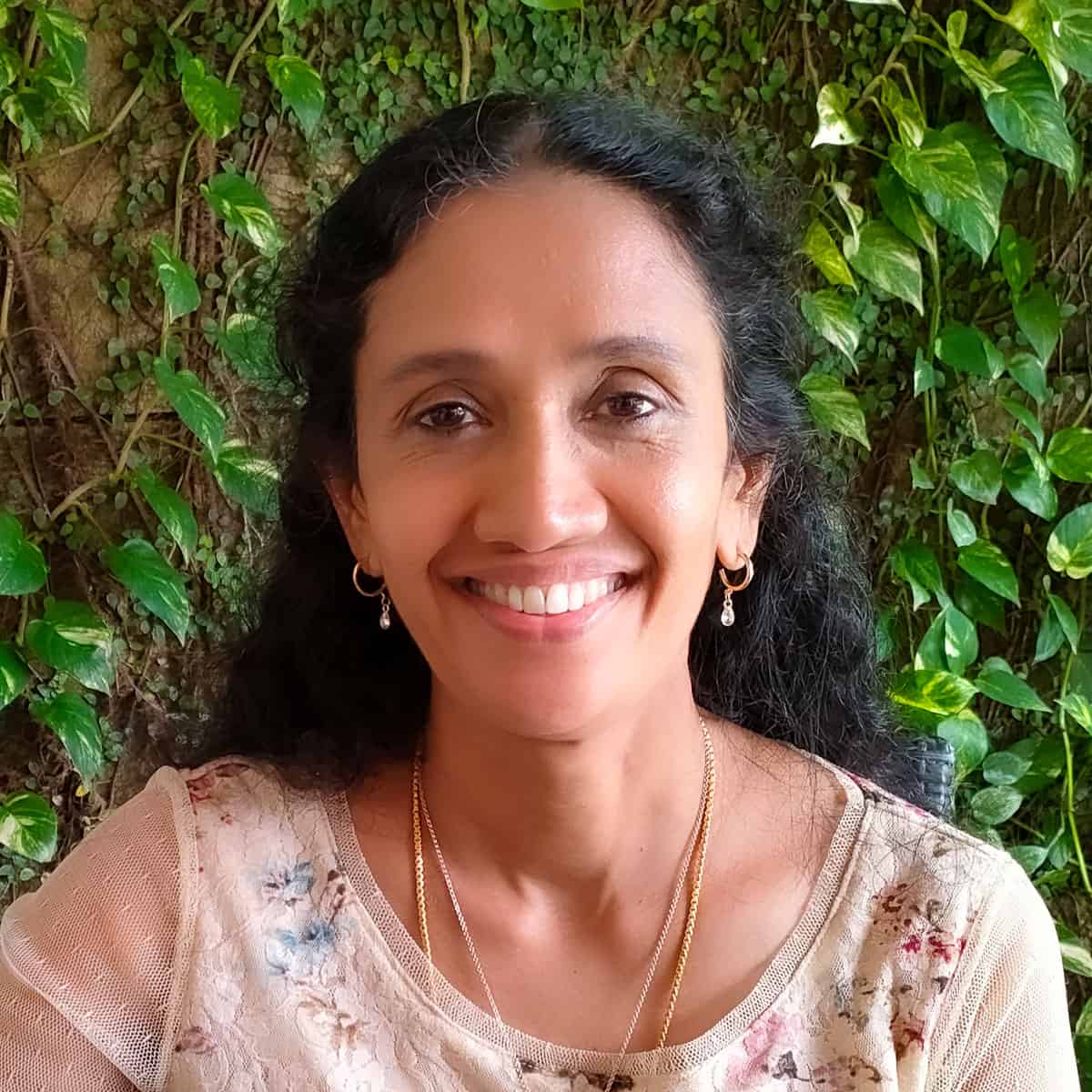 Hi! I'm Sheeba, welcome to Go Healthy ever after!
I have a passion for cooking delicious nourishing food that's easy to cook with fresh natural ingredients free from additives or preservatives. The easy healthy recipes you find here will inspire you to cook with creativity.
Copyright secured by Digiprove © 2022-2023