This sesame chicken stir fry is a sweet and spicy chicken stir fry recipe in which the chicken is stir-fried using less oil than the battered and fried (takeout) version. Make it juicy and saucy with a secret ingredient low-sugar sauce that has tons of flavor!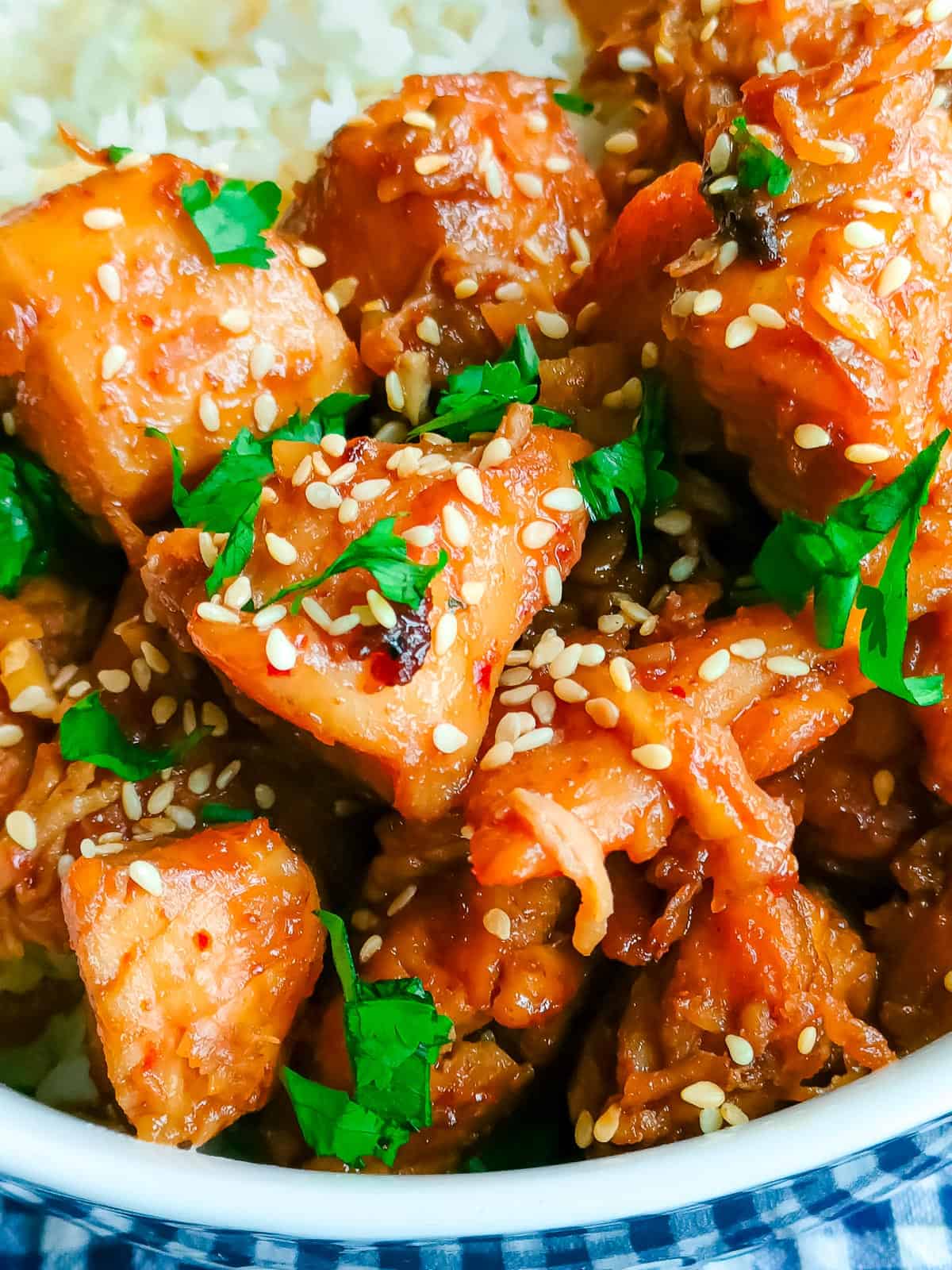 FEATURED COMMENT
Thank you for a great recipe! I'm a huge fan of velveting and I'm glad you included that. I did add honey (in addition to the brown sugar) and ginger per your suggestions and the flavors were on point!
STEVEN
Affiliate disclosure: This post contains affiliate links, which means I may receive a small commission, at no cost to you, if you make a purchase through a link.
Is sesame chicken stir fry healthy?
Takeout sesame chicken is usually coated with batter and deep-fried, then mixed with a sweet sauce to get you addicted. With this recipe, you'll learn how to make an easy marinated chicken stir fry.
It has the same (addictive) results with a few tricks I'll be telling you in a few minutes. Once you learn that, you'll never deep-fry your chicken again!
The only thing you'll miss in this "better than takeout" sesame chicken stir fry is the crispiness (and the added calories). That's more than compensated by soft and melt-in-your-mouth chicken. This recipe is as healthy as the breaded panko chicken.
That can be achieved by tenderizing and marinating the chicken before stir-frying. The simple chicken stir fry marinade is the secret to this delicious sweet and spicy chicken. I bet you'll eventually find this low-calorie recipe more delicious than the fried one.
Watch how to make sweet and spicy chicken stirfry
How to tenderize chicken breast with baking soda
Velvetting is a very easy way to tenderize boneless chicken breasts, especially when you want to stir-fry. After a bit of research and trying various techniques from brining to soaking, I found this to be the most effective.
You will be blown away by the difference it makes to chicken breast!
Clean and chop the chicken breast into 1-1/2 inch cubes. For every 250 grams of chicken, add 1 teaspoon of baking soda.
Mix well and allow it to soak. After 20 to 30 minutes, rinse the chicken a couple of times.
That's it! Your chicken is now tenderized and ready to be stir-fried, baked, sauteed, or whatever you want to do with it.
Chicken stir fry marinade
(You can find the exact measurements and instructions in the printable recipe card at the end of this page.)
Oyster sauce: This is the secret ingredient that gives this sesame chicken its characteristic mouth-watering flavor, color and saucy consistency.
Soy sauce: One of the basic ingredients for Asian stir-fries. Low sodium soy sauce is better if you can find it. If not, use the regular one.
Rice vinegar: For a splash of tang.
Sesame oil: Gives the final glaze to the sauce.
Red chilli flakes: This is a moderately spicy sesame chicken recipe. Adjust the quantity according to taste.
Black pepper and salt: Though we use soy sauce, a dash of salt and pepper makes a difference to the flavor of the sauce.
Brown sugar: Just a little to balance the spices. You can replace brown sugar with honey to make this a honey sesame chicken stir-fry.
Other stir-fry ingredients
Peanut oil for frying.
Lots of Garlic for the aroma.
Sesame seeds for garnish. (after all, it is sesame chicken!)
Chinese parsley for garnishing. Green onions can be used instead.
Sweet and spicy chicken stir fry- Step by step instructions
Marinate tenderized chicken with the stir-fry sauce for about 15 minutes.
Heat peanut oil in a wok or deep pan. Stir-fry garlic for about 2 minutes until you get a pleasant aroma. Do not let it brown. Add marinated chicken cubes.
Stir-fry for 5 minutes on high heat. Now comes the important step: Sprinkle 2 tablespoons of water and stir-fry for 5 more minutes. Repeat with 2 more tablespoons of water and stir-fry for 5 more minutes.
This process first browns chicken on the outside then adding water steams and cooks the chicken thoroughly, while making it soft and juicy. This is the secret to juicy sweet and spicy chicken stir fry!
Garnish with sesame seeds and Chinese parsley. Enjoy with a bowl of rice.
Additions and substitutions
A teaspoon of finely chopped ginger can be added with garlic.
Green onions can be substituted for Chinese parsley for garnishing.
For greater "umami" (a glamorous word for meaty!) flavor, add a teaspoon of ground dry mushrooms. I've explained how to make it in Singapore street noodles recipe.
My favorite hack to turn this into a spicy chicken stir fry with vegetables: (This is what I recommended for

Thai chicken mince stir fry

too.)

Double the amount of sauce and add vegetables like bok choy, carrots, bell peppers and baby corn. Marinate chicken as above with half the sauce.
After cooking the marinated chicken for 5 to 10 minutes, add vegetables and fry for 5 minutes.
Finally, add the other half of the sauce and stir-fry for 5 more minutes until everything comes together. Garnish and serve.
Make this a gluten-free sesame chicken stir fry
To make this recipe gluten-free, all you have to do is to look for gluten-free soy sauce (or tamari sauce) and gluten-free oyster sauce. They are easily available in supermarkets.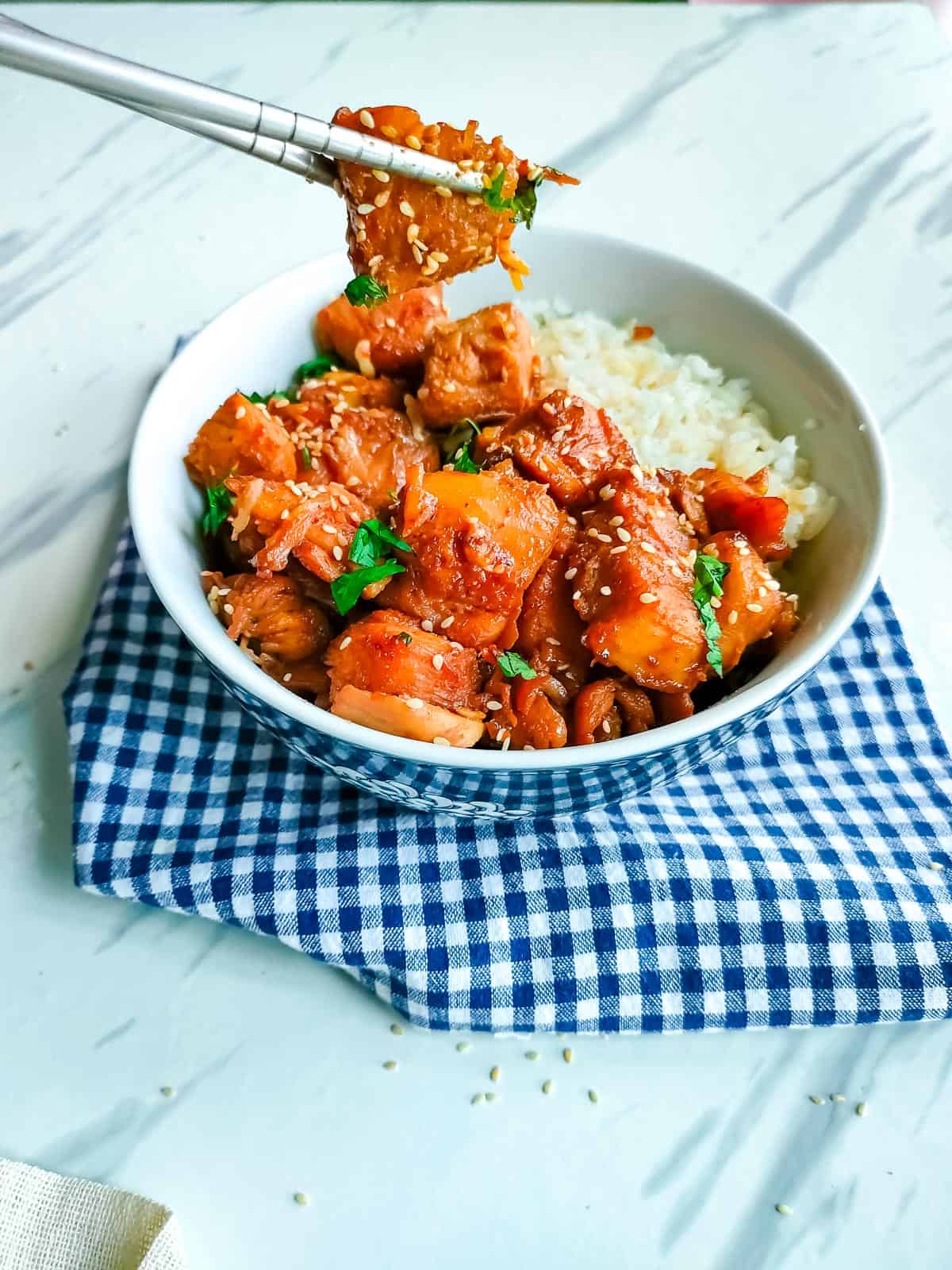 Tips to make the best spicy chicken stir fry
Do not skip the tenderizing step. That's what makes this a great chicken stir-fry recipe.
The entire stir-frying process should be done on high flame. If you feel that chicken is getting burnt, sprinkle water or feel free to add a little oil.
A pinch of salt and pepper enhances the flavor. (I used to think that soy sauce can replace salt, but salt does make a difference!)
Love Chinese-inspired recipes? You may want to try the sesame garlic tofu for an unforgettable tofu experience!
If you're looking for minced chicken recipes, you may like chicken mince kebabs, chicken kofta curry or keema chicken-stuffed eggs.
If you're looking for easy pan-seared chicken recipes, balsamic chicken with rosemary sauce or lemon coriander chicken might suit your taste.
Common questions
What is the healthiest oil for stir-fry?
Peanut oil is one of the oils that have a high smoking point. This makes it suitable not only for stir-frying but also for deep-frying. It also has a delicious nutty flavor that goes well with Asian flavors. Sesame oil has a lower smoking point. It is used either to marinate or towards the end of cooking. It is used to give a glaze to stir-fries rather than for frying.
How to make sesame chicken easy?
The easiest and healthiest way to make sesame chicken is to marinate the chicken in the sauce and then stir-fry with aromatics and optionally with vegetables. It gives the same saucy consistency as fried chicken but without the crispiness and all the calories that come with it.
How can I make stir fry more exciting?
This chicken stir fry is already bursting with flavor. You can add more flavor by adding 1/2 teaspoon of hoisin sauce. Sprinkle some roasted peanuts or other nuts like almonds and cashews for added crunch. Herbs like cilantro and spices like cumin or coriander can also add a delicious twist to the stir-fry. Use apple cider vinegar instead of rice vinegar for a fruity taste.
How can I make sesame chicken keto-friendly?
Leave out brown sugar in the marinade and serve this healthy sesame chicken with cauliflower rice.
★★★★★Did you try this recipe? Please give a star rating in the comments below ★★★★★
HUNGRY FOR MORE? Join over 1000 home cooks like you who subscribe to my weekly newsletter to get all the latest recipes right in your inbox. Or follow me on your favorite social media: Facebook, Pinterest, Instagram, and YouTube. Thank you and happy cooking!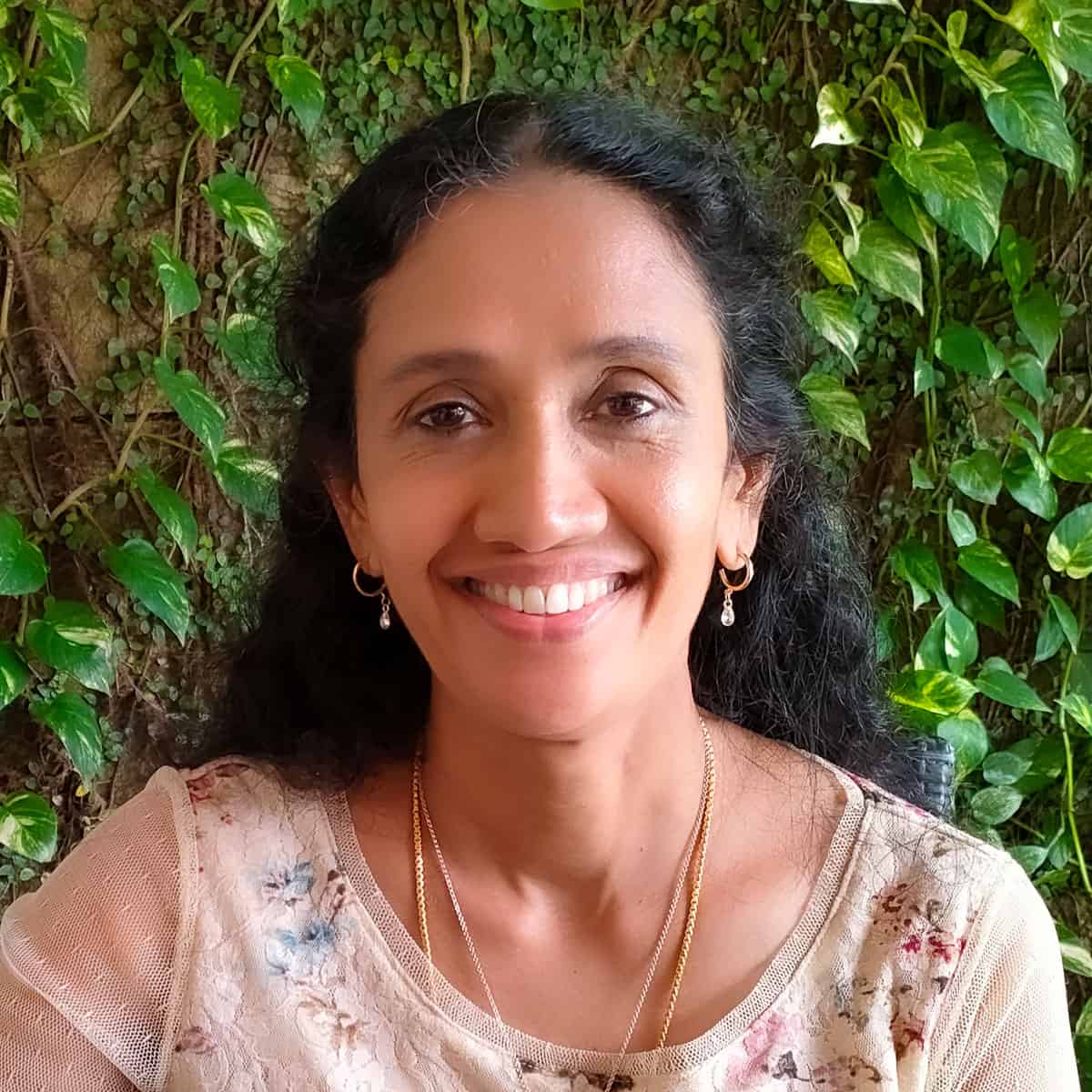 Hi! I'm Sheeba, welcome to Go Healthy ever after!
I have a passion for cooking delicious nourishing food that's easy to cook with fresh natural ingredients free from additives or preservatives. The easy healthy recipes you find here will inspire you to cook with creativity.
Copyright secured by Digiprove © 2021-2023