This recipe shows you how to make Singapore street noodles (also called mee hoon goreng). It is a healthy version of fried bee hoon with chicken and red rice vermicelli, high in protein and low in fat. Never again suffer through rice noodles that's drowned in oil and fat!
FEATURED COMMENT
Have always wanted to try to make these simgapore noodles at home.the ones in the shop are not authentic at all. This one is great!
YVONNE
Affiliate disclosure: This post contains affiliate links, which means I may receive a small commission, at no cost to you, if you make a purchase through a link.
What is fried bee hoon?
When you visit Singapore and look for Singapore noodles, you won't find one. Singapore street noodles, as they're known in the Western world are actually called "fried bee hoon" or "mee hoon goreng" locally here in Singapore. Bee hoon or mee hoon literally translates into rice vermicelli and "goreng" means "fried".
If you are new to Singapore fried bee hoon, it is rice vermicelli stir-fried with protein of your choice and vegetables with a delicious sauce and is a complete meal in itself.
It is a local staple that is served in Singapore hawker stalls any time of the day as breakfast, brunch, lunch, or dinner. ('Hawker stall' food is the Singapore version of street food.)
This fried mee hoon recipe is one of the easy Singapore food recipes that can be replicated at home. You can customize it the way you want with chicken, shrimps or pork.
You can also control the amount of fat and type of carbs to make it tasty and healthier. Follow the tips below and you can make these Singapore noodles way healthier than most of the hawkers here.
Watch how to make mee hoon goreng
Why this is a healthy Singapore street noodles recipe
This recipe uses lean meat (chicken breast) instead of pork which is commonly used.
I've used red rice vermicelli instead of the more common white rice variety. Red rice has more nutrients, fiber, and antioxidants.
If you want to shift to healthy carbs like red/ brown rice, this can be a good place to start because, unlike rice, red rice vermicelli is not much different from the white one in terms of taste and texture, but the health benefits are immense. Once you get used to this red rice vermicelli, you can try red rice recipes like Thai-style fried red rice or stir-fried chicken with red rice. You may also like brown rice recipes like Thai green curry fried rice.
The optional "ground dry mushrooms" is a healthy twist I've introduced into this bee hoon recipe. It increases the flavor as well as antioxidants, plant-based protein and other nutrients.
I've used (and recommend) a non-stick wok instead of the traditional wok. Hence, the quantity of oil required to stir-fry is comparatively less. That's how I made this healthy version of sesame chicken stir-fry, too!
If you're worried about the noodles sticking together due to less oil, I've got you covered. The vermicelli is blanched in a lot of water to remove the starch which makes it less sticky.
Ingredients
(You can find the exact measurements and instructions in the printable recipe card at the end of this page.)
Low sugar stir fry sauce
Soy sauce: You'll need light and dark soy sauce for this recipe. If unavailable, use 3 tablespoons of regular soy sauce.
Chilli sauce, chili flakes and pepper for the heat. This is a moderarely spicy rice noodles recipe. You can adjust the quantities according to taste or completely omit the chili flakes.
Oyster sauce is one of the main ingredients that give the characteristic flavor to this Singapore noodles recipe.
Sesame oil for flavor, to bring the sauce together and give a final gloss to the dish.
Ground dry mushrooms (optional): In some local hawker stalls, dried mushrooms are soaked overnight and stir-fried with the bee hoon, but this is an easier way to add dried mushrooms.
How to make dried mushroom powder
Take about 5 or 6 dried mushrooms, wipe them with a wet cloth to remove any dirt and let them dry on the kitchen counter. (Ensure that you buy good quality mushrooms that are free from grit.)
Grind them to a smooth powder using a spice grinder or small blender jar. Store in a dry airtight jar in the refrigerator.
This recipe requires just 1 teaspoon but you can make this in bulk and store in the fridge. It stays fresh for about 3 months.
Use this mushroom powder in Chinese stir-fries, noodles and tofu and taste the difference! You can also use it in soups, stews, broth or even pasta sauce.
Sometimes I add a teaspoon of this powder to the sauce in the scrambled tofu recipe and also the chicken mince stir fry.
Brown rice vermicelli
Red rice and brown rice vermicelli can be used interchangeably in this recipe. The white variety can also be used. It also tastes great but you'll be missing out on those health benefits 🙂
Chicken
I've used chicken breasts here, but any skinless, boneless chicken can be used for this recipe. Marinate in a little of the sauce for about 20 minutes. If you have 20 more minutes, try this hack I use to tenderize chicken breasts before stir-frying.
Prawns
Dried prawns are used for fried bee hoon but if not available, fresh ones can be used. Fresh prawns can be stir-fried as is, but if using dried prawns, soak in hot water for about 20 minutes before stir-frying.
Vegetables
Carrots and cabbage are usually added, but other stir-fry vegetables like bell peppers or leafy greens like bok choy and chye sim can also be used.
Additionally, garlic, onions, bean sprouts and spring onions are added for flavor and crunch.
How to make fried bee hoon- step-by-step
Prepare the chicken, prawns and sauce
Whisk together all ingredients for the sauce. Marinate the chicken with a little of the sauce and soak the dried prawns.
Blanch the vermicelli
Boil water, add vermicelli and cook for 2 minutes. Drain and immediately plunge into cold water. Drain again and keep aside.
How to fry bee hoon
For stir-frying, use a wide wok so you can stir the ingredients with ease.
Start by heating oil on high flame and stir-fry garlic, onions, marinated chicken, prawns, vegetables, beaten eggs, blanched vermicelli, sauce, and bean sprouts in the same order. Fry each ingredient for 2-4 minutes according to their size.
Garnish with green onions.
Vegetarian bee hoon
This fried bee hoon can be easily made vegetarian by substituting the following:
Use extra-firm tofu instead of chicken. Marinate and stir-fry the same way.
Leave out the prawns.
Use hoisin sauce instead of oyster sauce.
Add 1 teaspoon more of the dried mushroom powder in the sauce.
For a vegan recipe, leave out the eggs in addition to the above.
Love Chinese-inspired dishes? Try this easy honey glazed tofu or sesame chicken stir fry for an unforgettable tofu experience!
Fried mee hoon with prawns
Chicken can be replaced with shrimps in this recipe. Follow the same instructions for marinating and cooking except that shrimps take less time to cook. Stir-fry the shrimps for about 1 minute only (as compared to 2-3 minutes for chicken) before adding the dried prawns.
Tips to make the best bee hoon goreng
Keep the flame on high throughout the cooking process. If you feel that something is getting burnt, add a splash of water and continue stir-frying.
When you blanch the vermicelli, add a lot of water with a little oil (about 6 cups for this recipe) so that there is room for vermicelli to move around and they don't stick to each other.
Common questions about fried bee hoon
How do you cook bee hoon without breaking it?
1. Blanching the vermicelli helps hold its shape and texture. Plunging in cold water after cooking stops it from getting overcooked and breaking.
2. After adding the vermicelli, do not stir-fry for more than 2-3 minutes.
3. As soon as you turn off the flame, transfer the fried bee hoon to a serving dish so it doesn't continue to get cooked in the residual heat.
Are rice vermicelli noodles healthy?
It depends on the protein you add and the amount of oil used for stir-frying. When you use lean meat and limited oil and salt, combined with the nutritious antioxidant and fibre-rich red rice vermicelli, you get a healthy fried bee hoon.
How do you soften bee hoon?
Bee hoon (rice vermicelli) cooks very fast. Add it to boiling water and stir well. The bee hoon becomes soft in 2 minutes.
How do you cook vermicelli without it sticking?
Add rice vermicelli to boiling water (about 6 cups per 200 grams) in a wide pan and cook for not more than 2 minutes. Drain and plunge in cold water. This blanching process helps remove the starch from the vermicelli making it less sticky. Adding oil to the water while boiling also keeps it from getting sticky and maintains a springy texture.
★★★★★Did you try this recipe? Please give a star rating in the comments below ★★★★★
HUNGRY FOR MORE? Join over 1000 home cooks like you who subscribe to my weekly newsletter to get all the latest recipes right in your inbox. Or follow me on your favorite social media: Facebook, Pinterest, Instagram, and YouTube. Thank you and happy cooking!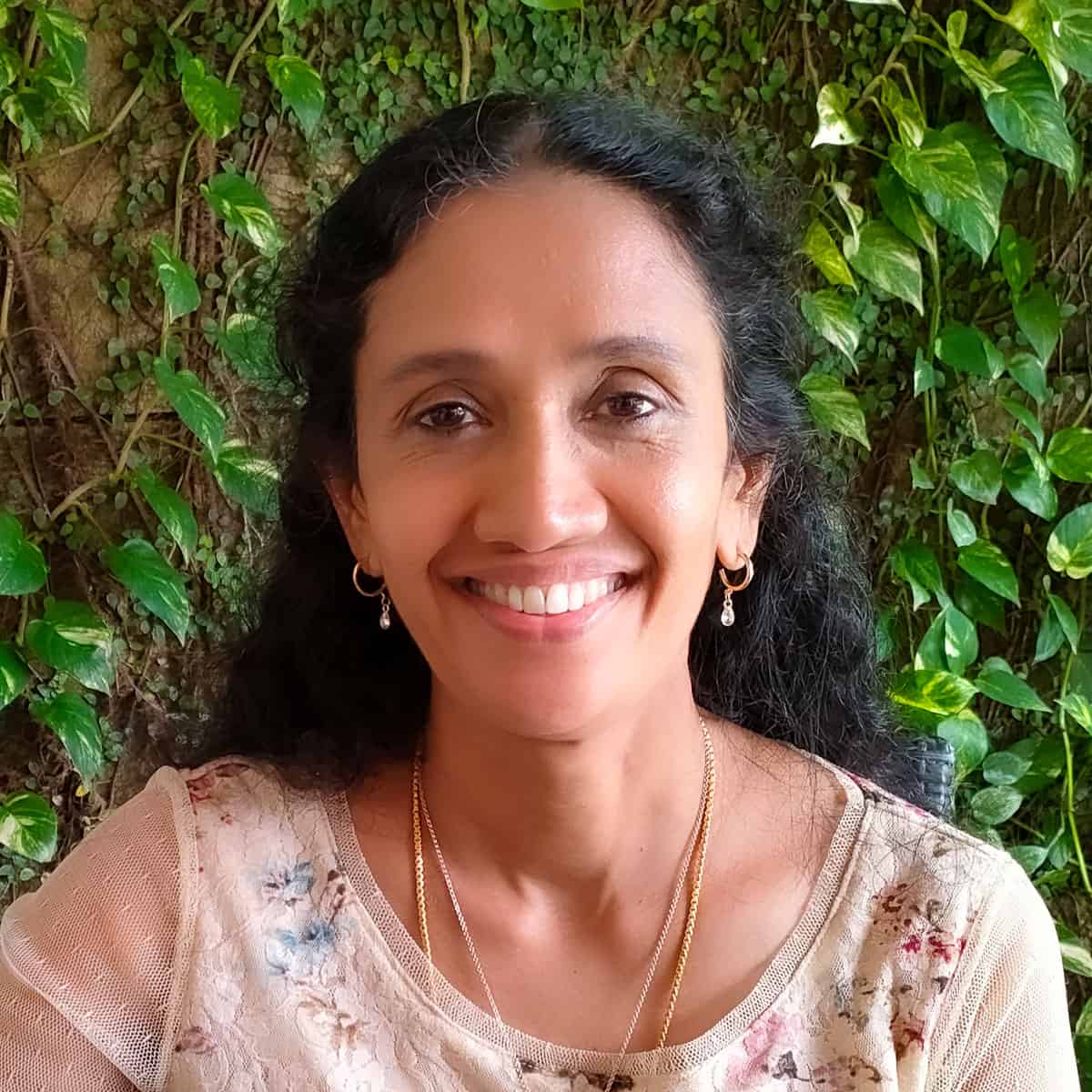 Hi! I'm Sheeba, welcome to Go Healthy ever after!
I have a passion for cooking delicious nourishing food that's easy to cook with fresh natural ingredients free from additives or preservatives. The easy healthy recipes you find here will inspire you to cook with creativity.
Copyright secured by Digiprove © 2021-2023