These Italian potato croquettes with mozzarella inside and a crunchy golden shell are one of the best Italian appetizers. This quick and easy recipe shows you a little-known secret that results in vegetarian croquettes bursting with flavors not only on the inside but also on the outer shell.
FEATURED COMMENT
My choice for all the time ..very good recipe. Spice it up with a little pepperoni or diced hard salami u.mmmmm
TERRI
About the recipe
Italian croquettes are without any doubt one of the most favorite snacks for kids and adults alike. Once you stuff them with cheese and flavor them with more cheese, it becomes irresistible.
Why wouldn't it be? It's potato and cheese, guys! These are as popular as my crispy cheesy smashed potatoes.
The herbs and spices along with mozzarella and parmesan give a unique flavor to the cheese croquettes that can get you addicted. And the thought of melted cheese oozing out of the golden crunchy shell makes your mouth water, for sure.
What is an Italian croquette?
These potato and mozzarella croquettes are made of cooked and mashed potatoes that are seasoned, shaped into cylinders or balls, breaded and then fried. The best part is that we stuff them with mozzarella, season with Italian herbs and parmesan and fry them to give you cheesy potato bites you can't resist!
Video
Reasons why these are the best potato and mozzarella croquettes
Okay, I'm so excited I want to give it to you right away: The secret ingredients are the spice PAPRIKA and the Italian herbs BASIL and OREGANO added to the mashed potatoes, and also with the breadcrumbs which make the outer shell. So the potato croquettes are full of flavor not only on the INSIDE but also on the OUTSIDE. The paprika makes the color of the croquettes look appetizing, too. This small TRICK makes all the difference.
Another trick is to use Panko bread crumbs to get extra-crispy potato croquettes! (Like the ones we used for prawns fry and beetroot cutlets.)
In this vegetarian croquette recipe, we use 2 types of cheese- parmesan and mozzarella. Parmesan gives its characteristic flavor and Mozzarella gives the cheese-pull which we all love.
I must admit, whenever I make these parmesan croquettes, no matter how much I make, I almost always run out of them!
Love potatoes? Roasted sheet pan potatoes with broccoli is another delicious recipe you might want to try.
Ingredients
Russet potatoes: they are starchy and best suited for croquette recipes. However, if you don't have them, it is okay to use other types.
cheese: mozzarella and parmesan
binding agents: flour and egg
flavoring: paprika, pepper and salt
herbs: dried basil and oregano
crunchy shell: breadcrumbs.
How to make Italian potato croquettes- step by step
(You can find the exact measurements and instructions in the printable recipe card at the end of this page.)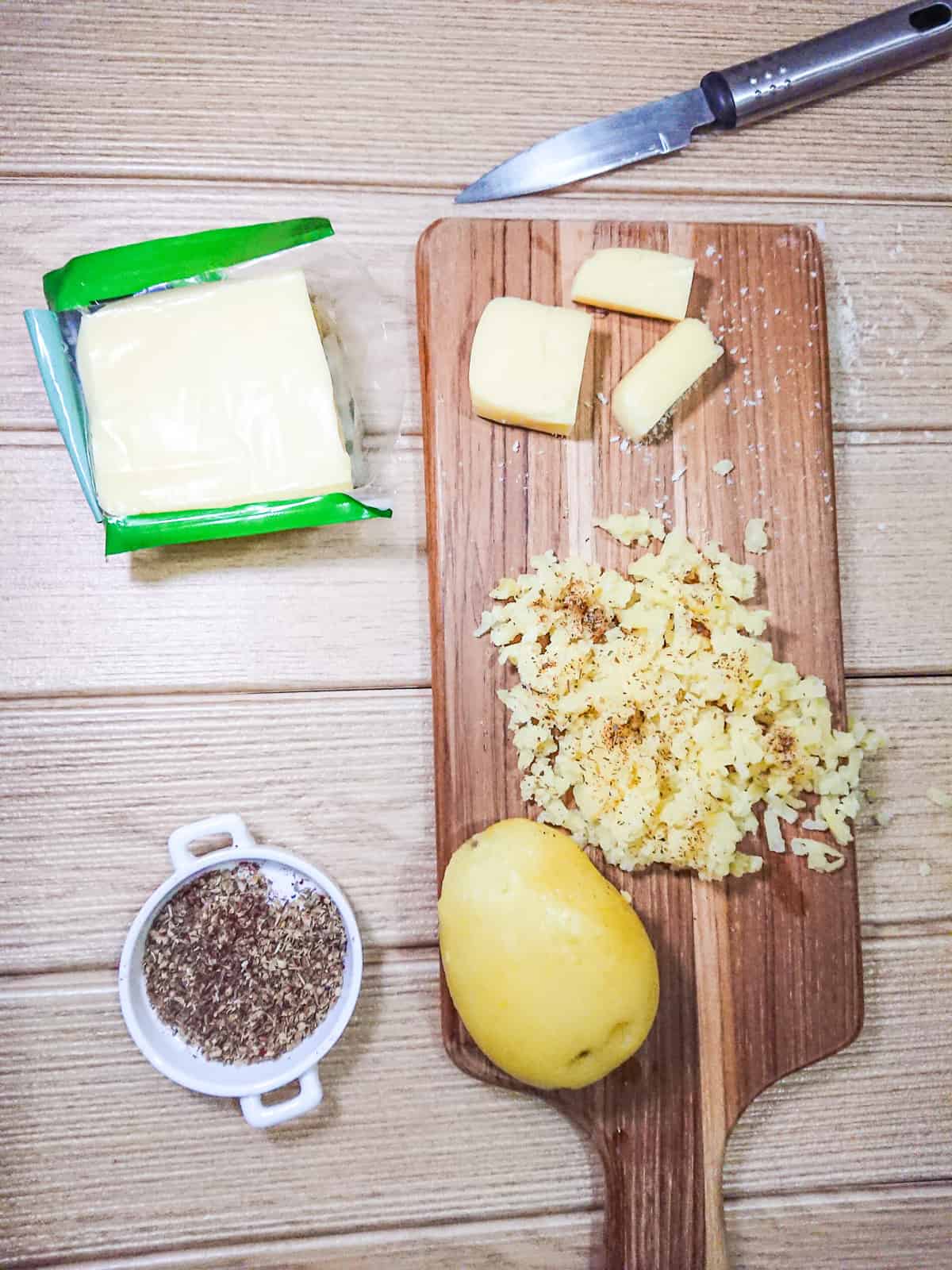 How to cook and prepare potatoes
Cover the potatoes with water and boil until well cooked. You can cook them faster in a pressure cooker or instant pot. Pressure cook on high for 15 minutes and wait for the pressure to release naturally.
Let the potatoes cool, then peel and grate them. Grating rather than mashing ensures a uniform texture. Or you can pass them through a ricer. Mix the grated potato with parmesan, salt and pepper. Keep aside.
How to season the croquettes
Mix together the seasoning – basil, oregano, paprika. Divide into 2 portions, add one half to the grated potato and the other half to the breadcrumbs. Seasoning the breadcrumbs will give you a flavorful crunchy outer shell.
How to prepare the croquettes
Divide the potato mixture into about 10 to 12 balls. Flatten each potato ball, place a 1.5-inch long piece of mozzarella cheese, enclose and shape into a cylinder. Roll the cylinders in flour, dip in egg and roll in the seasoned breadcrumbs.
How to fry potato croquettes
This recipe does not require you to refrigerate the croquettes before frying unless you want to make them ahead. Only ensure that you take out Mozzarella from the refrigerator after preparing the rest of the ingredients.
Heat oil in a skillet and fry in batches, ensuring that the croquettes do not overcrowd the skillet. Drain and serve.
Common questions
How do you keep potato croquettes from falling apart?
1. Coating the croquettes with flour before dipping in egg helps hold everything together.
2. Another important factor is the type of potatoes you use. Russet potatoes are perfect for making croquettes. They are starchy and bind well when mashed.
3. For extra-strong croquettes, do a double-dip: coat them with flour, dip in egg, again coat with flour, dip in egg then roll them in breadcrumbs and fry. Note that you might need 2 eggs and more flour in that case.
Can the potato croquettes be made in advance?
Absolutely. They can be prepared and frozen before frying. You just need to thaw for 30 minutes and fry. They keep well for 2 days in the refrigerator and up to a month in the freezer. To avoid crushing the croquettes, place them in a single layer on a large tray or baking sheet in the freezer for about an hour. You can then transfer them to a freezer box or ziplock bag and freeze until required.
Fried croquettes also can be refrigerated or frozen in an airtight box. Thaw the frozen ones for 30 minutes or overnight in the refrigerator. Reheat in the oven placing them on a baking sheet in a single layer. Reheat at 180°C / 350°F. The time depends on the size of your croquettes. It would take about 10 to 15 minutes to heat through.
How to make potato croquettes without egg?
You can make this recipe eggless by replacing the egg with 2 tablespoons of flaxseed meal (ground flaxseed) or ground chia seeds mixed with 4 tablespoons of water to make a paste. Beat well with a dash of salt and pepper. Use this to replace eggs in any recipe.
What do you serve with Italian croquettes?
Looking for more appetizers?
If you're looking for more vegetarian starters, check out Indian chickpea patties or hariyali panner tikka.
★★★★★Did you try this recipe? Please give a star rating in the comments below ★★★★★
HUNGRY FOR MORE? Join over 1000 home cooks like you who subscribe to my weekly newsletter to get all the latest recipes right in your inbox. Or follow me on your favorite social media: Facebook, Pinterest, Instagram, and YouTube. Thank you and happy cooking!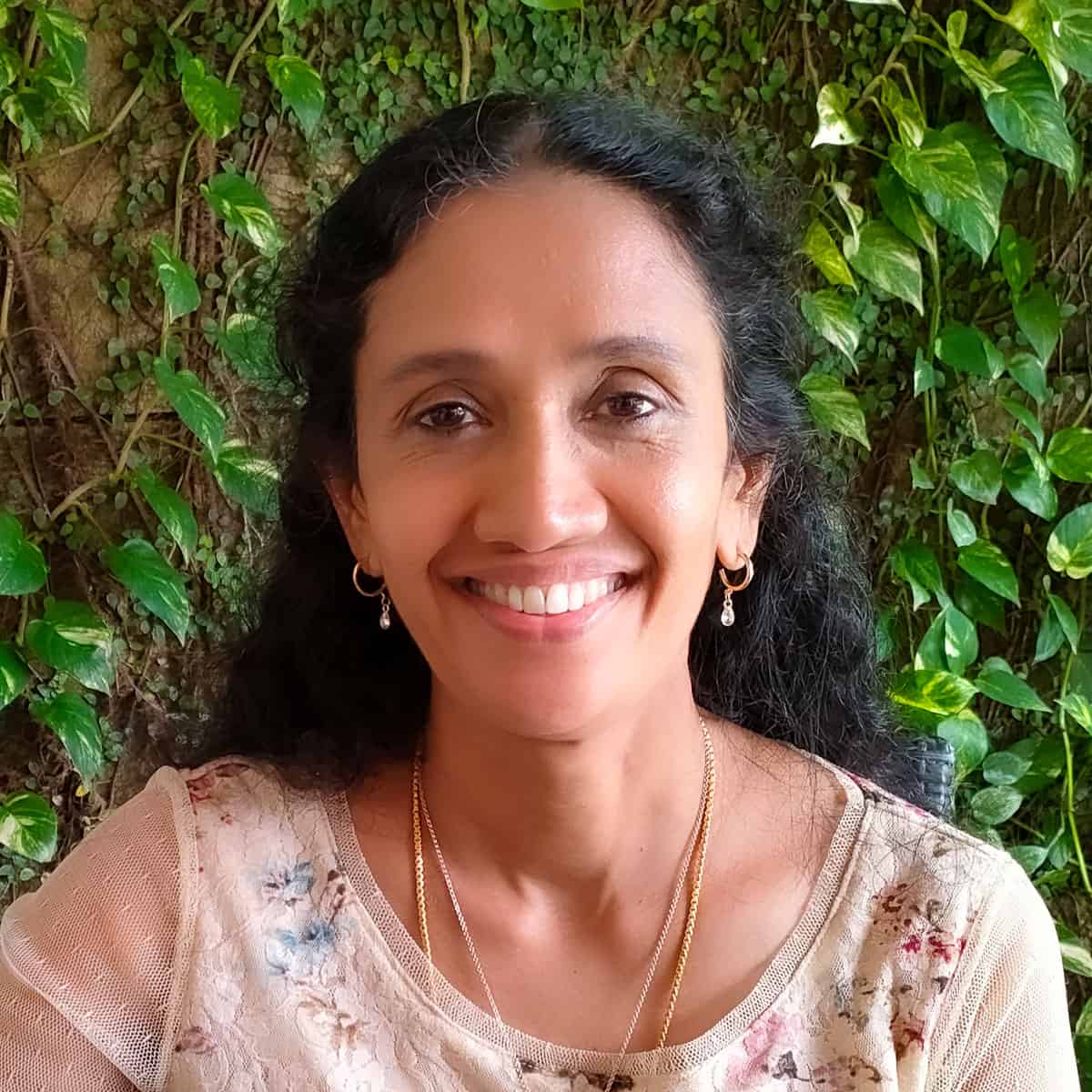 Hi! I'm Sheeba, welcome to Go Healthy ever after!
I have a passion for cooking delicious nourishing food that's easy to cook with fresh natural ingredients free from additives or preservatives. The easy healthy recipes you find here will inspire you to cook with creativity.
Copyright secured by Digiprove © 2019-2022