An easy Italian pasta salad with balsamic dressing! 20 minutes and a few simple ingredients are all you need to enjoy this great balsamic pasta salad. Minimum effort, mega taste!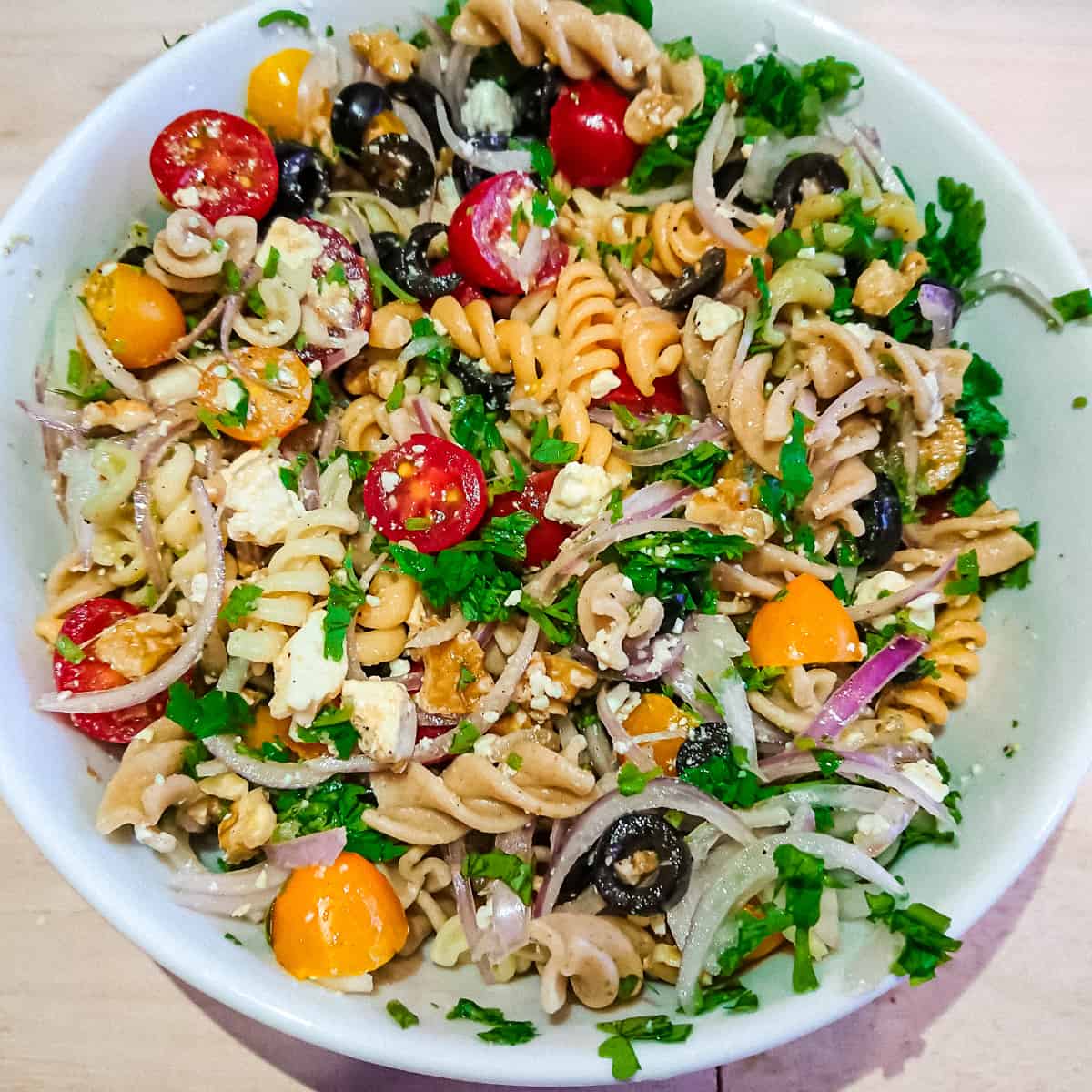 FEATURED COMMENT
Simply delicious! I must say, your recipes are totally mouthwatering. I will definitely try this at home as I am really fond of Italian pasta.
DIMPLE JOSHI
Affiliate disclosure: This post contains affiliate links, which means I may receive a small commission, at no cost to you, if you make a purchase through a link.
Why you'll love this balsamic pasta salad
This Italian summer salad is one of my favorites of all salads. It is made with whole-grain pasta, fresh feta cheese crumbs, sweet juicy cherry tomatoes, "instant-pickled" onions, olives, walnuts, herbs and a low-fat balsamic vinaigrette.
The sugar free salad dressing is where the magic happens. Balsamic vinegar combined with garlic and Italian herbs is full of flavor with very few ingredients. You won't believe you're eating a low-calorie pasta salad.
The basil balsamic vinaigrette is so easy that it takes 5 ingredients and 2 minutes to make. Like the pumpkin spice vinaigrette for my quinoa pumpkin salad and roasted garlic dressing for feta walnut beetroot salad.
Similar to my spaghetti arrabiata and chilli pesto pasta recipe made with red pesto, this pasta salad is spicy, sweet, and tangy with lots of herbs, nuts and veggie goodness.
With just about 200 calories, this salad is not drenched in oil like most pasta salads. And you won't need the sugar that most dressings use.
The balsamic vinegar and tomatoes give natural sweetness to this LOADED PASTA SALAD.
How to make pasta salad with balsamic dressing- step by step
(You can find the exact measurements and instructions in the printable recipe card at the end of this page.)
Vegetables for balsamic pasta salad
Onions, tomatoes, bell peppers (capsicum), cucumber or any other salad vegetables can be used for this salad. The choice of vegetables for pasta salad is actually up to you.
Add whatever salad veggies you find in your fridge and toss with the easy balsamic herb vinaigrette. You get an awesome zesty Italian pasta salad!
No walnuts? use almonds. No parsley? Use any fresh herb or leafy greens. No garlic? Use garlic powder.
Want a complete pasta salad with protein? Add leftover roast, baked (easy baked chicken breasts) or seared chicken (If you want the recipe for a quick-seared chicken, check out my recipe for creamy pasta salad with chicken.)
See? You'll love this balsamic vinaigrette pasta salad for being so easy and flexible. This might as well be a pasta salad for kids, by kids.
What pasta to use
I've used whole-grain rotini (fusilli) here with a handful of tricolor rotini for variation. I love spiral pasta recipes because they cook fast and also hold their shape while soaking up all that delicious sauce. Penne or farfalle can also be used.
Soaking onions in water
Don't like the sharp pungent taste of raw onions? Don't have time to pickle the onions?
DO THIS: Slice the red onions and submerge them in a bowl of water with 1 tablespoon of vinegar and 1 teaspoon of salt for a minimum of 10 minutes to soften and take the bite out of the raw onions. (It tastes even better if you can soak it for 30 minutes.) It also adds more flavor to the salad.
You can use this little hack for any salad that uses raw onions like, for example, the grilled paneer salad or sprouted mung bean salad.
How to make sugar free salad dressing
The easy basil balsamic vinaigrette requires 5 basic ingredients:
balsamic vinegar – for the characteristic flavor boost.
extra virgin olive oil – same quantity as the vinegar.
dried Italian mixed herbs – can be substituted with oregano and basil.
red chilli flakes – this is what makes the vinaigrette deliciously spicy.
garlic – a simple but must-have ingredient for pasta salad dressing.
salt and pepper – Himalayan pink salt or sea salt.
Whisk all ingredients together and drizzle on the salad.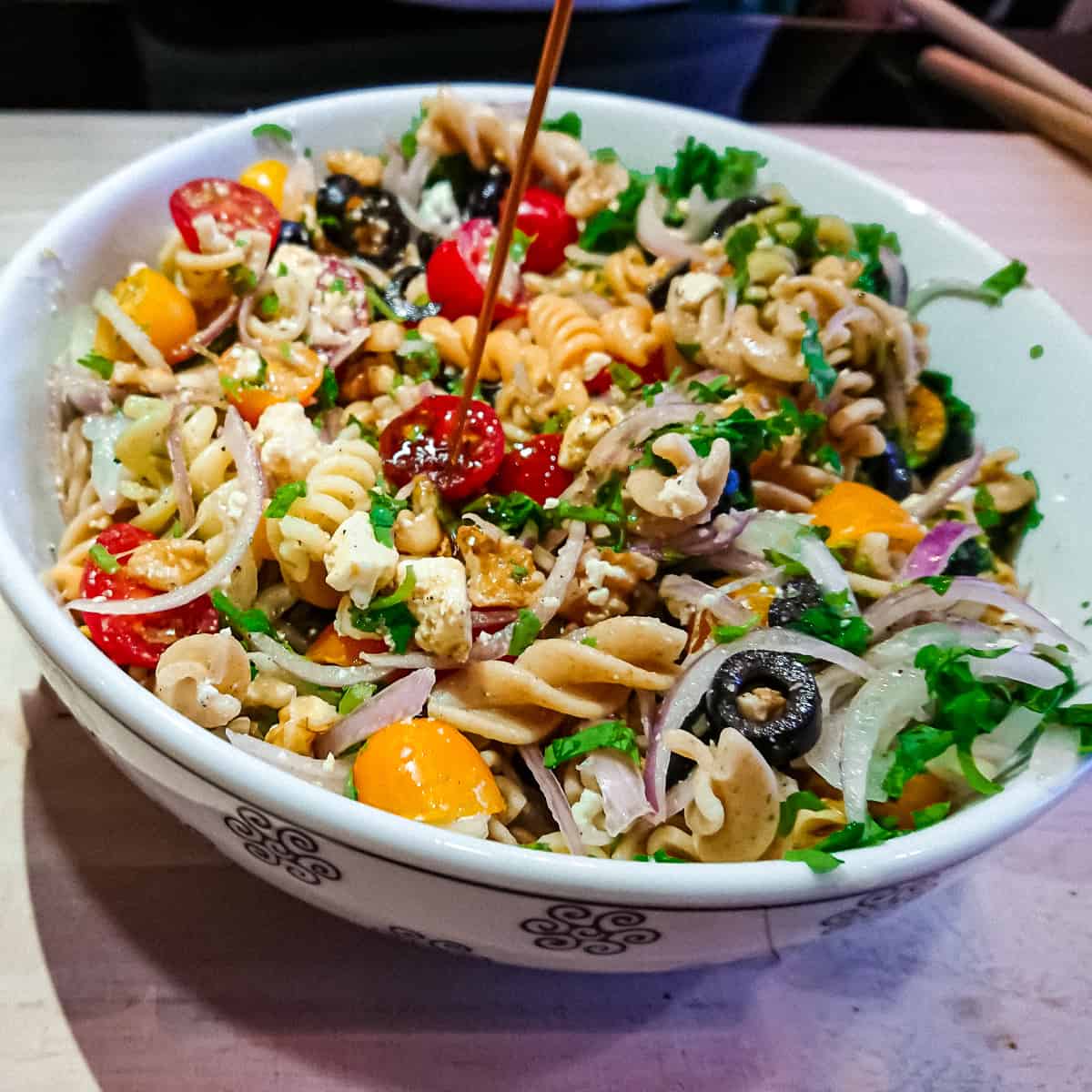 Recipe tips
Using Himalayan pink salt gives an edge to the balsamic vinaigrette in terms of taste.
Don't skip soaking the red onion slices with vinegar and salt. This gives a kind of "instant-pickled" effect.
There are a whole lot of flavors going on, so you won't really need sugar in this balsamic salad dressing.
For making pasta salad, the pasta has to be always rinsed to stop the cooking process and also to remove the starch. This ensures that the pasta holds its shape and doesn't stick together.
Whole-grain pasta is so satisfying that you can have this pasta salad as a vegetarian main meal or as a side with oven-baked chicken breasts. Think mid-week meatless meals or work-from-home quick lunch. So HEALTHY, so TASTY!
Variation: Add even more flavor to this pasta salad by replacing the olive oil with basil-infused olive oil, if you can get it. It gives a whole new dimension to this simple pasta salad. Or add a handful of fresh basil leaves.
Make ahead option
This balsamic vinaigrette salad is great for meal prep. If you're wondering how long this pasta salad is good for, it keeps well if stored and used properly.
Store in airtight containers so it doesn't absorb flavors from other foods in the fridge. Follow the instructions below and you'll be fine!
Refrigerating
This salad lasts for about 3 to 4 days in the fridge, so it's a perfect recipe for making ahead. It actually tastes better the next day. I like to call it "the potluck pasta salad." (Similar to the easy Indian chickpea salad)
Cook the pasta al dente.
Reserve about 3 to 4 tablespoons of the dressing and add just before serving. This will help keep the pasta salad moist since it tends to get dry when refrigerated.
Do the same for leftovers. (always reserve some dressing, the dressing keeps for a week so even if you have leftover dressing, it can be used for another salad!)
Freezing
It keeps for 2 months in the fridge, though the texture may not be the same. You can preserve the texture if you store the dressing separately.
Cook the pasta al dente.
Do not add herbs since they tend to brown in the freezer.
Thaw the salad in the fridge overnight.
If this pasta salad is a winner, you may also like low-calorie Italian pasta recipes like creamy vegetable pasta or mushroom zucchini pasta without cream.
Love recipes with balsamic vinegar? Try these easy lemon balsamic chicken and roasted Brussels sprouts with carrots.
★★★★★Did you try this recipe? Please give a star rating in the comments below ★★★★★
HUNGRY FOR MORE? Join over 1000 home cooks like you who subscribe to my weekly newsletter to get all the latest recipes right in your inbox. Or follow me on your favorite social media: Facebook, Pinterest, Instagram, and YouTube. Thank you and happy cooking!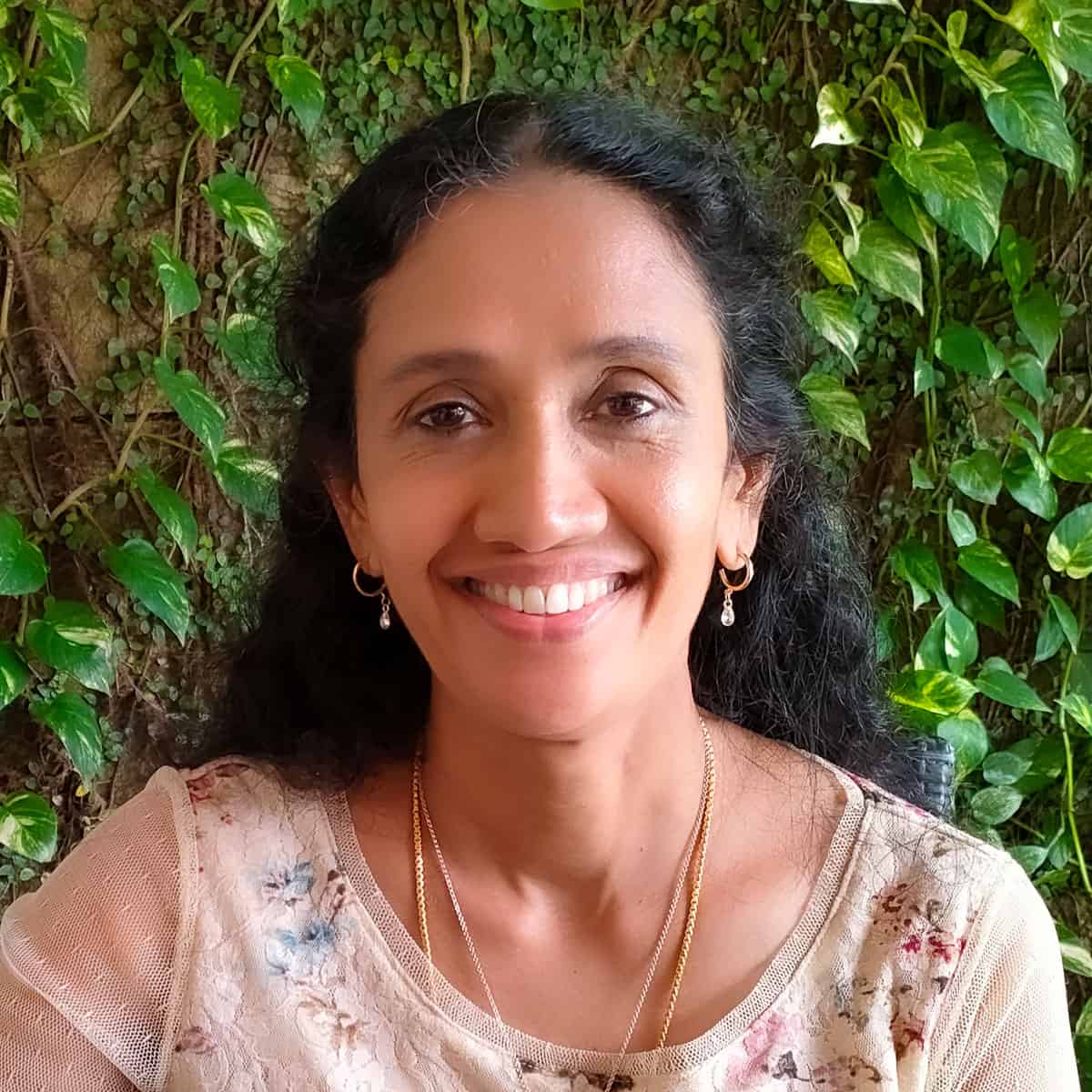 Hi! I'm Sheeba, welcome to Go Healthy ever after!
I have a passion for cooking delicious nourishing food that's easy to cook with fresh natural ingredients free from additives or preservatives. The easy healthy recipes you find here will inspire you to cook with creativity.
Copyright secured by Digiprove © 2020-2023