This Indian chickpea salad recipe is a healthy take on the chana chaat served as an Indian snack. Find out how to make easy kabuli chana salad with Indian spices, lemon and herbs. (With tips on how to cook dry chickpeas in instant pot/ pressure cooker/ stovetop, or use canned ones.)
FEATURED COMMENT
Nice recipe! Best way to make chickpeas tasty!
DAVE
Affiliate disclosure: This post contains affiliate links, which means I may receive a small commission, at no cost to you, if you make a purchase through a link.
The traditional chana chaat is made of chickpeas (Kabuli chana), vegetables and a couple of chutneys like mint chutney and tamarind chutney with spiced yogurt. It also features sev, deep-fried bits of chickpea flour.
In this healthier and simplified version of the chole chaat salad, I've replaced the fried stuff with crunchy vegetables. This is what I did with sprouted mung bean salad too, the healthier version of moong chaat.
This chana chaat salad uses ingredients and salad dressing similar to the chutneys to give the same amazing flavors, in a fraction of the time. It also happens to be vegan since I've not added yogurt.
Watch how to make chana chaat salad
How to cook chickpeas for chana salad
(You can find the exact measurements and instructions in the printable recipe card at the end of this page.)
If you're using dried chickpeas, rinse and soak for about 8 hours or even overnight if possible. One cup of chickpeas will plump up to 2 and a quarter cups when soaked.
Rinse again, add 4 cups of water and 1/2 teaspoon each of turmeric and salt.
How to cook chickpeas in an instant pot
Pressure-cook for 12 minutes at high pressure and wait for natural pressure release. Drain and cool the chickpeas.
How to cook chana in a pressure cooker
Cook on high flame for 2 whistles, reduce to low flame, and cook for 10 minutes (or up to 5 whistles). Turn off the flame and let the pressure release naturally. Drain and let them cool.
How to cook chickpeas on stovetop
Chickpeas can also be cooked without a pressure cooker or instant pot. Ensure that you soak them overnight or even up to 12 hours. Cook them in an open deep pot on the stovetop. For 1 cup of dried chickpeas, use 6 cups of water.
Once it comes to a boil, reduce flame to medium. It would take about 50 to 55 minutes to cook, depending on how soft you want them. Top up with hot water if it dries out.
Cooking tip: You'll be left with a lot of water in the cooked chickpeas. Don't throw away the flavorful water. Freeze and use it in soups and curries.
How to use canned chickpeas
You'll need about two 15-ounce cans of chickpeas for this recipe. Drain the chickpeas and rinse. You can use them straight away if you don't want to add turmeric.
But I strongly recommend adding turmeric for its bright color and flavor. This is also a convenient way to add antioxidant-rich turmeric to your diet. I add them ALWAYS when cooking beans and lentils, apart from curries, of course.
Add 1/2 teaspoon turmeric and 3 cups of water. (Canned chickpeas have salt already, so you don't need to add salt. In fact, the purpose of rinsing is to remove some of the sodium.) Bring it to a boil and remove from heat. Let it cool. Drain and keep aside.
Chana salad mix-ins
Onions and tomatoes.
Bell peppers for added crunch- use multiple colors to add pops of color and nutrition.
Mint and coriander leaves add the 'chutney' flavors along with the salad dressing.
Raisins for the sweet touch.
Indian salad dressing
Chaat masala: an essential ingredient for Indian salad dressings, chaat dishes and tikkas. It is an amazingly flavorful spice mix and a personal favorite. It is used in many paneer dishes like paneer kathi rolls, hariyali paneer tikka and paneer salad. This is what gives the mango pomegranate salad and chana dal salad the characteristic flavor.)
Ground cumin and chilli flakes for that spicy kick.
Lemon juice.
Extra virgin olive oil for the fruity flavor.
Honey (or sugar for a vegan recipe.)
Whisk the ingredients for salad dressing until well incorporated.
Dice the vegetables, finely chop the mint and cilantro. Place chickpeas, vegetables and herbs in a large bowl.
Sprinkle raisins. Drizzle the Indian salad dressing and toss well. Serve immediately or chill.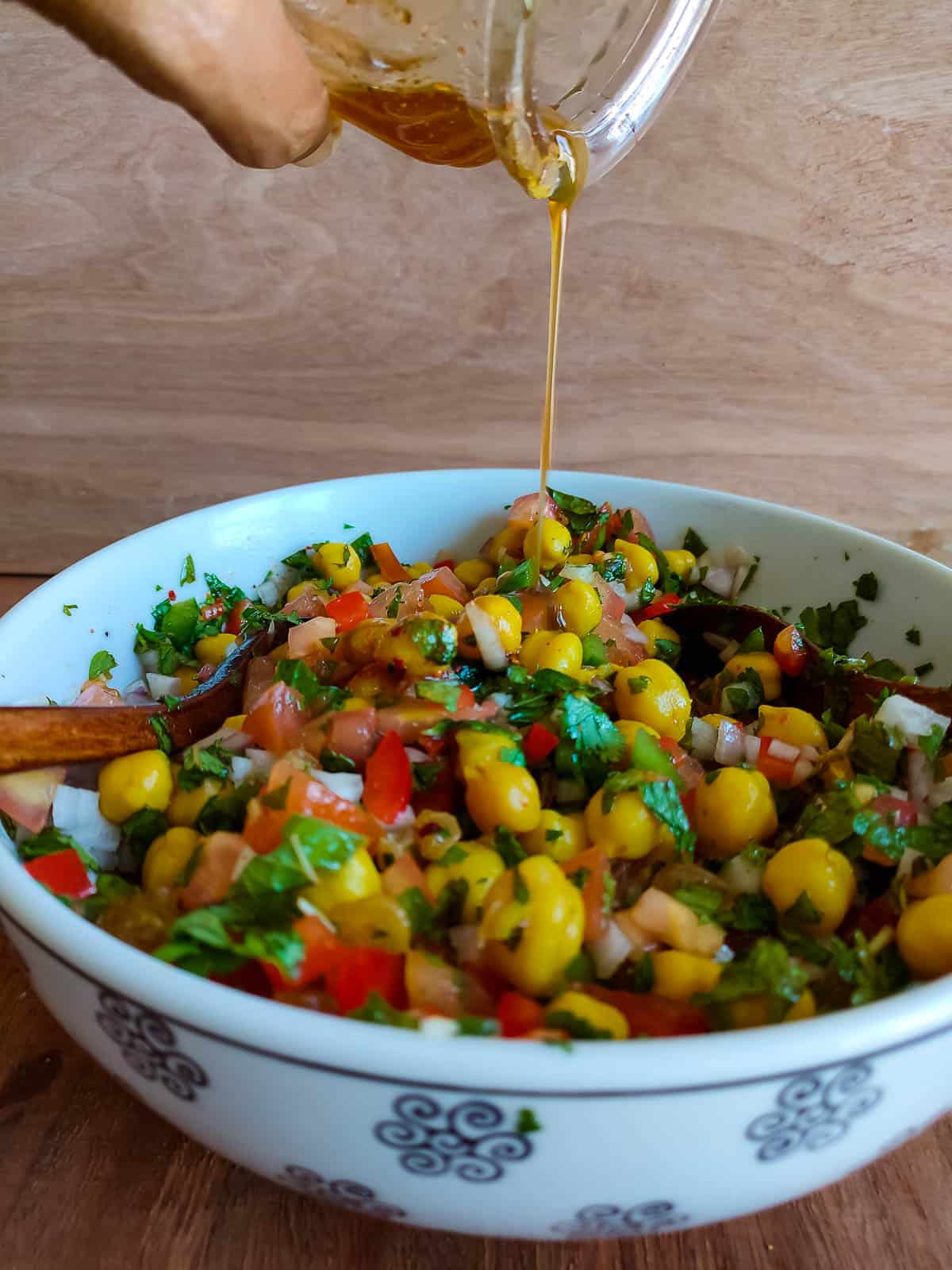 Congratulations! You've made the most flavorful Indian chickpea salad (aka chana chaat salad) without the need for chutneys and fried flour.
Additions and variations
Add diced mango– raw, ripe, semi-ripe, anything works here. Ripe ones make the salad sweet, raw ones make it zestier. I love the "almost" ripe ones that have a bit of both flavors.
Add 1 teaspoon of dry ginger powder to the salad dressing for extra spice.
Make your own cumin powder by roasting and grinding cumin. It takes only a few minutes and does makes a difference.
You may have noticed that I did not add salt in the dressing. That's because the chaat masala has salt in it. Feel free to add a dash of sea salt or pink salt according to your taste.
Common questions about Indian chickpea salad
Can I cook dry chickpeas without soaking?
Forgot to soak your chickpeas? No worries. Rinse the chickpeas and add twice the amount of water. Bring it to a boil, turn off the heat and keep covered for a minimum of 1 hour. Then cook according to the instructions above, adding 10 minutes more to the pressure-cooking time. The texture will be slightly different with a little bite to the chickpeas, but it would get cooked nevertheless.
How long should I soak dry chickpeas?
Dry chickpeas should be soaked for about 8 hours to even overnight. You get a nice creamy texture when you cook well-soaked chickpeas.
Should I refrigerate soaked chickpeas?
Soak the chickpeas at room temperature. But if you're going to cook them after 12 hours or beyond, they need to be refrigerated.
How much water should I use to cook chickpeas?
When soaked, chickpeas swell up to almost 2.5 times their quantity. The amount of water for pressure-cooking must be 4 times that of dry chickpeas. In this recipe, I used 4 cups of water for 1 cup of dry chickpeas. You will be left with a lot of water in the chickpeas after cooking, but you'll need that much water for the chickpeas to move around and cook uniformly.
Can you freeze cooked cooked chickpeas?
Yes, you can freeze cooked chickpeas. Freezing cooked chickpeas is a convenient way to have them on hand for future use, and it can also help to prevent food waste.
To freeze cooked chickpeas, first, make sure they are fully cooked and cooled to room temperature. Then, drain any excess liquid and transfer the chickpeas to an airtight container or a freezer-safe bag. Label the container with the date and contents, then place it in the freezer.
When you're ready to use the chickpeas, simply thaw them in the refrigerator overnight or in a bowl of cold water for a few hours. Once thawed, you can use them in your favorite recipes, such as salads, stews, soups, and curries.
Questions?
If you have more questions about this recipe or any other recipe, please don't hesitate to get in touch.
You can leave a comment here and I will get back to you within 24 hours. I promise to help!
Health benefits of chickpeas
Chickpeas are high in fiber which makes them a filling food. It keeps your appetite under control, helping in weight loss.
Chickpeas are an excellent source of plant-based protein that has lot of health benefits ranging from weight management to bone health. They are a great choice for vegetarians.
Chickpeas are loaded with vitamins and minerals that provide a variety of benefits.
Chickpeas have a fairly low calorie density which means they provide low calories relative to the amount of nutrients. This is another reason why chickpeas are known to aid in weight loss.
Chickpeas have a low Glycemic Index and support healthy blood sugar control.
(Source)
What to serve with this chole salad
Vegetarian options would be:
Looking for more salads?
Collection of Indian Salads and Dressings
★★★★★Did you try this recipe? Please give a star rating in the comments below ★★★★★
HUNGRY FOR MORE? Join over 1000 home cooks like you who subscribe to my weekly newsletter to get all the latest recipes right in your inbox. Or follow me on your favorite social media: Facebook, Pinterest, Instagram, and YouTube. Thank you and happy cooking!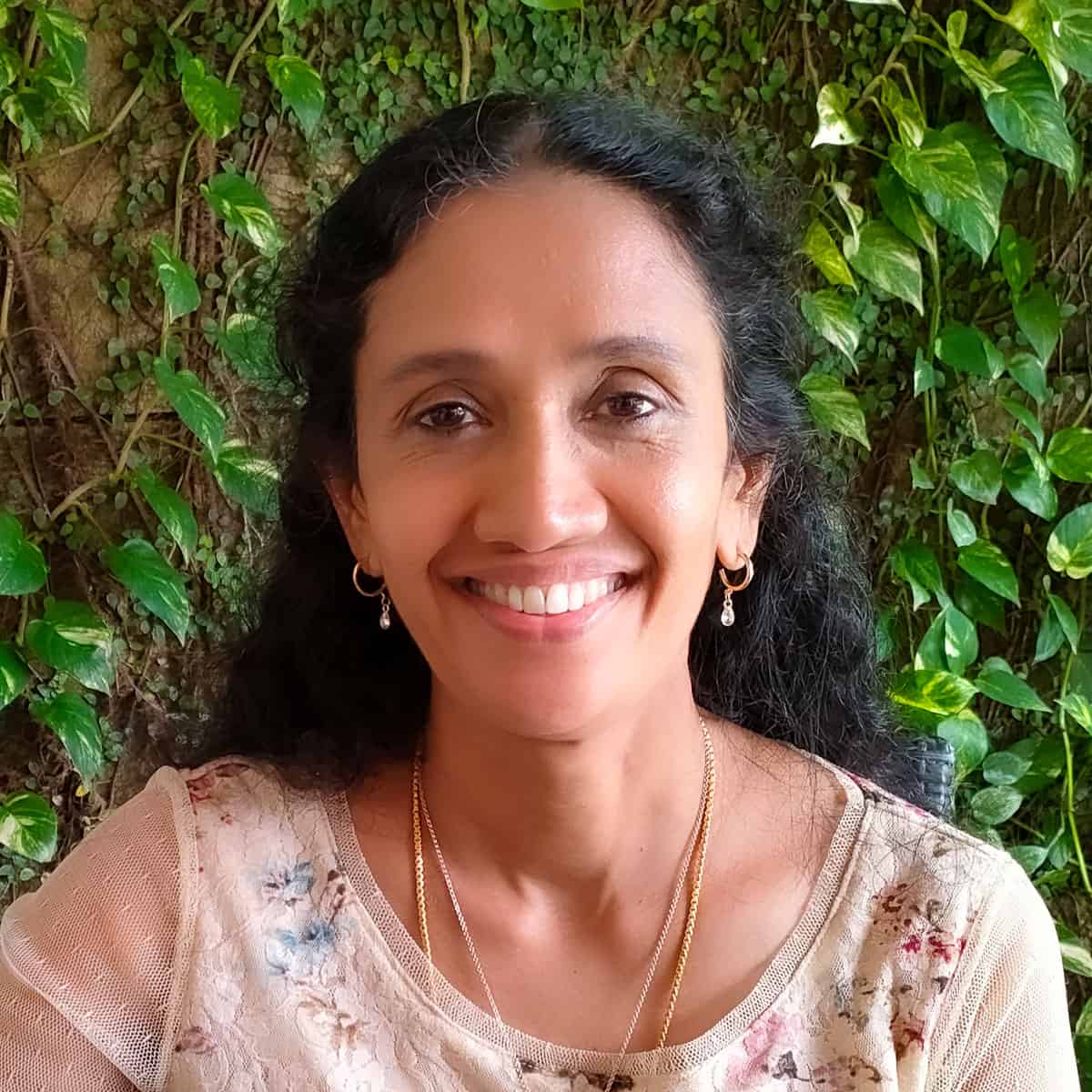 Hi! I'm Sheeba, welcome to Go Healthy ever after!
I have a passion for cooking delicious nourishing food that's easy to cook with fresh natural ingredients free from additives or preservatives. The easy healthy recipes you find here will inspire you to cook with creativity.
Copyright secured by Digiprove © 2021-2023