Potato salad with raisins and Greek yogurt is a delightful side dish that combines unique flavors and healthier ingredients. This no-mayo version of potato salad is perfect for those looking to cut down on saturated fats and calories without sacrificing taste. It's a refreshing twist on the traditional potato salad, allowing you to enjoy your favorite comfort food while maintaining a more health-conscious lifestyle.
Why you'll love this no mayo potato salad
Whether you're a potato-salad-lover or simply looking for a healthier alternative, this potato salad with yogurt is a PERFECT SIDE DISH for many reasons.
Raisins in potato salad: The sweetness of the raisins complements the savory flavors of the potatoes and other ingredients. The chewy raisins also balances the soft and creamy texture of potatoes.
Healthier Alternative: This salad is not the typical mayo-laden American potato salad. We use Greek yogurt that is rich in protein, probiotics, calcium and healthy fats that contribute to a balanced low calorie diet.
Creamy Dressing: The Greek yogurt in the potato salad recipe adds a creamy texture that mimics traditional mayo-based versions but with a tangy twist. BONUS: No added sugar
Nutrient-Rich Ingredients: Apart from Greek yogurt, potatoes, raisins and olives bring their own nutritional benefits to the table. Potatoes are a good source of vitamins and fiber, while raisins are packed with antioxidants, vitamins, and minerals. When combined, they create a side dish that not only tastes fantastic but also provides a dose of essential nutrients.
Versatile Dish: This healthy potato salad with Greek yogurt is incredibly versatile. You can serve it as a side dish at barbecues, picnics, or potlucks, or enjoy it as a light and satisfying lunch. Its adaptability makes it a perfect addition for any occasion.
Crowd-Pleasing: Whether you're catering to a family gathering, a summer cookout, or just whipping up a quick dinner, potato salad with raisins is a great choice. Its unique combination of ingredients and flavors can be a conversation starter at any meal.
Warm or cold: Unlike the mayo-based version, this Greek yogurt potato salad can be served warm, too.
Let's look at what goes into this delicious and healthy potato salad:
Ingredients
(You can find the exact measurements and instructions in the printable recipe card at the end of this page.)
Potatoes: I've used Yukon gold potatoes that are not too waxy or too starchy. They hold their shape better than starchier potatoes like russet. (Russet potatoes are more suitable for recipes like roasted potatoes and broccoli and cheesy Italian potato croquettes.
Garlic: When you add garlic to potatoes while boiling, they become flavorful without tasting too garlicky.
Raisins: A mix of black and golden raisins give a pop of color and varied nutrients.
Red onion: Gives a bit of crunch in an otherwise creamy salad.
Black olives: Add more flavor and nutritional value.
Herbs: I've used chives and parsley. Feel free to use any herbs you have on hand.
Yogurt dressing:

Greek yogurt: It replaces sour cream/mayo in the dressing for potato salad. Use plain unsweetened Greek yogurt for the best results.
Dijon mustard: Makes a great combination with yogurt for dressings and sauces as in Greek yogurt chicken.
Red chilli flakes: For a spicy kick. You can skip it if you're not used to spice.
Apple cider vinegar: Gives a fruity, tangy flavor.
Paprika: I use smoked paprika for that unique smoky flavor. Feel free to use regular or sweet paprika according to your preference.
Black pepper and pink salt: Pink salt is more flavorful and you'll need less of it compared to regular salt. I use it in most of my salad recipes. You can replace it with fine sea salt. Taste and adjust the seasoning.
How to make potato salad with raisins: step by step
How to cook potatoes for salad
Peel and dice the potatoes into 1-inch cubes. Place them in a deep pot.
Cover with cold water up to about 1-inch above the potatoes. Add salt.
Peel and smash the garlic cloves to release the flavor. Add them to the salted water.
Mix well and bring it to a soft boil.
Reduce the heat to medium. Cover and cook for 8 to 10 minutes until the potatoes are fork tender.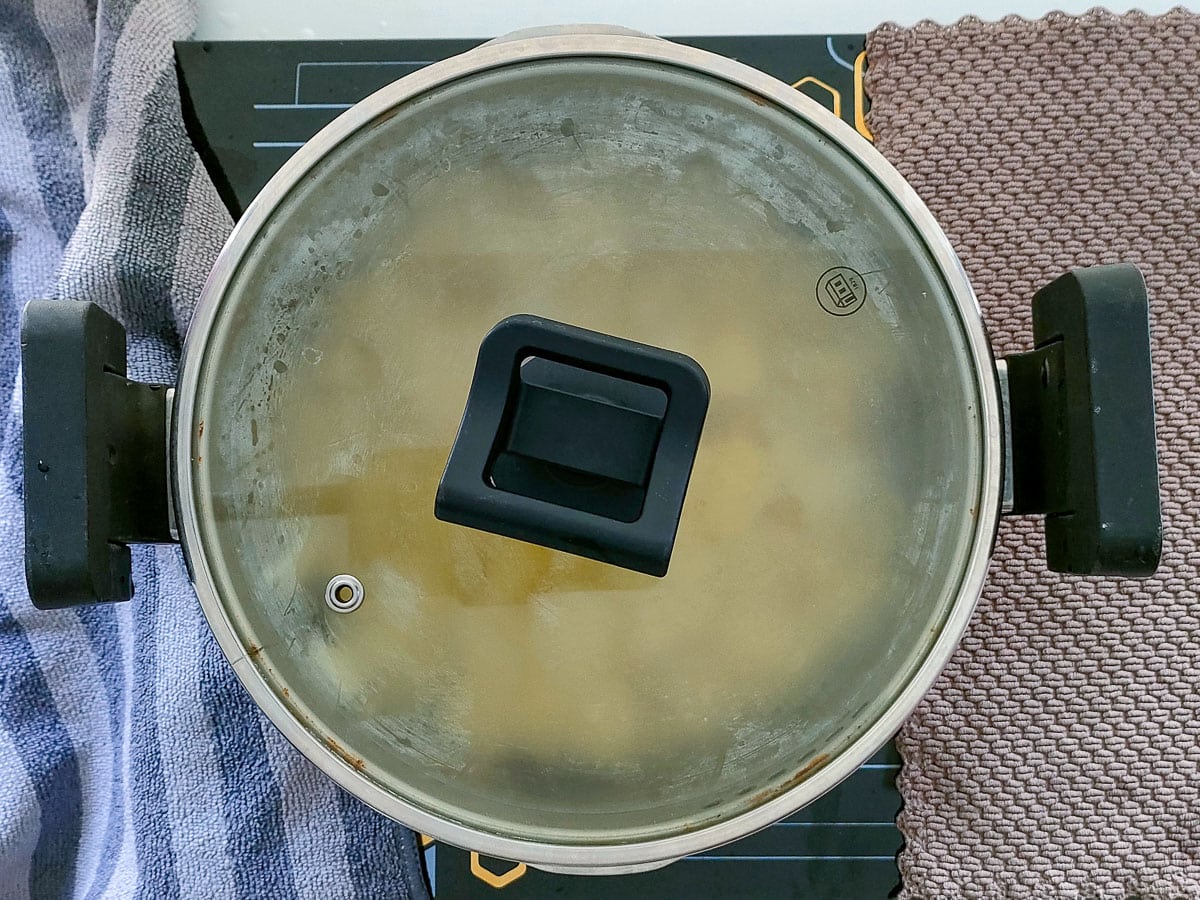 When you pierce with a fork, the potatoes should offer slight resistance and should not crumble.
Drain the hot potatoes immediately using a colander. Leave them in the colander to cool down.
Pick out the garlic and discard.
Add raisins and other mix-ins
Place the cooled potato cubes in a large bowl. Add black and golden raisins, olives, sliced onion, chives and parsley.
Make sugar free dressing
In a small bowl, take Greek yogurt, dijon mustard, apple cider vinegar, paprika, red pepper flakes, salt and black pepper.
Whisk all the ingredients together until well-combined.
Toss
Drizzle the sugar free dressing on the bowl of potatoes and other salad ingredients.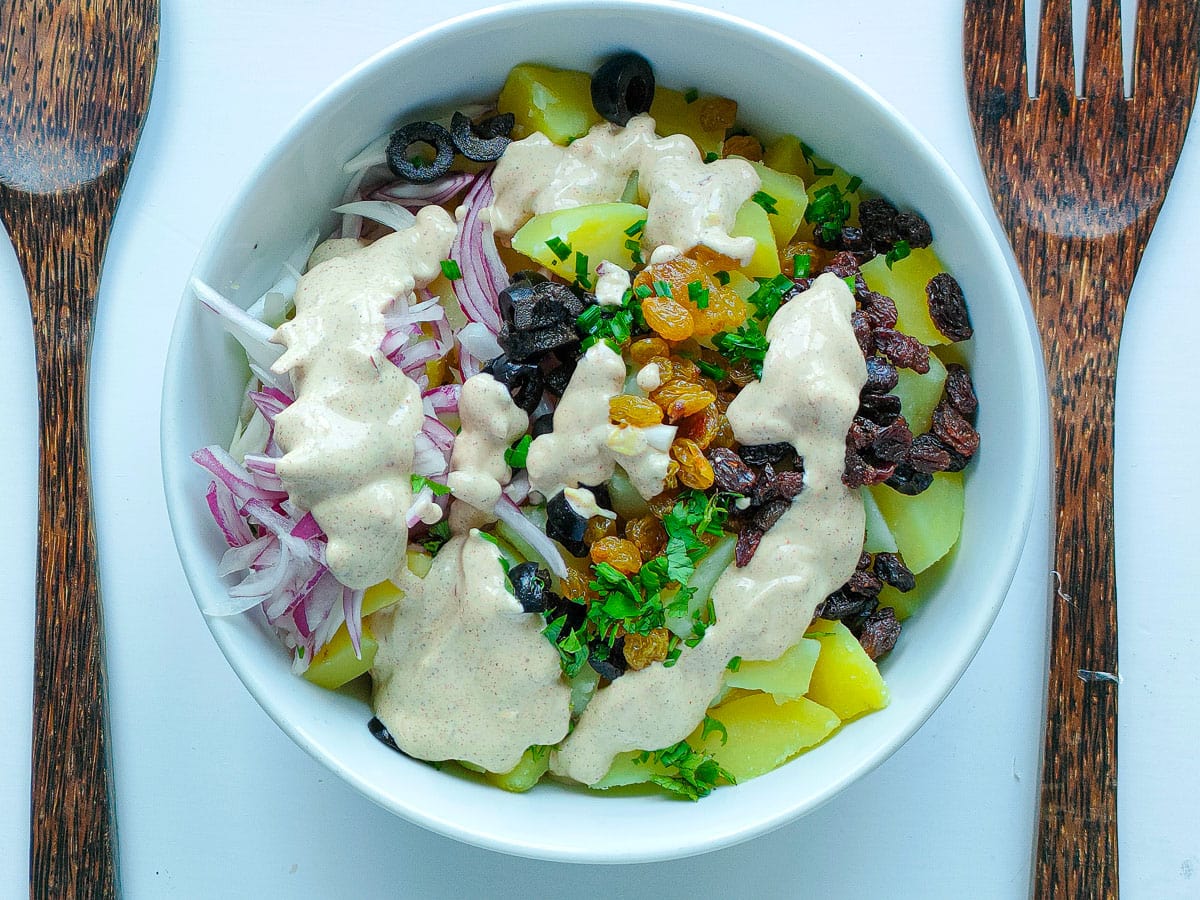 Toss the salad and serve immediately. If you are not serving immediately, store in the refrigerator.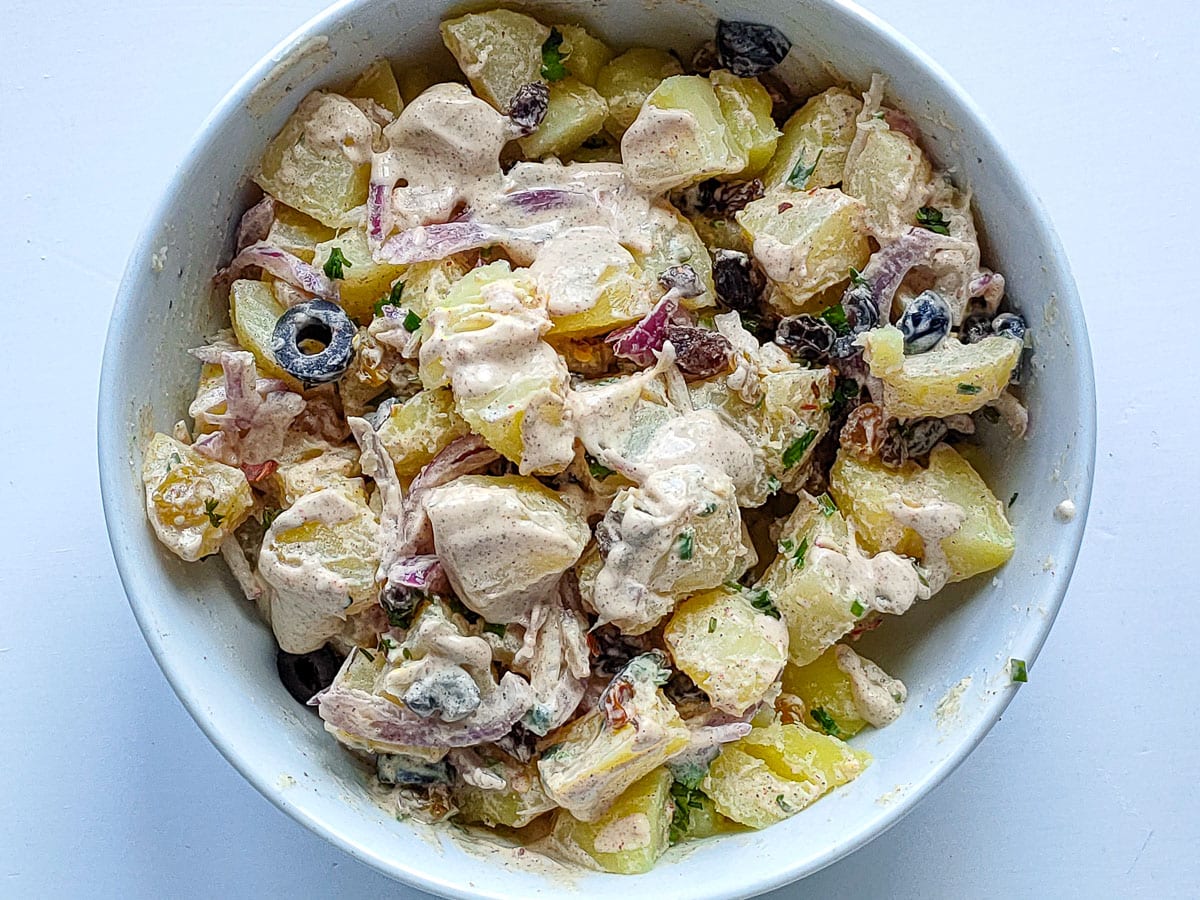 Recipe tips
Soaking potatoes: If time permits, soak the potatoes in cold water for 10 minutes (up to an hour).
This helps remove excess starch. Excess starch can prevent the potatoes from cooking evenly as well as create a gummy or texture on the outside of your potatoes.
Boiling the potatoes: Keep a close watch after 8 minutes. You should be able to pierce with a fork with minimum resistance.
If potatoes get overcooked: No worries, you can still salvage the potatoes.
Drain the potatoes immediately. Spread them out on a large tray and place it in the freezer for 15 to 20 minutes. It will prevent the potatoes from getting cooked in the residual heat.
This should work unless you've overcooked them WAY too much. If that happens, make mashed potatoes instead (recipe coming soon)!
Lemon juice: Add 2 teaspoons of lemon juice or lime juice to brighten up the flavors.
Additions
You can add more mix-ins to make this healthy potato salad more delicious and nutritious. Remember to make additional dressing if you plan on adding these:
Eggs: Hard boil 2 or 3 eggs, chop them up and toss into the salad.
​Vegetables: Slice and add vegetables like celery, bell pepper and green onions for more crunch and flavor.
Herbs: Potatoes can absorb a lot of flavors. If you have more herbs like dill or cilantro, feel free to add them, too.
Storage and make-ahead tips
Store: Store in an airtight container. This salad keeps for 3 to 4 days in the refrigerator. Potatoes absorb moisture over time. So if you intend to store it for later use, reserve some dressing in a separate container. Drizzle it on the potato salad just before serving.
Freeze: It can be frozen for about a month. Thaw it overnight in the fridge. If the salad turns dry, toss gently with a little water.
Reheat: This potato salad with raisins can be served warm or cold. You can also reheat frozen salad, provided you have not added herbs. Herbs tend to lose their flavor when frozen and heated.
Making ahead: As mentioned above, do not add herbs if you're making this salad ahead of time. Add them after reheating the salad.
Making potato salad for a crowd
Potato salad with raisins can easily be adapted to serve more people. Use the scale in the recipe card below to change the number of servings according to your requirement.
Leftover ideas
Leftover potato salad with raisins can be repurposed in creative and delicious ways. LINKS
Potato Salad Sandwich: Spread leftover potato salad on bread, add some lettuce, tomato, and your choice of protein for a tasty sandwich.
Potato Salad Stuffed Avocado: Scoop out the pit from an avocado and fill it with leftover potato salad for a creamy and satisfying snack or light lunch.
Potato Salad Topped Baked Potato: Reheat your leftover potato salad and use it as a topping for a baked potato.
Potato Salad Frittata: Mix leftover potato salad with beaten eggs and any additional ingredients you like (such as cheese, herbs, or cooked vegetables), then bake it in a skillet for a delicious frittata.
Potato Salad Lettuce Wraps: Use large lettuce leaves as a wrap and fill them with leftover potato salad, adding some sliced baked chicken breasts or Asian scrambled tofu for protein.
Potato Salad Tacos: Spoon leftover potato salad into taco shells or tortillas. Add your choice of protein (like panko crusted chicken breasts or pan-seared paprika salmon) and some fresh salsa.
Potato Salad Soup: Heat up some broth and stir in leftover potato salad for a creamy and comforting soup. You can add extra veggies or protein if desired.
Potato Salad Croquettes: Form leftover potato salad into small patties, coat them with breadcrumbs, and fry until golden brown for delicious potato croquettes.
Potato Salad Quesadillas: Spread leftover potato salad onto a tortilla, add cheese and any other fillings you like (such as sautéed onions or peppers), and cook until the cheese is melted and the tortilla is crisp.
What to serve with potato salad with raisins
This healthy potato salad with Greek yogurt pairs well with spicy tandoori chicken legs (which I made today). Other easy recipes include:
Click here to see more main dishes to pair with no mayo potato salad.
More potato side dishes
Click here for more side dish recipes.
★★★★★Did you try this recipe? Please give a star rating in the comments below ★★★★★
HUNGRY FOR MORE? Join over 1000 home cooks like you who subscribe to my weekly newsletter to get all the latest recipes right in your inbox. Or follow me on your favorite social media: Facebook, Pinterest, Instagram, and YouTube. Thank you and happy cooking!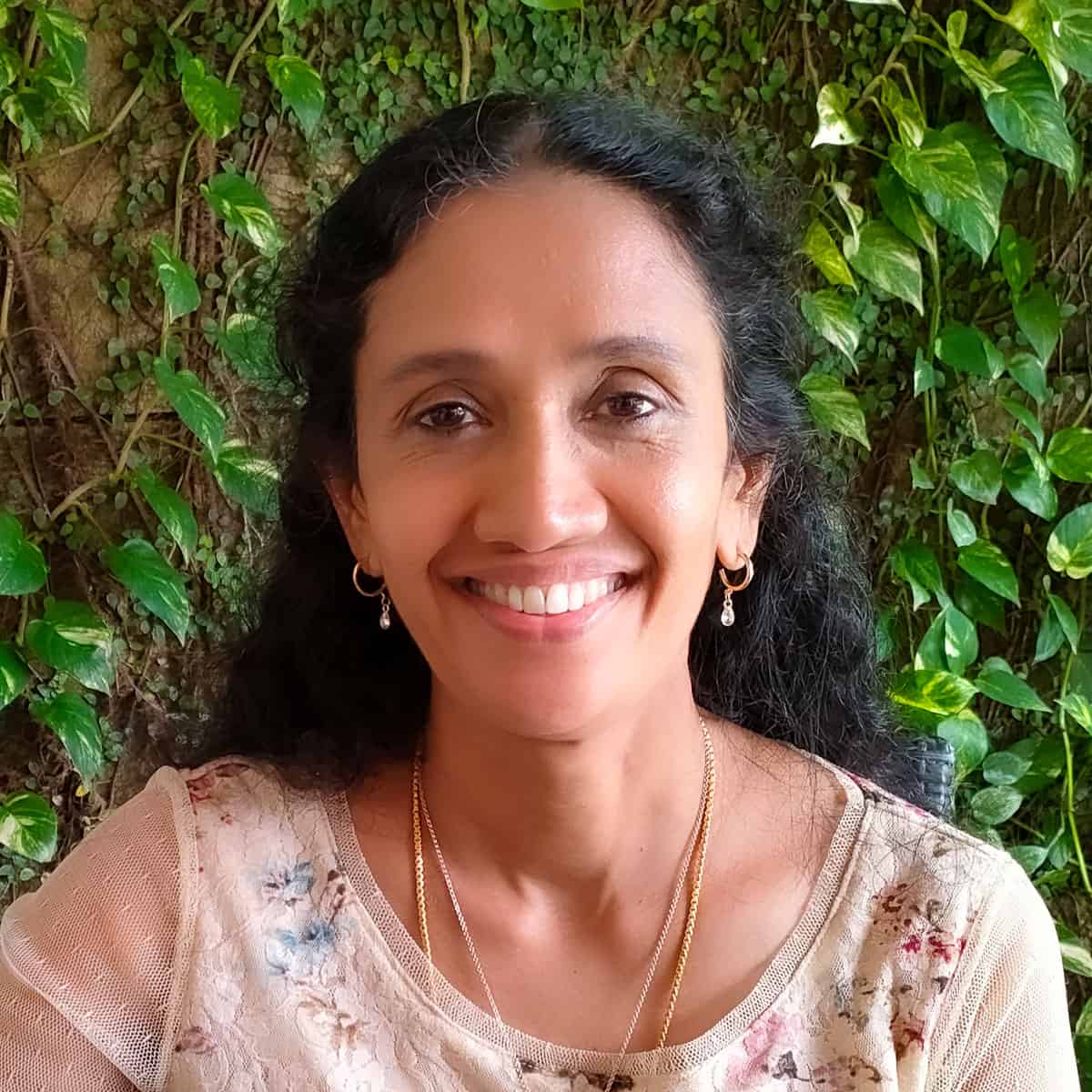 Hi! I'm Sheeba, welcome to Go Healthy ever after!
I have a passion for cooking delicious nourishing food that's easy to cook with fresh natural ingredients free from additives or preservatives. The easy healthy recipes you find here will inspire you to cook with creativity.