Easy oven-baked cod with Panko crust that is crunchy on the outside and soft and flaky inside! This Panko crusted cod is one of the delicious and healthy baked fish recipes the whole family will love. Find out the secret to getting Panko crumbs to stay on the cod without egg!
What is Panko Crusted Cod?
Baked cod with Panko crust is made by seasoning the cod fillets first, then topping them with a crust made of Panko breadcrumbs seasoned with herbs and spices. A binding agent is used to get the crust to stick to the fillets.
The crumb-topped fish fillets are then baked, which results in flavorful, moist fish with a crunchy panko-herb crust.
Panko is my favorite type of breadcrumbs and I use them for making appetizers like crispy prawns fry and Italian cheese potato croquettes.
I have adapted this Panko crusted cod recipe from my spicy baked lemon mustard fish recipe.
One of the healthy seafood recipes on our weekly dinner menu, this is a favorite main course everybody in my family loves. And yours will love it, too!
Serve this baked Panko cod with a super easy homemade parsley-yogurt sauce (recipe below). Pair it with a salad like beet orange salad, balsamic quinoa salad or no-mayo coleslaw for an easy, healthy dinner.
Watch How To Make Panko Crusted Cod
Ingredient notes
(You can find the exact measurements and instructions in the printable recipe card at the end of this page.)
COD FILLETS– This recipe, like

easy fish cutlets

, is quite versatile. Any flaky fish can be used: cod, halibut, tilapia, haddock all work well for this recipe. I make this recipe with salmon sometimes and it tastes great. But personally, I feel salmon tastes better when paired with pesto as in pesto-crusted salmon. You may also like pan-fried recipes like paprika salmon with mango salsa,

citrus-marinated salmon

, or if you want to bake salmon, try these

salmon kabobs on skewers

.
MUSTARD– Mustard and fish taste amazing together. It also acts as a binding agent that helps the breadcrumbs stick to the fillet. I recommend whole-grain mustard since it adds more crunch and texture. But Dijon mustard also has its own advantages. Since it is creamier, it helps pack more breadcrumbs on the fillet that results in a thicker crust.
BREADCRUMBS– Ideally, Panko breadcrumbs give more crunch to the topping but if you don't have them, regular ones can also be used.
SPICES AND HERBS– Chili powder and salt for seasoning the fish, red chili flakes, garlic powder, parsley and lemon zest for seasoning the Panko crumbs.
OIL– I've used olive oil here since it is a heat-stable healthy oil.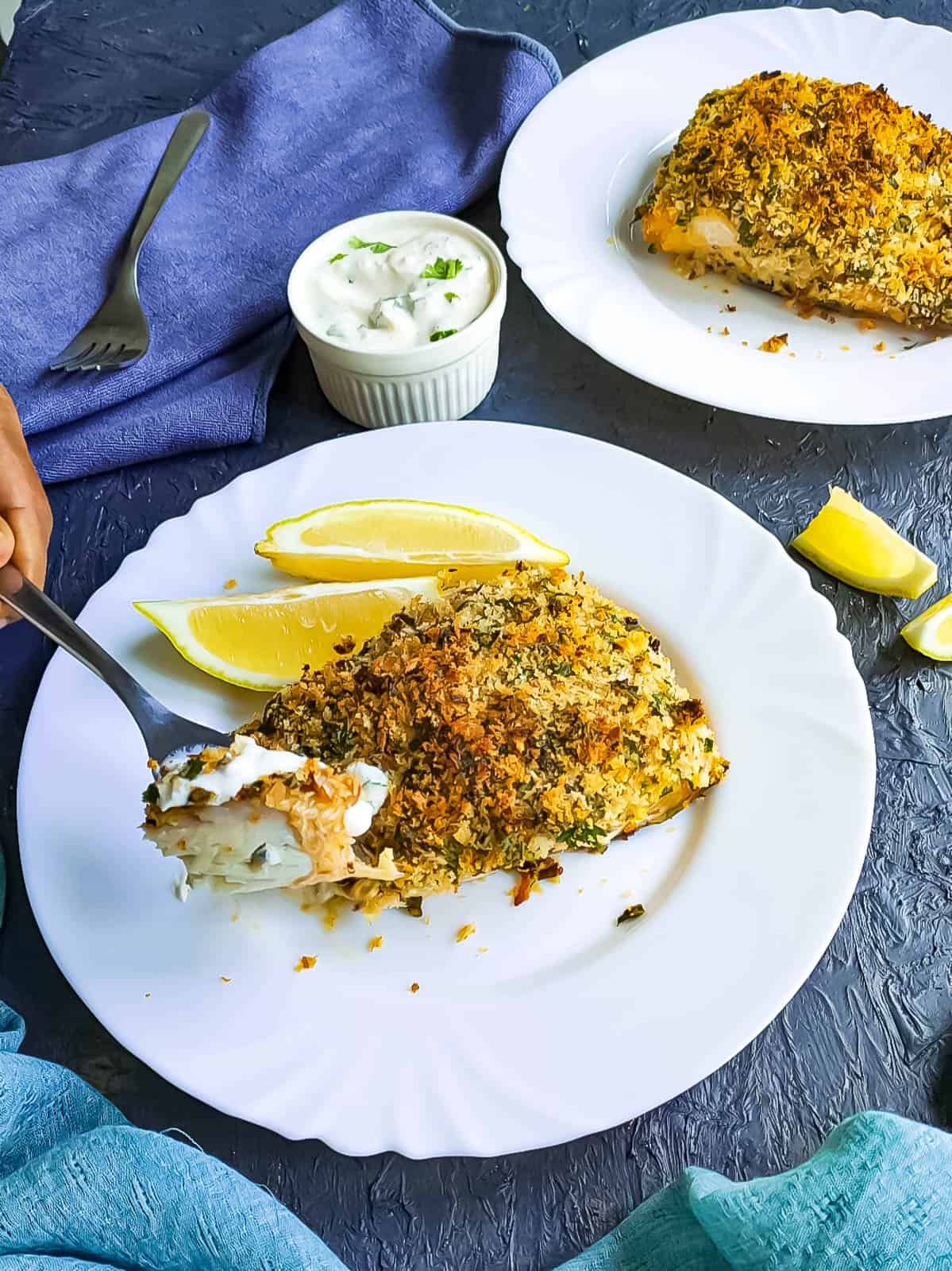 How To Make Panko Baked Cod- step by step
How to season the fish
Season the fish fillets with chilli powder, salt and oil. The oil helps in cooking and also seals moisture within the fish. You can season in advance and refrigerate until ready to bake.
How to top cod with Panko Crust
Toss the Panko breadcrumbs with spices and herbs. Coat the top and sides of the fish fillets with mustard. Top liberally with the breadcrumb mixture and press. Spray the remaining oil evenly on the crust.
How to bake Panko-crusted cod
Bake the fillets at 200°C/ 400° F for 12 minutes. If your fillet is thicker (the fillet I used is about 1 inch thick), cook for an additional 2 to 3 minutes.
Easy homemade parsley yogurt sauce
The fillets and the crust are well seasoned, so you'll only need a simple yogurt sauce to make it a delicious dinner. Mix yogurt with parsley, cumin, lemon juice, salt and pepper.
Devour!
Additions and substitutions
If chilli powder is too spicy for you, use pepper to season the fish.
Feel free to add more seasoning like onion powder or ground coriander to the breadcrumb mixture.
More herbs like chives and thyme can also be added. If you don't have fresh ones, dried herbs would do.
For added flavor, mix the whole grain mustard with a teaspoon of butter before spreading on the fillet.
Love fish? Try this simple 7-ingredient fish curry for an authentic Kerala experience.
Common questions
What's the best way to cook fish?

Baking is one of the healthiest methods to cook fish since it limits loss of nutrients like Vitamin D and heart-healthy omega-3 fatty acids. (source)

How do you cook cod without making it rubbery?

Temperature: Cod should be baked at 200°C/ 400° F for a perfectly cooked cod with a golden crust. A higher temperature would make the cod rubbery and burn the breadcrumbs. At a lower temperature, cod would be undercooked and the crust wouldn't brown enough. (The internal temperature of cod should not exceed 62.8°C/145°F.)
Time: The rule of thumb to bake fish is 5 to 6 minutes for every ½ inch of thickness.

Should you marinate cod before cooking?

Cod has to be seasoned initially with chilli powder (or cayenne pepper), salt and oil. This helps the fillet retain flavor and moisture on the inside. Then top it up with seasoned breadcrumbs for the flavorful crust. If you don't want the cod to be spicy, use black pepper instead of chili powder.

What is Panko?

Panko is a variety of flaky bread crumb used in Japanese cuisine as a crunchy coating for fried foods. It is made from bread without a crust, and then grinding the bread to create fine slivers of crumb. They are lighter, absorb less oil, and stay crispy for longer than regular breadcrumbs.
What to serve with Panko crusted cod
There are lots of options to choose from. Some of them would be:
Spicy pasta like arrabiata spaghetti and red pesto pasta also go well with the mildly spiced Panko cod.
If you're in the mood for healthier options, try:
More seafood recipes
★★★★★Did you try this recipe? Please give a star rating in the comments below ★★★★★
HUNGRY FOR MORE? Join over 1000 home cooks like you who subscribe to my weekly newsletter to get all the latest recipes right in your inbox. Or follow me on your favorite social media: Facebook, Pinterest, Instagram, and YouTube. Thank you and happy cooking!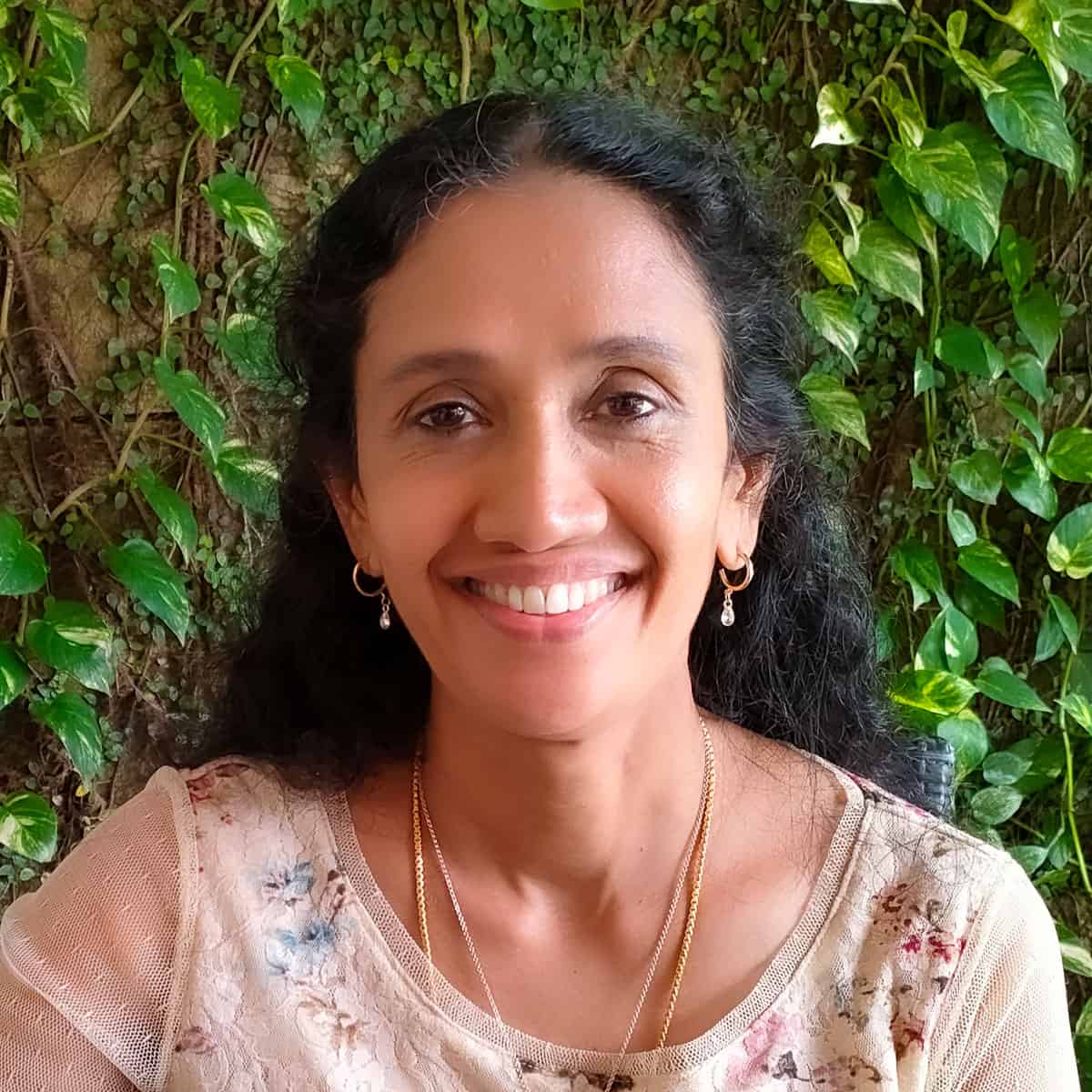 Hi! I'm Sheeba, welcome to Go Healthy ever after!
I have a passion for cooking delicious nourishing food that's easy to cook with fresh natural ingredients free from additives or preservatives. The easy healthy recipes you find here will inspire you to cook with creativity.
Copyright secured by Digiprove © 2021-2022