Learn how to bake this easy pesto crusted salmon with a layer of pesto, topped with a layer of seasoned Panko crumbs. Delicious baked salmon recipe with complex flavors, but not complicated to make.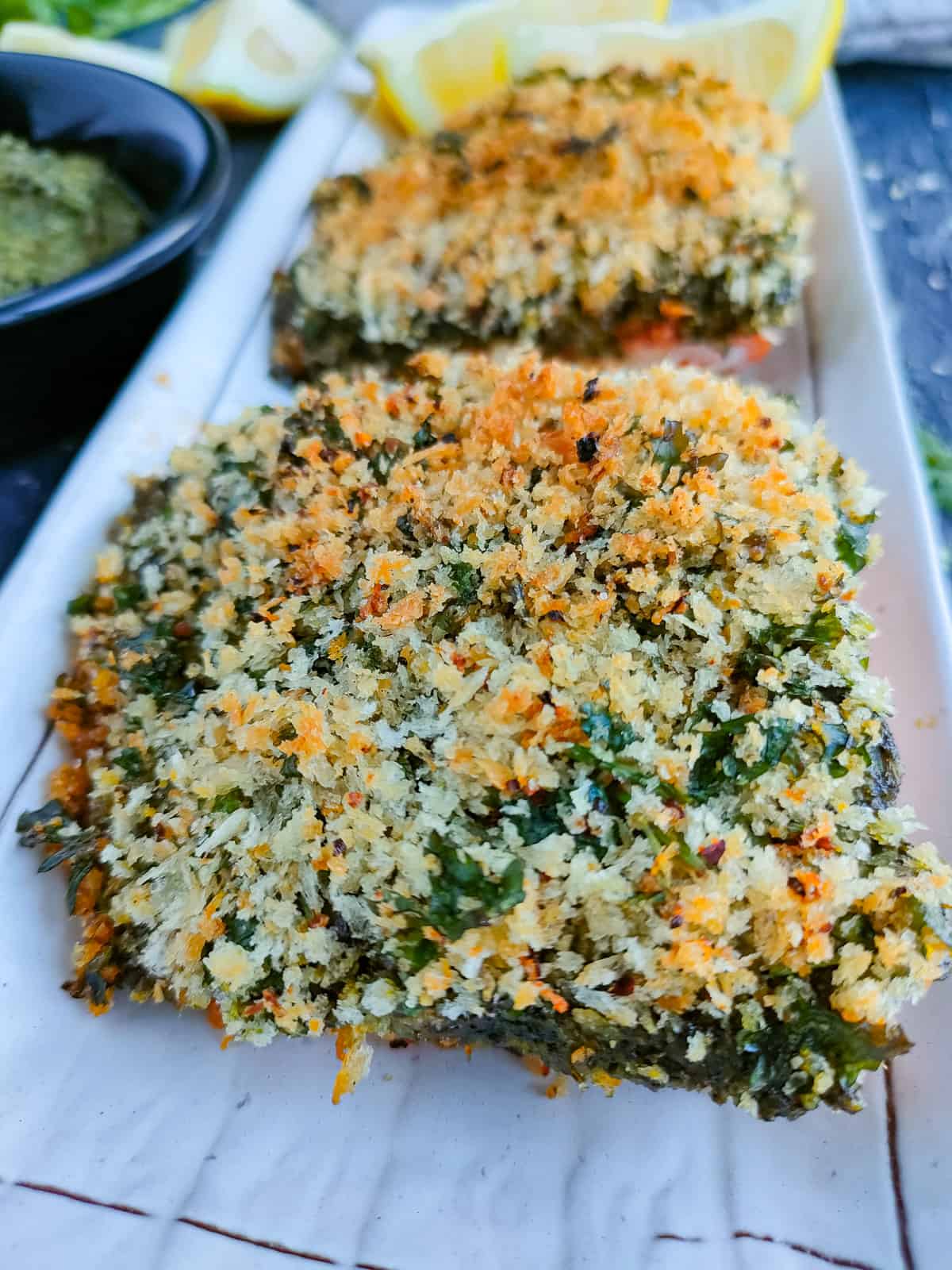 Why You'll Love This Recipe
Pesto crusted salmon with Panko is so addictive that you'll want to keep eating it! Crunchy flavorful crust on the outside and perfectly cooked juicy salmon inside!
Like most of my seafood recipes, this baked salmon recipe is also perfect for a quick and easy weeknight dinner.
I've adapted this pesto topped salmon recipe from two of the reader favorites: Panko crusted cod and spicy baked fish.
These two recipes use mustard as part of the crust or as a topping. This recipe uses pesto instead.
I've also learnt from those recipes that it is important to season the fish before adding crust or sauce to it.
In this pesto crust salmon recipe, pesto serves 3 purposes:
It adds amazing flavor and texture to the salmon.
It acts as a medium that helps the Panko crumb mixture stick to the fillets.
The pesto also helps keep the salmon moist.
In addition to pesto, the breadcrumb mixture adds another layer of flavor and texture. It comes together in 5 minutes but makes ALL the difference to the pesto salmon.
Okay, now let's get to the bottom of it:
Video
Ingredients
(You can find the exact measurements and instructions in the printable recipe card at the end of this page.)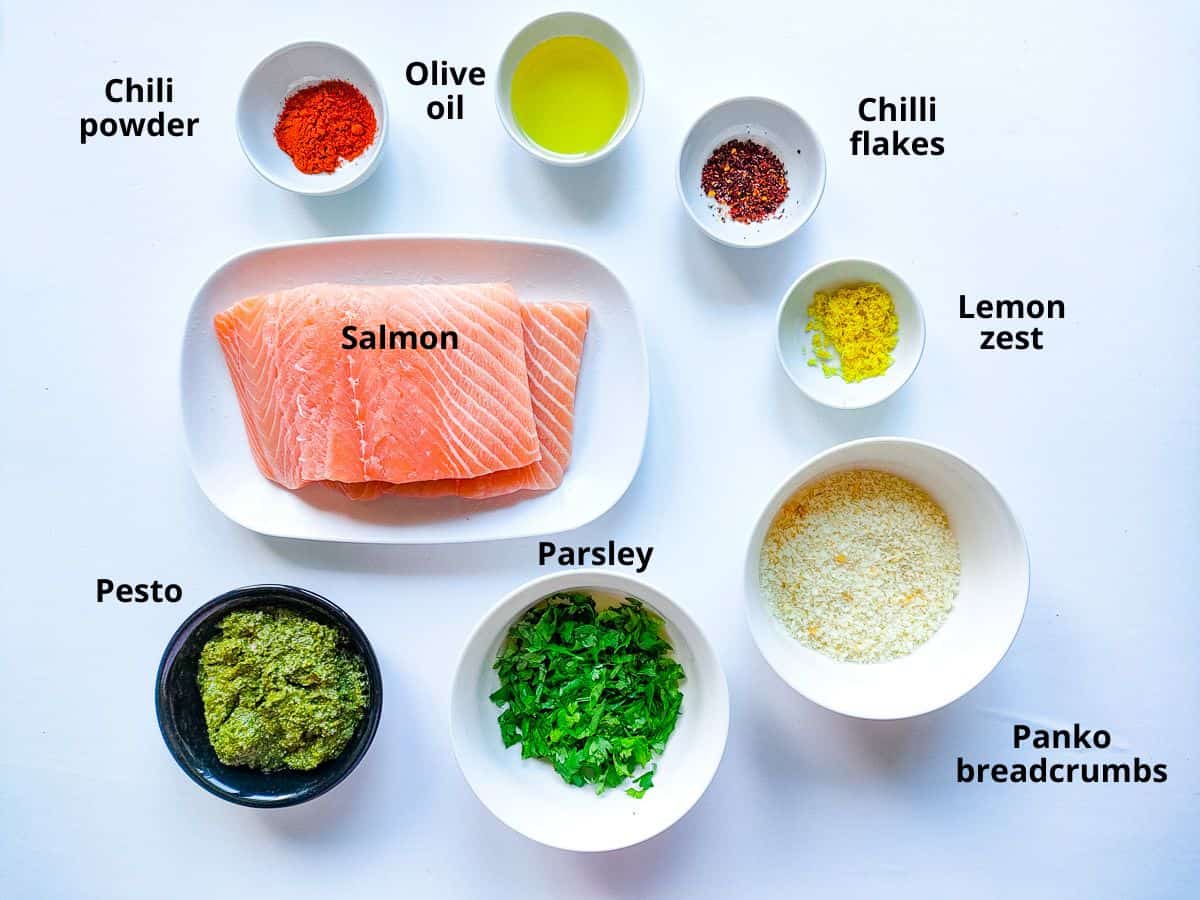 Pesto: I've used spinach almond pesto here. You can use any other pesto like roasted garlic pesto or red chili pesto. If you like Asian flavors, use the peppery Thai basil pesto. Store-bought pesto also works here.
Salmon: Try buying fillets with more or less uniform thickness for this recipe.
Breadcrumbs: Use Panko breadcrumbs that turn out crispier than regular ones.
Lemon zest: To add citrus flavor.
Spices: You'll need chili flakes (for the Panko crust) and chili powder (to season the salmon).
How To Make Pesto Crusted Salmon: Step by step
Make Pesto Sauce
Almonds, garlic and chilies are roasted and blended with wilted spinach to make this healthy and delicious pesto.
Combined with our seasoned Panko topping, this pesto tastes great as a crust on baked melt-in-your-mouth salmon.
Prepare The Panko Crust
Mix up breadcrumbs, chili flakes, parsley, lemon zest, olive oil, salt and pepper in a small bowl.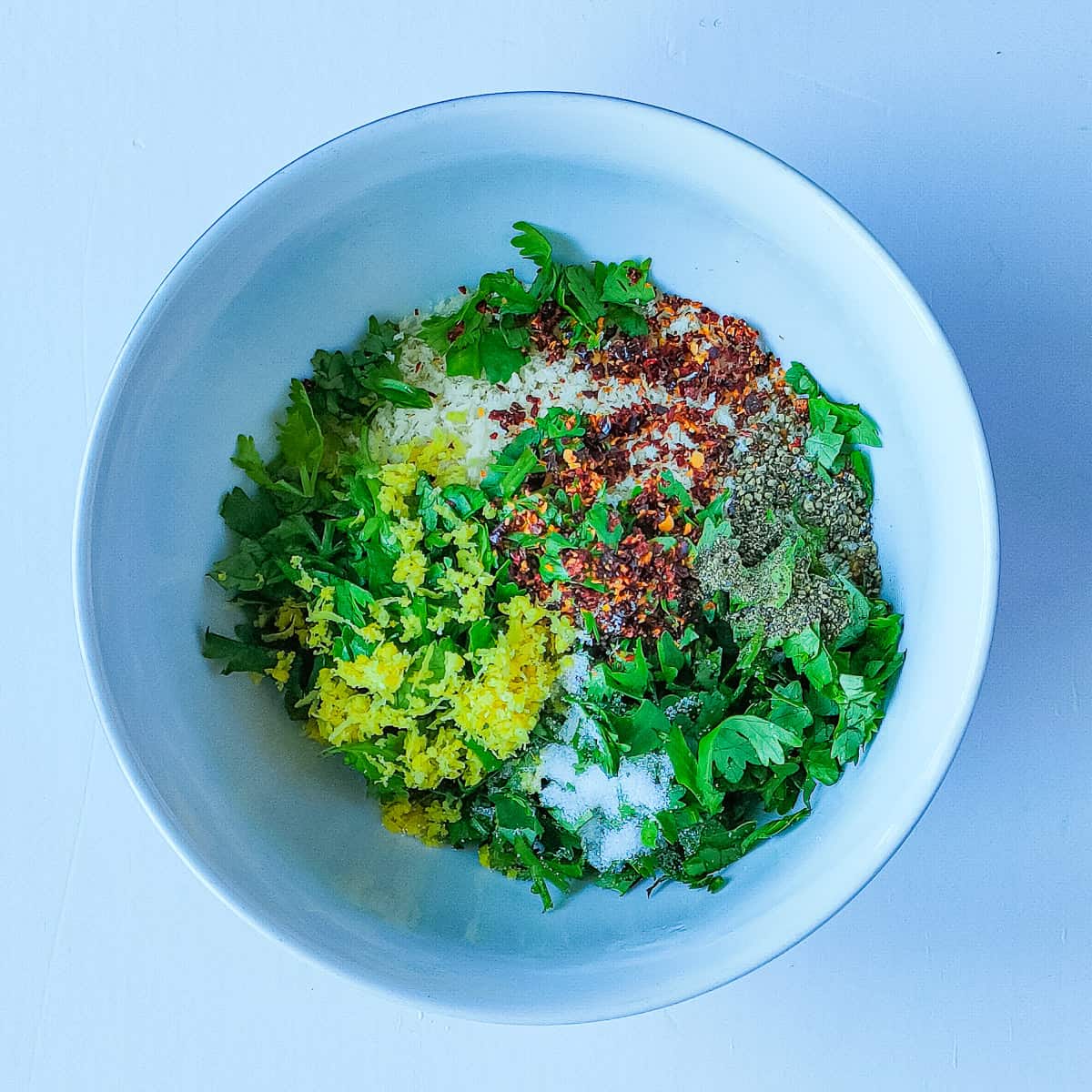 Season The Salmon Fillets
Combine chili powder and salt. Season the salmon fillets on all sides with the mixture.
Drizzle olive oil and spread evenly on the fillets.
Top The Salmon Fillets
Place the salmon fillets on a baking tray lined with parchment paper.
Spread about 2¼ teaspoons of pesto on each fillet using the back of a spoon.
Take handfuls of the breadcrumb mixture and spread on the fillets. Press with your hands until they stick to the pesto.
Bake
Preheat the oven to 200°C/392°F.
Spray olive oil on the crusted salmon fillets. Bake for 10 minutes.
Serve with your favorite side dish!
This recipe gives you a perfectly browned crust on the outside with moist salmon on the inside.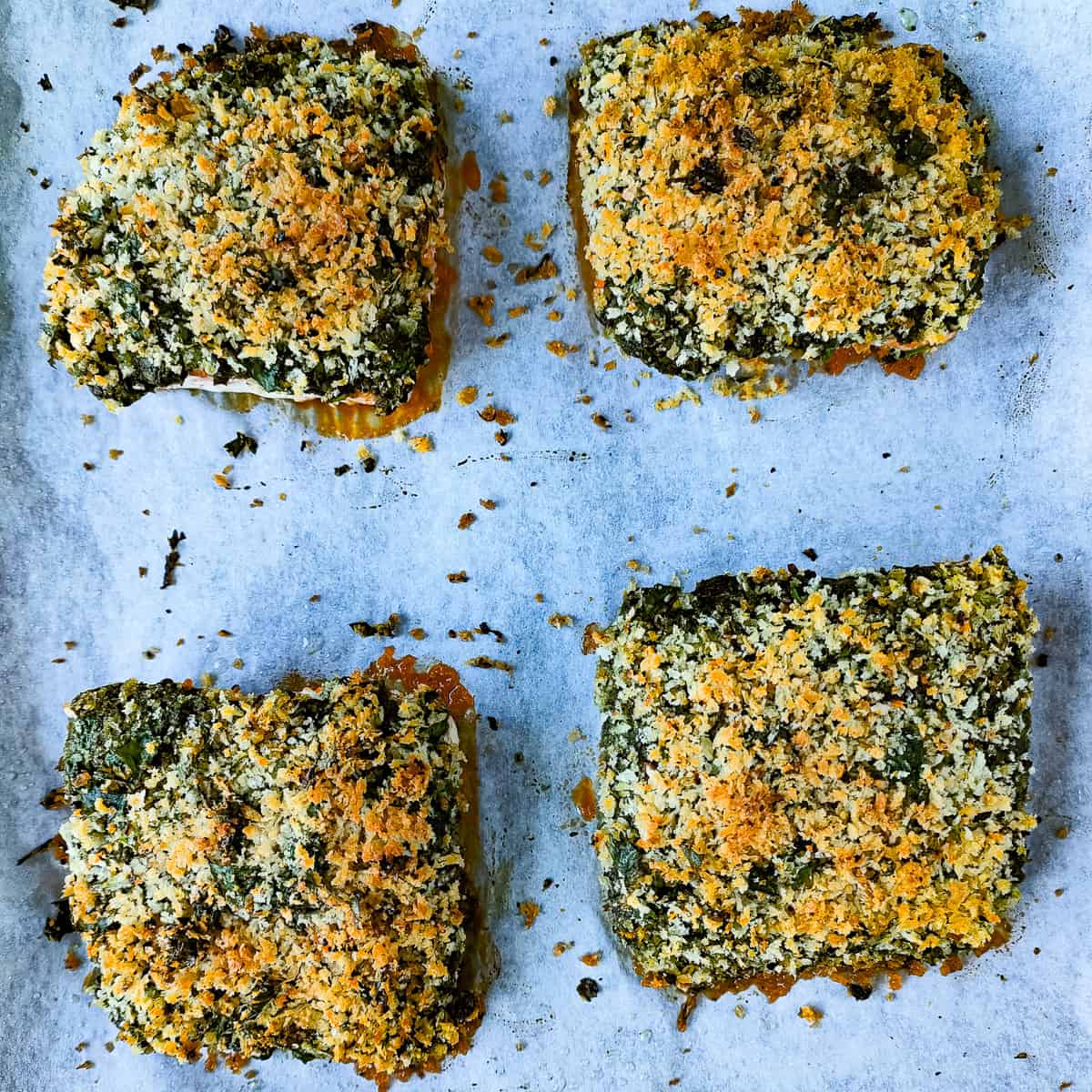 Tips To Make The Best Pesto Crusted Salmon
If you're making the pesto, blend it into a coarse paste. This adds more texture to the crust, making it crunchier.
In this recipe, the salmon is about 1-inch thick. If your salmon fillet is thicker, increase the baking time accordingly.
The rule of thumb is to bake salmon for 5 minutes at 200°C/ 390°F for every ½ inch thickness. If the fillets are not of uniform thickness, take the thickest part into consideration.
If using red chili pesto as mentioned earlier, reduce the amount of chili powder (for seasoning the salmon) by half.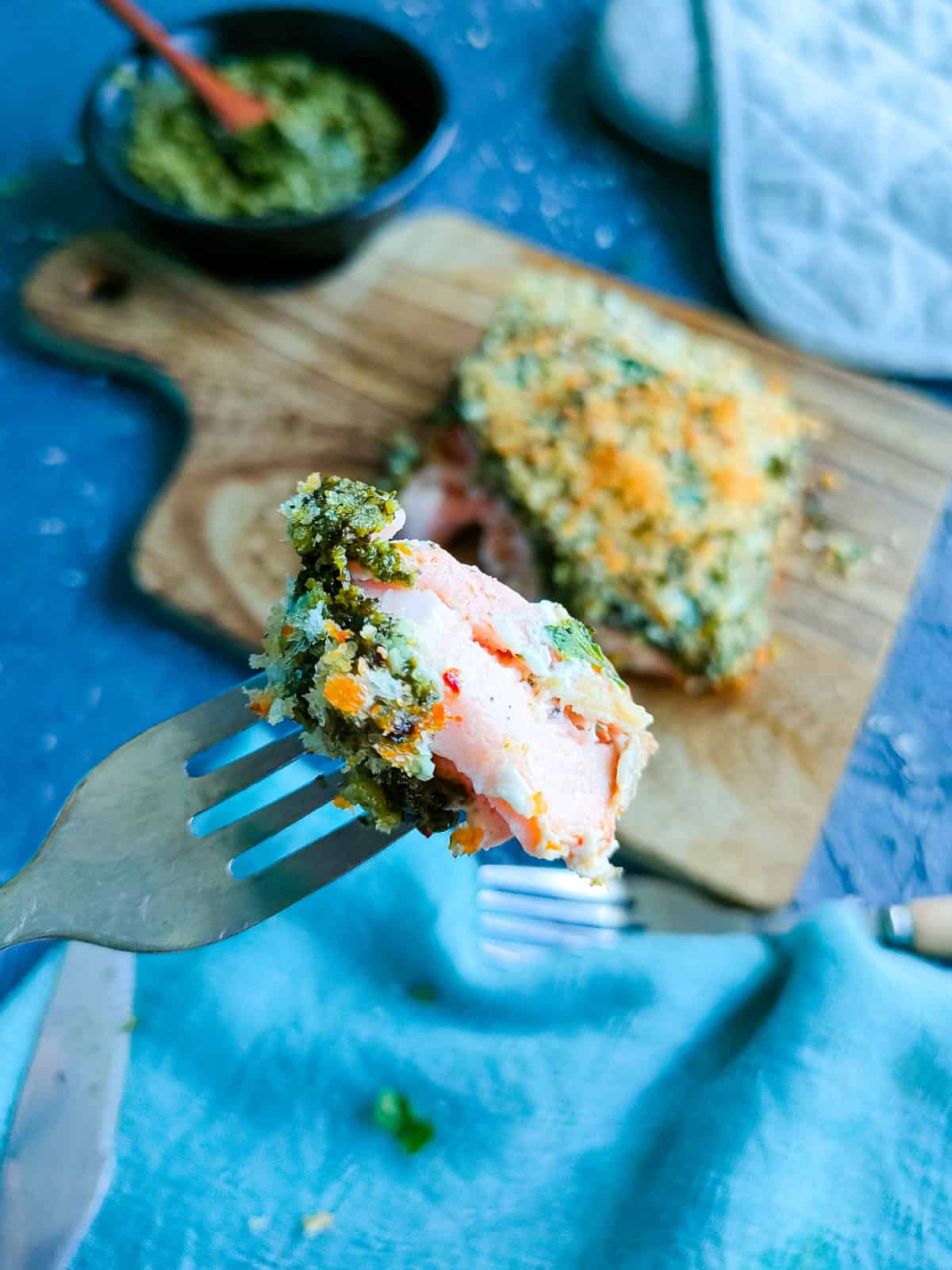 Common Quetions About Pesto Crust Salmon
What is the healthiest way to eat salmon?
Baking salmon is healthier than pan-frying. Salmon maintains its healthy levels of the beneficial omega-3 fatty acids when baked. Baking or broiling in the oven with less added fat also helps keep down your total fat intake. Baking may also be a better way to retain the vitamin D content of fish.
Why is my salmon white and not pink?
Perfectly cooked salmon will be a light shade of pink on the inside and the crust will be well-browned. If the salmon is white on the inside, that means it is overcooked. The rule of thumb is to cook salmon for 5 minutes at 200°C/ 390°F for every ½ inch thickness for baking. If the salmon is of uneven thickness, take the thickest part into consideration. This is a fail-proof way to get perfectly cooked salmon out of the oven.
Is it better to bake fish covered or uncovered?
Baking uncovered helps brown the fish on the outside while keeping it moist on the inside. Covering with foil and baking will steam the fish, making it softer but will not brown the fish. Both are healthier alternatives to pan-frying and result in tender juicy fish fillets.
What spices go well with salmon?
Salmon goes well with mild spices and herbs, especially Italian. The pesto flavors of garlic, nuts and herbs with citrus taste delicious when combined with the soft and juicy salmon.
What To Serve With Pesto Salmon
Health Benefits of Salmon
As we all know, salmon is one of the superfoods with numerous health benefits. It is a highly nutritious fish, rich in heart-healthy omega-3 fatty acids, along with protein, niacin, selenium, magnesium, vitamins B6 and B12.
Salmon is also one of the few good sources of vitamin D and has virtually zero carbohydrates, all of which make it one of the healthiest foods.
One of my family's favorite baked salmon recipes, I love this pesto salmon not only for its health benefits but also for its rich flavor and ease of cooking.
More Salmon Recipes
★★★★★Did you try this recipe? Please give a star rating in the comments below ★★★★★
HUNGRY FOR MORE? Join over 1000 home cooks like you who subscribe to my weekly newsletter to get all the latest recipes right in your inbox. Or follow me on your favorite social media: Facebook, Pinterest, Instagram, and YouTube. Thank you and happy cooking!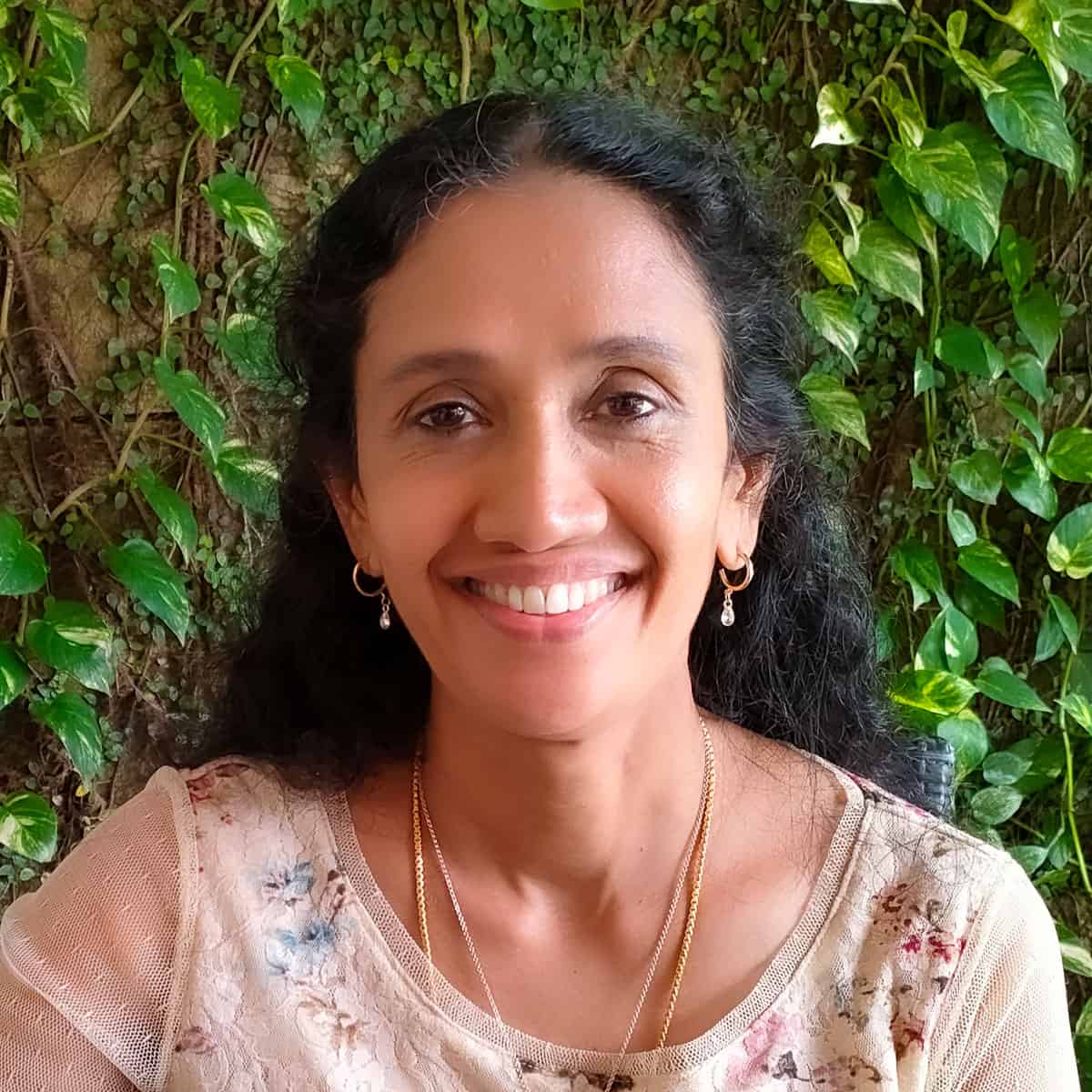 Hi! I'm Sheeba, welcome to Go Healthy ever after!
I have a passion for cooking delicious nourishing food that's easy to cook with fresh natural ingredients free from additives or preservatives. The easy healthy recipes you find here will inspire you to cook with creativity.
Copyright secured by Digiprove © 2022