This red chilli pesto with almonds, roasted tomatoes and bell pepper is spicy, sweet and tangy. Other than red pesto pasta, you can add flavor to anything from pizza to soups and salads using this easy red pepper pesto sauce!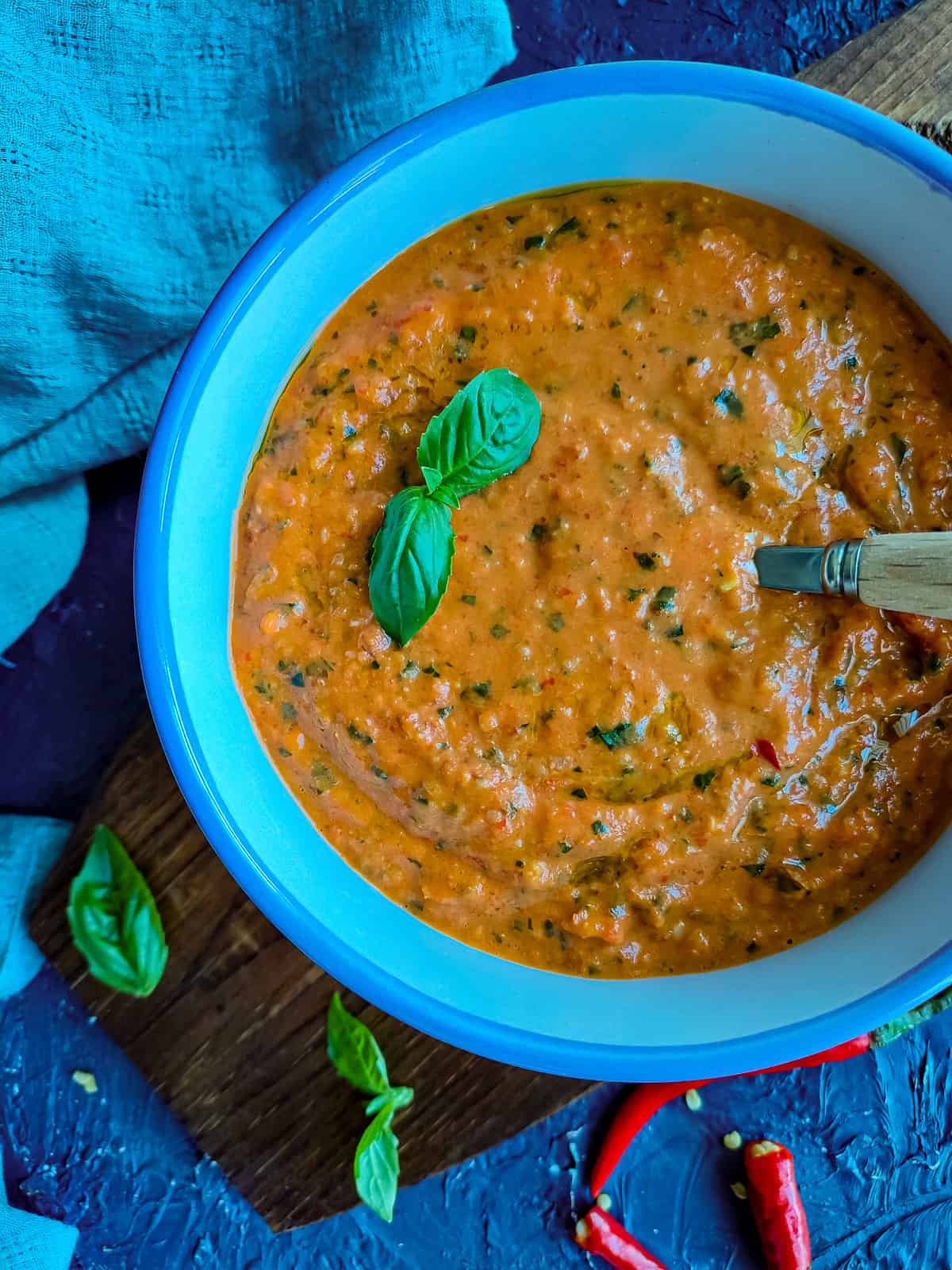 Why You'll Love This Recipe
You can make this red pesto even if you don't have sundried tomatoes. This chili pesto recipe is bursting with "smoky" flavors from roasted red pepper, fresh cherry tomatoes, garlic, basil and of course, chillies!
I love adding chillies to pesto, like the roasted garlic pesto. In this recipe, they balance the sweetness of tomatoes and bell peppers quite well.
Homemade red chilli pesto is customizable according to your preference and taste.
Want a milder pesto? Use chillies that provide less heat.
No basil on hand? Use parsley, baby spinach or even Thai basil. (Check out Thai basil pesto for more options.)
Like your red pesto smooth and creamy? Blend until you are satisfied. Or stop when you get the desired texture!
Almonds in pesto result in a nutty creamy texture. As in the recipe for basil almond pesto with spinach.
No almonds? Use cashews, walnuts or the traditional pine nuts.
I came up with this recipe when I could not find sun-dried tomatoes at the grocery shop. I was thinking, why not roast tomatoes in the oven?
And while you're at it, why not roast bell peppers and garlic as well? Peel the pepper for a smoother texture. That's what I did in the recipe for paprika feta dip, too.
There you go!
The result was a fresh delicious tomato and chilli pesto without sundried tomatoes. (And if you're cooking on a budget, fresh cherry tomatoes are way more affordable.)
Fresh tomatoes and chili are the important ingredients in my spaghetti arrabbiata recipe, too.
So, that's the birth story of this red chilli pesto recipe!
Video
Ingredients
(You can find the exact measurements and instructions in the printable recipe card at the end of this page.)
Tomatoes: Cherry tomatoes are sweeter and complement the spice from the chillies. They are also easier to roast than the regular ones.
Chilies: Use bird's eye chillies if you like fiery hot chilli pesto! If you want a milder pesto, use the larger ones that provide flavor without the heat.
Almonds: Toast the almonds on low heat for 5 to 10 minutes. Or use roasted or baked almonds. You can also use blanched and toasted almonds if you want to go for more of a creamy texture.
Parmesan: Grate your own cheese for maximum flavor. Buy parmigiano reggiano whenever possible. (it's different from parmesan)
Olive oil: I use extra virgin for its rich flavor and health benefits.
How To Make Red Chilli Pesto With Almonds
Roast
Place garlic cloves (with skin), cherry tomatoes and red bell pepper on a baking tray. Spray olive oil.
Roast in the oven at 200°C/392°F for 30 minutes.
As soon as you remove the tray from the oven, cover the bell pepper with a glass bowl for 10 minutes. This will help you peel the bell pepper easily. (the same method I use for the whole roasted pumpkin soup.)
Squeeze out the toasted garlic from the skin. Add them to roasted tomatoes, toasted almonds, bird's eye chillies, parmesan and salt in a food processor jar.
Peel bell pepper and remove the seeds. Add to the other ingredients in the processor.
Blend
Pulse the ingredients until everything is finely chopped.
Add basil leaves and lemon juice.
Blend again. While the processor is running, slowly drizzle in the olive oil. Scrape down the sides if required and puree until you get the desired smoothness.
Recipe Tips
Spice level: This chilli pesto recipe is moderately spicy. If you would like more heat, add an extra chilli. If you want to avoid heat entirely, use larger red chillies that are less spicy.
Lemon: If you love the citric flavor, add a teaspoon of lemon zest before blending.
Cooking pasta: This recipe makes about 1½ cups of red pesto. For 4 servings of pasta, add all of it to 250 – 300 grams (8 – 10 oz) of pasta.
Adding water: If the pesto is too thick, reserve the pasta water and add a few spoons to thin it down. The starch in the water adds to the creamy texture.
Vegan Red Pesto
Make this red pesto vegan by substituting parmesan with half the quantity of almond butter (1.5 tablespoons for this recipe). It is not an ideal substitute, but it works.
Some vegan recipes use nutritional yeast as a substitute, but I haven't tried it yet.
If you want me to test it out or you have any other suggestions, please let me know in the comments below. I will be happy to oblige!
How To Use Chili Pesto
Make spicy red pesto pasta.
Use it to make baked pesto crusted salmon.
Add a scoop of this pesto to your soups (like

roasted pumpkin soup

or

roasted garlic tomato soup

) to brighten the flavor.
Drizzle this chilli pesto with almonds on salads to make them extra delicious. (Try it on this Italian pasta salad.)
Use it as a pizza base.
This roasted red pepper pesto can also be used as a spicy dip for veggie sticks or Italian potato croquettes.
Spread it on sandwiches or wraps. Wondering what protein to use on them? Bake these easy thin-sliced chicken breasts.
Ready to cook up a high-protein vegetarian meal? Cook a cup of quinoa and mix in the pesto.
In the mood for a low-carb dinner? Add this red pesto to cooked cauliflower rice. (I personally love this option since I don't have to think about my veggies for the meal!)
Common Questions
How long does homemade pesto last?
This homemade pesto lasts for about a week in the fridge. Take the necessary precautions: use a dry jar to store and use a clean dry spoon to scoop out. If you want to store the pesto longer, freeze it. It can keep for about a month in the freezer.
What can I substitute for basil in pesto?
If you don't have fresh basil, use dried basil. For this chili pesto recipe, you'll need about a teaspoon. You can also use parsley, baby spinach or mint. The peppery Thai basil also goes well with this spicy pesto.
None of these are available? If you happen to have only regular spinach, wilt it in a pan with a little oil, let it cool, and use.
Can you put red pepper flakes in pesto?
If you don't have fresh chilies, feel free to use chilli flakes. Did you realize that you need more heat in your pesto just before serving? Or after? No problem. Red pepper flakes will come to your rescue. Just sprinkle them on your pesto or pasta.
Can pesto be used as a dip?
Pesto tastes great as a dip for veggie sticks. It is a healthier option when compared to cream-based dips. For entertaining a crowd, make a quick and easy appetizer by toasting some breadsticks or tortilla chips and serve them with this chili pesto.
Is Pesto Sauce Healthy?
Each of the ingredients in this chilli pesto recipe has numerous health benefits. Some of them would be:
Health Benefits of Red Bell Pepper
Red peppers contain more than 200 percent of your daily vitamin C intake. It is a powerful antioxidant that fights cell damage, boosts immune system response to microbes, and has an anti-inflammatory effect.
Red bell peppers help prevent anemia since they are a great source of vitamin B6 and folate.
Red bell peppers are high in vitamin A and beta-carotene, which help improve Eye and Skin Health.
Red peppers can activate thermogenesis and increase metabolic rate, helping us burn more calories.
Health Benefits of Cherry Tomatoes
Like other types of tomatoes, cherry tomatoes are a wonderful source of lycopene that can help in stroke prevention.
The lycopene in cherry tomatoes may support bone health, especially in women at risk of osteoporosis.
Lycopene can also limit UV damage to your skin from sun exposure and promote better heart health.
Several compounds in cherry tomatoes are associated with a lower risk of multiple diseases, including many types of cancer.
More Sauces and Chutneys
★★★★★Did you try this recipe? Please give a star rating in the comments below ★★★★★
HUNGRY FOR MORE? Join over 1000 home cooks like you who subscribe to my weekly newsletter to get all the latest recipes right in your inbox. Or follow me on your favorite social media: Facebook, Pinterest, Instagram, and YouTube. Thank you and happy cooking!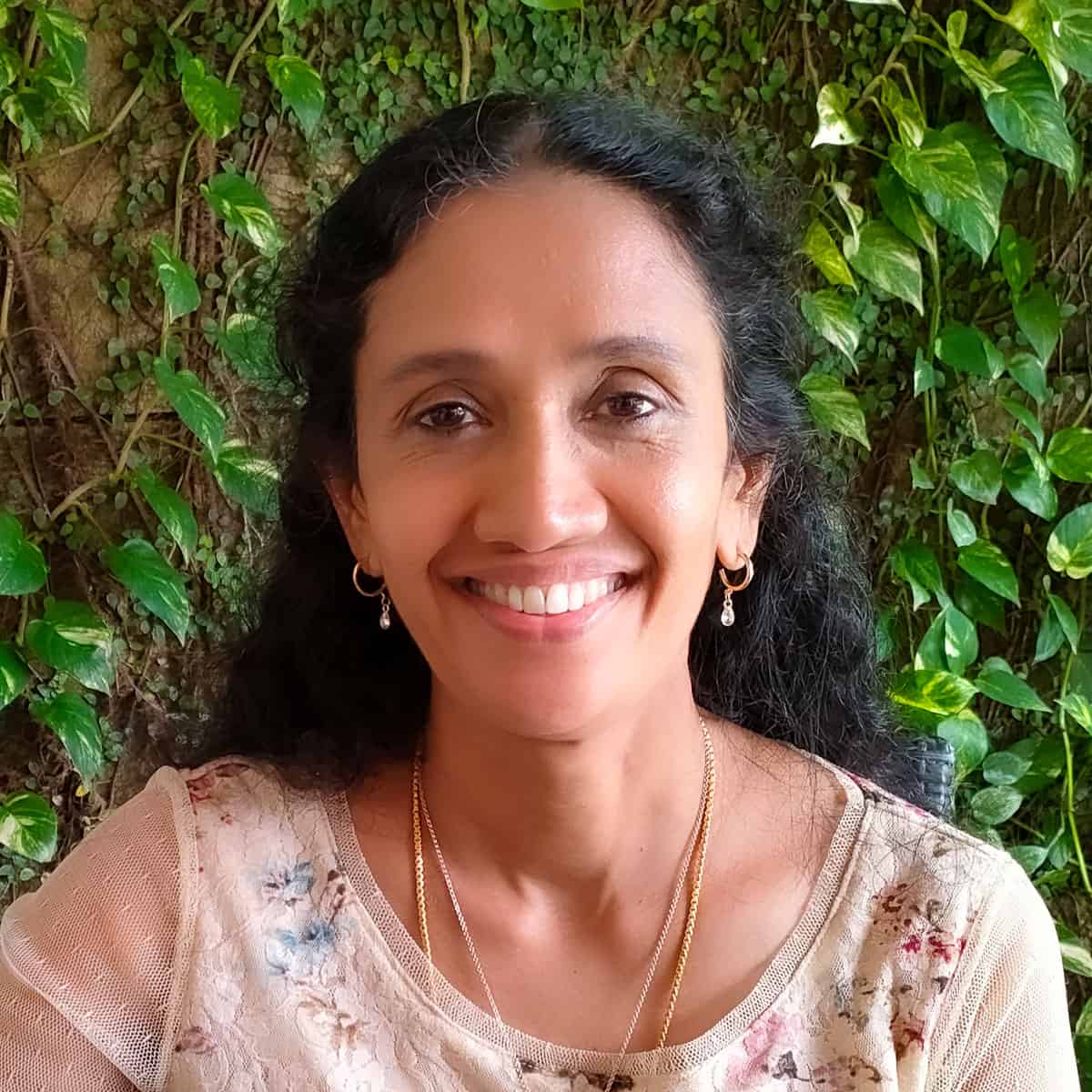 Hi! I'm Sheeba, welcome to Go Healthy ever after!
I have a passion for cooking delicious nourishing food that's easy to cook with fresh natural ingredients free from additives or preservatives. The easy healthy recipes you find here will inspire you to cook with creativity.
Copyright secured by Digiprove © 2022-2023