Easy roasted tomato and garlic soup full of bold flavors from fresh ingredients. There is no flour or cream since we use a secret ingredient to make it creamy. There are only 4 simple steps to make this delicious low calorie tomato soup: chop, roast, blend and simmer!
Why You'll Love This Tomato Garlic Soup
If you're looking for an easy, delicious and healthy soup recipe, you've come to the right place. This is a fragrant tomato soup with vegetables and herbs you can serve with toast as a quick and easy dinner.
This tomato soup recipe is as easy as my red cabbage soup.
Preparing and simmering the soup would take only 10 minutes of your time. Though you'll need 30 minutes to roast the tomatoes and garlic, it is totally hands-free, which gives you time to cook some protein or toast some bread as a side. Or you can catch up on your emails or just relax 🙂
As in my pumpkin carrot soup recipe, you wouldn't need cream or flour to thicken this soup. The secret ingredient of this recipe? Fresh coconut meat that gives body and creamy texture to the tomato soup.
Blending fresh coconut with roasted tomatoes is also healthier than using store-bought heavy cream or coconut cream. It is similar to using cashews in my spicy cauliflower soup.
Another special ingredient of this recipe (apart from the roasted tomatoes, of course) is roasted garlic. It gives amazing flavors to many of my recipes like roasted garlic pesto and easy roasted pumpkin soup without cream.
Cleaning up and doing the dishes is also a breeze when you make this easy roasted tomato garlic soup. A baking tray, soup pot and blender are all the utensils you need.
Let's get started:
Ingredients
(You can find the exact measurements and instructions in the printable recipe card at the end of this page.)
Tomatoes: Fresh and firm ones, preferably with stems.
Vegetables: Carrots and onions in addition to garlic for more flavor and nutrition.
Coconut: Fresh coconut meat, chunks or grated. If using coconut chunks, chop them finely before blending.
Herbs: Fresh basil, dried basil and dried thyme. Using both fresh and dried herbs is another secret to this flavorful soup.
Spice: I've used chili flakes to give this soup a spicy kick. It balances the tangy flavors. You can use black pepper instead, if you're worried about the heat.
Stock: I use vegetable stock. You can also use chicken stock if you're not a vegetarian.
How To Make Roasted Tomato and Garlic Soup: Step by step
1. Roast
Preheat the oven to 200°C/392 °F.
Chop 8 large tomatoes into quarters. Peel and quarter 1 large onion. Peel 6 garlic cloves. Dice a carrot into 1-inch cubes.
Place all the vegetables in a large bowl. Sprinkle ½ teaspoon chili flakes, ½ teaspoon salt and 1 tablespoon olive oil. Mix well.
Spread out the vegetables in a single layer on a baking tray or sheet pan.
Place the tray in the oven and roast for 30 minutes. Let the veggies cool down.
2. Blend
Place the roasted vegetables in a blender or food processor. Add 2 tablespoons of grated coconut meat, and 1 teaspoon each of dried basil and thyme.
Blend everything together until you get a smooth puree.
3. Simmer
Transfer the puree to a soup pot and add 2 cups of vegetable stock.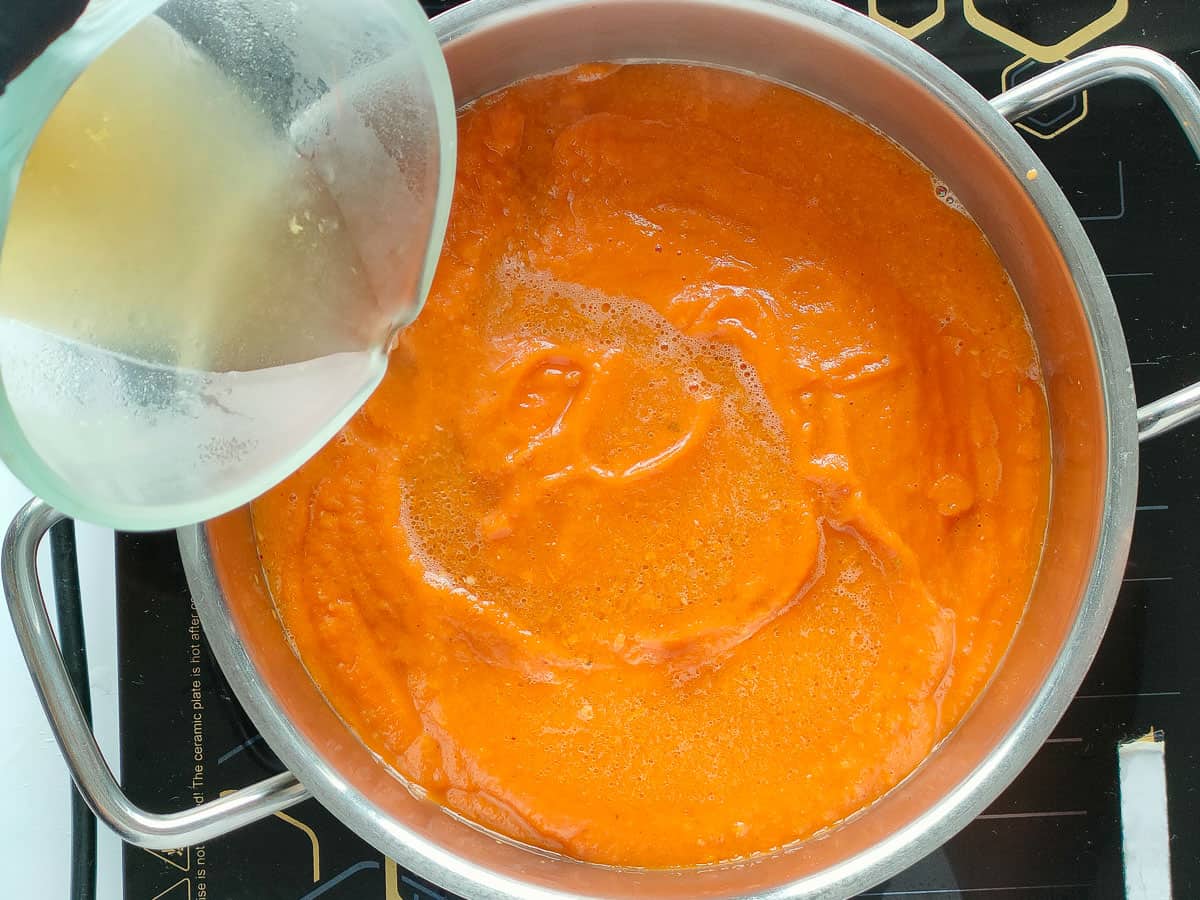 Cover the pot and heat the soup for a couple of minutes.
Adjust the water and add more salt and pepper to taste, if required. Simmer until you get the desired consistency.
4. Garnish
Remove the tomato garlic soup from heat. Julienne (thinly slice) a handful of fresh basil leaves and add to the soup.
Recipe Tips
Blender: You can also use an immersion blender to puree the vegetables. In that case, you don't have to wait for the roasted vegetables to cool down.
Garnish: Add fresh basil leaves after you remove the soup from heat since excessive heat may reduce the flavor and nutritional value of basil.
Storing: Homemade roasted tomato garlic soup can last for 3-5 days in the refrigerator when stored properly in an airtight container. If you want to extend the shelf life of the soup, you can freeze it for up to 3 months.
Freezing: Let it cool completely, then transfer it to a freezer-safe container, leaving about an inch of space at the top for expansion. When you're ready to eat the soup, thaw it in the refrigerator overnight, then heat it up on the stove or in the microwave. Be sure to stir the soup well after reheating, as the ingredients may have separated during freezing.
Variations and Substitutions
Roasted Tomato Garlic and Red Pepper Soup: Add some roasted red peppers to the soup for a sweet and smoky flavor.
Roasted Tomato Garlic and Lentil Soup: Add cooked lentils to the soup to make it heartier and more filling.
Roasted Tomato Garlic and Vegetable Soup: Add your favorite vegetables to the soup, such as celery, and zucchini, to make it more nutritious and colorful.
Roasted Tomato Garlic and Rice Soup: Add cooked rice to the soup for a comforting and satisfying meal.
Health Benefits of Roasted Tomato and Garlic Soup
Antioxidant Properties: Tomatoes are a great source of antioxidants, such as lycopene, which can help protect the body against damage from harmful free radicals. Garlic also contains antioxidants that can help fight off oxidative stress and inflammation.
Immune System Boost: Garlic is known for its immune-boosting properties due to its high concentration of sulfur-containing compounds.
Heart Health: Tomatoes are a great source of potassium, which is important for maintaining healthy blood pressure levels. The antioxidants in tomatoes and garlic may also help protect against heart disease by reducing inflammation and LDL (bad) cholesterol levels.
Digestive Health: Garlic has been shown to help promote healthy digestion by stimulating the production of digestive enzymes. Additionally, the fiber found in tomatoes can help regulate bowel movements and promote gut health.
Nutrient Density: Roasted tomato garlic soup can be a great source of important nutrients, such as vitamin C, vitamin A, and iron. These nutrients can help support overall health and wellbeing.
What To Serve with Roasted Tomato Soup
The possibilities are endless, and you can experiment with different side dishes to find your perfect pairing.
Spicy toast: Mix butter with a sprinkling of chili flakes and salt and toast some crusty bread with it. The 'chili butter' toast (in the picture above) goes amazingly well with this roasted tomato and garlic soup.
Grilled Cheese Sandwich: A classic pairing with tomato soup, a grilled cheese sandwich is the perfect complement to the soup's rich and savory flavors.
Salad: A crisp, fresh salad like beet and mandarin orange salad or easy balsamic pasta salad can be a great way to balance out the richness of the soup. You can choose to continue the roasted garlic theme with beet walnut feta salad.
Garlic Bread: Serve the soup with some garlic bread for dipping.
Roasted Vegetables: If you're looking for something lighter, roasted vegetables such as zucchini, eggplant, bell peppers or easy roasted potatoes and broccoli, can be a great accompaniment to the soup. Crispy smashed potatoes with cheese also taste great with this roasted tomato garlic soup.
Croutons: For a crunchy texture, add croutons to the soup. You can make them yourself with leftover bread, or buy them from the store.
Common Questions about Roasted Tomato Garlic Soup
Why does my homemade tomato soup taste bitter?
There could be several reasons why your homemade tomato soup tastes bitter.
Overripe tomatoes: If the tomatoes you used were too ripe they may have developed a bitter taste. To avoid this, try to use fresh, ripe tomatoes that are not overly soft or squishy.

Burnt onions or garlic: If you roasted onions or garlic at very high temperatures or for too long, they could have got burnt. This could have caused a bitter taste. Onions may also get burnt if the layers get separated before roasting. Next time, make sure to keep the tops intact when you quarter the onions and roast them at the right temperature to prevent burning.

Overcooked tomatoes: If you cooked the tomatoes for too long, this can cause a bitter taste. Try roasting the tomatoes for not more than 35 minutes. Simmer the puree only for a couple of minutes.

Too much salt: Adding too much salt to your soup can also cause a bitter taste. Next time, try using less salt or adding it gradually, tasting as you go. (Be aware that stock has enough salt.)

Basil: BAsil tends to turn bitter when overheated. If you added fresh basil to tomato soup that was still simmering on the stove, this could also contribute to a bitter taste. Add basil after removing the soup from heat, or (even better), before serving.
Does roasting tomatoes change the flavor?
When tomatoes are roasted, their natural sugars start to caramelize, resulting in a sweeter and more concentrated tomato flavor. The high heat of roasting also causes some of the moisture in the tomatoes to evaporate, which can intensify their flavor and create a slightly smoky taste.

In addition to the changes in flavor, roasting tomatoes can also change their texture. The heat causes the flesh to become tender and juicy, which can add depth and complexity to dishes like tomato soup and pasta sauces.

Overall, roasting tomatoes can be a great way to enhance their flavor and texture. It's a simple and versatile technique that can be used in a variety of dishes to add richness and depth.
Are roasted tomatoes healthier than raw?
The nutritional value of roasted tomatoes compared to raw tomatoes is not significantly different. Both roasted and raw tomatoes are healthy options and provide essential vitamins and minerals, including vitamin C, potassium, and lycopene, which is a powerful antioxidant that can help protect against certain types of cancer.

One difference between roasted and raw tomatoes is that roasting can increase the availability of some nutrients, such as lycopene. The heat of roasting breaks down the cell walls of the tomatoes, making it easier for the body to absorb and utilize the lycopene. However, this increase is relatively small and not significant enough to make a major impact on your overall health.
The richer, more complex flavors of roasted tomatoes can make them a more appealing option for some people. This can encourage them to eat more of this nutritious fruit.
Should I salt tomatoes before or after roasting?
It's best to salt tomatoes before roasting them. Salting tomatoes before roasting can help to enhance their natural flavor and draw out some of their moisture, which can help to concentrate their flavor and create a better texture.
If you salt the tomatoes after roasting, it won't have as much of an impact on the overall flavor and texture of the tomatoes. So, it's best to salt them beforehand to get the most out of their natural flavor and texture.
★★★★★Did you try this recipe? Please give a star rating in the comments below ★★★★★
HUNGRY FOR MORE? Join over 1000 home cooks like you who subscribe to my weekly newsletter to get all the latest recipes right in your inbox. Or follow me on your favorite social media: Facebook, Pinterest, Instagram, and YouTube. Thank you and happy cooking!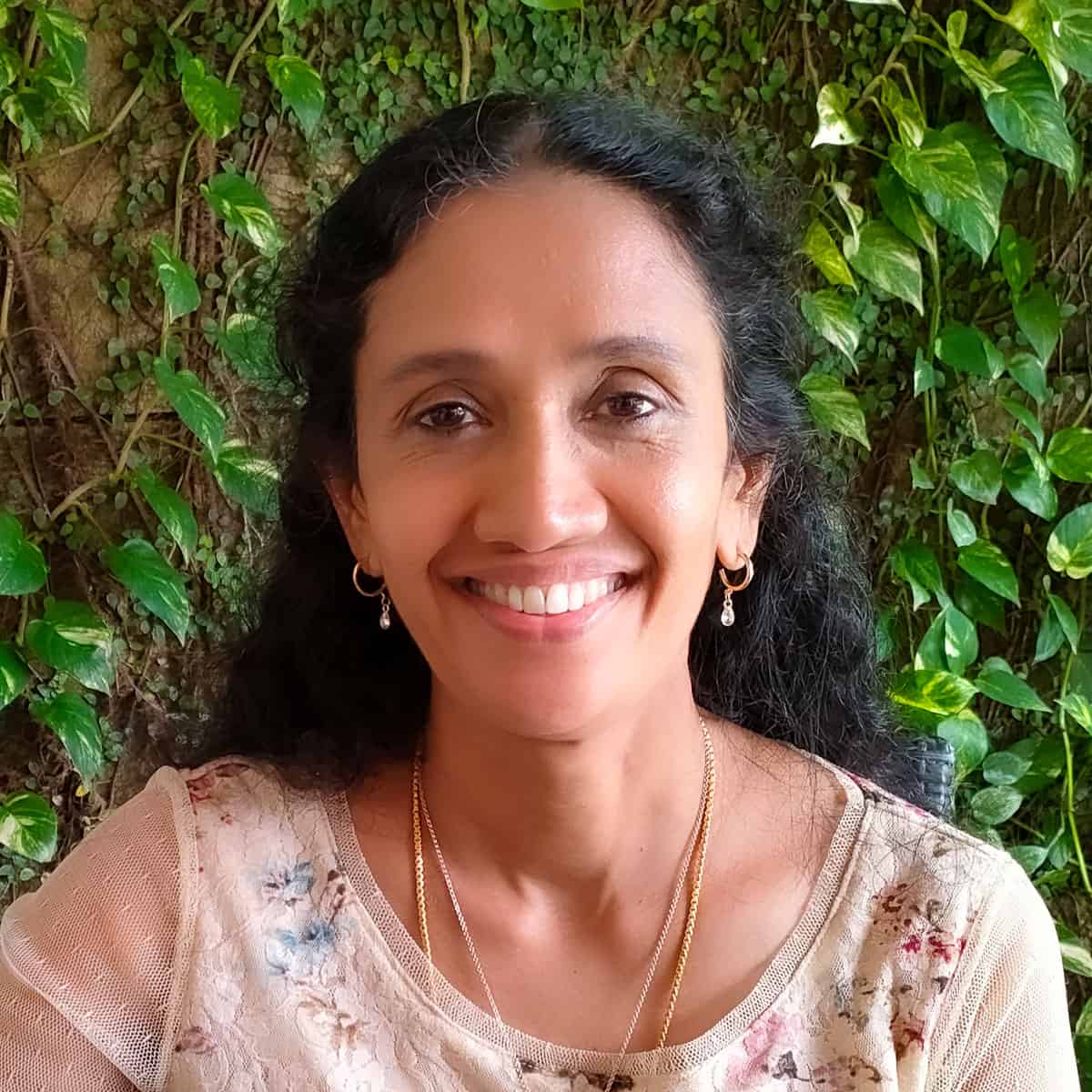 Hi! I'm Sheeba, welcome to Go Healthy ever after!
I have a passion for cooking delicious nourishing food that's easy to cook with fresh natural ingredients free from additives or preservatives. The easy healthy recipes you find here will inspire you to cook with creativity.
Copyright secured by Digiprove © 2023