This homemade Thai basil pesto is an Asian-inspired pesto recipe that not only works for pasta but as a sauce for your seared fish and chicken, too. Add a spoonful of this Thai pesto to salads and sandwiches for an incredible flavor boost!
FEATURED COMMENT
Simply wonderful thank you. I grow Thai Basil in the greenhouse and even here in the UK in thrives. This recipe makes such tasty use of it!
ROBIN
Affiliate disclosure: This post contains affiliate links, which means I may receive a small commission, at no cost to you, if you make a purchase through a link.
Why you'll love this Thai pesto
Pesto with Thai basil, bird's eye chilies, walnuts and garlic has all the flavors you need for a dressing, sauce or as a spread. Unlike the Italian basil, Thai basil has a spicy-sweet flavor that goes well with chillies and garlic.
If you're a regular visitor here, you'll know my love for chillies as in chicken mince stir-fry, roasted garlic pesto recipe and red chilli pesto.
As you can see, my obsession with green-colored sauces and chutneys did not end with spinach almond pesto, Indian mint sauce or the 5-minute avocado chutney. They are full of herbs and goodness, ridiculously easy to make and so good to eat! You'll love the way these sauces help you make quick and easy dinners and appetizers.
I made this recipe the first time out of sheer necessity. My friend gave me a huge bunch of Thai basil leaves. She had bought a ½ kilo pack to make basil chicken and didn't know what to do with the rest of the leaves.
I needed a recipe that could use up all of the leaves while they were still fresh.
The first thing that came to my mind was pesto, which can use up ALL of the leaves in the most delicious and healthy way!
Watch How To Make Thai Pesto
Can you make pesto with Thai basil?
Using Thai basil in place of regular Italian sweet basil gives a spicy twist to the pesto. Do you love the bold flavors of Thai basil, bird's eye chilies and garlic in Thai dishes like green curry and basil chicken?
This easy Thai pesto will soon become your favorite. Though the aniseed-flavored Thai basil gives a distinctively spicy Thai flavor to the pesto, it tastes great with pasta.
That's not all, you can also use this pesto on anything from salads to sandwiches and pizza for an Asian flavor punch. This is healthy fusion food at its best.
Love Thai flavors of lemongrass and Thai chilies? You might want to try the stir-fried Thai red rice and Thai basil tofu.
You might also want to make Thai green curry paste to cook keto Thai chicken curry or healthy green curry rice.
Ingredient notes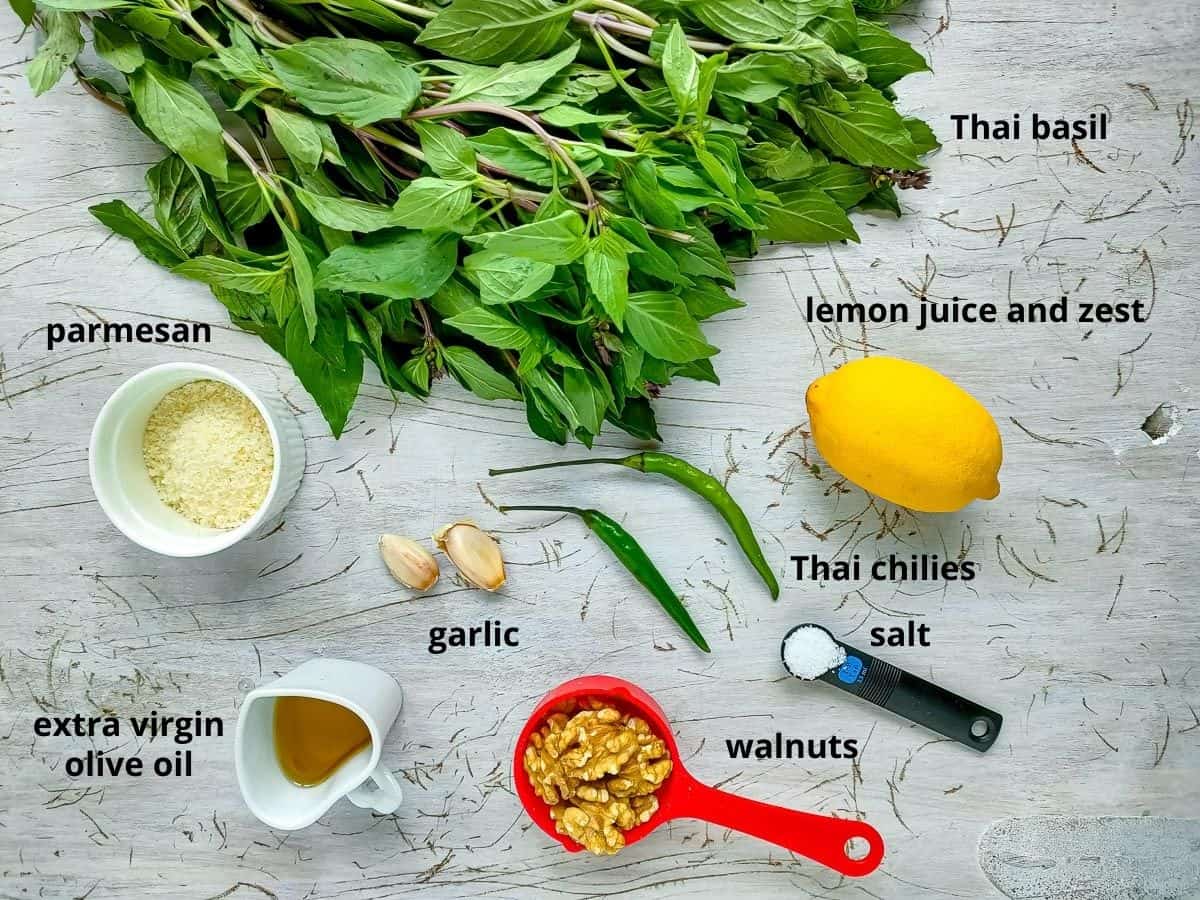 Thai basil: 2 cups, tightly packed
bird's eye chillies (Thai green chilies): for the spicy flavor punch.
lemon juice and zest: for the tang and to balance the spices.
garlic
walnuts: well known for their heart-healthy fats and nutrients, they are also flavorful.
extra virgin olive oil: to keep the pesto flavor intact.
parmigiano reggiano: it has a richer and nuttier flavor than parmesan. (You can settle for parmesan, if you can't find it.)
salt
How to make Thai Basil Pesto: step by step instructions
(You can find the exact measurements and instructions in the printable recipe card at the end of this page.)
Making pesto can be as simple as throwing all the ingredients into the food processor and blending. But there are a few points to be noted if you want to make a GOOD basil pesto.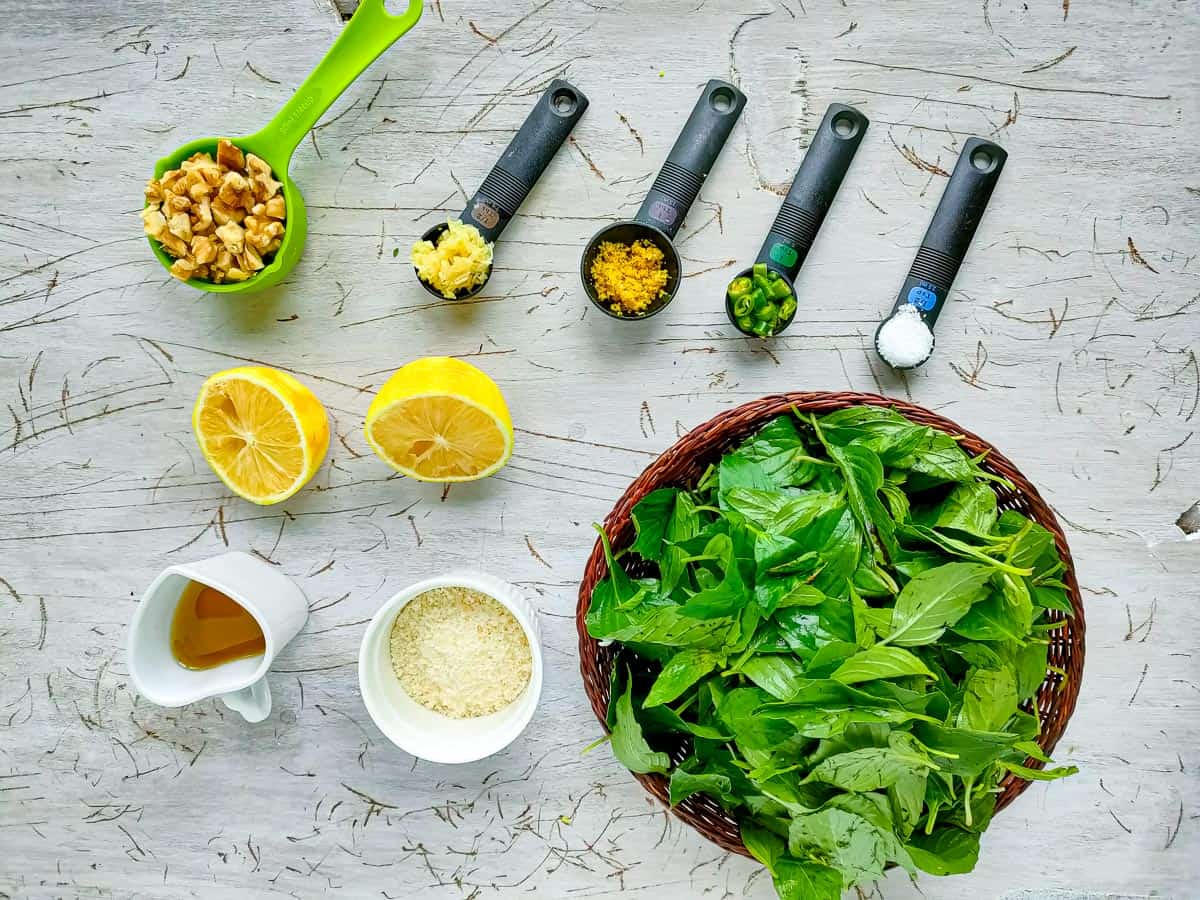 Prepare all ingredients: Separate the basil leaves from stems, roughly chop walnuts and chillies, zest and juice the lemon, grate garlic and cheese.
Toast the walnuts on medium heat until lightly browned and crisp. Let them cool.
Place toasted walnuts, garlic, chillies, cheese, salt, lemon zest and juice in a food processor.
Blend until you get a coarse, crumbly mixture. Scrape the sides and blend again until you get a uniform texture.
Add Thai basil leaves and blend.
While the blade is running, slowly drizzle olive oil in a steady stream and blend until well incorporated.
Recipe tips
Chop walnuts into small pieces. This helps toast them better. Well toasted walnuts = more nutty flavor. Roasting also helps in releasing the natural oils from the walnuts. It reduces the need for more olive oil in the pesto.
Grate the garlic and finely chop the chillies before blending. This ensures that they get blended well. You wouldn't want to bite into pieces of raw garlic, or worse, chillies!
I might sound like a broken record because I say it in all my pasta recipes like spaghetti arrabiata and red pesto pasta: Avoid buying grated cheese, if possible. Grating a block of cheese is a better way to use parmesan or Parmigiano Reggiano (to do justice to its flavor).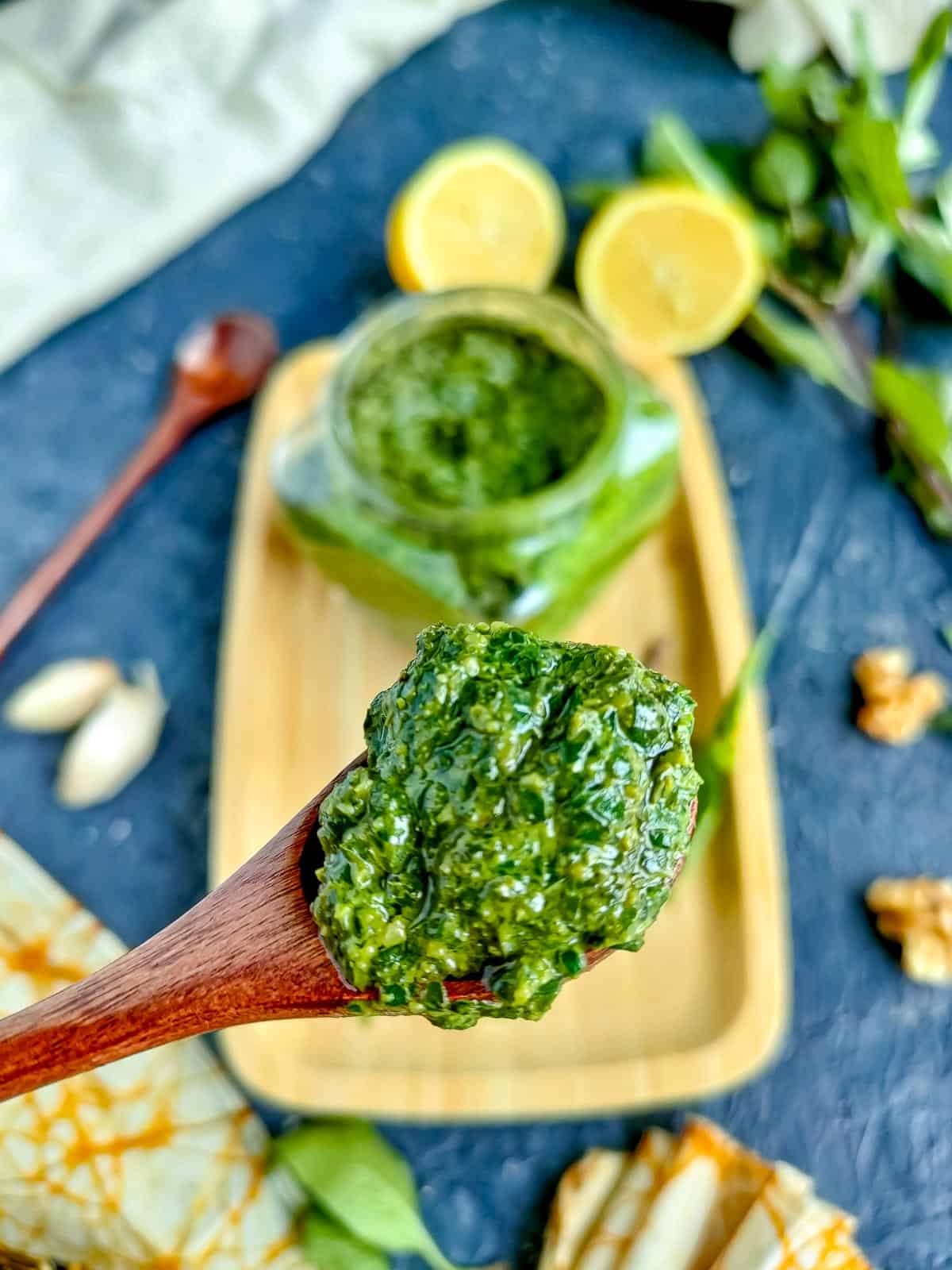 What to do with Thai Basil Pesto?
Salad dressing: Drizzle a couple of spoons on salads like easy Italian pasta salad and spicy chicken pasta salad. The Asian flavors of this pesto go well with Indian chickpea salad and chana dal salad, too.
Mix it with cooked noodles and veggies to make Thai basil pesto noodles.
Pizza sauce: Spread on pizza with your favorite veggies and feta cheese for a homemade pesto pizza.
On bread/bruschetta: Make easy appetizers with Thai basil pesto on bread topped with tomatoes, cured meat or cheese. Or make the 5-ingredient pan-fried prawns and peppers to use as toppings.
Soups: Finish off soups like roasted tomato and garlic soup by adding a few spoons of this Thai pesto for a spicy kick.
Baked chicken breast: Add a dollop of Thai pesto on baked chicken breasts with beet and mandarin orange salad for a quick and easy dinner.
Grilled or Baked fish: Use the pesto to add more complex flavors to spicy baked lemon mustard fish.
Give an Asian twist to baked pesto crust salmon by using this Thai pesto instead of spinach almond pesto.
How Long Does Pesto Last?
Thai basil pesto lasts for about 3-4 days in the refrigerator if stored in a dry airtight jar. Freeze it if you want to store it longer. It stays fresh for about 2 months in the freezer.
How To Reheat Thai Pesto?
Thai basil is quite sensitive to heat. When you reheat frozen pesto, thaw it first in the fridge overnight. Warm it only until it reaches room temperature.
If you're using it for pasta, toss thawed (or refrigerated) pesto directly with hot pasta. This will prevent the basil from turning slightly bitter and changing the taste of the pesto.
More sauces and chutneys
Recommended tools to make this recipe
★★★★★Did you try this recipe? Please give a star rating in the comments below ★★★★★
HUNGRY FOR MORE? Join over 1000 home cooks like you who subscribe to my weekly newsletter to get all the latest recipes right in your inbox. Or follow me on your favorite social media: Facebook, Pinterest, Instagram, and YouTube. Thank you and happy cooking!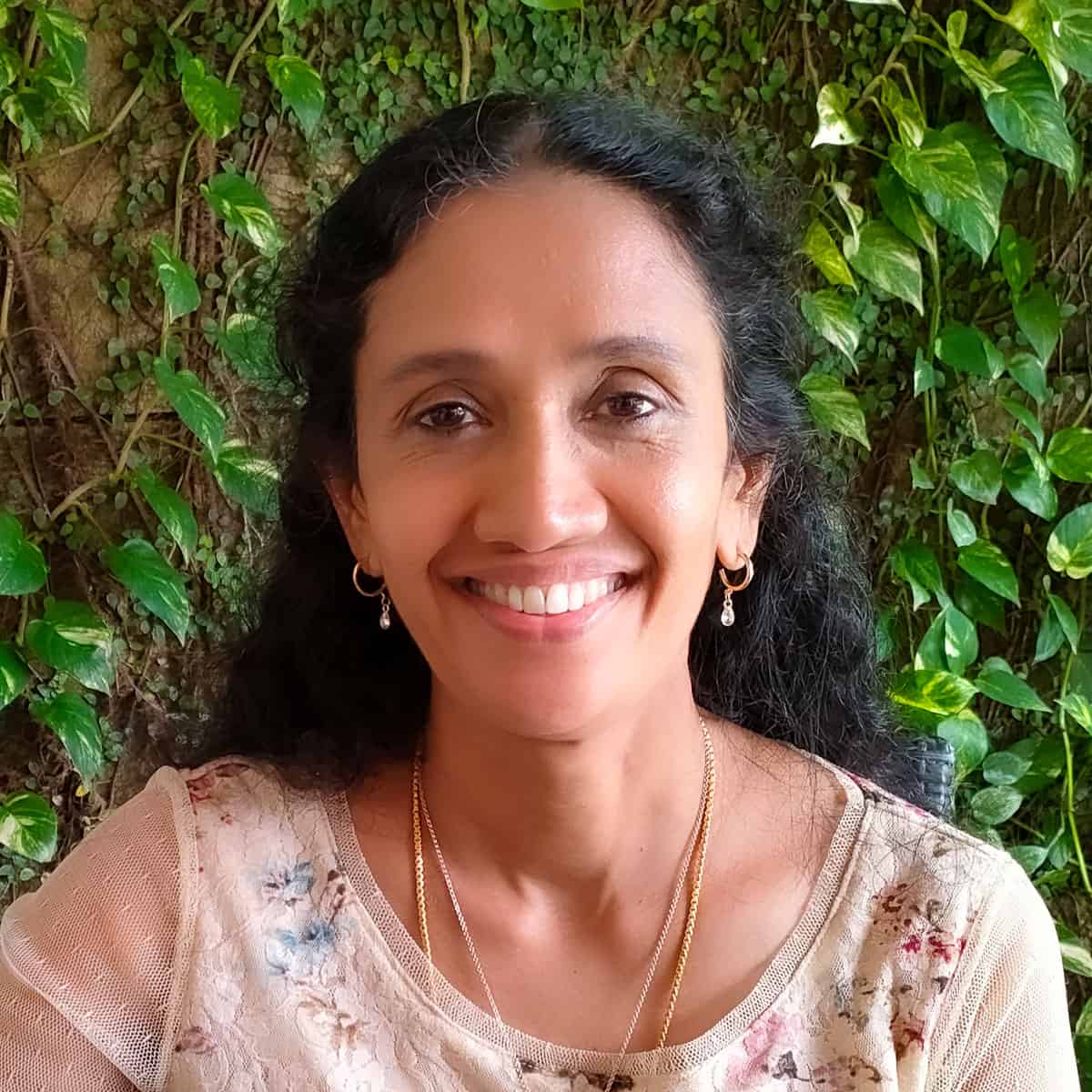 Hi! I'm Sheeba, welcome to Go Healthy ever after!
I have a passion for cooking delicious nourishing food that's easy to cook with fresh natural ingredients free from additives or preservatives. The easy healthy recipes you find here will inspire you to cook with creativity.
Copyright secured by Digiprove © 2022-2023