Thai green curry fried rice has the best of both: fried rice and curry flavors, two of the most sought-after Asian staples. This easy green curry rice recipe shows you how to make fried rice the right way. You will never have to deal with mushy overcooked rice ever again!
Why You'll Love This Recipe
Who doesn't love Thai flavors? A bowl of delicious curry fried rice exploding with flavors of lemongrass and basil is all you need when that craving for green curry strikes!
I would say this is a beginner-friendly fried rice recipe. (It needs only a handful of ingredients and no special skills are required.)
You can optionally add tofu, chicken, or prawns to this basic vegetarian fried rice to make it a wholesome protein-rich meal. (Instructions are included in the post below.)
I've used brown rice which is more nutritious than white rice.
There's another reason why brown rice is better: it doesn't get overcooked as easily as white rice. So unless you're making curd rice (when you want overcooked rice), brown rice is always safer.
What's the secret to making good fried rice?
Yes, COOKING THE RICE RIGHT. Or else you will end up with a soggy mess.
With brown rice, it is hard to mess up.
In this recipe, I've explained a foolproof method of cooking rice (especially for making fried rice).
When you boil the rice and drain, the starch is removed from the rice. So the grains don't stick together and stir-frying the rice becomes easier. more importantly, you'll NEED LESS OIL TO FRY the rice.
I wanted to make this simple fried rice even healthier than my Keto Thai green curry. Which I've successfully done since there's no coconut milk in this recipe.
However, the taste is not compromised 🙂 I've used coconut oil to compensate for the lack of coconut milk.
Also, you'll need only a fraction of the amount of coconut oil when compared to coconut milk.
Video
Ingredients
(You can find the exact measurements and instructions in the printable recipe card at the end of this page.)
Brown rice: I've used Thai brown rice, but any brown rice is fine.
Green curry paste: You can make this homemade green curry paste or use a store-bought one.
Vegetables: Use any vegetables you usually use for fried rice. Ensure that you dice them into small equal-sized cubes.
Herbs: Thai basil and lime leaves. If you can't get hold of lime leaves, use lime zest.
How To Make Green Curry Fried Rice: Step by step
How To Prepare Rice
Rice cooker method
The quantity of water or stock to cook rice may vary depending on the type of rice being used and the cooking method. I've used Thai unpolished brown rice here. If you're cooking the rice in an electric rice cooker or a pressure cooker, you will require 1½ cups of water for ¾ cup of brown rice.
Instant pot method
Mix 1½ cups of water with ¾ cup of brown rice. Use the 'rice' setting and set the cook time to 12 minutes. Allow the pressure to release naturally.
However, I would suggest the stovetop method, especially if you're making fried rice for the first time.
Stove-top method
If you're not familiar with cooking rice, use this method to cook rice perfectly EVERY SINGLE TIME.
(For step-by-step pictures, check out: stir-fried Thai red rice)
Boil 6 cups of water (for ¾ cup of uncooked brown rice). Vegetable stock can also be used instead of water. This gives you 3 cups of cooked brown rice.
Once the water boils, add rinsed rice. Bring it to a boil again (in an open pot) and then simmer for about 20 to 25 minutes until cooked. Keep a close watch after 15 minutes of simmering.
(In case you use white rice, the cooking time is about 10 to 12 minutes.)
The rice grains should be cooked throughout but not mushy. (The best way to check for doneness is to test a single grain with your fingers, you should be able to squeeze it easily.)
Once the rice is cooked, drain in a colander. Transfer the rice back into the pot and keep it closed for about 10 minutes. This will allow the rice to steam and get fluffy.
Allow the rice to cool by spreading it on a large plate or tray.
How To Dry Rice For Fried Rice (quickly!)
It is common practice to use leftover rice for cooking fried rice. The logic is that refrigeration takes away extra moisture from the rice. That makes it best suited for fried rice.
I use this hack to get almost the same effect: (when I don't have enough leftover rice)
After the rice cools down, refrigerate for 20 to 30 minutes. You can use this time to prep the veggies.
If you're fast enough to do the prep work in 10 minutes, freeze the rice for 10 minutes! Use the same tray you used to cool the rice in and leave it open in the freezer. It's a crude method, but works!
How To Stir fry
Heat coconut oil in a wok or wok pan. Fry the green curry paste on a medium flame for about 5 minutes.
Add finely diced vegetables and stir-fry for about 5 minutes.
Mix together soy sauce and palm sugar and add it to the veggies.
Add water and bring it to a boil. Cook until the vegetables are cooked, yet crunchy.
When most of the water has evaporated and the veggies are cooked, add cooked rice.
Taste and add more soy sauce if needed. Stir-fry the rice on high heat for about 2 minutes.
Make space in the middle of the wok by pushing the rice and veggies to the side. Add beaten eggs and scramble them until set.
Mix the scrambled eggs with rice and turn off the flame.
Garnish with basil leaves and julienned lime leaves.
Variations
This recipe is a basic Thai vegetable fried rice. You can customize it according to whatever protein you have on hand:
Thai Chicken Fried Rice
Chop 300 grams/10.5 oz of boneless chicken into thin strips. Marinate in 2 teaspoons soy sauce for 10 minutes. Add the marinated chicken at step 2, after frying the curry paste. Stir fry for 5 to 8 minutes before adding the vegetables. Then proceed as per the recipe.
Thai Prawn Fried Rice
Shell and devein about 1 kg/2.2 pounds of prawns. Marinate with 1 teaspoon soy sauce and 2 teaspoons fish sauce. Add after frying the curry paste. Stir fry for 3 to 5 minutes. Add the vegetables and proceed as per the recipe.
Vegan Thai Fried Rice
Press 400 grams of firm tofu for about 15 minutes. Dice it into 1-inch cubes. Season the cubes with ½ teaspoon each of salt and pepper. Stir-fry the tofu cubes after frying the curry paste. Fry the tofu until browned, then add vegetables. Proceed as per the recipe (leaving out the eggs).
Important note for vegetarians/vegans: If you use my homemade green curry paste, leave out the dried prawns. (I'm not sure if you can get one from the store that doesn't have prawn paste. Please let me know if you found one. I can mention it here 🙂 )
Recipe Tips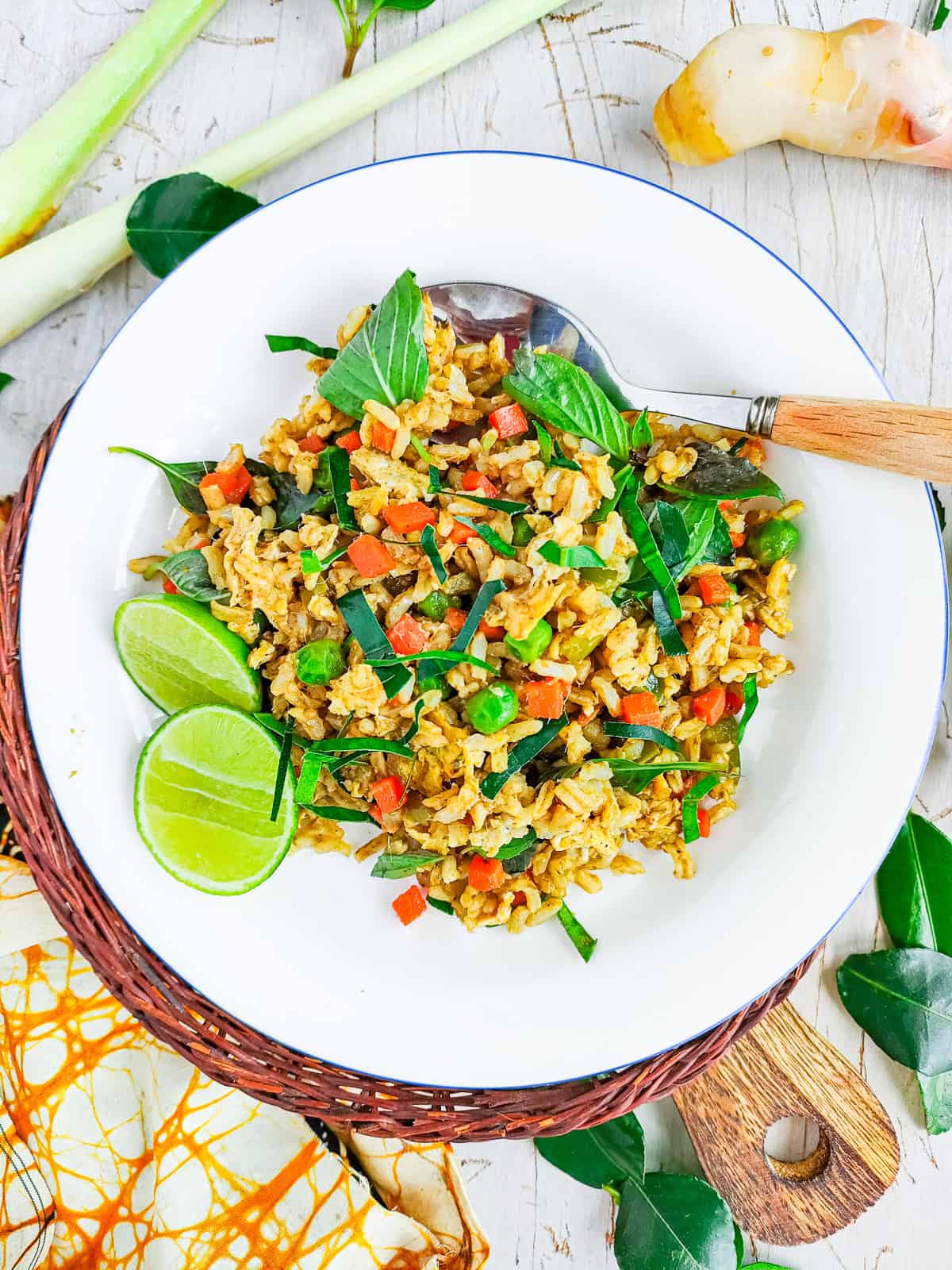 The rice needs to be thoroughly cooled (if possible, refrigerated at least for 10 minutes) before stir-frying so that the grains don't stick together.
Use a wok or a wok pan (like the one in the pictures above) that makes stir-frying easy.
If you're using store-bought green curry paste, the salt and spice might slightly differ. Taste and add salt and pepper, if there's less flavor.
Common Questions
I have listed some potential questions (and answers) you might have about fried rice. If you have more questions, please feel free to ask in the comments section👇
Is brown rice healthy?
Brown rice is a healthier alternative to white rice since it is unpolished rice and has more nutrients like antioxidants, minerals and vitamins along with fibre that keeps you full longer and hence reduces your intake. The glycemic index (rate at which it increases blood glucose levels) is also lower than white rice.
Do you need to soak rice before cooking?
If you have the time, soak the brown rice for about 20 minutes. This results in fluffier rice and also helps speed up the cooking process. (Reduce the cooking time by 5 minutes if you use a pressure cooker or instant pot to cook soaked rice.)
Why is my fried rice soggy?
1. To make fried rice, the rice should be cooked with the right amount of water. It gets soggy if the quantity of water used is more than necessary. Use the cook and drain method as above: cooking in a lot of water and draining removes starch from the rice, making it fluffy. This ensures that the grains don't stick to each other.
2. The rice has to be cold and dry before frying. Leaving cooked rice in the fridge overnight or at least for 30 minutes dries it up.
3. The rice should be stir-fried quickly on high flame with enough oil so that they don't get mushy.
Can cooked rice be frozen?
Cooked rice (and also fried rice) can be frozen for up to a couple of months. Thaw overnight in the refrigerator.
Use this small trick for best results: Before you reheat in the microwave, toss the rice with a few spoons (about 1 tablespoon for every cup of cooked rice) of hot water. This steams the rice and makes it as fluffy as freshly cooked rice.
What To Pair With Thai Green Curry Rice
Green curry rice tastes great with chicken mince stir fry or better-than-takeout sesame chicken.
You can also pair it with vegan dishes like Thai basil tofu, chili garlic tofu scramble or honey garlic tofu.
More Thai Recipes
★★★★★Did you try this recipe? Please give a star rating in the comments below ★★★★★
HUNGRY FOR MORE? Join over 1000 home cooks like you who subscribe to my weekly newsletter to get all the latest recipes right in your inbox. Or follow me on your favorite social media: Facebook, Pinterest, Instagram, and YouTube. Thank you and happy cooking!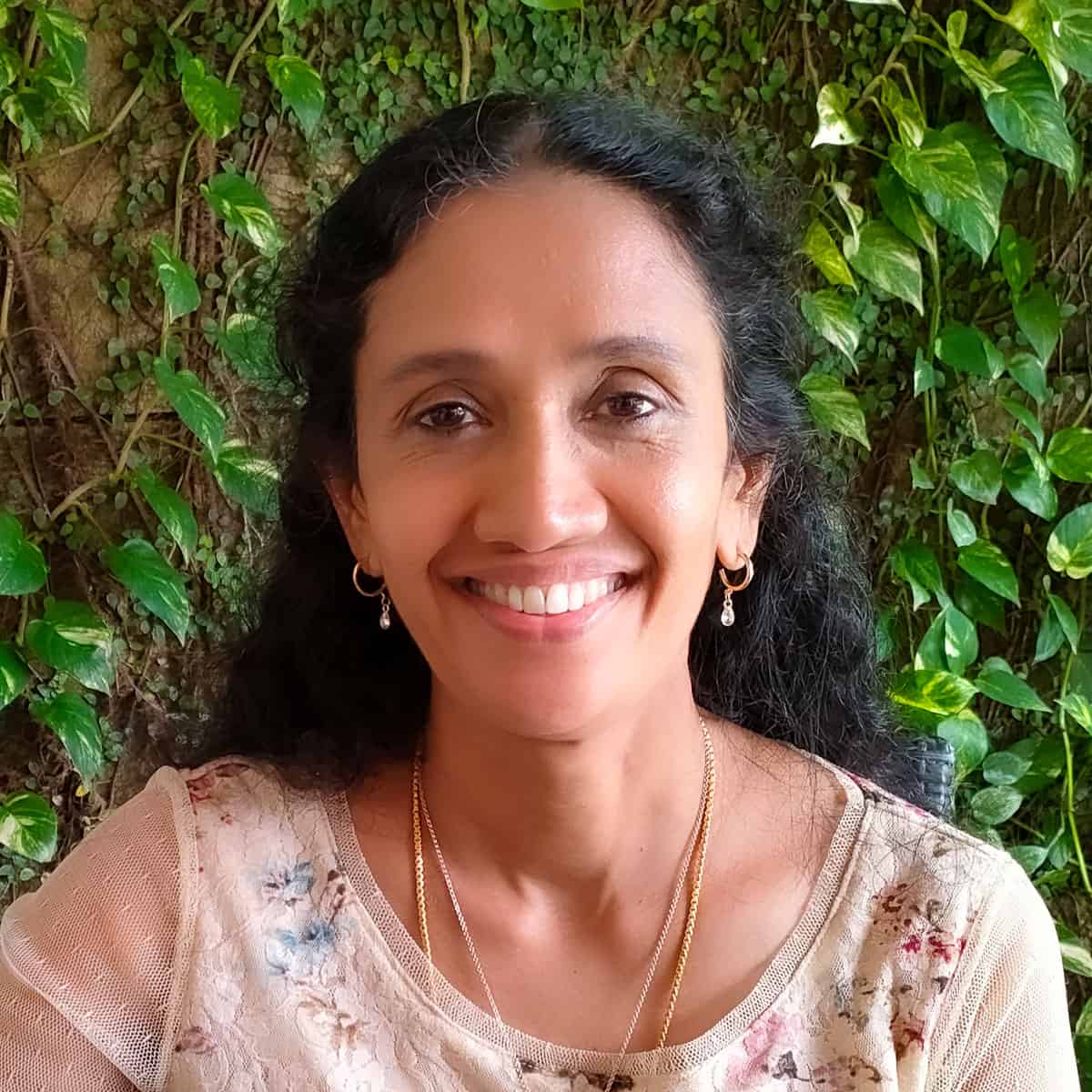 Hi! I'm Sheeba, welcome to Go Healthy ever after!
I have a passion for cooking delicious nourishing food that's easy to cook with fresh natural ingredients free from additives or preservatives. The easy healthy recipes you find here will inspire you to cook with creativity.
Copyright secured by Digiprove © 2022-2023