Bagalabath is Indian yogurt rice made by mixing plain yogurt and rice and finished off with tadka (tempering). It is known by many names in different parts of India: dahi bhat, thayir sadam, daddojanam or simply curd rice. The mix-ins and tadka can be customized and there are endless possibilities!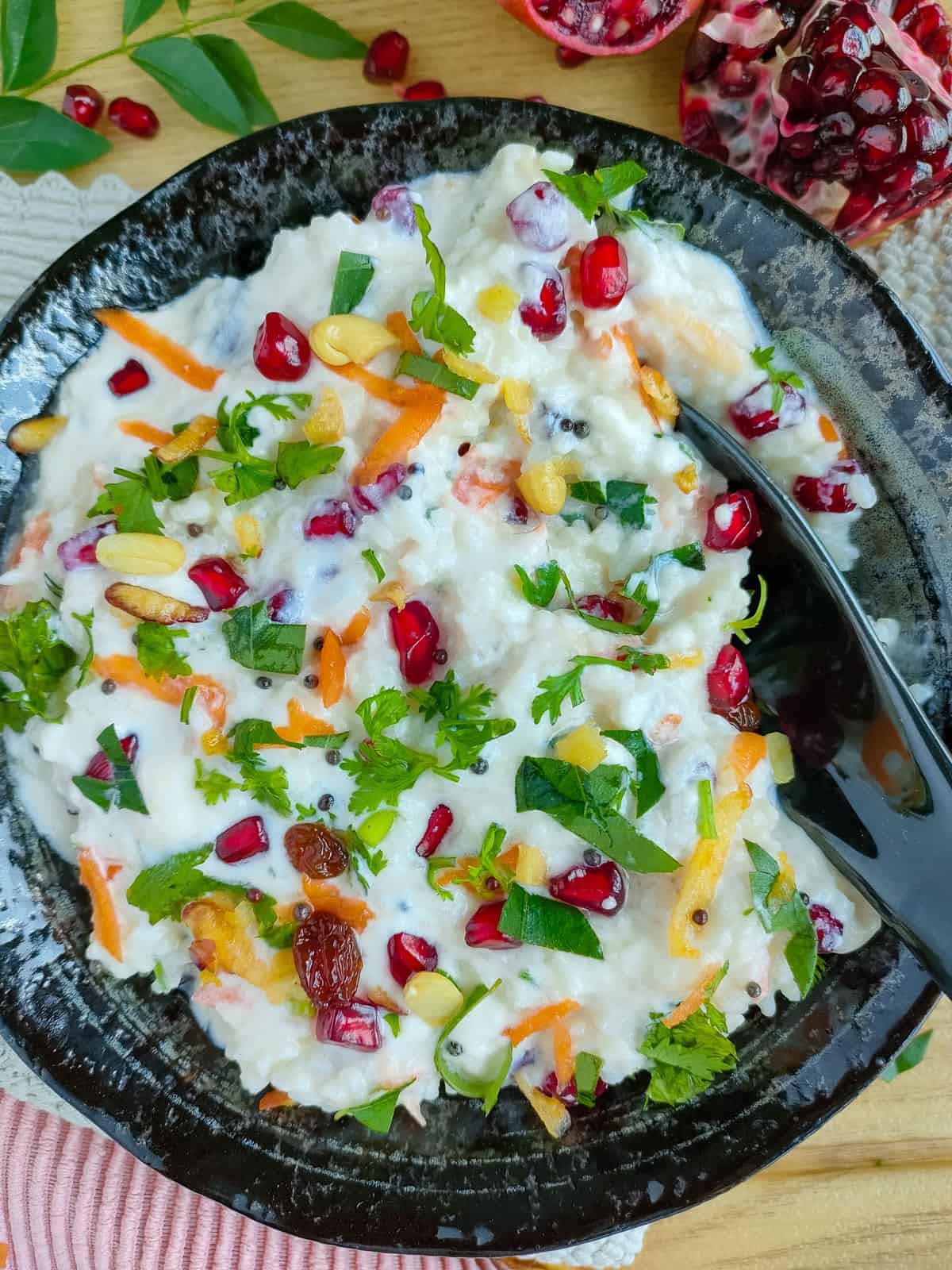 Why You'll Love This Curd Rice Recipe
Creamy comfort food that's ALSO healthy, anyone?
This dahi bhat loaded with fruits and vegetables is so yummy and also good for you. There are just about 270 calories in this curd rice recipe. It can be served as a main dish for vegetarians or as part of a quick and easy dinner.
This curd rice with pomegranate, carrot and other fruits and nuts has protein, fibre, calcium, vitamins and minerals. This recipe is as nutritious as it can get.
I've been going back and forth before writing this recipe. Do you even NEED a recipe post for curd rice? You make it by mixing mashed rice with yogurt, right?
Dahi bhaat is as simple as it sounds, but there are little details that make all the difference:
What type of rice to use
How well to cook and mash the rice
How and when to add yogurt
Mix-ins and tadka (tempering), where the magic happens.
My friends and family always rave about my curd rice. And the funny thing is that I would've cooked quite a few dishes like chana masala, crispy prawn fry, fish cutlets, and chicken curry! I do receive compliments on those, but this bagalabath has always emerged as a winner.
I finally decided to publish this foolproof recipe for bagalabath. So that you too can get similar compliments 😉 Here's the recipe:
Ingredients
(You can find the exact measurements and instructions in the printable recipe card at the end of this page.)
Rice: I use Indian parboiled rice but any white rice (like Jasmine rice) is fine.
Yogurt: You can use either homemade or store-bought.
Milk: Regular whole milk is fine. You can use skimmed milk if you prefer that. I would advice you against full-fat milk, though many recipes recommend that. There won't be much difference in taste, and the excess fat and calories are not worth it.
Fruits and vegetables: I've used pomegranate, apples and carrots. You can use others like grapes, strawberries, grated pears, and cucumbers.
Nuts and dry fruits: Cashews, almonds walnuts, peanuts, raisins, cranberries, dates, anything works here.
How To Make Bagalabath: Step by step
Cook The Rice
Rinse 1 cup of rice and add 2¼ cups of water. Cook in the instant pot or rice cooker for 12 minutes. If using a pressure cooker, wait for a whistle, reduce flame and cook for 10 minutes.
Let the pressure release naturally. The rice should be slightly more overcooked than usual. Transfer it to a deep bowl.
A quick tip: Bagalabath requires overcooked rice. So you don't have to worry about overcooking the rice. Actually, you can make this curd rice if you accidentally overcook the rice!
Mash The Rice
Mash the cooked rice with a ladle or a potato masher.
Boil 1 cup of milk and add 1½ teaspoons of salt. Slowly add it to the rice and mash again. Keep aside to cool.
Make Curd Rice Tadka
Heat 1 teaspoon of olive oil in a small pan. Add 1 teaspoon of mustard seeds. When they start popping, add 2 dried red chilies and 1 tablespoon of finely chopped ginger. Roast for a couple of minutes.
Stir in a handful of curry leaves. Add about 10 to 12 chopped cashews and 1 tablespoon of raisins. Stir until the cashews start turning brown. Keep the tadka aside and let it cool down.
Add Yogurt and Mix-ins
Once the rice cools down, add 2 cups of yogurt. Mix well until you get it smooth without lumps.
Prepare ½ cup each of pomegranate seeds, grated carrot, grated apple, and chopped coriander leaves. Add them to the curd rice.
Add the cooled tadka to the rest of the bagalabath ingredients in the bowl.
Mix Together
Mix all the ingredients well. Add ¼ to ½ cup more yogurt as necessary. The dahi bhat should be creamy and easy to scoop out.
Garnish with more fruits and herbs and serve.
Recipe Tips
Type of rice: I have tested bagalabath with all types of rice and found white, regular-sized rice to be the best suited for this recipe. It turns out creamy since it has more starch than basmati and other types of long-grain rice. Brown rice or red rice contain bran, the outer layer of the grain. So they don't turn out much smooth either.
Mashing the rice: Do not mash the rice all the way to a paste. You don't want your dahi bhat to look and taste like baby food. Mash until you can no longer find full grains of rice.
Adding milk: This is another secret to a creamy thayir sadam. When you add hot milk and mash again, the rice becomes even creamier.
Adding yogurt: Add yogurt AFTER the rice has completely cooled down. Exposing curd to heat will cause it to separate and turn lumpy. Also, rice tends to absorb a lot of moisture and dries up over time. If you're not serving the curd rice right away, make sure you reserve some yogurt to mix in just before serving.
Scaling: This recipe can be easily multiplied to serve more or fewer people.
Make ahead: Dahi bhaat is best eaten fresh. You can store it in the refrigerator for a maximum of 2 days. Add more yogurt before serving. It is not suitable for freezing.
Storing leftovers: Store leftovers in the fridge and use them up within a day or two.
Curd Rice Benefits
Aids digestion: Consuming curd rice helps to restore healthy microbial balance which, in turn, helps in better digestion. Rice helps bulk up stools and relive diarrhoea as well. It is often consumed at the end of the meal is because it helps digest the food better.
Rich source of protein: Curd is a good source of protein. It is also a good antioxidant and has high contents of calcium.
Relieves cramps: Rice is a good source of magnesium and potassium, which helps reduce stomach cramps and pain. Curd rice is beneficial for premenstrual cramps as well.
Improves immunity: The probiotics in curd help improve immunity and make the body capable of fighting diseases.
Mood enhancer: Curd can be a stress-buster and can lift your mood. According to studies, probiotic bacteria and good fats, both found in curd, can help reduce stress.
More Rice Recipes
★★★★★Did you try this recipe? Please give a star rating in the comments below ★★★★★
HUNGRY FOR MORE? Join over 1000 home cooks like you who subscribe to my weekly newsletter to get all the latest recipes right in your inbox. Or follow me on your favorite social media: Facebook, Pinterest, Instagram, and YouTube. Thank you and happy cooking!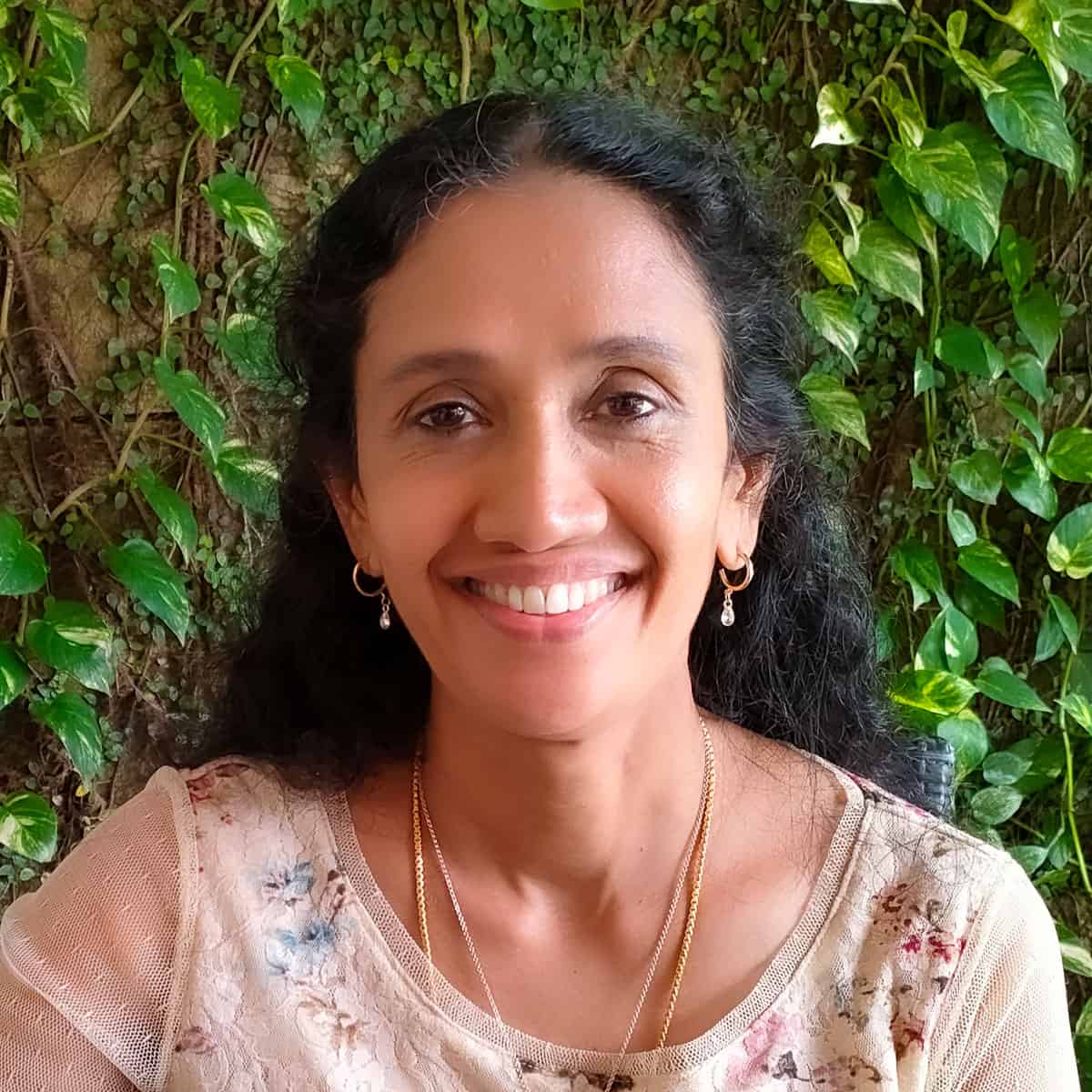 Hi! I'm Sheeba, welcome to Go Healthy ever after!
I have a passion for cooking delicious nourishing food that's easy to cook with fresh natural ingredients free from additives or preservatives. The easy healthy recipes you find here will inspire you to cook with creativity.
Copyright secured by Digiprove © 2023