Varutharacha chicken curry is one of the authentic Indian chicken curry recipes from the Southern state of Kerala. Made with aromatic roasted spices and coconut, this easy kozhi varutha curry might soon become your next favorite curry.
What is Varutharacha Chicken Curry?
"Varutharacha" literally means roasted and blended. This chicken curry is made by roasting coconut, onions, garlic and spices and blending them into a delicious gravy.
Marinated chicken is then cooked in this spicy gravy to give you an Indian chicken curry you'll fall in love with!
This chicken varutharacha curry is another of my mom's authentic Kerala-style curries like nadan chicken curry, easy parippu curry, 7-ingredient Kerala fish curry, sprouted mung bean curry and simple egg curry with coconut.
By roasting the coconut and spices you deepen the flavors, as in omelet curry recipe. You are also cutting down the cooking time and effort by roasting and blending the spices and aromatics along with coconut.
This is the same trick I used for recipes like chana masala with blended spices and Mangalore fish curry.
In addition to the whole spices in chicken gravy, you also use a couple of spices to marinate the chicken. Chicken is still the star of the recipe, so don't forget to add flavor to that.
There you go, an easy varutha kozhi curry with tons of flavor infused in every drop! Here's how you make it:
Ingredients
(You can find the exact measurements and instructions in the printable recipe card at the end of this page.)
Chicken: You can use thighs, drumsticks, breasts or a mix. Chop them into bite-sized pieces. (If using drumsticks or thighs with large bones, increase the cooking time by 10 or 15 minutes.)
Coconut: This is the second most important ingredient in this recipe. I recommend freshly grated coconut (or fresh coconut meat in any other form, like chunks or flakes). If only the frozen form is available, thaw it completely before using. Coconut cream or milk is not suitable for this recipe.
Onions: You can replace the onion (for roasting with coconut) with 5 or 6 pearl onions.
Ginger-garlic paste: If you're not used to making the paste at home, use grated ginger and garlic.
Whole spices: If you don't have them, you can use store-bought ground spices. Or replace them with 1 teaspoon garam masala and ½ teaspoon pepper. There will be a slight change in flavor, though. Add them after roasting the coconut.
Coconut oil: It gives authentic Kerala flavor to the curry. However, if unavailable, you can substitute it with sunflower oil or olive oil.
How To Make Varutharacha Chicken Curry: Step by step
1. Marinate Chicken
Chop 850 grams of chicken into 2-inch pieces. Add 1 teaspoon chili powder, ½ teaspoon coriander powder, ¼ teaspoon turmeric, 1 teaspoon salt and 1 tablespoon lemon juice.
Mix the spices with the chicken. Let it marinate for a minimum of 30 minutes. Marinating chicken, even in the case of chicken mince, adds more flavor.
2. Roast
Heat 1 tablespoon of coconut oil in a pan or cooking pot. Add 2 dried red chilies, 1 teaspoon coriander seeds, 1 teaspoon peppercorns, 1-inch piece of cinnamon, 2 cardamoms, and 2 cloves. Add 1 diced onion (or pearl onions) and 3 diced cloves of garlic. Roast until the onions turn translucent.
Add 2 teaspoons of fennel seeds and 1 teaspoon cumin seeds. Roast for a couple of minutes.
Add 1 cup of grated coconut.
Roast on low flame until the coconut is well-browned. Cool the mixture.
3. Blend
Add ½ cup of water. Blend it until you get a smooth consistency.
4. Make Varutha Kozhi Curry
Now let's start making the curry. Heat 1 tablespoon of coconut oil in a deep pot. Saute 2 finely diced onions.
Add 2 teaspoons of ginger-garlic paste. Saute until you get a nice roasted aroma.
Finely chop a large tomato. Add to pan and saute until the tomatoes are cooked to a mashed consistency.
A quick tip: If you made the easy curry paste, you can use 1½ cups of that instead of cooking the onions and tomatoes. Since the curry paste has spices and salt, reduce the salt and spices (for marinating the chicken) by half.
Add the marinated chicken and saute on medium-high flame for about 5 minutes. Fry until the chicken turns partially white.
Add 1 cup of water. Cook on high heat and bring it to a boil.
Once it boils, reduce heat. Cover the pot and cook on low flame for about 10 minutes.
Add the roasted and blended coconut paste and mix well to dissolve lumps.
Cover the curry and simmer for 5 minutes.
Garnish with chopped coriander and curry leaves. Remove from heat and serve.
Recipe Tips
Chicken: I prefer bone-in chicken pieces for this recipe, as in chicken rogan josh. Bones add more flavor to the curry and keep the chicken juicy. This is true for all my chicken curry recipes like pepper chicken gravy, keto Thai chicken green curry and easy 5-ingredient chicken curry, too.
Marinating: If time permits, marinate the chicken longer. Marinating overnight gives the best results.
Adding coconut paste: Do not let the curry boil for too long after adding the blended coconut and spices. Overboiling might reduce the intensity of the flavors. That's the reason we add blended spices towards the end of cooking in recipe like jeera chicken with yogurt.
Varutharacha chicken curry can be served with rice, chapati (roti), dosa or any bread of your choice.
Common Questions About Chicken Curry
What is the secret to making a good curry?
1. To begin with, making a good curry needs patience. Saute the onions, ginger and garlic until you no longer get the raw smell.
2. Saute the tomatoes until they turn mushy and you see the oil separate.
3. Use fresh spices wherever possible. Roasting and grinding them deepens the flavors.
4. If you like the flavor of a particular spice more (like cumin or garam masala), add it towards the end of cooking.
5. Roast fresh coconut (if using) and then blend for maximum flavor. Again, roast patiently on low flame without burning the coconut.
What brings out the flavors of curry?
1. Roast the spices (even the ground ones) to enhance the flavors of the curry.
2. Saute onions, ginger and garlic on low flame for a good 10 to 12 minutes.
3. In addition to tomatoes, you can add tomato paste.
How do you keep chicken soft in a curry?
1. Marinate the chicken with chili powder, salt, lemon juice and/or yogurt. Lemon juice and yogurt tenderize the chicken and make it soft.
2. Use bone-in chicken whenever possible. The chicken turns out softer and the bones add amazing flavors to the curry.
3. Simmer the curry only until the chicken is cooked.
Does cooking curry longer make it taste better?
As I said above, sauteing the aromatics longer gives the best results. However, do not over-boil the curry after adding the chicken or vegetables. It will lead to overcooked chicken. And in the case of fish or vegetables, they might get soggy.
How do you thicken curry?
There are several ways you can thicken your curry in a healthy way:
1. Roast coconut and spices in oil and blend. Add the paste towards the end of cooking.
2. Blend some cashews or almonds and add to the curry.
3. Blend the onions and puree the tomatoes instead of chopping them.
4. You have tried everything but the curry is still runny?
Try this trick: Remove the chicken (or any vegetable,fish or anything you're cooking the curry with). Increase the flame to high and boil until the curry thickens. DO NOT cover the pot. Add the chicken (or veggies/fish) back into the curry. Garnish and serve.
Looking For More Curries?
Printable Curry Paste Recipe
Grab a printable copy of the curry paste that helps home cooks like you cook different curries in 30 minutes or less:
★★★★★Did you try this recipe? Please give a star rating in the comments below ★★★★★
HUNGRY FOR MORE? Join over 1000 home cooks like you who subscribe to my weekly newsletter to get all the latest recipes right in your inbox. Or follow me on your favorite social media: Facebook, Pinterest, Instagram, and YouTube. Thank you and happy cooking!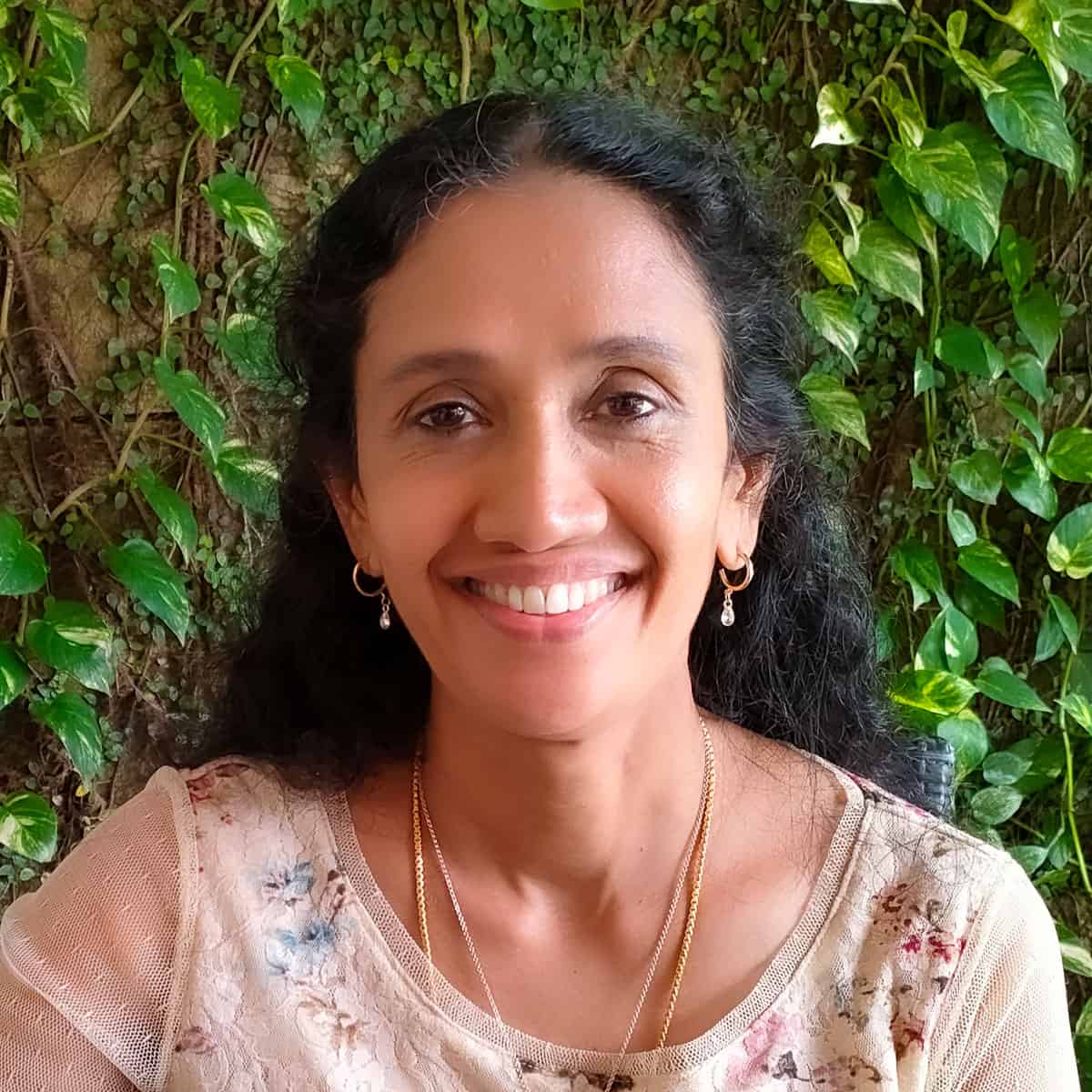 Hi! I'm Sheeba, welcome to Go Healthy ever after!
I have a passion for cooking delicious nourishing food that's easy to cook with fresh natural ingredients free from additives or preservatives. The easy healthy recipes you find here will inspire you to cook with creativity.
Copyright secured by Digiprove © 2023