Fluffy omelette bites with a rich, aromatic curry sauce. Egg omelet curry recipe brings together the best of both worlds for a satisfying, protein-packed meal. This nutritious curry with loaded omelet can be served for breakfast or dinner.
Why you'll love this egg omelette curry recipe
Quick and easy to make, this egg omelette curry recipe is a perfect blend of protein and spice. Among all the egg curry recipes here, this omelet curry is often requested by my family. We make it almost once every week.
Most of the egg curry recipes like egg kurma with coconut and Kerala-style egg roast use boiled eggs that are cooked and spiced up with curry sauce. This omelet curry takes the delicious egg curry to the next level.
It is also a great recipe to use up leftover omelet. You can store leftovers and make omelette curry for an easy dinner recipe.
The SECRET lies in spicing up the omelette AND curry sauce. I use a unique mix of roasted spices and coconut to do this.
There are also fresh vegetables in the omelette, making it a wholesome and nutritious curry.
My step by step instructions will guide you through this easy recipe.
Ingredients
(You can find the exact measurements and instructions in the printable recipe card at the end of this page.)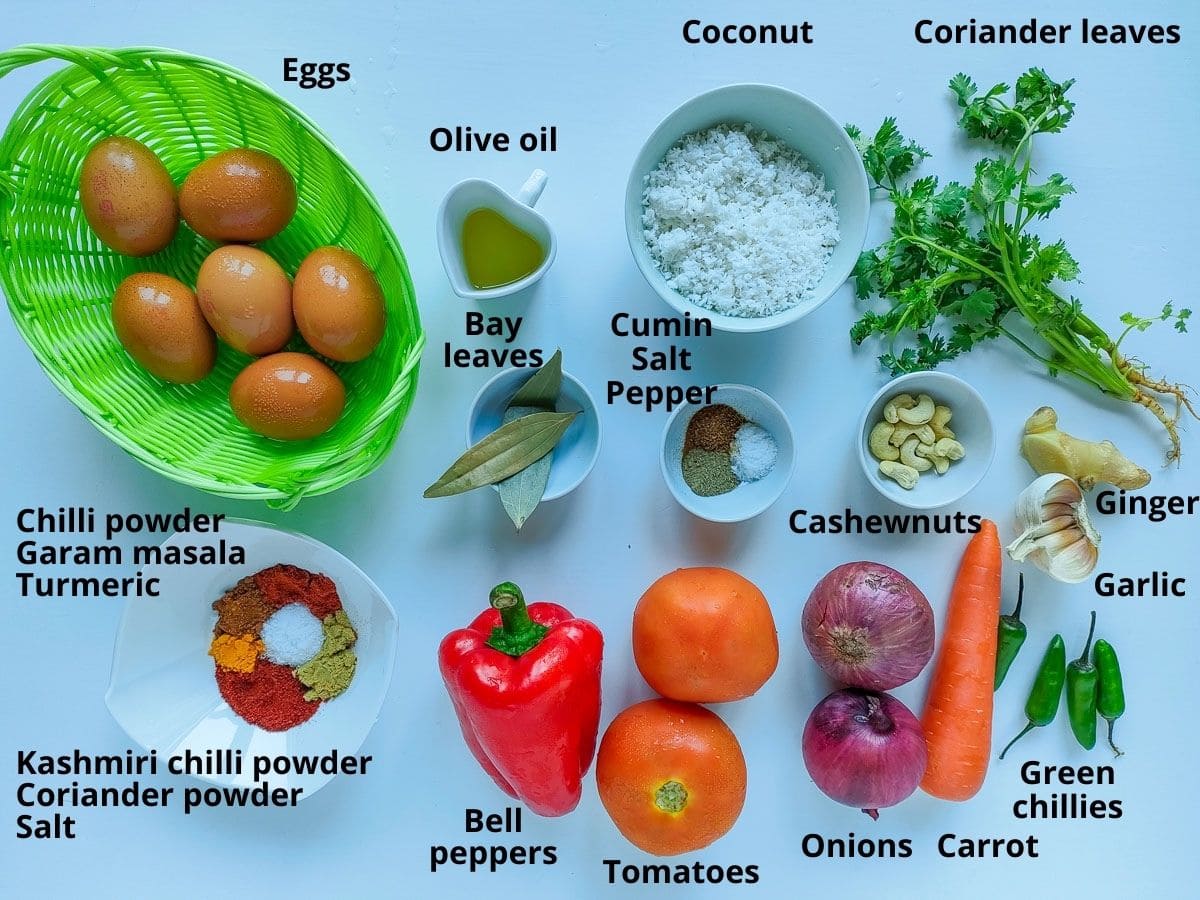 Eggs: Use large fresh eggs.
Olive oil
Vegetables: I've used carrots and bell peppers. You can use other fresh vegetables like spinach, cabbage, beans, etc.
Spices: You'll need red chili powder (sub with cayenne) for the heat, Kashmiri chili powder (or paprika) for flavor and bright color. Other ground spices include coriander powder, turmeric powder and garam masala.
Coconut: Grated coconut works best for this recipe. Roasted and blended coconut tastes great (as in my varutha chicken curry recipe). If you don't have it, you can use coconut cream. See the tips section below to use it in this recipe.
Other flavor makers: onions, tomatoes, green chillies, ginger and garlic (or ginger-garlic paste)
Fresh herbs: Bay leaf and coriander leaves add flavor to both the omelet and the curry sauce.
How to make egg omelette curry: step by step
Make masala spice blend
Heat olive oil in a pot or wok pan. Saute bay leaf, green chili and cashews.
After a couple of minutes, add finely diced onions, ginger and garlic.
Stir on medium flame until the onions turn translucent and the raw smell disappears.
Add minced or finely chopped tomatoes.
Stir on medium high heat until the tomatoes are cooked and mushy.
Add grated coconut and saute until the coconut is browned.
Stir in the spices: red chilli powder, Kashmiri chilli powder, coriander powder, turmeric and garam masala.
Saute for 3 minutes on low heat and turn off the flame.
Let it cool. Blend into a smooth paste.
Saute vegetables for omelet
Take a couple of minutes to saute the veggies before adding them to the omelette. This removes excess moisture and makes it tastier.
Heat olive oil in a frying pan. Saute finely chopped onion, green chilies and bell pepper. Saute for a couple of minutes.
Add grated carrot, salt, pepper and ground cumin.
Turn off the flame and add chopped coriander leaves. Let the mixture cool.
Cook egg omelettes
Beat the eggs in a large bowl.
Add the sauteed and cooled vegetables to the beaten eggs. Add 2 teaspoons of the blended coconut onion paste from step 1.
Whisk until well combined.
Divide the egg mixture into 3 parts (about ½ cup each).
Heat olive oil in a frying pan. Pour one portion of the egg mixture into the pan.
Cover the pan and cook on low heat.
When the egg leaves the sides of the pan, flip the omelette.
Cook for a minute and remove the omelette.
Repeat to make 2 more omelettes. This masala omelette is very flavorful and can be eaten as such.
But wait! The best is yet to come.
Chop the cooked omelettes into square pieces or thick strips. Keep aside.
Make curry sauce
Heat oil in a pot. Add bay leaf and blended tomato onion paste. Fry for a minute. You don't have to saute the onion paste since it is already roasted and aromatic.
Add water gradually and keep stirring so that there are no lumps.
Increase the heat bring it to a boil.
Cover the pot with a lid and simmer on medium heat for 5 minutes.
Add omelettes to the curry
Gently drop the omelette pieces into the spicy gravy. Stir until all the pieces are covered with the gravy.
At this point, the curry should be a bit runny. The omelet pieces will absorb some of the curry and make it thick.
Garnish with coriander leaves and turn off the flame.
Let it rest for 10 minutes. Enjoy your delicious egg omelet curry!
Recipe tips
Omelette: You can use the loaded cabbage omelette for this curry. Skip the cheese and flip the omelette. Then proceed as per the recipe.
Don't want to blend? Replace grated coconut with ¼ cup of coconut cream. Add it to sauteed onion tomato mixture and proceed with the recipe without blending.
Adding water: To avoid lumps in the curry, add ½ cup of water and stir first. Then add the rest of the water slowly.
Cooking omelette: Ensure that you cover and cook the omelette. It should be well done. Ideally, the omelet should be cooked to a golden brown.
This omelet recipe is quite forgiving. Do not worry about overcooking it. Once the spongy omelette is dropped into the curry, it absorbs all the amazing flavors and becomes soft and juicy.
Consistency of curry: The curry might thicken over time since the cut omelettes absorb the sauce. In that case, you can a few tablespoons of hot water.
Variation: Paniyaram pans (appe pans) can be used to make rounded omelette chunks instead of pan-fried omelette.
Storing and make ahead option
Storing leftovers: Egg omelet curry keeps fresh in the fridge for about 3 to 4 days.
Make ahead: This omlette curry can be made and stored 4 days ahead. It is not suitable for freezing, since the texture of the omelets might change.
Reheating: Reheat in a loosely covered container. If the refrigerated curry becomes too thick, add a few spoons of hot water before reheating.
Health benefits of eggs
Eggs might be the ultimate weight management food. Low in calories and high in protein, eggs rank high on the satiety index, which means they may help you feel fuller for longer. (source)
Strong muscles: The high-quality protein in eggs helps maintain and repair body tissues, including muscle.
Brain health: Eggs contain vitamins and minerals that are necessary for the brain and the nervous system to function effectively.
Energy production: Eggs contain all the nutrients that the body needs to produce energy.
A healthy immune system: Vitamin A, vitamin B-12, and selenium in eggs are key to keeping the immune system healthy.
Lower risk of heart disease: The choline in eggs plays an important part in breaking down the amino acid homocysteine, which may contribute to heart disease.
A healthy pregnancy: Eggs contain folic acid, which may help prevent congenital disabilities, such as spina bifida.
Eye health: The lutein and zeaxanthin in eggs help prevent macular degeneration, the leading cause of age-related blindness. Other vitamins in eggs also promote good vision.
Weight loss and maintenance: The protein in eggs can help people feel full for longer. This can reduce the urge to snack and lower a person's overall calorie intake.
What to pair with this egg omelet curry
If you don't have enough time, skip the curry sauce and make just the masala omelettes:
The loaded omelet with vegetables can be served as breakfast or brunch with a cup of coffee.
Make an egg sandwich with the fluffy omelette and cheese slices.
But you can't stop yourself from making this omelette curry and serving it with
Plain boiled rice
Indian bread like naan, chapathi or paratha.
Printable Curry Paste Recipe
Grab a printable copy of the curry paste that helps home cooks like you cook different curries in 30 minutes or less:
★★★★★Did you try this recipe? Please give a star rating in the comments below ★★★★★
HUNGRY FOR MORE? Join over 1000 home cooks like you who subscribe to my weekly newsletter to get all the latest recipes right in your inbox. Or follow me on your favorite social media: Facebook, Pinterest, Instagram, and YouTube. Thank you and happy cooking!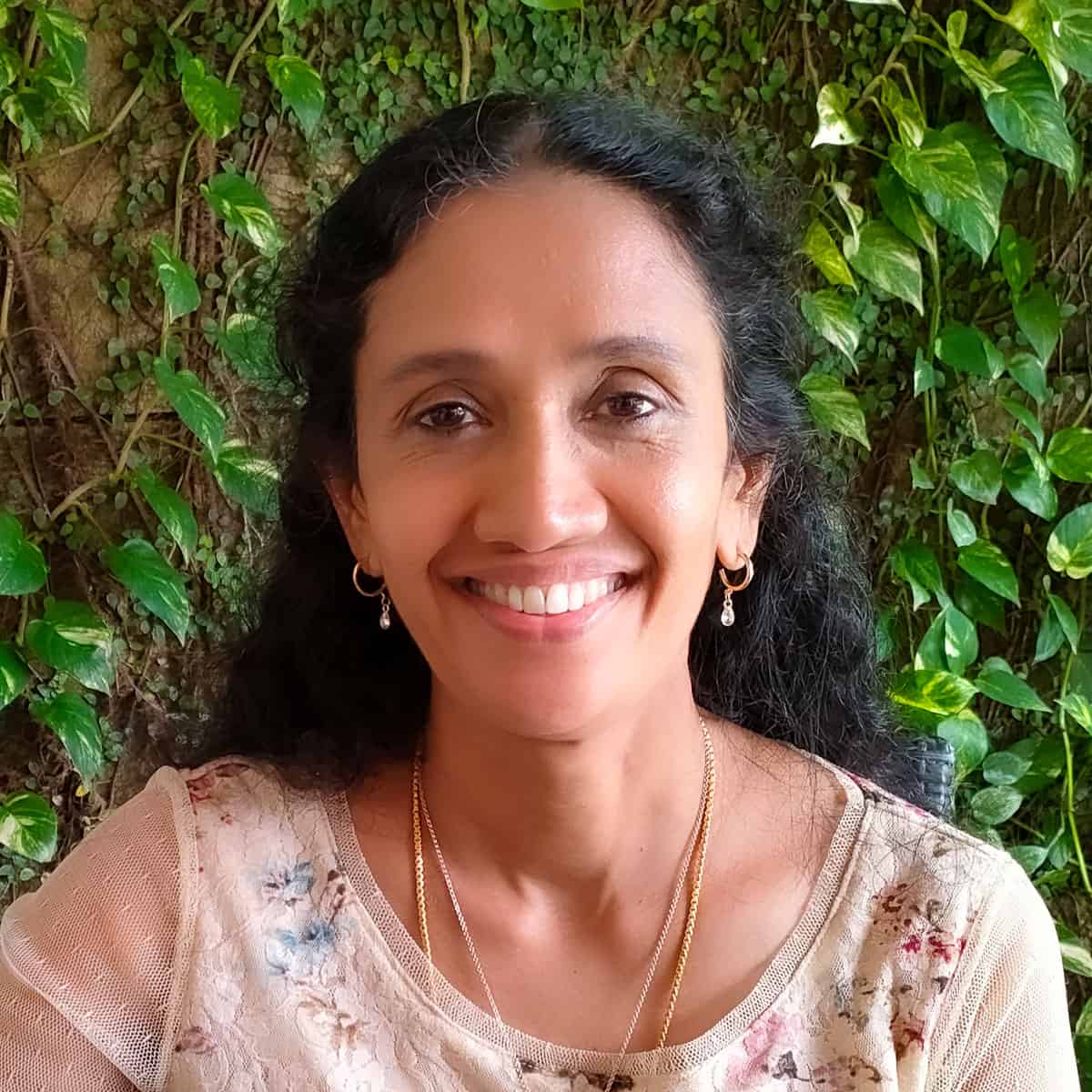 Hi! I'm Sheeba, welcome to Go Healthy ever after!
I have a passion for cooking delicious nourishing food that's easy to cook with fresh natural ingredients free from additives or preservatives. The easy healthy recipes you find here will inspire you to cook with creativity.