Kerala egg roast, also called nadan mutta roast is a simple Kerala-style semi gravy egg recipe. Boiled eggs are roasted with onions, tomatoes and simple spices to give you a mouth-watering egg roast.
Why You'll Love This Recipe
This Kerala egg roast recipe is a simple egg-based curry that can be quickly made with ingredients you already have in your kitchen.
The egg roast requires just a few basic spices. You use ground spices here and there's no need to blend anything. It is as easy as my mutton masala recipe.
It is a versatile gravy like egg kheema masala. It can be used with rice, roti, appam or dosa for a quick and easy dinner. It also tastes amazing with toast as a healthy breakfast or brunch.
This mutta roast is a predominantly onion-based gravy, with sautéed onions giving flavor and body to the egg roast. The sweetness of the browned onions complements the spices so well.
This is yet another of my mom's recipes like the sprouted moong curry and Kerala chicken curry. These are curries with authentic Kerala flavors of coconut, curry leaves, and spices.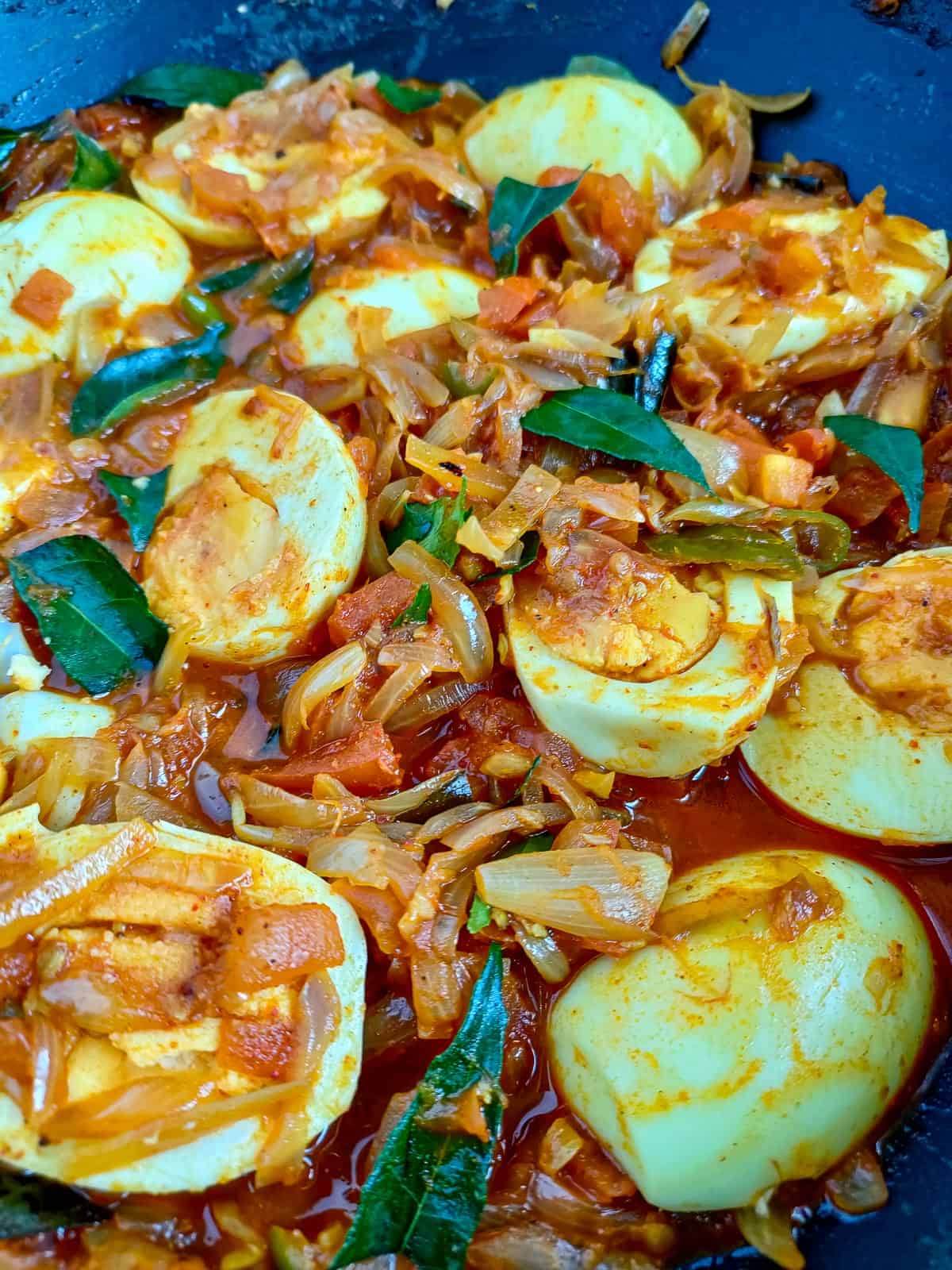 Video
Ingredients
(You can find the exact measurements and instructions in the printable recipe card at the end of this page.)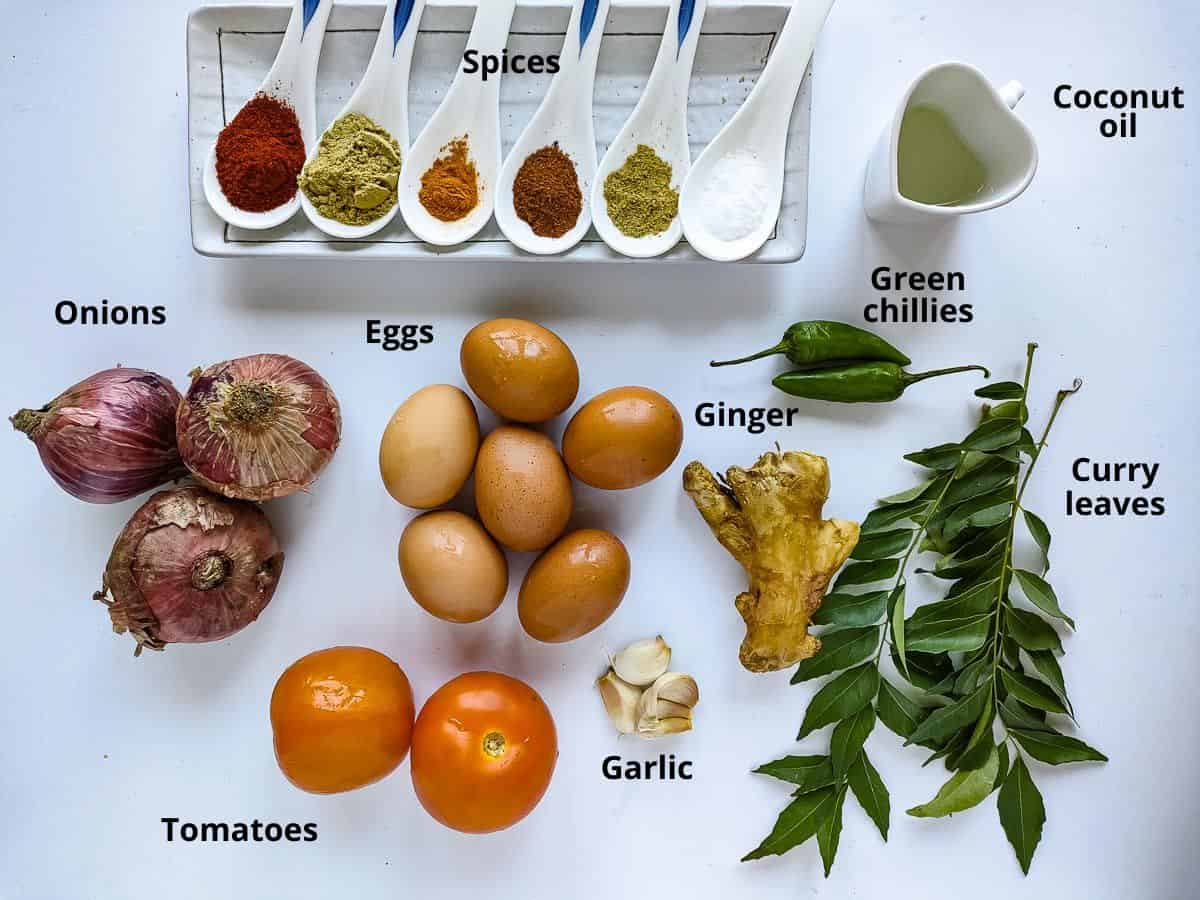 Eggs: Medium or small eggs hold their shape better for this recipe.
Green chillies and curry leaves give the characteristic Kerala flavor (as in the Kerala chicken curry).
Onions are one of the important ingredients as I mentioned earlier. Choose good-quality red onions.
Coconut oil is another ingredient that reminds us of Kerala flavors (as in Kerala fish curry and parippu curry). If not available, other vegetable oils can be used, but you'll miss the distinct flavor.
Spices:

Fennel powder is also an ingredient often used in Kerala cuisine. You can buy it at Asian stores. You can also roast and grind fennel seeds.
Chilli powder: I've used Kashmiri chilli powder here. It gives color and flavor without much heat. If you would like more heat, replace it with regular chilli powder or use half of both.
Other spices needed for this egg roast are coriander powder, turmeric powder and garam masala.
How To Make Kerala Egg Roast: Step by step
How to Make Perfect Hard Boiled Eggs
You don't need instructions to boil eggs, but I've found that boiling eggs this way gives perfectly cooked eggs and also makes them easier to peel:
Take water in a deep pot and slowly place the eggs. Water should completely cover the eggs.
Bring it to a rolling boil.
Remove from heat and keep covered for 12 minutes for medium-sized eggs. (10 minutes for small eggs and 14 for large ones.)
Transfer the eggs to ice water (water should cover the eggs).
After 5 minutes, peel and halve the eggs. There you go! This way you can peel them very easily. And you get perfectly cooked egg whites with soft but well-cooked yolks.
Make the Gravy
Heat oil in a pan. Add thinly sliced onions and sauté until they turn translucent.
Add chopped green chillies and curry leaves. Keep stirring until the onions start turning brown.
Add minced ginger and garlic. Sauté until everything is well-browned.
Add tomatoes and stir until they are cooked and mashed.
Add the spices and stir.
Add water as required. Bring it to a boil and simmer for about 10 minutes until everything comes together as a thick gravy.
Add Eggs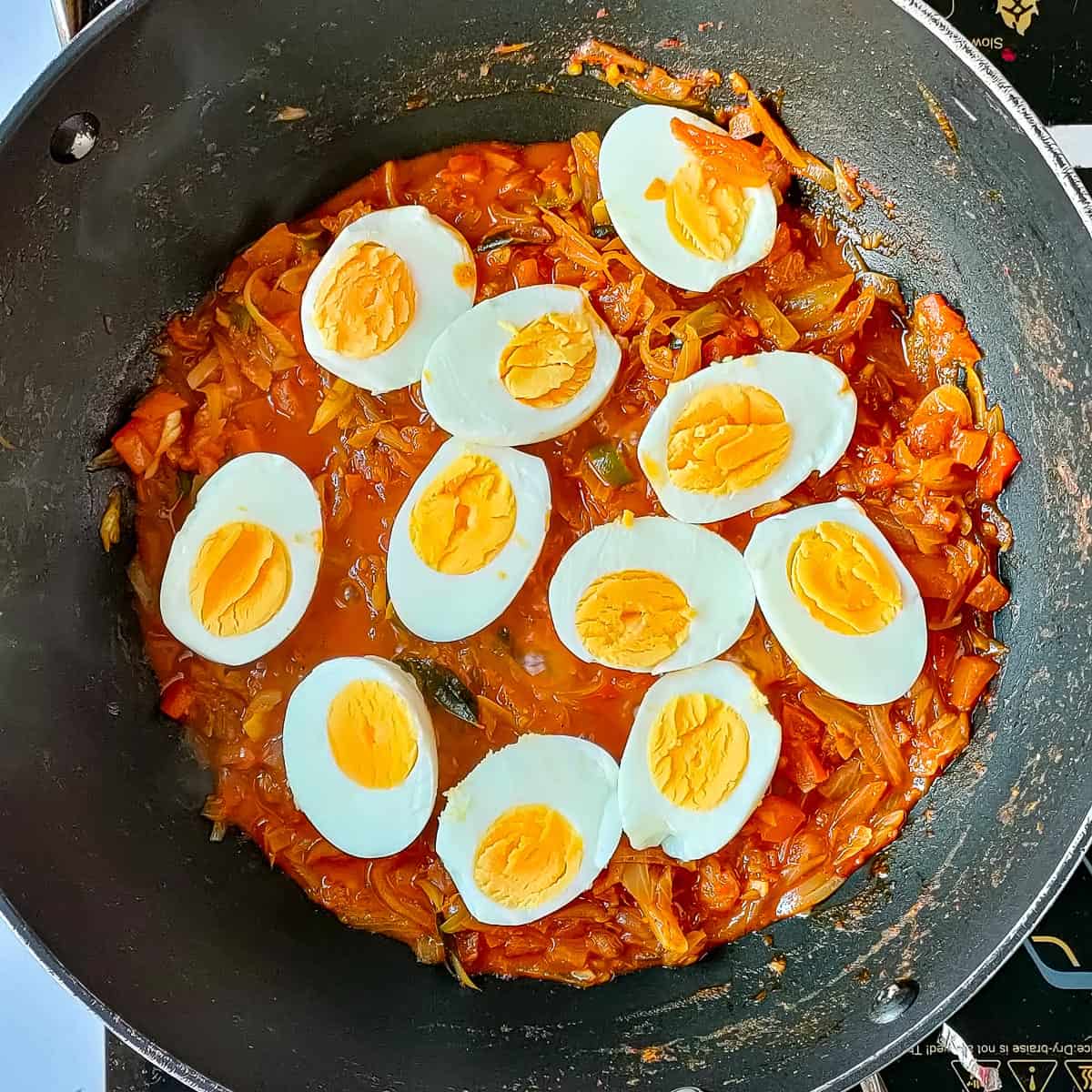 Add the boiled and halved eggs.
Stir gently so that you don't mash the eggs. Garnish with fresh curry leaves and serve!
Optionally, you can garnish with coriander leaves. I personally prefer fresh curry leaves to get that authentic Kerala flavor.
Tips To Make The Best Nadan Egg Roast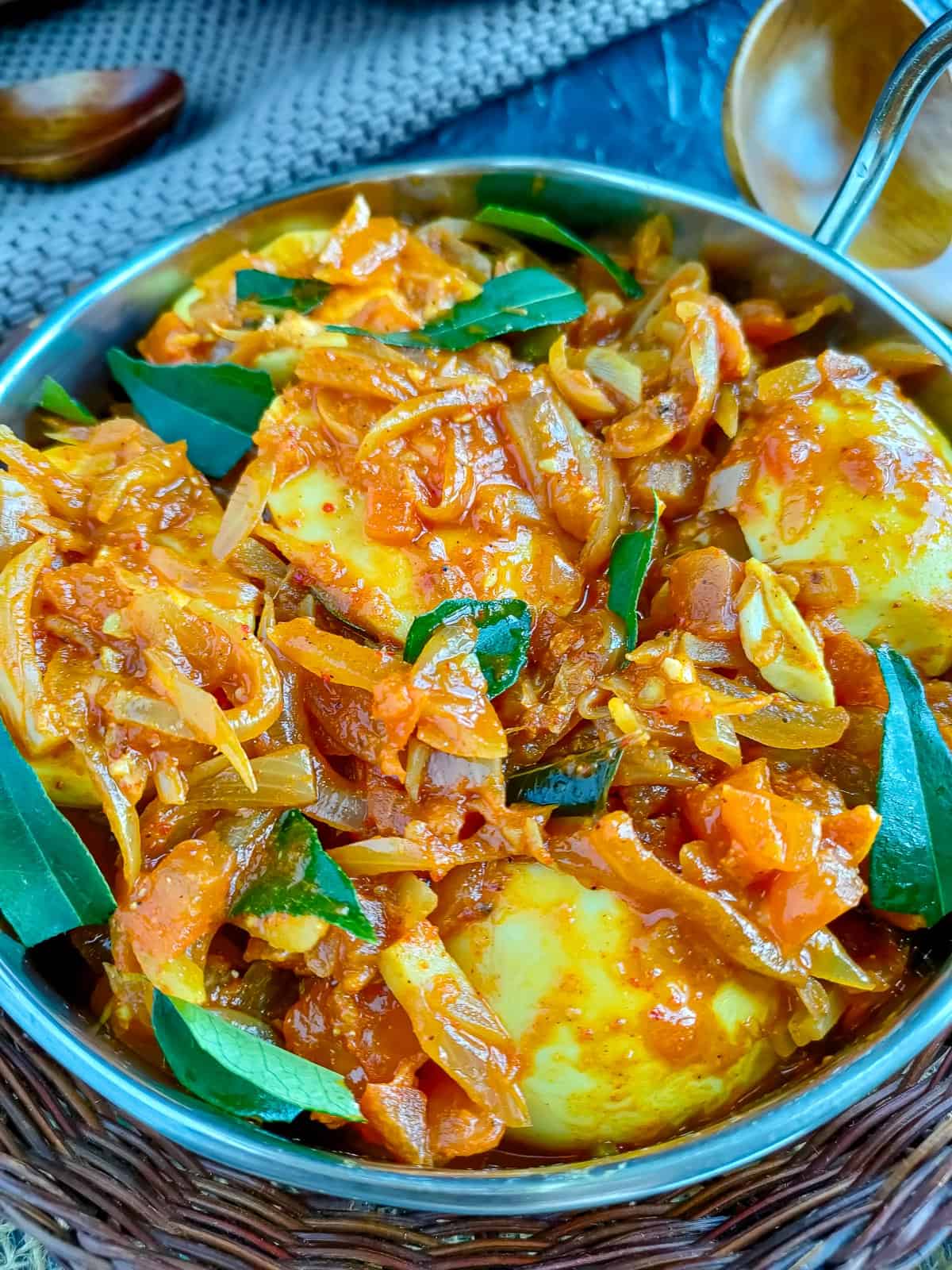 The flavor of the egg roast depends on how long you stir the onions and tomatoes. Sauté on medium-low heat until you brown the onions and tomatoes before adding water.
Cooking the eggs right is also important. DO NOT overcook the eggs. If egg is boiled for too long, the yolk will turn grey and tough and lose its flavor.
Follow the instructions above to make perfect boiled eggs every time.
You can add ½ teaspoon of ground cumin for added flavor.
Health Benefits of Eggs
Eggs offer complete protein, with all 9 essential amino acids.
They are nutrient-dense with more vitamins, minerals, and amino acids per calorie than most other foods.
They help your "good" cholesterol.
Eggs can lower your triglycerides which means they are heart healthy.
They can lower your odds of a stroke.
Eggs can help lose weight. Having them for breakfast keeps you feel full longer, so you'll eat less throughout the day.
They promote eye health. Eggs are good sources of antioxidants. The fat they have makes it easy for your body to use the nutrients.
They are rich in Vitamin D and choline that help sharpen the brain. (Source)
Printable Curry Paste Recipe
Grab a printable copy of the curry paste that helps home cooks like you cook different curries in 30 minutes or less:
More Egg Recipes
Curries You Might Like
★★★★★Did you try this recipe? Please give a star rating in the comments below ★★★★★
HUNGRY FOR MORE? Join over 1000 home cooks like you who subscribe to my weekly newsletter to get all the latest recipes right in your inbox. Or follow me on your favorite social media: Facebook, Pinterest, Instagram, and YouTube. Thank you and happy cooking!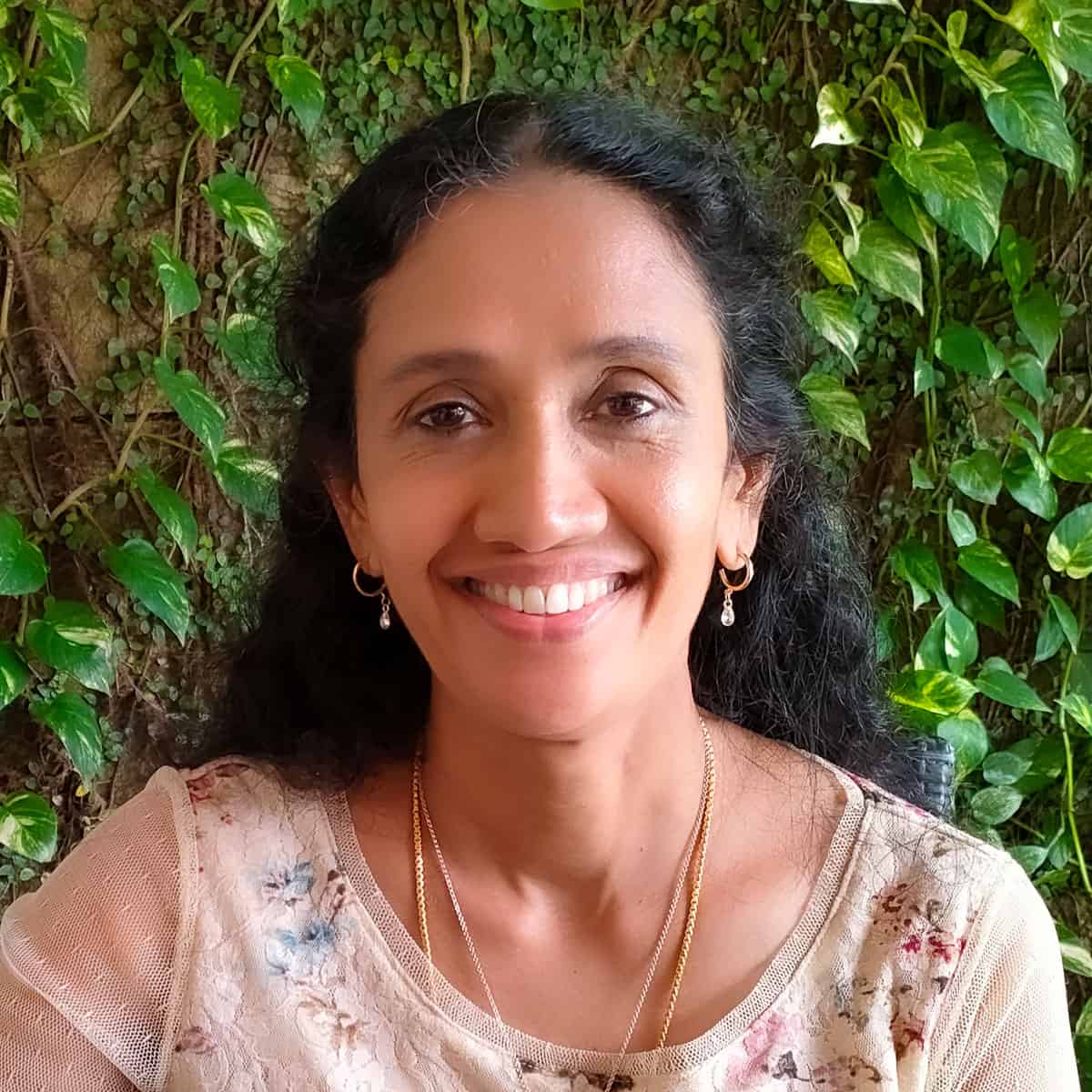 Hi! I'm Sheeba, welcome to Go Healthy ever after!
I have a passion for cooking delicious nourishing food that's easy to cook with fresh natural ingredients free from additives or preservatives. The easy healthy recipes you find here will inspire you to cook with creativity.
Copyright secured by Digiprove © 2022-2023