This delicious mutton masala recipe is one of the fastest ways to cook soft, flavorful mutton that tastes as if it is slow-cooked but does not actually require long hours of marination or cooking. Learn how to make easy goat masala (mutton curry) in a pressure cooker without stressing out in the kitchen!
Why You'll Love This Mutton Masala Recipe
Mutton masala can be quite intimidating for someone who has never cooked with mutton. South Indian mutton recipes are no exception.
Slow cooking makes goat meat tender and delicious. But sometimes the thought of marinating the mutton and cooking for hours can make you avoid goat meat altogether. Not to mention that chewing through tough mutton pieces (even in a tasty gravy) can be a nightmare!
This recipe will help you cook delicious goat masala in a pressure cooker with minimum effort. With TENDER JUICY MUTTON.
Most Indian curries start with sauteing onions and tomatoes. You then add the meat/vegetables and spices and simmer until cooked.
To make this mutton masala curry, we pressure-cook mutton with spices and aromatics first. The cooked mutton gravy is then sauteed in oil. This is my secret to making the goat meat soft (not just soft, I mean melt-in-your-mouth tender and juicy) and FULL of flavors.
This way you also ensure that the mutton absorbs all those spices while cooking in its own juices.
This pressure cooker mutton curry served for dinner with steaming boiled rice, roti or naan is the perfect comfort food during the cold months. Like my Kerala egg roast or 5-ingredient easy chicken curry which can also be eaten with rice or roti.
Once you know that this mutton curry is good for you, you wouldn't want to wait for fall or winter to try it. It also happens to be a dairy-free and gluten-free recipe.
Is Goat Meat Healthy?
The Indian lamb or goat meat, usually called mutton is the lesser-known red meat. Though it is considered red meat, it is a leaner, healthier choice when compared to equal serving sizes of chicken, beef, and pork.
Goat meat contains lower levels of saturated fat and cholesterol, combined with high iron and protein content. This makes mutton a good choice for anyone looking for healthy, nutritious red meat. (source)
More Surprising Health Benefits Of Goat Meat
Goat meat lowers the risk of blood vessel inflammation since it's rich in fatty acid CLA.
Mutton prevents anemia since it is rich in iron.
It promotes bone and teeth health, being rich in calcium.
Mutton is rich in cancer-preventing selenium and choline.
Goat meat contains Vitamin B12 which promotes cell regeneration and hence good for skin and hair. It also helps beat stress and depression.
Its low sodium and high potassium content help control blood pressure and prevent kidney disease and stroke.
Mutton is a rich source of minerals and hence delays aging and strengthens immunity.
Folate in goat meat helps brain development in children.
It contains niacin which promotes energy metabolism
It reduces the risk of birth defects in pregnant women.
B Vitamins in goat meat help burn fat.
Love mutton? You might like this mutton bone soup as well.
Now let's look at how to make mutton masala:
Ingredients
(You can find the exact measurements and instructions in the printable recipe card at the end of this page.)
Like most forms of red meat, mutton also has a strong flavor. You need to complement it with simple, but bold-flavored spices. The spice mix used for goat masala is called mutton masala powder.
Making your own homemade mutton masala powder is very easy. It also helps you control the spice level and ingredients to suit your taste. You can also add different spices at different stages of cooking for maximum flavor, as I've done in this recipe.
Mutton or goat meat: Choose young mutton, which will be lighter (pinkish) in color. You can use boneless or bone-in mutton. If you're buying bone-in mutton, ensure that you get it chopped into bite-sized pieces from your butcher. It can be hard for you to cut through the mutton bones.
Mutton masala spices: Chilli powder, coriander powder, turmeric, cumin, garam masala, and pepper.
Other ingredients: Bay leaf, onions, tomatoes and ginger-garlic paste. You can use grated ginger and garlic instead of ginger-garlic paste.
Garnish: Roasted curry leaves and coriander leaves.
How To Clean Mutton For Curry
Trim the fat from the mutton pieces and rinse a couple of times.
For the last rinse, add about 1/2 teaspoon of turmeric powder to the water and wash. Since turmeric is a natural disinfectant, this is an easy and effective way to clean not only goat meat but any form of meat. Turmeric also takes away the raw "meaty" smell from the mutton, even before you start cooking.
How To Make Mutton Masala In A Pressure Cooker: step by step
There are just 2 steps to cook this easy goat masala curry:
Step 1: Pressure-cook Mutton With Spices And Aromatics
Toss mutton with the spices: chili, coriander, turmeric, cumin powder and salt in a pressure cooker.
Add finely chopped onions, tomatoes and ginger-garlic paste. Mix everything together.
I did not add water since the moisture in the rinsed mutton is enough to cook the gravy. (Mutton also leaves a lot of moisture while cooking.) If your mutton pieces are absolutely dry, feel free to add ¼ cup of water.
Cook in a pressure cooker for about 40 to 45 minutes. Allow the pressure to release naturally.
Step 2: Saute The Mutton Gravy
Heat a teaspoon of oil in a pan and roast curry leaves until they turn aromatic and crisp. Remove from the pan and keep aside.
Add the remaining oil to the pan. Add a bay leaf and stir.
Add the contents of the cooker along with pepper and garam masala to the pan. Stir intermittently for about 15 to 20 minutes until the gravy thickens and browns.
Garnish with coriander leaves and roasted curry leaves.
Voila! The flavorful pressure cooker mutton curry is ready with pieces of meat so tender that the soft flesh falls apart from the bones. Enjoy your mutton masala curry on a bed of steaming hot rice or with dosa/roti.
How To Cook Mutton Curry In An Instant Pot
Follow the same cooking instructions, using "normal" mode on the "meat" setting (that is 35 minutes at high pressure). Allow the pressure to release naturally. You can remove the cooked mutton, rinse and use the pot on "saute" mode for the rest of the cooking.
Recipe Tips
Cooking time depends on the type and quality of the mutton. Young goat meat cooks faster. If you're not sure, it is okay to pressure-cook for about 45 minutes. Overcooked mutton still tastes good, except that it disintegrates into the curry and looks like minced mutton curry!
Cooking time also depends on whether you're using boneless or bone-in mutton pieces. Allow 40 minutes for boneless bite-sized pieces and 45 minutes for bone-in.
Adding pepper and garam masala toward the end of cooking gives a deeper flavor to the curry. This is similar to adding pepper in chicken rogan josh at the end of cooking.
Scaling: This recipe can be multiplied to serve more people. Add 10 minutes more to the pressure-cooking time if doubling, 20 for triple the servings and so on.
Make ahead option
Since this mutton masala recipe does not use coconut or dairy, it is perfect as a make-ahead option.
It keeps well for about 4 days (maybe more, I've only tried storing it for a maximum of 4 days) in the refrigerator, or for about 2 months when frozen. Thaw it overnight in the refrigerator before reheating.
Storing Leftovers
Leftover mutton gravy can be stored in the refrigerator for 3 to 4 days. Store in an airtight container (so it doesn't absorb the smell from other foods in the fridge) and reheat as and when required.
What To Serve With Goat Masala
Serve this mutton masala curry with steaming boiled white or brown rice. It also tastes great with chapati or naan.
You can also serve goat masala with mildly flavored rice like jeera pulao or Indian lemon rice with brown rice which goes amazingly well with the spicy curry. Try the toasted coconut cauliflower rice for a low-carb option.
If you're looking for easy side dishes that go well with rice and mutton masala, make tandoori cauliflower or microwave vendakkai fry.
Common Questions About Pressure Cooker Mutton Curry
Which part of mutton is best for curry?
Almost any cut of goat can be used for this curry, but bone-in thighs or shoulders are the most flavorful cuts of goat meat. The bones add to the flavor of the curry. But if you can't get them, you can settle for the boneless cuts as a second option.
How do you know when the mutton is cooked?
Perfectly cooked mutton is very soft and almost falls apart, but still intact. When you press the mutton piece with a ladle, it should easily give in without much resistance.
Why is my mutton chewy?
Chewy mutton means that it is undercooked. Luckily for this curry recipe, it is easy to fix: just cook it some more. If the mutton is chewy and the gravy is too dry after pressure cooking, add ¼ cup of boiling water (if the curry has enough liquid, like roughly about ¼ cup, there's no need to add water) and pressure cook again. After it reaches high pressure, cook on low flame for 5 to 10 minutes depending on how tough the mutton is.
How do I make mutton tender fast?
The best way to make mutton tender fast (without marinating) is to chop the mutton into bite-sized pieces and pressure cook with spices and water, so the flavors get infused into the mutton pieces. Then saute with more spices and simmer the curry with more water if required, until you get the desired thickness.
Love Thai curries? You might want to try keto Thai chicken curry using homemade green curry paste.
Looking for more easy curry recipes? Try these…
Printable Curry Paste Recipe
Grab a printable copy of the curry paste that helps home cooks like you cook different curries in 30 minutes or less:
★★★★★Did you try this recipe? Please give a star rating in the comments below ★★★★★
HUNGRY FOR MORE? Join over 1000 home cooks like you who subscribe to my weekly newsletter to get all the latest recipes right in your inbox. Or follow me on your favorite social media: Facebook, Pinterest, Instagram, and YouTube. Thank you and happy cooking!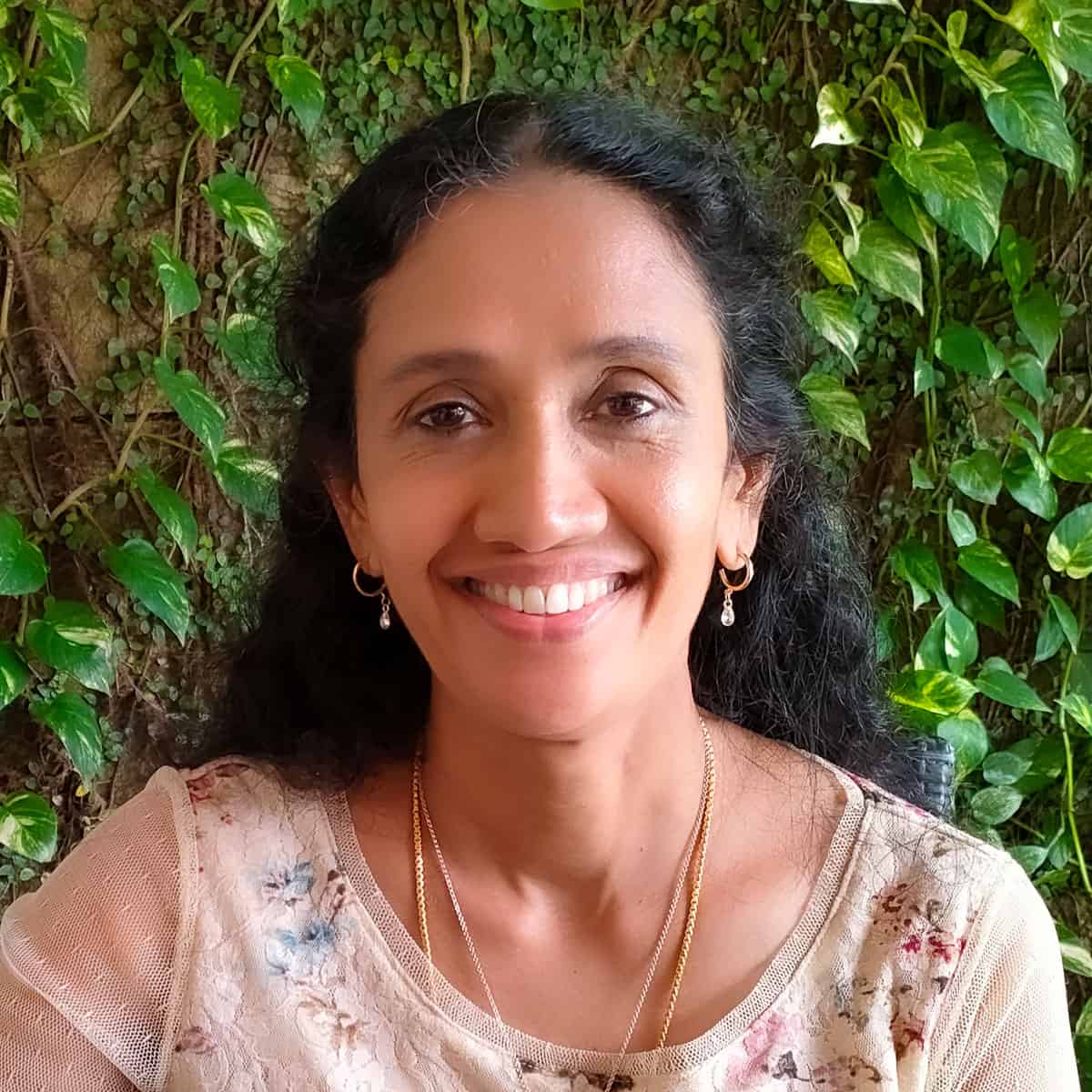 Hi! I'm Sheeba, welcome to Go Healthy ever after!
I have a passion for cooking delicious nourishing food that's easy to cook with fresh natural ingredients free from additives or preservatives. The easy healthy recipes you find here will inspire you to cook with creativity.
Caution
As we all know, red meat has some drawbacks and mutton is no exception.
Consuming large portions of mutton regularly might lead to weight gain and obesity; portion control is key while consuming red meat, especially.
If not cooked right, mutton may cause digestion problems or food poisoning.
Those with heart problems should avoid red meat.
This post has been updated with new photos to serve you better. The recipe is the same awesome one!
Copyright secured by Digiprove © 2019-2023