Easy fish curry with fresh flavors of coconut, tamarind and pearl onions! Made with just 7 main ingredients, this Kerala fish curry with coconut is the perfect recipe for a quick and easy dinner.
FEATURED COMMENT
The curry turned out awesome. This is the first non-vegetarian dish I have ever prepared that doesn't have ginger or garlic in it and it didn't really make any difference. Thanks for sharing this recipe. Looking forward for more recipes…
DIALINE
Affiliate disclosure: This post contains affiliate links, which means I may receive a small commission, at no cost to you, if you make a purchase through a link.
Reasons You'll Love This Recipe
Do you get intimidated by the thought of cooking up a curry? Or by the smell of fish?
This easy Kerala fish curry recipe shows you how to make fish curry that doesn't smell "fishy"!
TOO GOOD TO BE TRUE? I understand.
We usually think we need a ton of spices to make even the simplest fish curry. That was until I learned this recipe from my mom.
Like most of my seafood recipes, this Kerala-style fish curry is one of the best fish recipes for beginners. Reason?
It uses very few simple ingredients you might already have.
This nadan fish curry gets done in less than 30 minutes.
It is as healthy as a curry can be. There's no need to fry or saute. We use just 2 teaspoons of oil at the end of cooking.
Use any fish for this Kerala meen curry (similar to Mangalore fish curry). Even bland fish will do since there are a lot of fresh flavors going on in the gravy.
Even if the fish has a strong odour, it is compensated by lemon and tamarind.
Tamarind can also help preserve the curry, so it lasts long.
This is how you make it:
Video
Ingredients
(You can find the exact measurements and instructions in the printable recipe card at the end of this page.)
Fish: I've used pomfret here. It is also called butterfish or pompano. (Which I used for the popular tandoori pomfret.) Any fish like sardine or mackerel can be used. (I usually reserve mackerel for recipes like fish cakes and baked fish which require more meaty fish.)
Coconut: For this recipe, like egg kurma, grated coconut is a must-have ingredient.
Tamarind: A common ingredient in South Indian cooking, it is easily available at any Indian store. (I haven't used tamarind pulp, but I'm not sure if it has the same flavor. If you used it to make this curry, please let me know in the comments section.)
Onions: Pearl onions add to the subtle Kerala flavors in addition to coconut (as in Kerala chicken curry).
Spices: Chilli powder, turmeric powder and cumin seeds are all you need for this curry.
How To Make Kerala Fish Curry With Coconut: Step by step
Soak Tamarind
Soak tamarind in ¼ cup of hot water. This will help soften the tamarind for blending with coconut later on.
Season The Fish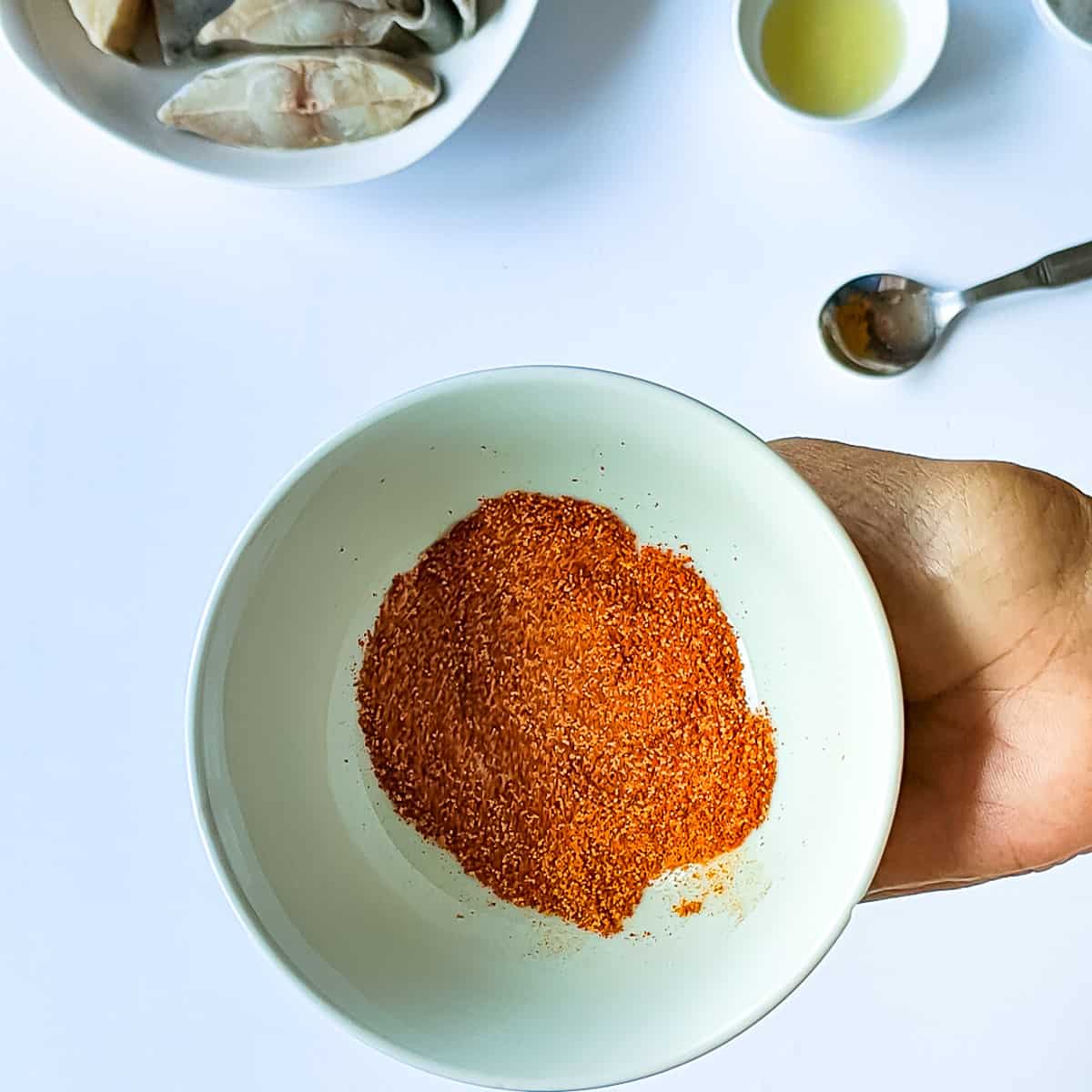 As in my masala prawns, seasoning fish for at least 10 minutes makes all the difference to this fish recipe. Mix chilli powder, turmeric powder and salt in a small bowl and season the fish with it. Add lemon juice to the fish and mix well.
Make Coconut Paste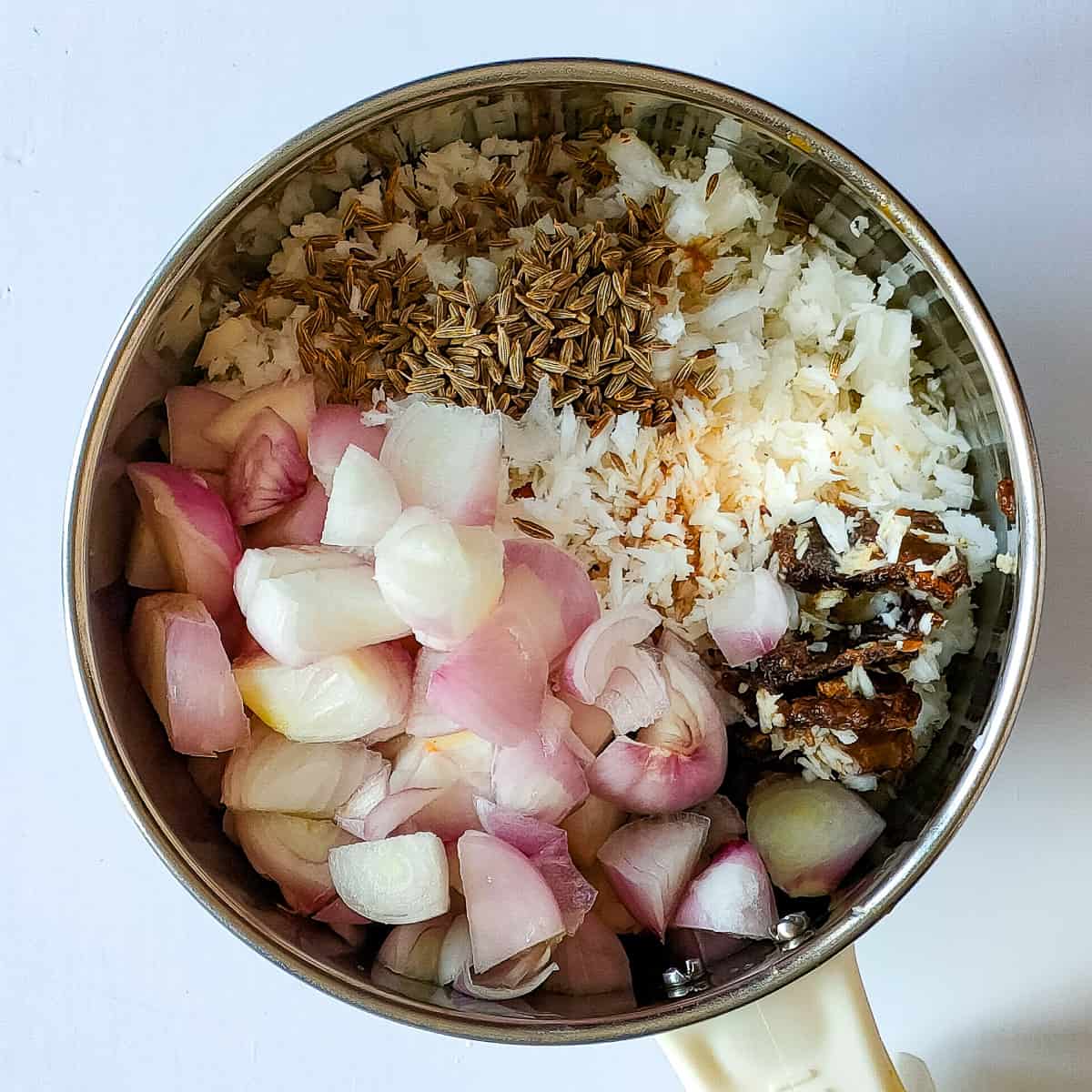 Roughly chop pearl onions. Place them in a blender jar with grated coconut, cumin seeds, and soaked tamarind along with the water.
Blend into a smooth paste.
Make Nadan Fish Curry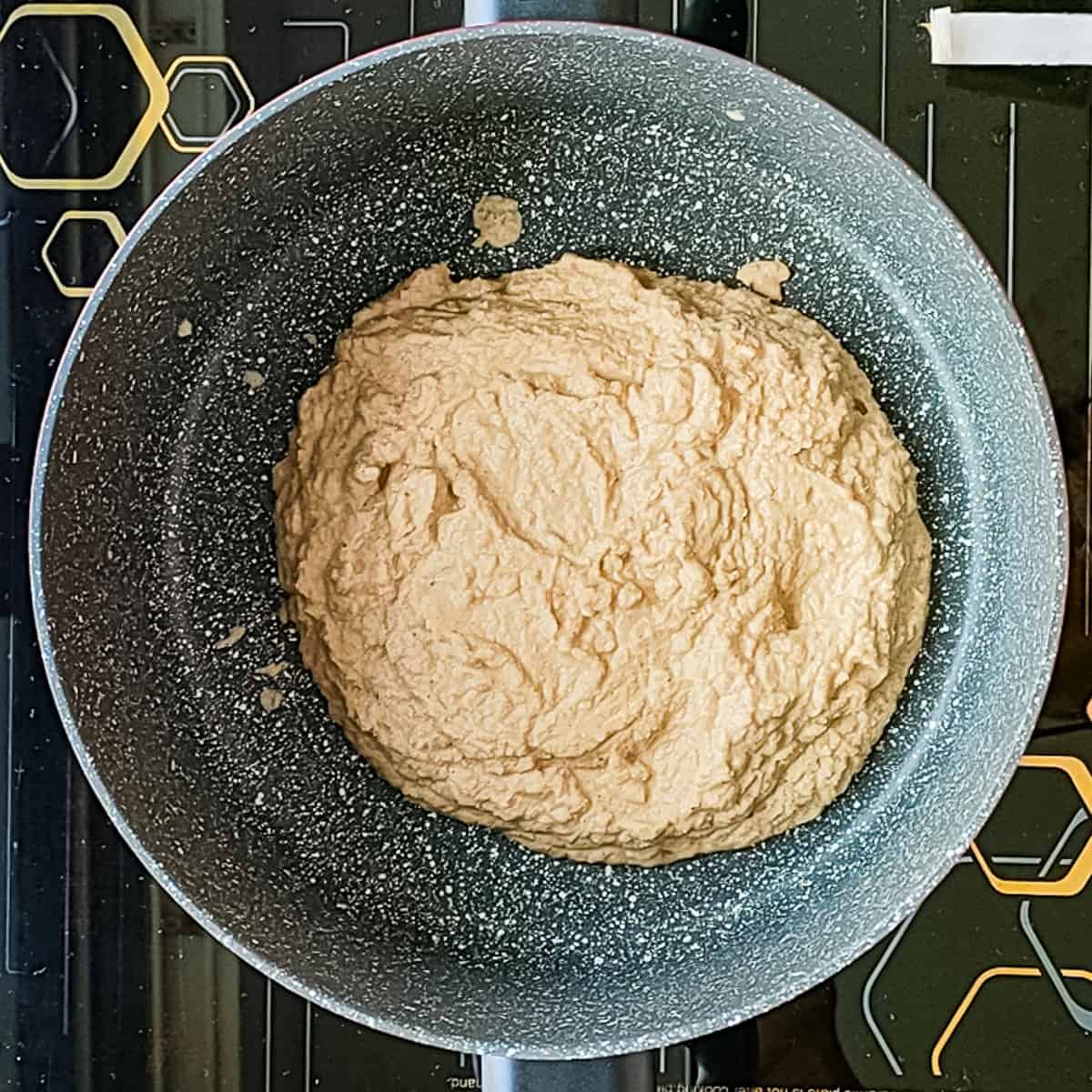 Transfer the blended coconut onion paste to a deep pot or kadai.
Add 1 cup of water and mix.
Add the spices: chilli powder, turmeric and salt.
Mix and bring it to a boil.
Reduce the flame and add the seasoned fish pieces.
Simmer for 5 to 10 minutes, until the fish is cooked through.
Finish up
Drizzle coconut oil on the curry and turn off the flame immediately.
Garnish with torn curry leaves. Serve with steamed rice or dosa.
For those low-carb days, pair this Kerala meen curry with coconut cauliflower rice. Tastes amazing!
Tips To Make The Best Nadan Fish Curry, Kerala-style
Fresh ingredients: In this recipe, we do not saute or fry the ingredients. So ensure that you use fresh, good-quality ingredients to make the most of fresh flavors.
Coconut oil: Turn off the flame as soon as you add coconut oil. You should ensure that you get the fresh flavor of coconut oil for an authentic Kerala-style curry experience. Use extra virgin coconut oil for maximum flavor.
Spice: Sometimes I like to add one or two dried red chilies for a spicier curry.
Chili powder: If you want a reddish tint to your Kerala fish curry, try replacing the chili powder with double the quantity of Kashmiri red chili powder. It gives flavor and color to the curry without the heat.
Cooking time: Adjust the simmering time according to the size of the fish pieces. If you're using bigger pieces of fish like Mackerel, increase the cooking time by 5 to 10 minutes. The fish should be opaque throughout. Check for doneness by flaking the fish in the middle.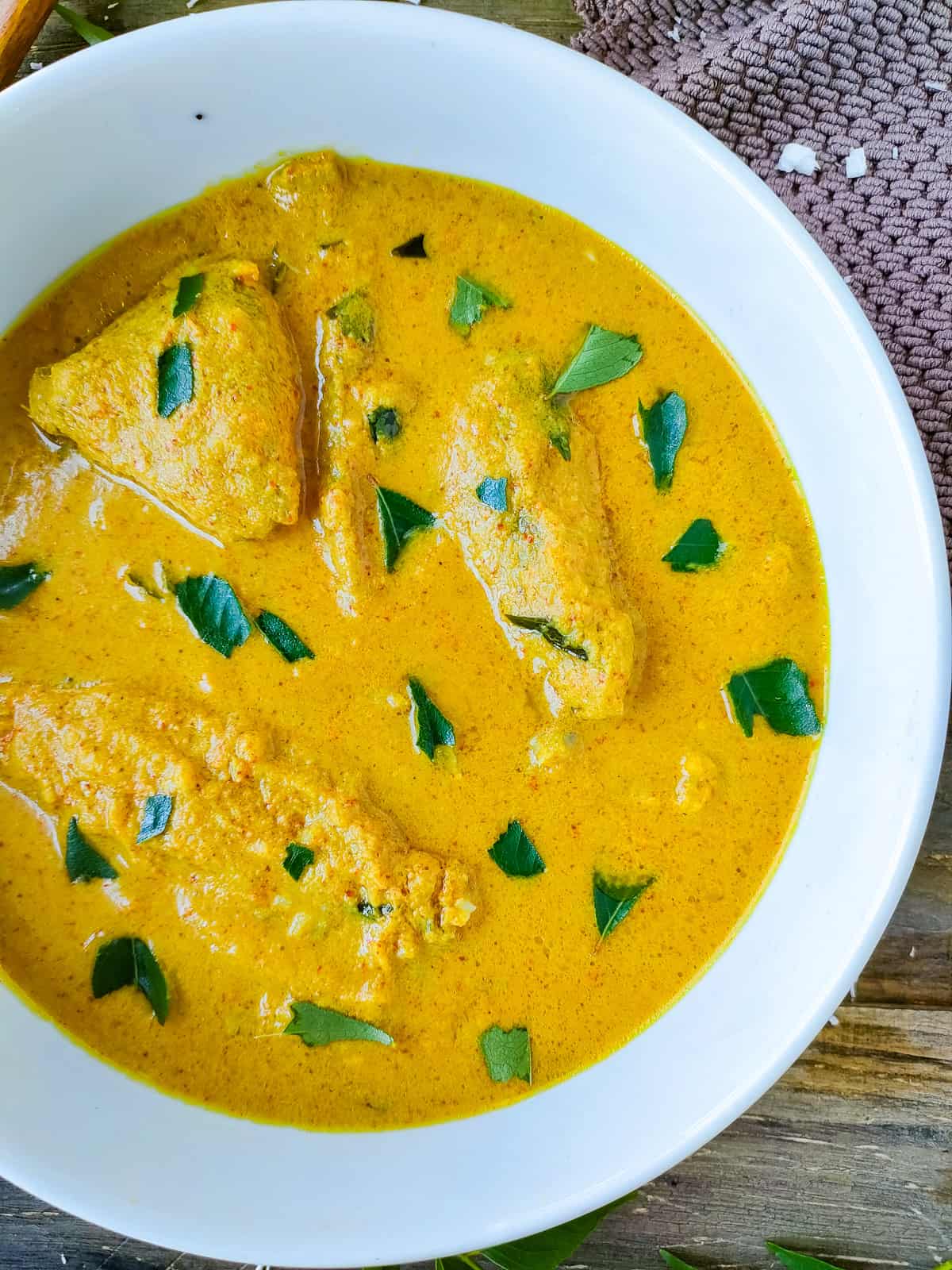 Recommended tools to make this recipe
Health Benefits of Tamarind
Tamarind is a rich source of antioxidants and can enhance the efficacy of the body's natural immune defenses.
Tamarind seed extract has antioxidant enzyme induction properties that may reduce the risk of cancer.
Being rich in polyphenols and flavonoids, tamarind has the effect of reducing diastolic blood pressure, thus improving heart health and cholesterol.
Tamarind extract contains antioxidants called procyanidins, that counter free radical damage to the liver.
It provides natural antimicrobial benefits against pathogenic microorganisms.
The anti-inflammatory effect of tamarind seed extract has been shown to improve blood sugar regulation in those with diabetes.
Health Benefits of Coconut
Coconut has anti thrombotic, anti-carcinogenic and anti-ageing effects on the body.
A 200 grams of coconut serving daily can lead to significant reduction in both BMI and waist circumference in just 12 weeks.
It controls diabetes by positively affecting the hormones for blood sugar control.
Coconut nutrition is excellent for the immunity system. It is antiviral, antifungal, antibacterial, and anti-parasitic.
Eating coconut regularly supports the development of healthy bones and teeth.
It is high in dietary fibre and provides a whopping 61% of fibre.
Coconut helps to increase energy by burning fat.
It helps to improve blood cholesterol levels in the body and lowers the risk of heart disease.
Coconut nutrition has also proven to have anti-cancer properties.
Eating coconut hydrates the skin and makes it youthful and supple.
Eating coconut regularly boosts oxygen in the skin and promotes blood circulation.
Printable Curry Paste Recipe
Grab a printable copy of the curry paste that helps home cooks like you cook different curries in 30 minutes or less:
More Curries
★★★★★Did you try this recipe? Please give a star rating in the comments below ★★★★★
HUNGRY FOR MORE? Join over 1000 home cooks like you who subscribe to my weekly newsletter to get all the latest recipes right in your inbox. Or follow me on your favorite social media: Facebook, Pinterest, Instagram, and YouTube. Thank you and happy cooking!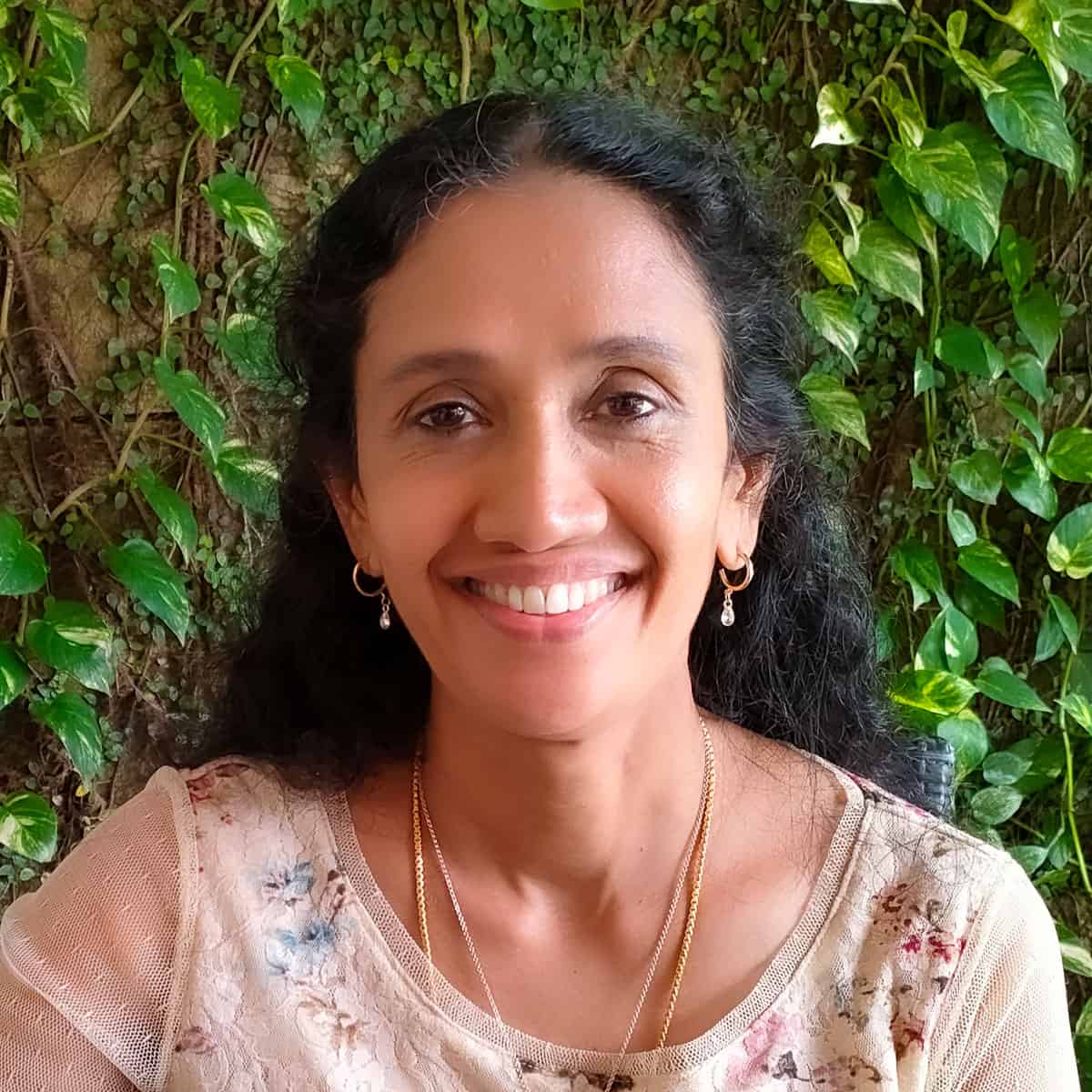 Hi! I'm Sheeba, welcome to Go Healthy ever after!
I have a passion for cooking delicious nourishing food that's easy to cook with fresh natural ingredients free from additives or preservatives. The easy healthy recipes you find here will inspire you to cook with creativity.
Copyright secured by Digiprove © 2022-2023