This easy mung bean curry is a healthier version of South Indian (Kerala-style) green gram curry made with nutritious moong sprouts and coconut. No time for sprouting? Just soak moong beans and use. You can make this simple mung bean coconut curry with mega flavors using very few spices.
About the recipe
Kerala-style mung beans curry is made by soaking and cooking moong beans. They are then added to sauteed onions and spices and simmered with blended coconut and cumin.
Here we sprout the beans (a healthy twist to my mom's recipe). And cook them in such a way that they are creamy but still hold their shape.
Soaking and sprouting break down mung beans to a form that's easy to digest. So if you're not used to eating beans, this sprouted moong recipe can be the first one you might want to try. The easy mung bean salad could be a close second.
Sprouting and cooking dried mung beans is easier than it sounds. I've included tips and instructions that will guide you through the process.
This sprouted moong recipe is different from the creamy moong dal palak in which moong dal (split and skinned mung beans) is well cooked to a mashy consistency.
You might love those restaurant-style curries like the palak kofta recipe, creamy chicken kofta curry, authentic chana masala or the popular 5-ingredient easy chicken curry, but don't judge this curry yet.
Wait until you taste the almost creamy, not-so-mashed mung beans with bits of half-blended crunchy coconut and cumin. You'll fall in love with it, I promise.
This mung bean curry is like kadai vegetable, where the taste lies in half-blended bits of spices.
Blending fresh coconut with cumin gives this curry the unique Kerala flavors, as in sadya parippu curry, simple egg kurma and easy 7-ingredinet nadan fish curry.
Of all the beans, mung beans are my favorite. They sprout so easily, can be cooked fast (you can cook them on stovetop even if you don't have a pressure cooker) and are very nutritious.
Moong beans are also versatile, they can be used in curries, salads, soups or as a thoran-style side dish with coconut.
Video
Ingredient notes
Beans: dried mung beans
Whole spices: mustard seeds, cumin seeds, dry red chilies and fresh green chilies
Ground spices: chili powder, coriander powder and turmeric
Fresh Coconut: Grated or chunks
Aromatics: onions and garlic- to add flavor and also to aid in the digestion of the beans.
Herbs: coriander and curry leaves
Oil: I recommend coconut oil for its characteristic flavor. If not available, feel free to use olive oil or sunflower oil.
Lemon juice for the tang.
How to make mung bean curry- step by step photos
(You can find the exact measurements and instructions in the printable recipe card at the end of this page.)
If you're not sprouting the beans
If you don't have the time to sprout, soak dried mung beans for 4 hours and skip to the section: "How to cook mung beans."
Forgot to soak the beans? No problem. You can cook unsoaked mung beans in the pressure cooker for 10 minutes more than the soaked/ sprouted ones. (that is 15 minutes after the first whistle).
If cooking in a pot, add 20 minutes more, which is about 40 minutes.
How to sprout moong beans
Rinse and soak dried mung beans in water for about 6 hours.
Drain the water.
Use a wet kitchen cloth to cover the bowl and secure with a rubber band. Leave it on the kitchen top overnight, at least for 9 hours.
Remove the cloth and voila! You've made moong sprouts overnight.
If the weather is not warm enough, they may take longer to sprout. If you find that they haven't sprouted the next day, rinse the beans, wet the cloth, and cover again. Leave it for another 4 to 5 hours until you see small sprouts.
How to cook mung beans
In a pressure cooker: Add the beans with 2 cups of water, secure the lid and cook for 3 whistles (or 5 minutes after the first whistle).
On the stovetop: In a deep pot, boil the beans with 3 cups of water. Top up with hot water if it starts sticking to the bottom. Cook until soft, which would take about 20 to 25 minutes.
How to make the curry
Heat oil in a pot, add mustard seeds. When they pop, add curry leaves.
Add finely chopped onions, red chilies and green chilies. Saute for about 5 to 10 minutes on medium heat.
Stir in cooked mung beans.
Add the ground spices, add more water if the curry is too thick. Cover and let it boil.
Meanwhile, make the coconut paste.
Blend coconut, cumin and garlic with water into a coarse paste.
Add the blended coconut to the curry. Simmer for 5 more minutes.
Add lemon juice and turn offf the flame.
Garnish with coriander leaves and serve with rice, roti, or naan.
Recipe tips
Sprouting mung beans: I've found that the beans sprout faster when placed in a glass bowl.
During winter, you could try placing the bowl inside the microwave, oven, or instant pot. (turned off, of course!)
When you cook mung beans, the green skin might get separated from some of the seeds, but it is okay. The skin adds to the texture and taste of the curry.
Blending: If you want a smoother curry, you may blend the coconut, cumin and garlic into a smooth paste. But you would miss the crunchy bits.
Coconut oil: Try to use cold pressed coconut oil for the authentic flavor.
How long to sprout: Plan ahead and allow enough time for the beans to sprout. There's no harm in allowing them to sprout longer.
For more flavor: add a tablespoon of the curry paste after you saute the onions.
What to pair with green gram curry
Sprouted moong curry tastes great with plain white rice or brown rice and a side of tandoori cauliflower or ladies finger fry for a balanced vegetarian dinner.
This moong sprouts curry can be also be paired with roti or naan.
Love this Kerala curry? You might want to try the Kerala style chicken curry with coconut milk, varutha chicken curry or the easy Kerala egg roast.
Common questions about moong sprouts curry
Do mung beans need to be soaked before cooking?
Mung beans can be cooked without soaking, too. In that case, cooking time will be longer (more than double). Soaking mung beans speeds up the cooking time up to 75%.
Beans are high in protein and fiber. It may be difficult to digest for some people. Soaking breaks down gassy components in the beans and makes them easier to digest. That means less bloating and flatulence.
Is it ok to cook sprouted beans?
Cooking sprouted beans reduces its health benefits, but they would still have a lot of nutrients. If you're used to eating beans and sprouts, you can digest them well. So you can try eating them uncooked to get the maximum benefits.
If you're planning to cook mung sprouts, I recommend steaming the sprouted mung (for salads and sides) or boiling/pressure-cooking (for curries) for a short period of time.
What to put in beans to prevent gas?
Apart from soaking and sprouting mung beans, there are more options if your gut is really tender. Try adding a teaspoon of chopped ginger and/or garlic. Both are known to improve digestion.
Or you can use the traditional Indian spice: asafoetida. Also called hing, it is a spice with a pungent smell and used by most Indian cooks whenever we cook beans or dal. Just a few pinches would work wonders for the flavor of the curry as well as your gut.
How do you cook beans without presoaking?
In a pressure cooker: Add 2 cups of water with ¾ cup of (unsoaked) mung beans, secure the lid and cook for 15 minutes after the first whistle.
On the stovetop: In a deep pot, boil the beans with 4 cups of water. Top up with hot water if it starts sticking to the bottom. Cook until soft, which would take about 40 to 45 minutes.
Nutrients in sprouted green gram
Green moong dal is not only easy to cook and delicious but also has numerous health benefits. (source)
Mung beans are rich in important vitamins, minerals, protein and fiber. Sprouted mung beans contain even fewer calories but have more antioxidants and amino acids than the unsprouted ones.
They are a good source of antioxidants. Sprouted mung contains as much as six times more antioxidants than regular mung beans.
The anti-inflammatory properties of mung beans may prevent heat stroke.
Consuming moong sprouts may Lower "Bad" LDL cholesterol levels, reducing heart disease risk.
Mung beans are a good source of potassium, magnesium and fiber, which have been linked to lower blood pressure levels in adults.
Moong beans contain soluble fiber and resistant starch, which can promote digestive health. The carbs in mung beans are also less likely to cause flatulence than those of other legumes.
Mung beans are high in fiber and protein and contain antioxidants that may lower blood sugar levels.
Mung beans are high in fiber and protein, which can help you lose weight.
Mung beans are high in folate, iron and protein, all of which women need more of during pregnancy.
Other interesting ways to use mung beans
Swap the chickpeas/chana dal with mung beans in black chana soup, one pot easy chana dal soup.
Use parboiled mung bean sprouts instead of, or in addition to chickpeas in kabuli chana salad or instead of dal in chana dal salad.
More curries
Printable curry paste recipe
Grab a printable copy of the curry paste that helps home cooks like you cook different curries in 30 minutes or less:
★★★★★Did you try this recipe? Please give a star rating in the comments below ★★★★★
HUNGRY FOR MORE? Join over 1000 home cooks like you who subscribe to my weekly newsletter to get all the latest recipes right in your inbox. Or follow me on your favorite social media: Facebook, Pinterest, Instagram, and YouTube. Thank you and happy cooking!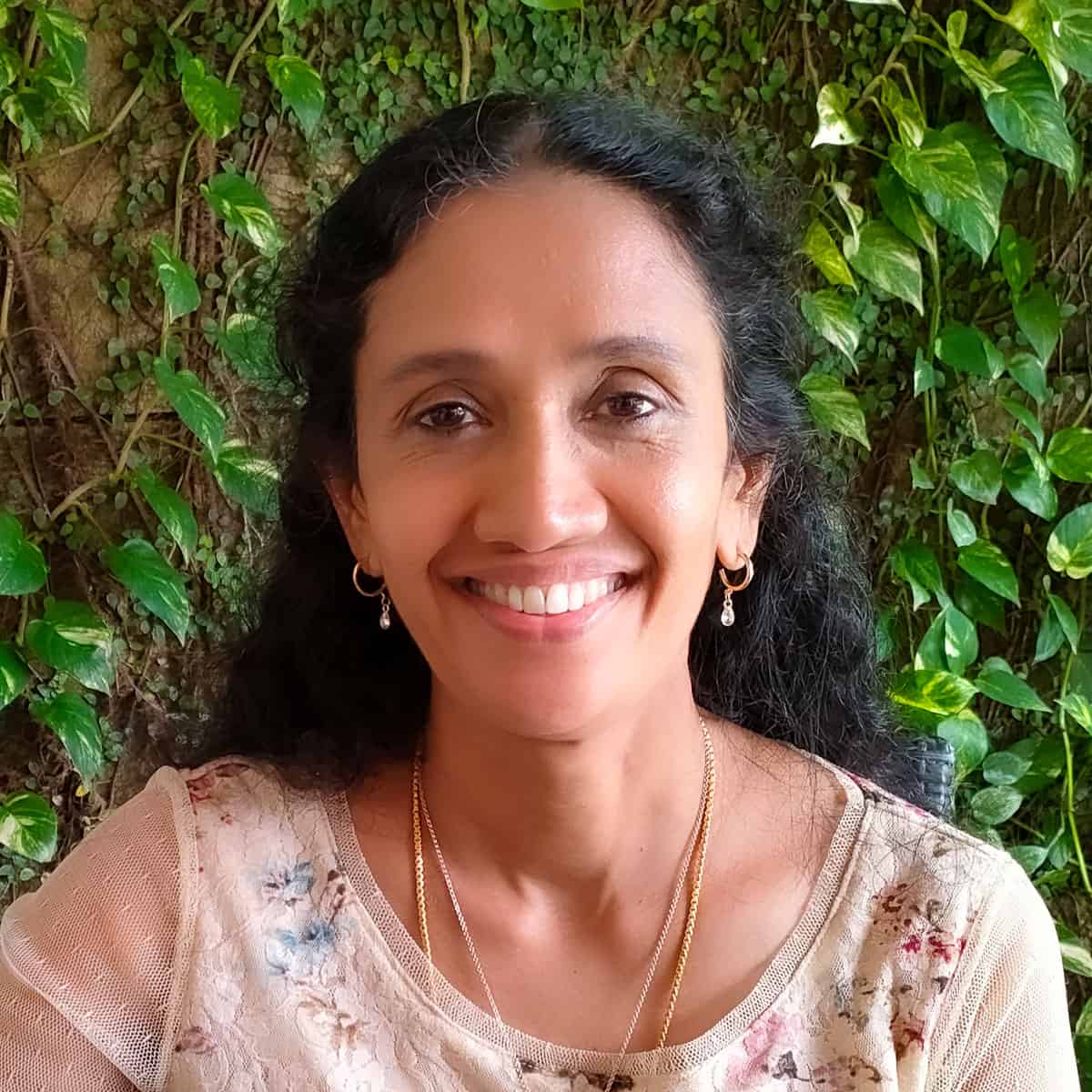 Hi! I'm Sheeba, welcome to Go Healthy ever after!
I have a passion for cooking delicious nourishing food that's easy to cook with fresh natural ingredients free from additives or preservatives. The easy healthy recipes you find here will inspire you to cook with creativity.
Copyright secured by Digiprove © 2022-2023