A complete tutorial on how to make chicken hariyali kabab in the oven, grill or in a pan without the oven (with or without skewers). Looking for easy starters for your party? Make this chicken hariyali tikka to wow your guests. Find out the secret shortcut that can be used only with this hariyali chicken recipe.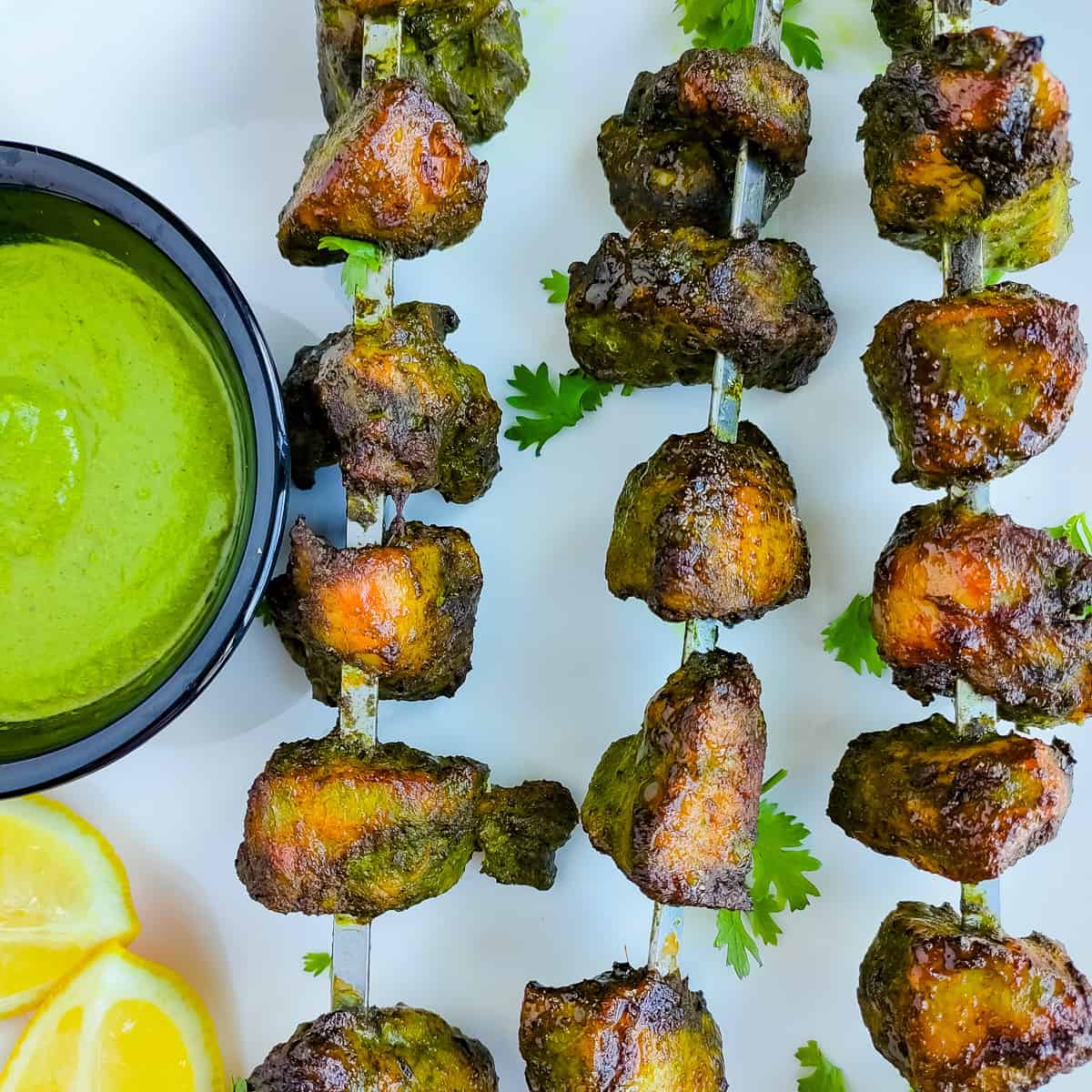 Why You'll Love This Hariyali Chicken Recipe
Chicken hariyali kabab, also called hara bhara kabab literally means green chicken kabab.
Like all my kabab and tikka recipes, they are very easy to make. More importantly, you don't need a grill or oven (or even skewers) to make hariyali chicken tikka. They can be easily cooked either on the stove or in the oven, with or without skewers.
Now there's nothing that is stopping you from enjoying these restaurant-style kababs at home. Whether you cook these hariyali chicken kebabs in the oven or without the oven, it takes just about 20 minutes or even less.
Ingredients
(You can find the exact measurements and instructions in the printable recipe card at the end of this page.)
Chicken: Use any boneless chicken pieces. I've used chicken breasts here.
Mint and coriander leaves: I've used 1 cup of mint and ½ cup of coriander leaves. You can reduce mint and use more coriander leaves if that's what you like. Coriander stems can also be added. They are as flavorful as the leaves. I use them often in my recipes like Thai green curry paste and tomato chilli prawn pasta.
Garam masala: I've used homemade garam masala here. If you're using a store-bought one, remember to check out the recipe tips section.
Oil for basting: I've used a mix of peanut oil and melted butter/ghee. This way you limit your saturated fat intake and also get the rich buttery flavor. Win-win!
Salt: Himalayan pink salt is more flavorful. If not available, regular salt is fine.
How To Make Hariyali Chicken Kebab: Step by step
Green Chicken Kabab Marinade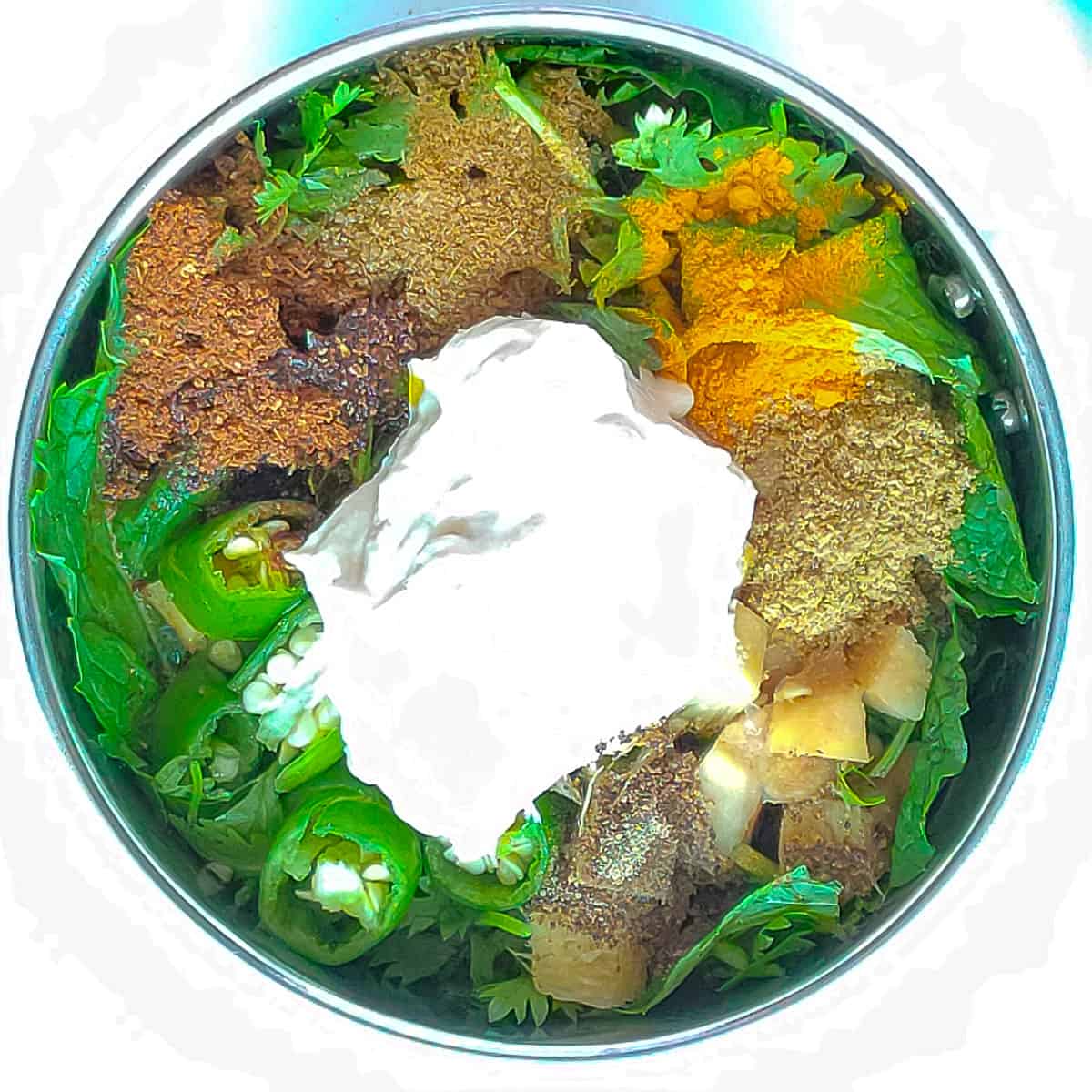 Roughly chop coriander leaves and stems, mint leaves, chillies and ginger. Place them in a blender jar along with the spices, lemon juice and yogurt.
Blend until you get a smooth paste. Reserve and refrigerate ¼ cup of the marinade to use as chutney.
Marinate The Chicken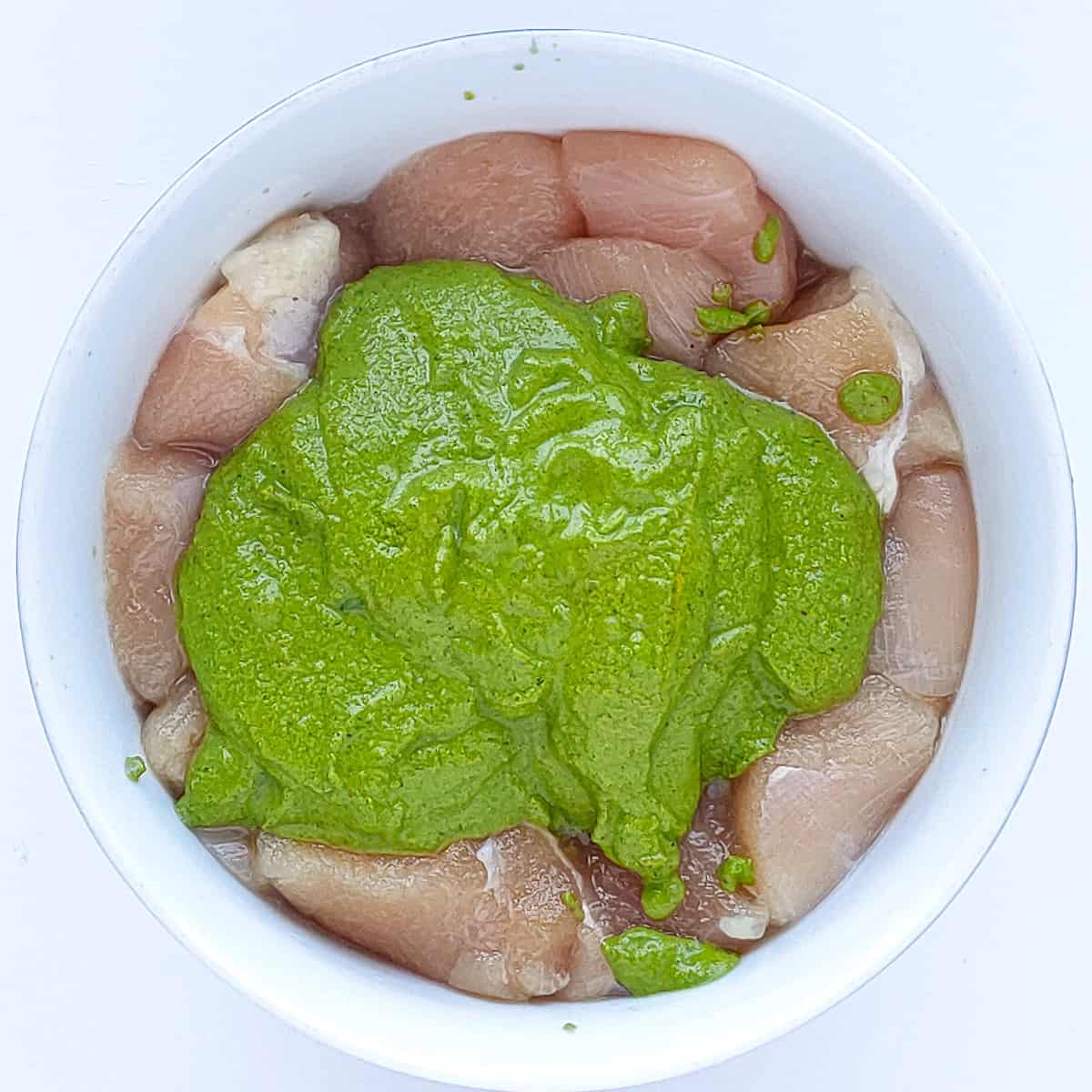 Clean and chop the chicken into 1½ inch pieces. Add the remaining green marinade to the chicken. Add mustard oil and mix well.
Marinate in the refrigerator overnight for the best results, if possible. If you're in a rush, marinate for a minimum of 30 minutes.
Bake Chicken Hariyali Tikka
Thread the marinated chicken cubes onto skewers. Place the skewers on a baking pan lined with foil. Baste with the oil-ghee mixture.
Place in the oven. Roast at 230°C/ 446°F for 10 minutes. Take out the pan and baste with oil+ghee again.
Change the oven setting to "broil" and cook for 6 to 8 minutes until browned. Serve with the reserved chutney.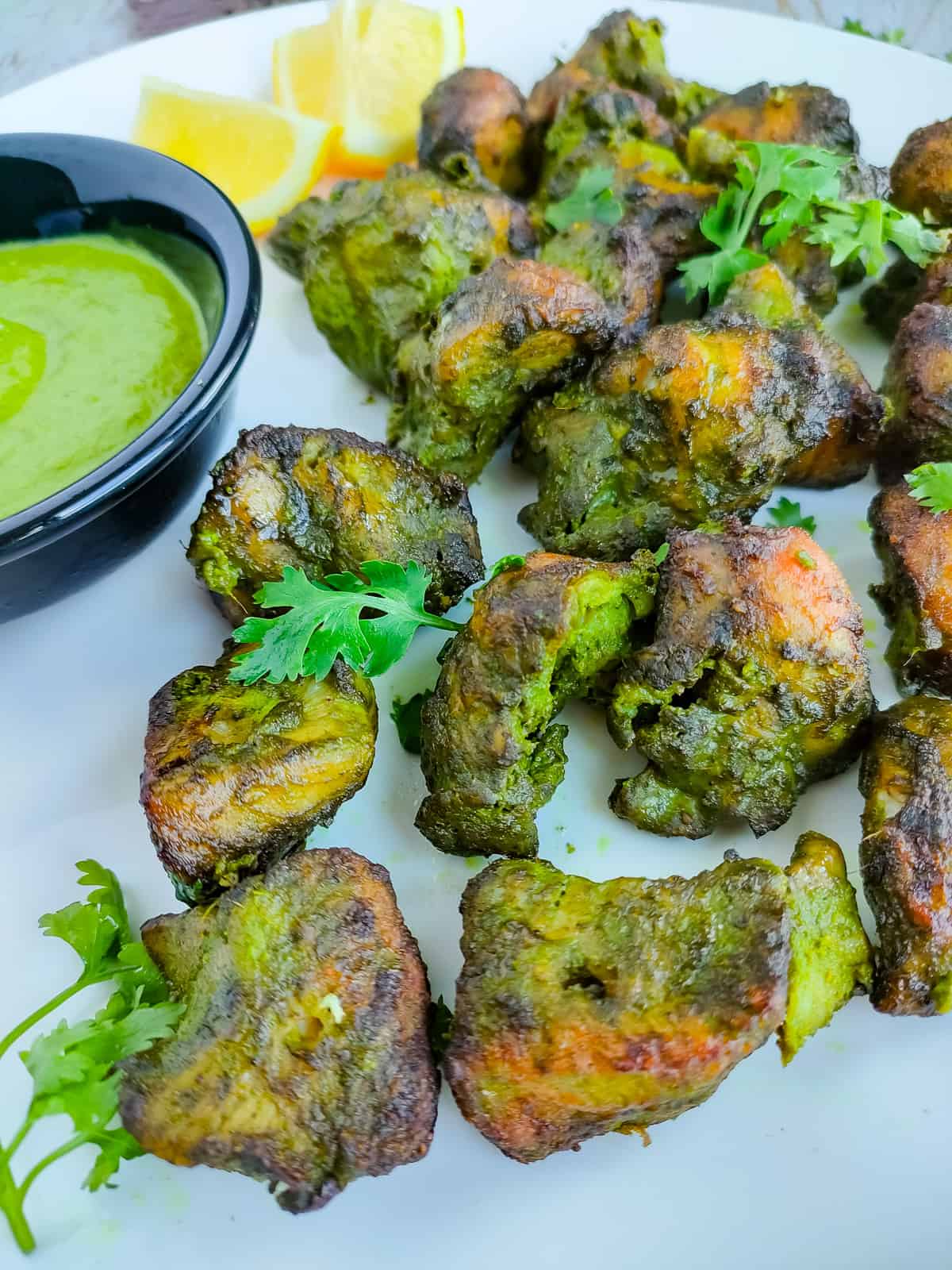 How To Make Chicken Hariyali Kababs Without Oven
If you don't have an oven, no worries. As with tandoori prawn tikka recipe, cooking the kababs in a pan is equally easy and delicious.
(I've made hariyali kebabs both ways and nobody could decide which one tasted better!)
Thread the marinated chicken onto skewers. Spread about ½ of the oil-ghee mixture in a grill pan or a regular one.
Place the skewers on the greased pan and cook for 5 minutes. Keep basting with the remaining oil+ghee.
Flip and baste. Cook for 4 to 5 more minutes. Done!
How To Grill Hariyali Chicken Tikka
Shake off excess marinade and thread the chicken onto skewers. Grill for 12 to 14 minutes, basting with oil/ghee and turning once halfway through.
Common Questions About Hariyali Kababs
Can I make kebabs without skewers?
You can cook these chicken kababs without skewers both in the oven and in a pan.
Cooking in a pan: Place the chicken cubes on the greased pan. You'll just have to ensure they are placed well apart. Cook on one side for 5 minutes while basting with oil+ghee. Flip each kabab and baste it with oil again. Cook for 5 more minutes.
Cooking in the oven: Line a sheet pan or baking pan with parchment paper. Place the marinated chicken cubes at least 1 inch apart from each other. Baste with ghee+oil and roast at 230°C/ 446°F for 8 minutes. Flip each of the kababs. Change the oven setting to broil and cook for 5 to 6 minutes until they are browned.
Should I poke holes in chicken before marinating?
If you're cooking large cuts of chicken like baked chicken breasts or tandoori chicken legs, you have to poke holes or make cuts in the chicken so that the marinade gets absorbed better. Chicken tikka and kababs are bite-sized pieces of chicken. The marinade gets absorbed anyway. So it is not necessary to poke holes. However, if you're using breasts, you might want to marinate them longer or tenderize them (as mentioned above).
Do you rinse marinade off chicken before cooking?
Never rinse the marinade off the chicken. The marinade, especially with yogurt, might get watery. So ensure there is no extra moisture. Everything from chicken to herbs should be blotted dry before marinating. If you're using homemade yogurt, hang it using a tea towel until all the water drains through. Before cooking, just shake off excess marinade. That would ensure that you get perfectly browned kababs.
Do you cover marinated chicken in the fridge?
Marinated chicken should always be stored in an airtight container or ziplock bag in the fridge. Since the marinade is full of flavors, the aroma gets absorbed easily by other foods. You wouldn't want your fruits, milk and chocolates to be smelling of the marinade.
Tips To Make The Best Chicken Hariyali Kebabs
Tenderize: If you're using chicken breast, and marinating the chicken for more than half an hour, the yogurt marinade is enough to tenderize the chicken. If you're marinating only for 30 minutes, use this hack to tenderize chicken breast before marinating. That way you'll get super soft and juicy kababs. (Totally worth the 15 to 20 minutes of soaking.)
Secret to easy browning: After cleaning and tenderizing, blot the chicken with paper towels to remove extra moisture. This will help brown the kababs.
Garam masala: I use homemade garam masala made by roasting the whole spices individually and grinding them. Some store-bought garam masalas may have a raw flavor. In that case, add garam masala (later on) to the chicken directly (when you add mustard oil) rather than blending it with other spices.
Flavor hack: Would you like to enhance the amazing hariyali flavors? Add a pinch of sugar to the marinade.
Well-browned hariyali kebabs: Whatever method you use to cook, grilled, oven-roasted or pan-fried, with or without skewers ensure 2 things:

Shake off the excess marinade before cooking.
Place the chicken pieces well apart from each other. This will help you make well-browned tender kababs. (A similar technique I use for chicken keema kebabs.)

Leftovers: Spread mint chutney on tortillas or parathas, and stuff with leftover chicken kababs and veggies to make roll-ups. You can also substitute chicken tikka with these kababs in tandoori chicken wraps.
Have an filling dinner by pairing these chicken kababs with biryani pulao.
More Kabab and Tandoori Recipes
★★★★★Did you try this recipe? Please give a star rating in the comments below ★★★★★
HUNGRY FOR MORE? Join over 1000 home cooks like you who subscribe to my weekly newsletter to get all the latest recipes right in your inbox. Or follow me on your favorite social media: Facebook, Pinterest, Instagram, and YouTube. Thank you and happy cooking!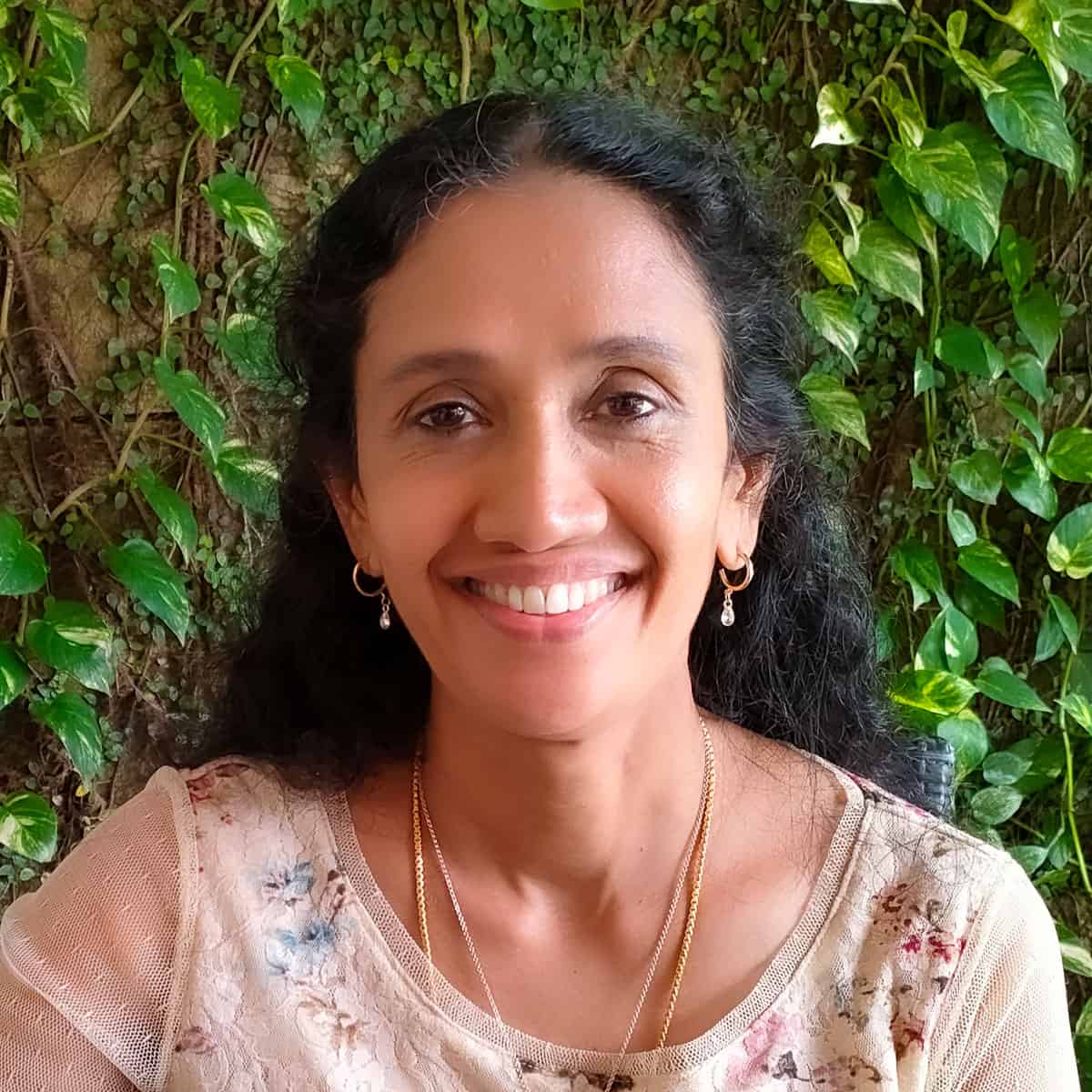 Hi! I'm Sheeba, welcome to Go Healthy ever after!
I have a passion for cooking delicious nourishing food that's easy to cook with fresh natural ingredients free from additives or preservatives. The easy healthy recipes you find here will inspire you to cook with creativity.
Copyright secured by Digiprove © 2022-2023