Tomato chilli prawn pasta is where comfort food meets nutritious tomato prawns. Prawns are baked in a flavorful spicy tomato sauce and added to pasta for a quick and healthy seafood dinner.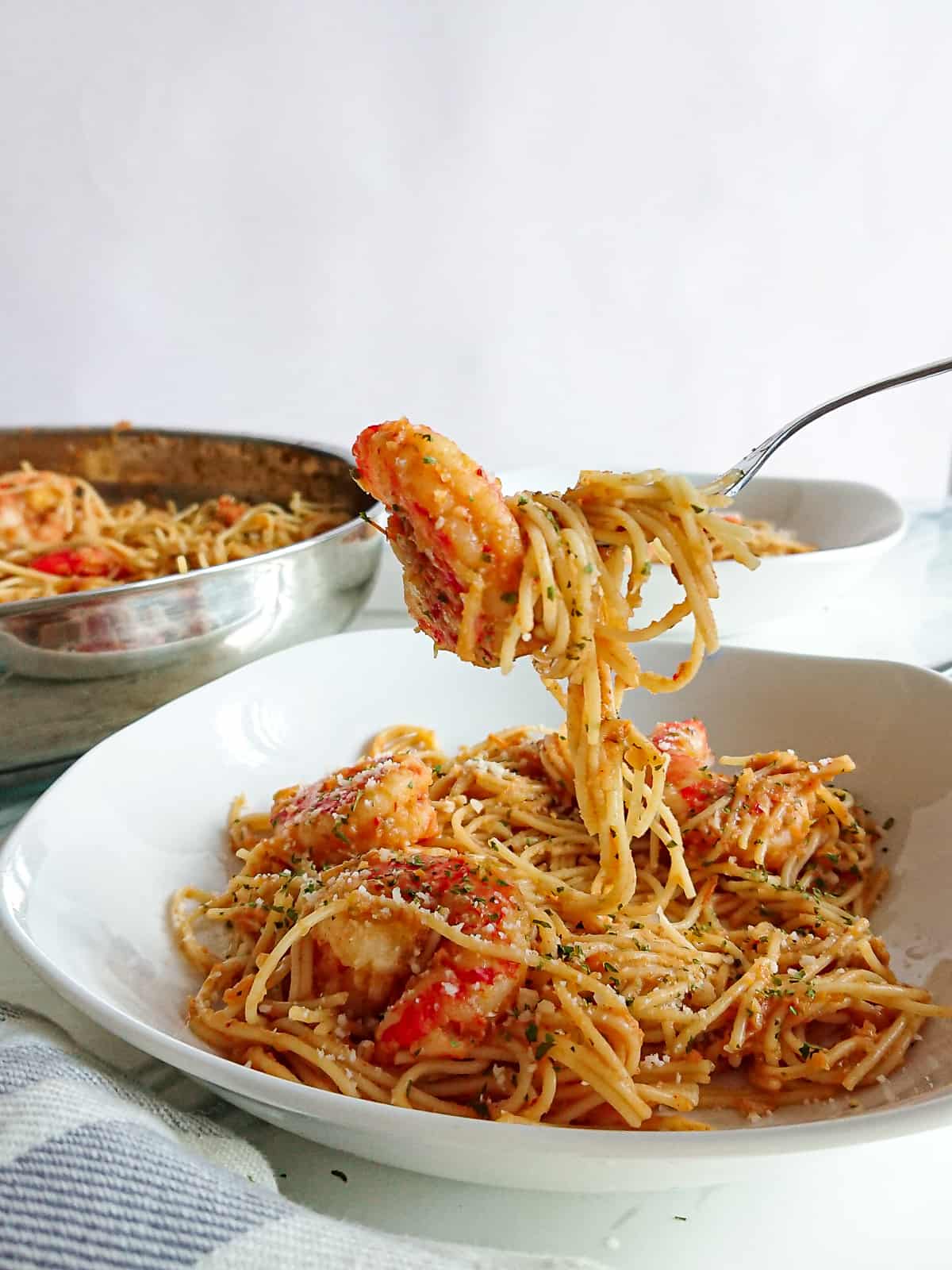 About the recipe
Honestly, I was never a fan of the tomato sauce, the tang is too much for me, especially the store-bought ones or even the restaurant ones. Coming from the land of spices, I love my spices.
I just cannot eat anything with tomatoes and garlic without spices. Not even pasta. (I hope now you'll forgive me for adding chilies to my mint pesto, spinach pesto, and chilli pesto which I used for red pesto pasta!)
Unless it is a no-cream creamy pasta like mushroom and courgette pasta or veggie pasta with vegan garlic sauce.
That was until I figured out a way to balance the tangy flavor of the tomatoes with chilies, garlic, onions and herbs. I'm so thankful I did, this chilli and garlic prawn pasta has become one of the favorite seafood recipes for my family and friends.
(Btw, my vegetarian friends love the spicy spaghetti arrabiatta. Check it out to learn the secret of how to easily make homemade tomato paste, in case you're interested.)
Angel hair is the easiest and quickest pasta to cook. The tomato and chilli sauce for pasta takes about 10 minutes to prepare, including the chopping and blending.
Prawns are then cooked in the sauce: you have the option to bake or simmer on stove-top. Either way, prawns in spicy tomato sauce wouldn't take more than 15 minutes to cook.
That's the reason I love prawns (apart from tasting awesome, of course!). They cook very fast, as we saw in recipes like tandoori prawns and prawn fry
While the shrimps are simmering away in the sauce, you can cook angel hair pasta that takes 1 minute flat. Delicious, Easy and Healthy shrimp pasta recipe that helps you get dinner to the table in less than 30 minutes.
Hands down, this pasta tops my list of quick and easy dinner recipes. (A close second would be prawn fry masala.) You're going to LOVE this!
Trending Videos
How to make tomato chilli prawn pasta- step by step
(You can find the exact measurements and instructions in the printable recipe card at the end of this page.)
Tomato and chilli sauce for pasta
The tomato sauce is made by sauteing onions, garlic, tomatoes, basil, oregano, paprika, chili flakes and then blending to form a paste. Before blending, add my secret ingredient: parsley stems.
They give an amazing flavor to the sauce and balance out the zesty flavor of tomatoes. They may slightly change the bright red color of the tomatoes but that's the compromise you make for a great-tasting pasta sauce.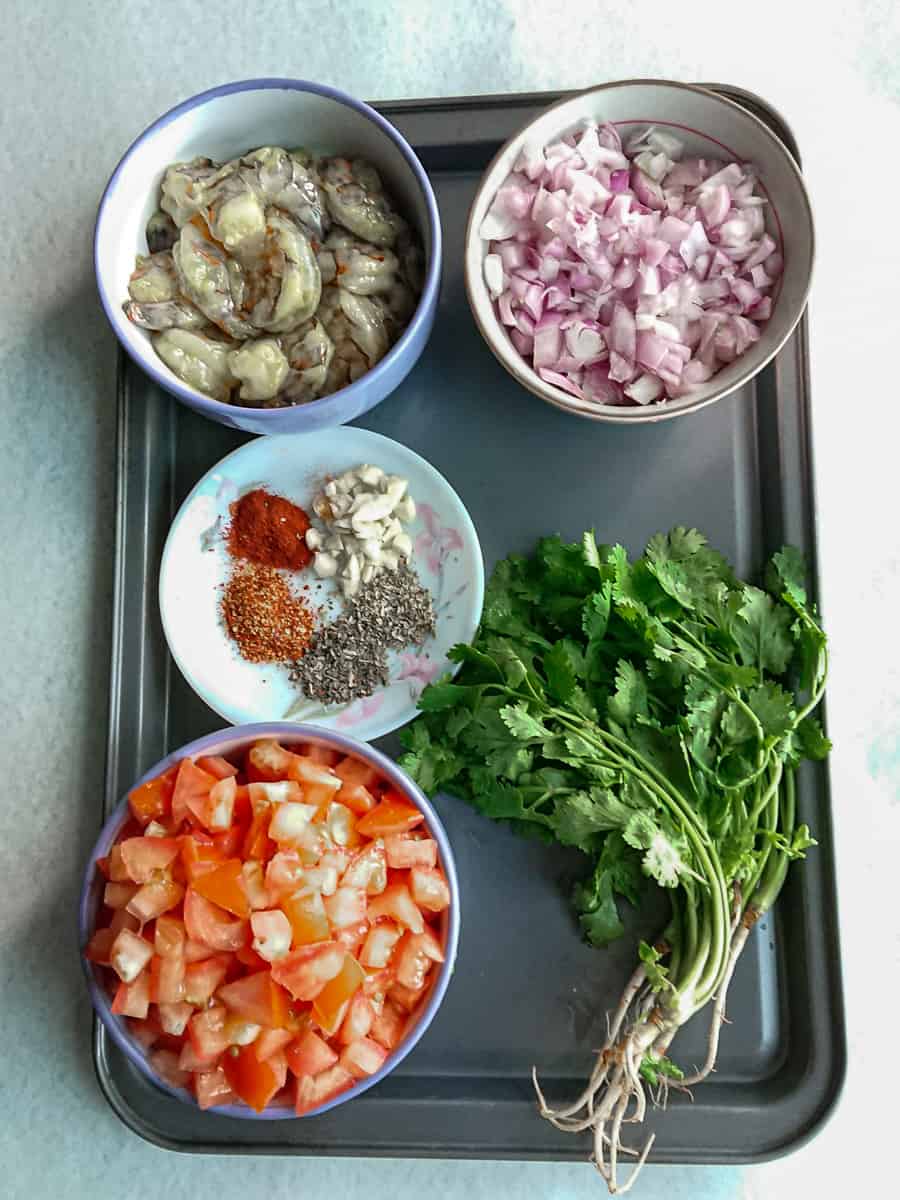 How to prepare the prawns
If buying fresh prawns, remove the shells and tail and devein. If using frozen prawns, thaw them by washing a few times with tap water or soaking in tap water for about 10 minutes, until they reach room temperature.
Leaving frozen prawns to thaw naturally (on the kitchen counter) will make them go limp and mushy.
Prawns are very delicate and they have to be handled with care. As in prawns masala fry and pan-fried prawns with peppers, they taste awesome with minimal seasoning and handling.
How to bake prawns in spicy tomato sauce
Grease a baking tray with butter and arrange the shrimps in a single layer. Spread the red sauce to completely cover the prawns. Bake in the oven for 15 minutes at 350°F/ 175°C.
Can you cook tomato prawns on stovetop?
Baking the sauce with shrimps locks in the flavor and gives a thick consistency. However, if you want to cook the sauce on stovetop, by all means, go ahead. It takes a bit longer if simmered on stove-top. Heat butter in a pan and add the shrimps and sauce. Mix and simmer until the prawns are cooked (become opaque).
How do you cook angel hair pasta?
I used to think that nobody needs to learn how to cook pasta because it is so straightforward. I've never been so WRONG! If you don't cook it right, you will be left with a lump of pasta that is overcooked in some parts and undercooked in some. Or just clumpy overcooked pasta. Cooking angel hair pasta is trickier because it cooks so fast, you wouldn't even have time to think about the damage!
So when cooking angel hair, I can't stress "al dente" more. That means the pasta should be "firm to the bite" and not too soft.
To begin with, ensure that you've started cooking the shrimps with the sauce in the oven (or stovetop) BEFORE cooking the pasta because the sauce has to be hot and ready when the pasta is done.
Boil water (about 3 liters/ 12 cups for this recipe) in a large stockpot with 1 tablespoon of salt. There should be enough water and space for the pasta to move around. So choose a large pot to boil the pasta.
How long does angel hair pasta take to cook?
Angel hair pasta typically takes 2 to 4 minutes to cook depending on the brand. Cook 1 minute lesser than the time specified in the package. Mine said 2 minutes so I cooked for 1 minute. (quicker than instant noodles!) This is because you are going to mix the pasta with hot sauce where it again gets cooked in the residual heat.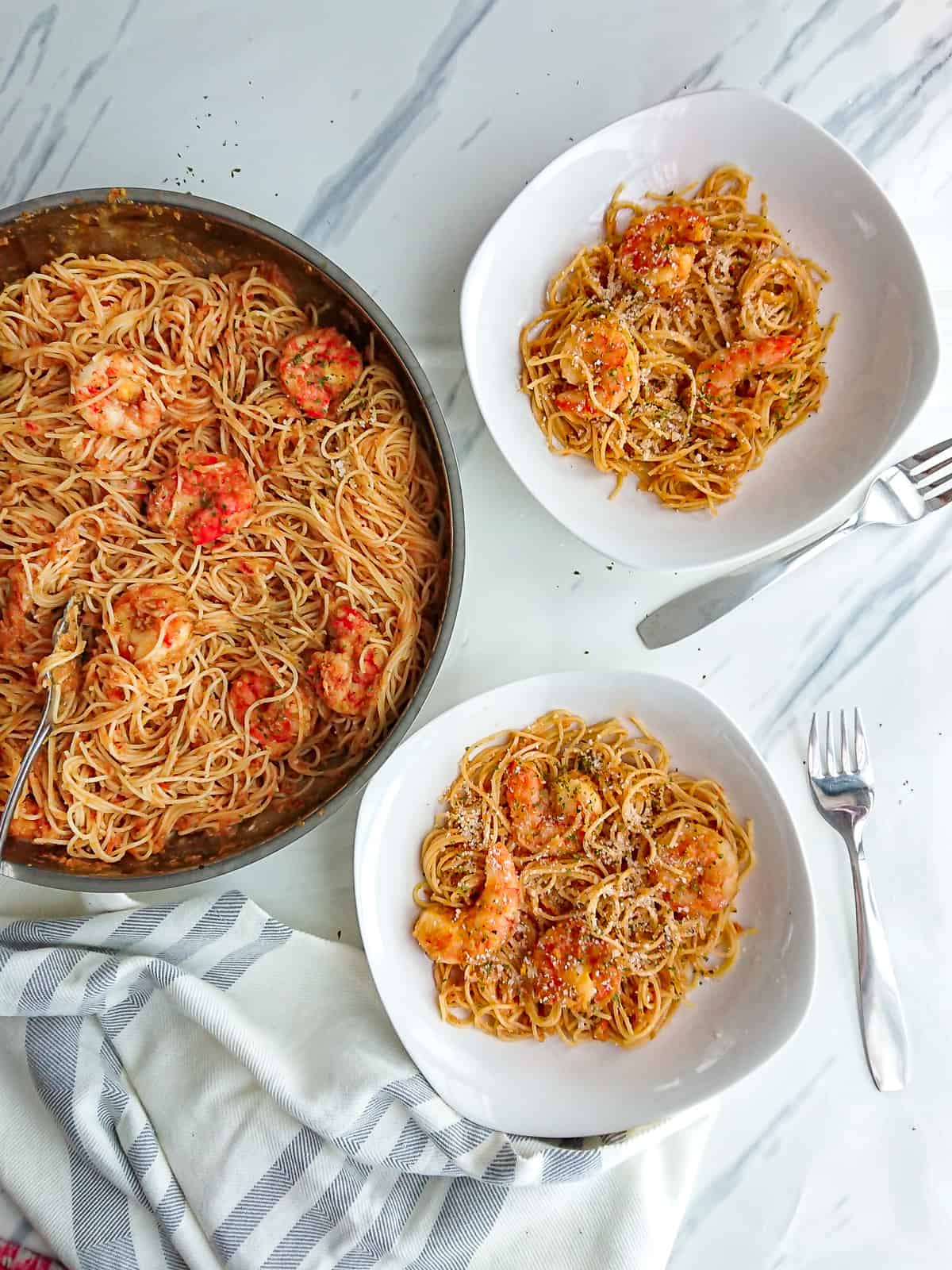 Drain the pasta while you reserve 1/2 cup of pasta water. The spicy prawns in tomato sauce will be ready by now. Place the pasta in a wide pan and toss with the tomato prawns. Add the reserved pasta water as necessary, a few teaspoons at a time. Sprinkle with grated parmesan and parsley.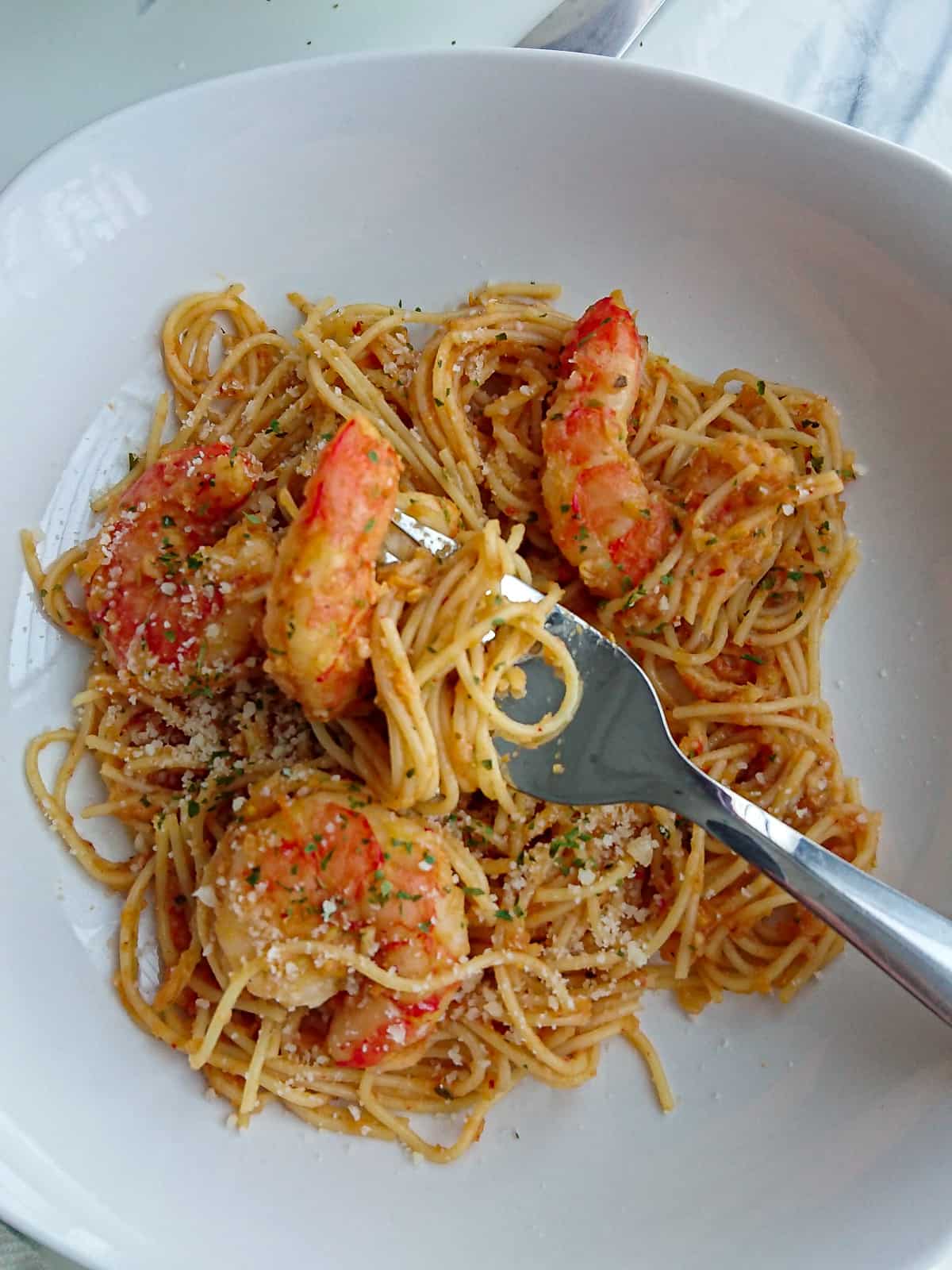 Pair this tomato chili prawn pasta with Italian potato croquettes for an indulgent dinner. Or serve with a simple side like sheet pan potatoes and broccoli.
Or make the beet orange salad for a healthier side.
Tips to make the best chilli prawn pasta
Cilantro can also be used instead of parsley, or replace half of parsley with cilantro. Do whatever mix-and-match suits you, but do not skip the stems while making the red sauce. It makes ALL the difference.
Toss the pasta with the sauce while it is still HOT. This helps pasta absorb the sauce better.
Hope I have answered all your questions about this shrimp pasta recipe. If you have more questions, please let me know in the comment section below. I'll try my best to answer them!
Do you love seafood but are not sure where to start?
Try my beginner-friendly simple fish cakes without potato, or the fool-proof baked salmon kabobs.
More pasta recipes
More seafood recipes
★★★★★Did you try this recipe? Please give a star rating in the comments below ★★★★★
HUNGRY FOR MORE? Join over 1000 home cooks like you who subscribe to my weekly newsletter to get all the latest recipes right in your inbox. Or follow me on your favorite social media: Facebook, Pinterest, Instagram, and YouTube. Thank you and happy cooking!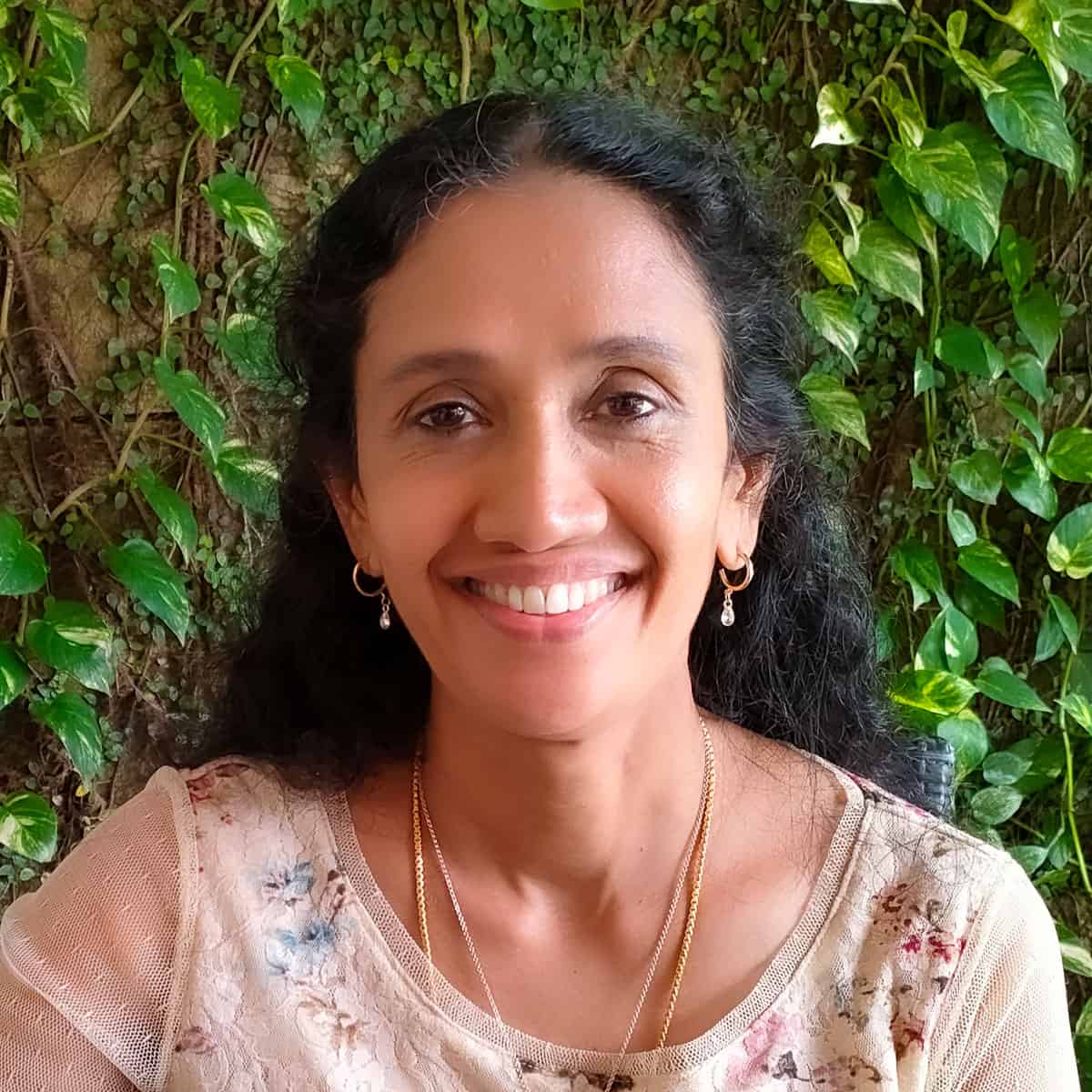 Hi! I'm Sheeba, welcome to Go Healthy ever after!
I have a passion for cooking delicious nourishing food that's easy to cook with fresh natural ingredients free from additives or preservatives. The easy healthy recipes you find here will inspire you to cook with creativity.
Copyright secured by Digiprove © 2020-2023