Creamy vegetable pasta that is so delicious, you wouldn't believe it has no cream in it! This is a loaded plant based protein-rich pasta with a vegan garlic sauce, colorful veggies and sweet roasted tomatoes.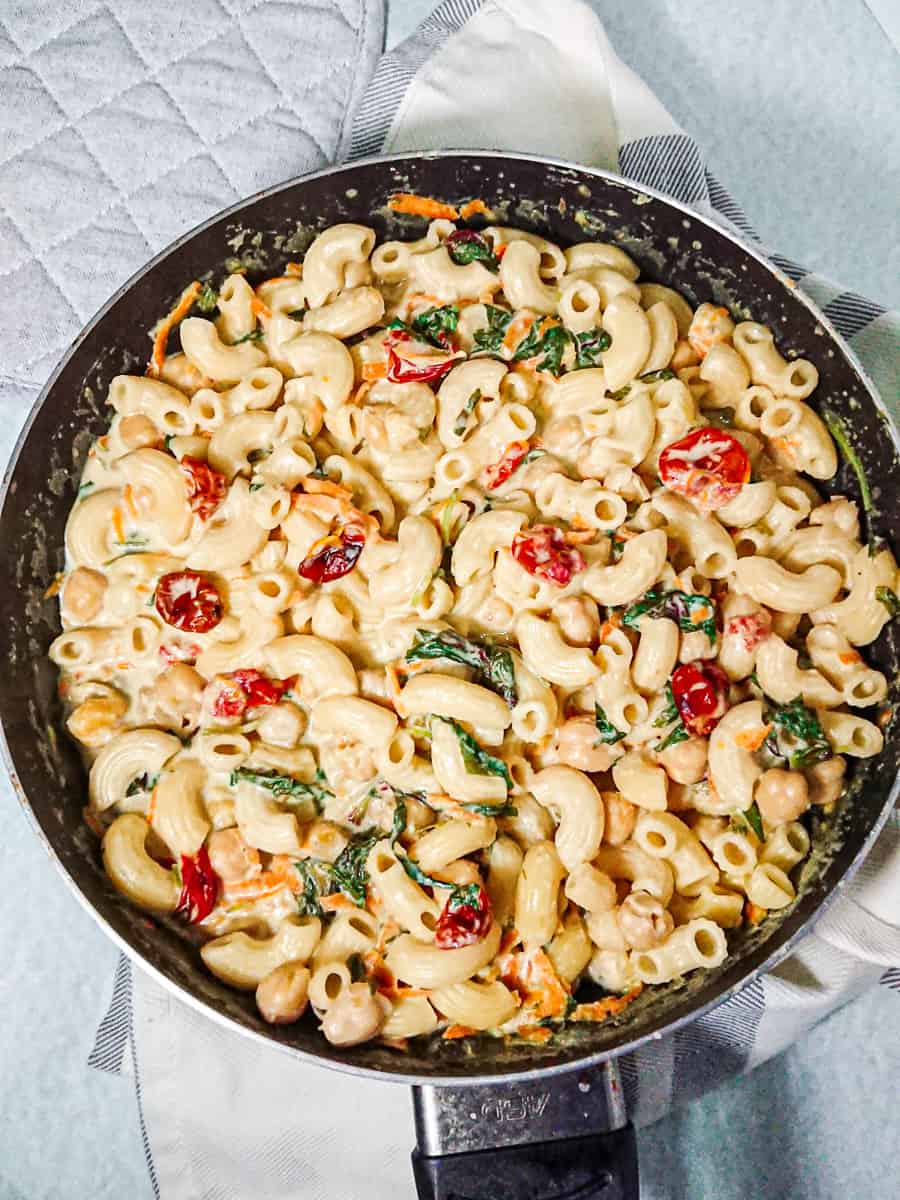 About the recipe
This creamy pasta with vegetables is a wholesome meal with garlic, roasted cherry tomatoes and fresh vegetables like spinach and carrots.
It is not only guilt-free but also an easy nutritious meal that you can quickly get to the table for a weeknight dinner. Like my zucchini and mushroom pasta without cream and 6-ingredient spaghetti arrabiata.
After a few trials, I was able to successfully replace cheese flavor with the vegan garlic sauce. But how can I get protein in the pasta without meat?
CHICKPEAS came to my rescue here. Full of plant-based protein, the flavor of chickpeas complemented by the white sauce with almond milk will get even the pickiest kid to love this vegan protein pasta WITHOUT CREAM. Shhh….nobody will even realize there's no cream!
The chickpeas just blend in with this elbow pasta, making it look and taste awesome. Adding high-fiber beans like chickpeas drastically cuts down your refined carb intake since you're replacing 1/2 the amount of pasta with chickpeas.
This pasta recipe is for those of us who want a healthy nutritious meal, yet love our carbs! Like the red pesto pasta made with chili pesto sauce. Or basil almond pesto pasta with spinach.
Are you a fan of chickpeas like me? You'll love this creamy chana masala, delicious black chana soup and easy Indian chickpea and potato curry.
Video
Ingredient notes
Pasta– macaroni, fusilli or penne.
Garlic– the main flavoring agent for the sauce.
Cherry tomatoes– give a delicious sweetness when roasted.
Chickpeas– canned (or soaked and cooked dry chickpeas)
Vegetables– Spinach and carrots
Cashews and almond milk for sauce
Italian seasoning
Olive oil
Salt and pepper
So here comes another twist: there is an ingredient that most of you wouldn't dare to add in pasta- green chili. I know, that might sound strange, but believe me, the spice gets balanced out by the chickpeas, roasted tomatoes and the creamy garlic sauce.
I have tested out this recipe with 1, 2 or no chilies, and found that 2 medium-sized chilies work best for my family. (and we don't eat very spicy food, you'll realize if you have been following my recipes. I've used chilies in the roasted garlic pesto, too.) So you are free to choose the number of chilies according to your spice level, but I recommend at least 1 small chili for the enhanced flavor of this creamy vegetarian pasta.
Oops, garlic, oil and Italian seasoning are out of the frame!
How to make creamy vegetable pasta- step by step
(You can find the exact measurements and instructions in the printable recipe card at the end of this page.)
How to cook dry chickpeas in instant pot or pressure cooker:
Canned chickpeas can be used for this recipe. Drain, rinse and use. If using dried chickpeas, soak overnight or for 8 hours minimum.
Drain the chickpeas and add 2 cups of water. For the pressure cooker, cook for about 6 whistles on medium heat. Turn off the flame and let the pressure release naturally. Drain and let them cool. You might want to reserve some of the cooking water to use later, for thinning out the sauce if it becomes too thick.
To cook in an instant pot, pressure cook for 15 minutes at high pressure and wait for natural pressure release. Drain and cool the chickpeas.
How to roast cherry tomatoes
Drizzle oil and roast the cherry tomatoes in the oven at 180 degrees C (350 degrees F) for 20 minutes. They can also be roasted on the stovetop, in a saute pan with 1 teaspoon oil on a medium flame until done, for about 20 minutes.
Meanwhile, cook the pasta, prep the vegetables and prepare the sauce. Reserve some pasta water.
How to make vegan garlic sauce
We make this creamy sauce using cashew nuts and almond milk that are full of nutrients and vitamins instead of refined flour or cream. If you don't mind dairy, you can use whole milk in place of almond milk. But I recommend almond milk for its rich flavor.
Soak the cashews in 1/4 cup of warm water for 15 minutes and blend to make a smooth paste.
Take a wide, deep pan that can hold all of the pasta. Saute minced garlic and green chilies in olive oil, add almond milk, cashew paste, and Italian seasoning. Stir well and bring the sauce to a boil. Simmer for about 10 minutes or until it reaches the required consistency. (The creamy sauce should coat the back of a spoon.) If the sauce gets too thick, add some water from cooking the chickpeas or pasta and adjust the consistency to your preference.
Add chopped spinach, grated carrots and chickpeas. Add salt and pepper as required. Simmer for 5 minutes and turn off the flame.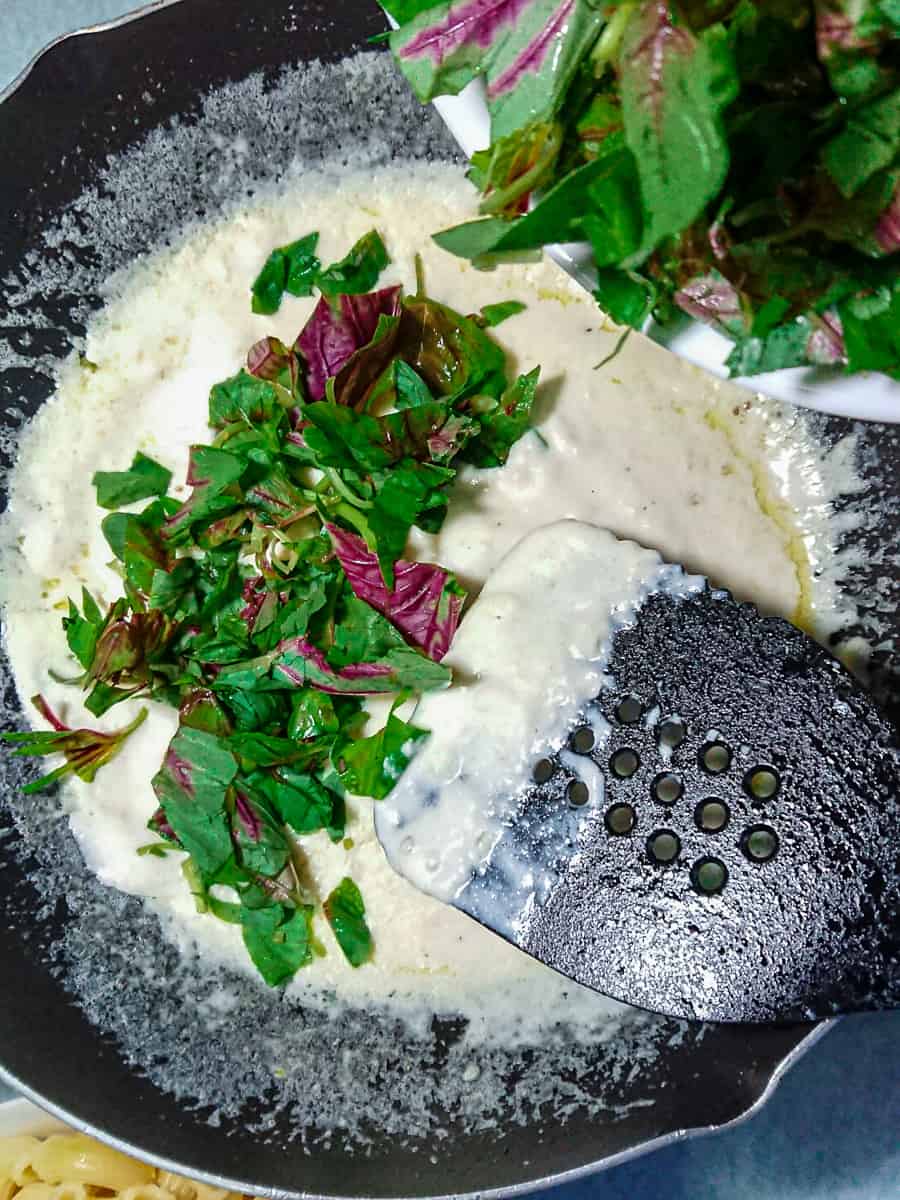 Add the pasta and roasted tomatoes. Toss!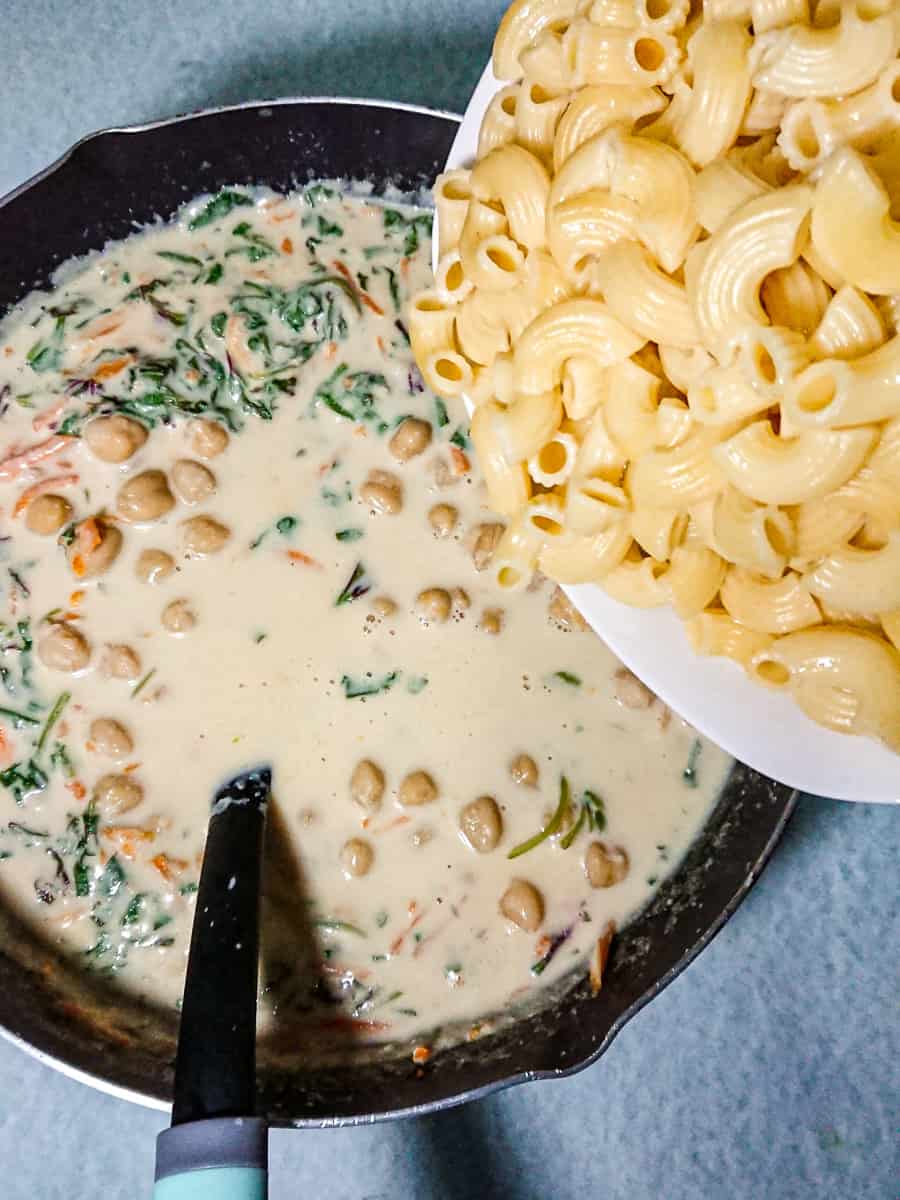 Let it sit for 5 minutes and….devour!
How to avoid your pasta turning mushy or gummy
Cook pasta in a deep and wide pan with salted water about 4 cups per cup of dry pasta. (roughly 4 quarts per pound of pasta)
Add pasta only after the water comes to a rolling boil.
Keep stirring intermittently to keep the pasta from sticking together and to cook uniformly.
Cook until the pasta is ALMOST done. Cook for about 5 minutes lesser than the time specified in the package instructions.
Drain immediately and toss with olive oil (about 1 tablespoon per cup of uncooked pasta).
Do not rinse the cooked pasta, unless you're making pasta salad.
Toss with the sauce just before serving.
Make-ahead option
This creamy pasta is best eaten fresh. It can be refrigerated for a couple of days or frozen for a month. Refrigerate the pasta water and add when you reheat the pasta.
What to serve with creamy veggie pasta
This vegan garlic pasta goes well with a simple salad or protein of your choice:
More pasta recipes
★★★★★Did you try this recipe? Please give a star rating in the comments below ★★★★★
HUNGRY FOR MORE? Join over 1000 home cooks like you who subscribe to my weekly newsletter to get all the latest recipes right in your inbox. Or follow me on your favorite social media: Facebook, Pinterest, Instagram, and YouTube. Thank you and happy cooking!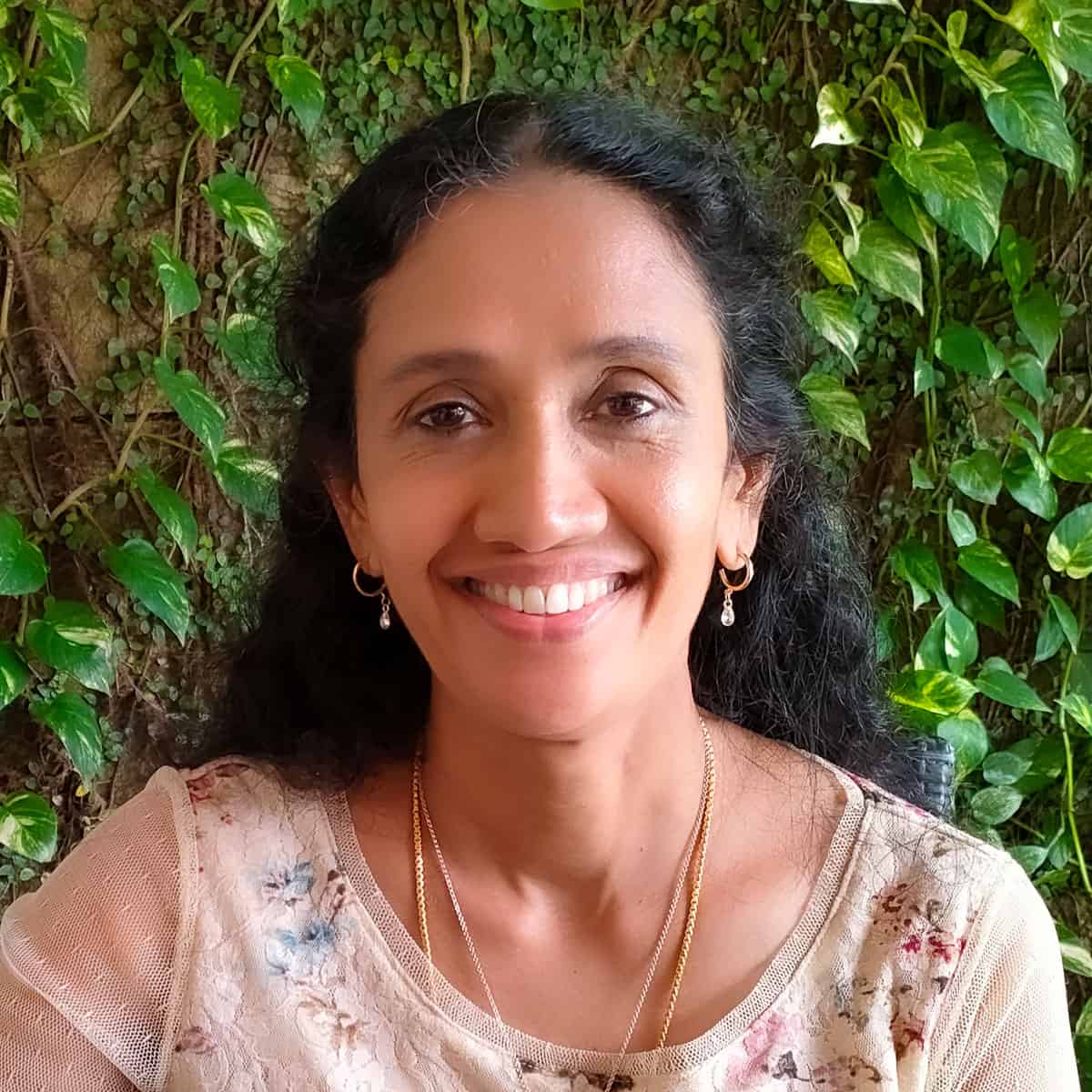 Hi! I'm Sheeba, welcome to Go Healthy ever after!
I have a passion for cooking delicious nourishing food that's easy to cook with fresh natural ingredients free from additives or preservatives. The easy healthy recipes you find here will inspire you to cook with creativity.
Interesting facts about Chickpeas
Chickpea flour can be used to make fritters, desserts and crepes.
The brine from chickpeas can be used as an egg white replacement to make meringue.
Fight wrinkles, age spots and even acne with a chickpea flour topical paste.
Chickpea flour can be used to wash away dandruff from your hair.
Chickpea coffee was first discovered in 1793 and adopted in areas of Germany in WWI.
Chickpeas were fed to Roman stallions to increase their virility.
The Ancient Romans believed that chickpeas were a gift from the Goddess Venus to help with fertility.
In traditional Jewish birth celebrations like Shalom Zakhar, chickpeas are consumed as they represent the circle of life.
(Source: https://blog.choosechickapea.com/top-ten-facts-chickpeas-post)
Copyright secured by Digiprove © 2020-2023