This is an easy recipe for how to pan fry prawns. Serve these pan fried prawns and peppers as a starter or use a simple trick to turn it into the best chilli garlic prawn pasta!
About the recipe
Looking for an easy, healthy prawn recipe? These low-calorie pan-fried prawns will be the answer.
Garlic, lemon and prawns simply make a great dish together. This easy prawn appetizer requires just 5 basic pantry ingredients.
With a small trick (explained below) you can transform it into garlic prawn pasta, a quick and easy dinner.
Since prawns are naturally bursting with flavor, you don't need much seasoning. We saw that in recipes like jhinga masala. Less is more when it comes to cooking prawns.
Like most of my seafood recipes, they cook very fast. Easy to cook and soooo delicious to eat!
Have you ever felt that some of the easiest recipes are the best? I get it. Absolutely. Golden fried prawns, tandoori prawns and tomato chilli prawn pasta are great examples.
If you love seafood, you might also want to try my other appetizer recipes like no-potato fish cakes or baked salmon kebabs that are so easy to make.
Or try these healthy fish recipes like Panko-crusted baked cod or spicy baked fish with mustard.
Popular Videos
The 5 main ingredients
Garlic, chili powder, lemon juice, onions, and bell peppers. That's it, guys. (For those of you peeking at the pictures, oil and salt don't count!) Judge for yourselves when you read the recipe card below.
And let your dream come true when you cook and eat those delicious spicy, zesty, juicy pan fried prawns.
How to pan-fry prawns and peppers- step by step
Toss together the prawns, diced peppers and onions with chopped garlic, chili powder, lemon juice and salt. Saute the seasoned prawns, peppers and onions in oil for about 6 minutes, ensuring that you flip the prawns and cook them on both sides. Garnish with finely chopped cilantro.
5 Ingredients and 6 simple steps. It can't get EASIER than this. Can it?
The only catch in cooking prawns here is the peeling part if you buy fresh prawns. (The tails can be removed if you prefer the shrimps that way.) If you can get hold of frozen or fresh peeled prawns, you are a winner!
What do you eat pan-fried prawns with?
Makes an excellent starter. Serve them on toothpicks with onions and peppers for that gourmet feel!
Make an interesting appetizer with prawns and peppers as toppings on toasted bread slices with a drizzling of roasted garlic pesto or Thai basil pesto.
Lemon garlic quinoa
Pumpkin soup without cream for a guilt-free dinner.
How to make chilli garlic prawn pasta or rice
You can make a quick dinner out of these . Great way to use up leftovers, too. (If you have anything left!)
Cook 1 cup of rice/ pasta for 3-4 servings. (For pasta, toss cooked pasta with 2 teaspoons olive oil.) For low-carb options, use quinoa or cauliflower rice.
Transfer the pan fried prawns and peppers to a bowl. In the same pan, heat 2 teaspoons olive oil with 1/4 cup of vegetable or chicken stock. Bring it to a boil.
Add cooked rice/ pasta and prawns. Mix well.
Add a handful of any herb or a combination of herbs: cilantro, thyme, oregano or parsley.
Turn off the flame. Enjoy!
Recipe tips
This recipe takes less than 10 minutes to cook. Easy peasy, but you also have to take care not to overcook the prawns. Nobody likes overcooked rubbery prawns. Also, the bell peppers and onions should turn out crunchy.
The key is to use a wide pan, stir on medium-high heat and cook for no more than 6 to 7 minutes.
Give this recipe a Thai spin by adding a couple of spoonfuls of Thai green curry paste while pan-frying the prawns.
Common questions about pan fried prawns and peppers
Are prawns/ shrimps healthy?
Prawns/shrimps are a great source of protein, low in calories and saturated fat, rich in omega-3 fatty acids, selenium, vitamin B12, calcium and vitamin E. Hence, they promote heart health, brain function, growth and development and reduce inflammation, risk of illnesses like cancer, arthritis and dementia.
Though shrimps are high in cholesterol, it doesn't have a negative impact on heart health since they are rich in antioxidants and omega-3 fatty acids. (source)
How do you defrost prawns quickly?
You should thaw frozen prawns by quickly rinsing a few times with tap water or soaking in tap water for about 10 to 15 minutes until they reach room temperature.
Using hot water to thaw will cook the prawns on the outside. So when you cook them for the recipe, they either get overcooked and turn rubbery, or the insides will still be undercooked.
Leaving frozen prawns to thaw naturally (on the kitchen counter) will make them go limp and mushy.
What is the healthiest way to eat prawns?
Using olive oil makes this one of the low-calorie prawn recipes with less than 150 calories per serving. Since prawns have a high cholesterol content, the nutrition levels can be balanced by avoiding saturated fats like butter.
How long can you marinate prawns in lemon juice?
Prawns don't need much time to marinate. Citrus marinade actually "cooks" the prawns (as in Ceviche). So the ideal marinating time would be about 5 to 10 minutes. Anything more than that, the prawns tend to turn out mushy when cooked. That's the reason for adding lemon juice in the end, after tossing the rest of the ingredients in this recipe.
More seafood recipes
★★★★★Did you try this recipe? Please give a star rating in the comments below ★★★★★
HUNGRY FOR MORE? Join over 1000 home cooks like you who subscribe to my weekly newsletter to get all the latest recipes right in your inbox. Or follow me on your favorite social media: Facebook, Pinterest, Instagram, and YouTube. Thank you and happy cooking!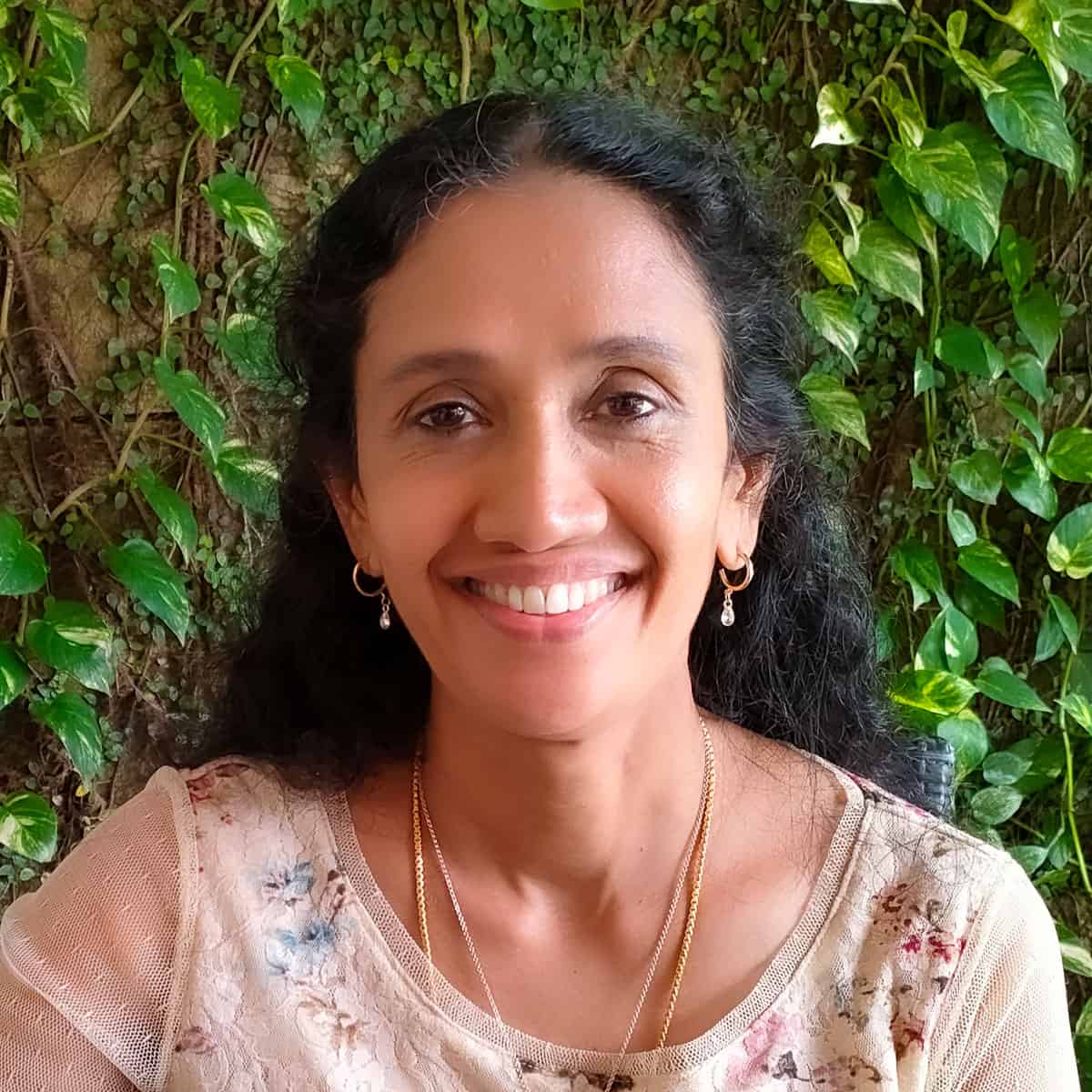 Hi! I'm Sheeba, welcome to Go Healthy ever after!
I have a passion for cooking delicious nourishing food that's easy to cook with fresh natural ingredients free from additives or preservatives. The easy healthy recipes you find here will inspire you to cook with creativity.
This post was originally published in 2017. It has been updated with new photos and tips to give you a great experience.
Copyright secured by Digiprove © 2019-2023