Baked saffron salmon kabobs in the oven can be made with a 5-ingredient marinade in 15 minutes. These spicy salmon bites are one of the easiest appetizers you can make with salmon.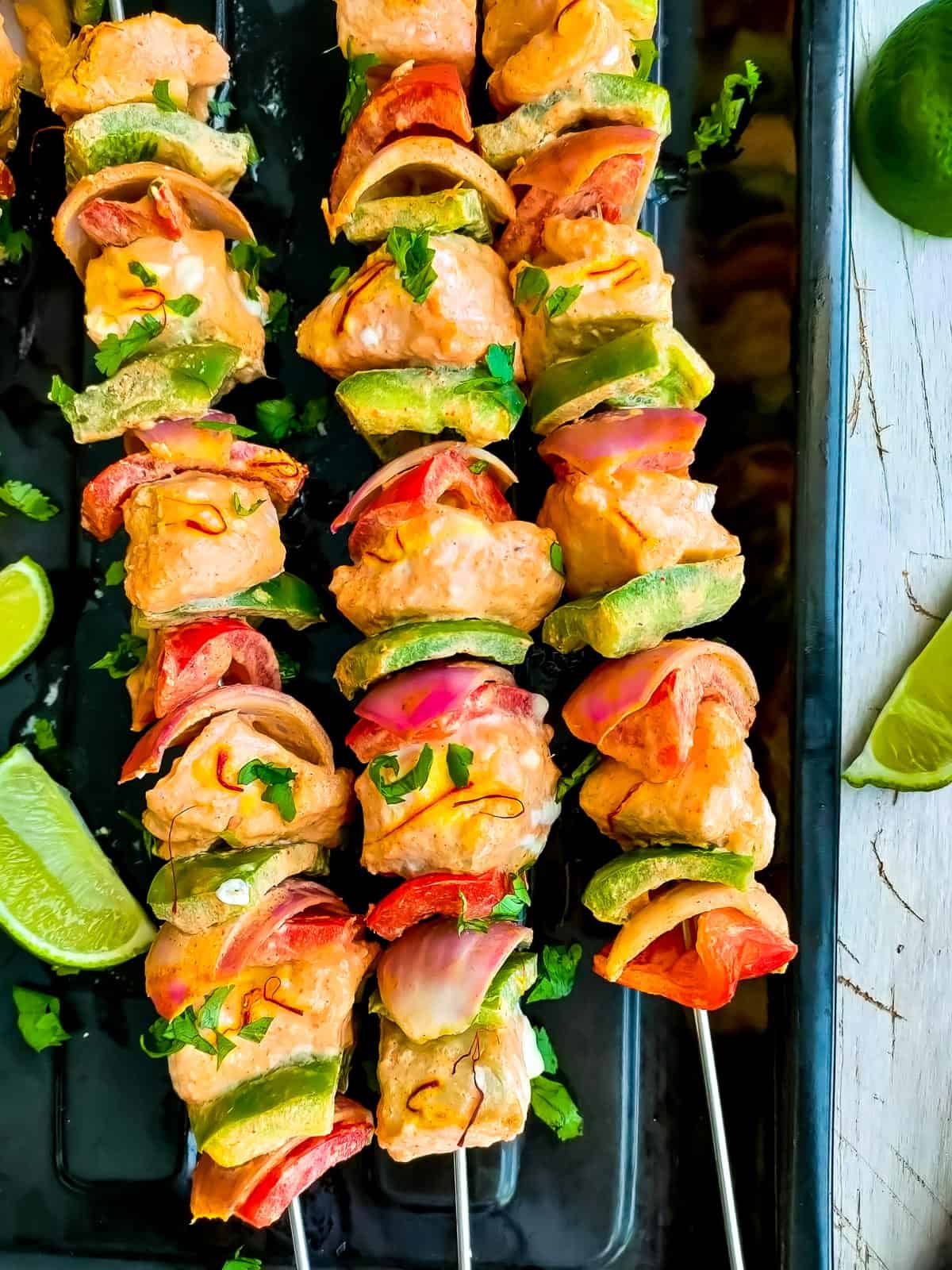 Why You'll Love These Spicy Salmon Bites
These saffron salmon kebabs are yet another of my easy healthy low-carb salmon recipes. (Like citrus-marinated salmon and paprika salmon with mango salsa.)
Marinate the salmon and vegetables for 10 minutes using a simple yogurt-saffron marinade and pop into the oven.
It is one of those cubed salmon recipes (similar to tandoori salmon recipe) that get cooked very fast. We use a slow-cooking low-temperature setting to bake these salmon kabobs in the oven to preserve their texture. Even then, the total cooking time is just 30 minutes.
A highly nutritious recipe like most of my seafood recipes, this yogurt salmon is also a versatile dish.
These baked salmon kabobs can be eaten as an appetizer. It also tastes great as a wholesome dinner served with a salad and flavored rice.
Salmon has a great flavor on its own, so it needs minimal seasoning. That makes it even easier to cook salmon skewers in the oven.
These spicy salmon bites are the healthiest of all my tandoori, tikka and kabab recipes. Green chicken kabab will possibly be a close second.
Salmon has enough fat which also keeps it moist (no worries, it is the heart-healthy unsaturated fat). So you don't even need a single drop of oil to cook!
Serve these baked salmon bites with my no-oil avocado chutney for a super healthy appetizer or meal.
Watch How To Make Salmon Kebabs in the Oven
Health Benefits Of Salmon
As we all know, salmon is one of the superfoods with numerous health benefits. It is a highly nutritious fish, rich in heart-healthy omega-3 fatty acids, along with protein, niacin, selenium, magnesium, vitamins B6 and B12.
Salmon is also one of the few good sources of vitamin D and has virtually zero carbohydrates, all of which make it one of the healthiest foods.
I love salmon not only for its health benefits but also for its rich flavor and ease of cooking.
This is one of my family's favorite baked salmon recipes. This is how you make it:
Ingredients
(You can find the exact measurements and instructions in the printable recipe card at the end of this page.)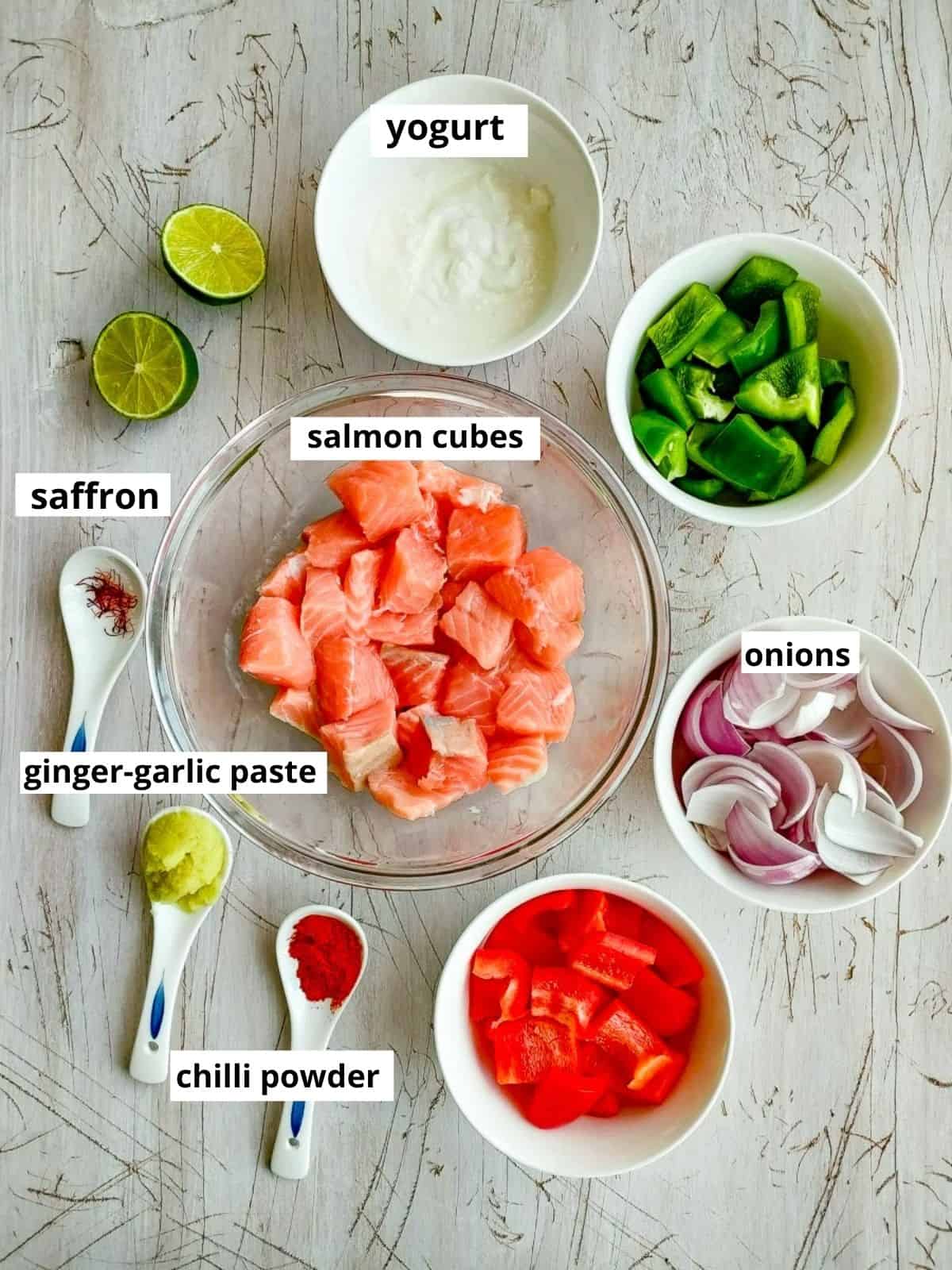 Fresh salmon fillets, cubed: 2 medium-sized fillets for one batch of this recipe.
Vegetables: onions, bell peppers.
Spices: ginger garlic paste, chili powder (or cayenne pepper), salt and black pepper.
Saffron is the special spice that gives the characteristic color and flavor to this kebab recipe.
Lime juice: For the tangy flavor to balance the spices.
Yogurt: This recipe has no oil, no butter, no cream, yet the kabobs are so creamy. The secret lies in the yogurt that keeps these saffron salmon kebabs tender and juicy.
For those of you who have been following this blog, it should come as no surprise since you know my love for yogurt. Yogurt features in many of my recipes from marinades (tandoori chicken, chicken tikka, baked chicken legs) to sauces (breaded shrimps, tandoori cauliflower, Panko crusted cod).
How To Cook Salmon Kabobs In Oven- step by step
Preheat the oven. Season the cubed salmon with salt, pepper and lime juice.
Mix all ingredients for the marinade.
Add marinade to salmon.
Add onions and peppers.
Mix everything together.
Thread the saffron-infused salmon kebabs and veggies onto skewers and bake!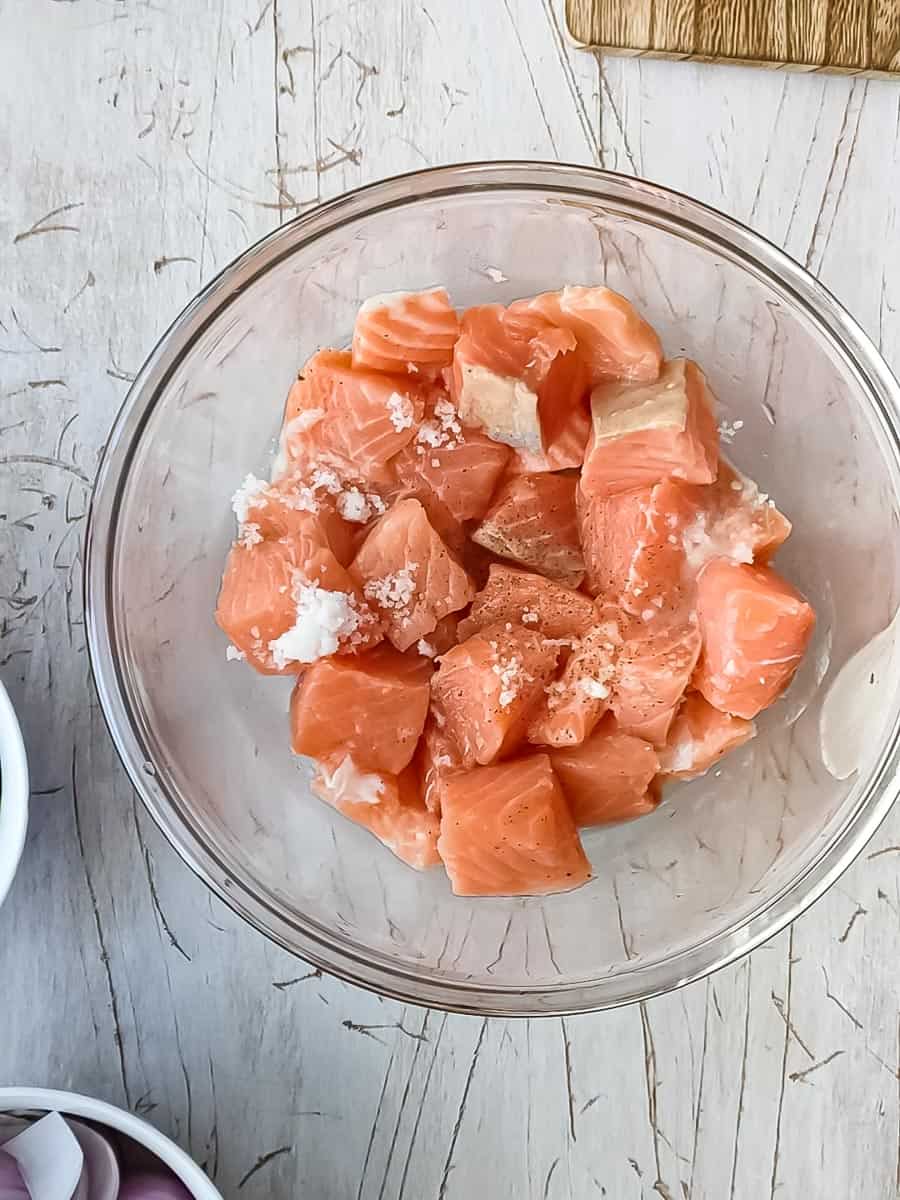 You are 15 minutes away from enjoying the juicy melt-in-your-mouth spicy salmon bites with a bonus of crunchy roasted vegetables!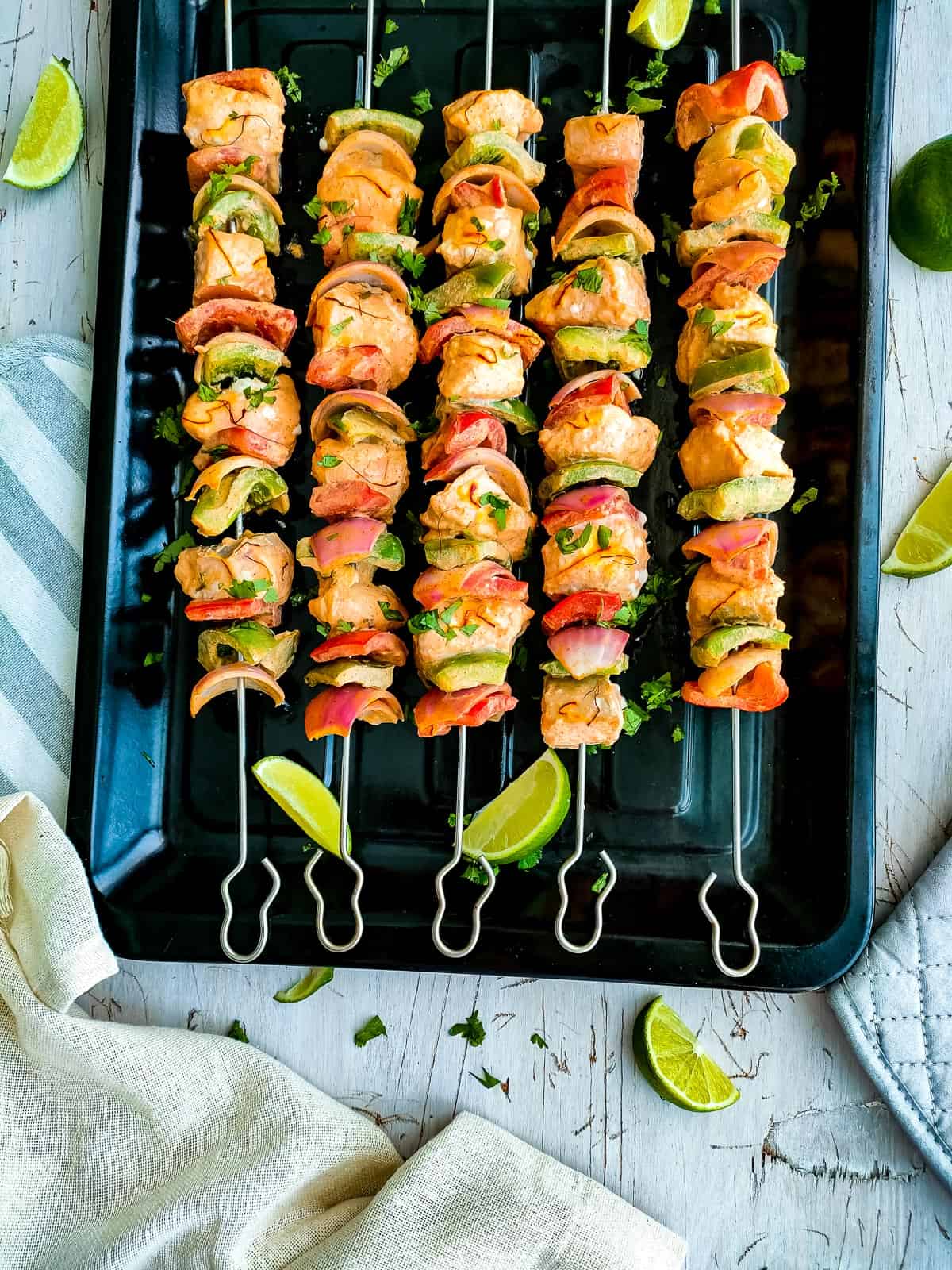 Tips To Bake The Best Salmon Skewers In The Oven
The secret to baking top-notch salmon kabobs in the oven is the temperature at which they are cooked and the baking time. The kabobs should not get overcooked and rubbery.
The best way to cook salmon kebabs in the oven is as low as 120°C/ 250°F for 15 minutes. Cooking at this temperature gives soft and juicy baked salmon bites.
Marinate longer to get the best results. You can marinate salmon for up to 1 hour.
Variations
The peppers and onions remain crunchy since we are cooking at low temperatures for a short time. If you like them softer and well cooked, thread them in separate skewers and cook at 200°C/ 400°F for 20 to 25 minutes. (after removing salmon from the oven.)
The salmon will be pink, even if it's cooked through. If you want your salmon kebabs browned, baste with a little olive oil before baking.
Common Questions About Baked Salmon Bites
How do you keep salmon moist while cooking?
Baking at temperatures as low as 120°C/ 250°F keeps salmon soft and juicy while ensuring that it is perfectly cooked and flaky, too.
Cooking at low temperatures is also healthier since it keeps the omega-3 fats in the salmon intact. Though in this recipe we don't use fats like oil or butter to cook salmon, the moisture is locked in by the yogurt-lime marinade.
How do I cook salmon so it's not fishy?
Baking with spices, lemon and yogurt is the best and healthiest way to cook salmon.
The unique yogurt marinade with aromatics like saffron, ginger and garlic helps remove the fishy smell and gives a creamy spicy flavor to salmon.
Is it better to bake fish covered or uncovered?
Baking uncovered helps brown the fish on the outside while keeping it moist on the inside.
Covering with foil and baking will steam the fish, making it softer but will not brown the fish. Both are healthier alternatives to pan-frying and result in tender juicy fish fillets.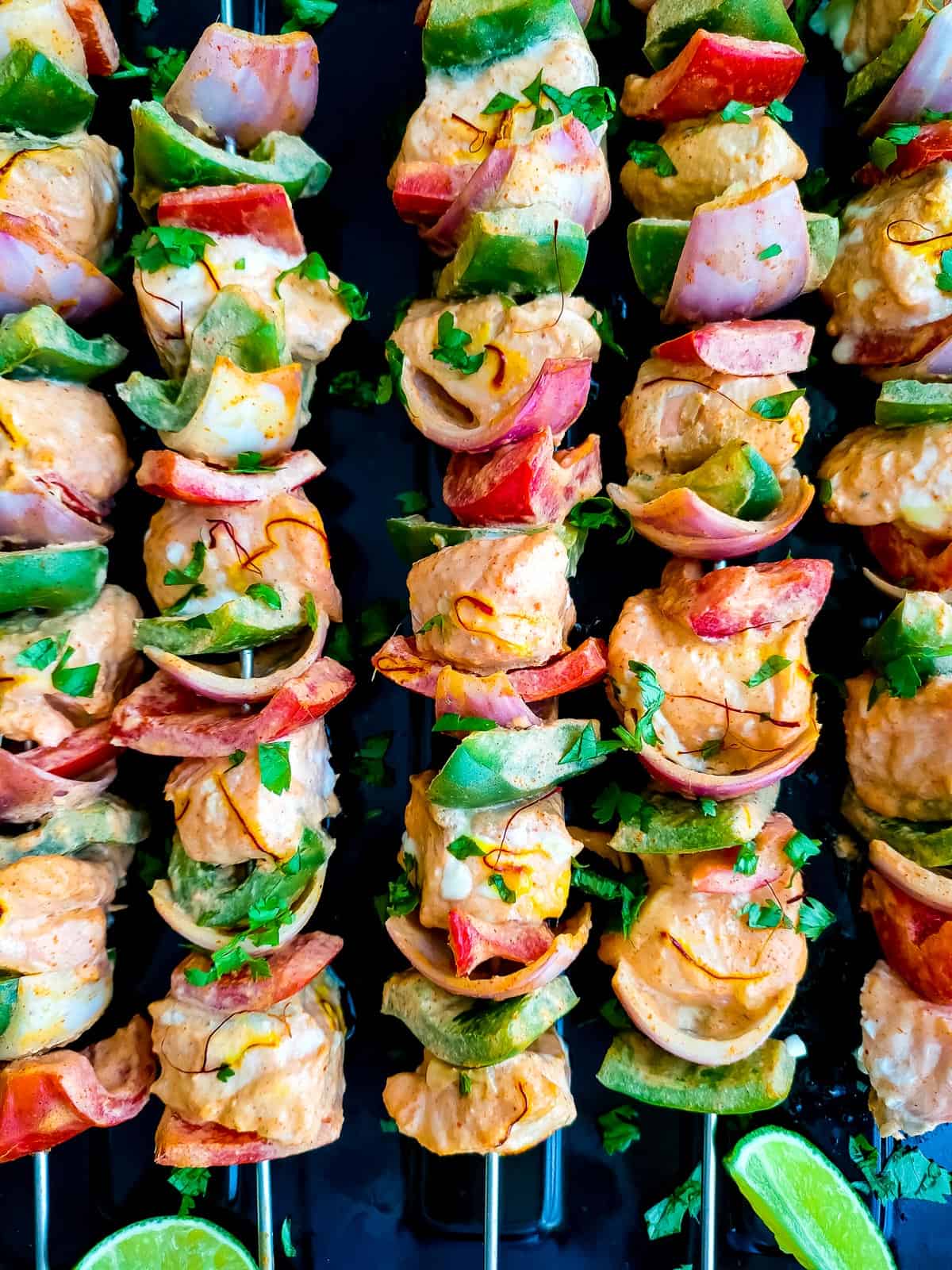 What To Serve With These Spicy Salmon Bites
Looking for more skewer recipes?
Chicken tandoori tikka or hariyali paneer tikka could satisfy your craving!
More seafood recipes
★★★★★Did you try this recipe? Please give a star rating in the comments below ★★★★★
HUNGRY FOR MORE? Join over 1000 home cooks like you who subscribe to my weekly newsletter to get all the latest recipes right in your inbox. Or follow me on your favorite social media: Facebook, Pinterest, Instagram, and YouTube. Thank you and happy cooking!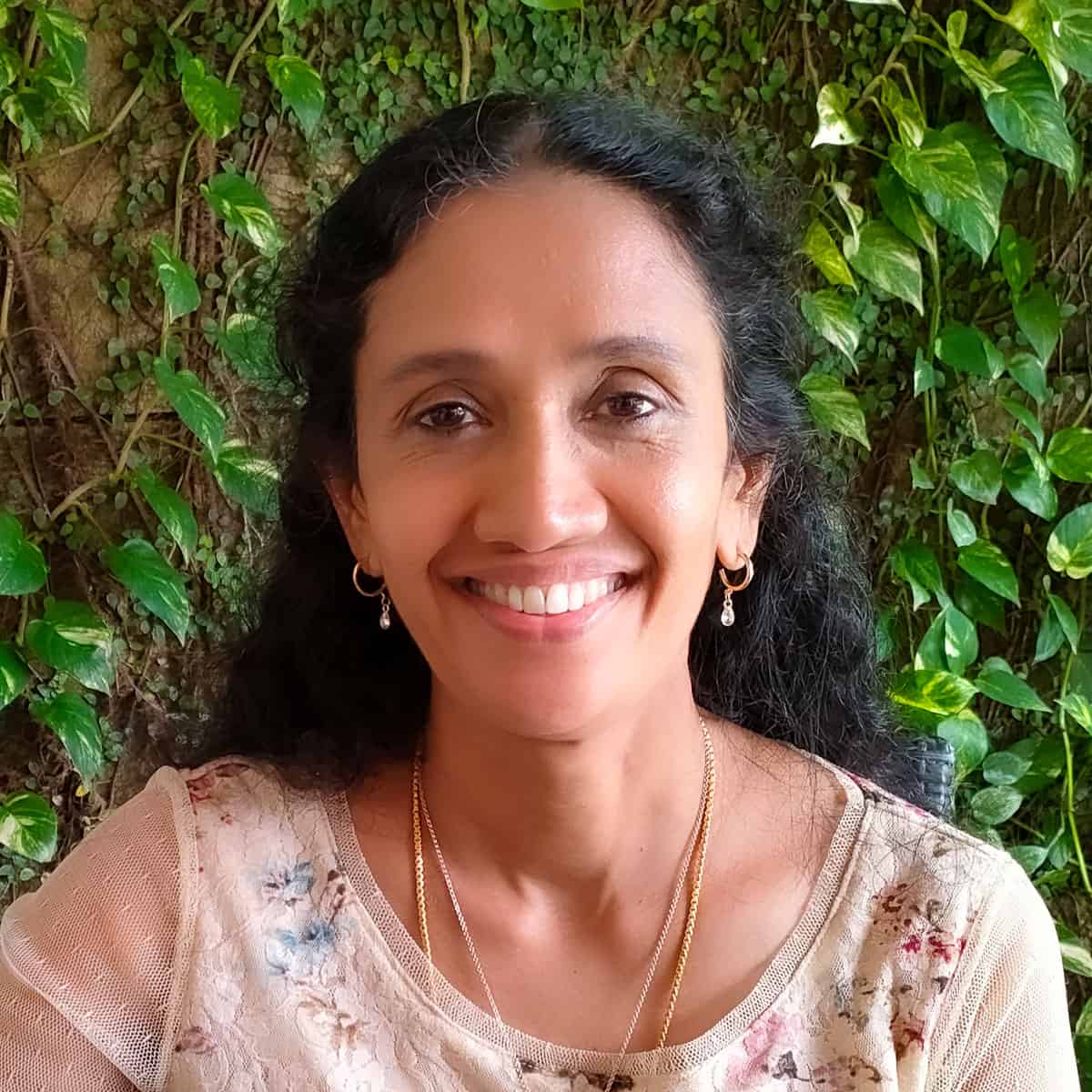 Hi! I'm Sheeba, welcome to Go Healthy ever after!
I have a passion for cooking delicious nourishing food that's easy to cook with fresh natural ingredients free from additives or preservatives. The easy healthy recipes you find here will inspire you to cook with creativity.
Copyright secured by Digiprove © 2019-2023