A simple recipe for crispy prawn fry with breadcrumbs that looks and tastes amazing without any fancy ingredients! Learn how to make these golden fried prawns at home that look like those served in the restaurants, and taste even better.
Affiliate disclosure: This post contains affiliate links, which means I may receive a small commission, at no cost to you, if you make a purchase through a link.
Why you'll love this crispy prawn fry
This copycat recipe is based on crispy prawns fry, one of the popular Indian prawn recipes served as starters at restaurants. It is a bold statement but absolutely true: These golden fried prawns definitely taste better than the restaurant ones.
We don't need detailed instructions on how to fry prawns, it's quite easy and obvious. But there are some tips and tricks (that are often overlooked) that will help you master the technique and create a restaurant-quality dish.
Like most of my seafood recipes, this breaded prawn recipe is also a quick and easy one. It requires just 7 basic ingredients and less than 30 minutes.
This crumbed prawns recipe is one of my most popular prawn recipes apart from prawn masala fry and prawn tikka, which are also easy to make.
Fry the prawns with tails removed, and you can turn this into a spicy popcorn shrimp recipe!
Are prawns good for you?
Prawns are a great source of protein, low in calories and saturated fat, rich in omega-3 fatty acids, selenium, vitamin B12, calcium and vitamin E. Hence, they promote heart health, brain function, growth and development and reduce inflammation, risk of illnesses like cancer, arthritis and dementia.
A word of caution, though: while prawns are low in saturated fats, they are rich in cholesterol and sodium. So eat prawns in moderation and be wary of added salt. Prawns are naturally flavorful and tasty, they need less salt and flavoring agents.
Despite the high cholesterol content, shrimps are still a healthy alternative protein source when compared to animal protein like red meat.
Watch how to make breaded prawns
Ingredient notes
(You can find the exact measurements and instructions in the printable recipe card at the end of this page.)
I have used jumbo prawns (a personal favorite) for this recipe, but any prawn can be used. This recipe requires a very basic set of 7 ingredients – flour, egg, panko breadcrumbs, chili powder, pepper, salt and oil for frying.
I would recommend using Panko breadcrumbs for this recipe since they give you light, extra-crispy fried shrimps that stay crispy longer.
Panko is a variety of flaky bread crumb used in Japanese cuisine as a crunchy coating for fried foods. It is made from bread without a crust, and then grinding the bread to create fine slivers of crumb.
Panko crumbs have a crisper, airier texture than most types of breading and resist absorbing oil or grease when fried resulting in a lighter coating. (source)
How to defrost frozen prawns
Fresh or frozen shrimps can be used for this recipe. To defrost frozen shrimps, thaw them by washing a few times with tap water or soaking in tap water for about 10 minutes, until they reach room temperature. Leaving frozen shrimps to thaw naturally (on the kitchen counter) will make the shrimps go limp and mushy.
How to make golden fried prawns- step by step
Marinate the prawns with chili powder and salt for 10 minutes. Meanwhile, get the other ingredients ready.
Take 3 medium-sized shallow bowls. Place flour with chili powder and salt in the first bowl, eggs beaten with salt and pepper in the second, and bread crumbs mixed with chili powder in the third.
Roll the prawns in the flour, dip in beaten eggs and coat with the bread crumbs. This will ensure that the breadcrumbs stick to the prawns.
That's the reason we use flour in Indian chickpea patties too.
Heat oil in a frying pan and shallow fry the prawns in batches. Serve with homemade yogurt dip.
A quick tip: Add a spoonful of Thai green curry paste to marinated prawns before coating them for a Thai-inspired prawn fry recipe.
Common questions about fried prawns
What is the best oil for deep-frying prawns?
Vegetable oil or peanut oil is best suited for deep-frying since they have a high smoking point.
Can you fry already cooked prawns?
Cooked prawns are not suitable for frying. Prawns cook fast and turn rubbery if overcooked. Also, cooked prawns do not absorb the flavors well.
How long does it take for prawns to fry?
Breaded jumbo prawns take about 4 to 6 minutes (2 to 3 minutes each side, flipping once midway) to fry to golden crispy perfection. Smaller prawns take about 3 to 4 minutes to cook.
Tips to master this crispy prawn fry
Follow these 4 simple tricks (which are usually overlooked)
Coat the prawns completely in flour before dipping into the egg.
Dip quickly in the egg so that the flour doesn't dissolve in the egg.
Use panko breadcrumbs that make the prawns extra crispy when fried.
Chili powder added to the flour and bread crumbs gives additional flavor and attractive golden color to the fried prawns. Optionally, you can add paprika or "Kashmiri chili powder" if you want even more color but with less heat. Adding flavor to the outer layer is the best way to making the most out of breaded and fried recipes, like the

Italian potato croquettes

.
Recommended tools to make this recipe
Looking for more seafood recipes?
★★★★★Did you try this recipe? Please give a star rating in the comments below ★★★★★
HUNGRY FOR MORE? Join over 1000 home cooks like you who subscribe to my weekly newsletter to get all the latest recipes right in your inbox. Or follow me on your favorite social media: Facebook, Pinterest, Instagram, and YouTube. Thank you and happy cooking!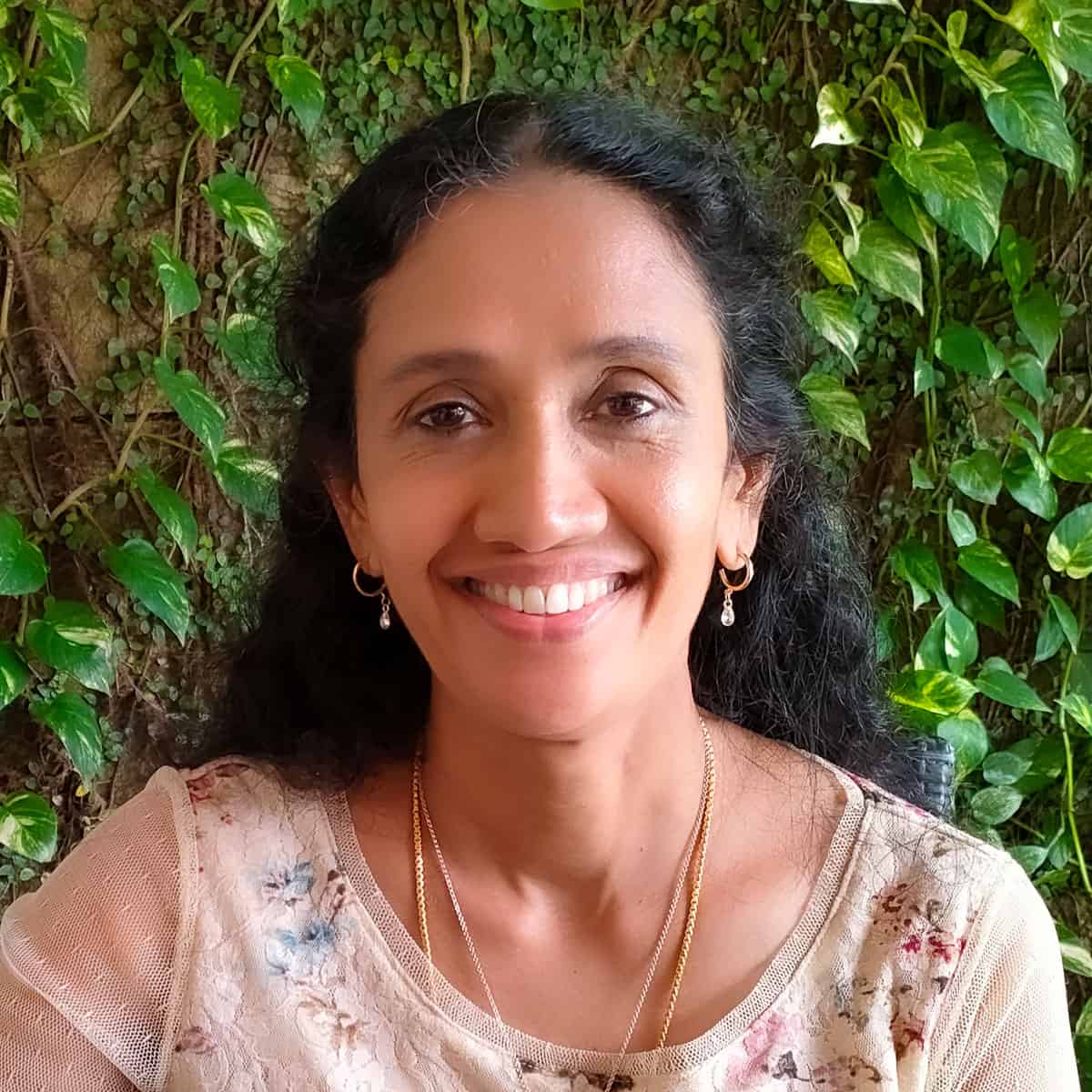 Hi! I'm Sheeba, welcome to Go Healthy ever after!
I have a passion for cooking delicious nourishing food that's easy to cook with fresh natural ingredients free from additives or preservatives. The easy healthy recipes you find here will inspire you to cook with creativity.
Copyright secured by Digiprove © 2020-2023