Healthy oven-baked tandoori salmon tikka in 10 minutes (that does not use food coloring). More importantly, melt-in-your-mouth salmon that is full of smoky tandoori flavors and not dry and rubbery.
About the recipe
Have you ever taken a bite of tandoori salmon that looked bright orange and appetizing, but was disappointed to find that it tasted bland and overcooked?
I've experienced that several times and I'm sure you must have, too.
That's when I decided to bake my own salmon tandoori, also called salmon tikka. This recipe took a lot of effort, I should say the most number of trials, to get it right. Testing the recipe (until I was satisfied) was the hardest part.
Baking salmon with a crust as in pesto-crusted salmon is delicious and also easy.
But cooking Indian salmon recipes is a bit tricky. Especially tandoori flavors are quite overpowering.
It works perfectly well with tandoori recipes like tandoori chicken legs, tandoori chicken tikka, prawn tikka and even tandoori cauliflower.
In tandoori pomfret recipe, the buttery pomfret absorbs tandoori flavors so well.
But salmon has a unique flavor of its own. I feel it is a sin to overpower that amazing flavor 😉
Long story short, I settled for a toned-down version of tandoori marinade that will allow the salmon flavor to shine through. So here is the final result of all my efforts which will help you make the best tandoori salmon tikka.
Make sure you read the tips and tricks below to make the best use of this recipe.
Video
Why you'll love this baked tandoori salmon recipe
A quick and easy salmon recipe like most of my seafood recipes.
The balanced combination of salmon and tandoori flavors gives you the salmon tikka that does not taste over-seasoned.
Salmon is not overcooked and rubbery since we broil it for a very short period. (This is in contrast to the baked salmon kabobs recipe where we cook at a low temperature for a long period. They turn out soft and juicy, but not browned.)
You can achieve the signature bright-red "tandoori" look and smoky flavor using natural healthy ingredients. No food colors are used in this recipe. The trick is to….(Have some patience, my friend! Read further…)
Ingredients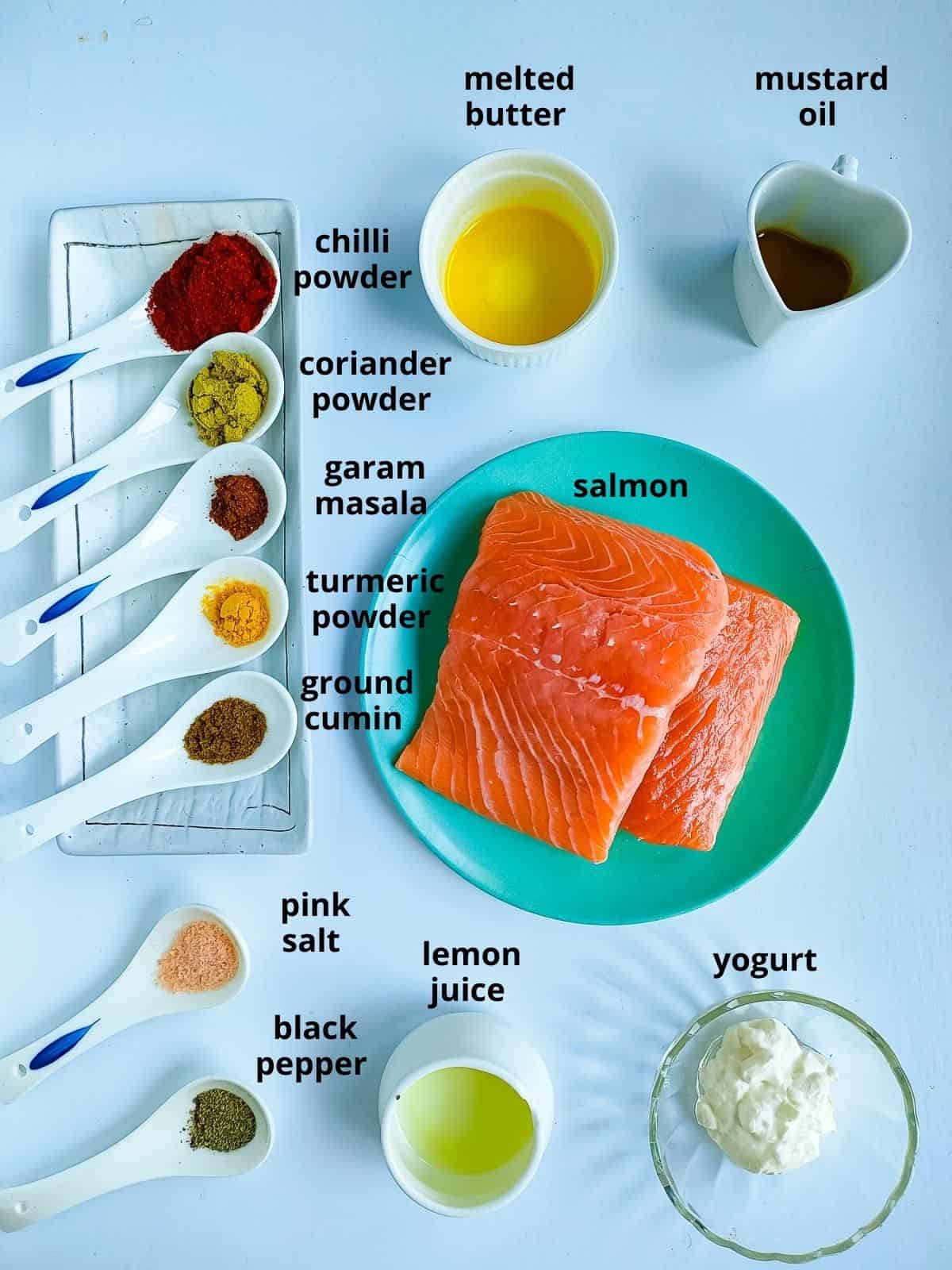 Salmon: Try to buy thin fillets with thickness of less than 1 inch. Thinner pieces work well for this recipe.
melted butter or ghee: for basting the salmon before broiling. Oil can also be used, but ghee/ butter gives a rich flavor and brighter color to the tandoori salmon.
mustard oil: Again, a unique flavor you wouldn't want to miss. That being said, you don't have to kill yourself if you can't find it. You can settle for any cooking oil, preferably vegetable oil.
yogurt: A must-have ingredient for tandoori masala. 1 tablespoon is enough for this recipe.
lemon juice: for the tang.
spices

Kashmiri chili powder: it imparts a bright red color to the dish without the heat of regular chili powder. It can be replaced with smoked paprika.
coriander powder
garam masala
turmeric powder
ground cumin
pepper & salt
How to make salmon tandoori masala (marinade)
(You can find the exact measurements and instructions in the printable recipe card at the end of this page.)
Here comes the important step. DO NOT skip this: Heat mustard oil in a small pan for about 5 minutes on medium flame.
Heat until you get the aroma of toasted oil. Do not let it smoke.
Add the hot oil to Kashmiri chili powder in a bowl. Mix well and let it cool.
Once it cools down, add the rest of the marinade ingredients and mix well.
How to make tandoori salmon
Remove skin and bones if any, from the salmon fillets and chop them into about 2-inch pieces. Add the marinade and mix well until all the pieces are coated with it.
Let it marinate in the refrigerator for about 30 minutes.
Preheat the oven to 200°C/ 390°F. Set the oven to "broil" mode.
Arrange the salmon pieces on a baking tray. Brush with melted butter.
Place the tray in the middle rack of the oven and broil for 5 minutes.
Remove from the oven and transfer to a serving platter.
Serve with mint yogurt sauce.
Recipe tips
Hot mustard oil with chili powder is responsible for the smoky flavor and the bright colour of this baked tandoori salmon. Try not to skip this step.
Contrary to popular belief, this tandoori salmon tastes better if marinated longer. I have tested for up to 5 hours and it tasted amazing. The marinade is better absorbed and flavorful on the inside, too (Regular visitors here know that I'm always obsessed with flavors). This recipe beats the claim that salmon should be marinated for only a maximum of 30 minutes.
Ensure that you place the baking tray in the middle rack. While testing, I realised that salmon gets overcooked if placed in the top rack.
DO NOT broil for more than 5 minutes, unless your salmon pieces are more than 1-inch thick.
What to serve with tandoori salmon tikka
It tastes great as an appetizer with restaurant-style green chutney or avocado chutney.
Make wraps with this tandoori salmon by replacing chicken tikka in tandoori chicken rolls.
No time to blend chutneys? Serve this tandoori salmon with a simple cucumber raitha.
Salmon tandoori can also be served as a main dish with flavored rice like lemon rice or coconut cauliflower rice, for a low carb option.
It can also be served with rice and curry like chana masala or palak dal.
If you're looking for low carb seafood dinner, pair tandoori salmon tikka with simple chana salad, Indian fruit salad, chana dal salad with honey ginger dressing, or black chana soup.
Common questions about cooking salmon
What is the healthiest way to eat salmon?
Roasting in the oven is healthier than pan-frying. Salmon maintains its healthy levels of the beneficial omega-3 fatty acids when baked. Baking or broiling in the oven with less added fat also helps keep down your total fat intake. Baking may also be a better way to retain the vitamin D content of fish.
Why is my salmon white and not pink?
The tandoori marinade imparts a nice orange-red color to the salmon on the outside. It should be a light shade of pink on the inside. If the salmon is white on the inside, it means it is overcooked. The rule of thumb is to cook salmon for 5 minutes at 200°C/ 390°F for every ½ inch thickness for roasting. If the recipe calls for broiling (like this recipe), cook for 5 to 7 minutes for every 1-inch thickness. This is a fail-proof way to get perfectly cooked salmon out of the oven. If the salmon is of uneven thickness, take the thickest part into consideration.
What is the difference between roast and broil?
Roasting is a slow-cooking method that uses overall heat from all sides of the oven to cook food evenly. In contrast, broiling is a quick-cooking technique that uses high, direct heat from your oven's top heating element. Broiling mainly provides top-down heat at high and extra-high temperatures to brown or crisp the top of food.
How do you cook salmon without drying it out?
When you overcook salmon, it gets dried out. Marinating salmon in a yogurt-based marinade like this tandoori salmon is one way to prevent salmon from drying out. The mode in which salmon is cooked also helps in keeping it moist and tender. Either cook it in the oven in broil mode for a short time (like this salmon recipe) or slow-bake at lower temperatures like salmon kabobs.
Can you microwave leftover salmon?
Leftover salmon could still get overcooked if heated for a prolonged time. One way to prevent the salmon from drying out is to place a small bowl of water in the microwave while reheating. This way, you can "steam" the salmon without overcooking it. Also, heat it until it is just warm enough to eat and not very hot until it gets cooked and turns rubbery.
More salmon recipes
Love fish in a curry? Try this beginner-friendly Kerala fish curry with coconut. You'll fall in love with it 🙂
More tandoori recipes
★★★★★Did you try this recipe? Please give a star rating in the comments below ★★★★★
HUNGRY FOR MORE? Join over 1000 home cooks like you who subscribe to my weekly newsletter to get all the latest recipes right in your inbox. Or follow me on your favorite social media: Facebook, Pinterest, Instagram, and YouTube. Thank you and happy cooking!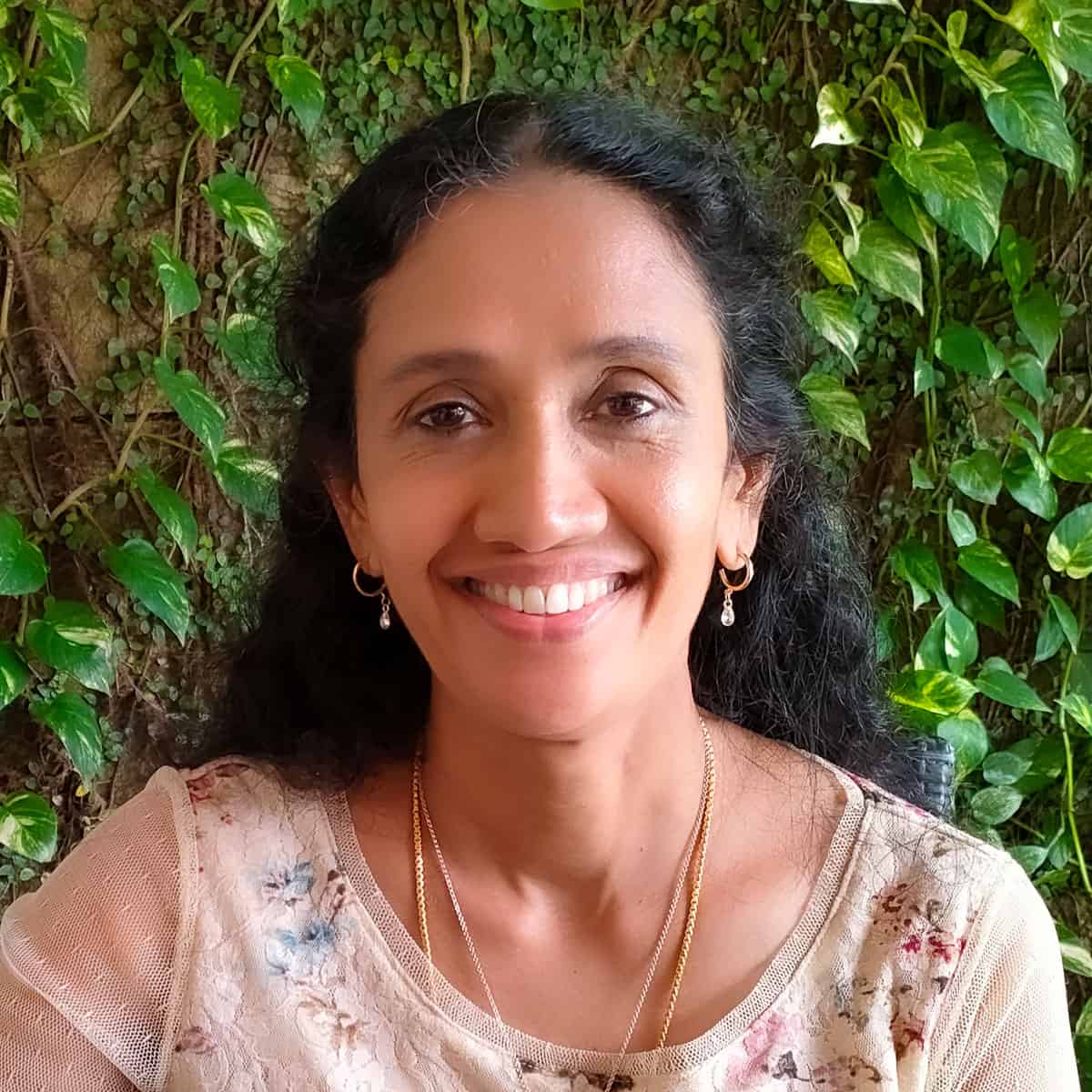 Hi! I'm Sheeba, welcome to Go Healthy ever after!
I have a passion for cooking delicious nourishing food that's easy to cook with fresh natural ingredients free from additives or preservatives. The easy healthy recipes you find here will inspire you to cook with creativity.
Copyright secured by Digiprove © 2021-2022