Sweet, spicy and tangy green mango chutney! This recipe shows you how to make raw mango chutney easily at home with just 5 ingredients. It is a perfect side dish to eat with your roast chicken or fish. Tastes great with rice and curry, too!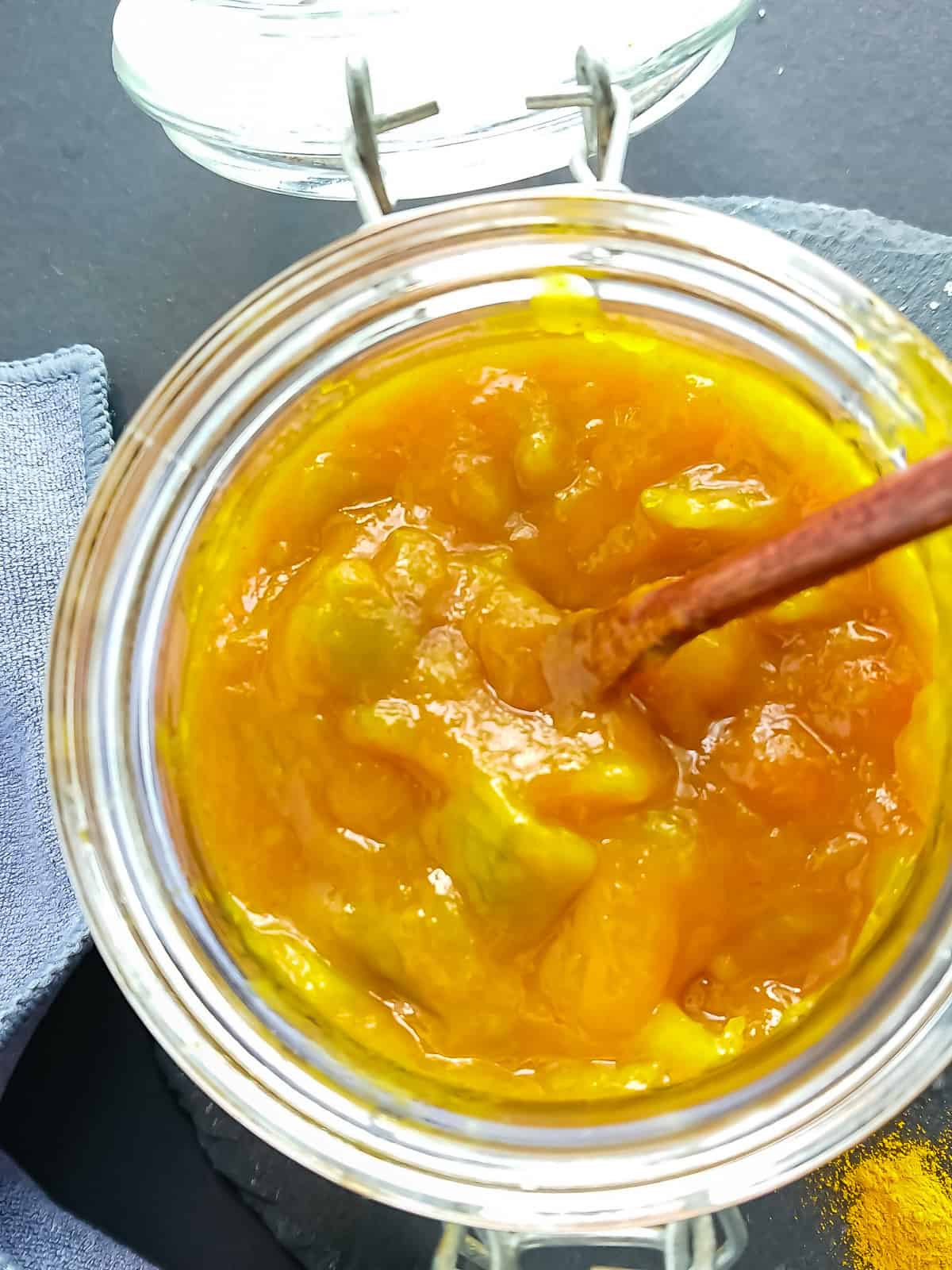 FEATURED COMMENT
I love this recipe and made one version with paprika and the other with chili. Both were delicious.
SANDRA
What is green mango chutney?
It's a sign of spring when we see mangoes start piling up at the markets and prices begin to drop. That's when you dream of this mango ginger chutney!
Made of unripe (green) mangoes, and a few simple spices, this is a quick and easy chutney that is all-natural. Similar to my no-oil avocado chutney. You don't even need a blender to make this green mango chutney!
If you're wondering what to do with unripe mangoes, this is an easy side dish that goes with most of your mains- meat, fish or vegetarian meals like rice and curry.
This recipe is based on the South Indian green mango chutney with ginger, also called "raw mango pachadi", with a modern twist.
The traditional raw mango chutney is a must-have side dish served with rice and curry on special occasions like Tamil New Year's Day. It symbolizes the year ahead that would be memorable, (sweet, spicy or may turn sour sometimes!) preparing you for the best and warning you of the worst.
But you don't have to wait for special occasions. Make any occasion special with this sweet and tangy raw mango chutney!
QUICK TIP: If you're left with more raw mangoes than this recipe requires, make this vibrant lentil salad with turmeric, another Indian recipe with unripe mangoes. You'll fall in love with green mangoes and will never regret cutting a mango and realizing it has not ripened enough!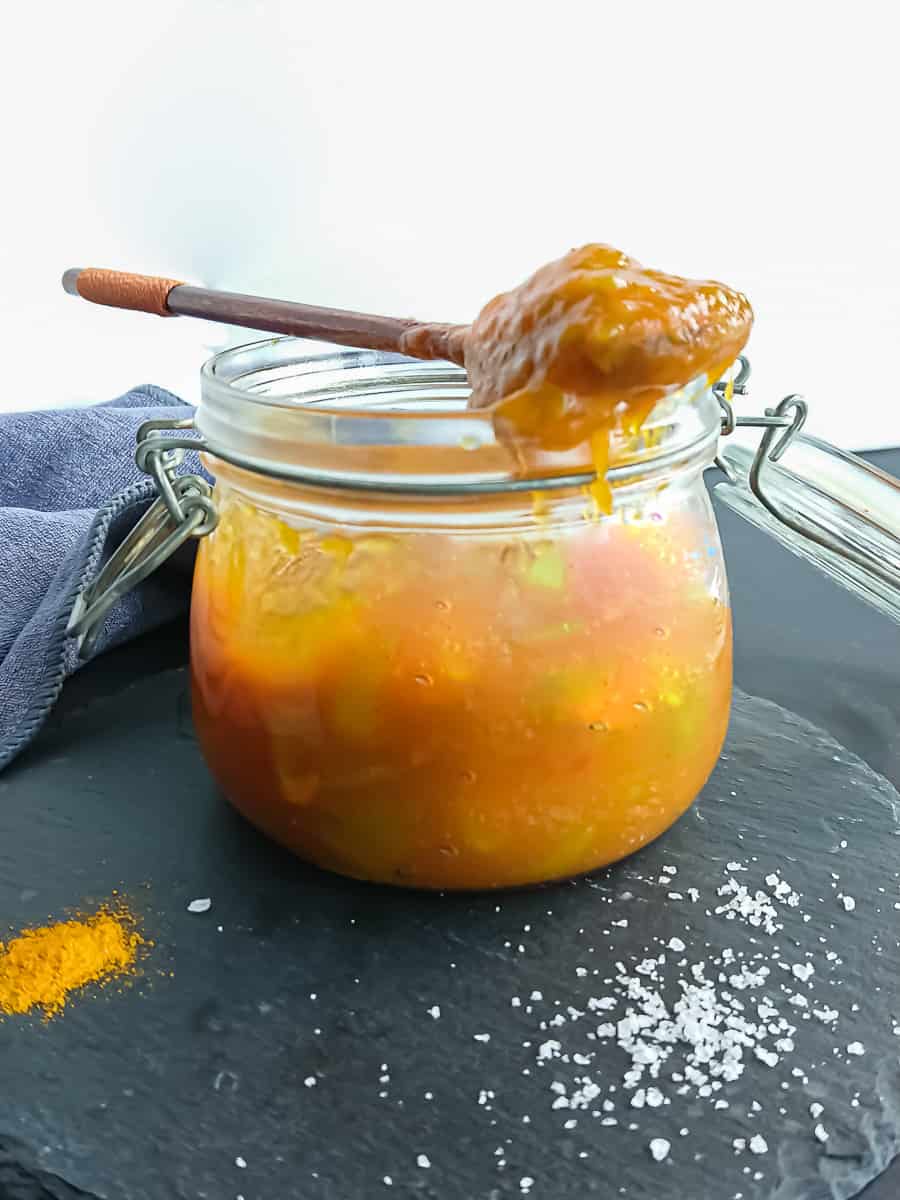 Ingredient notes
(You can find the exact measurements and instructions in the printable recipe card at the end of this page.)
There are many recipes out there that call for onions, garlic or even ripe mangoes. But this authentic green mango chutney recipe uses just ginger, turmeric and green chilies along with jaggery. This is one of the best recipes that can be made from raw mangoes.
Green mangoes – They are naturally tangy which is balanced by palm sugar; semi-ripe mangoes may also be used. In that case, reduce the amount of jaggery/ palm sugar by 1 or 2 tablespoons, unless you want the chutney to be very sweet.
Jaggery or palm sugar – To make the chutney FINGER-LICKING sweet and sticky. The chutney gets its characteristic flavor and texture from the palm sugar. Brown sugar can be substituted but there'll definitely be a change in flavor. Also, jaggery/ palm sugar is the most unrefined form of sugar, so lesser evil! (source)
Ginger – Ginger and palm sugar is always a winning flavor combo.
Spices – Chili powder for a spicy kick and turmeric for the earthy flavor and bright yellow color. Turmeric also enhances the health benefits of the chutney.
How to make green mango chutney-step by step
(You can find the exact measurements and instructions in the printable recipe card at the end of this page.)
Once you have all the ingredients, the cooking part is extremely simple. You don't even have to dice the mangoes into equal pieces. (yet another reason to love this recipe!) Peel and roughly chop them, add all ingredients (except palm sugar) and boil with water until the mangoes turn mushy.
If you want the chutney to be smooth, let it cook more, until the mango bits are mashed completely. Personally, I love the chewy mango bits in the chutney, so I leave it chunky.
Add jaggery/ palm sugar and simmer until the jaggery dissolves and the chutney comes together and starts sticking to the pan. Remove the chutney from heat, cool and store in a jar.
Congratulations! You've just made 2 cups of the awesome homemade green mango chutney that can be used in so many different ways.
Making it for a crowd
This recipe for green mango chutney can be easily scaled up or down. Use the slider that will appear if you hover your mouse over the number of servings in the recipe card below.
Common questions
How long does this mango chutney last?
This recipe makes about 2 cups of chutney and can be easily multiplied to make a huge batch and store. It keeps well in the fridge for 2 weeks or can be frozen for a month. Store in an airtight jar and use a clean dry spoon.
What do you eat raw mango chutney with?
Are green mangoes safe to eat?
Green mangoes are not only safe to eat but highly nutritious. They are rich sources of vitamin C, Vitamin A, calcium and magnesium among other nutrients. They also contain pectin, all of which improve your gut health. Unripe mangoes are even recommended to pregnant women as a safe remedy for morning sickness.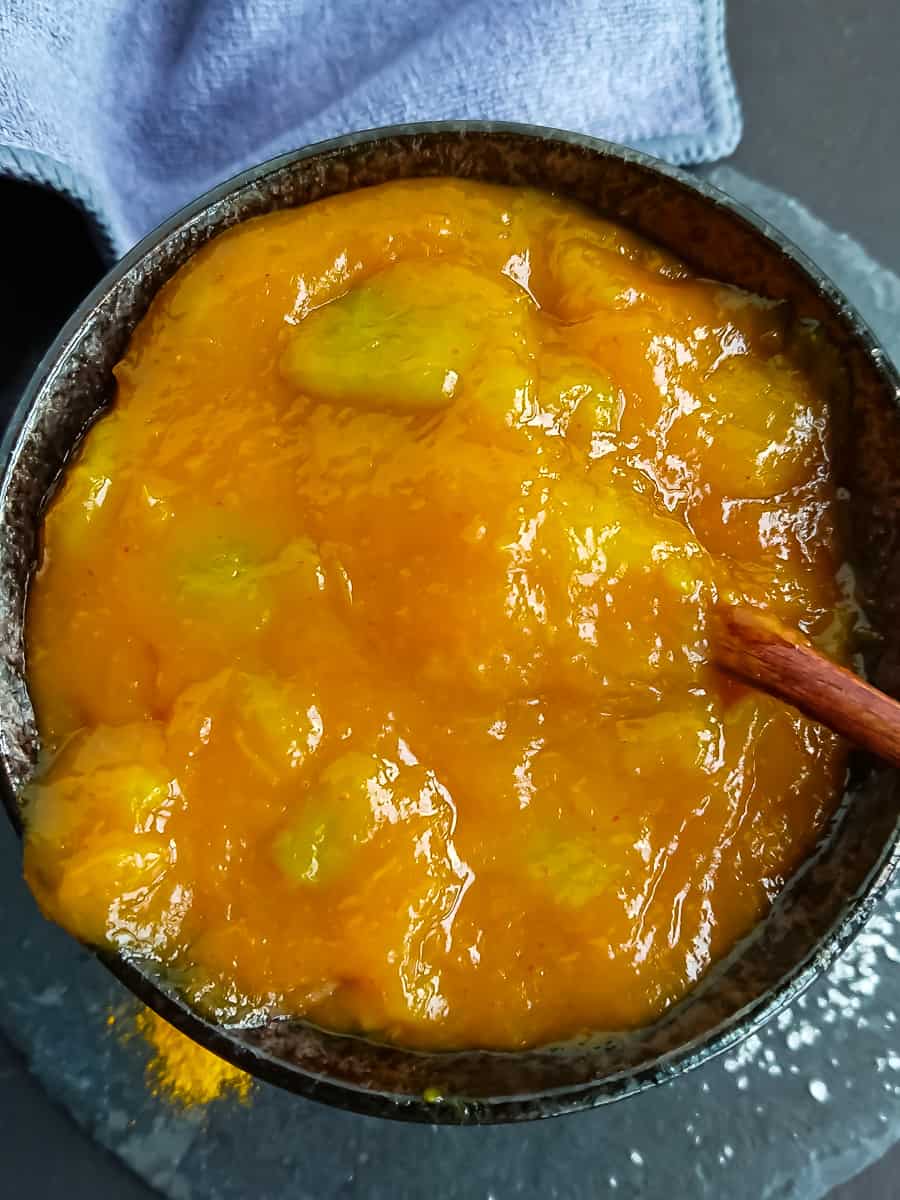 Health benefits of green mangoes
Helps weight loss: Raw mango boosts your metabolism thus helping you burn more calories. They are also lower in calories.
Prevents dehydration: Raw mango replenishes the reserves of sodium chloride and iron which are known to leak out through sweat.
High in fibre: Getting enough fibre every day will boost your immunity, lower hypertension, and keep your colon functioning well.
Treats stomach disorders: Raw mango treats a variety of stomach problems like constipation, bloating, chronic dyspepsia, indigestion, and even cures morning sickness.
Detoxifies your liver: Raw mango cleanses the liver and promotes the secretion of bile acid.
Promotes gut health: Raw mangoes are high in Vitamin C, Vitamin A, calcium, and magnesium which are useful for releasing toxins from your body and promoting healthy bowel movements in the process.
Improves heart health: Raw mangoes are high in niacin which is responsible for regulating your cholesterol levels and boosting your blood circulation.
Good for your teeth: They eliminate bad breath, prevent bleeding of the gums, and also minimize the risk of tooth decay.
Good for your skin and hair, since they are high in Vitamins C and A.
Prevents macular degeneration: Raw mangoes contain an antioxidant known as zeaxanthin which is required for optimal vision health.
Reasons you'll love this raw mango chutney
4 simple ingredients, nothing fancy.
Healthy with the goodness of green mango and turmeric.
It's a one-pot dish, so cleaning up is easier.
There are many different ways to eat this mango chutney.
One of them is the paneer kathi roll.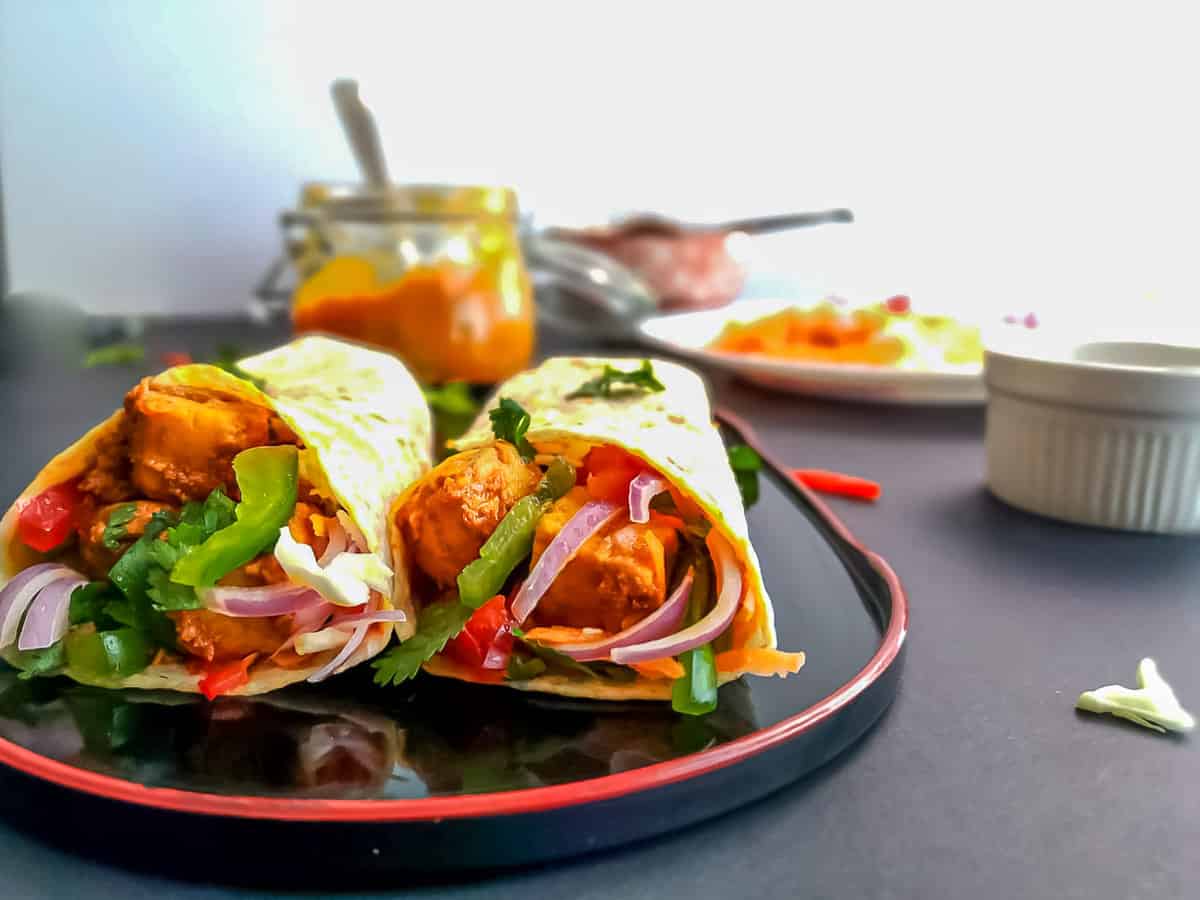 Paneer kathi roll recipe with an easy paneer masala filling, crunchy veggies and mango chutney. A healthy, delicious paneer recipe for a quick dinner!
Other ways to serve this mango ginger chutney
Use this sweet and spicy chutney for variation instead of green mint chutney as a side for tikka, tandoori and kababs like
Use this mango ginger chutney instead of mint chutney in chicken tikka rolls.
You can also use drizzle a few spoons of this raw mango chutney on tandoori paneer salad, in addition to the yogurt dressing.
Have you tried any version of mango chutney with green mangoes? I would love to hear from you.
More sauces and chutneys
Paprika feta dip is perfect for hosting a gathering or when simply craving a savory snack….
Healthy pesto recipe that's delicious without added calories from extra oil. Use this spinach almond…
This avocado chutney is a sugar-free, oil-free chutney recipe that can be used as a…
★★★★★Did you try this recipe? Please give a star rating in the comments below ★★★★★
HUNGRY FOR MORE? Join over 1000 home cooks like you who subscribe to my weekly newsletter to get all the latest recipes right in your inbox. Or follow me on your favorite social media: Facebook, Pinterest, Instagram, and YouTube. Thank you and happy cooking!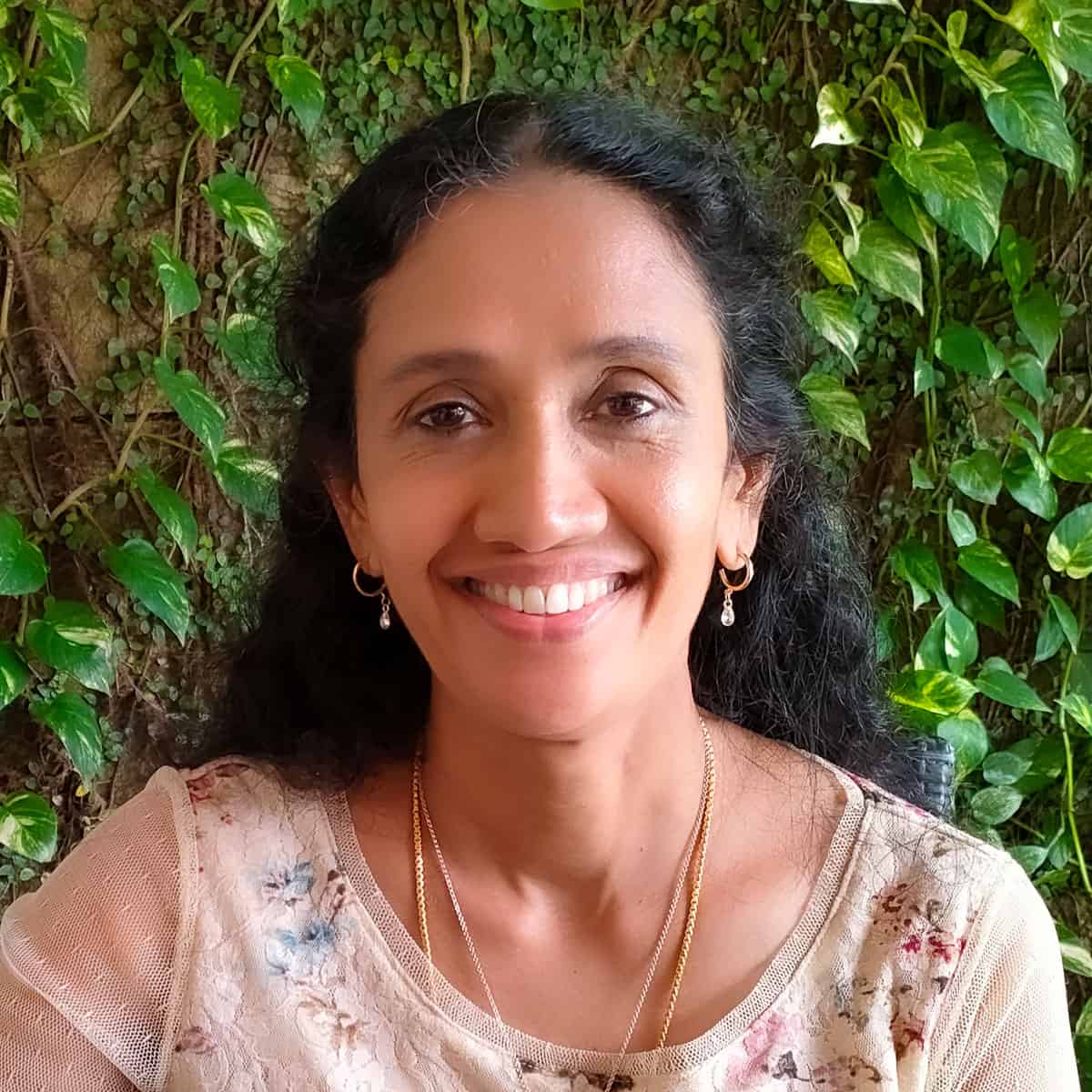 Hi! I'm Sheeba, welcome to Go Healthy ever after!
I have a passion for cooking delicious nourishing food that's easy to cook with fresh natural ingredients free from additives or preservatives. The easy healthy recipes you find here will inspire you to cook with creativity.
Copyright secured by Digiprove © 2020-2023