Mashed potatoes with Greek yogurt is a nutritious twist on the classic favorite. It has a velvety texture and rich flavor without compromising on health. This creamy side dish swaps heavy cream/sour cream in the traditional mashed potatoes with tangy Greek yogurt. Say goodbye to heavy, calorie-laden mashed potatoes and embrace a lighter, protein-packed alternative. Find out the 2 secret ingredients that make this recipe stand out!
Why you'll love Greek yogurt in mashed potatoes
If you were wondering how to make mashed potatoes healthy, you've come to the right place. Greek yogurt mashed potatoes is a perfect side dish for your Thanksgiving dinner or other holiday meals. There are lots of reasons to love this recipe.
Creamy Texture: Greek yogurt in mashed potatoes is a perfect substitute that makes them incredibly satisfying without the need for excessive butter or cream. Potato salad with raisins is another low-fat recipe where I use Greek yogurt and potatoes.
Healthier Alternative: By incorporating creamy Greek yogurt, this recipe reduces the overall calorie and fat content compared to traditional mashed potatoes. It's a smart choice for those looking to enjoy comfort food while maintaining a healthier lifestyle.
Protein Boost: Greek yogurt is a rich source of protein, adding an extra nutritional punch to the dish. This makes the mashed potatoes not only delicious but also a more well-rounded and nourishing side dish.
Balanced Flavors: The Greek yogurt imparts a tangy note to the healthy mashed potato recipe, balancing the richness of the dish. It will leave your taste buds satisfied and your body thanking you, as in high protein pasta salad with chicken.
Quick and Easy: This recipe is simple and straightforward. You can whip up a batch of these mashed potatoes with dill and garlic without spending hours in the kitchen. It's perfect for busy individuals or beginners.
Versatility: The versatility of mashed potatoes makes them an ideal side dish for various meals and occasions. Whether paired with a hearty roast, grilled vegetables, or enjoyed on their own, this recipe can complement a wide range of dishes at the holiday table.
Guilt-free comfort: It's a great way to enjoy your beloved comfort food without the guilt.
The best potatoes for Greek yogurt mashed potatoes
Yukon gold and russet potatoes are generally used to make mashed potatoes. The choice between either of the two depends on your preferred consistency of potato mash.
Yukon Golds are considered medium-starch potatoes, russet potatoes are high-starch potatoes. That starchiness leads to mashes that are on the lighter and fluffier side.
Yukon Golds produce dense, rich scoops of super creamy mashed potatoes, russets turn out pillowy and soft.
I feel Yukon golds are more forgiving in mashed potato recipe. Even if you accidentally overcook or over-mash them, you get creamy potatoes and not gummy.
Here's my suggestion: if you're making mashed potatoes the first time (or first few times), go for Yukon gold potatoes. As you become more of an experienced "potato-masher" you can try Russets!
You can also use a combination of both if you're still unsure.
I wouldn't recommend red potatoes for mashed potato recipe. They are low in starch and high in moisture and sugar. They are best suited for recipes like potato salad with raisins and rosemary roasted potatoes with broccoli.
Ingredients
(You can find the exact measurements and instructions in the printable recipe card at the end of this page.)
Mashed potatoes with yogurt don't need any specialty ingredients. You can whip up this easy side dish with a few simple ingredients.
Potatoes: Yukon gold or Russet as I mentioned above. A combination of both is also fine.
Garlic cloves: To flavor the potatoes while boiling.
Greek yogurt: Buy good quality natural Greek yogurt.
Browned butter: This is the first SECRET INGREDIENT in this recipe. Use unsalted butter, so that you can control the amount of salt in the recipe.
Milk: I use whole milk, but it's okay to use full-fat milk. (you'll be using a little milk, so it won't hurt to use a bit of fat 😉 )
Fresh herbs:

Fresh rosemary (or other herbs) to flavor the milk. This is completely optional.
Dill or chives for topping. Potatoes and dill go amazingly well together, so I decided to go with dill today.

Seasoning: Sea salt (or pink salt) and black pepper.
SECOND SECRET INGREDIENT: Add a large pinch of red chili flakes. It makes a WORLD OF DIFFERENCE to the mashed potatoes without making it spicy. It balances the creaminess of the potatoes, butter and yogurt so well that you won't feel the heat of the chili at all.
How to make mashed potatoes with Greek yogurt: step by step
Boil potatoes
Peel the potatoes and dice them into about 1-inch cubes. Place them in a large pot and cover with cold water. The water level should be at least an inch above the potatoes.
Add salt and garlic cloves. Bring it to a soft boil on high heat.
Once the water starts boiling, reduce the heat to medium. Simmer for 12 to 15 minutes until the potatoes are fork tender.
Prepare yogurt and milk
While the potatoes are boiling, prepare the yogurt and milk.
Boil milk in a sauce pan. Keep aside.
The yogurt has to be warm or at least at room temperature when you add it to the mashed potatoes. Add half of the hot milk to the yogurt. Drizzle slowly and keep stirring until the yogurt is warmed through.
Mash potatoes
Drain the potatoes into a colander. Return the potatoes back to the pot.
Cook on low heat, for 2 to 3 minutes, shaking the pot intermittently. This will remove excess moisture from the potatoes.
While still hot, mash the potatoes using a potato masher or ricer. Depending on your desired texture, mash all the way until smooth or you can leave them with a bit of texture.
Remember that when you mix in yogurt and milk, you will be mashing them further.
Stir in butter, yogurt and milk
Melt butter in a small pan on low heat. Turn off the flame when it starts to brown.
Strain 1 tablespoon of the browned butter on to the mashed potatoes. (Avoid the browned bits at the bottom.)
Sprinkle sea salt and black pepper.
You can add a pinch of red pepper flakes either now or as topping later. Stir until combined.
Add the remaining half of the boiled milk and mix.
Add yogurt and stir.
Taste and add more salt and black pepper if required.
Add toppings
Transfer the mashed potatoes to a serving bowl. Drizzle the remaining browned butter.
Sprinkle freshly cracked black pepper, red chili flakes and chopped dill.
Enjoy your healthy mashed potatoes without guilt!
Tips to make the best mashed potatoes with yogurt
Choose fresh potatoes: Look for potatoes that have smooth, unblemished skins, are firm to the touch and free from soft spots.
Butter: When you melt the butter, heat it all the way until browned for a nuttier flavor. This is the SECRET TO GET MAXIMUM FLAVOR WITH LESS BUTTER.
Adding salt: Potatoes absorb a lot of salt. We add salt in different stages: in the water when boiling, when you add butter and again with yogurt. This gives maximum flavor, without the need for too much salt.
Yogurt: DO NOT add cold yogurt straight from the fridge to the mashed potatoes.
Warming up the yogurt: DO NOT warm up the yogurt in the microwave. It tends to curdle up and separate at high temperatures. Add hot milk as mentioned above or place the bowl of yogurt in hot water until warmed.
Mashing: DO NOT use electric mixer or blender to mash potatoes. DO NOT go overboard and mash the potatoes until they turn gummy.
Mixing: DO NOT add butter, yogurt and milk all at once. Add them one by one, stirring after each step. This will help the potatoes absorb each ingredient better. Your mashed potatoes will turn out more creamy and full of flavor.
Variations and additions
These mashed potatoes with dill and garlic is a basic recipe. You can customize it in various ways to suit your taste:
Roasted garlic mashed potatoes: Add roasted garlic before mashing the potatoes. (Click here to learn how to roast garlic.) You can also use melted garlic butter instead of regular butter. In that case reduce the salt accordingly.
For more flavor: Boil potatoes in chicken broth or vegetable broth instead of water.
Flavored milk: Boil the milk with fresh sprigs of rosemary or thyme before adding it to the mashed potatoes.
More toppings: Use your creativity. I like to add some of these:
Making it for a crowd
This recipe can be easily adapted to feed a crowd. Use the scale in the recipe card to make this dish according to your desired number of servings.
Storing and reheating tips
Storing: Mashed potatoes with yogurt are best eaten fresh. It keeps well for 3 to 4 days in the fridge.
Freezing: It can be frozen for about 3 months, but the texture may not be the same. It wouldn't be as creamy and fluffy.
Reheating: Transfer the cold mashed potatoes to a pan. Cover and heat over low flame until they are smooth, creamy and heated through.
Ideas for leftovers
Leftover yogurt mashed potatoes can be transformed into delicious dishes:
Mashed Potato Pancakes: Mix in some flour, an egg, and any desired seasoning, then fry spoonfuls of the mixture until golden brown.
Mashed Potato Soup: Thin the mashed potatoes with some broth or milk, add in sautéed onions, garlic, and herbs, and heat it through for a creamy soup.
Potato Croquettes: Roll the mashed potatoes into small balls or cylinder shapes, coat them in breadcrumbs, and fry until crispy for tasty croquettes.
Potato Patties: Mix in some chopped vegetables, cheese, and an egg to bind the mixture, then form patties and cook them on a skillet until crispy on the outside.
Stuffed Peppers or Tomatoes: Mix the mashed potatoes with cooked ground meat, veggies, and cheese, then stuff the mixture into hollowed-out peppers or tomatoes and bake until tender.
Potato Dumplings: Make dumplings by encasing small portions of a savory filling (like chicken mince stir fry or minced pan-fried prawns and peppers) within the mashed potatoes. Boil until they float, then serve with your favorite sauce.
What to serve with yogurt mashed potatoes
If you're looking for easy meals with mashed potatoes, here are some great options:
Chicken
Click here for more chicken recipes.
Fish
Click here to see more seafood recipes.
Vegetarian
Click here for all vegetarian recipes.
More potato recipes
Love potatoes? Try these:
Click here for more delicious side dishes.
★★★★★Did you try this recipe? Please give a star rating in the comments below ★★★★★
HUNGRY FOR MORE? Join over 1000 home cooks like you who subscribe to my weekly newsletter to get all the latest recipes right in your inbox. Or follow me on your favorite social media: Facebook, Pinterest, Instagram, and YouTube. Thank you and happy cooking!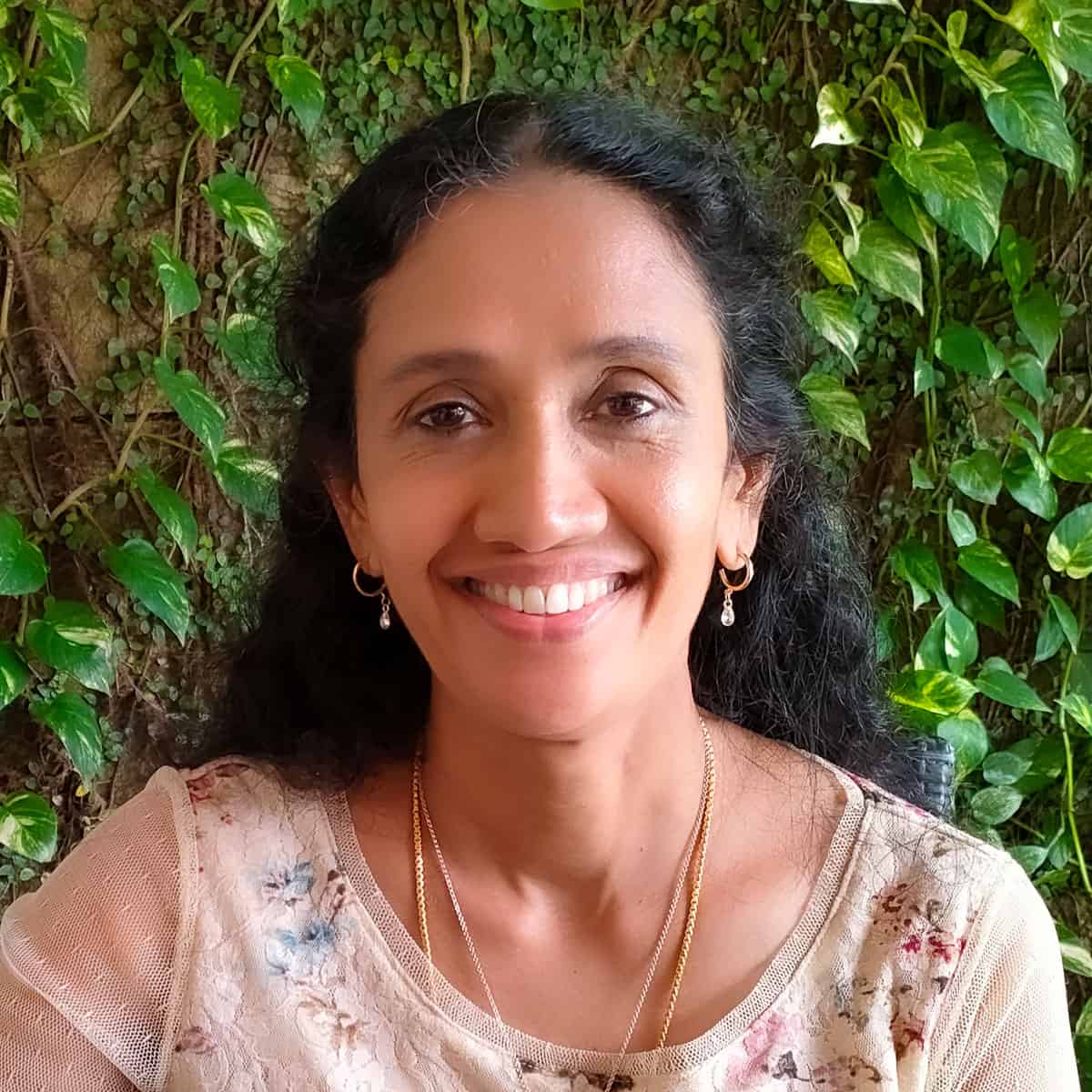 Hi! I'm Sheeba, welcome to Go Healthy ever after!
I have a passion for cooking delicious nourishing food that's easy to cook with fresh natural ingredients free from additives or preservatives. The easy healthy recipes you find here will inspire you to cook with creativity.