Honey garlic lemon pepper chicken thighs are not only packed with flavor but also easy to make. They are perfect for any day: busy weeknight dinners or special occasions. These delicious chicken thighs with sticky honey lemon pepper sauce can quickly become a household favorite. Discover the secrets to achieving tender chicken thighs with a crisp, golden-brown glaze.
Affiliate disclosure: This post contains affiliate links, which means I may receive a small commission, at no cost to you, if you make a purchase through a link.
Why you'll love this easy chicken thigh recipe
Honey garlic lemon pepper chicken thighs tick all the boxes – from taste and texture to ease of preparation and adaptability.
Here are some reasons why you should be making it for dinner today:
Rich Flavors: The delicious sauce with sweet honey, pungent garlic, zesty lemon, and aromatic pepper makes the chicken thighs irresistible.
Juicy and Tender: The honey lemon pepper sauce not only infuses the chicken with flavor but also ensures it melts in your mouth.
Quick and Easy: This recipe makes a hassle-free and perfect dinner for busy weeknights. With minimal prep work, you can have a gourmet meal on the table in no time.
Versatile Dish: You can serve this lemon pepper honey garlic chicken with a wide range of sides like white rice, quinoa, salad, or roasted vegetables, making it adaptable to different dietary preferences.
Crowd-Pleaser: Whether you're cooking for family or entertaining guests, this dish is a guaranteed crowd-pleaser. It's a great choice for gatherings and celebrations.
Crisp and Golden-Brown: The sticky sauce gives the chicken a beautiful golden-brown finish that makes you drool. Similar to my honey garlic tofu recipe.
Customizable Heat Level: Adjust the amount of cayenne and black pepper to suit your heat preferences. Whether you prefer a mild kick or a spicier experience, you have the control.
Minimal Cleanup: This is essentially a one-pan chicken recipe. With just a few utensils, you can easily whip up these chicken thighs with delicious honey garlic sauce.
Health Benefits: Chicken thighs are a good source of protein and the addition of lemon provides a dose of vitamin C. Plus, the natural properties of honey and garlic offer potential health benefits.
Recipe Video
Whether you're a seasoned home chef or a beginner, this easy-to-follow chicken recipe will show you how to make your next dinner memorable. Here's how you make it:
Ingredients
(You can find the exact measurements and instructions in the printable recipe card at the end of this page.)
You'll need only a handful of simple ingredients for this delicious recipe. Most of the names are already in the title 🙂
Chicken: Bone-in chicken thighs are ideal for this recipe. That being said, you can use chicken breasts too. Ensure that you thinly slice them like this and tenderise them using this method before cooking. (Reduce the browning and simmering time by about half.)
Spices: I've used cayenne to season the chicken and black pepper and paprika for the sauce.
Flavoring agents for the tangy sauce: Chicken stock, honey, garlic and fresh lemon juice and zest. (I use this zester to zest the lemon as well as grate the garlic. It is an amazing multipurpose tool.)
Olive oil: To brown the chicken and bring the honey lemon pepper sauce together.
Fresh herbs: Thyme goes well with all the flavors going on here. That being said, feel free to use others like rosemary, sage or parsley.
How to make honey garlic lemon pepper chicken thighs: step by step
Marinate chicken
Pat the chicken thighs dry. Marinate them with cayenne, black pepper, salt and lemon juice overnight. If you don't have the time, marinate for at least an hour.
Remember to pierce with a fork all over the thighs before keeping them in the fridge. This will ensure that the chicken absorbs the flavors well. I do this while making baked thin sliced chicken breasts too.
Brown the chicken thighs
Heat oil in a medium skillet. Add the marinated chicken thighs. Sear them undisturbed for 4 to 5 minutes on medium heat.
Flip and cook the other side for 3 to 4 minutes. Remove them onto a plate.
Make honey lemon pepper sauce
Heat the remaining oil in the same skillet. Add minced garlic. Saute on low heat for a couple of minutes.
Prepare the honey sauce mixture: Mix together chicken stock, honey, paprika, black pepper, lemon juice and zest in a small bowl.
Add the honey mixture to the skillet and bring it to a boil.
Add chicken thighs
Add chicken thighs to the hot honey lemon pepper sauce. Reduce the flame to medium-low.
Cook covered for 15 to 20 minutes, flipping once in between.
Place sprigs of fresh thyme and lemon slices in the sauce and cover again. Simmer on low heat for 5 minutes.
Transfer the chicken thighs onto a serving platter and drizzle the sauce on top. Garnish the glazed chicken with caramelized lemon slices and more fresh thyme.
Recipe tips
Refrigerated chicken thighs: Ensure that you bring the chicken thighs to room temperature before you start cooking. Keep them out of the fridge for about 20 to 30 minutes.
Cooking time depends on the size of the chicken thighs. Once it reaches the 20-minute mark, check the temperature. Chicken must reach a safe internal temperature of 74°C/165 ºF.
If you don't have a meat thermometer: Make a slit using a knife at the middle (thickest part) of the thigh. If the flesh is white, you're good. If you see traces of pink, cover and cook for 3 to 5 minutes more.
For more sauce: This recipe makes just enough sauce to glaze the chicken thighs. If you want them to be more saucy, just double all the ingredients for the sauce.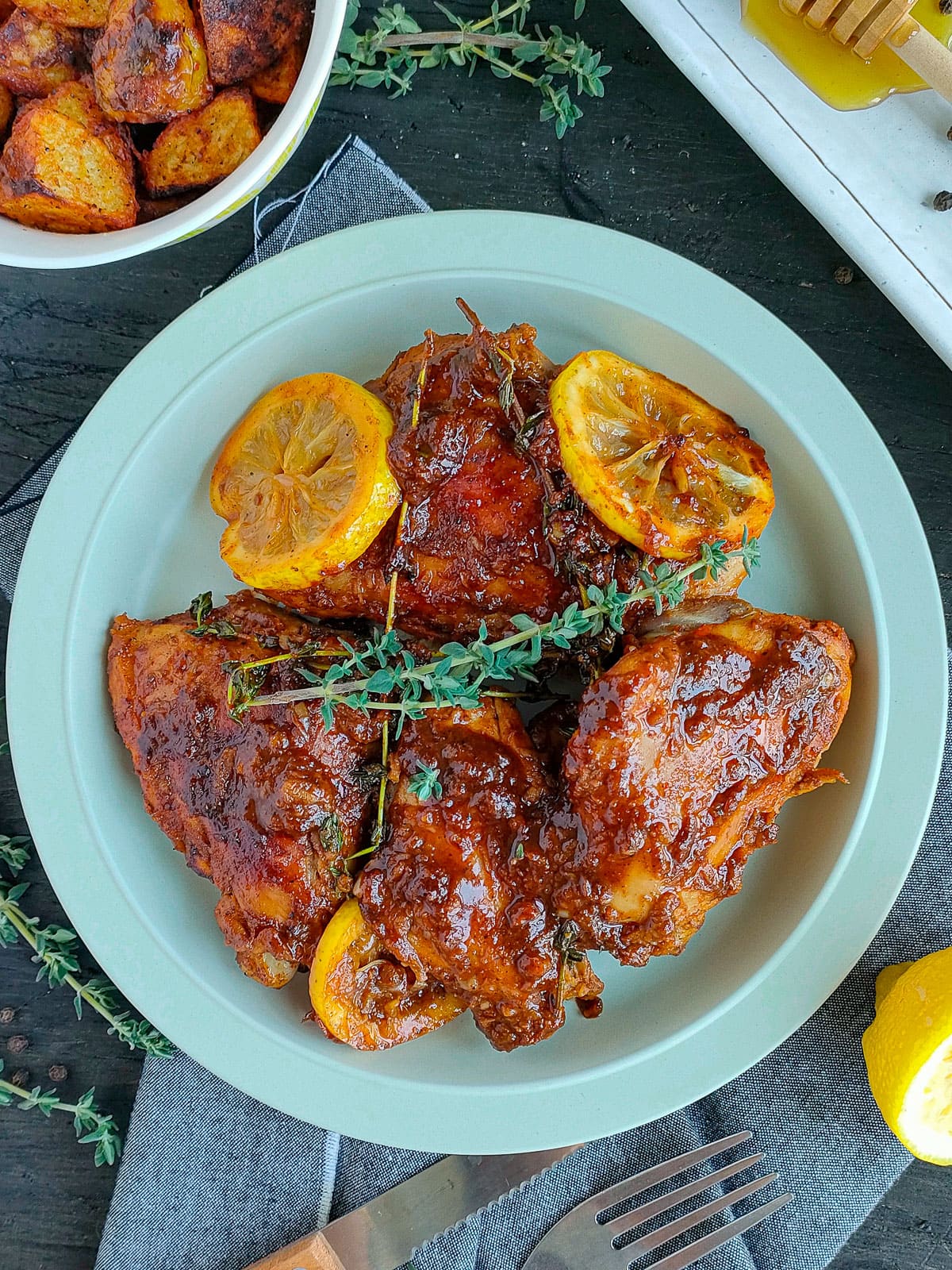 What to serve with honey lemon pepper chicken
Pair these sweet and spicy glazed chicken thighs with a variety of side dishes for an easy dinner recipe:
Click here for more side dishes.
Make it a nutritious chicken dinner by serving the sticky chicken thighs with a fresh salad:
Click here for more salads.
Honey lemon pepper chicken also tastes great with fruit salsa like pineapple avocado salsa or the easy mango salsa in this salmon recipe.
More chicken recipes
Click here for more exciting chicken recipes.
★★★★★Did you try this recipe? Please give a star rating in the comments below ★★★★★
HUNGRY FOR MORE? Join over 1000 home cooks like you who subscribe to my weekly newsletter to get all the latest recipes right in your inbox. Or follow me on your favorite social media: Facebook, Pinterest, Instagram, and YouTube. Thank you and happy cooking!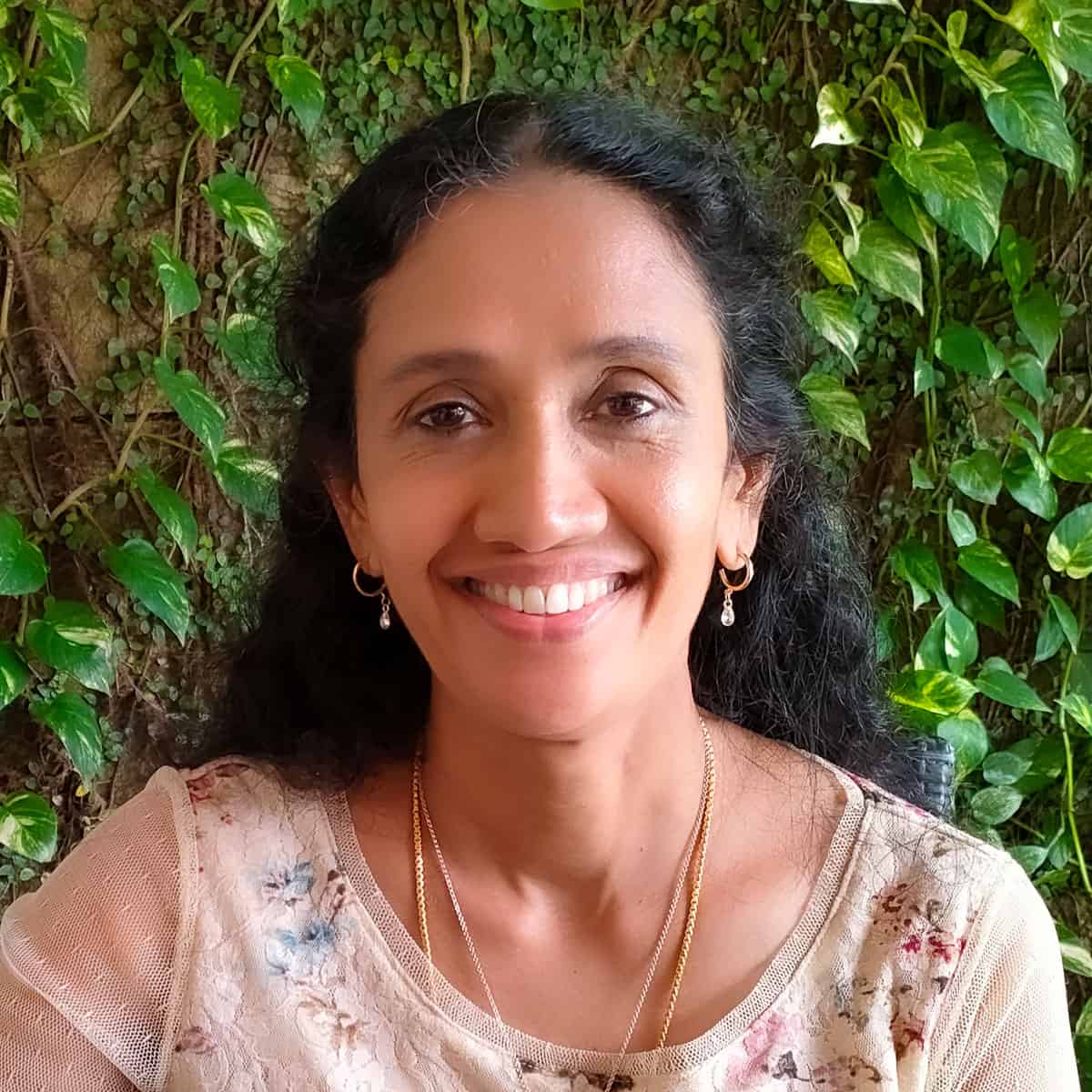 Hi! I'm Sheeba, welcome to Go Healthy ever after!
I have a passion for cooking delicious nourishing food that's easy to cook with fresh natural ingredients free from additives or preservatives. The easy healthy recipes you find here will inspire you to cook with creativity.