Learn how to make amla pickle with less oil and eat as much as you want without guilt! This is a fuss-free Indian gooseberry pickle made with olive oil and steamed amla.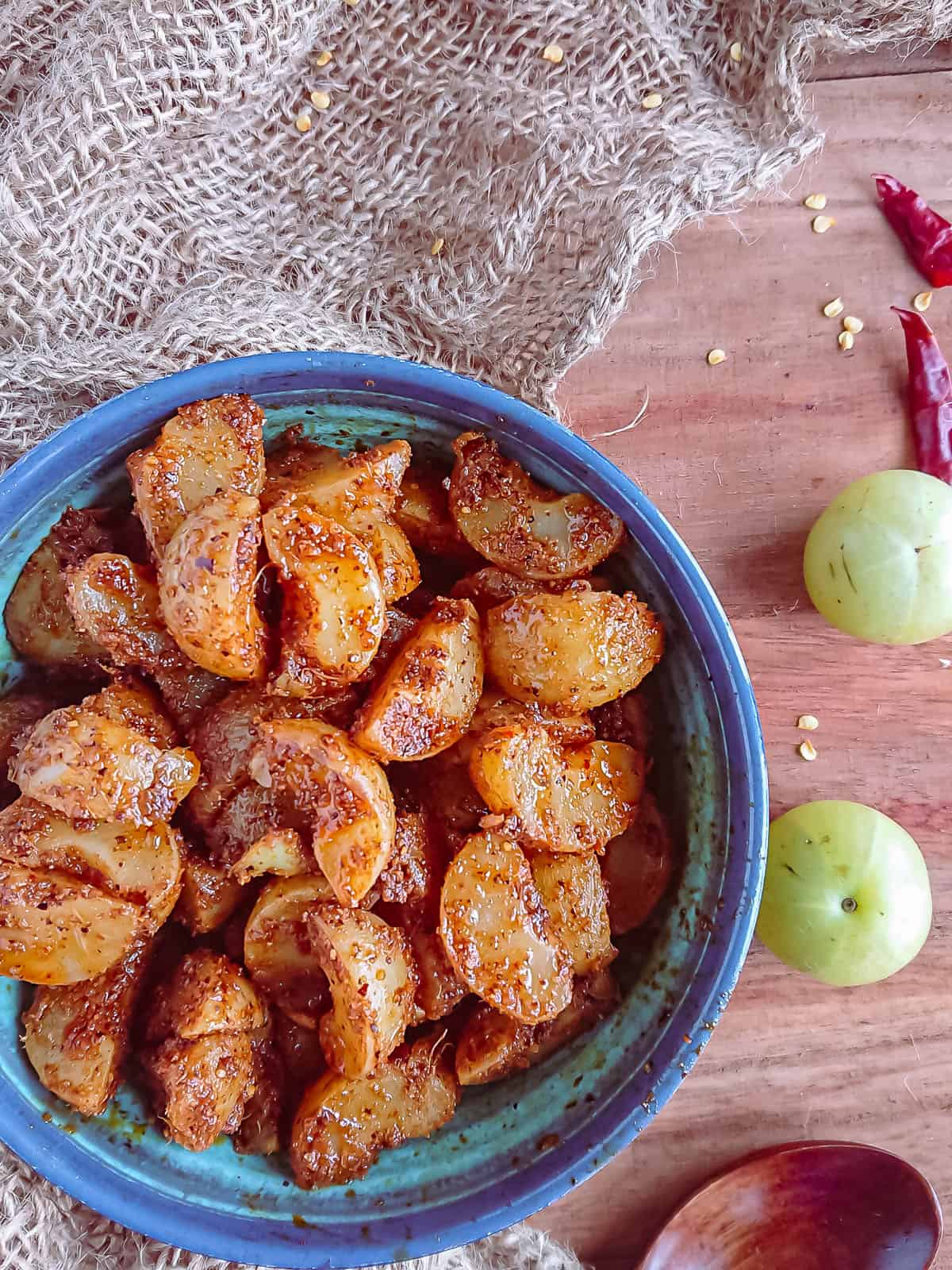 About the recipe
Indian pickles are a great way to preserve food as well as the nutrients in it, but unfortunately, they contain added salt and oil which take away the health advantage. This gooseberry pickle with olive oil preserves the traditional taste, at the same time maintains the health aspect. If you're wondering how to use extra virgin olive oil in Indian cooking, this amla pickle or salads like lentil cilantro salad or easy chana salad would be a good place to start.
What makes this instant amla pickle healthier
We use the less processed extra-virgin olive oil.
You saute/ cook the amla in sesame or mustard oil for the traditional pickle. Here we steam the gooseberries and cool them before adding oil, so the health benefits of olive oil and amla are preserved.
The flavorful olive oil combined with spices helps reduce the amount of salt without compromising on the taste. The trade-off: this pickle has to be refrigerated and keeps fresh only for a couple of weeks.
Ingredients
Amla or Indian gooseberries – this healthy pickle is the best way to eat amla.
Spices – the tangy flavor of the gooseberries is balanced by the bitter-sweet fenugreek (methi) and mustard seeds and the spice of hot chillies.
Extra-virgin olive oil – The fruity flavor of olive oil makes this instant nellikai pickle healthy and amazingly yummy!
How to make amla pickle: step-by-step photos
(You can find the exact measurements and instructions in the printable recipe card at the end of this page.)
Steam the amla for 10 minutes. Once they cool down, break into segments and pat them dry. (They fall apart easily when cooked.) Remove and discard the seeds.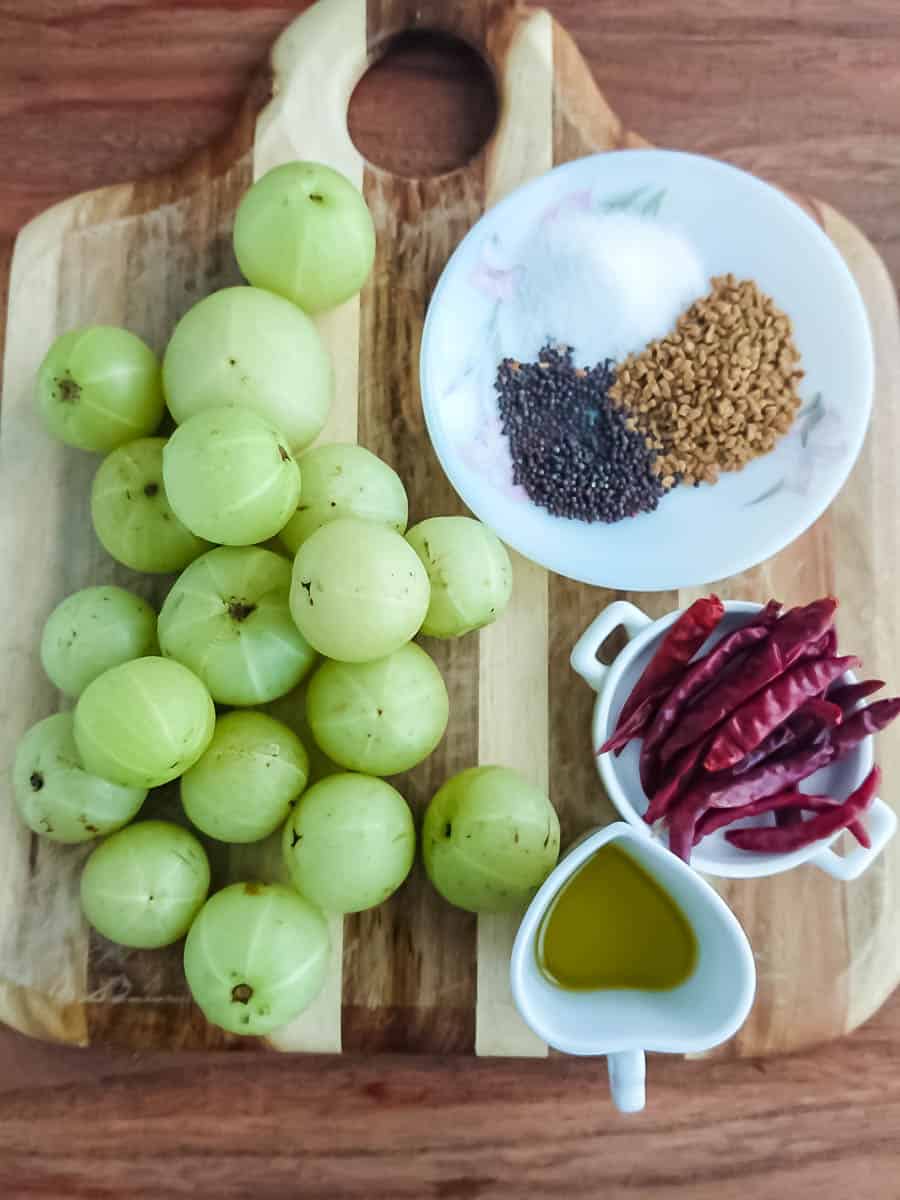 Prepare the spice mix while the gooseberries are cooking. Dry-roast the chilies first, then add the fenugreek seeds and mustard. Roast for about 10 minutes on very low heat until you get a nice aroma of the spices. Remove from heat and add salt while the pan is still hot. Let the spices cool and then grind into a fine powder.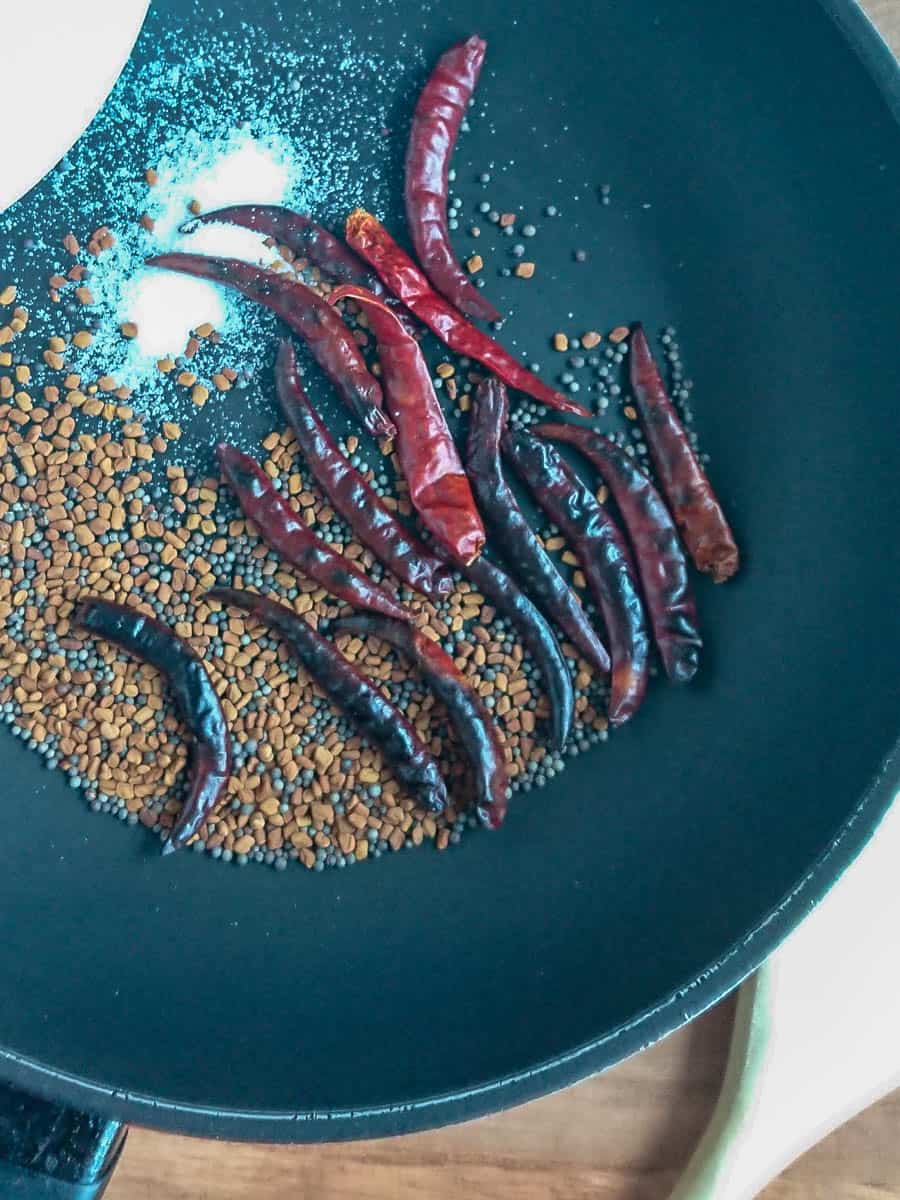 Spread out the amla segments in a pan and sprinkle the spice blend. Mix well. Add the olive oil and toss again.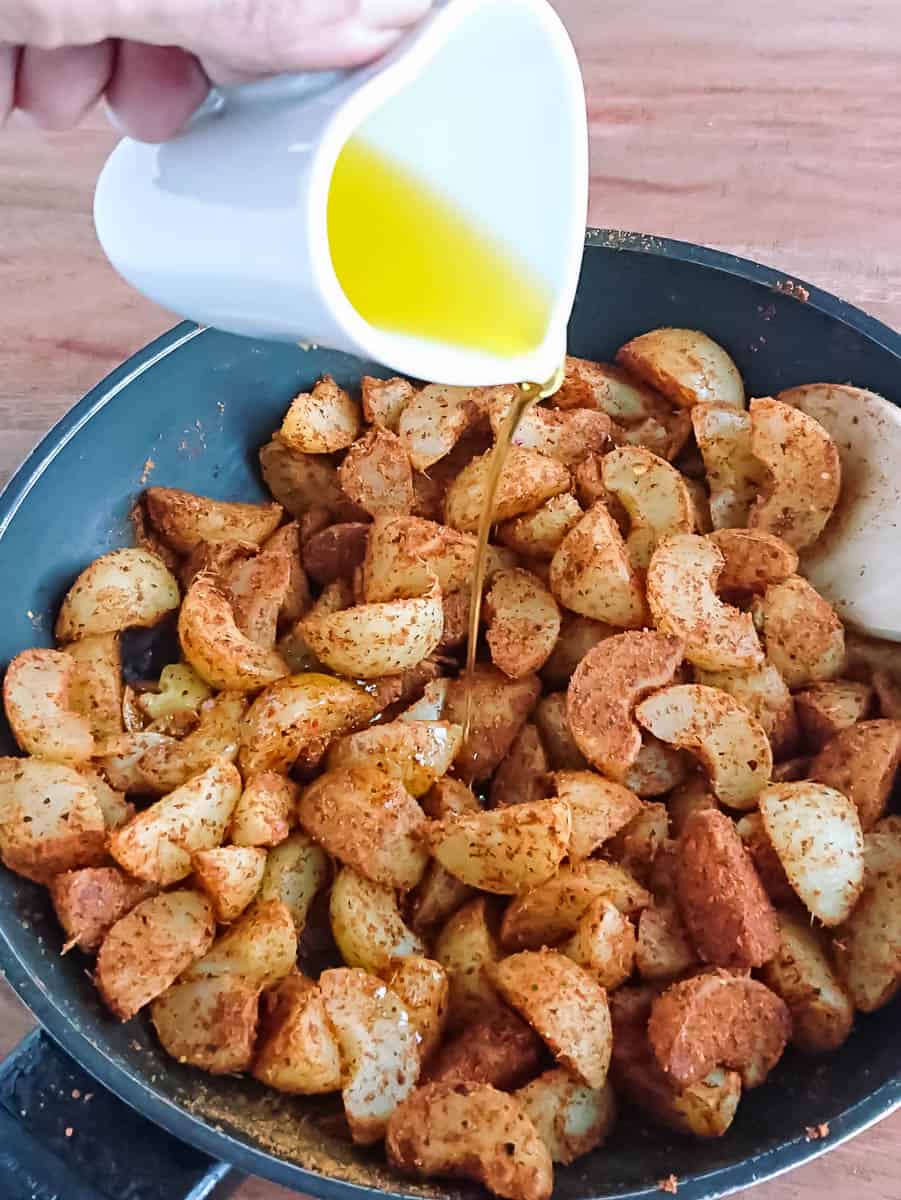 Transfer the pickle to a dry airtight jar and refrigerate.
Recipe Tips
Ensure there is no moisture in the steamed amla, the spices, jar and even the spoon used. That is the reason we dry-roast everything including salt. This helps keep the pickle fresh longer.
Add the olive oil after the gooseberry cools down completely. This helps keep the heart-healthy fats and nutrients in the extra virgin olive oil intact.
What to serve gooseberry pickle with
Bagalabath (Indian curd rice) is the best dish to eat this pickle with. Other options can be:
Health benefits of eating nellikai pickle
The combination of gooseberries, olive oil and fenugreek seeds explodes with high nutritional value.
Gooseberries are low in calories, high in fiber and excellent sources of vitamins E and C and antioxidants such as phytonutrients. All of these have several health-benefiting effects against cancer, aging, inflammation and neurological diseases. (source)
Fenugreek seeds are used as a remedy for a whole lot of ailments such as digestive problems, obesity, high cholesterol, kidney problems, menstrual cramps, chronic cough, and mouth ulcers. It slows the absorption of sugars and stimulates insulin, thus reducing blood sugar in people with diabetes.
Extra virgin olive oil is well known for all the antioxidants, phytonutrients, and heart-healthy monounsaturated fats.
Trending Videos
Looking for more sides?
★★★★★Did you try this recipe? Please give a star rating in the comments below ★★★★★
HUNGRY FOR MORE? Join over 1000 home cooks like you who subscribe to my weekly newsletter to get all the latest recipes right in your inbox. Or follow me on your favorite social media: Facebook, Pinterest, Instagram, and YouTube. Thank you and happy cooking!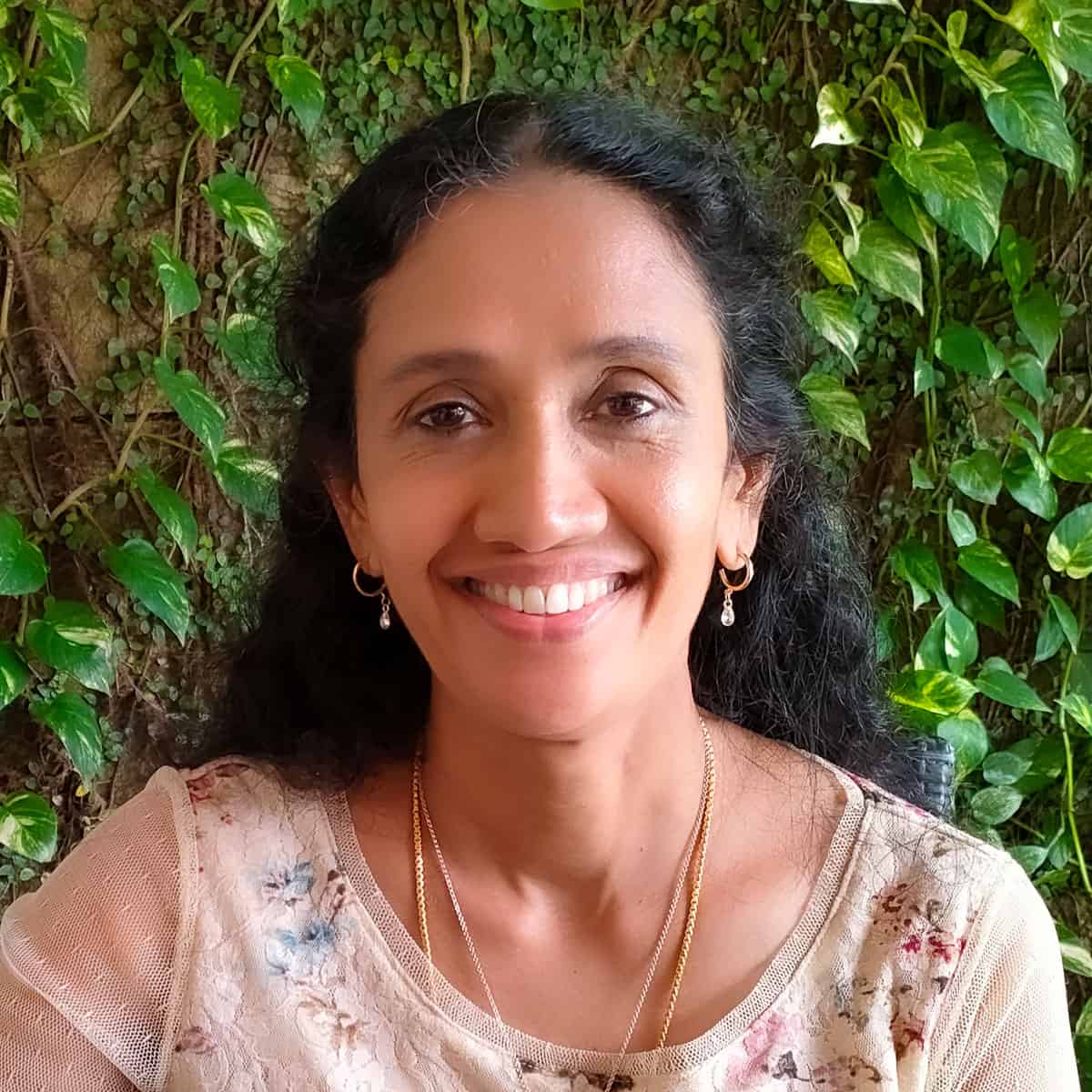 Hi! I'm Sheeba, welcome to Go Healthy ever after!
I have a passion for cooking delicious nourishing food that's easy to cook with fresh natural ingredients free from additives or preservatives. The easy healthy recipes you find here will inspire you to cook with creativity.
Copyright secured by Digiprove © 2020-2023