Egg kheema masala is a delicious gravy made with boiled eggs along with spices and aromatics. This anda keema recipe is a healthier version of the popular Indian street food. Learn the tips and tricks to reduce the oil content of egg keema without skimping on taste.
Why You'll Love This Egg Recipe
Egg keema masala, like Kerala egg roast, is one of the easiest Indian recipes with boiled eggs.
"Anda" refers to egg and "keema" means anything minced. Egg keema, mutton keema and chicken keema are some of the popular keema recipes. I love to make chicken keema-filled eggs when I have some minced chicken and eggs.
The bane of any keema recipe is the high calories due to the amount of oil used. The kheema will be literally swimming in oil. This is to improve the texture and taste of an otherwise bland keema.
I've found a way to address this issue. Why not add (instead of oil) extra onions and tomatoes, veggies and lemon juice to boost the flavors?
This gives varying textures to the egg keema and prevents it from being too "eggy". That also makes egg keema a complete low-calorie meal.
BONUS: More colorful, delicious and nutritious egg kheema masala with a BIG DIFFERENCE.
The best part?
You only need basic ingredients and spices you might already have in your kitchen. You can eat it any time of the day. It's entirely up to you whether you want to have it for breakfast, a quick dinner or pack it for lunch. It works for a lazy weekend brunch too.
It's dinner time and you don't have any protein in your fridge other than eggs? This easy keema egg recipe will come to your rescue.
Let's get started:
Egg Keema Ingredients
(You can find the exact measurements and instructions in the printable recipe card at the end of this page.)
Eggs: Choose eggs that are as fresh as possible. I've used medium-sized eggs here, small or large ones are fine, too. Tweak the cooking time accordingly.
Vegetables: I've used green peas and carrots here. You can also add bell peppers.
Spices: Chili, coriander, turmeric, garam masala, cumin and pepper.
Flavor boosters: Onions, ginger, garlic, tomatoes and coriander leaves.
Lemon juice: It not only adds a burst of citrus freshness but is also rich in vitamin C. It helps your body absorb calcium in the eggs.
How To Make Egg Keema Masala: Step by step
How to Make Perfect Hard-Boiled Eggs
You don't need instructions to boil eggs, but I've found that boiling eggs this way gives perfectly cooked eggs and also makes them easier to peel:
Take water in a deep pot and slowly place the eggs. Water should completely cover the eggs. Bring it to a rolling boil.
Remove from heat and keep covered for 12 minutes for medium-sized eggs. (10 minutes for small eggs and 14 for large ones.)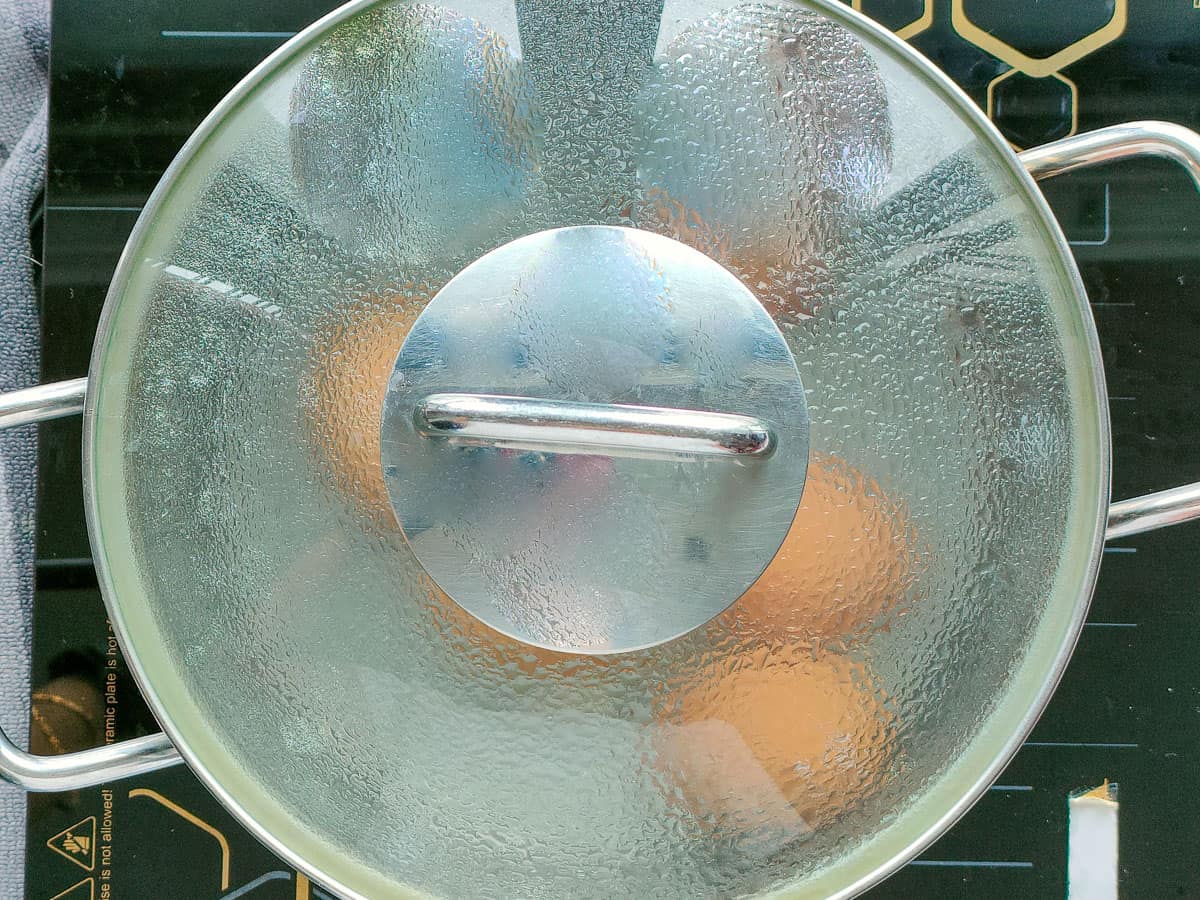 Transfer the eggs to ice water (water should completely cover the eggs).
After 5 minutes, peel the eggs. There you go! This way you can peel them very easily. And you get perfectly cooked egg whites with soft but well-cooked yolks.
Grate the Eggs
Grate the boiled eggs using a box grater. Keep it aside.
Make Gravy
Heat 1 tablespoon of olive oil and saute a bay leaf and 2 finely diced onions.
Once the onions turn translucent, add 1 teaspoon of ginger-garlic paste.
When ginger and garlic are roasted (when the raw smell is gone), add 2 finely chopped or minced tomatoes.
A quick tip: If you happen to have the easy Indian curry paste, you can skip the above 3 steps for the gravy by adding 1 cup of the curry paste.
Mix in ¼ cup of green peas. Sprinkle a tablespoon of water and cook covered for 5 to 10 minutes until the peas are cooked.
Add Spices
In a small bowl, take 1½ teaspoons chili powder, 1 teaspoon coriander powder, ¼ teaspoon tumeric, ½ teaspoom garam masala, ½ teaspoons of pepper and cumin each and 1 teaspoon of salt.
Mix all the spices with 2 tablespoons of water and mix until combined.
Add the spice mix to the gravy in the pan and stir for a couple of minutes.
Add Carrot and Egg Keema
Add ¼ cup of grated carrot to the gravy. Stir for a minute or two until they turn soft.
Add grated eggs and mix gently. Turn off the flame.
Stir in 2 horizontally slit green chilies and garnish with chopped coriander leaves.
Finish off by drizzling 2 teaspoons of lemon juice.
Tips To Make the Best Anda Keema
Use a non-stick wok/pan: This may be the most obvious but often overlooked tip. It helps reduce the amount of oil used and also makes cleaning easier. This is true for most egg recipes like cabbage omelet too.
Variations: You can use bell peppers and edamame in addition to or instead of carrots and peas.
Before adding the eggs: Ensure the rest of the ingredients are well-cooked and combined before adding the eggs.
After adding the eggs: Do not over-mix. You wouldn't want an egg mashup here. Some of the egg yolks will anyway get mashed, but that's fine.
Scaling: This recipe can be easily modified to suit the number of people you're serving.
Making ahead: Egg keema can be refrigerated for a maximum of 2 days, but it is not suitable for freezing.
Storing leftovers: Store the leftovers in the fridge and use them up within a couple of days.
Health Benefits of Eggs
Eggs offer complete protein, with all 9 essential amino acids.
They are nutrient-dense with more vitamins, minerals, and amino acids per calorie than most other foods.
They help your "good" cholesterol.
Eggs can lower your triglycerides which means they are heart healthy.
They can lower your odds of a stroke.
Eggs can help lose weight. Having them for breakfast keeps you feel full longer, so you'll eat less throughout the day.
They promote eye health. Eggs are good sources of antioxidants. The fat they have makes it easy for your body to use the nutrients.
They are rich in Vitamin D and choline that help sharpen the brain. (Source)
Printable Curry Paste Recipe
Grab a printable copy of the curry paste that helps home cooks like you cook different curries in 30 minutes or less:
★★★★★Did you try this recipe? Please give a star rating in the comments below ★★★★★
HUNGRY FOR MORE? Join over 1000 home cooks like you who subscribe to my weekly newsletter to get all the latest recipes right in your inbox. Or follow me on your favorite social media: Facebook, Pinterest, Instagram, and YouTube. Thank you and happy cooking!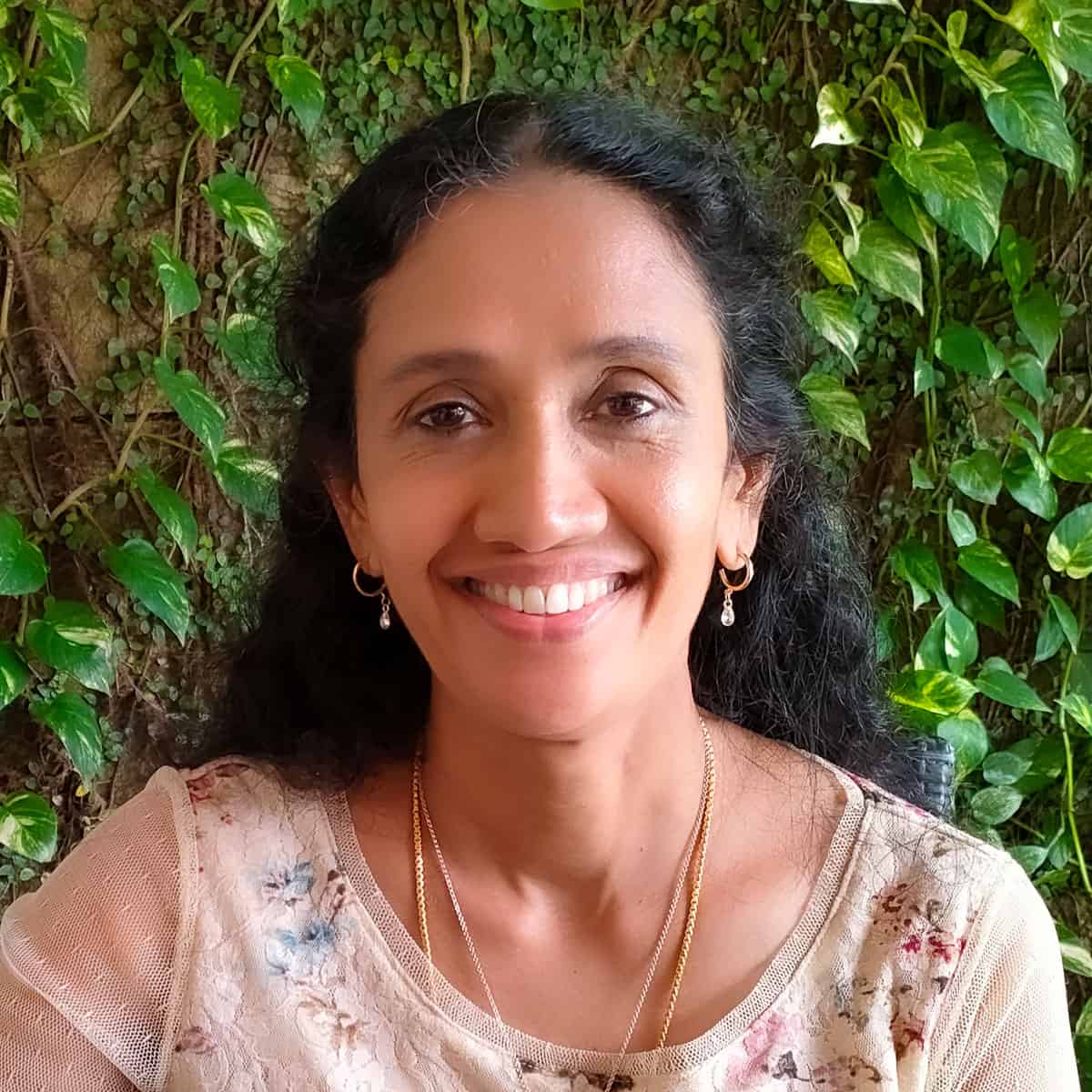 Hi! I'm Sheeba, welcome to Go Healthy ever after!
I have a passion for cooking delicious nourishing food that's easy to cook with fresh natural ingredients free from additives or preservatives. The easy healthy recipes you find here will inspire you to cook with creativity.
Copyright secured by Digiprove © 2023