Kadai vegetable, also known as Kadai sabzi, is a popular Indian vegetarian dish that is made with a variety of vegetables cooked in a kadai (a traditional Indian wok). Veg kadai recipe is filled with authentic Indian flavors in every bite. It gets its unique flavor from the delicious kadai masala, a spice blend that can be easily made at home with a few whole spices. It is perfect for family meals or special occasions.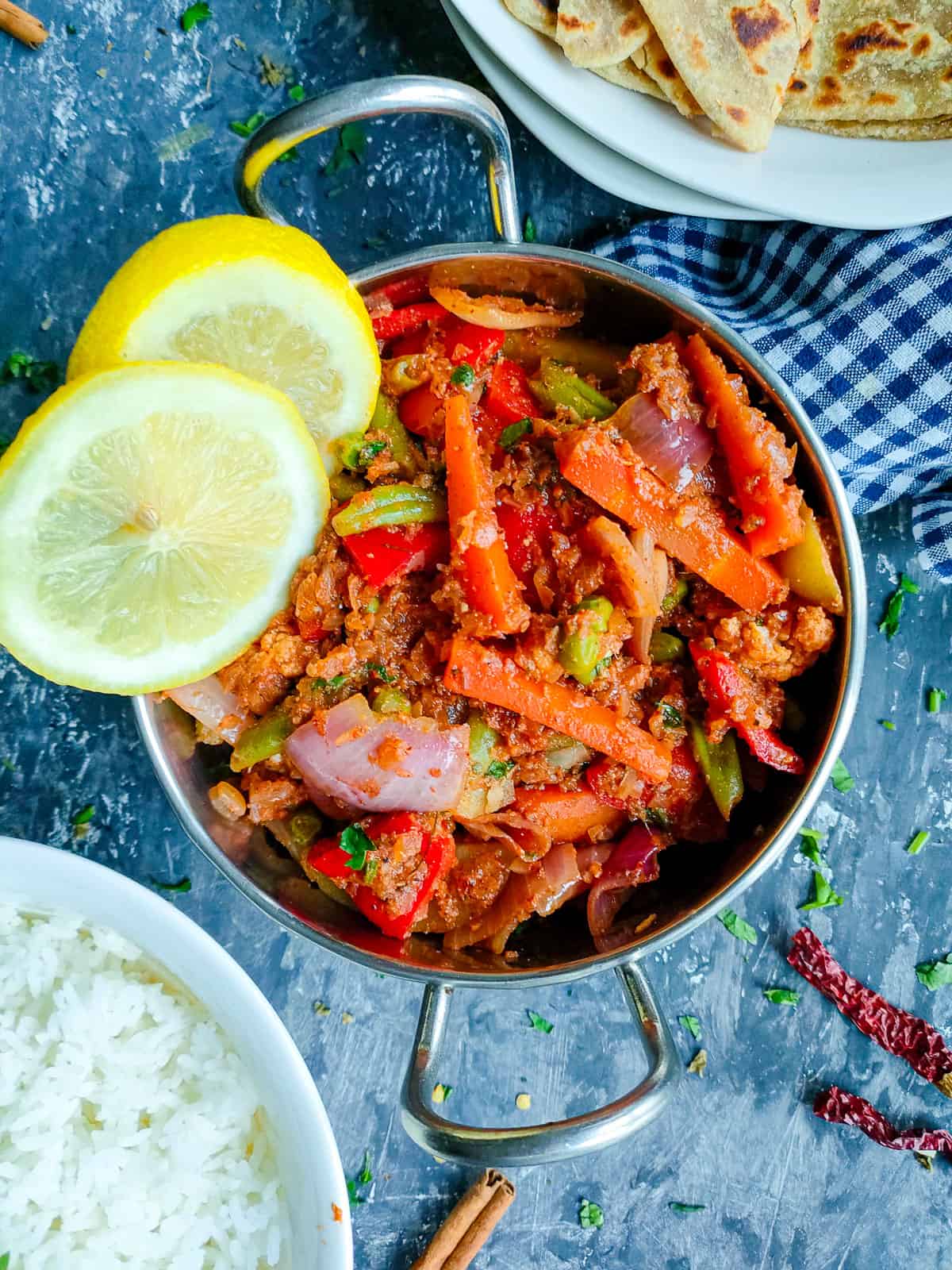 What is veg kadai made of?
Kadai vegetable is a delicious and healthy Indian curry made with a variety of vegetables cooked in a flavorful kadai sauce. It is a great source of vitamins, minerals, and fiber, and it is also low in calories and fat.
Veg kadai is a quick and easy dish to make, and it is perfect for a weeknight meal.
The vegetables are typically cooked until they are tender yet retain their vibrant colors This results in a flavorful and wholesome vegetarian curry.
The secret lies in the aromatic kadai masala made by roasting and blending whole spices. You can use either store-bought or homemade kadai masala.
I prefer to make it at home, so I can have control on the ingredients and the quantities. It is so easy to make, so why not?
Another special feature of this kadai veg recipe is the crunchy texture of the vegetables, unlike other mixed vegetable curries.
You achieve that by roasting the veggies initially before adding them to the curry. It is totally worth the extra few minutes of time and effort.
This recipe is quite versatile. You can make this kadai vegetable dry or with gravy depending on what you're pairing it with: roti/naan or rice.
Master the art of kadai vegetable at home with this delicious vegetarian delight!
Let's get started:
Ingredients
(You can find the exact measurements and instructions in the printable recipe card at the end of this page.)
Whole spices for kadai masala: Coriander, cumin, peppercorns, cloves, cinnamon, cardamom, bay leaf and red chili. I've used 2 types of chilies: Kashmiri red chili (not so hot) for the flavor and color and regular chili (for the heat). If you don't have Kashmiri chili, it's okay to skip it.
Vegetables: Onions and bell peppers are the most common veggies. You can use a mix of different colored bell peppers like green, red, and yellow to add color and flavor to the dish. You can choose to add any other vegetable like carrot, beans, broccoli, cauliflower, etc. You can also add paneer/mushrooms in addition to the vegetables.
Ginger-garlic paste: You can substitute 1 teaspoon of ginger garlic paste with ½ teaspoon each of grated ginger and garlic.
Herbs: Kasuri methi and fresh coriander leaves. Kasuri methi is dried fenugreek leaves that have a nutty pungent flavor. It adds an amazing depth of flavor when added to curries with a rich gravy. It gives the characteristic flavor to tawa paneer tikka and easy palak kofta. Like the kadai masala, kasuri methi is also a must-have ingredient for kadai vegetable recipe. Try not to skip it.
How to make kadai vegetable: Step by step
Make kadai masala
Dry roast whole spices: bay leaf, dry red chili, Kashmiri red chili, coriander seeds, cumin seeds, peppercorns, cinnamon, cloves and cardamom. Use low flame and roast for 5 minutes.
Cool the spices and grind them using a spice blender.
Blend until you get a coarse texture. DO NOT BLEND all the way into a fine powder.
You've just made an awesome kadai masala! You can use this delicious spice blend to make various restaurant-style curries like kadai paneer, kadai chicken, kadai lamb, etc. The options are endless.
Roast the vegetables
Dice onions and bell peppers into 1-inch cubes. Separate the onion petals. Heat olive oil in a kadai. Add the onions and peppers.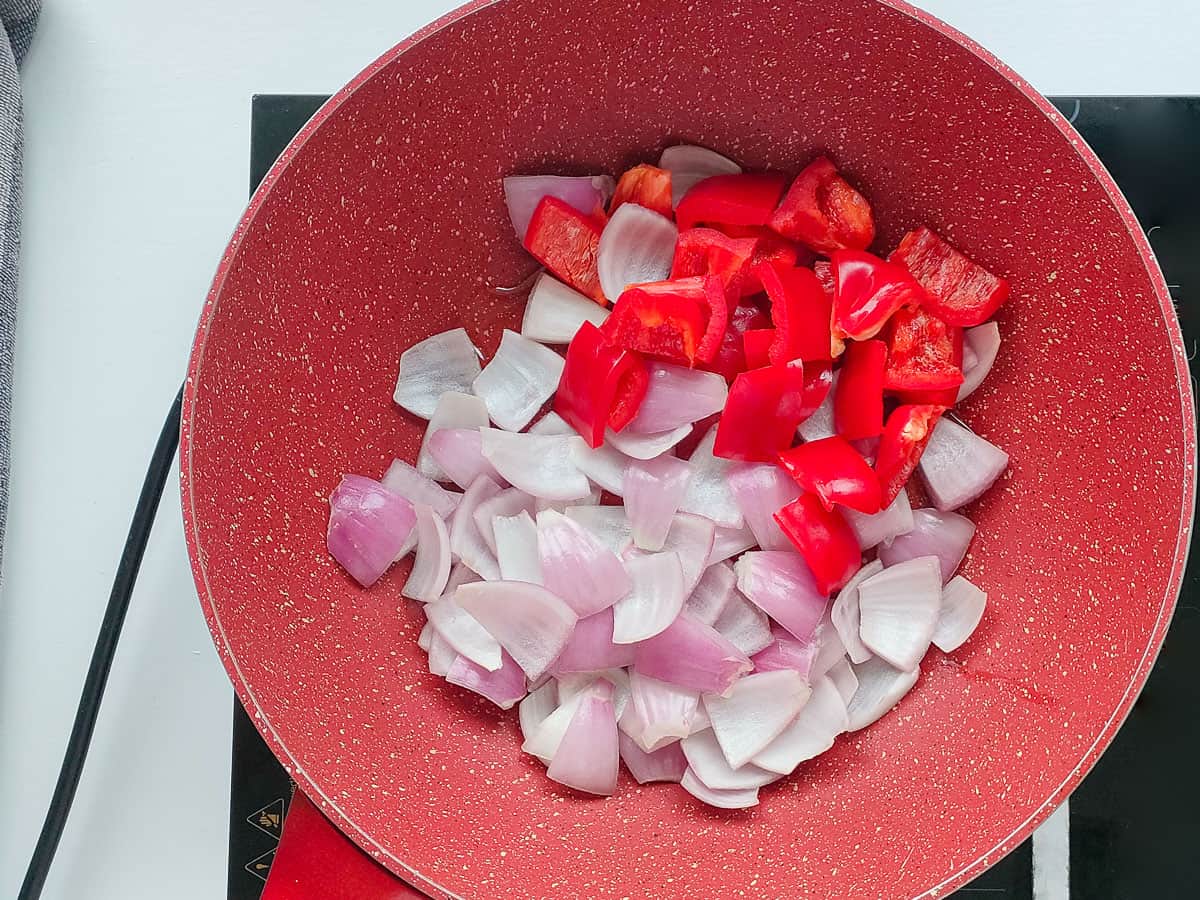 Stir-fry for 3 to 5 minutes until the veggies are browned but still retain the crunch. Remove from the kadai.
Heat oil in the same kadai. Chop carrots, beans and potatoes into batons. Roast on medium flame for 10 minutes.
Chop cauliflower into small (1½-inch) florets. Add the florets and green peas. Cook for 5 to 8 minutes until the veggies are half-cooked. Transfer the veggies and keep aside.
Make the gravy
In the same kadai, heat oil and add a bay leaf and cumin seeds.
Add finely chopped or minced onions. Saute until browned.
Add ginger garlic paste or grated ginger and garlic. Saute for a couple of minutes on low flame.
Add pureed tomatoes and cook on high flame.
Stir until the gravy becomes thick and saucy.
Add vegetables
Add the half-cooked vegetables, yogurt, chili powder and salt. Optionally, you can add a couple of slit green chilies.
Saute for 5 minutes until well combined. Add 1 cup of water and bring it to a boil.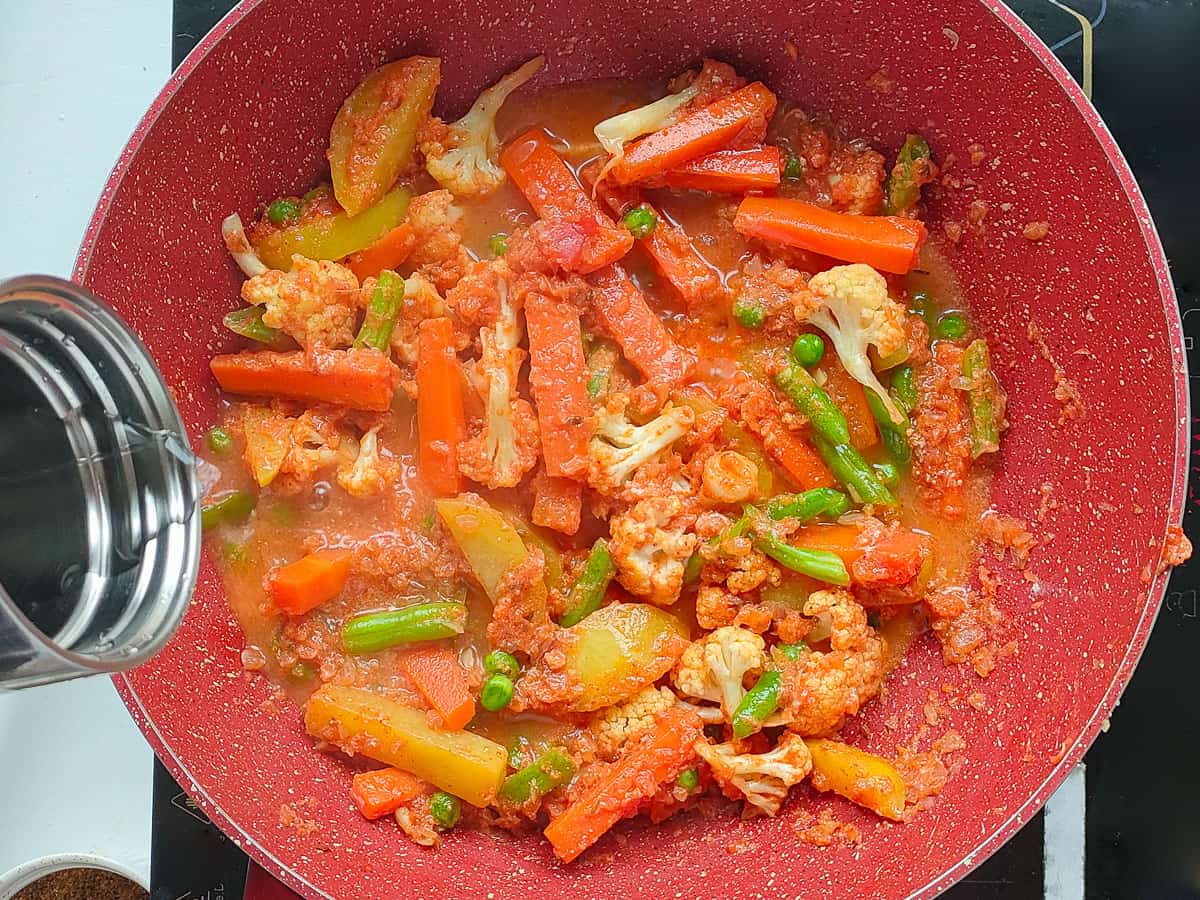 Reduce the flame and cook covered for 10 minutes.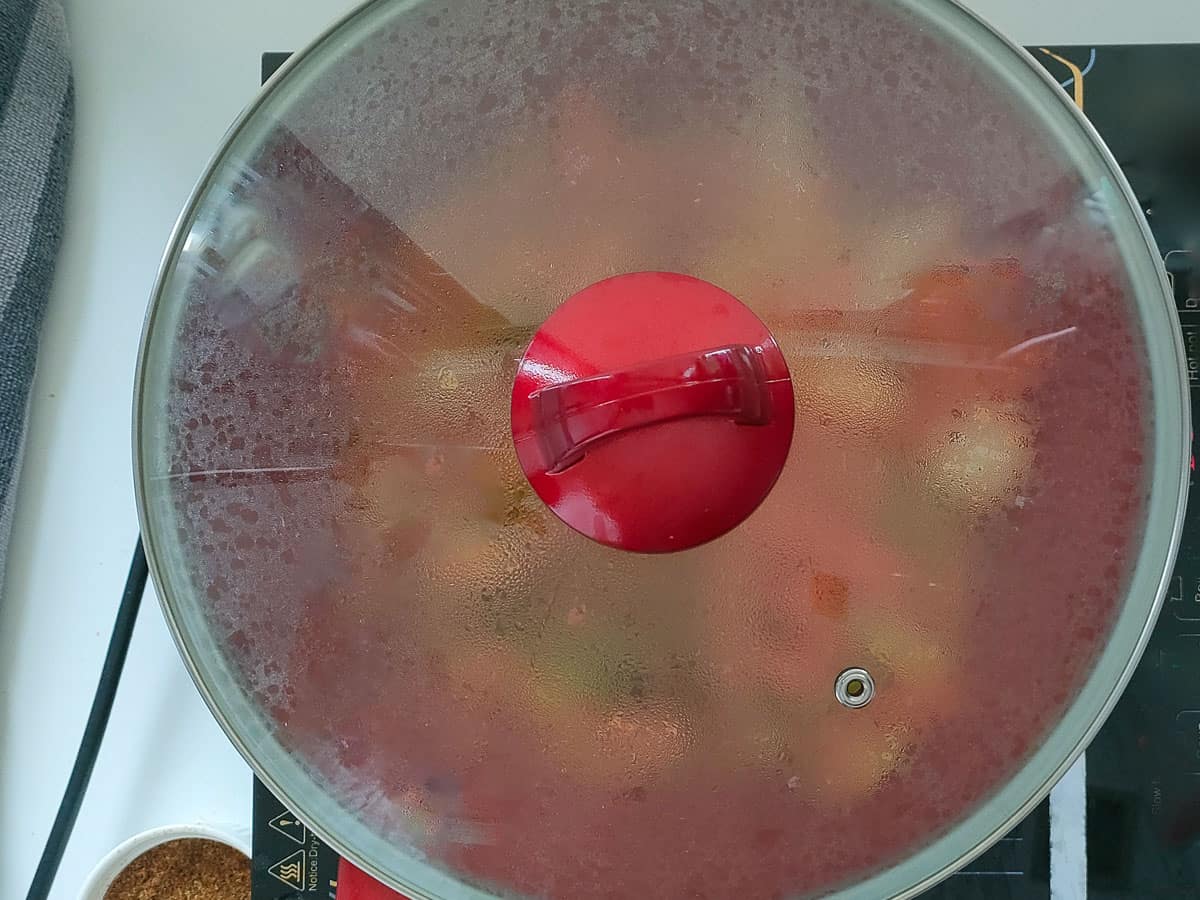 The veggies should be cooked, but still have a crunch. If not, cover and cook for 5 more minutes.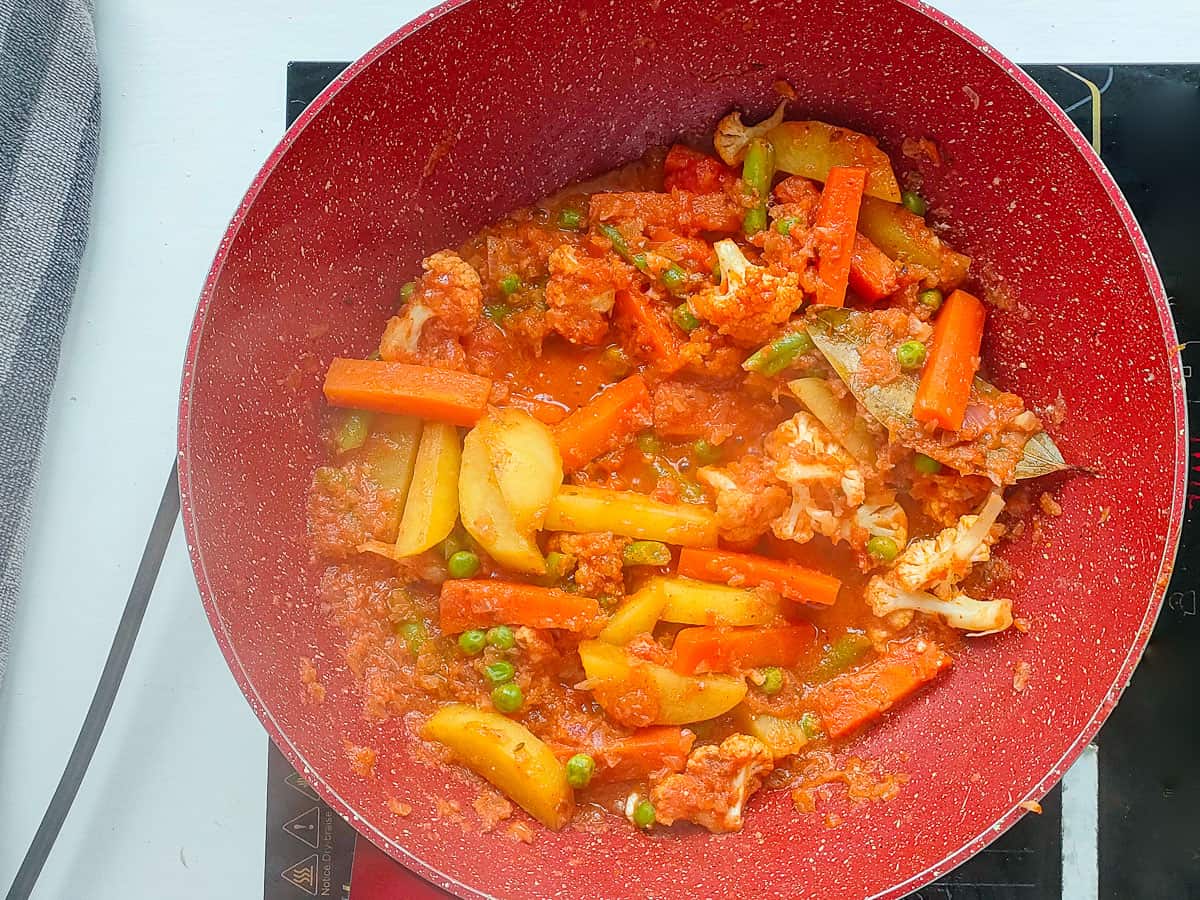 Add kadai masala
Add the roasted onions and bell peppers and kadai masala.
Mix well and simmer for 5 to 10 minutes until you get the desired consistency.
Garnish
Garnish with kasuri methi and chopped coriander leaves. Turn off the flame. Enjoy with roti, naan or rice.
Recipe tips
Kadai masala: Roast the spices on very low flame. Ensure that you blend them coarse. Use "pulse" mode of your blender if possible.
Gravy: If you made the curry paste, use 1 cup of that for the gravy. In that case, you can skip the steps of sauteing onions and tomatoes. Saves time and effort 🙂
Kasuri methi: These are dried fenugreek leaves. Crush them with your palms to release the flavors, before adding to the curry.
Consistency: After you add the kadai masala, cook for a couple of minutes only, if you want kadai vegetable to be saucy. Cook longer if you want your veg kadai dry.
Storing: Kadai vegetable keeps well for 4 days in the fridge. If you want to store it longer, freeze it. It can be frozen for a couple of months.
Reheating: The vegetables may become softer when reheated. If you want to retain the crunch, reheat on microwave at high power for shorter periods of time. (Do not thaw.) You might have to take it out and stir half way through heating.
Variations: Using the same basic ingredients and kadai masala, you can switch the veggies with paneer or mushrooms to make kadai paneer or kadai mushroom.
Common questions about veg kadai recipe
What is the difference between mix veg and kadai veg?
Mix veg is a broader term that encompasses various vegetable combinations and cooking styles, while kadai veg specifically refers to a dish cooked in a kadai with a distinct set of spices that give it a unique taste and aroma.
Kadai veg is known for its distinct cooking method. The vegetables are cooked in a kadai with kadai masala, a unique blend of spices. This masala blend sets kadai veg apart from other dishes and contributes to its signature flavor.
What is kadai used for?
A "kadai" is a traditional Indian cooking vessel that is commonly used in Indian kitchens for various cooking purposes. It is also known as a "karahi" or "kadhai." The kadai is a deep, circular, and slightly concave pan with handles on either side.
A kadai can be used for stir-frying, deep-frying, curries and gravies, sautéing, roasting and dry cooking. Kadais are also often used as serving dishes to add an authentic touch to the presentation.

What is the difference between kadai and tikka masala?
Dishes cooked in a kadai often have a robust and rustic flavor due to the use of whole spices and the roasted kadai masala. The flavors are bold, slightly smoky, and well-balanced.
Tikka masala dishes are known for their marinated protein and creamy tomato-based gravy. They tend to have a milder and more creamy flavor compared to kadai dishes.
What does kadai masala taste like?
The combination of whole spices make kadai masala spicy, earthy, aromatic, balanced, bold and robust. In addition, the process of dry-roasting and grinding whole spices makes kadai masala slightly smoky.
What is the difference between garam masala and kadai masala?
Garam masala contributes to the depth and complexity of flavors in a dish, but it's not meant to be the primary seasoning. It provides a well-rounded and balanced taste.
Kadai masala is responsible for the characteristic taste of kadai-style preparations. It contributes a depth of flavor that is rich, aromatic, and spicy.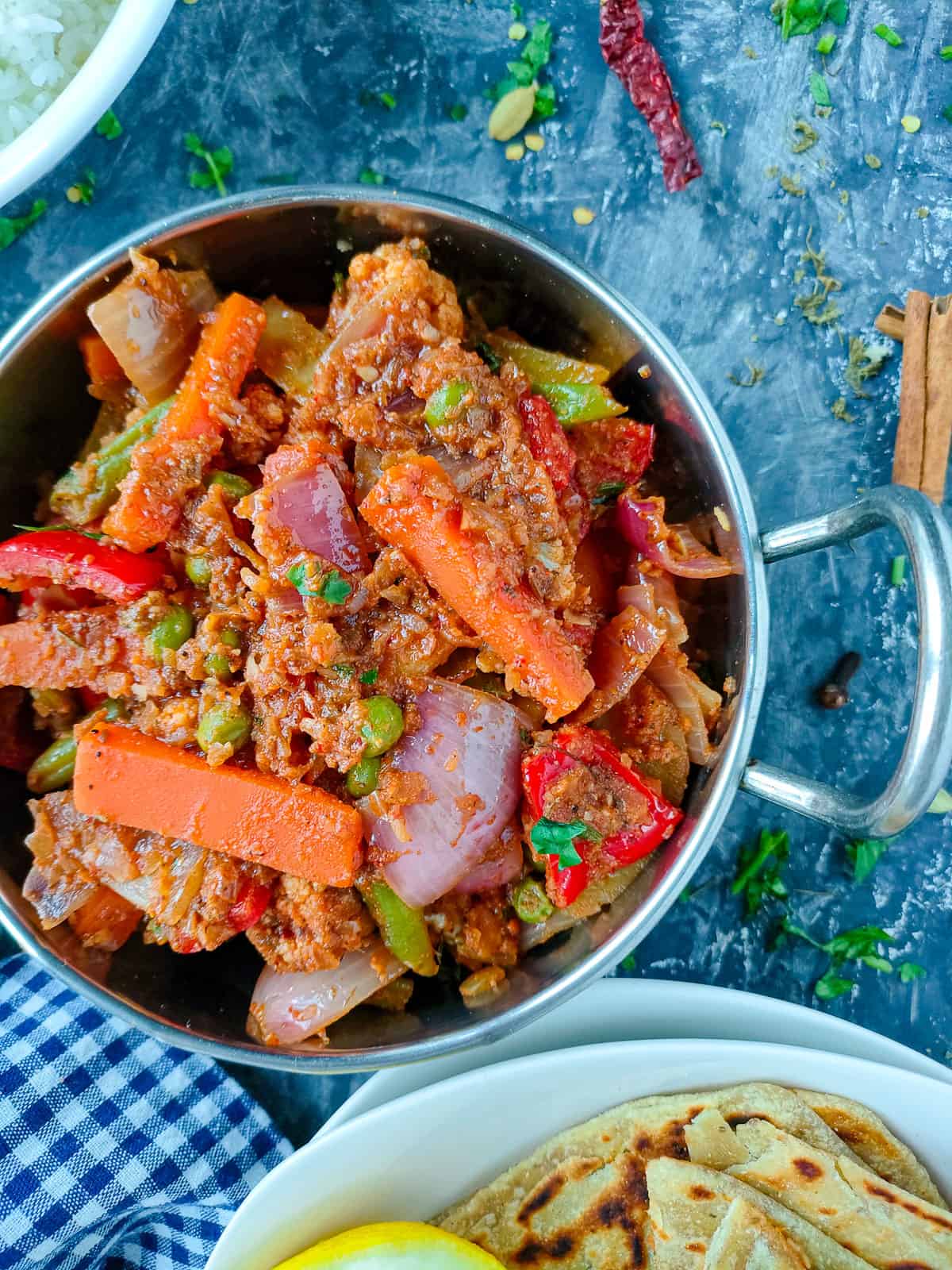 Health benefits of kadai vegetable
The specific health benefits of kadai vegetables will depend on the ingredients used, the cooking method, and portion sizes. However, I can provide some general information about the potential health benefits of this dish:
Rich in Nutrients: Kadai vegetables typically include a mix of vegetables such as bell peppers, onions, tomatoes, carrots, peas, and cauliflower. These vegetables are rich in essential nutrients like vitamins (such as vitamin C and vitamin A), minerals (such as potassium and folate), and dietary fiber.
Antioxidant Content: Many of the vegetables used in kadai dishes are high in antioxidants. Antioxidants help protect the body's cells from damage caused by free radicals, which can contribute to chronic diseases and aging.
Fiber: The variety of vegetables in kadai dishes provides dietary fiber, which is important for maintaining digestive health. Fiber helps promote regular bowel movements, prevents constipation, and supports a healthy gut microbiome.
Low in Calories: Kadai vegetables are generally low in calories, especially if you're not using excessive amounts of oil for cooking. This makes the dish a good option for those looking to manage their weight or reduce calorie intake.
Spices: The spices used in kadai dishes, such as coriander, cumin, and red chili powder, not only add flavor but also potential health benefits. Some spices have anti-inflammatory properties and may aid digestion.
Balanced Diet: Kadai vegetables can be a part of a balanced diet, especially when paired with whole grains like brown rice or whole wheat roti. The combination of vegetables, whole grains, and spices provides a variety of nutrients that contribute to overall health.
Customizable: You can adjust the ingredients and cooking method to suit your dietary preferences and needs. For example, you can control the amount of oil and spices used, making the dish suitable for different dietary requirements.
What to serve with veg kadai
Rice: You can pair kadai vegetables with steamed white rice, brown rice, or even fragrant basmati rice. The combination of the flavorful vegetables and the rice creates a well-rounded meal.
Roti or Naan: Indian breads like roti, naan, or whole wheat chapati are classic accompaniments to kadai vegetables. They provide a hearty and filling component to the meal.
Pulao: A vegetable pulao or biryani can be a delightful pairing with kadai vegetables. The aromatic rice dish complements the spiciness of the kadai gravy.
Quinoa: For a healthier twist, consider serving kadai vegetables with quinoa. Quinoa is a protein-rich grain that works well with the flavorful vegetable mixture.
Salad: A fresh and crisp salad can balance out the richness of the kadai vegetables. Paneer tikka salad or the easy chana salad can be great options too.
Printable Curry Paste Recipe
Grab a printable copy of the curry paste that helps home cooks like you cook different curries in 30 minutes or less:
★★★★★Did you try this recipe? Please give a star rating in the comments below ★★★★★
HUNGRY FOR MORE? Join over 1000 home cooks like you who subscribe to my weekly newsletter to get all the latest recipes right in your inbox. Or follow me on your favorite social media: Facebook, Pinterest, Instagram, and YouTube. Thank you and happy cooking!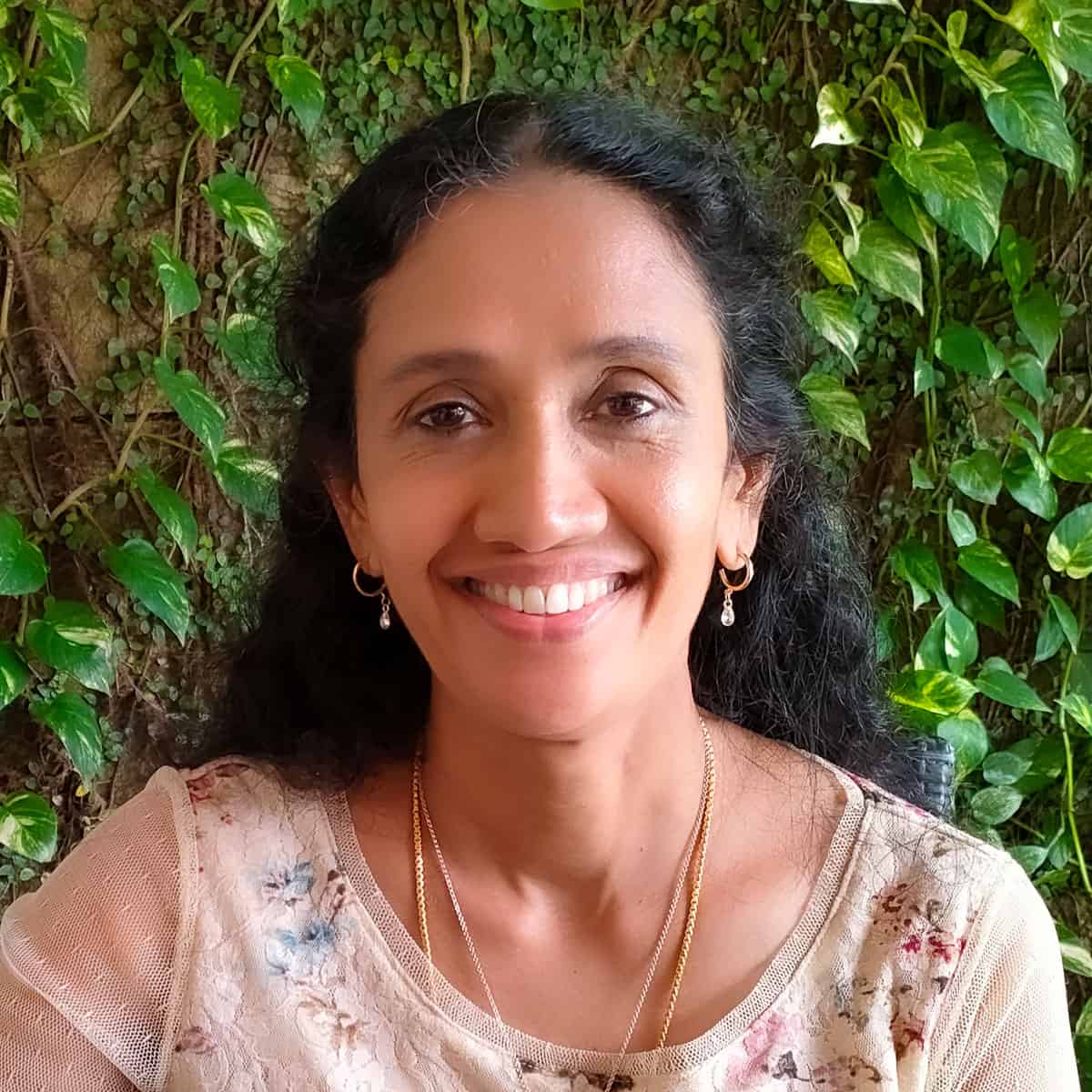 Hi! I'm Sheeba, welcome to Go Healthy ever after!
I have a passion for cooking delicious nourishing food that's easy to cook with fresh natural ingredients free from additives or preservatives. The easy healthy recipes you find here will inspire you to cook with creativity.
Copyright secured by Digiprove © 2023