Palak kofta recipe without paneer or cream, that is entirely plant-based and healthy! In this low-calorie palak kofta curry, koftas are made in the oven and soaked in a delicious gravy. The spinach kofta as well as the curry are made with simple everyday ingredients, yet better than the ones you get at Indian restaurants.
Why You'll Love This Palak Kofta Recipe
This palak kofta curry is yet another of my 'creamy' curries without cream, like chicken kofta curry, authentic chana masala, and 5-ingredient easy chicken curry.
The koftas are baked (not fried) and soaked in an easy gravy made with onions, tomatoes and a few spices you might already have in your kitchen.
I would say the secret ingredient in this recipe is cashews. They are added to the koftas for a crunchy (in an otherwise smooth) texture. Cashews are also used in the gravy blended as a paste to give you a creamy curry. (This hack is similar to the one I used in aloo chana masala recipe, in which I had used chickpea puree.)
Baking usually sucks the moisture out of koftas. This recipe will teach you the tricks to take advantage of it to make soft palak koftas that soak up the delicious gravy.
Without further ado, let's get to the recipe:
Ingredients
(You can find the exact measurements and instructions in the printable recipe card at the end of this page.)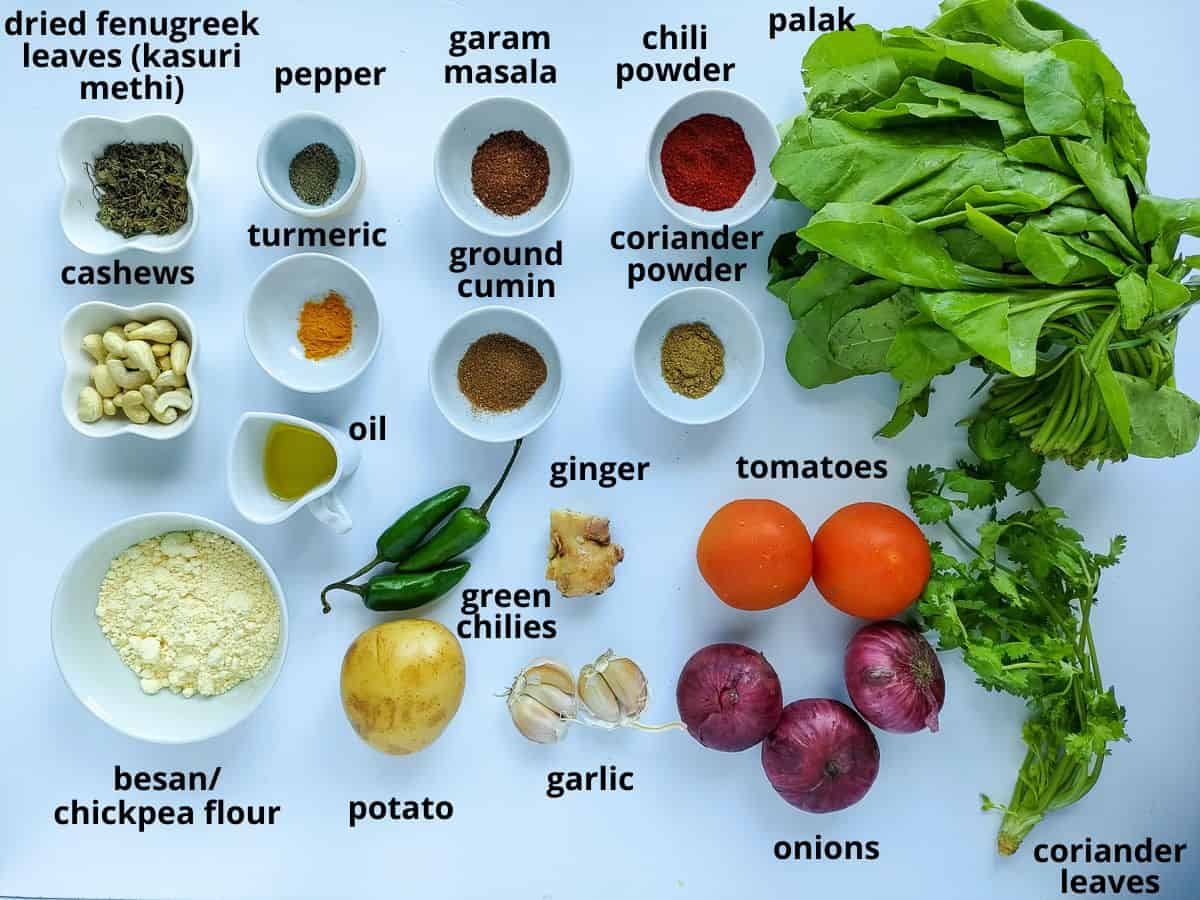 Palak (spinach): Choose fresh green ones with stems intact.
Nuts: You'll need cashews for both koftas and gravy. You can also use blanched almonds instead.
Dried fenugreek leaves: Also called Kasuri methi, they are used widely in Indian dishes like paneer and kofta curries, spicy vegetarian gravies like vegetable kadai, parathas, vegetables like tandoori cauliflower and more. These dried leaves of Fenugreek plant are popular for their bitter yet addictively aromatic flavor. Besides adding a unique taste and flavor to the dish, Kasuri Methi also has many health benefits.
Besan: This is gram flour, you can also use chickpea flour, which is similar.
The rest of the ingredients are regular spices and vegetables.
How To Make Palak Kofta Curry: Step by step
Make Palak Puree
Heat oil in a pot and saute chopped green chilies, garlic and ginger.
Add roughly chopped palak. You can also add tender stems. Stir until it wilts.
Transfer the contents to a strainer. Squeeze the palak to remove the moisture.
Reserve the water from the palak. You can add it later when you make the gravy.
Cool the palak mixture and add to a blender jar.
Blend until smooth.
Make Palak Kofta Mixture
Finely chop cashews and onions. Saute in a pan with oil until they are browned.
Remove the cashews and onions and keep aside. Add besan to the same pan and stir on low flame until you get a nutty aroma.
Take the palak puree in a bowl. Add chopped coriander leaves, roasted besan, onions and cashews, salt, cumin, garam masala, peanut oil and kasuri methi.
Boil a large potato, peel and mash. Add to the palak kofta mixture.
Bake Palak Koftas
Preheat the oven to 180°C/356°F. Scoop out small balls of the palak mixture onto a baking sheet or pan. You can use a small spoon or melon baller.
Spray oil and bake. After 15 minutes, flip the koftas and bake for another 10 minutes. Remove from the oven and set aside.
Make Palak Kofta Curry
Blend roughly chopped onions, ginger and garlic into a smooth paste.
Heat oil in a pot. Saute the onion paste until the raw smell disappears.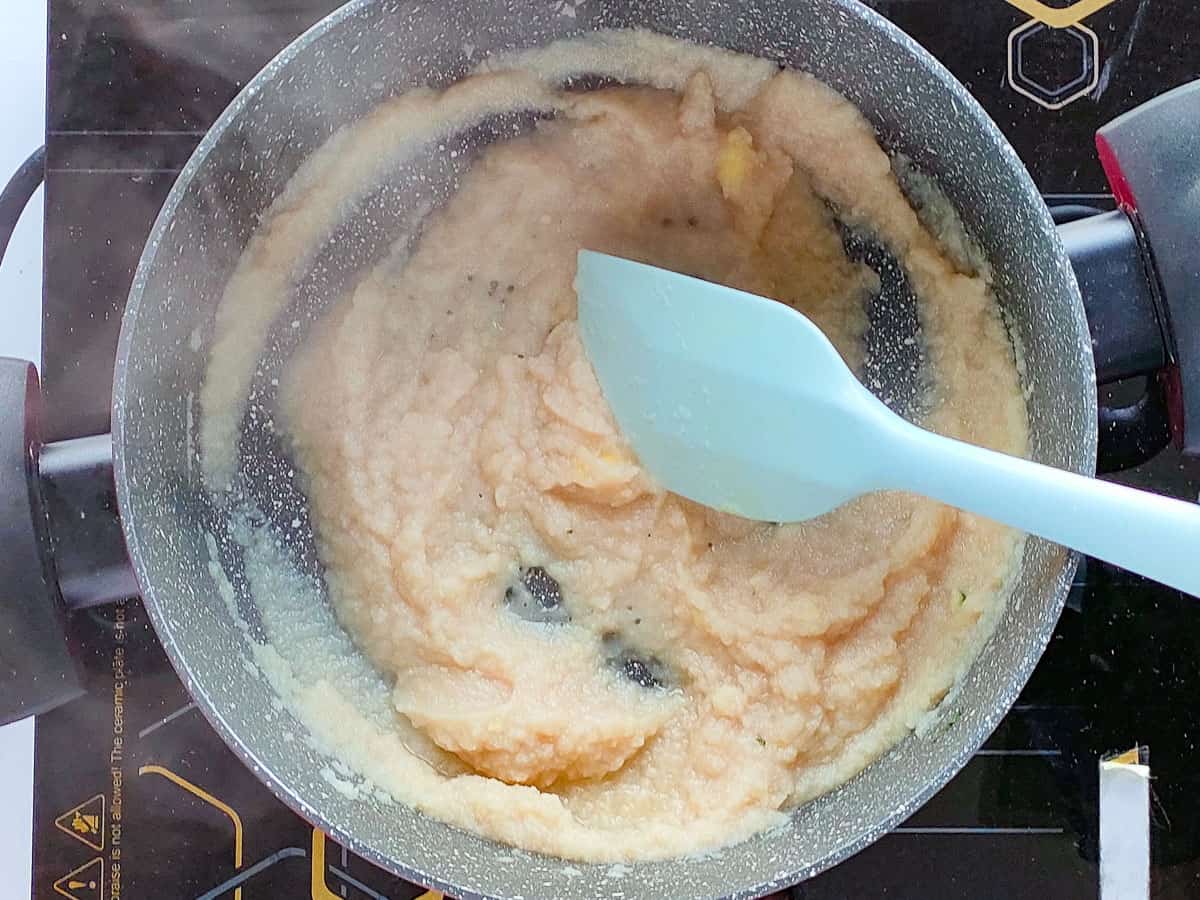 Puree tomatoes and add. Stir until the mixture becomes thick.
Add chili powder, coriander powder, cumin, turmeric, garam masala, salt and pepper.
If you made the easy Indian curry paste, you can blend 1½ cups of the curry paste and use it. In that case, skip the above 4 steps. Add the reserved water from cooked palak. Add about ½ cup of water.
Soak 10 cashews in ¼ cup of hot water for about 10 minutes. Blend into a smooth and creamy paste. Add it to the gravy.
Cover the pot and bring it to a boil. Simmer for about 10 to 15 minutes until the curry reaches the desired consistency. Gently add the baked koftas. Sprinkle kasuri methi and coriander leaves. Remove from heat and serve with roti/parathas.
Recipe Tips
Adding koftas: Do not let the palak koftas soak in the curry for too long. The koftas may become too soft and break. Add the koftas to the curry about 10 to 15 minutes before serving.
Lemon juice: Optionally, squeeze 2 teaspoons of lemon juice before serving.
Consistency of koftas: The palak kofta mixture might seem a bit sticky while you scoop it out onto the baking tray. No worries. Since the oven tends to cook the koftas using the moisture and oil in them, they will turn out perfectly soft and intact.
Consistency of curry: The curry tends to thicken with time since the koftas will absorb the gravy. So it's okay if the curry is a bit runny when you add the koftas.
Health benefits of palak
Given its health benefits such as 15 different vitamins, minerals, antioxidants, phytochemicals and rated as one of the most protein-rich vegetables, spinach can help improve your overall health and fitness levels, including heart, bone, muscle, blood, hair, skin, eye and gut health. In short, it is a superfood loaded with goodness for every part of your body!
Love spinach? Try this palak dal recipe, a sumptuous curry to eat with rice or roti. Or make spinach almond pesto to serve with pasta.
Printable Curry Paste Recipe
Grab a printable copy of the curry paste that helps home cooks like you cook different curries in 30 minutes or less:
★★★★★Did you try this recipe? Please give a star rating in the comments below ★★★★★
HUNGRY FOR MORE? Join over 1000 home cooks like you who subscribe to my weekly newsletter to get all the latest recipes right in your inbox. Or follow me on your favorite social media: Facebook, Pinterest, Instagram, and YouTube. Thank you and happy cooking!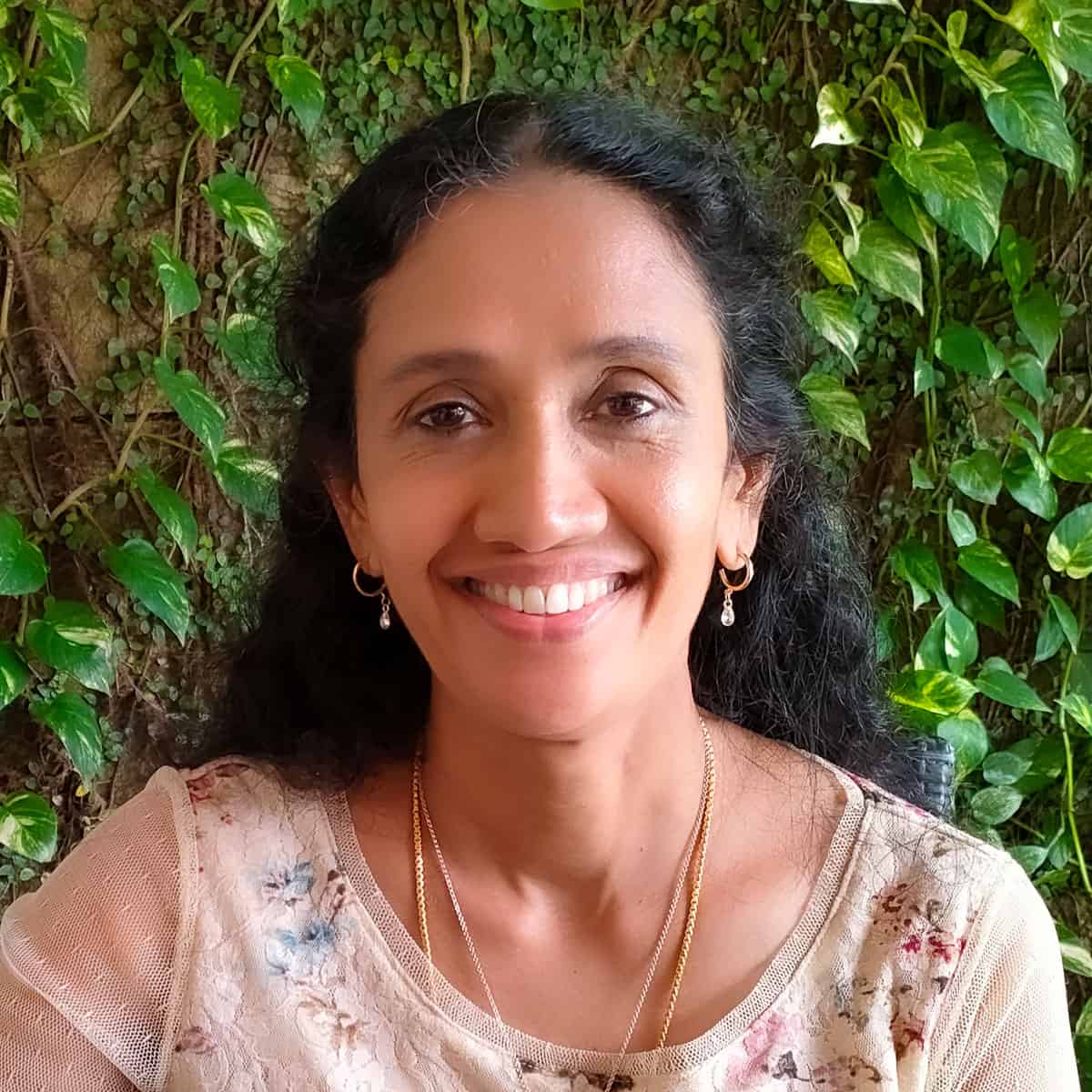 Hi! I'm Sheeba, welcome to Go Healthy ever after!
I have a passion for cooking delicious nourishing food that's easy to cook with fresh natural ingredients free from additives or preservatives. The easy healthy recipes you find here will inspire you to cook with creativity.
Copyright secured by Digiprove © 2023