Chicken keema is an easy curry made with minced chicken breasts (or thighs). This keema chicken recipe can be made in 30 minutes and is full of flavors from Indian spices and yogurt. It can be eaten as a quick and easy dinner with rice or roti/naan. You can also turn this recipe into breakfast or brunch by making chicken mince sandwiches or wraps using this recipe for chicken keema.
Why You'll Love This Keema Chicken Recipe
Do you think chicken breasts turn out dry and unappetizing when cooked? This chicken keema curry, like baked thin sliced chicken breasts and chicken kofta curry, will change your mind forever.
Keema literally means anything minced. You have chicken keema, mutton keema, egg keema and so on.
This curry is made with minced chicken breasts, soft and juicy with basic ingredients like onions, tomatoes and aromatics. The flavors are further deepened with cashews, mint leaves and whole spices. For this recipe, you don't even need to tenderize chicken (which I usually recommend for chicken breasts).
Chicken mince curry is usually made by adding whole spices along with onions and tomatoes. Instead, in this recipe, we add extra flavor by blending the spices with onions, ginger and garlic. This is the same hack I used for the authentic chana masala and Mangalorean fish curry.
Don't let the long list of ingredients trick you into believing that this recipe is hard to make. The step by step instructions will show you that cooking this chicken qeema is a breeze!
This is one of the easiest Indian chicken mince recipes. (Apart from my chicken mince kebabs and keema chicken recipe with eggs.)
Let's get started:
Ingredients
(You can find the exact measurements and instructions in the printable recipe card at the end of this page.)
Boneless chicken: I've used chicken breasts here. Thighs can also be used.
Whole spices are the essential ingredients for keema chicken. But if you can't find them, you can replace them with ground spices:

Coriander seeds, cumin seeds and peppercorns with ½ the quantity of ground coriander, cumin and pepper each.

Cinnamon, cloves, cardamom, and star anise with ½ teaspoon of garam masala.

Oil: I've used olive oil, but any cooking oil is fine.
Mint leaves give a unique freshness to the keema masala. If you don't have them, use coriander leaves instead. You won't get the same flavor, but it would still taste good.
How To Make Chicken Keema Curry: Step by step
How To Mince Chicken at Home
You can make your own chicken mince easily with a food processor or a sharp knife. The instructions are the same as in the chicken mince stir fry recipe. I've repeated here for your convenience:
Chop the boneless chicken into chunks as in chicken tikka or hariyali chicken kababs.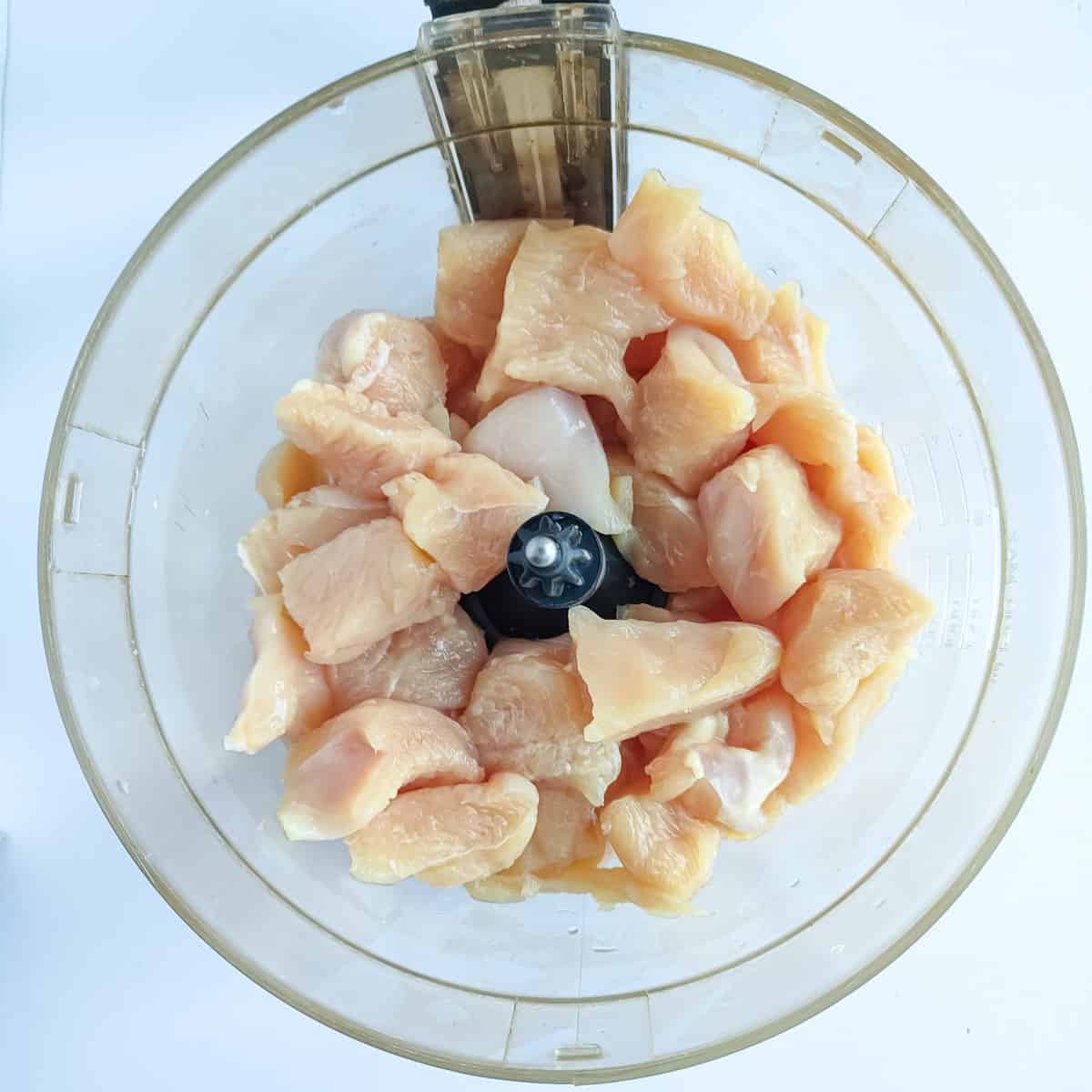 Place them in a food processor. Process until the chicken is minced.
You might have to scrape the sides of the processor jar and process again. Repeat until you get minced chicken with a uniform texture. There you go!
DO NOT use a high-speed blender to mince the chicken. You need a bit of texture and not mushy chicken.
If you don't have a food processor, you can use a sharp knife. Slice the chicken lengthwise first. (Like how we did to make thin sliced baked chicken breasts.)
Then slice them again into thin strips. After that, mince the strips using the knife.
This way you'll get minced chicken similar to the one made with a food processor.
Season The Chicken Keema
Add chili powder, coriander powder, turmeric, garam masala, salt and yogurt to minced chicken. (To make it easier, you can mix the yogurt with spices in a small bowl before adding them to the chicken.)
Another option is to add the spices to the chicken before mincing so it gets combined well. In that case, add yogurt after mincing. We want chicken mince, not puree 🙂
Mix well and allow it to marinate for about 10 to 15 minutes while you prepare the rest of the ingredients.
Blend Onions and Spices
Roughly chop onions, ginger and garlic. Add the whole spices: cinnamon, cloves, cardamom, star anise, peppercorns, coriander and cumin seeds.
Blend them into a smooth paste.
Make the Keema Curry
Heat oil in a pan. Add a bay leaf and the onion-spice paste. Saute until the paste turns brown. Add finely chopped tomatoes and saute until they get cooked and turn mushy.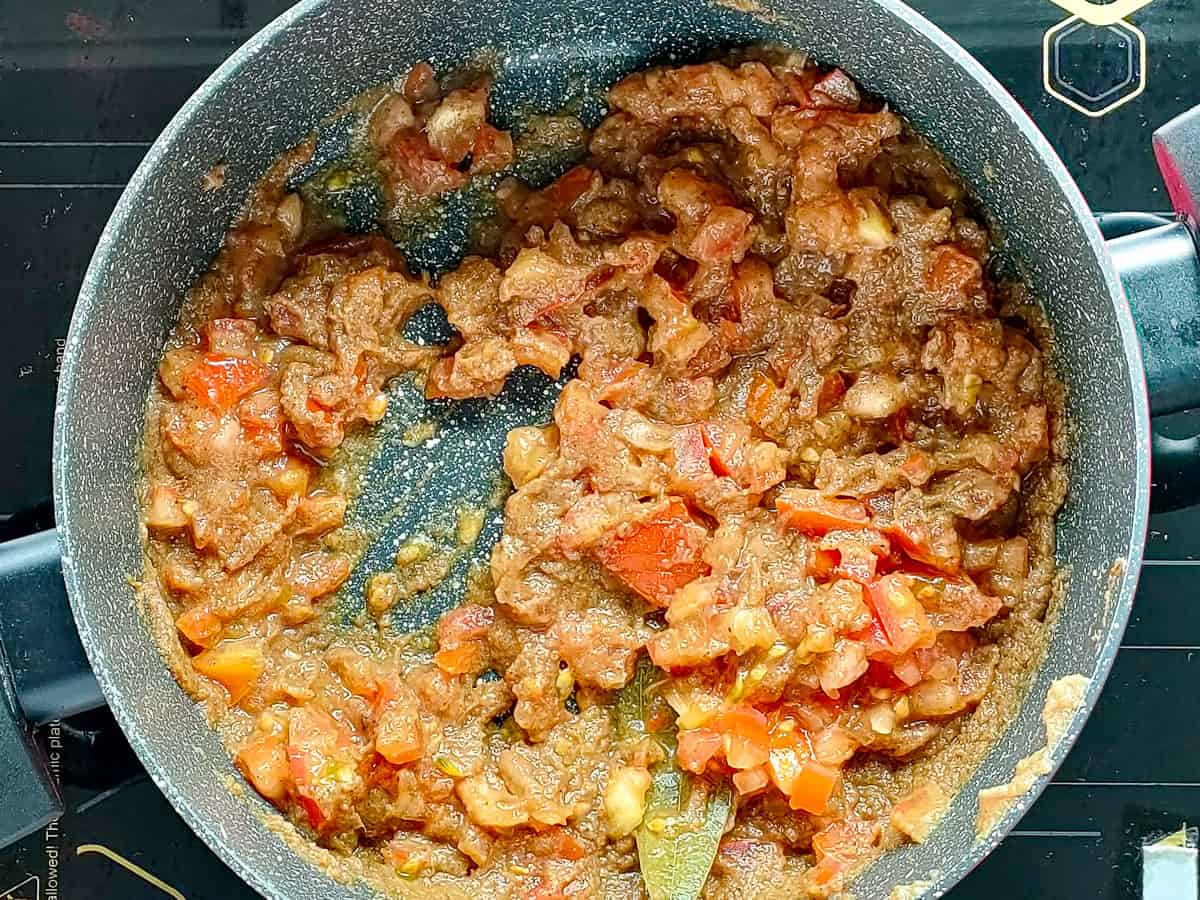 Add the marinated chicken keema.
Saute on medium-low flame for a couple of minutes until the chicken looks opaque.
Make a smooth paste with cashews and warm water and add to the chicken. Add chopped mint leaves.
Mix everything together and cook covered on low flame for about 5 minutes.
Open and check the consistency. If you want the curry to be thicker, increase the flame and cook until you're satisfied!
However, do not cook for more than 5 to 7 minutes. You'll run the risk of overcooking the chicken mince.
Recipe Tips
Variations: For more flavor, texture, and nutrition, you can add vegetables like green peas, grated carrots or bell peppers. Add them after sauteing the tomatoes and cook for 5 to 10 minutes (until they get cooked) before adding chicken.
Scaling: This recipe can easily be modified depending on how many people you serve.
Make ahead: This chicken keema curry can be made ahead and refrigerated for about 2 days. If you want to store it longer, you can freeze it. It can be frozen for about 3 weeks.
Storing leftovers: Store in an airtight container in the fridge. As a food safety protocol, you should refrigerate cooked chicken within 2 hours of making it.
Reheating: If you're freezing the chicken qeema, thaw it in the fridge overnight. Sprinkle a tablespoon of hot water and reheat in the microwave.
Common Questions About Keema Chicken Curry
What chicken is best for mince?
Boneless, skinless chicken breasts or thighs are the most convenient for mincing. Chicken breasts give you the leanest low-fat mince while thighs provide you with chicken mince that's slightly moister when cooked.
However, for minced chicken curry, it makes only a slight difference since we take the above precautions.
Do you wash chicken keema before cooking?
You will find it difficult to wash anything minced. Store-bought minced chicken may contain fatty tissue that is practically impossible to be removed. It also contains excess moisture that's hard to remove.
That's why it is easier and more hygienic to mince the chicken yourself. You can rinse boneless chicken breasts (or thighs), blot them dry and mince them (instructions given above).
Can you marinate ground chicken?
Yes, you can marinate ground chicken, including chicken keema. Marinating can add flavor and help tenderize the meat.
When marinating ground chicken, it is important to keep in mind that it doesn't need to be marinated for as long as larger cuts of meat, as the marinade will penetrate the meat much faster. In fact, marinating ground chicken for too long can cause the meat to break down and become mushy.
A good rule of thumb is to marinate ground chicken for about 10 to 30 minutes, depending on the strength of the marinade.
How long to cook chicken mince?
The cooking time for chicken mince or keema can vary depending on the cooking method and the size of the pieces. Here are some general guidelines for pan-frying or sautéing:
If you are cooking ground chicken in a pan over medium-high heat, it typically takes around 8-10 minutes to cook through, breaking up the meat with a wooden spoon or spatula as it cooks.
The chicken should be cooked to an internal temperature of at least 165°F (74°C) to ensure it's safe to eat.
If you don't have a thermometer, follow this thumb rule: the chicken should be completely opaque and have a tender, crumbly texture.
Why is minced chicken healthy?
Ground chicken is a healthier alternative to red meat like ground beef with fewer calories, less saturated fat and less cholesterol. You can replace minced meat with minced chicken in almost any recipe.
Two things to keep in mind:
1. Chicken mince cooks faster (and tends to dry out if overcooked).
2. You need stronger flavors to make chicken mince taste as good as red meat. That's why sauteed onions and bold spices make these chicken keema kebabs delicious.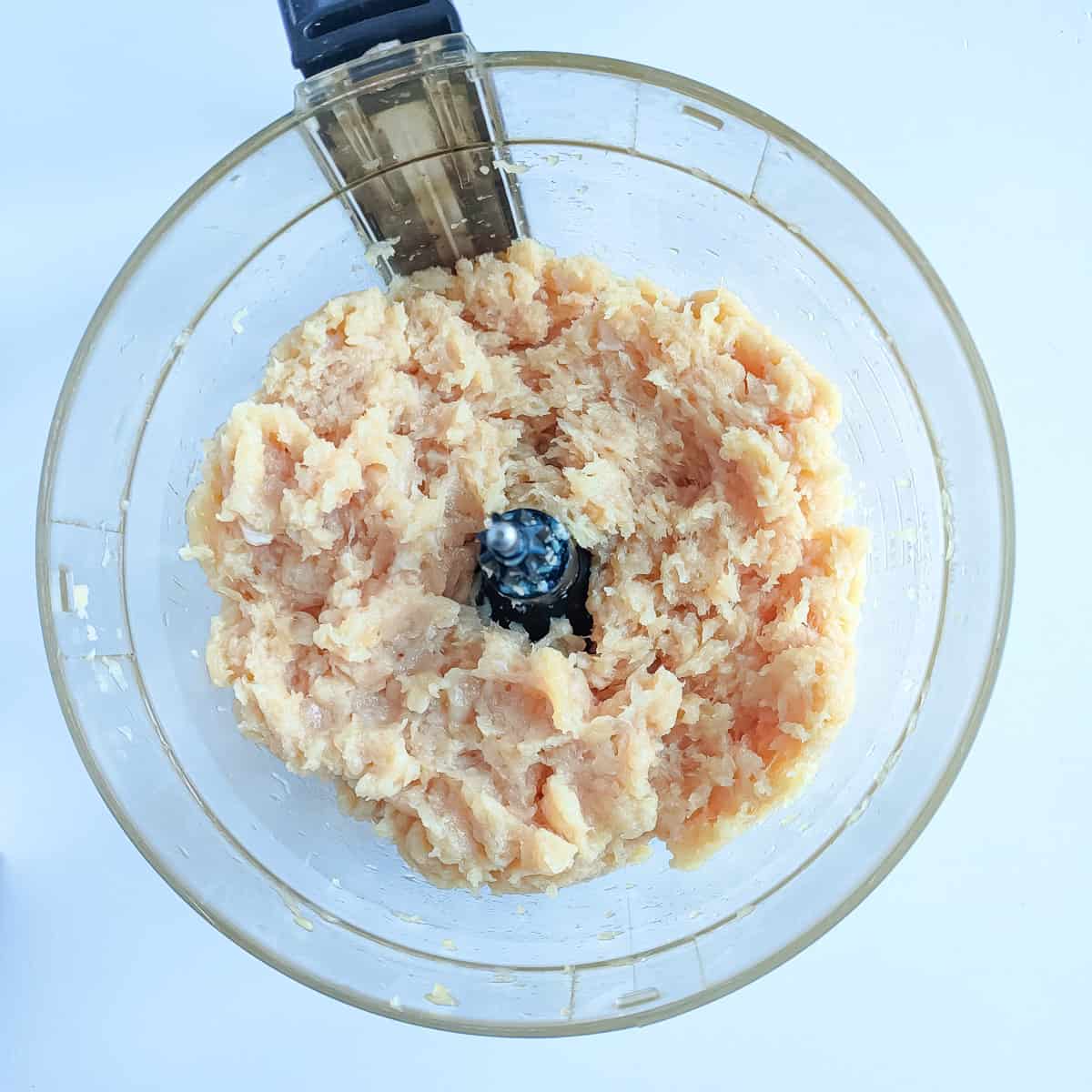 This is a complete tutorial on how to mince chicken at home with a food processor or by hand. Works for boneless chicken breasts, thighs, or any other cut of chicken.
Get the recipe
What to Pair With Chicken Keema Masala
With rice: The most common way to enjoy chicken keema curry is with steamed rice or pulao. You can also eat it with flavored rice like lemon turmeric rice or low-carb coconut cauliflower rice.
With bread: You can also enjoy chicken keema curry with naan, chapati, dosa, or any other type of flatbread.
As a filling: Chicken keema curry can be used as a filling for sandwiches or wraps. Keema chicken can also be used as a stuffing in chicken tikka wraps instead of tikka. You can call them chicken keema wraps 😉 It can also be used as a filling for savory pastries like samosas.
With eggs: You can add boiled egg masala fry to chicken qeema to create a hearty and protein-rich meal. The eggs can be mixed into the curry or served on top of it.
With vegetables: You can add vegetables like potatoes, peas, carrots, or bell peppers to chicken keema curry to make it more nutritious and flavorful. The vegetables can be cooked in the curry (as mentioned in the tips above).
As a topping: You can use chicken keema curry as a topping for baked potatoes, roasted vegetables, or salads. It can add a lot of flavor and texture to a simple dish.
As a dip: You can also serve keema chicken curry as a dip for crackers or chips.
Printable Curry Paste Recipe
Grab a printable copy of the curry paste that helps home cooks like you cook different curries in 30 minutes or less:
★★★★★Did you try this recipe? Please give a star rating in the comments below ★★★★★
HUNGRY FOR MORE? Join over 1000 home cooks like you who subscribe to my weekly newsletter to get all the latest recipes right in your inbox. Or follow me on your favorite social media: Facebook, Pinterest, Instagram, and YouTube. Thank you and happy cooking!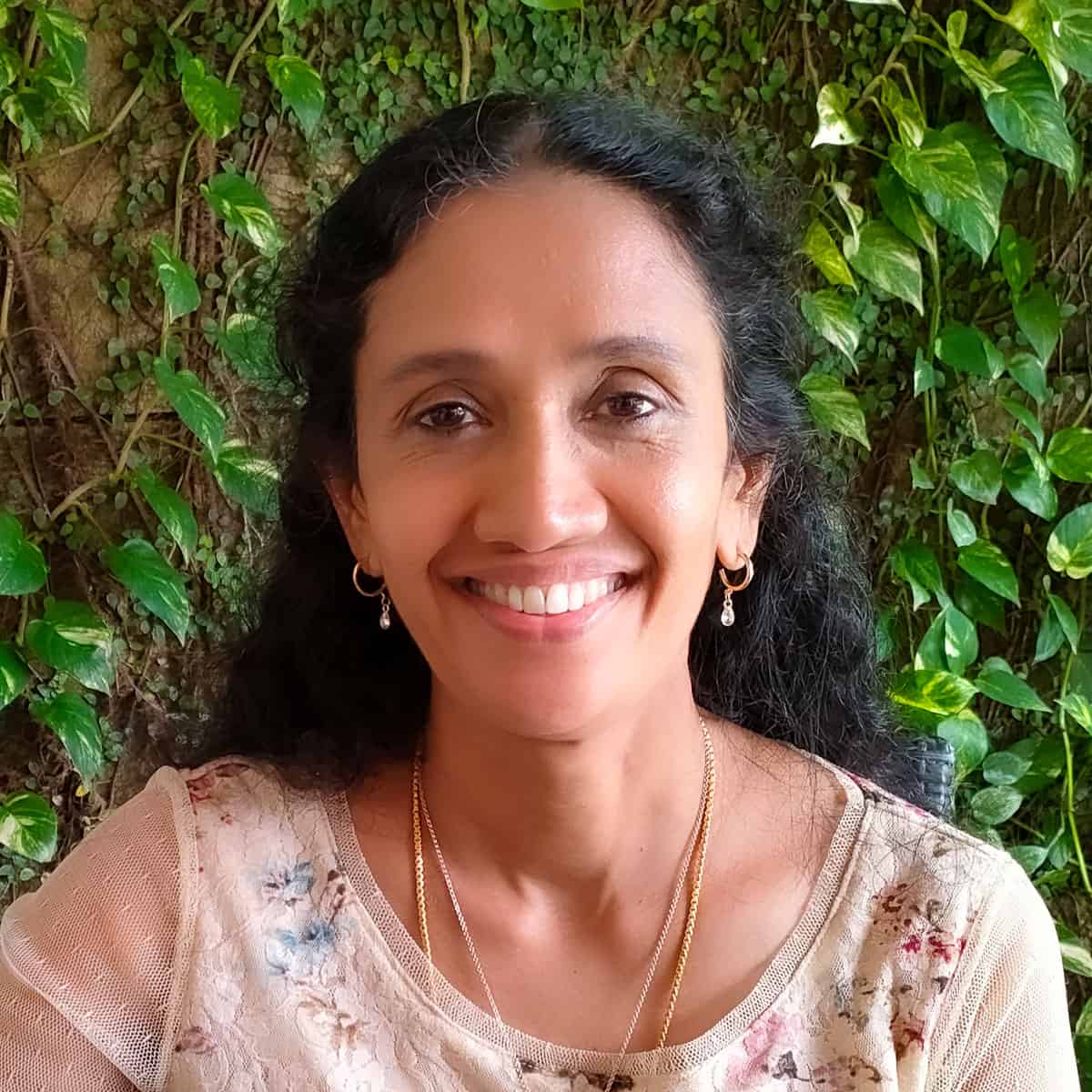 Hi! I'm Sheeba, welcome to Go Healthy ever after!
I have a passion for cooking delicious nourishing food that's easy to cook with fresh natural ingredients free from additives or preservatives. The easy healthy recipes you find here will inspire you to cook with creativity.
Copyright secured by Digiprove © 2023