Mango smoothie without yogurt or banana that's ultra-creamy and sweet. A perfect dairy free mango smoothie to start a healthy day, post-workout energizing drink, or anytime snack.
About the recipe
If you're looking for an easy smoothie recipe without yogurt, you've come to the right place. What a healthy breakfast/brunch to have, especially on lazy mornings!
This recipe for mango and avocado smoothie has no fancy ingredients, no added sugar, and it's dairy-free. It is so EASY TO MAKE like my no ice cream strawberry banana milkshake recipe.
A dream-come-true for VEGANS. And also for NON-VEGANS. Just pure mango magic in a glass with 3 ingredients!
Wondering how to make a mango smoothie without yogurt or milk?
When you think of a thick and creamy smoothie, you naturally think of yogurt, milk, or bananas. When you add these to mango, it tastes great but the mango flavor reduces. This mango grape smoothie gives you the unadulterated fresh mango flavor as is!
I can assure you, this dairy free mango smoothie is creamier than the ones with milk or yogurt. And it also stays fresh in the fridge for a couple of days.
Ingredients
Mangoes! Who doesn't love mangoes? They are so magical that they can enhance the taste of any dish, be it a smoothie, salsa or salad. Or heavenly, when just eaten on its own.
Or try it on salsa as the mango salsa served with paprika salmon.
The secret ingredient that makes this mango smoothie creamy? AVOCADO!
Avocado, with its smooth texture, can make anything creamy when blended. They are also loaded with nutrients, antioxidants, fiber, healthy fats and can reduce cholesterol levels and triglycerides.
This deliciously creamy avocado smoothie, with about 100 calories and lots of fibre and good fats can keep you full for at least a couple of hours until your next meal!
I came up with this recipe for avocado mango smoothie out of sheer necessity. Frankly speaking, avocado used to be the least favorite fruit of my family ( count me out!). But knowing its health benefits, I can't resist buying it and eventually making something that the family can't resist.
I make no-tomato guacamole, and the 5-minute spicy avocado chutney quite often and we all love it. But this mango and avocado smoothie is ALWAYS a winner! Whenever I buy avocados, I buy at least 5 or 6, use some to make this smoothie and make the yummy pineapple avocado salsa with the rest.
The third ingredient in the avocado mango smoothie is red grapes. I've added them to give a tangy balance to the smoothie and make it SWEETER without adding sugar. Making the smoothie with grapes also adds a nice color and interesting texture.
How to make mango smoothie without yogurt
Blend all three fruits with water and a handful of crushed ice in a food processor or blender until very smooth. You will need a high-power blender. Or skip the ice and chill the smoothie for about half an hour. Yet another option is to use frozen mangoes.
This bright-yellow sunshine avocado mango red grape smoothie with little red specks is sure to perk up your mood and ensure you have a great day!
Variations of dairy free mango smoothie
This quick mango grape smoothie tastes amazing as is, but you can also make these small changes for variation:
Mango vanilla smoothie
Add 1/2 teaspoon vanilla essence when you blend the smoothie.
Mango protein smoothie
Add 1 scoop of whey protein powder and 2-3 tablespoons of water while blending.
Mango coconut smoothie
Add 1/4 cup of coconut milk.
Mango protein smoothie without protein powder
Soak about 15 almonds in boiled water for 10 minutes, peel and add before blending. Add water as necessary, depending on how thick you want the smoothie to be.
You may also like
★★★★★Did you try this recipe? Please give a star rating in the comments below ★★★★★
HUNGRY FOR MORE? Join over 1000 home cooks like you who subscribe to my weekly newsletter to get all the latest recipes right in your inbox. Or follow me on your favorite social media: Facebook, Pinterest, Instagram, and YouTube. Thank you and happy cooking!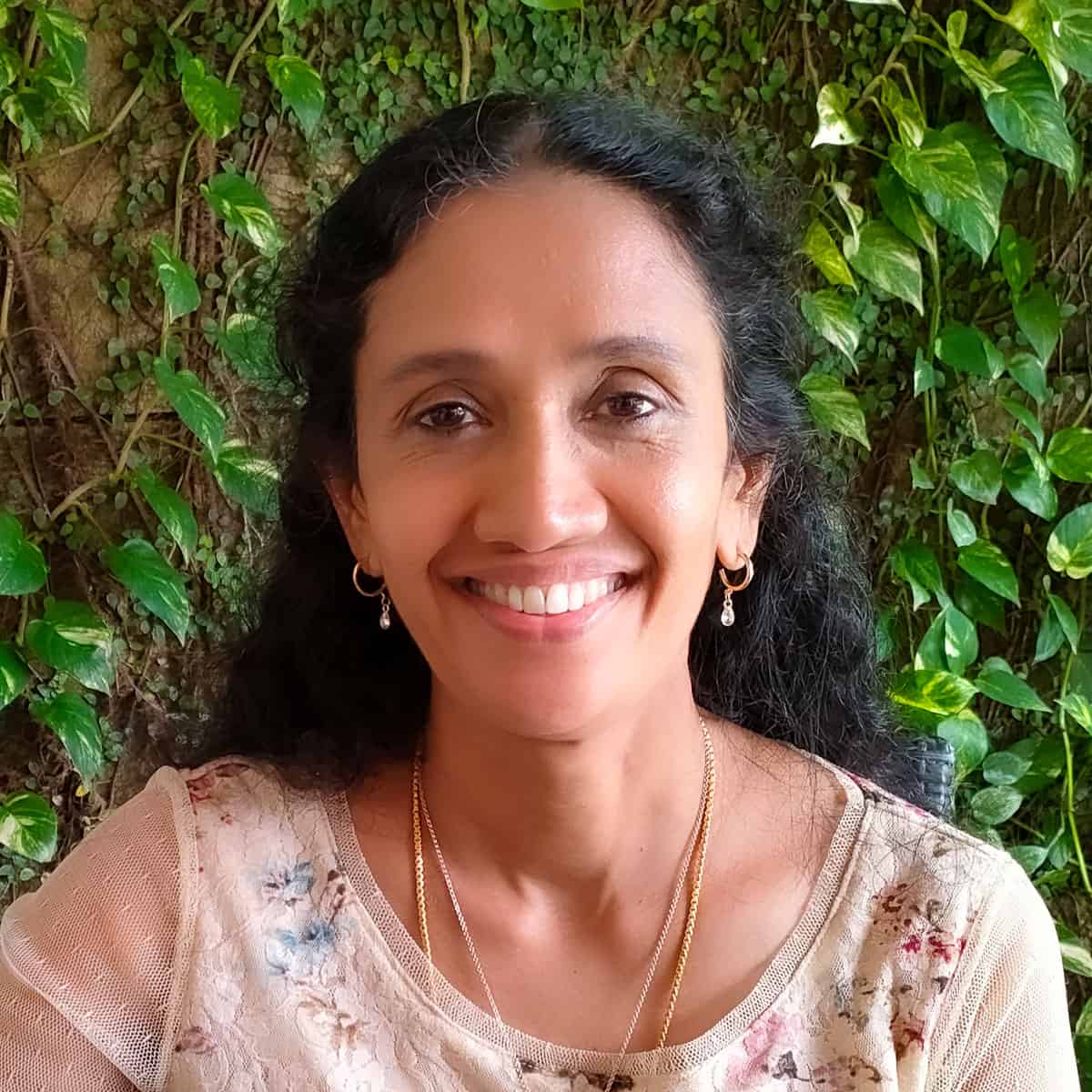 Hi! I'm Sheeba, welcome to Go Healthy ever after!
I have a passion for cooking delicious nourishing food that's easy to cook with fresh natural ingredients free from additives or preservatives. The easy healthy recipes you find here will inspire you to cook with creativity.
Copyright secured by Digiprove © 2020-2023