Prawn masala fry is an easy recipe that can be made in less than 30 minutes with basic ingredients and spices. Won't it feel great to bring a delicious seafood dinner quickly to your table? Well, here it is!
Why You'll Love This Prawn Recipe
Had a hectic day? Too tired to cook dinner? Don't feel like cooking?
Prawns masala fry can be the answer to your cooking woes.
If you have prawns, onions, tomatoes, and a few Indian spices, you can easily make these masala prawns. They cook faster than rice, roti or parathas which you can pair with them.
There are quite a few prawn recipes specific to different regions in India. This prawn masala recipe, also called jhinga masala, is a generic one that uses pantry staples and common Indian spices. I have simplified the recipe so you don't have to hunt for specific ingredients.
Prawns cook very fast. So the risk of overcooking them is also high. This recipe teaches you how to cook prawns the right way so they don't turn out tough and rubbery.
The right amount of spices and the order of adding the ingredients are also important when you make prawn fry masala.
Who doesn't love a quick and easy dinner? Prawns masala fry is as easy as tandoori king prawns and crispy prawn fry.
Tomato chili prawn pasta is another easy prawn recipe you might want to try.
Ingredients
(You can find the exact measurements and instructions in the printable recipe card at the end of this page.)
Prawn masala uses a few more ingredients and is spicier than pan-fried prawns and peppers:
Prawns: I've used tiger prawns here. Smaller grey prawns can also be used. Reduce the cooking time accordingly.
Spices: I've used regular (spicy) chili powder for the heat and Kashmiri chili powder for the flavor and color. You can replace them with cayenne pepper and paprika respectively.
Oil: You can use olive oil, peanut oil, or any other oil of your preference.
Ginger-garlic paste: If you're not used to making the paste, grate 3 cloves of garlic and a 1-inch piece of ginger.
Herbs: You can use either coriander leaves or curry leaves, or both.
How To Make Prawn Masala Fry
Marinate Prawns
Mix both chili powders, coriander, turmeric, garam masala, salt and pepper in a small bowl.
Add the spice mix to peeled and deveined prawns. Squeeze lemon juice and mix well. Let them marinate for about 10 minutes, while you prepare the rest of the ingredients.
Make Prawn Masala
Heat oil in a saute pan. Add finely chopped onion and saute until they turn translucent.
Add ginger-garlic paste and saute until the raw smell disappears and you get a nice aroma.
Stir in finely diced tomato and saute for about 5 to 10 minutes. Cook on medium flame until the tomatoes are cooked and get to a mushy consistency.
Add the marinated prawns. Stir intermittently until they turn partially white.
Close with a lid and cook for about 3 to 4 minutes. If you're using smaller prawns, cook covered for 2 to 3 minutes.
Open the lid and check if the prawns are cooked. There are a couple of visual cues to find out if prawns are cooked:
Shape: Perfectly cooked prawns will be C-shaped while overcooked prawns will be fully curled up as an "O".
Color: Undercooked prawns will be translucent while perfectly cooked prawns would be opaque with a tinge of pink.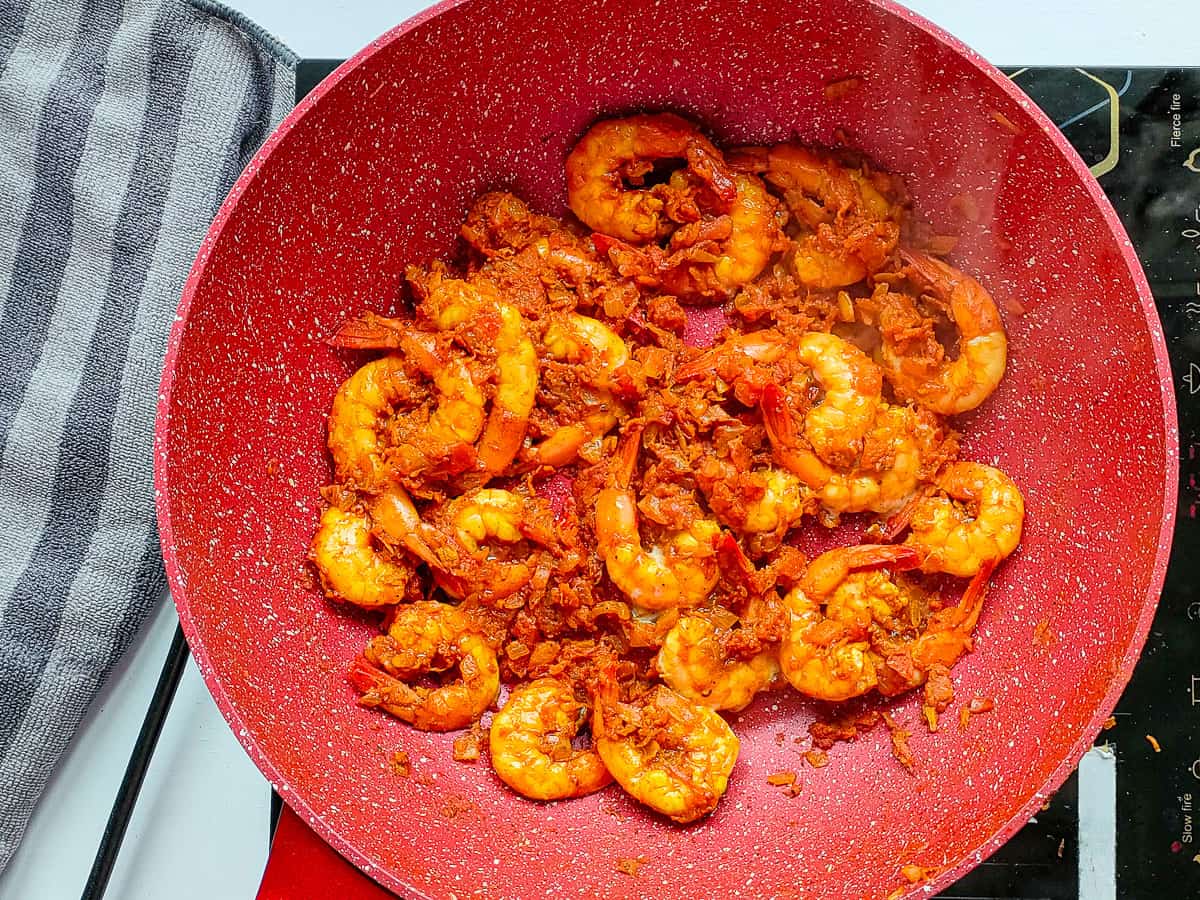 Add finely chopped coriander and curry leaves. Turn off the flame.
Perfectly cooked juicy prawns masala!
Tips For The Best Prawn Masala Recipe
How to control the consistency of the masala: If you open the lid and find the masala watery, increase the flame to the maximum and stir continuously until you get the desired consistency. You can stop at curry consistency or make the prawn masala dry.
After turning off the heat: Once you garnish masala prawns with herbs, transfer them to a serving bowl immediately. Or else, the prawns may continue to cook in the residual heat of the pan.
How To Serve Prawn Fry Masala
Prawn masala can be simply served with rice or any bread of your choice. You can also get creative:
Use a food processor to roughly mince the masala prawns. Spread it on toast to make spicy prawn toast. Or make sandwiches with vegetables and cheese or paneer.
Replace the paneer tikka in paneer tikka salad with prawns masala.
Replace chicken tikka with prawn masala fry in chicken tikka rolls.
You can also pair it with coconut cauliflower rice for a low-carb dinner.
Common Questions About Masala Prawns
I have listed some potential questions (and answers) you might have about prawn fry masala. If you have more questions, please feel free to ask in the comments section 👇
Why are prawns hard after cooking?
Prawns become hard and chewy when you overcook them. Follow these 3 thumb rules:
1. Do not move away from your stove when you're cooking prawns. They can get overcooked within minutes.
2. If you're using frozen prawns, thaw them completely before cooking.
3. Use medium flame (not too high or too low). Once cooked, transfer the prawns to a serving bowl immediately.
Can you reheat prawns?
Prawns can be reheated, but with caution. Do not use very high temperatures or reheat prawns for too long. Heat them only until they are warm enough to eat.
If you freeze cooked prawns, thaw them completely before reheating.
Once you reheat prawns, use it all up. Do not refrigerate or freeze again.
Should you marinate prawns before cooking?
You should marinate prawns for at least 10 minutes before cooking. Marinating not only helps the prawns absorb flavors but also reduces the cooking time. (Especially if the marinade has an acidic element like lemon juice.)
What flavors go well with prawns?
Prawns can take on bold Indian spices very well. When you add aromatics like ginger, garlic and onions along with spices and tangy lemon juice, you get perfectly balanced spicy prawn masala.
How long should you cook prawns on pan?
Small prawns take 3 to 4 minutes, large ones take 4 to 6 minutes and jumbo prawns take 5 to 7 minutes to cook. (This is the total cook time from the moment you add the marinated prawns to the pan to the time when you turn off the stove.)
How long do cooked prawns last in the fridge?
Cooked masala prawns last in the fridge for 3 to 4 days. You can also freeze them for about a month. Follow the instructions above when you reheat.
More Seafood Recipes
★★★★★Did you try this recipe? Please give a star rating in the comments below ★★★★★
HUNGRY FOR MORE? Join over 1000 home cooks like you who subscribe to my weekly newsletter to get all the latest recipes right in your inbox. Or follow me on your favorite social media: Facebook, Pinterest, Instagram, and YouTube. Thank you and happy cooking!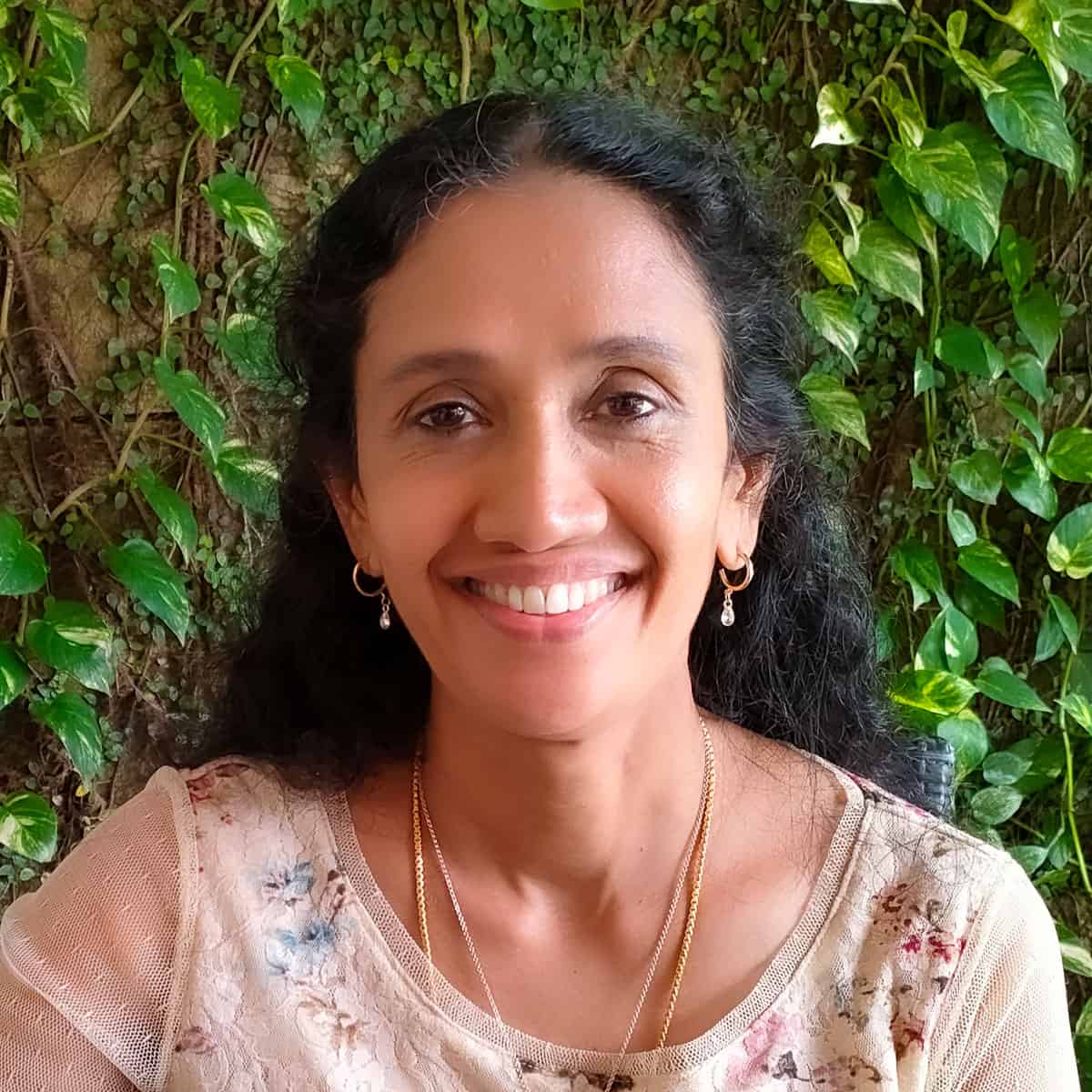 Hi! I'm Sheeba, welcome to Go Healthy ever after!
I have a passion for cooking delicious nourishing food that's easy to cook with fresh natural ingredients free from additives or preservatives. The easy healthy recipes you find here will inspire you to cook with creativity.
Copyright secured by Digiprove © 2023