A complete tutorial (with tips and secrets) on the best way to easily bake thin-sliced chicken breasts that are skinless and boneless. No more bland, rubbery baked chicken breasts! Say hello to hands-free, no-mess cooking!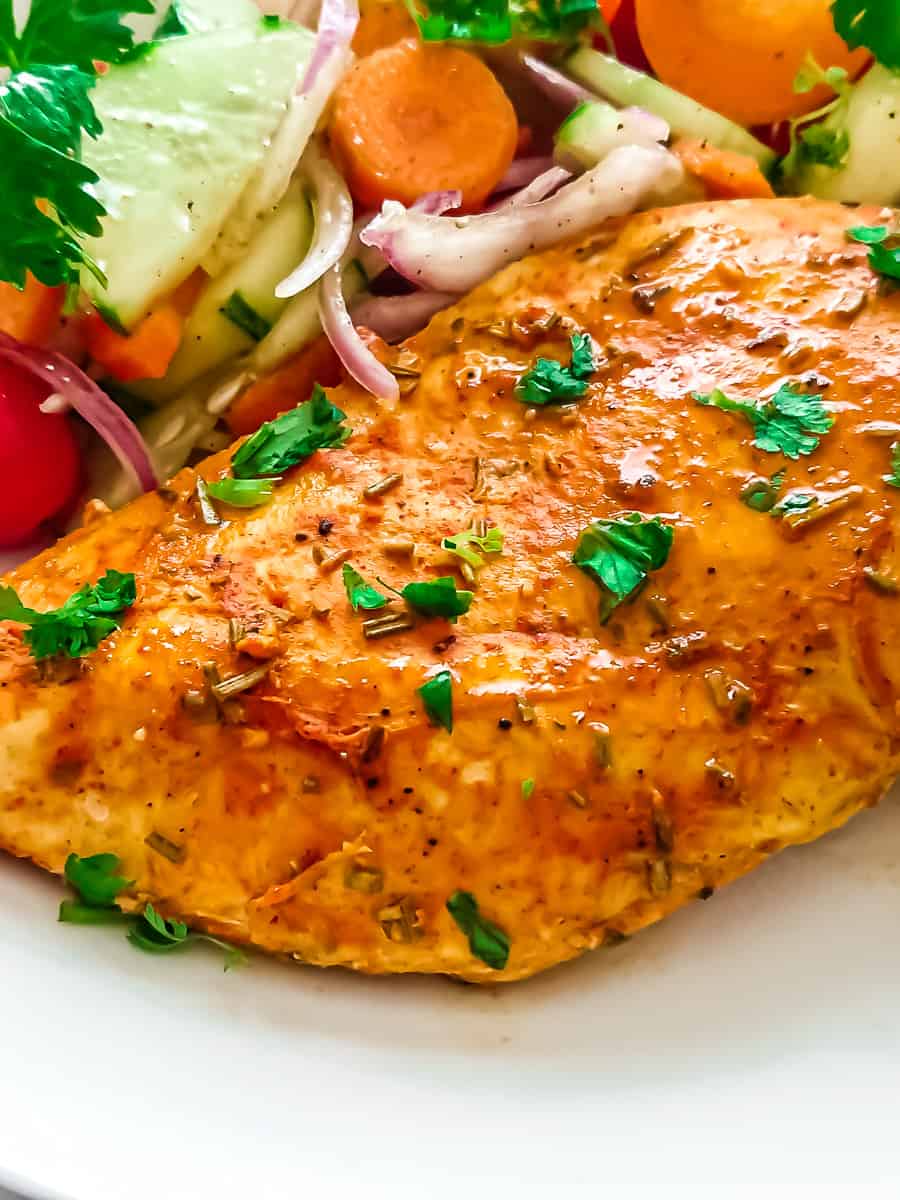 FEATURED COMMENT
Fabulous! I marinated 4 thin chicken breasts in a Pyrex baking dish for a few hours in the fridge. The marinade is incredibly delicious. Moist, tasty, succulent. Will definitely make this again (and again…).
RENEE W
Affiliate disclosure: This post contains affiliate links, which means I may receive a small commission, at no cost to you, if you make a purchase through a link.
Why you'll love this thin chicken breast recipe
Finally, an easy way to baked thin sliced chicken breasts with exciting flavors all over. That's ACTUALLY tender and juicy and doesn't require sauce or ketchup to make it taste good.
This recipe tells you everything you need to know about baking thin chicken breasts, how long to marinate, how long to bake, at what temperature, what rub to use and the "why" behind all that.
How many times have you tried to cook chicken breast recipes, marinated for hours only to end up with tough, chewy chicken? We have all been there!
Boneless, skinless chicken breasts are lean and healthy, but when it comes to cooking, they are quite tricky.
NO SKIN + NO BONES + NO FAT = DRY CHICKEN BREASTS
Unless you:
I tried and tested different rubs and marinades, set different timings and temperatures. Yet the chicken was not quite juicy.
The rubs (with loads of sugar) made the chicken LOOK juicy and caramelized, but were ALWAYS bland on the inside.
As for the marinades, it was the same result even when I marinated overnight. (Unlike recipes like chicken tikka and green chicken kababs which use a yogurt marinade that tenderizes the chicken breasts.)
Bone-in, skin-on chicken legs (like the sheet pan lemon garlic chicken legs) turn out juicy when baked. The fat from the skin keeps them from drying out.
But with chicken breasts, it's a different story.
I HAD to come up with a healthy baked chicken breast recipe that gives tender chicken and also ticks all the boxes:
Quick and easy dinner for busy weeknights.
Pop-in-the-oven-and-relax kind of recipe. That means no flipping, basting, babysitting, etc, etc.
Minimal clean-up, so no frying and stove-top mess.
Less pans to wash (I told you, it's been a long day).
Healthy low calorie chicken recipe. (after all, we're going healthy-ever-after!)
Watch How To Bake Thin Chicken Breasts
How to thinly slice chicken breast
Slicing the chicken breasts into thin halves helps them absorb the marinade better and faster. This results in flavorful juicy chicken breasts.
Place the chicken breasts on a cutting board.
Using a sharp knife, slice the breasts horizontally to make them about 1/2 to 3/4 inch thick. If the thickness of chicken breast is not uniform, lightly pound the thicker part of the chicken using a meat mallet.
Maintaining this thickness of chicken breasts is important because you are going to cook the chicken breasts covered. There's no way to check for doneness in the middle of cooking.
Easy seasoning for thin chicken breasts
(You can find the exact measurements and instructions in the printable recipe card at the end of this page.)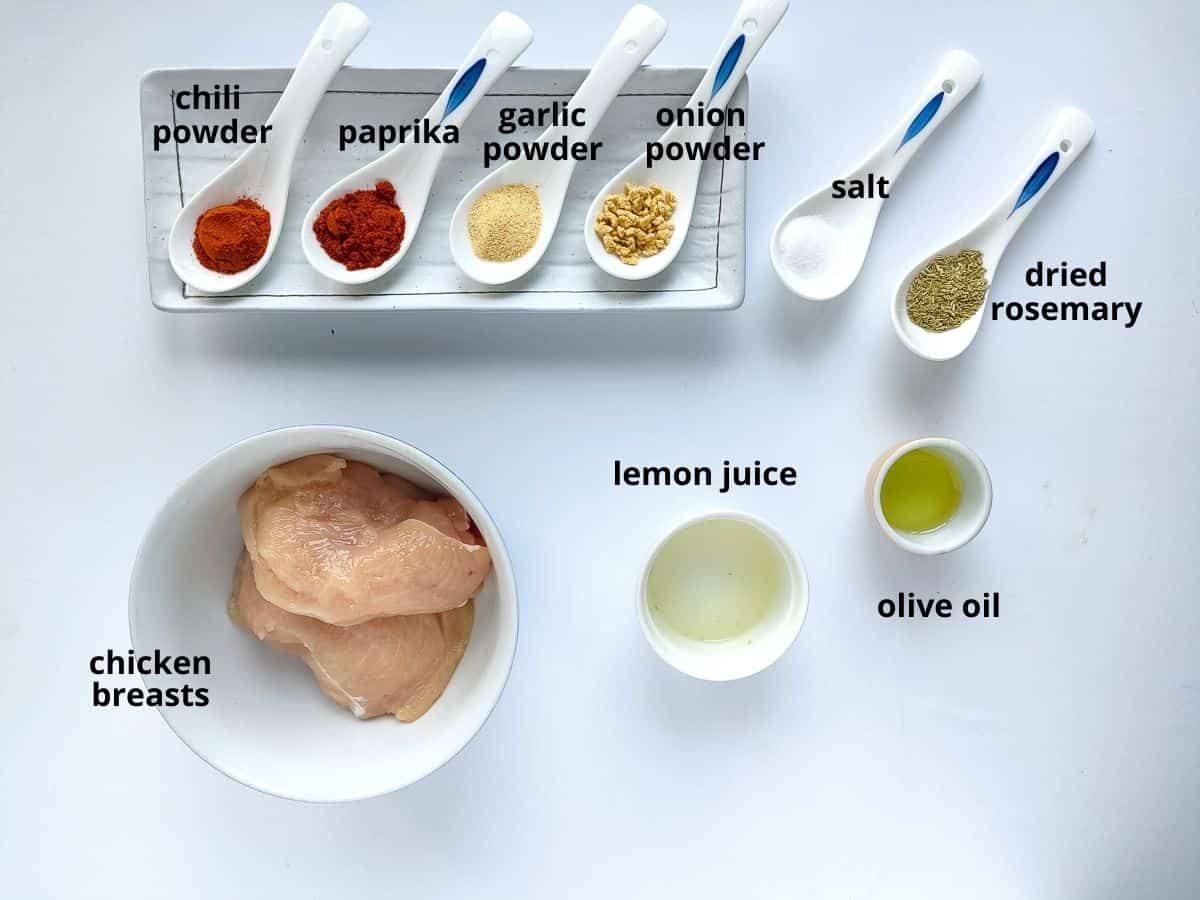 The key is to TENDERISE the thin chicken breasts with the marinade. Like the yogurt marinade for tandoori chicken. This marinade, or should we call it a wet rub, is the answer. This seasoning is halfway between a dry rub and a marinade.
A quick tip: If you have 20 minutes to spare, use this tenderizing technique I mentioned in the healthy sesame chicken recipe before marinating the chicken. It helps soften the chicken further.
The problem with dry rubs is that they don't have an acidic component that tenderizes the chicken. So I tried adding lemon juice to a basic seasoning mix with garlic powder, onion powder, chili powder, paprika and rosemary.
Voila! You can see the results in the picture above.
But wait! There are a few more things you have to take care of.
Take the spices in a small bowl.
Add lemon juice.
Add olive oil.
Whisk until you get a homogenous mixture.
Blot the thin sliced chicken breasts dry with kitchen towels. Mix in the marinade.
Pierce the chicken breasts with a fork, so the marinade will be absorbed well.
How to bake thin sliced chicken breasts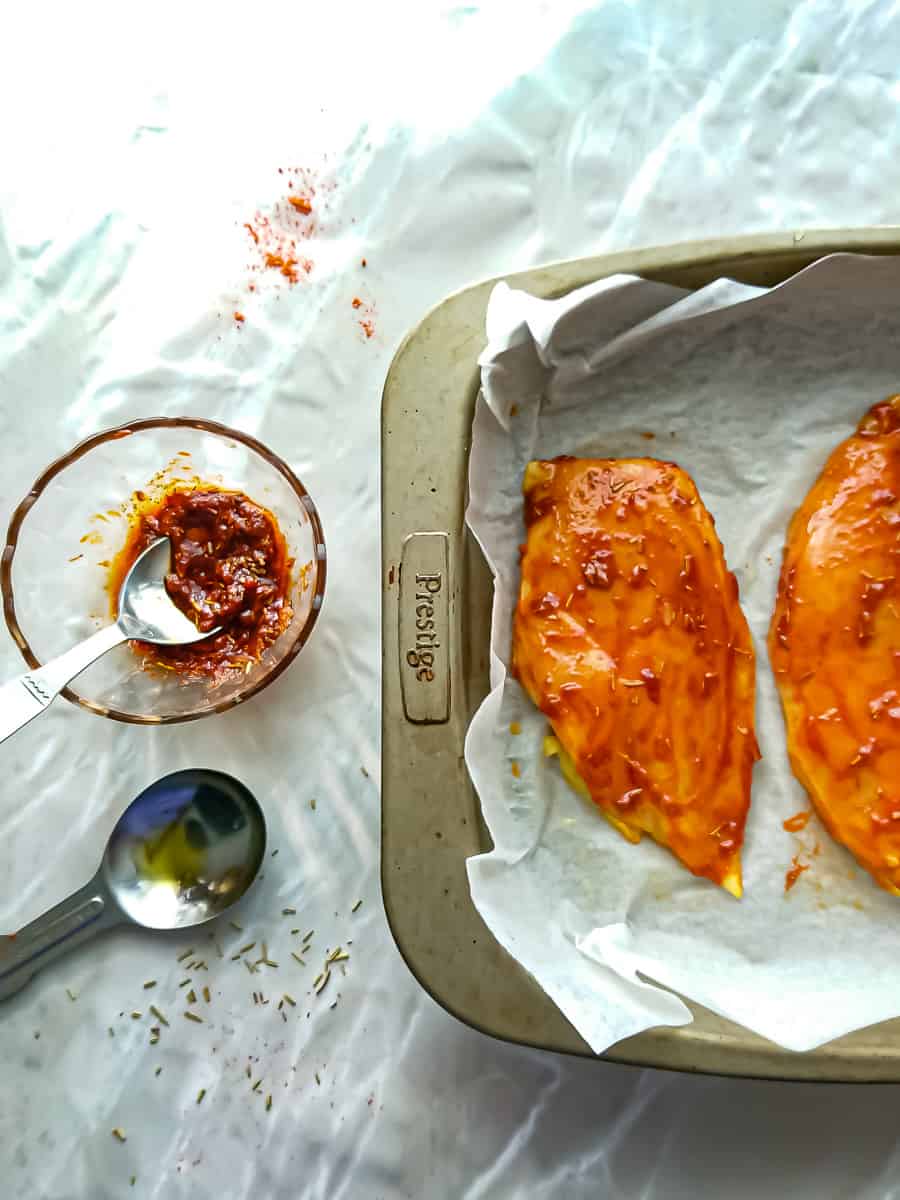 How long to marinate chicken for baking?
Marinate the thin slices of chicken breasts for at least 15 minutes. Marinating overnight in the fridge gives the best results.
Take the chicken out of the fridge 20 minutes before cooking so that it reaches room temperature. There's no need to refrigerate if you're marinating for only 15 minutes.
How long to bake thin chicken breasts at 450°F?
Cooking chicken at higher temperatures for a shorter time yields the best results. (This is unlike baking fish as in spicy baked mustard fish and salmon kabobs which are slow-cooked at low temperatures.)
Preheat the oven to 450°F/ 230°C. This is the best temperature to cook thin chicken cutlets so they stay juicy.
Place the marinated chicken breasts in a deep baking tray or pan lined with parchment paper (for easy clean-up). Seal the pan with aluminum foil.
Bake the chicken breasts in the oven for 12 minutes. If the sliced chicken is less than 1/2 an inch thick, you can reduce the cooking time by a couple of minutes.
That's it, guys! Let the oven do the rest. Meanwhile, you have the luxury of time to check your emails, take a quick shower or chop up a salad like how I did 🙂
The delicious rosemary-garlic flavor will be wafting through your kitchen in no time! Once done, remove the foil and let it rest for 5 minutes. Enjoy!
Ah yes, before I forget, this recipe gives you a BONUS as well! The pan juices can be drizzled as a dressing on the salad.
How do you bake chicken breast so it stays moist?
Bring the chicken to room temperature before you start baking. This will ensure even cooking.
Before marinating, blot or wipe the chicken slices dry with kitchen towels.
Place the thin-sliced chicken breasts flat on the pan at least an inch apart from each other.
Let the chicken breasts rest for 5 to 10 minutes. This keeps them moist with all those flavorful juices.
Let the chicken rest on a cooling rack after opening the sealed foil. Or else, the steam from the chicken will condense and make them soggy.
Common questions about baked thin chicken breast recipes
Can you bake chicken breasts from frozen?
Frozen chicken breasts can easily be thawed. Rinse the frozen chicken breasts a couple of times. Soak in a bowl of tap water mixed with salt.
(A rough estimate would be 1 teaspoon for every 200 grams/ 7 ounces of chicken breasts and the quantity of water should be roughly just enough to cover the chicken.)
Let the chicken soak for 15 to 20 minutes until they reach room temperature. Then proceed as per the recipe.
Do you cover boneless chicken breasts when baking?
This thin chicken breast recipe requires you to seal the baking pan with aluminium foil. Covering the chicken helps keep the chicken moist when baking.
The chicken sweats and cooks in its own juices which makes it flavorful. You may not get browned chicken slices like when you pan-sear them. They still turn out softer and juicier.
How many calories are there in baked chicken breasts?
There are 223 calories in one serving of this oven-baked chicken breasts recipe.
Are baked chicken breasts healthy?
Baking is one of the best and healthiest ways to cook chicken breasts in the oven. This recipe helps you cook tender low-calorie chicken breasts with delicious Mediterranean flavors without using any saturated fat like butter or cream for cooking.
There! You've learned the secret to cooking the best thin sliced chicken breasts in the oven with very little effort and time.
A tip for more browning (the same tip I gave for baked tandoori chicken and chicken tikka) – dab a little butter on each of the chicken breasts before baking for that extra "browned" effect.
I didn't use it here, though 🙂
What to pair with baked thin sliced chicken breasts
Have a little more time and energy? Pair these chicken breasts with the Italian pasta salad with balsamic dressing, beetroot walnut feta salad with roasted garlic dressing, or beet orange salad.
You can also serve these baked chicken breasts with your favorite side dishes like roasted potatoes and broccoli or easy cheesy Italian potato croquettes.
Want to make your dinner as healthy as possible? Try the superfood salads like quinoa pumpkin salad and balsamic quinoa salad. They taste amazing with these baked thin chicken breasts.
Craving creamy pasta as a side? Go for guilt-free mushroom zucchini pasta or mixed veggie pasta with garlic sauce.
For spicy pasta by the side, try red chilli pesto pasta, 6-ingredient spaghetti arrabiata, or the easy roasted garlic pesto pasta.
These thin chicken breasts can also be chopped and used in the creamy veggie chicken salad instead of seared chicken. Quicker and easier salad dinner for summer!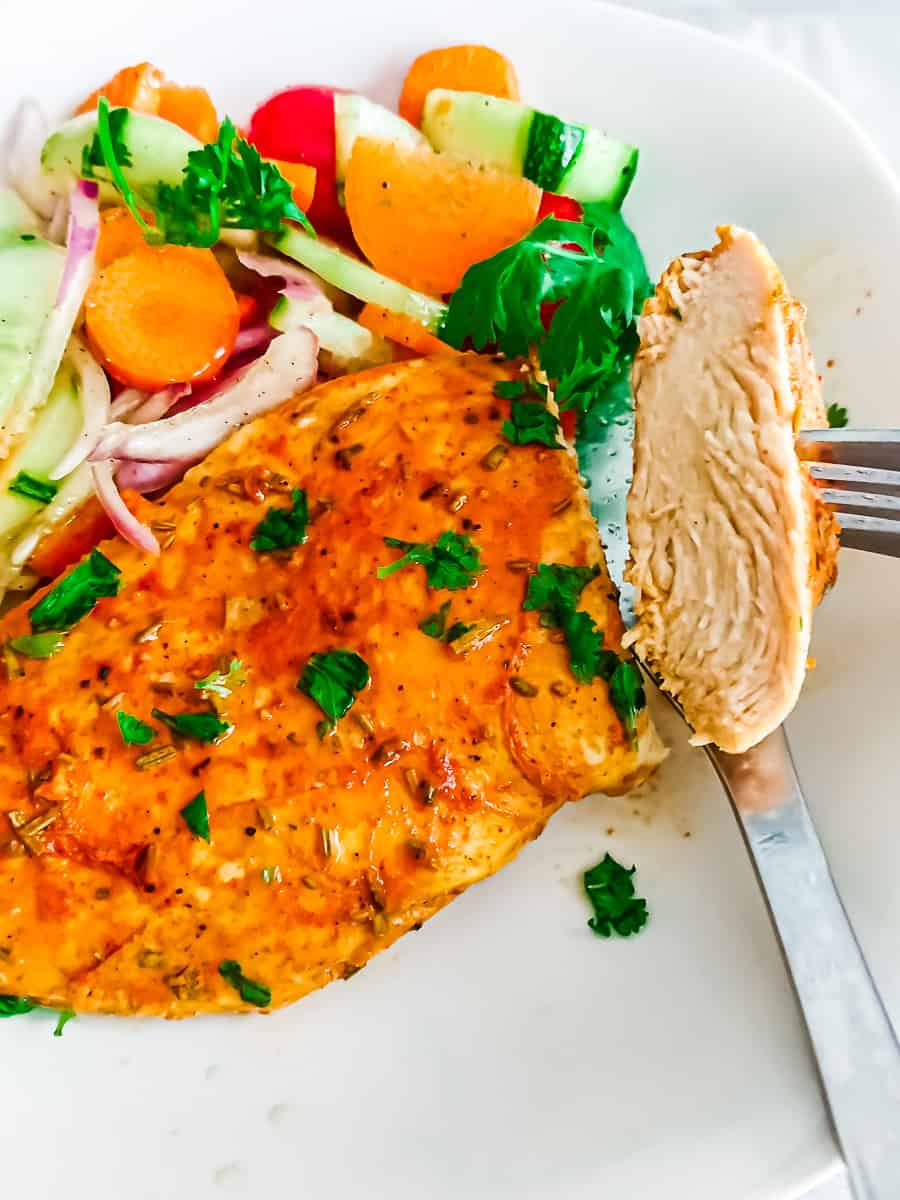 More healthy chicken recipes
★★★★★Did you try this recipe? Please give a star rating in the comments below ★★★★★
HUNGRY FOR MORE? Join over 1000 home cooks like you who subscribe to my weekly newsletter to get all the latest recipes right in your inbox. Or follow me on your favorite social media: Facebook, Pinterest, Instagram, and YouTube. Thank you and happy cooking!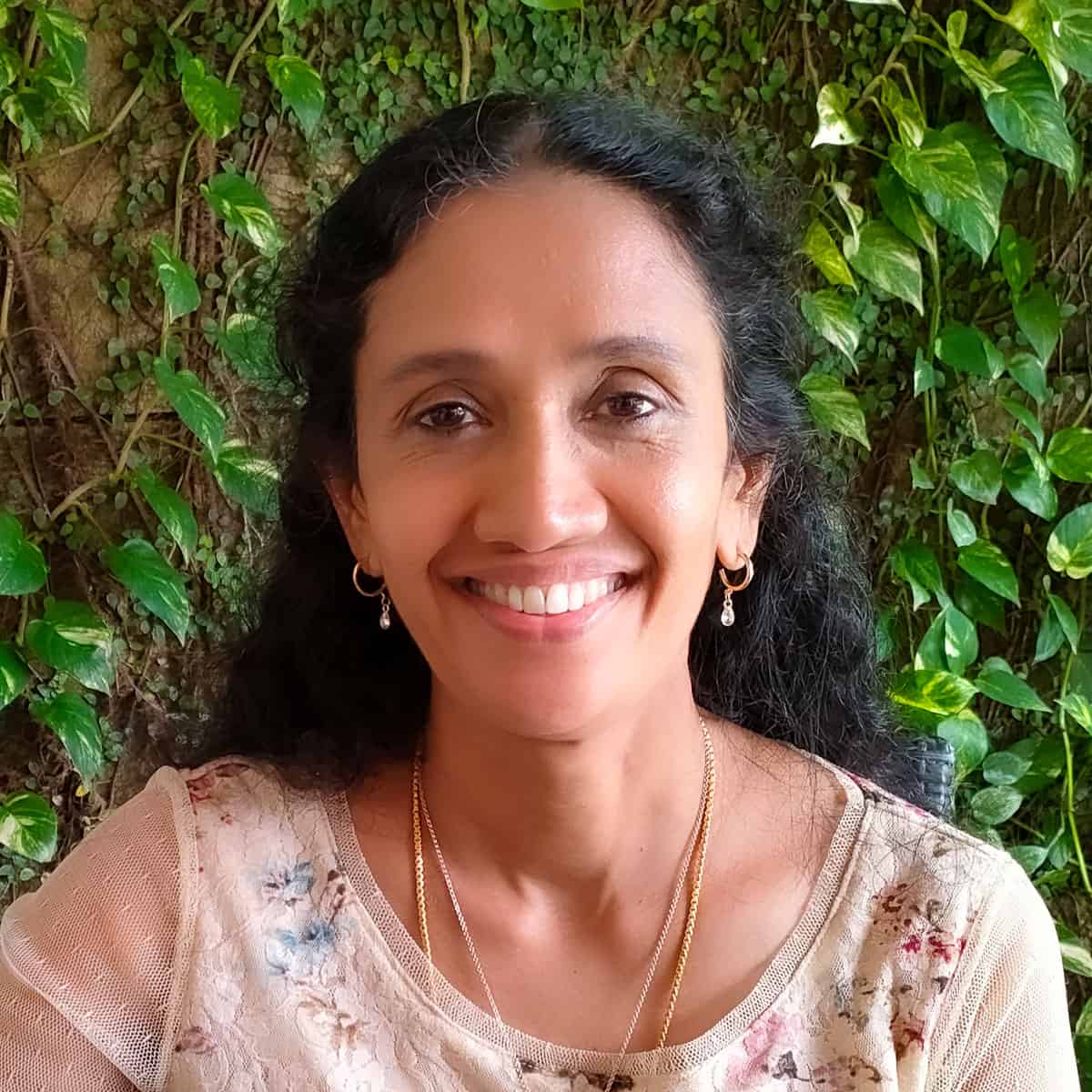 Hi! I'm Sheeba, welcome to Go Healthy ever after!
I have a passion for cooking delicious nourishing food that's easy to cook with fresh natural ingredients free from additives or preservatives. The easy healthy recipes you find here will inspire you to cook with creativity.
Copyright secured by Digiprove © 2020-2023